Painted flower pots can be a great way to add life and color to your garden and home space. However, as great as they can look, they can be hard to find in stores. For that reason, painting your own flower pots is typically the only option you have.
Not only will you be able to customize your ceramic and terra cotta pots to your liking, but you'll also be able to add your artistic touch. Still, coming up with pot painting ideas on your own can be difficult. So, we've put together 38 of the best painted flower pot ideas. So, you can draw inspiration from these ideas, find the one you love, and get painting!
1. Distressed Gold-Leaf Terracotta Pots
For a touch of class, you'll find nothing better than terracotta pots covered in gold sheets. The golden accents will seriously add an elegant look to the interior of your house.
Additionally, you'll feel a sense of warmth and comfort due to the gold and terracotta color palette that'll remind you of bright summer days.
Visit Today's Creative Life to get more details on Distressed Gold-Leaf Terracotta Pots.
2. Dripping Clay Pot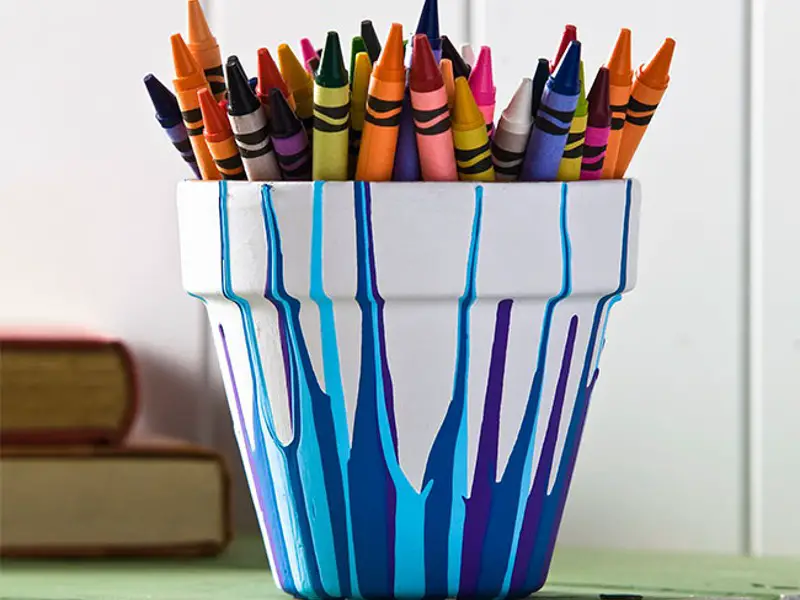 If you'd like a more colorful approach to youth clay pots, why don't you check out this variation of the dripping pot painting ideas? Not only is this DIY idea remarkably easy to recreate, but you can modify the colors any way you want to suit your taste.
Be sure to check out this Dripping Clay Pot Tutorial on Plaid Online.
3. Paisley Clay Pots
If you'd like the perfect mix of colorful and sophisticated, then you should go with this paisley clay pot idea. After all, there's a reason paisley designs are a classic. Moreover, you won't have a hard time executing this idea.
Get the full instructions on how to paint a Paisley Clay Pot on Plaid Online.
4. Buffalo Check-Painted Pots
If you want to do more than paint your plant pots a single solid color, why don't you try out this simple plaid design? Thankfully, it's as straightforward as ideas can be, but it still has a certain flair and fun element to it.
Most importantly, due to this DIY idea's simplicity, you can get your kids to help you with the paint job and make a day of it. Even then, your terra cotta clay pots will end up looking fabulous.
Get inspired by the Buffalo Check-Painted Flower Pot on The Soccer Mom Blog.
5. Glitter Flower Pot
Let's be honest, who doesn't love glitter? Sure, you'll be left with glitter specks all over your apartment for the next month, but the glittery flower pot will be worth it in the end. The resultant glitter flower pots will be just the fun idea to bring that sparkle to your home.
Take a look at this Glitter Flower Pot on Artsy Fartsy Mama.
6. Rainbow-Painted Flower Pot
Do you love vibrant colors, but you can't settle on one for your terra cotta pots? Well, you don't have to choose with this rainbow-painted flower pot fun idea.
Just some acrylic paint will transform your succulent pot forever. Still, this project has a slight learning curve as the smooth color transitions can be hard to execute at the start.
Visit DIY Candy, and check out their Rainbow-Painted Clay Pots.
7. Ombre Plant Pots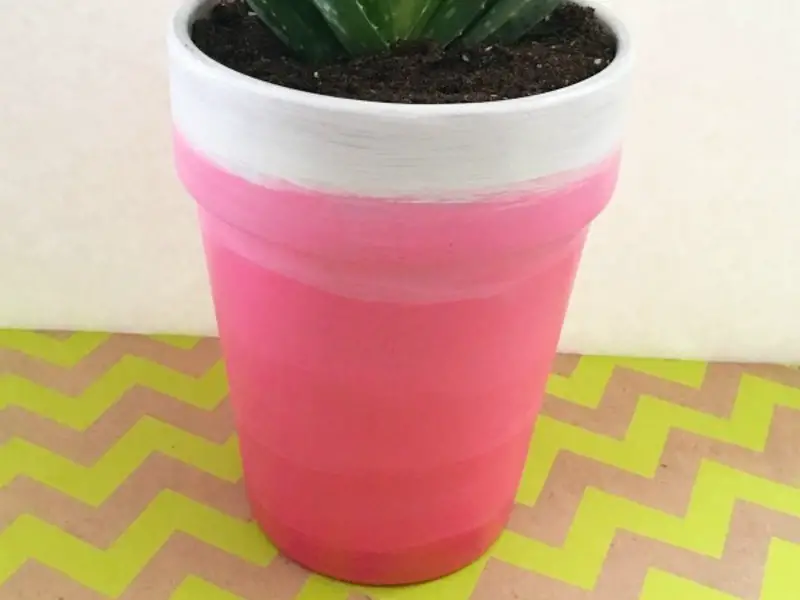 Do you love the color gradations in the previous ideas with rainbow flower pots, but you'd rather stick to one color? Well, you should go with this DIY ombre flower pot.
Pick your color, then mix it with various amounts of white until you achieve the desired shades. Then, paint your entire pot in these different colors to get the result you want.
Visit Ann's Entitled Life to make Ombre Plant Pots.
8. Black and White Flower Pot
If you're more into the minimalistic look, black and white painted flower pots will be an excellent way to decorate your home. They'll be a step up from the usual brown terra cotta pots, but they won't be too tacky.
Paint a Black and White Flower Pot on We Can Make Anything.
9. Chalkboard Clay Pots
Did you know that painting flower pots in chalkboard paint will transform them into miniature chalkboards? Now, how cool is that? Just imagine the potential.
Since the painted clay pot will act as a chalkboard, you can use it to write or draw anything you like, such as cute sayings or funny phrases.
Learn how to make Chalkboard Clay Pots by visiting Plaid Online.
10. Polka Dot Flower Pots
A few colorful dots can elevate your old pots from boring to beautiful in a matter of seconds. Whether you like a simple polka dot pattern or something more complex like Mandala art, you're guaranteed to end up with a fantastic flower-painted pot that'll be the focus of the room.
Get inspired by these Polka Dot Flower Pots on Clay Pot Crafts.
11. Geometric-Painted Flower Pots
Geometric shapes make the most fun ideas for spunking up your old pots. Squares, rhombuses, triangles, trapezoids, or a mixture of all those shapes in different colors are sure to bring those pots to life. But, of course, you can always free-hand your design or use painter's tape to create geometric-painted pots if you're a stickler for straight lines.
Discover how to make some Geometric-Painted Pots on Mom.
12. Day of the Dead Planters
If you'd like a list of pot painting ideas that are out of the box, then these day-of-the-dead planters will make the top of that list. Not only will your clay pots look amazing, but your plants will also look outstanding against the peculiar pots. Best of all, even if your plants don't make it, they'll still be on theme because "Day of the Dead," remember?
Learn how to make Day of the Dead Planters on Creative Kismet.
13. Halloween-Painted Clay Pots
All Halloween lovers are sure to fall in love with this creepy yet super cute pumpkin DIY painted pot. This pot can add some much-needed spook to your exterior and interior home decor. All you need to do is whip out the right colors and start applying them to paint terracotta pots.
Learn how to make Halloween-Painted Clay Pots on Akawest.
14. Mod Podge Terra Cotta Pot With Fabric
If you aren't much of a painter, but you'd still like to decorate your terracotta pots in some way, well, mod podge is the answer to your problems.
All you need to do is pick out a piece of fabric with an interesting design or pattern and then mod-podge it onto your terra cotta pot.
Get details on how to Mod Podge Terra Cotta Pot With Fabric on Mod Podge Rocks.
15. Pretty Face Planters
If you don't like an over-the-top design, why not go with these pretty face flower pots? To make these easy-painted pots, all you need to do is spray paint your clay pot with a solid color and then use a tiny paint brush to draw the simple facial features. Of course, paint markers can be a great alternative if you don't have a steady hand with a paint brush.
Learn to paint Pretty Face Planters on Gold Standard Workshop.
16. Flowery Flower Pot
Flowers are a guaranteed way to make any room bright, but why should they remain inside vases and pots? Why not have flowers on everything?
That's why pot painting your terracotta pots with flowers is such a lovely and creative idea. You can draw simple flowers and use buttons, rhinestones, and other craft supplies to liven them up.
Discover how to make a Flowery Flower Pot on The Inspiration Edit.
17. Hand-Painted Watermelon Flower Pot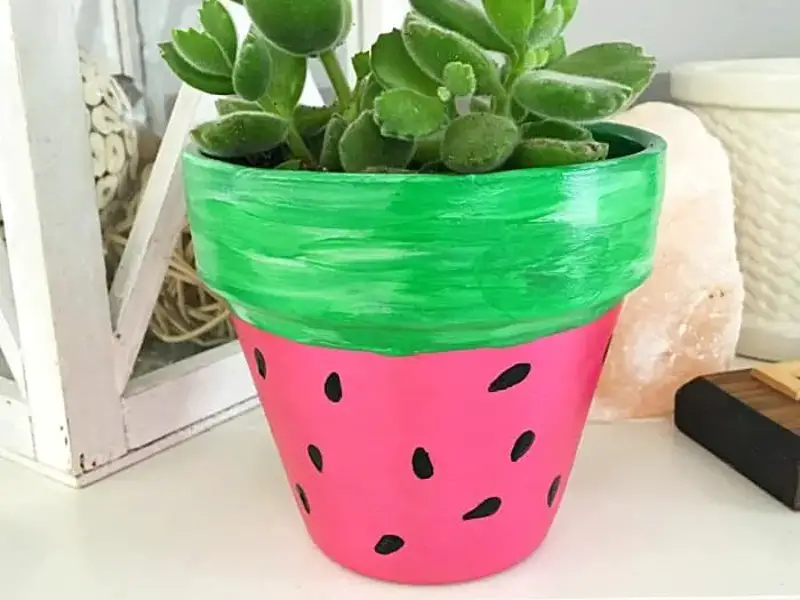 Incorporating fruits into your flower pot designs is one of the best pot painting ideas. First off, fruits are incredibly colorful and bright. Moreover, they don't make for a complicated way to paint pots. As such, the outcome will be truly magnificent, and you won't suffer in the painting process at all.
Take inspiration from this Hand-Painted Watermelon Flower Pot on Mommy Moment.
18. Broken China Mosaic Flower Pots
If you've got some broken china lying around that you can't seem to get rid of, you can use them to create a mosaic masterpiece with your old clay pot.
Glue the colorful china piece onto your clay pot in a mosaic-like pattern, and you'll end up with a splendid centerpiece. Just remember that kids shouldn't partake in this project, as they can get injured on the tiny ceramic shards.
Get instructions for the Broken China Mosaic Flower Pots on Kenarry.
19. Clay Pot Fox
This painted flower pot in the likeness of a fox is so darn cute; words can't describe it. You can place this magnificent creation in your garden or your living space, and it'll look just as good indoors and outdoors. From the tiny ears to the beautiful tail, this painted pot is genuinely extraordinary, and it's easy to make.
Learn how to paint Clay Pot Fox on Plaid Online.
20. Herring-Bone Flower Pots
Whip out your paint markers, and get ready to create this fantastic yet simple herring-bone flower pot. The lines don't have to be perfectly straight or parallel. They don't even need to be evenly spaced for the final painted flower pots to be incredible. All you have to do is choose the colors you like and start painting your flower pot!
Get the full Herring-Bone Flower Pots tutorial on The Gunny Sack.
21. Clay Pot Garden Critters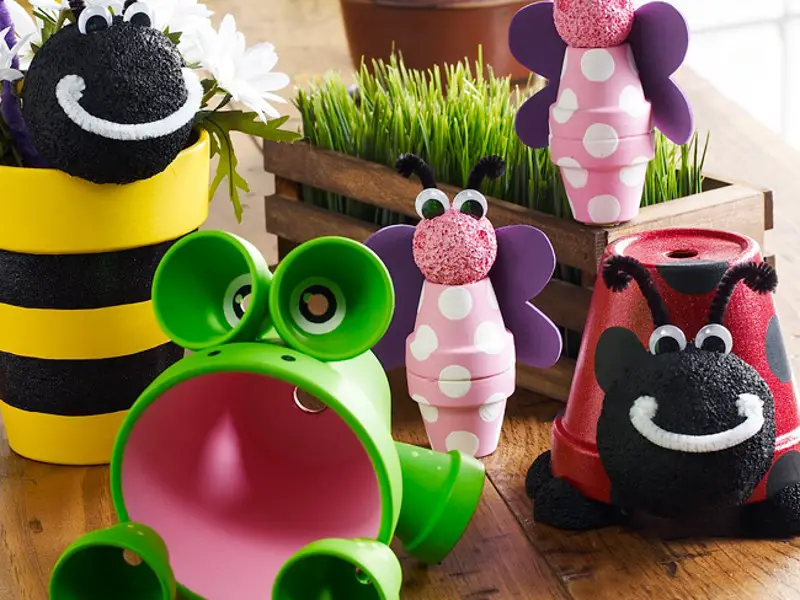 Do you want to upcycle your old pots and turn them into some astounding pieces of decoration? If so, you should make a butterfly or frog-themed painted flower pot by getting a few succulent pots and gluing them to a central clay pot.
While these creations may not be very functional as actual plant pots, they'll still be wonderful to look at and will brighten up your garden and patio.
Discover how to make these Clay Pot Garden Critters on Plaid Online.
22. Marbled Flower Pots
These marbled flower pots are a great idea to brighten your home space and add some class to it. Not only are they incredibly unique, but they also have the added benefit of matching your home's aesthetic if you choose the right colors.
Still, don't let their sophisticated appearance fool you. They're actually effortless to create as long as you have some spray paint lying around.
Learn to create Marbled Flower Pots from The DIY Nuts.
23. Photo Collage Flower Pot
There's no argument that hand-painted pots are unbelievably beautiful, and each one is truly one of a kind. Unfortunately, however, not many have the time or the ability to paint pots.
In such cases, you can skip painting with acrylic paint and take out a few family photos. Then, get your mod podge, and glue them onto your clay pots. Then, you can proceed to decorate the saucers and rims with ribbons, twine, and other materials for a little extra fanciness.
Figure out how to make your own Photo Collage Flower Pot by visiting Mod Podge Rocks.
24. Two-Tone Painted Pots
Want to add some color to your terracotta pots in the hopes of brightening up those dreary days coming your way? Then, it would be best if you went with these cheerful two-tone clay pots. This pot painting idea is extremely easy to do. All you need is the right supplies, and you'll be done in a jiffy.
Learn how to make the Two-Tone Painted Pots on Decoist
25. Celestial Clay Pot
If you love the mysterious night sky with its numerous stars, you can paint it onto your plain clay pots. All it'll take you is some time and a couple of acrylic paint colors. You can even use nail polish if you've got some lying around.
Just know that this DIY project will be extremely fun to do, and your house plants will look striking in these planters.
For more information on how to make Celestial Clay Pots, visit Finger Gardening.
26. Fairy Garden
Fetch your old succulent pot, and get ready to transform it into a magical fairy garden for your plant in just a few steps.
Truly, this is one of the most creative and fun pot painting ideas for your plant that we've ever come across, and the end product will be impressive.
Learn how to make your own Fairy Garden on Mod Podge Rocks.
27. Galaxy-Painted Flower Pots
This galaxy-inspired painted clay pot is another pot painting idea that we know you'll just love. It looks absolutely mystical, and it'll make your spring garden look other-worldly.
Just take out your pink, white, blue, and black acrylic paint and maybe some glitter, and you'll have yourself a galaxy-themed flower pot in under an hour.
Go to Artsy Fartsy Mama to get more details on Galaxy-Painted Flower Pots.
28. Scalloped-Painted Terracotta Flower Pots
In all honesty, you can decorate your terra cotta planters by simply painting a scalloped design on them. Then, you can match the paint to your existing home decor or use the flower pots to add contrast to your living space or outdoors. Either way, the outcome will be truly remarkable.
Discover how to make these Scalloped-Painted Terracotta Flower Pots on Collective Gen.
29. Stenciled Terracotta Pots
Stencils are the solution if you don't want to risk ruining your pot by hand-painting the artwork. Merely pick your colors, get a stencil you like, and you're good to go.
And if you'd like to give your painted pots an extra layer of shine, make sure to spray them with a clear topcoat spray paint in the end.
Get details for the Stenciled Terracotta Pots on DIY Candy.
30. Washi Tape Mini Plant Pots
There are a million different designs and patterns of washi tape. The resultant multicolored creation will add a little cheer to your place and bring a smile to your face every time you see it.
Whichever pattern, color, and size of washi tape you choose, you're guaranteed to have some pretty pots in the end. Also, this is very easy to create, and kids of all ages can do it.
See some remarkable Washi-Tape Mini Plant Pots on Projects With Kids.
31. Halloween Batty Pot
One more Halloween-appropriate painted pot DIY is this bat terra cotta pot. Thankfully, such patterns aren't that hard to paint as long as you have the right supplies.
Of course, you may need a second coat to make the colors more vibrant, but that's a given with any paint job. And if you'd like an extra touch of spookiness, you can always use some glow-in-the-dark colors.
Learn to create this Halloween Batty Pot on Plaid Online.
32. Queen Anne's Lace Clay Pot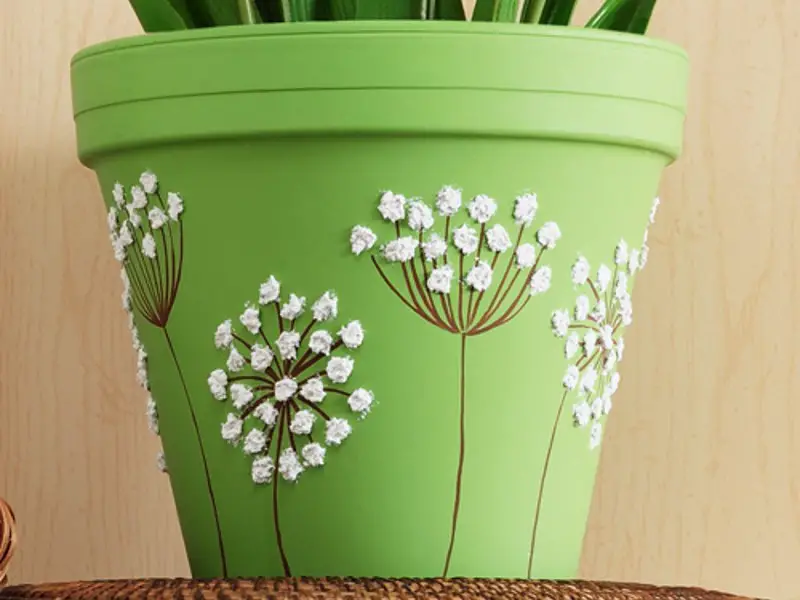 This DIY queen Anne's lace clay pot is truly beautiful in its simplicity. Just paint your plant pot a base color you want, then use texture paint to draw on the flower petals.
Finally, finish off by applying a coat of sealer to serve as extra protection and add some shine to the simple flower pot. For a more diverse look, try to use different paint colors on each of your terra cotta planters.
Get the details for Queen Anne's Lace Clay Pots on Plaid Online.
33. Pour-Painted Pots
We suggest you create these fantastic pour-painted pots for a low-effort, high reward DIY pot painting idea.
Sure, the painting process can be pretty messy. However, this shouldn't stop you from tackling this project, as it'll be loads of fun for you, your kids, and your family. Not to mention, your terracotta pots will look genuinely extravagant!
Master making Pour-Painted Pots on Happiness is Homemade.
34. Crushed Glass Clay Pot
Add some shine and sparkle to your old pots by gluing some crushed glass on them. Your terracotta pots will end up looking truly artistic, and you won't be able to help getting lost in their beauty.
Still, though this project is a piece of cake, make sure to exercise caution while working on it to protect yourself against any unwanted accidents.
Create your own Crushed Glass Clay Pot by visiting Plaid Online.
35. Boho/Aztec-Painted Flower Pots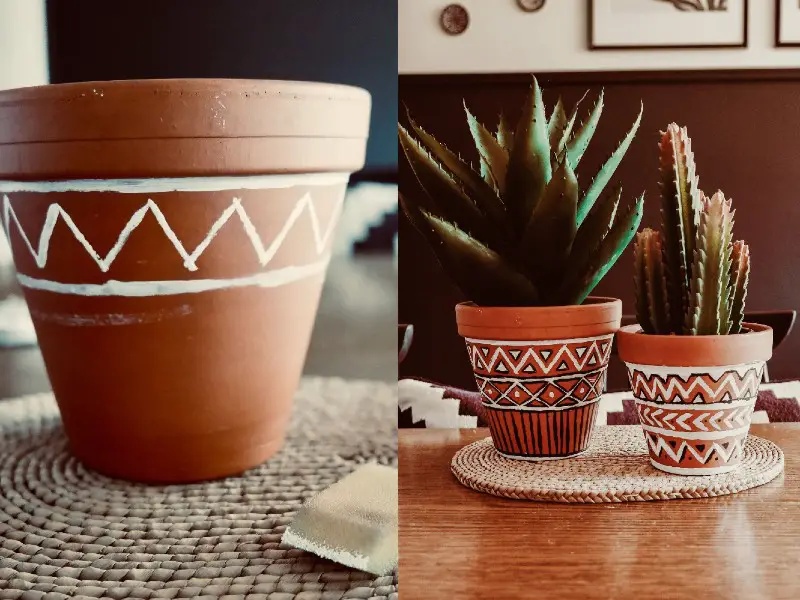 Bring your terra cotta flower pots to life using these boho/Aztec-inspired patterns. Just get a paintbrush as well as your favorite paint colors, and you'll have yourself some pretty pots in an hour. And since this project is so easy to do, you'll find yourself giving a makeover to all the other pots in your home in no time.
Learn to make Boho/Aztec-Painted Flower Pots on Style Squeeze.
36. Flower Pot Garden Angel
This garden angel made of colorful clay pots is so adorable that everyone who sees it will surely fall in love with it. Sure, it may not hold your plants, but it'll make your garden or patio look splendid.
Just keep in mind that you'll need a few terracotta pots to implement the whole idea. Other than that, this DIY project will give you no trouble.
Get inspired by the Flower Pot Garden Angel on Plain Online.
37. French Made Pots With Decals
If you want your old pots to look rustic or vintage, why not go with these french-looking pots? These pots will make any room look as if you've just walked into a Parisian cafe, and the best thing is that all you'll be needing for this tutorial is some acrylic paint, sandpaper, and decals.
Get the details for painting French Made Pots With Decals on Dreams factory.
38. Cat-Painted Clay Pot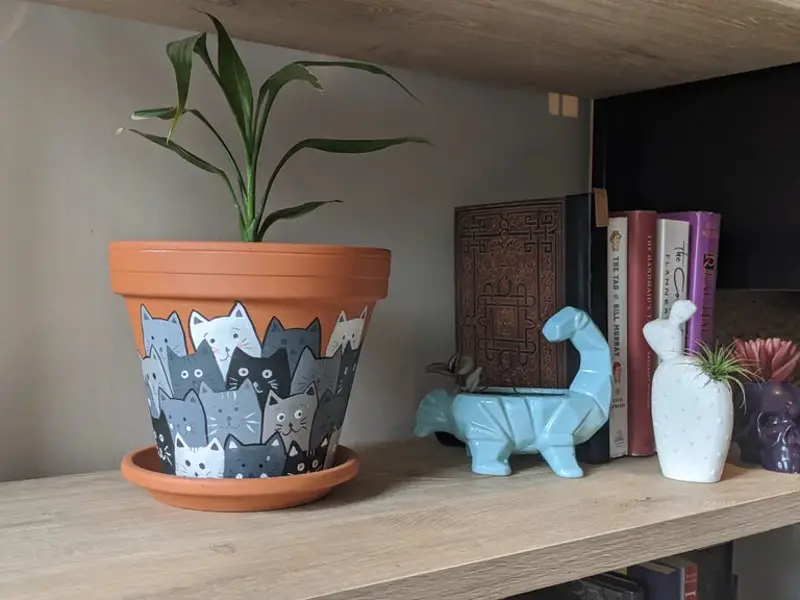 Our final pot painting idea of the day is this impressive and super cute cat pot design. You're bound to pick this design if you're a cat lover or just appreciate cute things.
We just know you'll love your cat-themed terra cotta flower pot, and you'll be proud to display it in every room of your house.
Find out how to create a Cat-Painted Clay Pot by visiting Instructables.
39. Face Plant Pots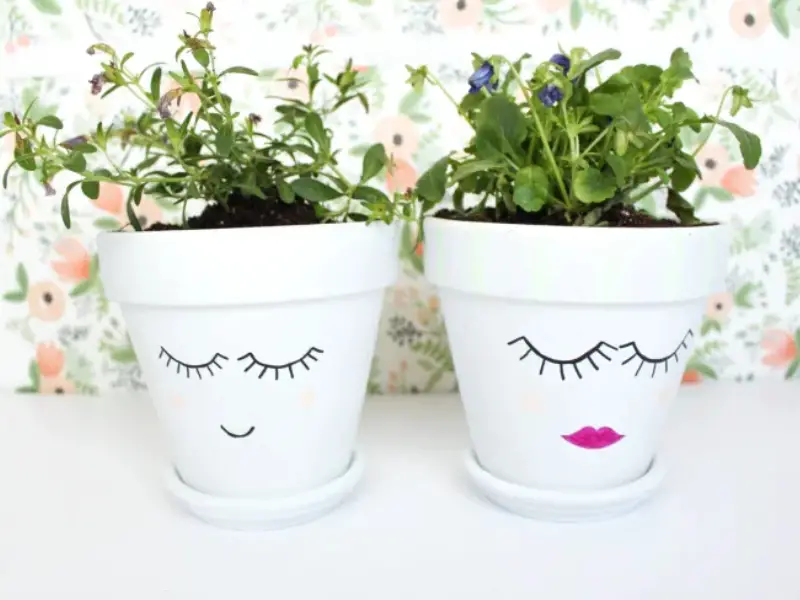 One of the easiest ways to give an inanimate object some personality is to paint a face on it! For example, you can give your planters a demure expression like the ones on these face plant pots to make them seem at peace with the world. Also, if you have more than one pot, you can play with the facial features to separate them by gender.
You'll find the tutorial for face plant pots at Gold Standard Workshop.
40. Buffalo Plaid Painted Pots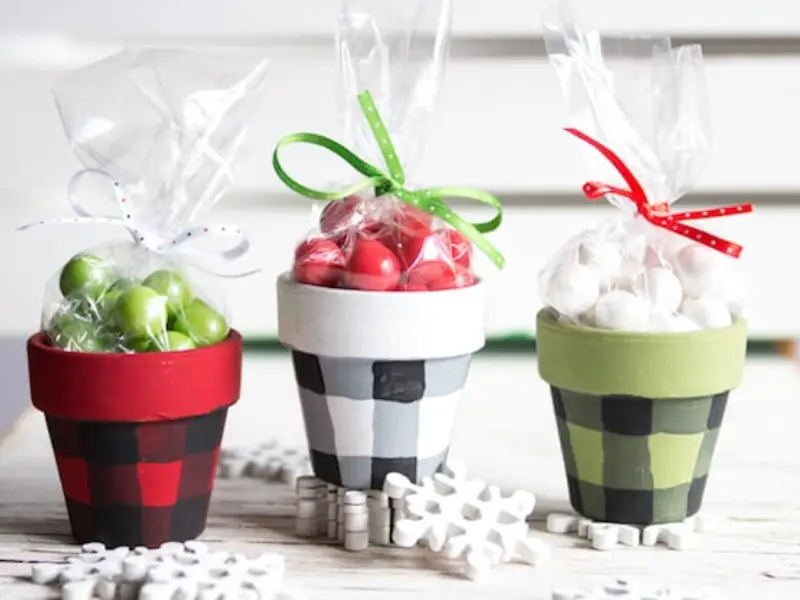 Give your pots a plaid pattern for a truly unique Christmas gift idea. This pot painting project is super easy to do, and the result is a classy gift for adults and children alike. Also, you don't need a lot of equipment to do these projects; paint and brushes are all you need.
Visit The Soccer Mom Blog to get started making buffalo plaid painted pot.
41. Glitter Flower Pots
With a base of metallic paint and some glitter, you can make a truly special flower pot that brightens up the room with its shine! The different colors of the glitter will give the pot a sparkly appearance that draws the eye and warms the heart.
Visit Artsy Fartsy Mama for the glitter flower pots tutorial.
42. Painted Pots With Mud Cloth Patterns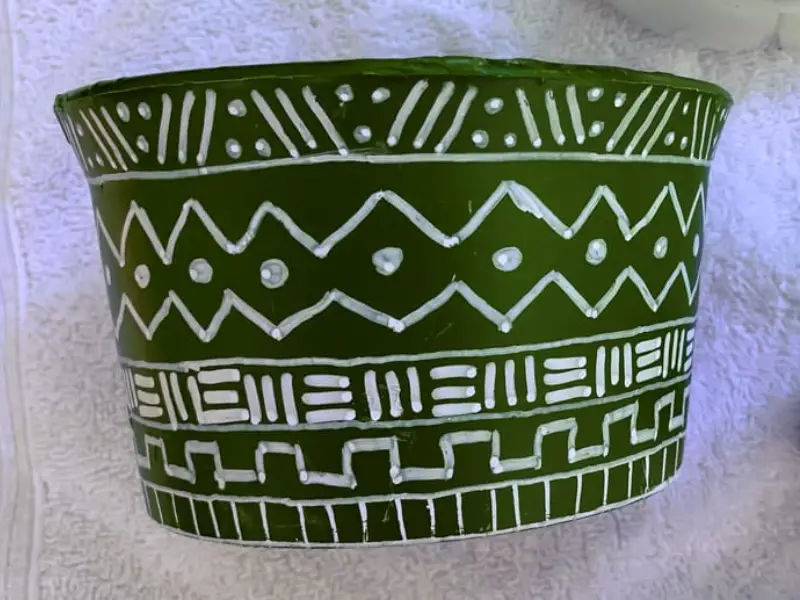 If you loved doodling in your textbooks during your school days, you'd get a thrill from bringing beauty to your pots when working on this project! Make circles, squares, dots, zigzag patterns, and other interesting lines to achieve the tribal look of these painted pots with mud cloth patterns.
Check out Hungarican Journey for the painted pots with mud cloth patterns tutorial.
43. Frida Kahlo DIY Succulent Planter
Want to teach your children some art history while getting them involved in pot painting? If so, help them create this succulent planter featuring renowned Mexican artist Frida Kahlo! The subject of your pot painting lived an interesting life that you can recount to your kids as you paint. And by the end of the exercise, you'll have ignited your children's passion for art.
Hop aboard The Craft Train for the Frida Kahlo DIY succulent planter tutorial.
44. DIY Hand-Painted Flower Pot
Brighten up your garden in time for spring with these hand-painted clay pots that feature a super cute honey bee design! Use white chalk paint on the entire pot to make the designs pop, and then wrap each painted clay pot with a ribbon (with polka dots) for the finishing touch.
Also, ensure you have other supplies on hand like sealer mod podge, yellow chalk paint, and a marker when working on this DIY project.
Get the DIY hand-painted flower pot tutorial from Kippi at Home.
45. Abstract Painted Flower Pot
Gather all the colors in your acrylic paint collection together – you'll need every single one when painting flower pots in an abstract style. What makes pot painting ideas like this one so fun is you can go wild with the acrylic paints and still end up with some striking terra cotta pots.
So, if making pretty pots is right up your alley, and you've got some good painting skills to boot, this project is made for you!
Visit Plaid Online for the abstract painted flower pot tutorial.
46. DIY Succulent Pineapple Planter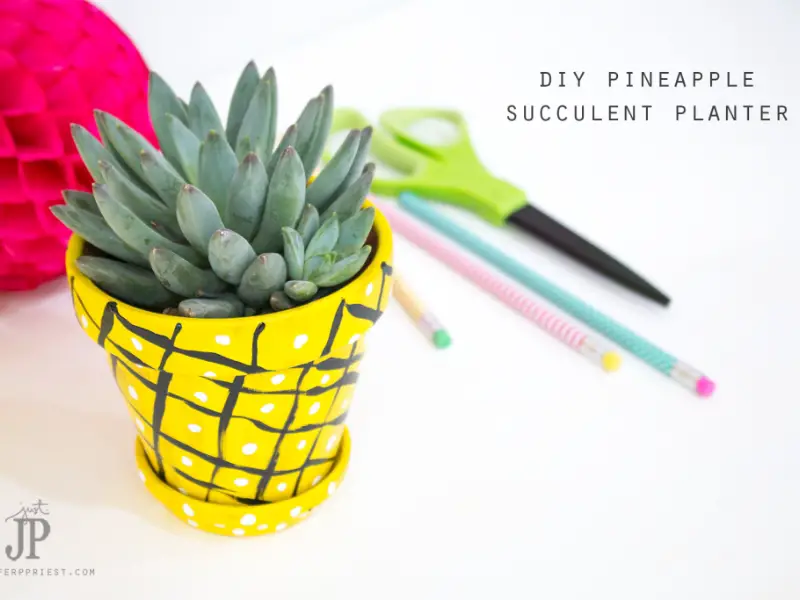 If you're looking for a gift idea for a kid that allows you to get some pot painting in, try making this DIY succulent pineapple planter. Not only does this work as a gift, but you can make it for special summer occasions like picnics or outdoor parties.
Learn more about this DIY succulent pineapple planter at Today's Creative Life.
47. Ikat Pattern
Draw inspiration from Indonesian dying techniques to give your flower pot an Ikat pattern. You'll enjoy creating this project if you tie-dye as a hobby, but non-hobbyists will derive pleasure from painting the diamond-shaped patterns, too. If you've got more than one pot, try experimenting with different colors and pattern sizes for a truly unique flower pot collection.
Give your planter an Ikat pattern by following the tutorial at Bohemian Kate.
48. Decoupaged Terracotta Pots
Floral patterns usually add a touch of elegance to any crafts project they're incorporated into, so it's no surprise that they work well on garden pots. You can use white acrylic paint as the base color for the pot before painting on the flowers to add the finishing touch. Absolutely beautiful!
Visit Place of My Taste to get started making decoupaged terracotta pots.
49. DIY Aged Black Pottery
If you're looking for an excellent way to use a painted clay pot as classy decor, you can try aging a terra cotta pot. You'll need some spray paint (matte black), mud, dark gray paint, and medium gray paint to achieve the antique look.
Get started making DIY-aged black pottery by visiting Maison de Pax.
50. Rubber Band Pots
These splendid-looking pots use flat-sided rubber bands to create a modern, elegant look. To achieve the effect, paint the pot with the base color (i.e., the color of the lines). When it dries, wrap the pot with rubber bands and then paint the top color using a different shade. You can go from light to dark (white lines, black vase) or vice versa depending on your taste.
DIY these rubber band pots by following the tutorial at We Can Make Anything.
51. Painted Cats Terracotta Flower Pot
Whether you're a cat lover or not, it's hard to disagree that the painted cats on this terra cotta pot give it a whimsical look. You won't need world-class art skills to get the look, as you can simply trace the cats on the pot using a template. Simply purrfect!
Check out Instructables for the painted cats terracotta flower pot tutorial.
52. DIY Marbled Terracotta Pots
Don't you think the beautiful marbled texturing on these terra cotta pots give them a calming look and feel? You can get the look by mixing white acrylic paint (four parts) with water (one part) in a disposable bin before splashing drops of your accent colors in and rolling your pots in the mixture.
Get the DIY marbled terracotta pots tutorial from Alana Jones-Mann.
53. Shabby Chic Terracotta Pot
Want to achieve the aged look of this shabby chic terracotta pot? You'll need some bubblewrap and burlap to make the patterns that give it that rustic feel. This project is one of those flower pot painting ideas that takes an everyday object and uses it in new and interesting ways.
Create a shabby chic terracotta pot by following the tutorial at Salvaged Living.
54. Spray-Painted and Stenciled Terracotta Planter
You can make your clay pots stand out by painting them in unusual shades and incorporating stencils into the design. For example, the planter in the picture uses nautical-themed stencils and blue spray paint to a gorgeous effect. However, the world's your oyster with pot painting ideas, so you can mix things up by using another color and stencil.
Visit Woman in Real Life for the spray-painted and stenciled terracotta planter tutorial.
55. Boho Dark Floral-Painted Terracotta Pots
It's amazing what a black paint base and painted-on flowers can do to transform ordinary porch planters into Bohemian decor. If you have excellent painting skills, give this clay pot painting idea a try.
Get the Boho dark floral-painted terracotta pots tutorial from Chic Stylista.
56. Boho Modern Painted Terracotta Pot
This Boho modern painted terracotta pot project lets you use a grid and white chalk to create a beautifully understated design. Drawing the lines across the grid on your terra cotta clay pots can be fun and even therapeutic, and your succulents will look good displayed in the finished pot.
Make this Boho modern painted terracotta pot using the tutorial at Shrimp Salad Circus.
57. Day of the Dead Planters
Celebrate the Mexican Day of the Dead festival by sketching out a skull face on your clay pot and adorning the features with floral petals and other flourishes. Flower pot painting ideas like this one are conversation starters if you entertain guests in the garden.
Visit Creative Kismet for the Day of the Dead planters tutorial.
58. Nail Polish Marbled DIY Planters
Whether you use paint or nail polish, as is the case with this project, marbled flower pots always turn out fantastic. Mix in as many shades of nail polish as you can find to achieve the stunning rainbow-marbled texture like the clay pots in the picture.
Head to Hello Glow for the nail polish marbled DIY planters tutorial.
59. Two-Tone Painted Pots
Here's another project that puts painter's tape to creative use. The two tones on this flower pot are very striking and can be painted on 24 hours apart. This is another beginner-friendly project if you want to improve your pot painting skills.
Get started making two-tone painted pots by following the tutorial at Decoist.
60. Rainbow Painted Flower Pots for Kids
Bring a burst of color to your flower pot by using an assortment of multi-surface acrylic paint shades to make a rainbow. This project is excellent for adults and kids alike, and the result is impressive work you can use to keep your potted plants.
Get the rainbow-painted flower pots for kids tutorial from DIY Candy.
61. Sponge Painting Terracotta Pot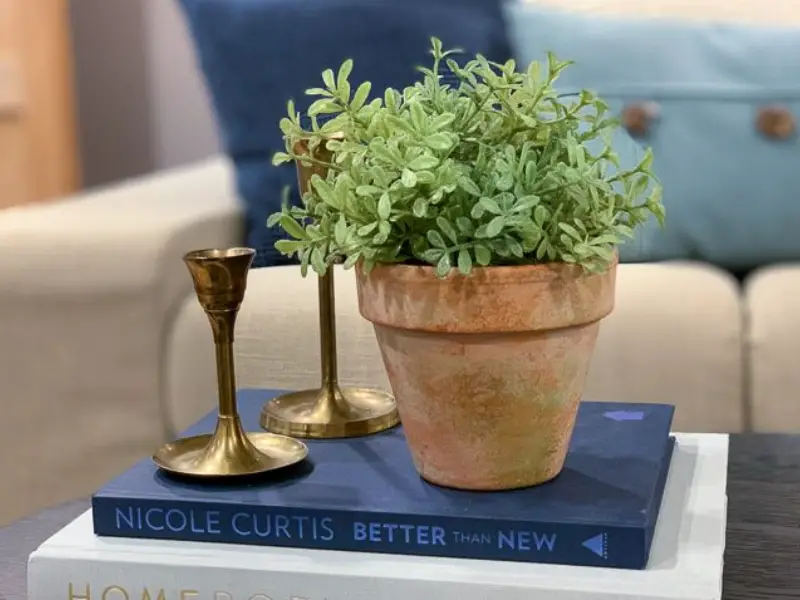 Give your old pots new life by making their imperfections a central part of their improved look. Dab the pot with brown and green matte paint, layering the two over the pot's cracks and crevices for a broken-in vintage appearance.
Visit Average but Inspired to learn how to make a sponge painting terracotta pot.
62. DIY Gold-Dipped Plant Pots
With some gold spray paint, you can turn a simple flower pot into a slice of royalty. To make these DIY gold-dipped plant pots, paint the base color first before covering the top half with aluminum foil and spray-painting the bottom.
Visit Pottery Barn for the DIY gold-dipped plant pots tutorial.
63. Herringbone Pattern Planter
The iconic herringbone pattern doesn't have to be confined to roadsides, mosaics, or tiles, as this beautiful herringbone pattern planter shows. This statement-making pot painting idea will surely bring a touch of class to your interior decoration, even if you're not partial to seafood.
Steal the look of this herringbone pattern planter from Sparkle Living Blog.
64. Halloween Pots
Celebrate Halloween in style by creating some holiday-themed pot paintings. For example, this jack-o-lantern pot is a fantastic example of creepy meets cute decor that'll make your Halloween party an event to remember.
Follow the tutorial by Akawest to get started making Halloween pots. Also, if you're a parent to a teenager, check out craftwhack.com for some frighteningly fun craft projects they might enjoy.
65. Golden Heart Planter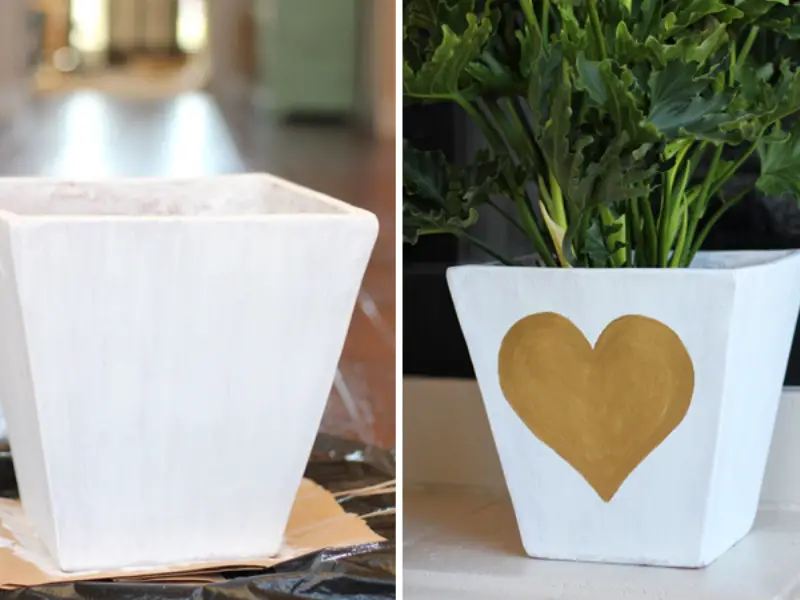 Want an interesting way to liven up a bare planter? Paint it white and give it a gold heart. We think this gold plant planter is a minimalist way to beautify the pot for your indoor plants, and your guests will probably agree too. You can download a heart template online to get the heart shape that forms the centerpiece of the design.
Check out Warm Hot Chocolate for more on this golden heart planter.
66. Drip Paint Pots
This stunning drip-painted clay pot is one of the most beginner-friendly pot painting ideas you can try. Simply flip your terra cotta pot upside down and squeeze different shades of acrylic paint on the bottom so that they run down the sides. It's a fun way to add vibrant colors to a terra cotta pot.
Visit Crafts by Amanda to learn how to make drip paint pots.
67. Stenciled Clay Pot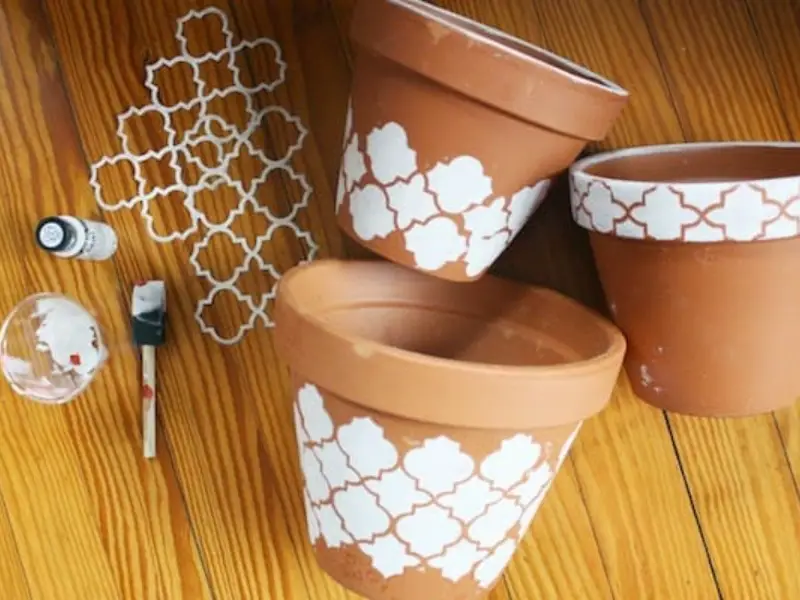 Pots with repeating patterns are beautiful, and you can easily make your own with the help of some stencils and stencil glue.
After applying the glue to the stencil, stick it on the pot and wait for it to dry for about five to ten minutes. Then, paint over the stencil to transfer the design. You can stencil all sorts of patterns, from geometric shapes to living things like a butterfly.
Visit DIY Candy for the stenciled clay pot tutorial.
68. Pour-Painted Pots
Get out all your acrylic paints for a messy and fun time! To make these rainbow-colored pour-painted pots, you'll flip the flower pot and pour paint on it, letting the paint drizzle down the sides. It's very similar to the drip paint technique (above), except you'll use even more colors. Also, this project is excellent for adults and kids, so get your children involved.
Get the tutorial for these pour-painted pots from Happiness Is Homemade.
69. Adorable Watermelon-Painted Flower Pots
Give your kid's flower pots cute personalities by creating these adorable watermelon-painted flower pots. You'll need acrylic paints that closely resemble the colors of a watermelon, such as different shades of green and dark pink. You want the pot's cute face to show, so limit the shades of green that mimic watermelon skin to the pot's rim. Super cute!
Visit Projects With Kids to learn more about these adorable watermelon-painted flower pots.
70. Designer Pots
Big brush strokes are what give these pots their aesthetically-pleasing texture. Use ceramic pots and three paint colors to achieve the designer look of the pots. You'll be pleased by how modern and on-trend the final pot turns out.
Find out more about these designer pots at We Are Scout.
72. Galaxy Painted Pot
Using an old toothbrush and acrylic paints in black, purple, pink, blue, and white, you can turn a potted plant into a galaxy like our very own Milky Way. The black paint will act as the base color and represent the vast emptiness of the universe.
In contrast, the remaining colors will make up nebulas, supernovas, and other heavenly bodies in the galaxy. Talk about a far-out idea!
Get the galaxy-painted pot tutorial from The Craft Train.
73. Geometric Painted Terracotta Pots
With a paintbrush, acrylic paint, and strategically-placed painter's tape, you can give terra cotta pots a beautiful geometric pattern design. So, if you're looking for a way to add a modern touch to your interior decor, these geometric painted flower pots might be the solution.
Follow the tutorial by Positively Splendid to get started making geometric painted terracotta pots.
74. Pot Painting Ideas Using Dots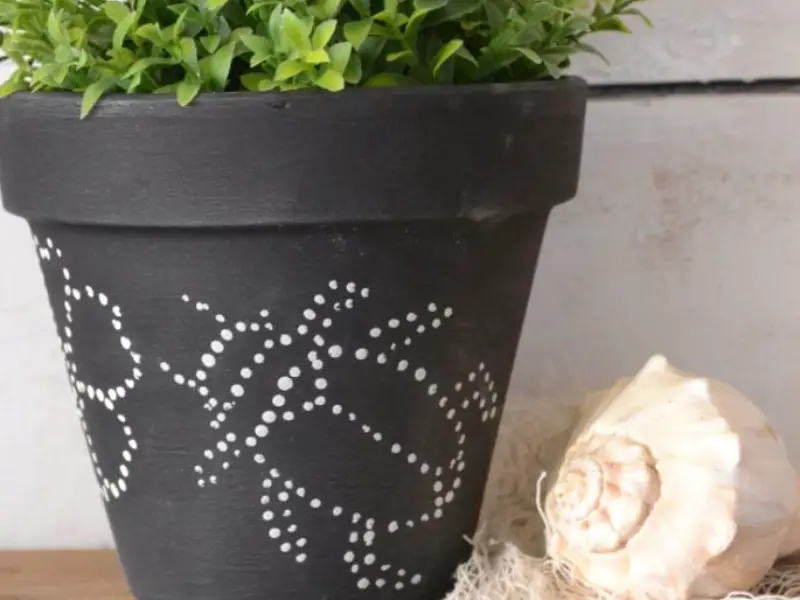 These pot painting ideas that use dots are great for kids and adults alike. To get the look, you'll need talc powder, a needle, paint and brushes, and an image that you'll turn into the dotted design, among other supplies.
Making small holes along the outline of the image, you'll use the talc powder as a guide for where to paint in the dots after pasting the image on the pot and tapping the powder over it. The result is a pot that's the perfect gift for friends or family.
Check out Country Design Style for pot painting ideas using dots.
75. Amazing Hand-Painted Flower Pots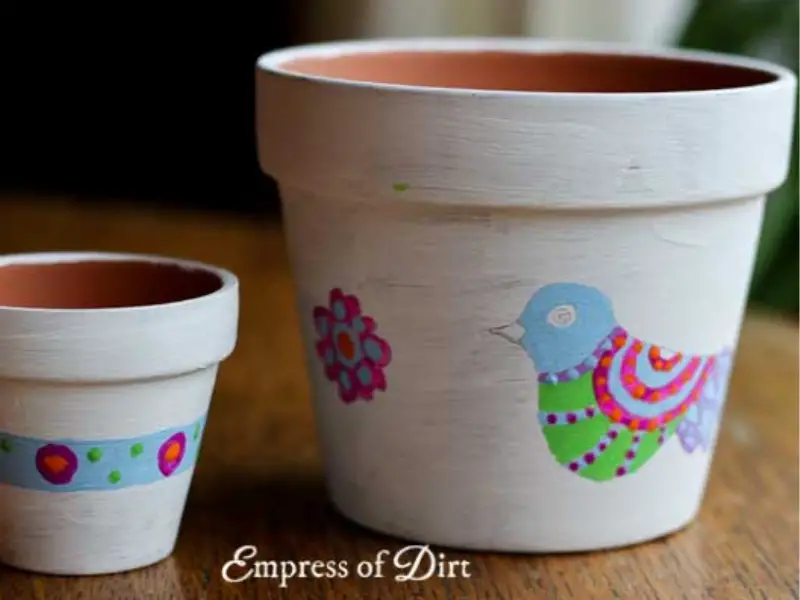 If you have excellent drawing skills, you could try hand-painting your designs after sketching them directly on the pot. Start by painting the pot white so that you can see your drawings. Once the paint dries, sketch lightly before filling in the drawing with paint. You can make your pots as colorful as you like, though monochrome designs will work too.
Check out Empress of Dirt to make some amazing hand-painted flower pots.
76. Seal Painted Pots
While the decorative stenciled Dahlia on the seal-painted pot in the picture is attention-grabbing, the real star of the show is the sealant keeping the paint and design dry. You can get the smooth look of these pots by sanding and wiping them down before you paint with the base color.
Visit Practically Functional for the seal painted pots tutorial.
77. Distressed French Pots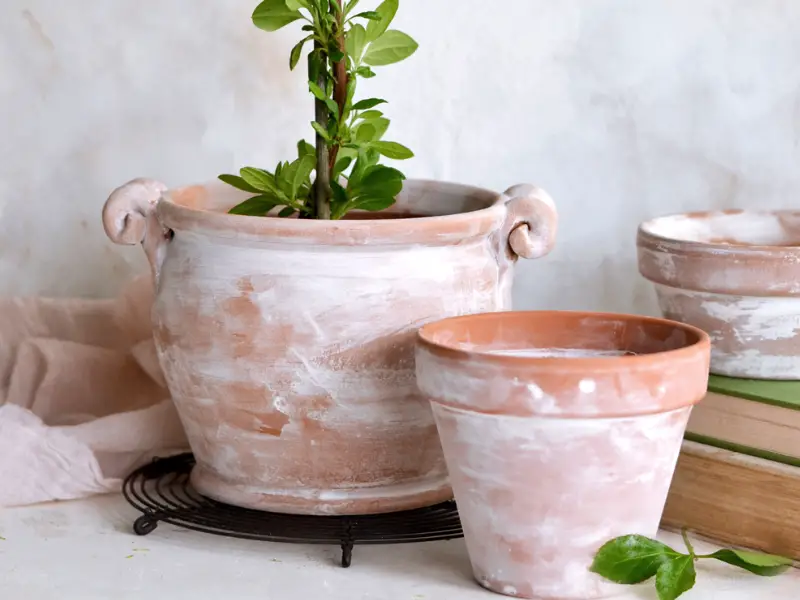 Give your planters an impressive distressed look using candle wax and acrylic paints. To get the look, use black as the base color, then paint over it with white acrylic paint, rubbing the pot with candle wax to let the black undercoat peek through. Finish up the design by transferring some French quotes on the pot with decal paper.
Get the distressed French pots tutorial By Dreams Factory.
78. Photo Flower Pot
We simply adore this photo flower pot. It's such a perfect gift for Mother's Day! To make it, you'll need some family photos, which you'll print on glossy paper, and a ribbon to wrap around the rim of the pot.
Get the step-by-step guide for making a photo flower pot from Mod Podge Rocks Blog.
79. Fingerprint and Button Flower Pots
Do you have some buttons to spare? Team up with your little tyke and incorporate them into a flower pot design! Your little one's fingerprints will serve as the petals for the flowers, while the buttons will represent the carpel (the middle part of the flower). The final flower pot is so cute; you can keep it in your kid's room or give it to your family as a gift.
Visit Messy Little Monster to learn how to make these fingerprint and button flower pots.
80. Footprint Butterfly Flower Pot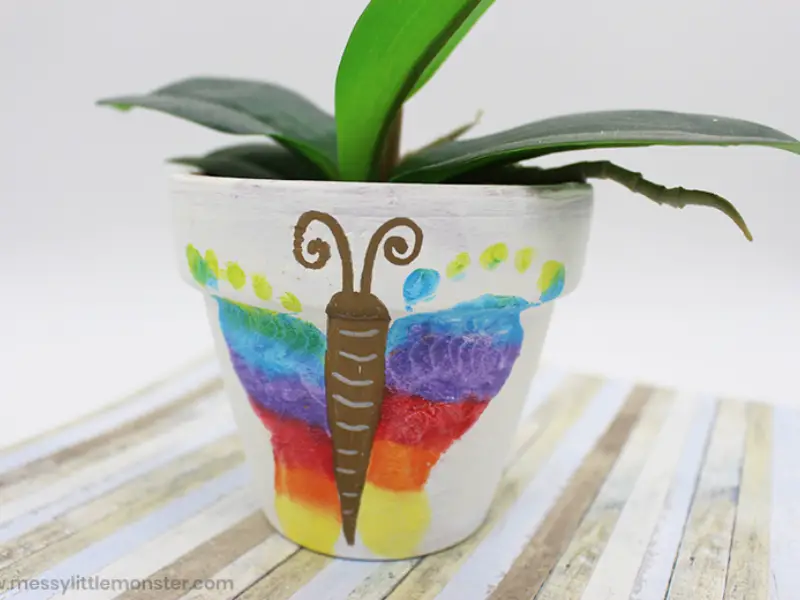 Like the fingerprint and button flower pots above, you'll need your kid's help to make this footprint butterfly flower pot. They'll be using their feet to make the footprints that'll represent the butterfly's colorful wings.
Check out Messy Little Monster for the step-by-step guide to making a footprint butterfly flower pot.
81. Clay Pot Lighthouse
When you stack different clay pots upside down on top of each other and paint windows on them, they'll look like a lighthouse. You'll need to use pots that you don't intend on planting, as they'll be glued together to keep the stack upright and balanced. Complete the project by sticking the lighthouse pots in a bird feeder.
Make a clay pot lighthouse using the guide from Mod Podge Rocks Blog.
Terra cotta pots don't have to be plain. On the contrary, they can be the perfect canvas to unleash your creativity on. Hopefully, the pot painting ideas we curated inspired you to create your own!
Conclusion
So, now that you've looked at all the pot painting ideas we've mentioned, did you find the inspiration you were looking for? If you did, we hope you'll have fun completing the project over your weekend or vacation, and don't forget to let us know which idea y
Comments
0 comments