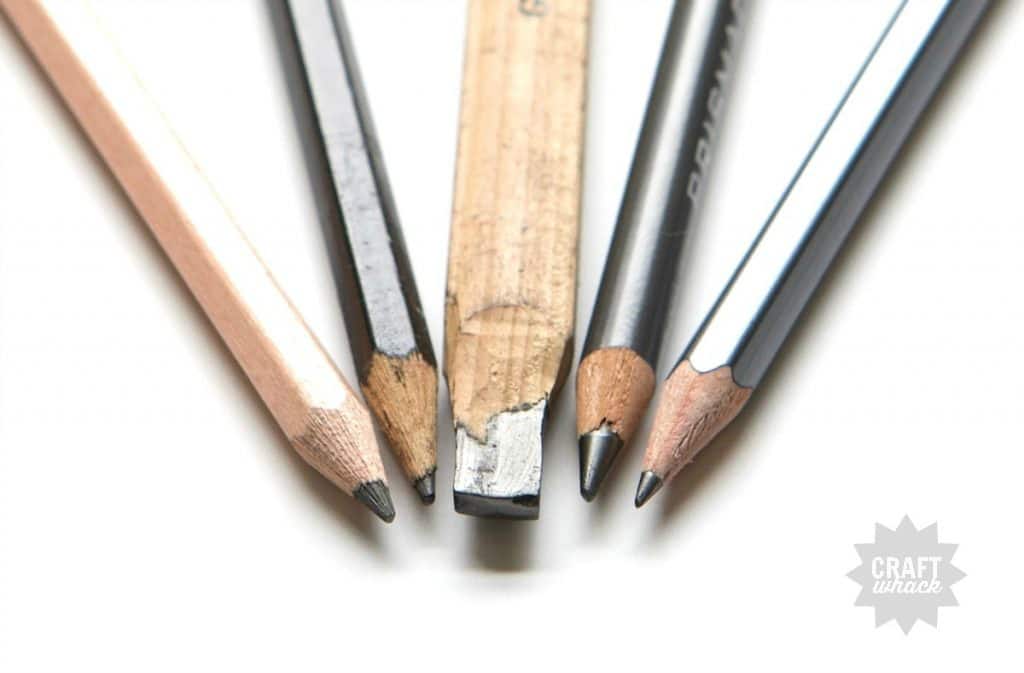 So. It turns out there are people out there who are completely obsessed with finding the best drawing pencils. Isn't this wonderful? Are you one of them? Tell me in the comments what your perfect pencil is.
In the meantime, let's dive deep. Really deep into the world of pencils and maybe we'll find out which is the best drawing pencil.
I fell in love with drawing pencils in high school when I would spend way too much time drawing whatever I could, and then smudging all my lines with my finger. There is nothing quite like smudging pencil lines, and the oil from your finger skin does a far superior job than a tortillon.
Back then I was using Staedtler pencils, and always grabbed the 2B or 4B first because I love soft, dark pencils. I still like these! This is also a great set to buy for a gift or for students.
But….. obviously there are more options, all varying in price and subtle details. Let's take a look at the top 5 drawing pencils and how they differ. Then, as an added bonus, we'll look at the top charcoal and mechanical pencils, too.
(Don't forget the quality of the sharpener matters, too.)
Eek! Look at this cool pencil scale from Tombow. They have downloadable blanks on their site so you can make your own scale.
What are the Best Graphite Drawing Pencils?
A mixture of graphite and clay is what is in most drawing pencils, (read about what is inside of drawing pencils), and the ratio of graphite to clay, as well as the quality of graphite, has a lot to do with determining the quality of pencil, as well as the darkness or lightness.
Caran D'Ache Grafwood – Yep. Caran D'Ache makes some of my very favorite art supplies, and these pencils are right up there. I'm not the only one; they always get rave reviews from artists.
Faber-Castell 9000 – Excellent drawing pencils with a huge, loyal following. Whenever I hear artists rave about drawing pencils, it's always abut one of these top 2 choices.
Blackwing Palomino- Blackwings have been around for a long time, and have remained a cult favorite, probably based on their history. These are darker than the Blackwing 602s, (which are still nice to draw with), so are a favorite amongst artists.
Prismacolor Ebony – I enjoy drawing with this pencil. It's super dark and glides really well across the paper, and is inexpensive.
Staedtler Drawing Pencils – These are perfect for students and people just jumping into drawing who want to get a feel for the range of hardness you can get from different graphite pencils, but aren't ready to spend a lot of money (that day will come, oh yes it will.) 🙂
Caran d'Ache GrafwoodCheck it Out
Faber-Castell 9000Check it Out
Palomino Blackwing PencilsCheck it Out
Prismacolor EbonyCheck it Out
Staedtler drawing pencilsCheck it Out
What are the Best Charcoal Drawing Pencils?
Derwent makes a good set of 3 charcoal pencils, with a white for highlights
General Primo – are lovely charcoal pencils to draw with, and this set includes a sharpener and eraser
Skip: Prismacolor charcoals are catchy/scratchy on the paper
(P.S. I've always had the best luck sharpening charcoal pencils with an X-acto knife)
Derwent Charcoal Pencils, Pack, 4 Count (39000)Check it Out
General Pencil Primo Euro Blend Charcoal PencilsCheck it Out
Are Mechanical Pencils Good to Draw With?
I have to admit, I've never even considered drawing with a mechanical pencil, but there are people out there who love them. Here's what I discovered:
Pentel Graph Gear Drafting Pencil – this pencil looks pretty cool, and people go nuts over it. Now I want to try one….
Pentel Graph Gear 1000Check it Out
You must poke around this site if you want to read about all things pencil. There are so many great reviews on pencils and sharpeners, etc.
Don't Forget:
Strathmore Toned Gray Sketch PadCheck it Out
Strathmore Drawing PadCheck it Out
Faber Castell Large Kneaded Eraser 2 PackCheck it Out
Alvin Brass Bullet SharpenerCheck it Out
X-ACTO knife and bladesCheck it Out