Of the many Disney characters, Ursula has to be one of the most charismatic and iconic villains there is. She is great fun with her tentacles and slithery sidekicks, and many children will love having an opportunity to color her in.If you're looking for the best Ursula coloring pages, we've collected up a selection of the top ones for a whole range of ages and coloring abilities. Who needs to color Ariel when you can recreate Ursula instead?
1. Ursula And Eels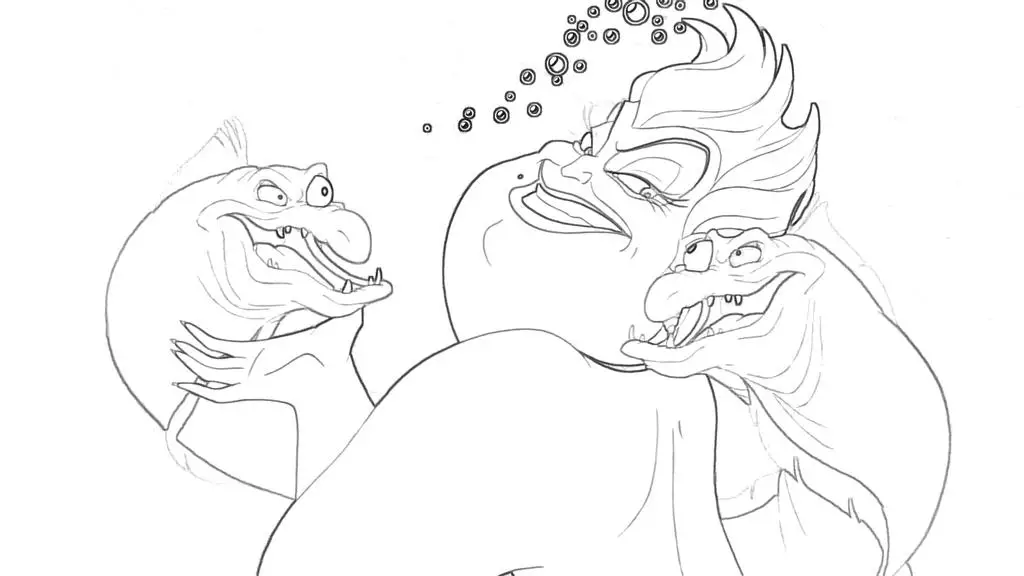 Source: https://www.deviantart.com/richard67915/art/Ursula-Flotsam-Jetsam-Coloring-Page-623163892If your child is a big fan of the other two more minor villains in the story, this Ursula And Eels could not be more perfect. It's a shot from the movie and children can have immense fun recreating the scene, either with the original colors or with their own variation.Make sure you provide some good blues for the water and help your child make the eels stand out by selecting contrasting hues if necessary. Those bright yellow, mismatched eyes are good fun to color.This is a fairly complex coloring project "" although there isn't much in the way of the background, both Ursula and the eels are relatively detailed, and their faces will need some time and attention.
2. Gloating Ursula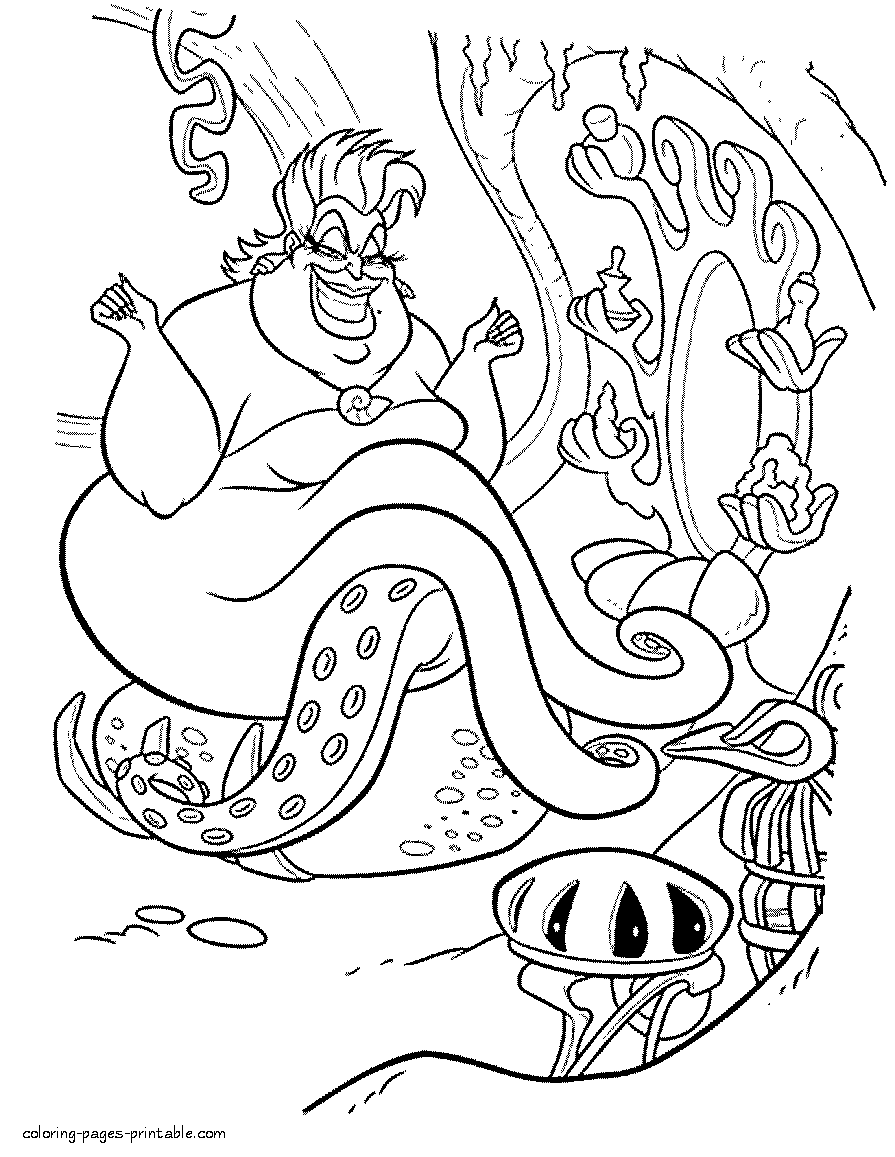 Source: https://www.coloringdoo.com/ursula-coloring-pages/5670.htmlThis Gloating Ursula scene is a great one for kids to spend more time on, and it will give them a complete picture to hang up and admire. There are quite a few complicated shapes for them to deal with in the scene, although none of the shapes are ridiculously small.Your child will probably need a fair bit of patience to color the whole cave, mirror, etc., but if they can stick at it or complete it over several days, they will undoubtedly be very proud of their efforts!
3. Swirly Tentacles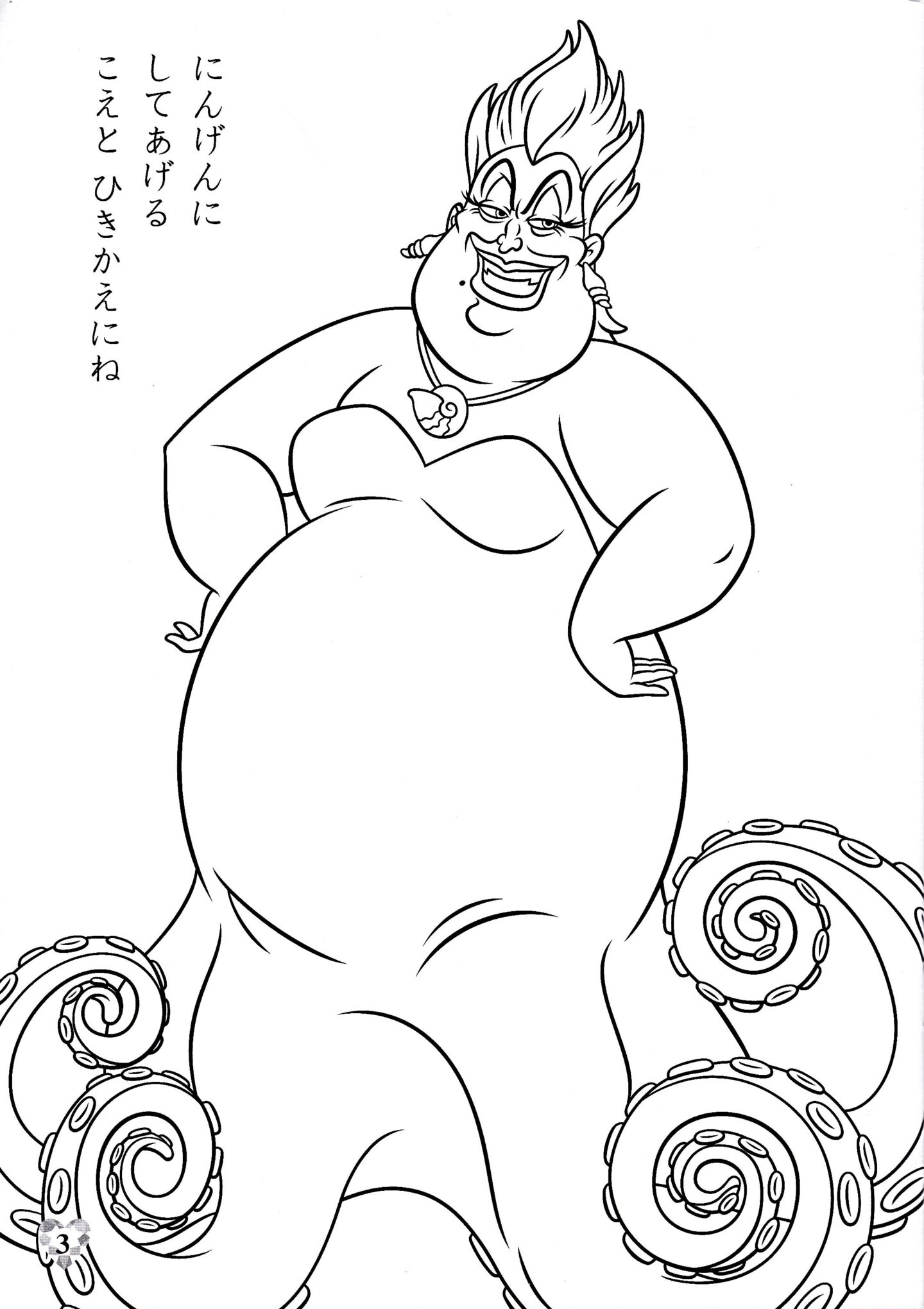 Source: https://www.coloringdoo.com/ursula-coloring-pages/5670.htmlFor a similar difficulty level, this Ursula with Swirly Tentacles doesn't have a background but will present quite a challenge if your child decides to spend time detailing and shading the suckers on the tentacles.They can also color in the seashell, but the main body and face are relatively simple, so overall, this picture should be a reasonably good difficulty level for most children. If they want, they could also easily add the eels or other details to the background around Ursula's shoulders.
4. King Triton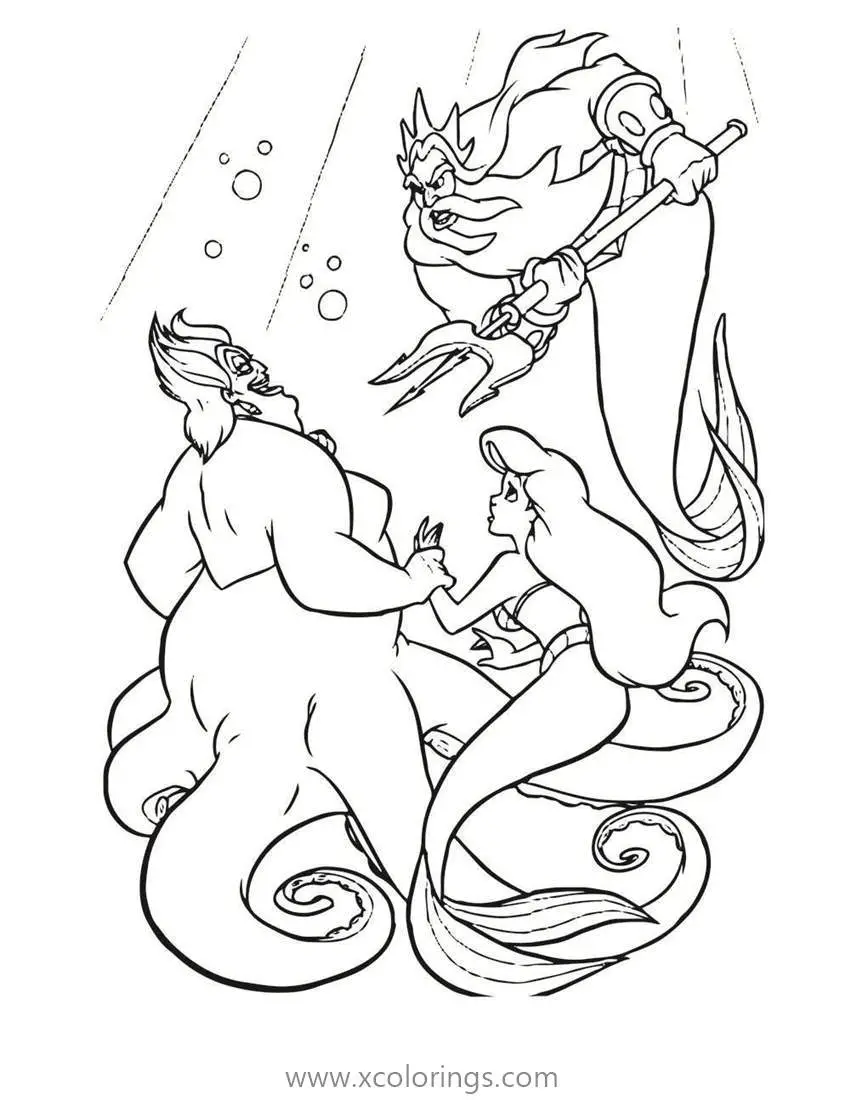 Source: https://www.xcolorings.com/ursula-coloring-pages-with-king-triton-and-ariel/Another great movie moment, the King Triton coloring page shows Triton challenging Ursula, who is dragging Ariel away. This page is great if your child wants more than one character to color "" most will be delighted to have Ariel as well.It also offers some good color variation; with Ursula's black and purple tentacles and blue skin, Ariel's red hair and green tail, and Triton's blue tail and gold adornments. A great reason for your child to pull out all of their colors and have fun!Although there are several characters, the shapes are fairly simple, so the picture shouldn't take too long to complete.
5. Swimming Ursula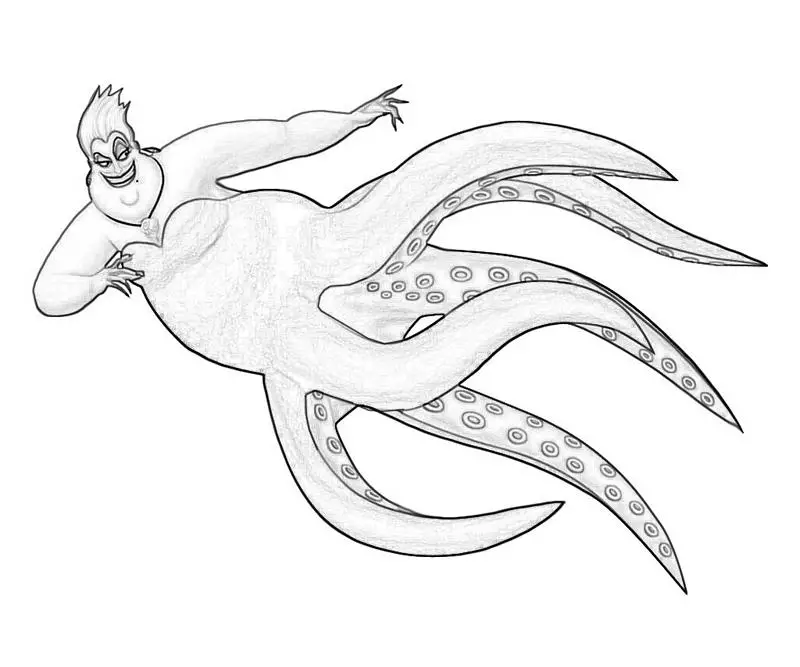 Source: https://globalperspectives.info/coloring/u/ursula-coloring-pages.htmlSome children will just enjoy the swooping of Ursula's tentacles, and they are great for practicing shading on. If that's the case, this Swimming Ursula would be an ideal choice. The suckers on the tentacles are tricky enough to provide some challenge, but on the whole, it's a simple picture that can be done in an hour or two "" and hopefully, your child will enjoy adding shadow to the tentacles so that they look rounded. They may want to use gray, rather than just black, for this.
6. Ursula's Potion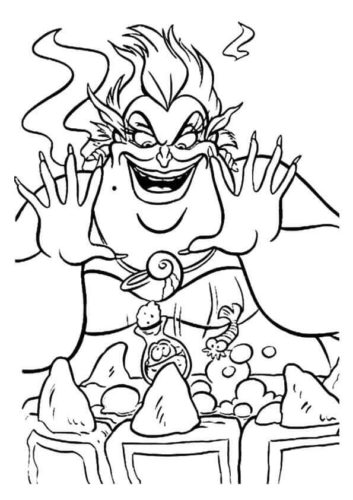 Source: https://www.scribblefun.com/the-little-mermaid-coloring-pages/If your child loves that scene in the movie where Ursula brews up her potion for Ariel, they'll find this Ursula's Potion coloring page ideal. This is certainly one of the more complicated and detailed options, but it's also one they can have a lot of fun with, inventing the different colors for the potion or referring to the movie for guidance if they want to.Some children might find themselves a bit overwhelmed by the number of different shapes and colors, but most will love this scene and thoroughly enjoy recreating it themselves.
7. Diving Ursula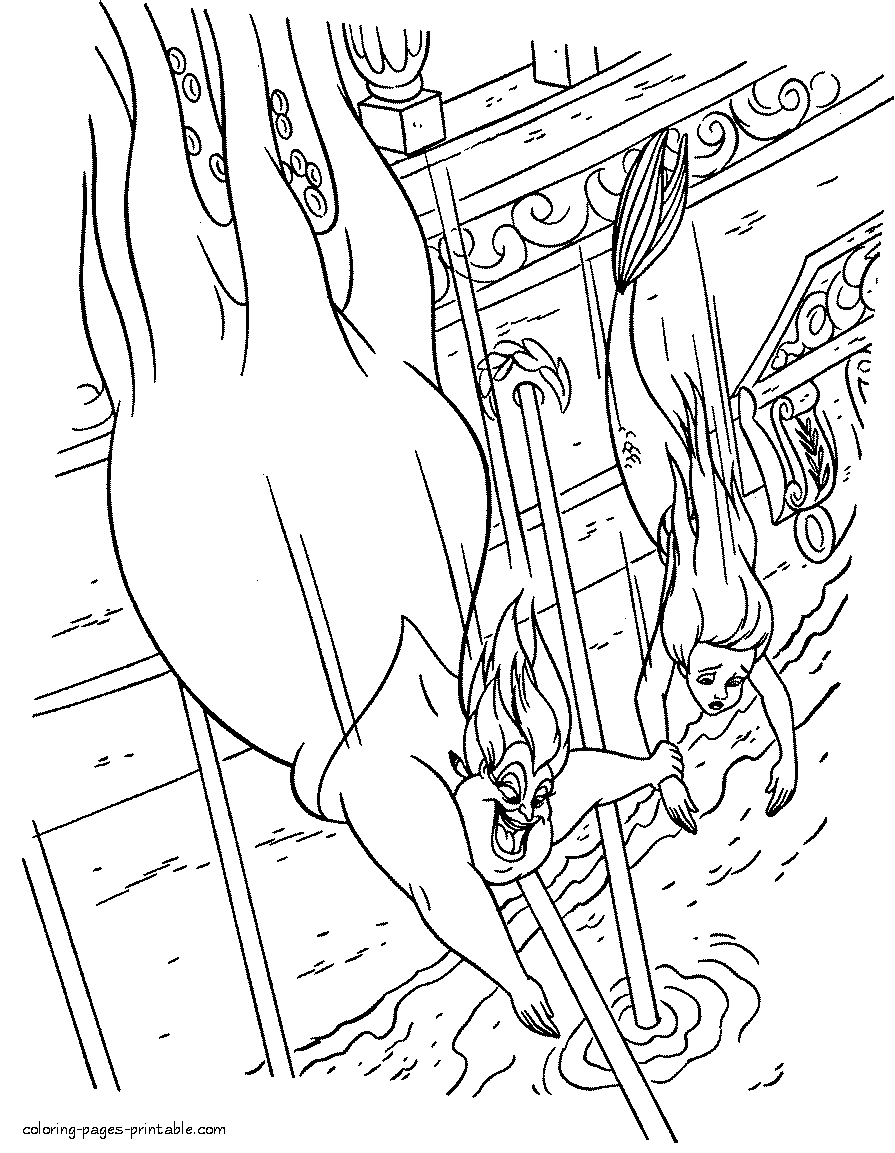 Source: https://www.getcoloringpages.com/coloring/315035For older children who can tackle more complex scenes, Diving Ursula would be a good choice. She is depicted plunging into the water down the side of the ship, and this will let your child experiment with recreating a wood grain feel.There are lots of details on the boat that will need to be filled in "" such as swirls and leaves and metal plates. Your child might like to add several tones of yellow and gold to this if they have them, or just do them one solid color.This picture also has Ariel in, meaning your child can color both their favorite heroine and their favorite villain together!
8. Ursula's Trident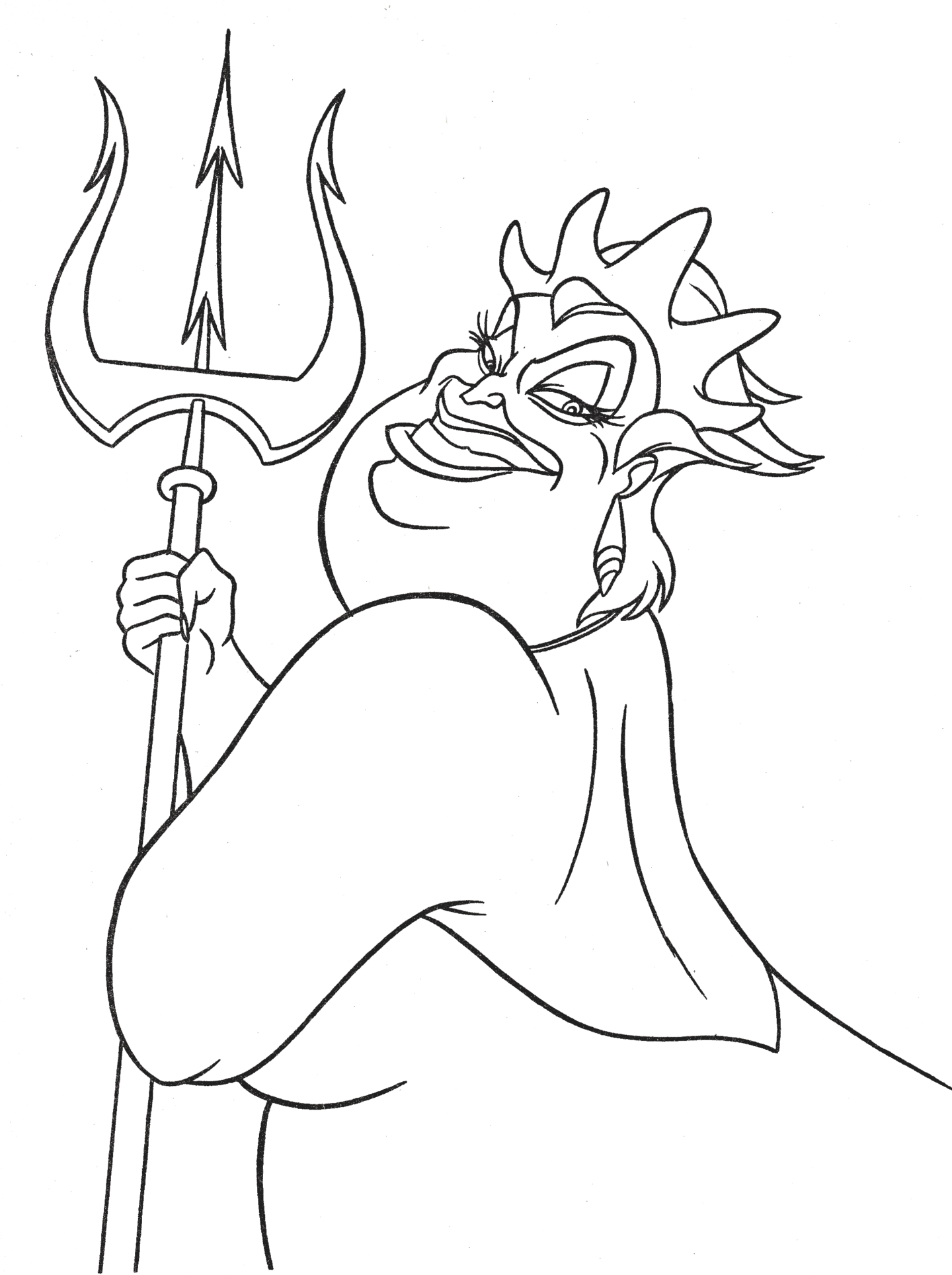 Source: https://fr.fanpop.com/clubs/walt-disney-characters/images/40244466/title/walt-disney-coloring-pages-ursula-photoIf you'd like to find another simple option, Ursula's Trident should be straightforward for most children. It has no background to deal with, and the most complex shape is probably Ursula's shell earring or her eyes.The trident and crown bring a splash of color to Ursula's dark hues and will stand out nicely against the background of blue (if your child colors the ocean in).
9. Human Ursula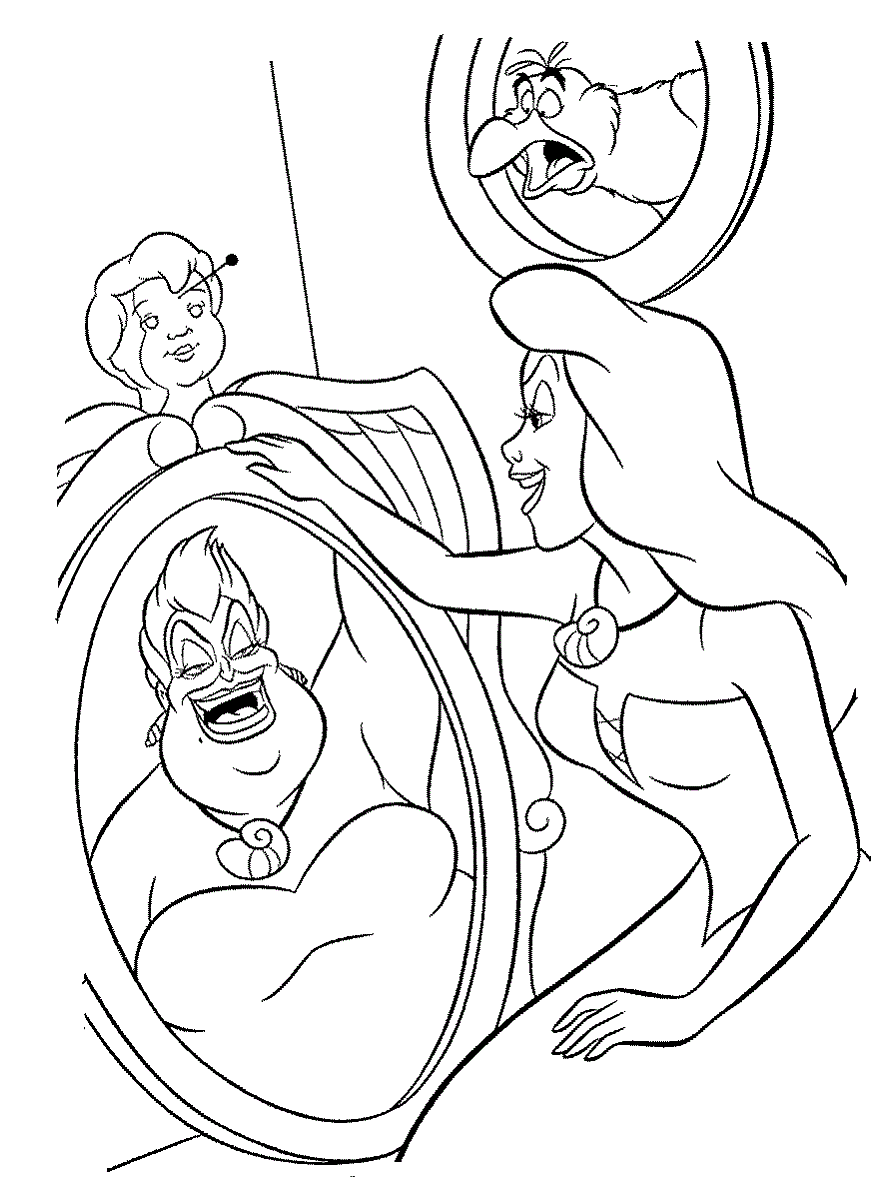 Source: https://educativeprintable.com/ursula-coloring-pages-for-kids/This scene contains Human Ursula as well as Ursula in her true shape, and it manages to create a fantastic balance of having plenty to color, but few fiddly bits. Once again, the hardest part will probably be Ursula's earrings, but otherwise, much of the picture is made up of simple shapes.
Conclusion
Whatever your child likes best about Ursula, you're bound to find it represented in these coloring pages; there are so many options. Hours of fun await, so grab some pens and pencils, and set your child to coloring!
Comments
0 comments