I bought PaperMate InkJoy gel pens and my life was forever changed. And no, this isn't a sponsored post, I just LOVE the things.
I've posted about them on my Instagram feed, and when I put up my latest photo of them, my buddy Alison mentioned that you could use these with the Spirograph.
I've been eyeing the old Spirograph lately, willing myself to muster up the energy to lift it off the shelf, and boy did this do the trick. Thank you, Alison.
Hello, Spirograph.
Some more about Spirograph:
I hate using the non-circles to try to draw with, because they slip and make me cry.
I hate the circles that only make one single closed shape and then stop.
I hate the pen colors that come with it because they are boring and hateful.
Best Pens for Spirograph in 2021
The Crayola fine line markers are very smooth and brilliant for adult art enthusiasts. The markers are incredibly 'juicy,' so you don't have to worry about the markers drying out in the middle of a project. You can use these markers for spirograph art if you work quickly. These markers are more appropriate for adults and less suitable for children. 
These markers are very versatile and can be used for lots of adult arts and crafts, not just for coloring and spirograph, making them good value for money too. The markers take a long time to dry out, which is rare for coloring markers. 
Take note that the colors are a little bit darker than the color on the cap. The colors are dense, so that could bother some artists, but for amateurs and hobbyists, this shouldn't be a problem and often goes unnoticed. 

Ok, so these aren't gel pens either, but they are brilliant for creating spirograph designs. The tips of the pens are very thin, so although they are ballpoint pens, they don't stick and are great solutions for anyone who is sick of using gel pens. 
Kids and adults can use these pens, and there is a hand full of colors to choose from to keep things diverse and interesting. You can also use these pens for writing and doodling, so having this set in your arts and crafts kit will certainly benefit you one way or the other! 
The colors are bright and vibrant; even the yellow pen is noticeable and stands out on white paper. Mixing and matching the pens is easy, and if you want to create a half-and-half spirograph design, you can switch between two colors seamlessly. 

These gel pens are just brilliant! They are very comfortable to work with and have a durable metal tip that stops the ink from bleeding. The pen's base is covered with a latex insert for maximum comfort when using them for a long time. 
This set contains a mixture of pastel, neon, metallic, and glitter colors. The ink is non-toxic, which is very important if your children are going to take them to school with them or use them to create spirograph art. 
What makes this set one of the best pen sets for spirograph is that the pens have a thicker than usual ink rod, giving you more ink and more uses. If you are looking for great value for money, this set is it! 

The Soucolor glitter gel pen kit contains 122 multi-colored gel pens. The pens have 40% more ink than standard gel pens, which is perfect for doodling, children's coloring, scrapbooking, and more. 
You get a styling bag with a sturdy zipper to keep the pens in, along with a small coloring book and a full set of replacement cartridges. This set will last you months or even years, depending on how much you use it. 
They are as smooth as silk, making your coloring experience all the more enjoyable. The only improvement to the set I would make is to add some more shades of brown and gray to the set, but with that being said, the colors are super bright and noticeable, even the light shades! 
Overall, these gel pens are superb for children and adults. You won't run out of things to do with this set, that is for sure! 

What a wonderful gift for children! You and your children are guaranteed hours of fun with this spirograph set. Just place the paper on the board and start drawing! 
The box is innovatively designed to keep the gears and pens in one place, and it is a drawing board. This makes it perfect for traveling, and it can even be used easily in the car, on a bus, or even on a train or plane. 
This pack certainly will spark a child's imagination, and you will be surprised by the imaginative drawings and spirograph designs that will be made using this set. The set uses half of a piece of paper, preventing paper wastage. 
Unfortunately, you can not get refills for the pens, which is a huge shame as these pens dry out very quickly. There are also only two colors in the set; a red pen and a blue pen. However, you can simply swap the spirograph pens with your favorite gel pen color once the originals have dried up! 

WOW! The DasKid gel pen set contains 24 glitter gel pens, 12 metallic pens, six pastels, and six neon colors, plus 48 matching color refills! That means you get 96 artist gel pens for a very low price. 
This set also comes with a sturdy carry case with a layout that is perfect for color coding and arranging. It is lightweight, compact, and professional-looking. You can take this set anywhere with you, and it even looks smart and professional for the office! 
The metal tip is sturdy and allows the ballpoint tip glides smoothly over paper and cardboard. These pens aren't just wonderful for spirograph; you can use them to write invitations, for coloring, and for work. 
If you are looking for a gel pen for coloring in with and for coloring books, then this might not be for you as the tips are very fine. Pens with fine tips take longer to color with, but they sure are precise! 

Here is another Spirograph set. This set is smaller than the other set featured in this review and ideal for spirograph only. 
The set is pocket-sized, and it too has a built-in storage tray that will keep all of the spirograph pieces together. You get a 24-page pad, six spirograph gears, two pens, and a design guide in the set to help you.
If you want to find a way to entertain yourself or your children during a long flight, this set is perfect for you! It is super convenient, and everything fits into the set perfectly. This is a very important feature for a children's art set as most of the time, pieces get lost or damaged if there isn't an innovative way to store them. 
You don't need to be a spirograph pro to use this set either, which makes it great for children. The paper is sticky on the back, helping it stay in place as you swirl and twirl the gears.


So, I proceeded to Spirograph my little heart out yesterday, and Fen joined me. Beckett couldn't deal after his first failed attempt and he went back to naked stuffed animal wars.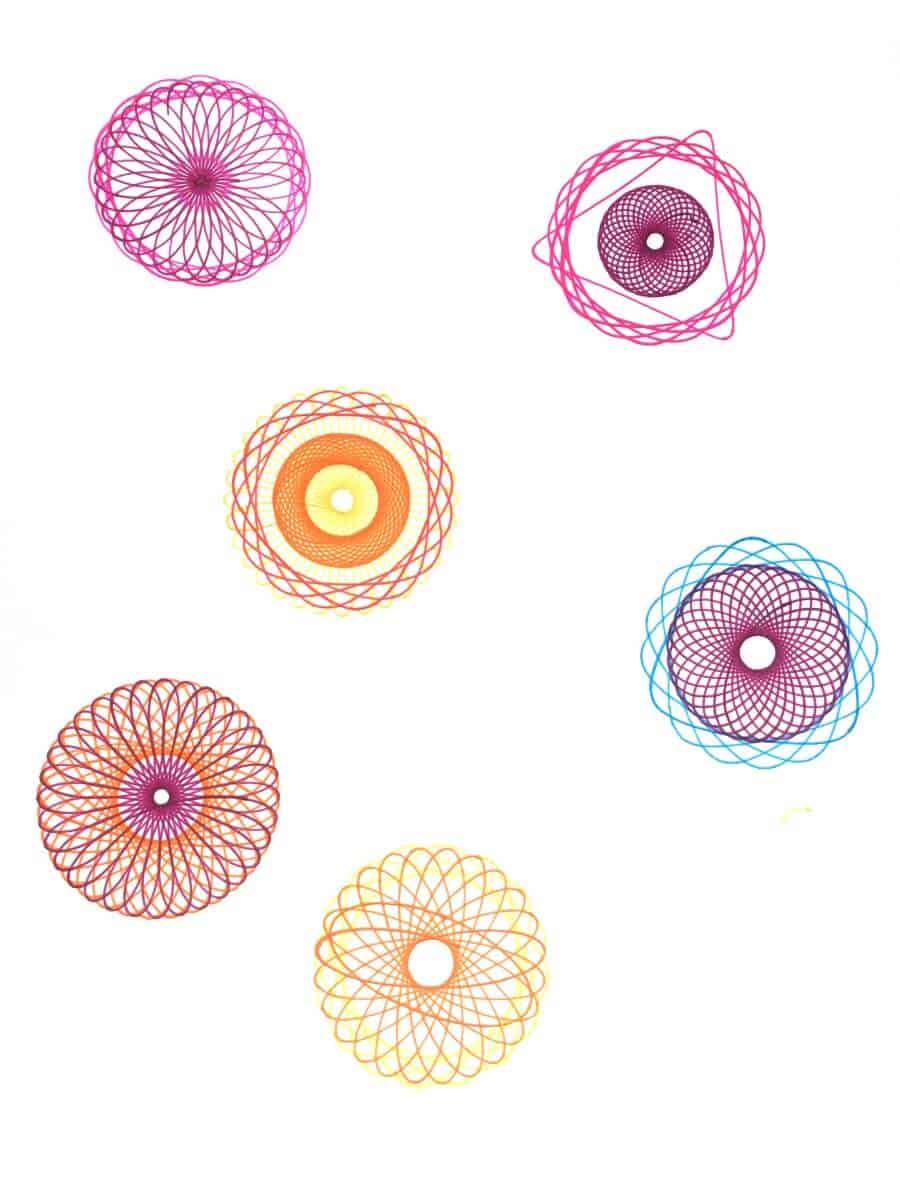 It was so fun and these are awesome pens for Spirograph. I had so much more patience than when I was a kid when I rushed through making designs. Remember when you'd get through almost the entire Spirograph pattern and then suddenly your hand would slip? There's no greater frustration.
I don't remember the original Spirograph coming with tacky goo to hold down the outer circles, either, but this is a life saver if you don't want your hands to cramp up like gnarled tree branches.
Spirograph Tips:
Please, for the love of your sanity, use card stock and not flimsy printer paper. The ink will rip through almost immediately.
Throw out the box and store your pieces in a gallon ziplock bag or plastic box with the pamphlet and paper.
Check out the pamphlet- it's full of Spirograph tricks
Experiment with warm colors together, cool colors together, and ALL THE COLORS
Make a card for someone
Make a small Spirograph design on your math homework and see if you get extra points
Color in some Spiro-designs
Make temporary tattoos from your scanned Spirograph designs with this tattoo paper
Oh, about the pens. I almost bought some more today and couldn't believe the price had gone down $5. Then I realized I was looking at the roller ball pens, which look deceptively like the gel pens. I haven't tried the roller ball pens, and can only imagine the sad sadness one might feel if one expects to be buying the gel pens but gets confused and buys stupid roller ball pens instead.
Resources Mentioned in This Post