The Brother SE 400 Sewing Machine Reviewed
Longtime fans of textile art are doubtless familiar with the sewing machine and its infinite contribution to the creation of quality textiles in every corner of the globe. A close cousin, the embroidery machine, does a closely related job. Instead of creating lines of stitching to hold the fabric together, it makes the designs that decorate so many wearable works of art.
This product combines both and adds a healthy dose of automation to make sure that the finished product is more precise and true to the design than humans can manage. By pairing with your laptop or computer, you can design your choice of digital stitch patterns and upload them directly to the machine, eliminating the need for either an internet connection or any removable media in between.
For those who find themselves either without a computer nearby or stuck for an idea, this machine also comes with more than 100 preprogrammed designs, giving you a broad array of possibilities to kick-start your own creativity. An integrated LCD screen allows you to view the selections and manage your project while it is in progress, and the automated threader and quick-drop bobbins let you zip through whatever pattern you choose and move on to the next as soon as you're done.
Anyone into arts and crafts is likely to have come up against a project they would love to complete, but simply don't have the skill for – it's nothing to be ashamed of, of course, and with the Brother SE 400, it's also nothing to worry about. This product comes programmed for 130 stitches, including eight sizes of buttonholes, and five more alphanumeric stitches to get it ready for any pattern that comes on the way.
With such limitless potential to work with, you'll need a healthy supply of materials to keep up, but the Brother SE 400 makes sure to at the very least give you everything else you might need to get started. The accessory kit is well stocked with replacement parts and ancillary tools to make both creating the piece and maintaining your machine as quick and easy as possible.
If any of this machine seems too complex or looks like "˜overkill' for the projects you had in mind, don't worry – the "˜Brother At Your Side' disc that comes with the machine will give you a tutorial program to navigate you from new user to expert in no time and get your Brother SE 400 humming away to bring your projects to life. This software is offered for most major operating systems and is available in English or Spanish for the user's convenience.
Who's It For?
This machine is for those who like to sew or embroider small projects for recreational purposes or create a unique and meaningful gift for a special person or occasion. It is a great fit for beginners, offering detailed guidance and a vast library of practice patterns with which to start sewing.
Elderly or disabled individuals with a passion for textile art will also find this a true friend thanks to the brightly lit controls and simple interface right on the body of the machine. Some may find that certain advanced stitches are now beyond their capabilities; this machine will allow them to continue creating the same intricate projects they know and love.
For all its excellent qualities, the Brother SE 400 is not the right choice for everyone; as an electronic machine, it is unsuitable for working on the go or a craft room without an outlet. Seasoned or ambitious artists might want something with a larger embroidering area, and you will need an internet or computer connection to load any of your own designs.
Likewise, this is not the machine for someone looking to make quick repairs or create pieces of clothing for long-term use; the computerized processing is more precise than an analog or manual-power machine but works slower than most repair work needs to be. If you are looking to perform repairs or make a suit, try looking for something simpler and with more needle power.
What We Like About The Brother SE 400
Possibly the best thing about this product is that there is nothing that's beyond its skill level. You can feed it patterns containing the most intricate patterns and complicated stitches and rest assured that you will see the results you want all the time and every time. Everything from threading the needle to tying off the stitch is executed flawlessly and automatically, so you don't need to worry about anything except running out of thread.
The software package is a huge help, getting you more ideas and helping you through the learning curve that comes with any new machine. It is both bilingual and compatible with iOS and Windows, so there's plenty of freedom for users of all ages and backgrounds to learn about their new machine.
Having an internet connection and computer hookup on the machine is always a relief, especially if your computer has a slower write speed and struggles to transfer embroidery files to removable memory. Being able to plug directly into the machine or load patterns from the internet lets users skip the hassle of memory cards or thumb drives and spend more time on the art that they wanted to practice.
Everyone likes getting a goody bag, and the Brother SE 400 comes with a hefty parcel of extras that you will find to be lifesavers when trying to maintain or repair your machine without taking it to a technician. The extra parts and cleaning kit are both hard to come by outside of a specialist shop, and getting a few right off the bat is a good way to save money and give the new user something of a second chance at their purchase.
See Related Article: A Deep Dive into the Brother GX37
What We Don't Like About The Brother SE 400
The preloaded patterns in the machine's internal memory may be good for beginners, but they are unsuitable for anyone else. They are quite basic designs and will do little for an experienced user besides filling the memory and preventing the user from loading other, more intricate ideas. A larger memory or fewer beginner's designs on the machine itself would have been a serious improvement.
Your included embroidery hoop is a paltry four inches square, making it difficult to create anything more than a small souvenir at one time. The manufacturer does sell larger hoops, but they will still be limited to four inches wide, meaning that your projects are unlikely to truly grow much beyond that.
Many users are understandably annoyed at the software assistant, which does not live up to the manufacturer's claims. To begin with, although it is compatible with iOS and Windows, it has undergone few upgrades since the original Windows 98 version, making it far more cumbersome and rudimentary than most users would like. Additionally, some computers may not be backward compatible far enough to run the program, rendering it unusable without a special upgrade to your computer.
While it is multilingual, as is the CD, the manual offers little clear direction and no troubleshooting advice. For the most part, one must watch the CD's tutorial to fix the machine, which is troublesome for the reasons stated above.
There is a certain amount of a learning curve, especially for those that are transitioning from a simple sewing machine to this device, that is not helped by either of the instructional options provided. A significant part of that is just getting the machine set up the first time. Like any sewing machine, it has a number of extremely intricate parts that must be assembled in precisely the right way and understanding what that is or how to do it takes time and experience.
Getting replacements for any of those parts can be a chore as well – most are only sold by the manufacturer, and all are inordinately expensive without the rest of the machine. There is no sample cloth or thread provided either; most machines at least give you a few small pieces and spools to give you a sense of what you are working with and what it can do for you.
Wireless connectivity would be a serious improvement for this model, as would a certain amount of cloud storage. The need to plug hard lines into the machine to use it is unnecessarily complicated, and one might want to manipulate the machine while away from home.
There is one final correction to be made in the LCD screen, which is too dim and ambiguous to be of much help unless you already know what you're doing. Neither the controls nor the size of the screen really gives the user a good idea of what their Brother SE 400 is doing, or how to change it on the fly.
PROS
Enormous library of stitches
Digital design feed
Automated needle threader
Good for beginners
All relevant parts included
CONS
No sample materials
Outdated instruction CD
What's Included?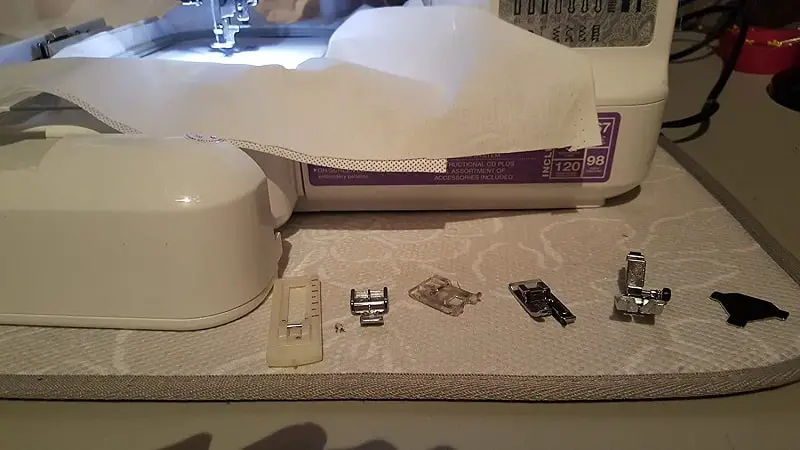 This model actually includes an impressive accessory pack as compared to some other models, which is always a plus with something as complicated as a sewing machine; the parts are both small and fragile enough that being lost or broken is a concern for most of them. Apart from the body of the machine itself, one gets a CD and manual in English and Spanish, and the relevant USB cable and power cord to keep it running.
Naturally, you get the embroidery arm and hoop, and a cleaning kit to ensure proper maintenance as long as you feel like keeping the machine running. There is a selection of feet for different kinds of work, and a set of spare bobbins, one seam ripper, one pair of sewing scissors, two screwdrivers, and three spool caps in the supplies bag.
See Related Article: The Brother CS7000X Review
Overview Of Features
This machine can reproduce up to 185 different kinds of stitches perfectly, in any of the five preloaded fonts, and gives the user instant access to a library of 120 frame designs and 70 decorative ideas to be mixed and matched or executed separately as the user pleases. The stitches include alphanumeric stitching and buttonholes, and there are 67 different lettering possibilities to put text anywhere on our project.
The Brother SE 400 includes multiple automated features to make it easier for the craftsperson to execute the more finicky tasks such as threading a needle or tying off the end of some stitching. Both are now accomplished by the machine itself at the push of a specially labeled button, and the quick-feed bobbin makes for minimal downtime between colors and pieces of embroidery.
There are several alternatives for how you want to enter your design into the Brother SE 400. Apart from the internal memory, which can be cleared of the beginner's designs and reprogrammed, the one can link the machine to a computer by USB cable to use any of the connected computer's drives, or connect an internet cable to download new patterns directly; there is even a memory card slot for those who don't mind using removable media.
One controls the machine from an LCD screen built into the side, where all the functions and the project status are displayed. You can use it to browse available patterns or edit one in progress, although it is recommended not to change the pattern unless you are certain of what the machine will do and how.

Review Summary
This machine will be a huge help to anyone who either doesn't quite know where to begin with textile art or for some reason cannot execute their favorite advanced designs anymore; it can handle all the trickiest parts of sewing and embroidering, leaving the user free to design the piece to their heart's content. A larger embroidery hoop included with the machine would have been nice; additionally, this device's software is out of date, and you may need to find a more modern tutorial online.
Comments
0 comments