Everything about art is satisfying, starting from the moment you stare at a blank canvas and visualize a painting till the moment you see it finished and adorned with colors.
However, inspiration is a crucial ingredient here, and it doesn't come easily. Not everyone has the talent to stare at a mediocre scene and get inspired into drawing a masterpiece. That's where we come in to help!
If you like nature and want it to be the main theme in your paintings, we'll give you the inspiration you need. We've curated a list of 27 tree painting ideas to help you get started.
Trees are aesthetically pleasing and available everywhere. Not to mention, they're a proud representative of nature with their striking heights and charming appearances. So prepare your drawing supplies and get ready to paint a masterpiece!
1. Cherry Blossom Tree
Cherry blossom trees symbolize the inevitable fleeting of life, and they grace our world with breathtaking blooms every spring. You can celebrate their beauty with an easy painting that involves using a Q-tip and acrylic paints. It's a relatively easy method that'll give you satisfying results.
Get the tutorial for the cherry blossom tree on Feeling Nifty.
2. Christmas Tree and a Magical Winter Scene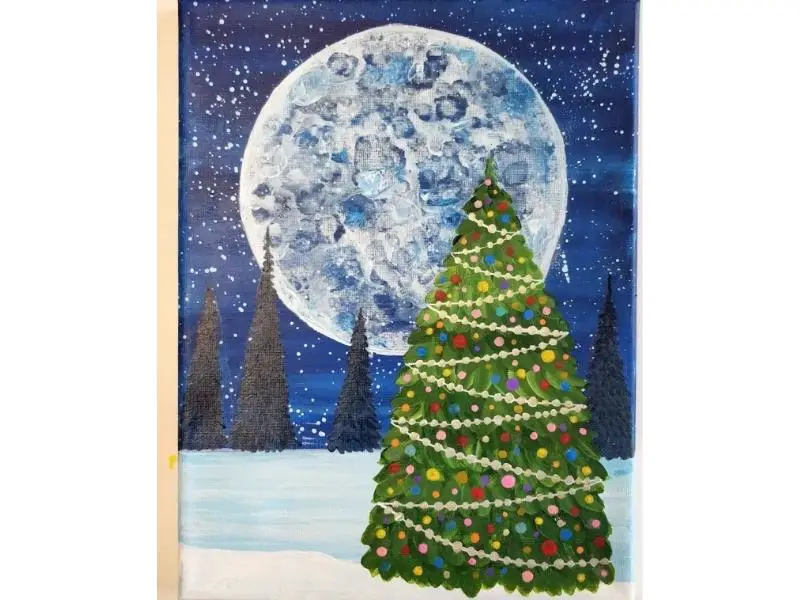 Channel your inner Picasso and welcome this year's merry season with a magical drawing of a Christmas tree. The bright moon and dark background will further complement your art piece, and the painting will make for an elegant Christmas decoration on your wall.
Learn how to draw the Christmas tree and magical winter scene on Feeling Nifty.
3. Autumn Tree Painting With Cotton Balls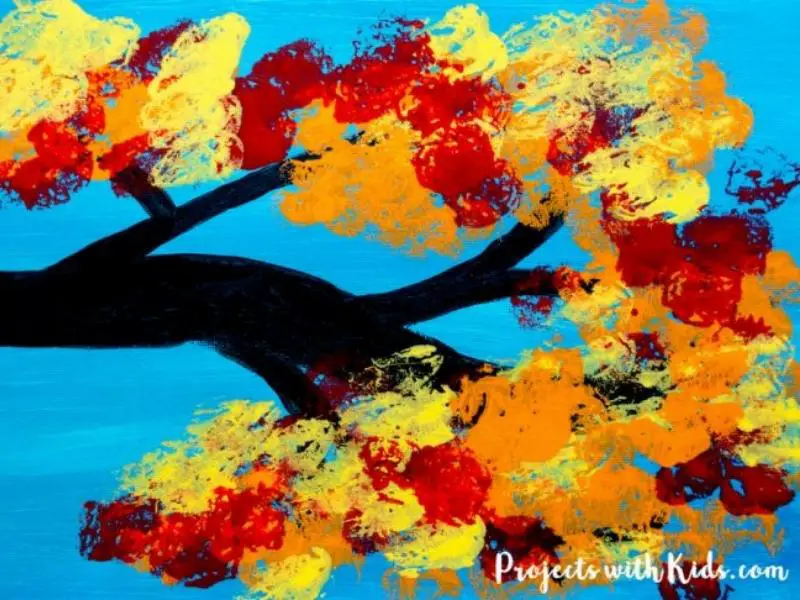 This project is ideal for younger kids because it includes painting with cotton balls, which is one of the easiest painting methods. They'll have so much fun playing around with autumn-themed colors, and the result will be stunning.
Check the instructions for autumn tree painting with cotton balls on Projects With Kids.
4. Green Summer Trees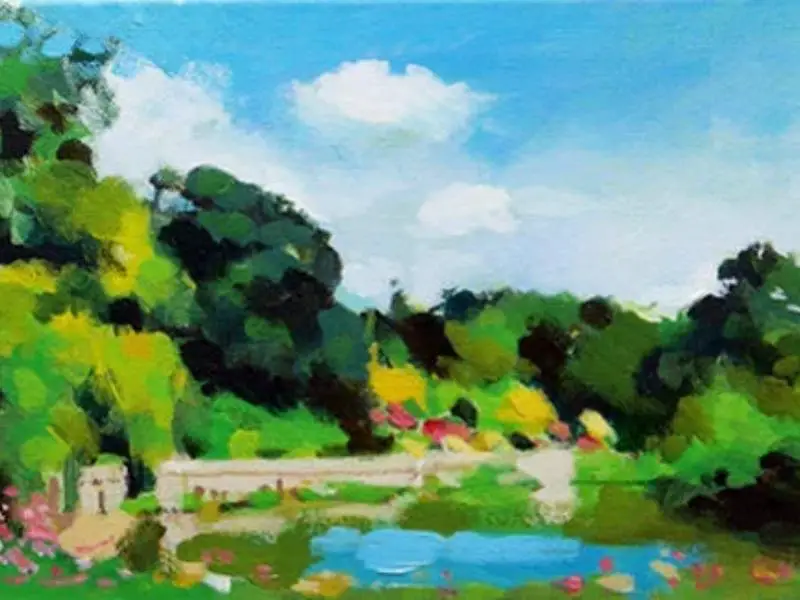 In this project, you'll experiment with mixing colors, practice choosing the right shades of green, and paint with various paintbrushes. Although it's a challenging painting and not for the faint of heart, it'll be your Everest if you get it right. So, if you don't shy away from challenges, give it a try.
Find out more about green summer trees at Will Kemp Art School.
5. Hammock Palm Tree Painting
Don't we all love summer breezy days and spending a long time on the beach? You can use the summer season as inspiration for your next drawing and draw a hammock palm tree. You'll have fun painting it, and it'll make you reminisce about the attractive tans and beach parties.
Read more about the hammock palm tree painting on Step by Step Painting.
6. Fingerprint Fall Tree
Finger painting is a fun and ideal technique for kids. Although it causes quite a mess, it gives them a few hours of joy. If you want your little ones to try it, you can give them this fingerprint fall tree to paint. They'll need brown, orange, and yellow colors to get started.
Learn more about the fingerprint fall tree on First Palette.
7. Watercolor Tree Painting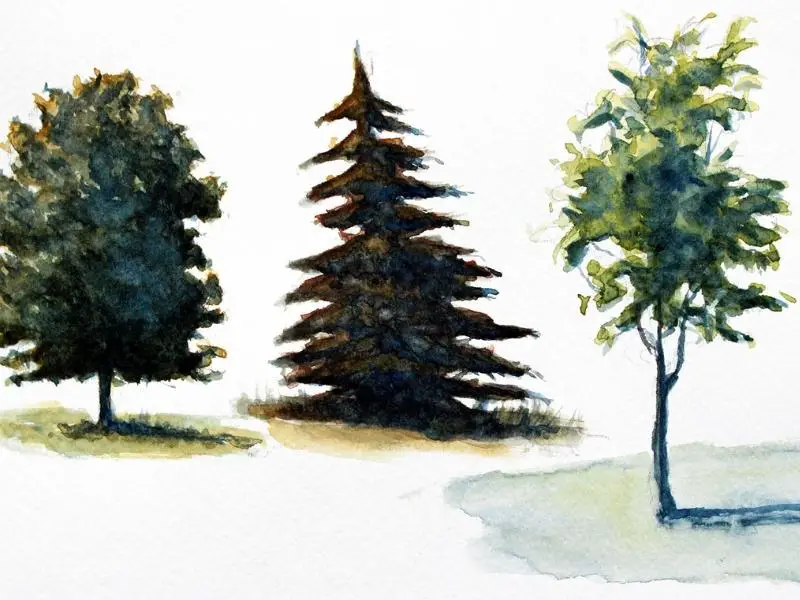 Watercolors are fun to paint with, and they breed beautiful results. You can try your hands at a watercolor tree painting and see how it turns out. You can also use your creativity and draw many tree shapes with different shades of green. For example, draw a dark shade green tree, then a light-shade one. This will give you a chance to practice mixing colors.
Head over to The Virtual Instructor to learn how to paint a watercolor tree.
8. Pine Cone Christmas Tree Crafts
Instead of using a blank canvas to express your drawing, you'll use a pine cone in this project. We know it isn't the most common painting canvas out there, but it's an insanely fun craft and results in adorable Christmas decorations. So why not give it a try?
And since they're so easy to craft, you can make an entire collection. If you want more Christmas tree crafts for your kids, you can check craftwhack.com.
Get the tutorial for pine cone Christmas tree crafts on Pjs and Paint.
9. Palm Trees
Palm trees are aesthetically unique, with towering heights that make us marvel. You can include them in your upcoming painting project and learn how to draw a charming and tall palm tree. It's an excellent start for beginners, and trying your hands at painting will be an interesting experience.
Find out more about painting palm trees on Easy Drawings and Sketches.
10. Fan Brush Trees
You don't have to go out of your way to paint a complicated-looking tree. Instead, you can settle for easy tree painting ideas, like using a fan brush to paint silhouette trees. You'll have your painting done in no time, and the art project won't challenge your skills.
Check the instructions for fan brush trees on Step by Step Painting.
11. Birch Tree Painting
Birch trees symbolize new beginnings, so what's a better drawing with which to start your painting journey? You can use acrylic paints or watercolors for this project. No matter what you prefer, the result will be satisfying, and you'll get to improve your painting skills.
Read more about the birch tree painting on Step by Step Painting.
12. Winter Tree Finger Painting
When the weather is too cold for playing outside, you can keep your kids entertained with easy tree painting ideas. For instance, they can give this winter tree finger painting a try. They'll need brown, white, and blue colors to finish their masterpiece.
Head over to Easy Peasy and Fun to learn more about winter tree finger painting.
13. Tree of Life Watercolor Painting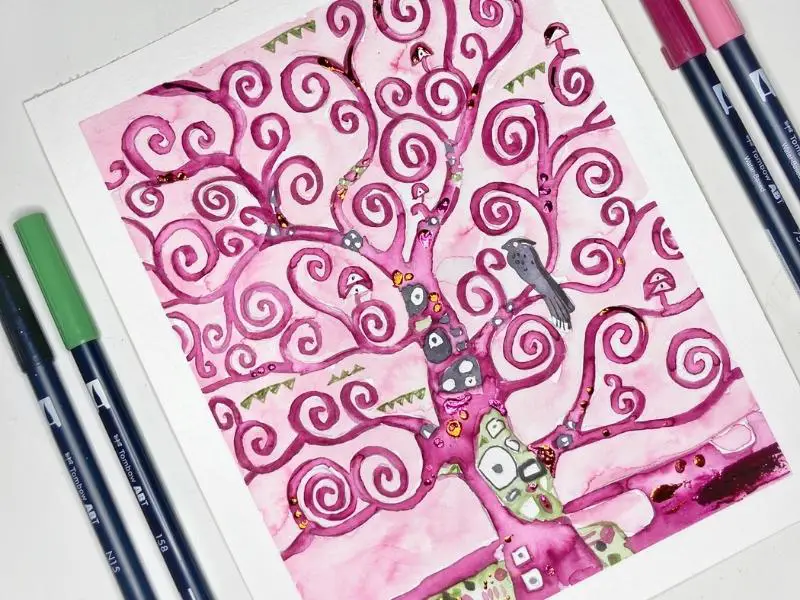 The tree of life has many artistic depictions throughout history, and you can make your own using watercolors and some creativity. We won't deny it's a challenging project, but by the time you finish, you'll be able to add your painting to the tree of life paintings hall of fame.
Get the tutorial for the tree of life watercolor painting on Tombow.
14. Acrylic Trees Landscape Painting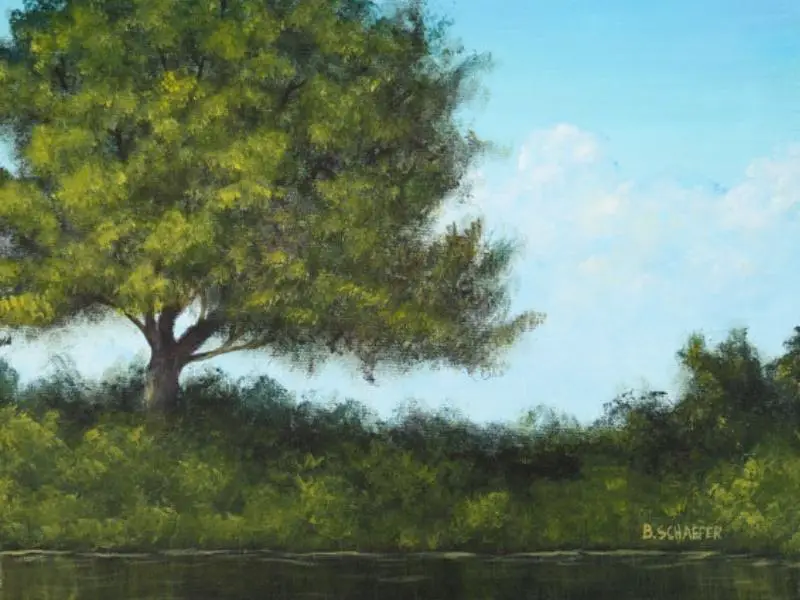 Although this painting doesn't fall among our easy landscape painting ideas, it'll help you improve your skills and give you a fun and art-packed time. For stunning results, you should use acrylic colors and various brushes to finish this artwork.
Check the instructions for acrylic trees landscape painting on Craftsy.
15. Spooky Tree Holding the Moon
Halloween is an ideal time to practice some tree painting ideas, and you can start with a spooky tree that holds the moon with its branches. You should use a dark color palette to channel the haunting soul of Halloween, and don't forget to add some bats flying around!
Find out more about the spooky tree holding the moon painting on The Art Sherpa.
16. Abstract Tree Painting
Abstract art portrays conventional shapes in unique ways, and if you want to practice it, you can start with some easy tree painting ideas. Take this idea, for example. First, you'll paint a vibrant abstract tree using acrylic colors. Then, after you finish, you can showcase your masterpiece on your house's wall.
Learn more about the abstract tree painting on Make Something Mondays.
17. Fork-Painted Christmas Tree
Here's another Christmas tree project that'll keep your little ones busy for a long time. First, you'll give your kids forks and acrylic paint. Then, they'll try to paint a unique tree using forks instead of brushes. While this method isn't particularly conventional, it's enjoyable and breeds adorable results.
Get the tutorial for a fork-painted Christmas tree on The Pinterested Parent.
18. Autumn Tree Painting for Kids
During autumn, leaves start falling, and trees look even more charming. You can give your kids this easy autumn tree painting if you want to raise little artists. They can either use pom-poms, lego pieces, or fingerprints to paint the leaves. As for the body, the tutorial has a free tree template you can print.
Check the instructions for autumn tree painting for kids on Crafts on Sea.
19. Winter Tree Silhouette Art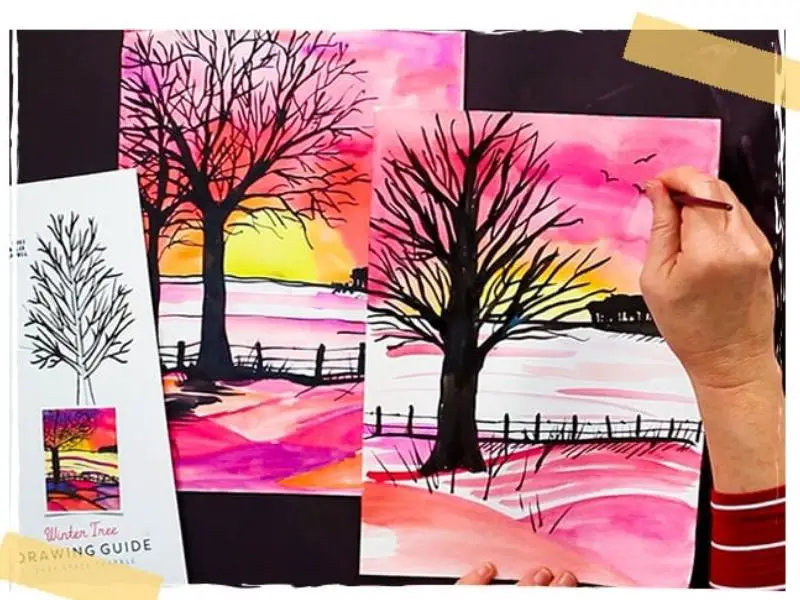 You can create this silhouette artwork in your free time. Such paintings make for elegant hangings on the wall. And while you might think it's too difficult for you, once you hold your brush, it'll glide smoothly over the canvas creating beautiful shapes. In addition, you can get creative with the colors and choose the palette that goes better with your interior decor.
Learn more about the winter tree silhouette art on Deep Space Sparkle.
20. Willow Tree Painting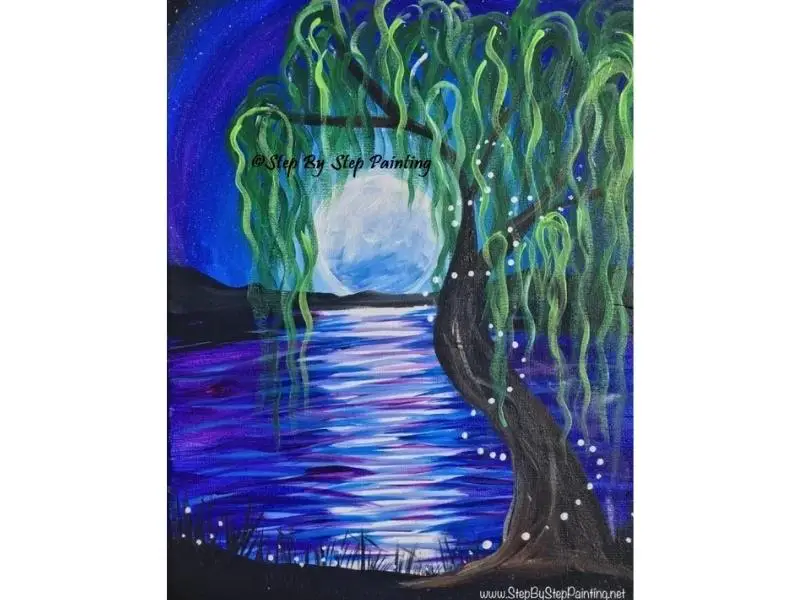 Willow trees have long leaves that drape beautifully, creating a marvelous scene and an irresistible sense of safety and belonging. You can practice your painting skills and paint a breathtaking landscape scene with a willow tree and a bright moon. While the project will take a lot of focus and time on your side, the results will be stunning.
Head over to Step by Step Painting to learn more about the willow tree painting.
21. Evergreen Tree Painting
Evergreen trees have vibrant foliage that stays alive for more than one season, making them a symbol of immortality. So you can try your hands at painting a beautiful evergreen tree. And although you might face some difficulty with the foliage, the result will be worth your effort and time.
Get the tutorial for the evergreen tree painting on Pamela Groppe.
22. Spooky Tree Circle Art
Do you want to create a unique piece of art inspired by the spookiness of Halloween? If so, it's time to paint this spooky tree circle art. You'll need yellow, orange, pink, brown, and blue colors to complete the masterpiece. You can also add some flying bats as final decorative details.
Check the instructions for spooky tree circle art on Arty Crafty Kids.
23. Mixed Media Christmas Tree Art Project
This media mix art project will introduce your kids to different painting materials and get them excited for Christmas. They'll paint a Christmas tree as if they're looking at it from a window, then decorate it with some ornaments and bright colors.
Learn more about the mixed media Christmas tree art project on Projects With Kids.
24. Vibrant Button Tree of Life
Tree of life paintings often has a unique charm. This is mainly because artists portray the tree using many innovative styles, and you can make your own version using buttons instead of colors as a creative, awesome twist. You'll first outline the tree. Then, you'll add colorful buttons to resemble leaves. The result will be worthy of hanging on your walls.
Find out more about the vibrant button tree of life on Crafts by Amanda.
25. Autumn Tree Painting With Bundled Q-Tips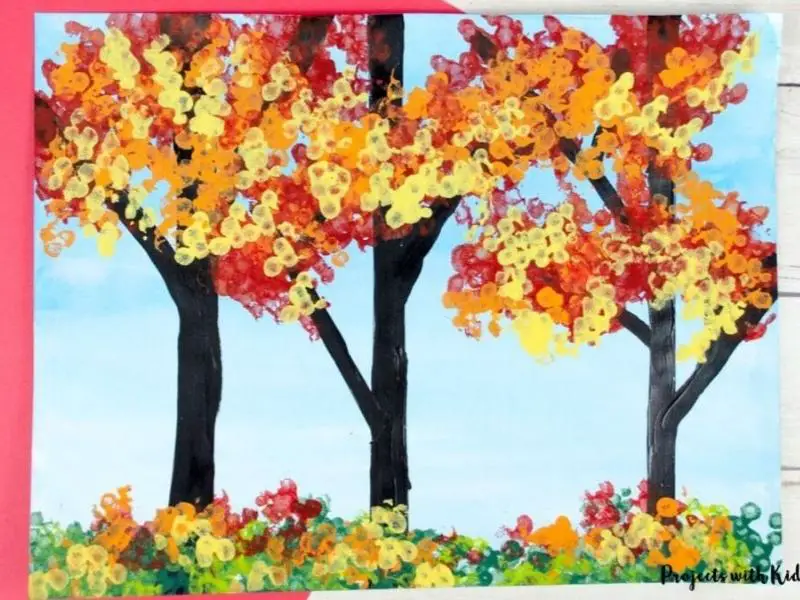 The autumn season graces our world for a few months, but it leaves behind beautiful colors and cheerful vibes. You can celebrate the heartwarming season with an interesting and easy tree painting activity that you can attempt with your child. Instead of using your fingers to paint, you'll use Q-tips to create an artwork.
Learn more about the autumn tree painting with bundled Q-tips on Projects With Kids.
26. Acrylic Tree Branches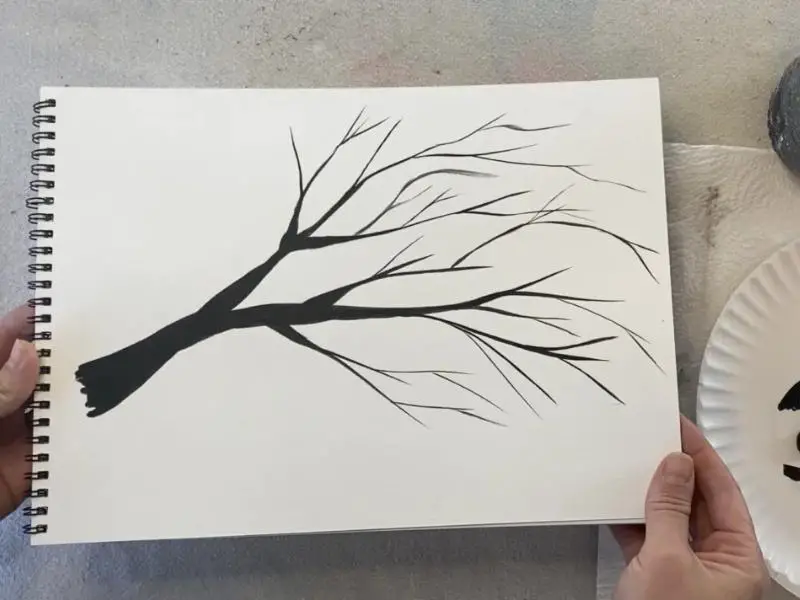 If you don't want to draw an entire tree, you can begin with a simple painting that only involves the branching part. This way, you'll practice your skills and enjoy painting without challenging yourself too much.
Get the tutorial for acrylic tree branches on Step by Step Painting.
27. Christmas Tree Painting
We'll end our list with an enjoyable idea that'll keep your kids entertained for a while. First, they'll outline a Christmas tree using a pencil or a marker. Then, they'll start coloring it using sharpies.
Check the instructions for Christmas tree painting on Art Projects for Kids.
Painting is an enjoyable hobby that many people love, but it requires inspiration. Now that you have yours, you can practice your artistic skill and create many art pieces!
Comments
0 comments