Creating some beautiful DIY Mother's Day decorations would be a fantastic way to honor your mom in this once-in-a-year event.
Not only will you create a festive vibe around the house, but also put a smile on your mother's face.
If you're a dad, you can also spend quality time with your children preparing these decorations for your wife.
There are countless ideas that you can try, and luckily, most of them won't take up much time to set up, so even if you need some last-minute ideas, you still have time to celebrate mom and make her feel like a queen!
In this round-up, we've curated a list of some of the most lovely mother's day decorations. So, let's get to them right away!
Fresh Flower Banners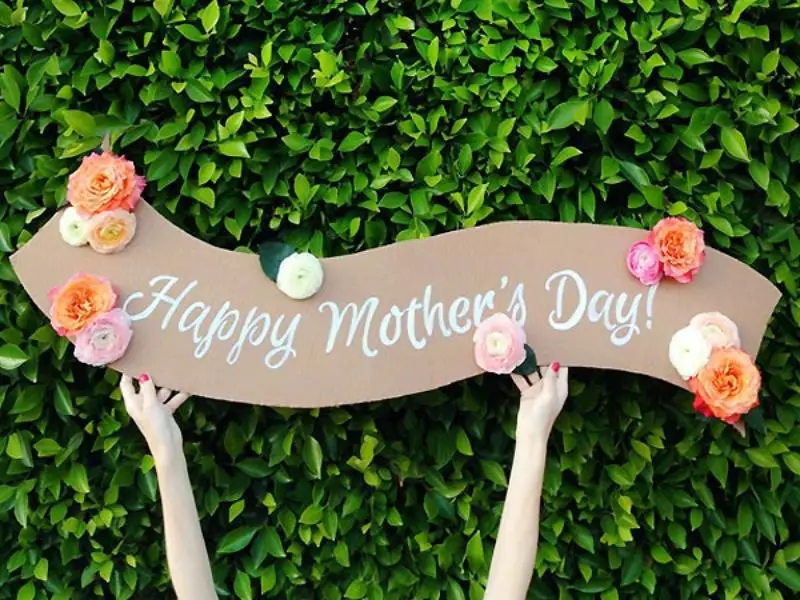 These fresh flower banners would make an excellent entrance for your Mother's Day party.
To make this piece of decoration, prepare a cardboard banner using a ready-made template. Then, attach peonies and blooming roses to it using glue or other adhesive substances. The last step is to transfer a "Happy Mother's Day" phrase onto the cardboard using any dye-sublimation printing service.
Get the step-by-step fresh flower banner instructions from studiodiy.com.
DIY Wooden Plaque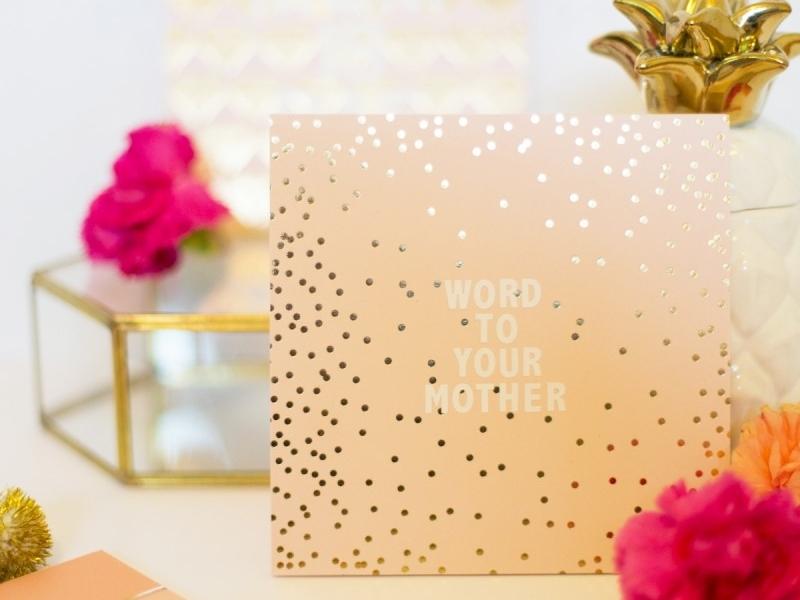 Greeting cards are nice and all, but why not go the extra mile with a DIY wooden plaque?
The best thing about these plaques is that they're fully customizable. All you have to do is grab some scrapbook paper and sticker letters and use adhesive to put everything together. Just make sure that you add a heart!
You can also make them in multiple sizes, but we wouldn't make anything larger than a photo card.
Grab the detailed DIY wooden plaque tutorial at lovelyindeed.com.
DIY Balloon Arch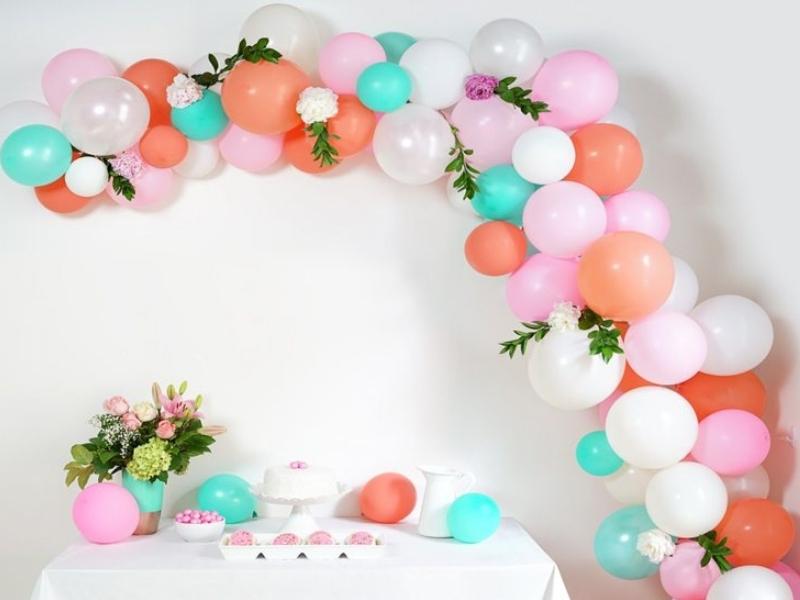 They say eyes eat before mouths, which is why your Mother's Day brunch table deserves to be decorated with a beautiful DIY balloon arch.
It's super simple to create. You just need to borrow a helium tank, buy some colorful balloons, and put them together to create an arch shape over the table.
If you want to spice things up a bit, consider adding a few mini balloons with the larger ones.
Check out how to create a DIY balloon arch at homeyohmy.com.
DIY Vinyl Tablecloth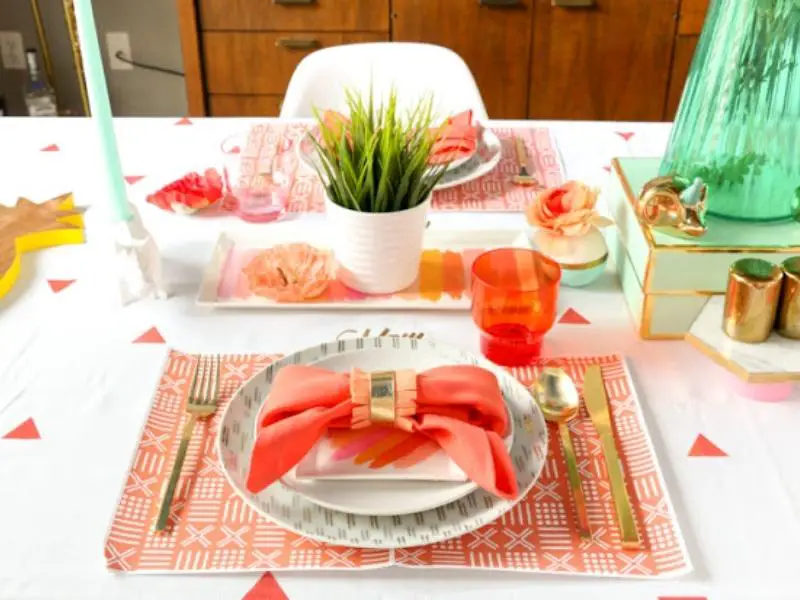 Using this sweet DIY vinyl tablecloth, you can complement the decor of your table settings for Mother's Day family brunch.
Of course, you can customize this tablecloth based on your flatware's design, but we'd recommend opting for bright colors like red and yellow to create a festive atmosphere.
You can also check several designs and choose the one you think your mama will like the most.
Learn how to make a DIY vinyl tablecloth at akailochiclife.com.
Butterfly Bouquet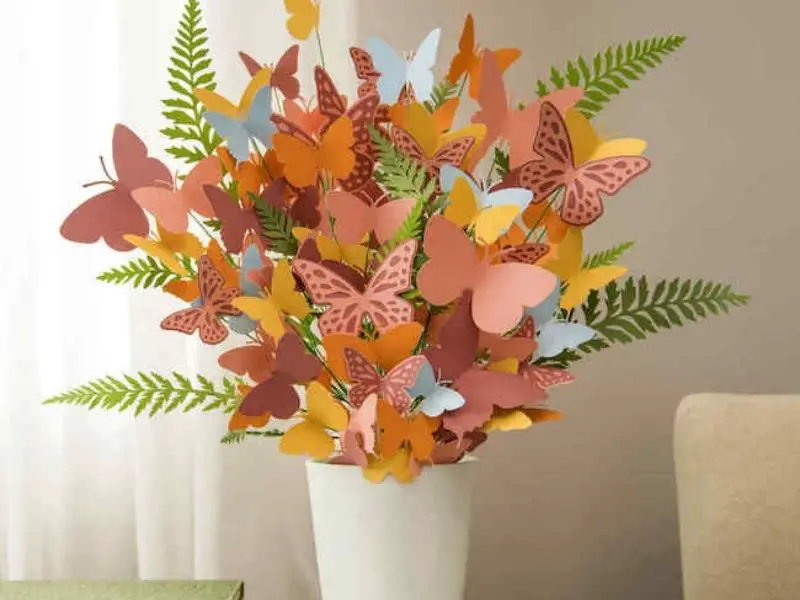 Do you want your mom to be over the moon on Mother's Day? Make her this beautiful bouquet of flowers.
But it's not just a regular bouquet of flowers; we're going to add some cute little butterflies! These butterflies can be made with stickers, but if you want them to look a bit more realistic, cardstock would be your best bet.
Follow the in-depth butterfly bouquet at designimprovised.com.
Drink Stirrers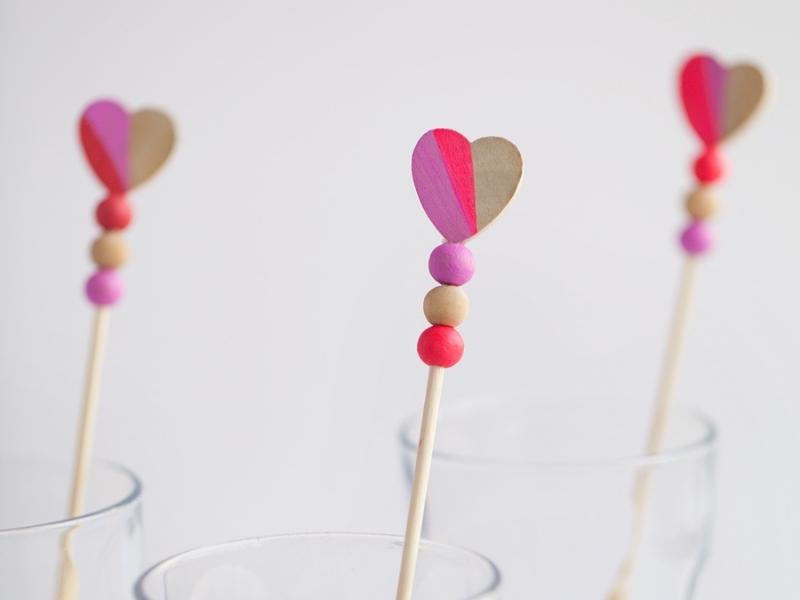 Is your mom a big fan of juices or cold-brewed coffee drinks? These drink stirrers would undoubtedly impress her! And no, we're not talking about these dollar store drink stirrers; you're going to make and customize these stirrers for Mother's Day yourself.
You can either download ready-made printables or create your own designs. Attach the printed designs to wooden skewers, and you're good to go!
Get the full instructions for Mother's Day drink stirrers at tellloveandparty.com.
Floral Chandelier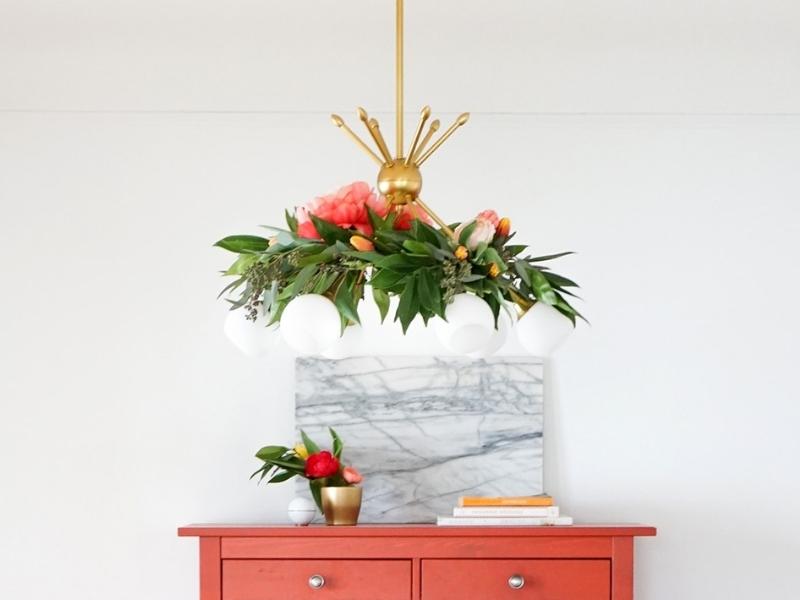 Create a theme on Mother's Day and turn your chandelier into something more by adding a bunch of floral decorations to the top area. With a simple floral garland, you can use your house's chandeliers to make your Mother's Day party extra memorable.
For the best results, make your garland with green floral first, then use it to decorate the light fixture.
Learn how to craft a Mother's Day floral light at sugarandcloth.com.
Glass Jar Vase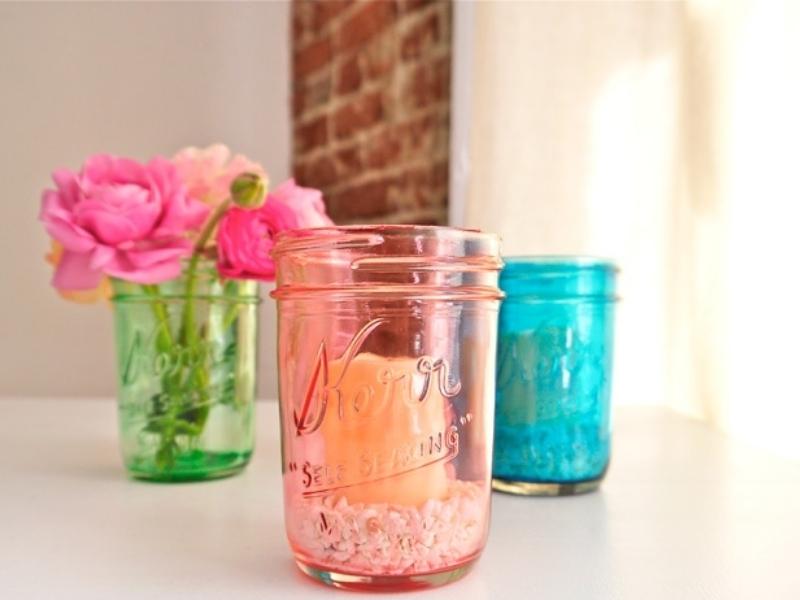 Got some milk jars stored in your kitchen cabinets? Then it's your lucky day because you already have half of the resources needed to craft this sweet glass jar vase.
First, bundle the glass jars together using a satin string, then put some flowers inside them. You can either use real or plastic flowers, but of course, nothing will be as charming as freshly cut flowers from the garden on the dining table.
Check out the full Mother's Day glass jar vase tutorial at goodhousekeeping.com.
Terrarium Candle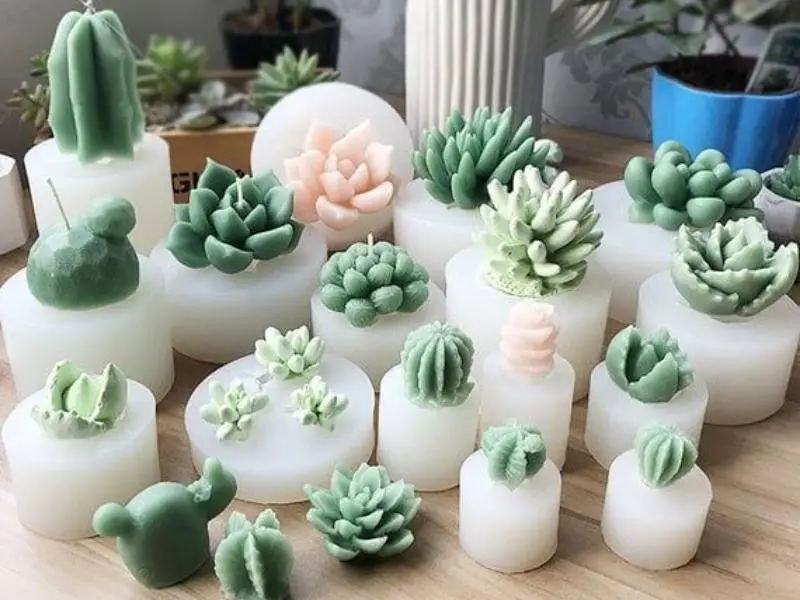 This terrarium candle is a little piece of decoration that won't just look great but also make the place smell more lovely.
There are many ideas for these hand-poured candles. You can put poppy, cactus, or any other aromatic item inside it.
When your mom walks into the room, she'll be greeted with charming candles that give off a lovely scent.
Learn how to make a terrarium candle gift at goodhousekeeping.com.
Blooming Mugs
Do you want to make your Mother's Day tea party even more special? These blooming mugs would definitely do the trick. Choose any design you like and get in touch with a dye-sublimation printing service to transfer the design onto the mug's exterior.
Once you're done with the tea party, you can wash the mugs and use them as planters for hardy succulents. They'd make a sincere take-home gift for your mom.
Get the thorough blooming mugs crafting guide at goodhousekeeping.com.
"My Mother Was Right" Dish Towel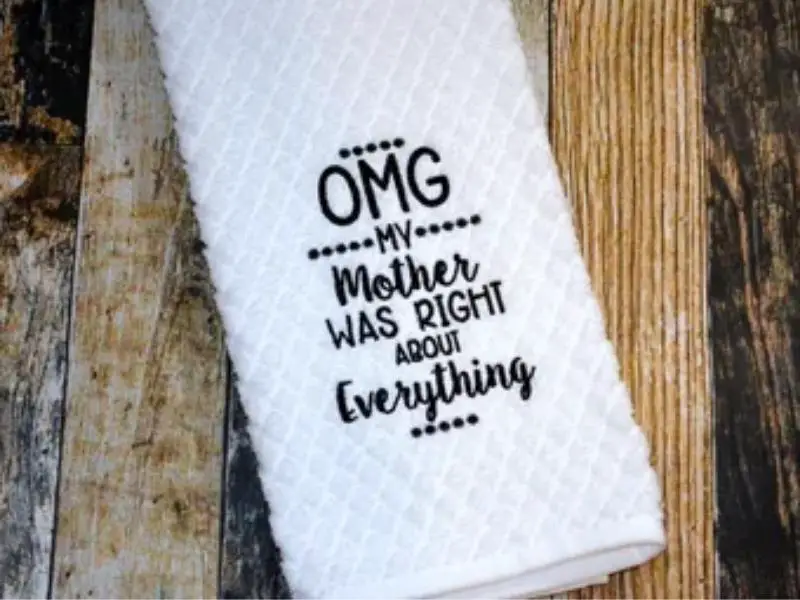 Mothers are always right, no doubt about that. And if you want to show your mom that you truly believe in her words of wisdom, make her this funny "My Mother Was Right" dish towel. Any mom would love it when she feels that she has a direct influence on the life of her daughter or son.
To make this gift, get a blank dish towel and print the "My Mother Was Right" phrase on it. Make sure to choose a cute font!
Find out how to make the "My Mother Was Right" dish towel at goodhousekeeping.com.
Happy Mother's Day Cake Topper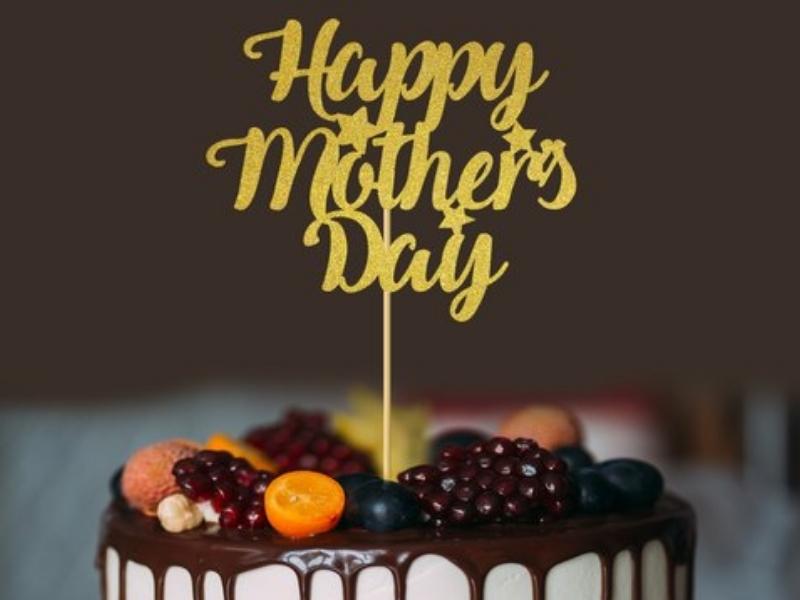 Mother's Day cake isn't supposed to look like a normal one, and no, you don't necessarily need to buy a customized cake to make this possible.
With this Happy Mother's Day cake topper, not only will you make the cake look more yummy but also show your mom how much you appreciate her. She'll definitely like it!
Get the Happy Mother's Day cake topper step-by-step tutorial at goodhousekeeping.com.
3D Paper Flower Wall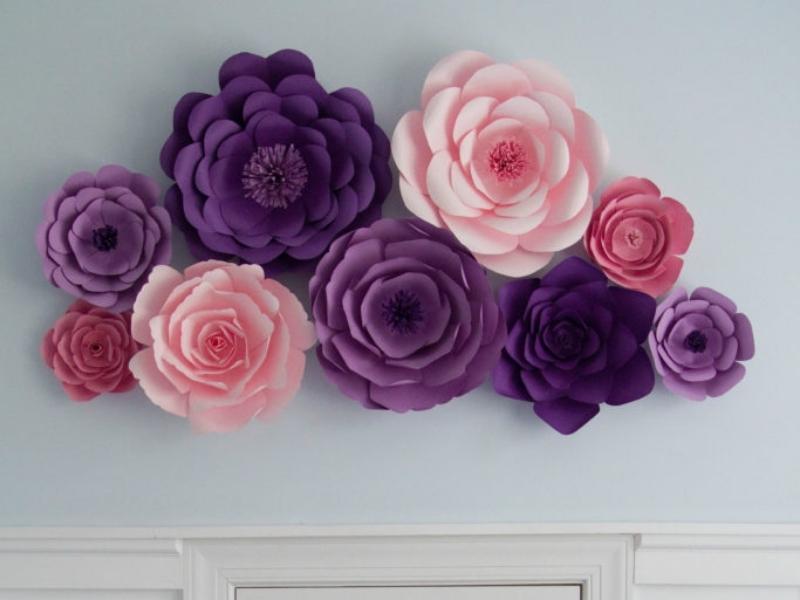 At first glance, your mom would think that this 3D paper flower wall is actually made of real flowers. And to make things even better, it's not that complicated to make.
You just need to buy the paper flowers, leaves, and butterflies and arrange them in whatever way you see fits. You can even cover the entire wall if you wish!
Learn how to make a 3D paper flower wall for Mother's Day at goodhousekeeping.com.
Hydrangea Napkin Rings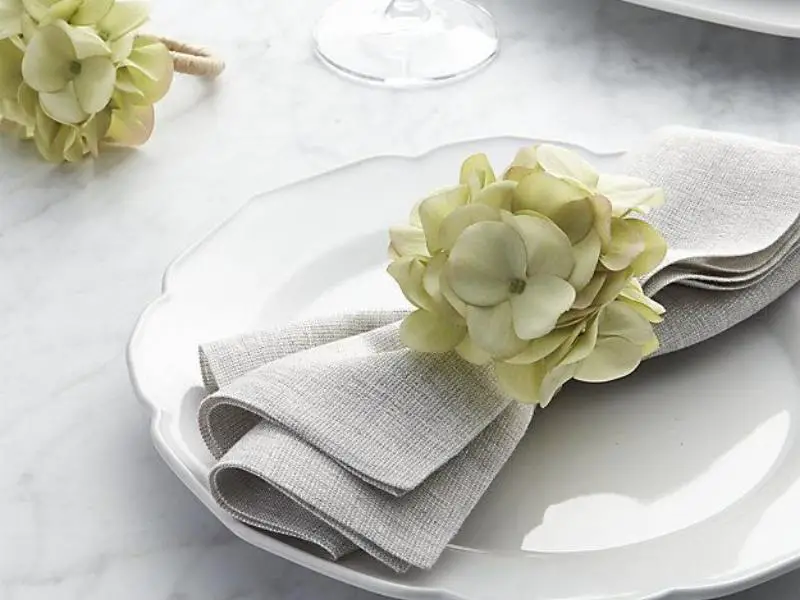 Decorating the main or side table with these napkins will make your Mother's Day brunch or dinner an unforgettable memory. To create the hydrangea napkin rings, thread individual blooms around a gold wire, then wrap the rings around the napkins.
However, you need to prepare them with your kids on the day of the event, at least if you want the blooms to look perky. These napkin rings would even make an awesome conversation for the guests.
Get the step-by-step hydrangea napkin rings guide from firemountaingems.com.
Black and White Photos
Get your mom's favorite photos, add a black and white filter, print them, and put them inside cute frames that will make a personalized piece of decoration on Mother's Day.
Add the frames to the party table and show your mother that you really care!
Check out how to make black and white photo frames for Mother's Day at elledecor.com.
Floral Throw Pillow
Almost all mothers have a thing for floral pillows; it's cemented in their hearts!
With this floral throw pillow, your mom can decorate her sofa to celebrate Mother's Day with no effort at all. And since people celebrate Mother's Day in the early weeks of spring, it'll perfectly match the season. It's the beauty of Mother's Day!
Check out how to get a floral throw pillow at elledecor.com.
Mother's Day Decoration Ideas Round-Up
Alright, so that's pretty much all for today! We've walked you through a wide variety of creative mother's day decorations that don't need many resources or much time to create.
You can even combine some of these ideas and go all-in. Your mother, wife, or grandma would undoubtedly appreciate your efforts!
Reach out to tell us which of these ideas you liked the most, and don't forget to check out craftwhack.com for more mother's day decor crafts.
Comments
0 comments