What is more perfectly DIY Christmas than rolling out little red and white logs of dough to make salt dough candy canes? Nothing. Except maybe if you make an entire gingerbread house and all the candies and all the frosting from scratch, which will never happen in my house, so here we go with salt dough.
I haven't used this junk since grade school, but I've had it knocking around in the back of my mind for years, and it's time to do something about it.
Materials
1 cup Flour
1 cup Salt
1/2+ cup warm Water (Don't buy this water. Use tap water. I'm just cracking myself up here.)
Liquid Watercolor Remember how fun it was to make the liquid watercolor snowflakes?) Also, there are smaller bottles available, but once you try this you will be glad you have the larger bottles.
Parchment paper baking pan liners
---
Directions
Take 2 bowls and put 1/2 cup flour and 1/2 cup salt into each bowl. Mix well.
Take 1/4 cup warm water and add it into one of the flour/salt mixtures and knead it all up. The mixture should feel like regular dough – not too crumbly dry and not too slimy wet, so add more water in teeeeny tiiiiiny increments if you need to.  If you add too much water, add a little more flour.
Honestly, here's what happens every time I make any dough: I mix everything up and the dough is always too dry. So then I add a little more water, and it's always too much and the dough feels slimy. Then I add in a little bit more flour and it finally kneads up perfectly. What I'm trying to say is that ingredient measurements are usually a starting point, and you'll probably have to tweak your mixture a bit to get a good consistency.
Add 1 teaspoon red liquid watercolor to the other 1/4 cup of warm water, and pour it into the other flour/salt mixture.
Mix it and knead it up, too. If you want to minimize the red finger look, wear some disposable gloves when you first start to knead the dough together. When the red is incorporated into the dough, there will be less paint that gets on your cute little hands.
Wash your hands really well to get any red paint off. They'll probably still be a little stained.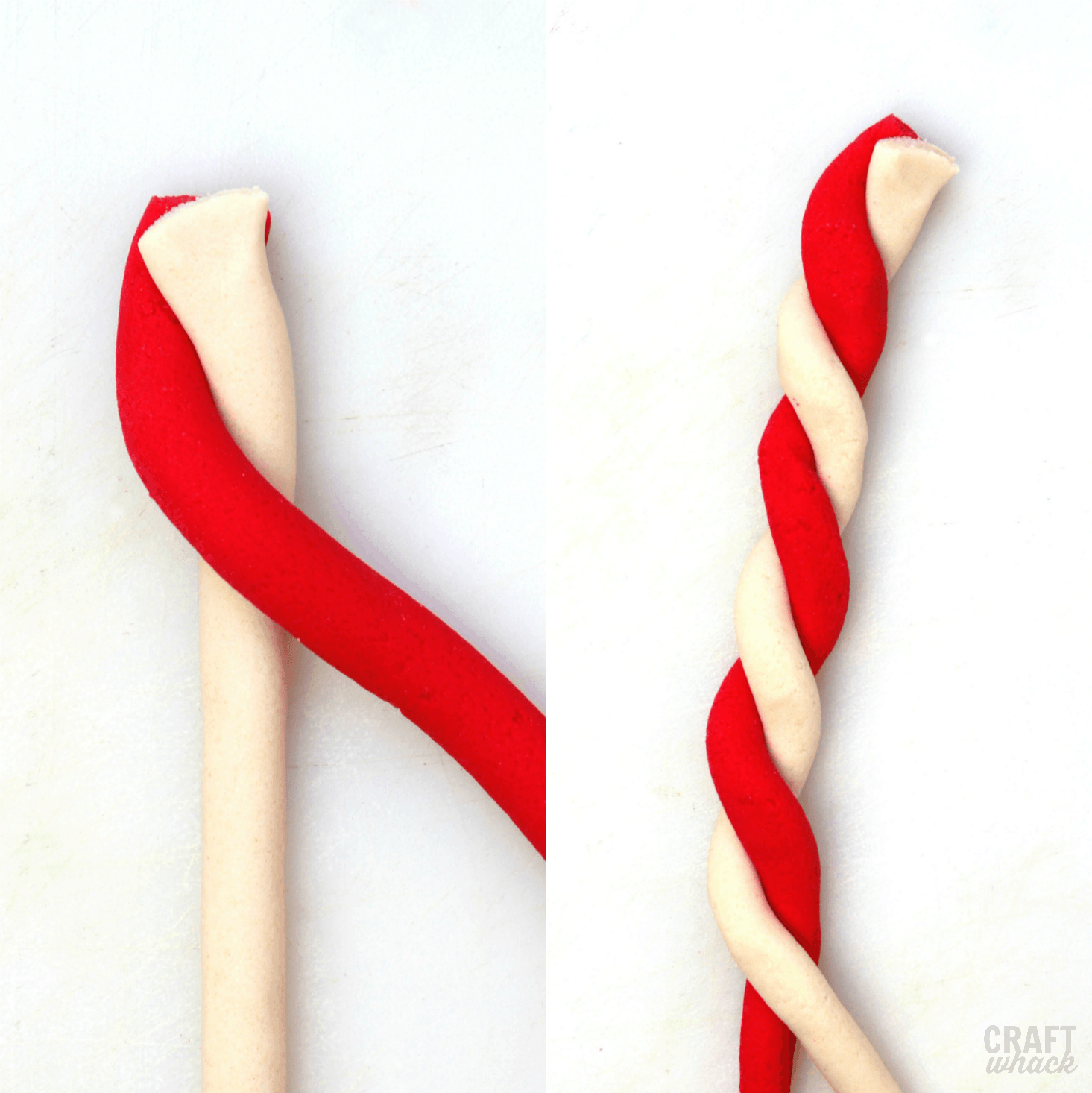 Yank off a piece of each color dough, roll it out like a snake (a hungry snake. Don't go too fat or your candy cane will look like a puffy mess.) Think maybe pencil length and width.
Twist the 2 snakes around each other and press the ends slightly together so they stick.
Gently form a candy cane shape and place it on your baking pan lined with parchment paper.
Bake these in a 200 degree oven for about 2 hours, but check after an hour if your oven tends to cook fast.
---
Salt Dough Tips
You can use red gel food coloring in place of liquid watercolor.
When you roll your snakes, roll them with your palms instead of your fingertips to help keep them more even.
Store the dough in a Ziploc bag for a couple of days if you want to mix it up ahead of time.
My white dough started to dry out quickly while I was mixing up the red, so I suggest keeping yours in a bag or in plastic wrap while you're making the red.
Be careful where you're rolling your dough! You never know where you could have dripped red paint, and rolling the white dough in it will pick up the paint right away.
I did read somewhere that if you warm up the water and salt first in a pot to let the salt completely dissolve, this will result in a smoother dough. We haven't tried this little tip.
---

Options
Add googly eyes. This might be mandatory, actually.
After the candy canes cool, you can brush on Mod Podge or spray with clear spray to preserve them longer and give them a little gloss.
Hanging Ideas:
Hang them on the tree using their natural shape.
Before baking, make a hole in the top of the candy cane by poking a wooden skewer through the top.
Gently poke a tiny eye screw or ornament hook into the top of the ornament before baking.
Use a small drill bit to drill holes in the top after baking.
If you were wishing you could eat these while you made them, here is a Candy Cane cookie recipe to try. I will be making these, too. 🙂
 Minwax Fast-Drying Polyurethane AerosolBuy ECO Bakers TwineBuy Color Splash! Liquid Watercolor PaintBuy
Like it? See the rest of the 5 days of candy cane art:
Monday: 2 ideas for watercolor wax resist candy canes
Wednesday: DIY candy cane stamps
Thursday: Fail! Dyed Rice Candy Cane Faux Mosaic
Friday: Lots of Candy Cane Drawings