Christmas is the best time to spend with family. And what better way to do that than with arts and crafts? Creating Christmas arts and crafts is a great way to make decorations and keepsakes with your children during the holidays.You can use pipe cleaners to make all kinds of cute Christmas crafts. This article provides a list of adorable Christmas crafts you can create using pipe cleaners.
Icicles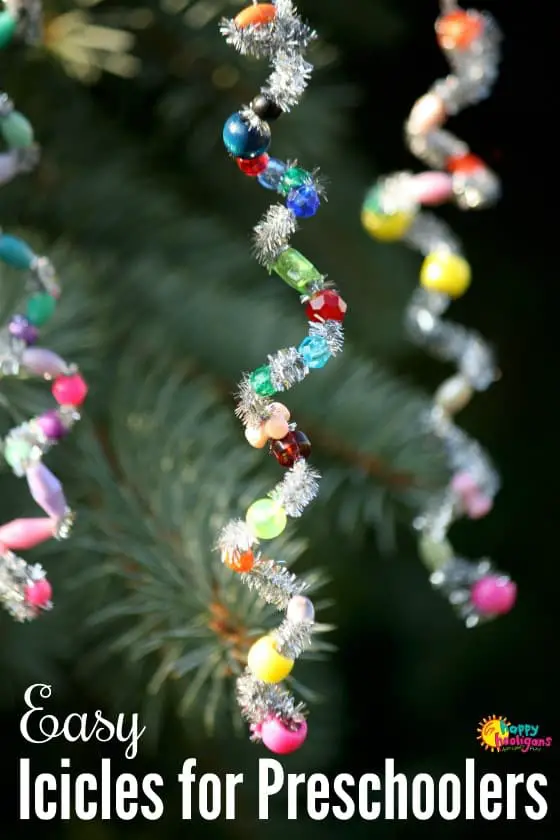 Source:https://happyhooligans.ca/icicle-ornaments/ To make these pipe cleaner icicles, you will need metallic pipe cleaners (silver or glittery white), thread, and beads (optional).If you are using beads, thread the beads through the pipe cleaner. Leave room in between beads to show the silver or white color of the pipe cleaner. Twist the end of the pipe cleaner around the bottom bead (and the top bead once you are done) to make sure the beads don't slide off.Twist the pipe cleaner around a pencil to give it a spiral shape. Slide the pipe cleaner off the pencil and stretch it out. Attach a thread to the top of the icicle or thread it into the top bead and tie a knot. Then you can hang your icicles from your Christmas tree as ornaments.
Mickey Mouse Wreath
Source:https://www.youtube.com/watch?v=d_cfh4McuzM For this craft, you will need pipe cleaners, twine (or similar string to hang the ornament), and ribbon (or a small bow). Twist three pieces of pipe cleaner together and form them into a circle. Wrap another pipe cleaner around one part of the circle so that the circle is attached to the straight pipe cleaner about halfway. Curl the sides of the straight pipe cleaner into two small ears.Attach a bow or tie a ribbon into a bow at the bottom of the circle. Attach thread or string to the top of the circle to hang your Mickey Mouse wreath on your tree.
Reindeer Bottle Topper
Source:https://kidscraftroom.com/christmas-reindeer-bottle-toppers/
What is Christmas without decorations and fun? In the run up to the holiday period, there are few things that you can do that are more precious and important than spending time crafting with your kid "" and if you're planning on a party with little bottles for drinks, this is the best craft you'll see.
It is also the ultimate low mess craft, with no fiddly bits of paper or sequins to mess around with. You can make a whole bunch of these, in as many colors as you like, although the brown does make it clear that they are reindeer. Having different colors might make it easier for people to tell their drinks apart, however.
A child of any age can have fun with this craft, and it's great for a quick evening or morning activity, without making a huge commitment. Your child will also love telling people that they helped to make them.
You could adapt these for the stems of wine glasses, but they wouldn't be reusable, which is a shame. One of the nicest things about this craft is that you can save it for later years and bring back the memories again and again.
Make your drinks full of fun and very decorative with just a few minutes using this inventive and unusual reindeer craft. You just need glue, pipe cleaners, googly eyes, and pom poms!
Script Font Decoration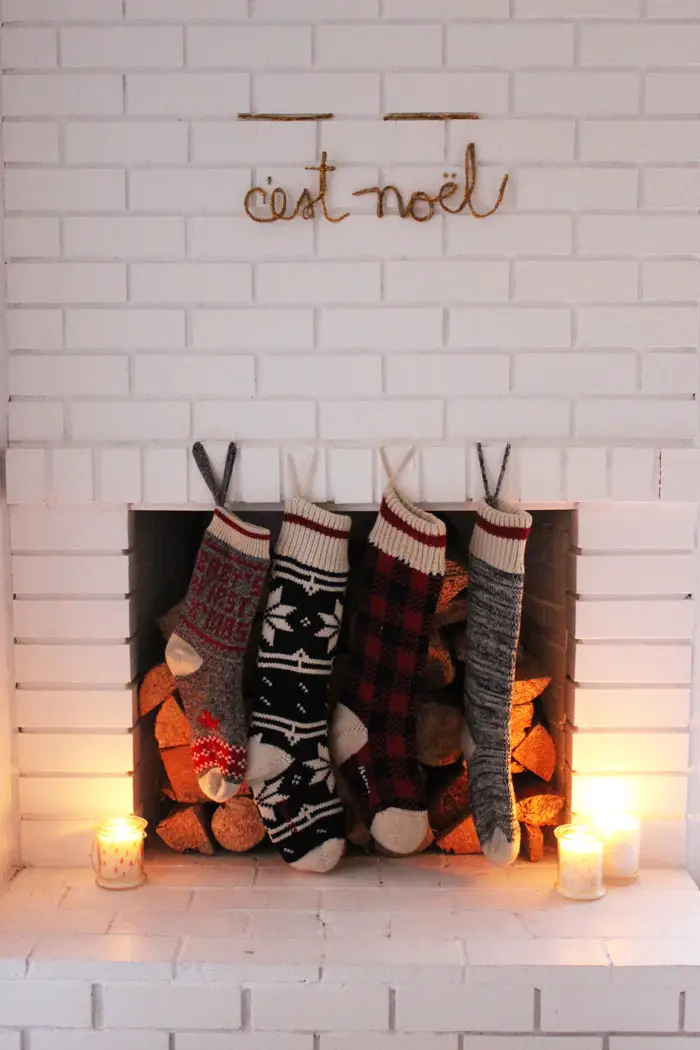 Source:http://www.poppytalk.com/2015/12/diy-wire-script-font-wreath-and-garland.html To make a script font wall sign, you will need pipe cleaners, florist wire, a glue gun, and string.Using floral wire, spell out the word or phrase you want to hang on your wall in cursive. Bend the wire so that your word is spelled out the way you would write it.If you want to do more than one word, you will have to make it continuous with the wire. (It will not appear as one long word when you are finished.) If your wire isn't long enough, you will have to put the pieces of wire together and attach themOnce your word or phrase is spelled out with the floral wire, use a glue gun to glue your pipe cleaner to the wire, tracing the shapes of the letters. Do not glue pipe cleaners to the space between the words.Tie a string to both ends of your word or phrase. You can hang up your script font sign on a wall or on your Christmas tree. There are so many arts and crafts you can do at Christmastime. Pipe cleaners are essential when making arts and crafts with your kids. You can get creative with pipe cleaners and choose different colors for your crafts.Some other pipe cleaners Christmas crafts you can make are silver snowflake ornaments with white and silver pipe cleaners, red and white pipe cleaner candy canes, wreath ornaments made from green pipe cleaners, and angel pipe cleaner ornaments.Depending on how good you are with your hands, you can create an entire snowy landscape made out of pipe cleaners, with penguins and snow-covered pine trees, all made out of pipe cleaners!
Comments
0 comments