All summer long, you kids have been scarfing down the ice cream and popsicles they can get their hands on. So, now that the hot days are gone and the rainy days are on the horizon, why don't you use all those popsicle sticks to fill your kids' time?
Fortunately, there is a great deal of popsicle stick crafts, including decorations, ornaments, and even gift tags. Impressively, whether it's Easter, mother's day, Christmas, or Thanksgiving, popsicle stick crafts can fit every occasion and season.
As such, we've put together a list of fun crafts that you can use actual popsicle sticks to make. So, take a look at the following craft ideas and see if one captures your attention.
DIY Popsicle Stick Bird Feeder
Want to put your popsicle sticks to some actual use? Then, why not make a bird feeder for your neighborhood flyers?
Not only will the birds benefit from your project, but your kids will also greatly enjoy the process of making the bird feeder. They'll also really love watching the birds filling their bellies and relaxing.
Learn how to make a popsicle stick bird feeder on Mothering with Mindfulness.
Popsicle Stick Homemade Bracelets
These popsicle bracelets are one of the most fun things you can make with your children. Each kid can really show their creativity with this project, as they can choose the colors, patterns, and materials they want.
Honestly, the kids will love showing off their bracelets to their friends. Best of all, they'll acquire a memento that they can look back at fondly when they grow up.
Get inspired by the popsicle stick homemade bracelets on Molly Moo Crafts.
Popsicle Stick Treasure Box
As every parent knows, kids love to collect things. Unfortunately, after a while, the amount can be overwhelming, especially when it's spread out all over their rooms.
That's why making your own treasure box out of popsicle sticks is brilliant. Not only is it extremely fun to make and decorate, but it'll also contain the various treasures and trinkets scattered all over your house.
Get the full instructions on making a treasure box from popsicle sticks on Powerful Mothering.
Popsicle Stick Bookmarks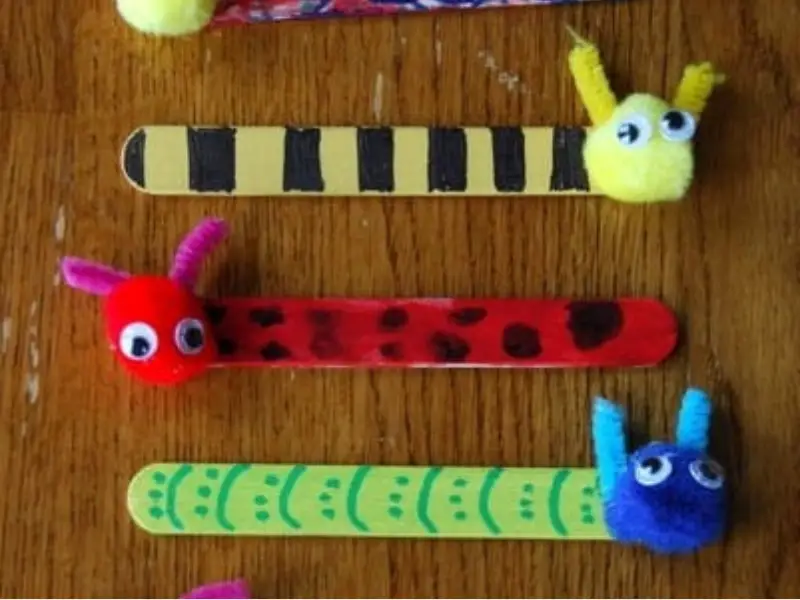 If your kid is into reading, then you won't go wrong with these popsicle stick bookmarks. Not only are they so cheap to make, but they can also be super pretty.
Let your kid have free rein with the colors and design, and they'll be so excited to use their new, personal bookmark.
Discover how popsicle stick bookmarks are made on Meaningful Mama.
Popsicle Stick Turkey
Is Thanksgiving coming up? Remain on theme with this fantastic popsicle stick turkey.
Just glue some popsicle sticks together, paint them with the appropriate fall colors, and you've got yourself the perfect thanksgiving decoration.
Get inspired by the popsicle stick turkey on Kids Activities.
Angelfish Popsicle Stick Craft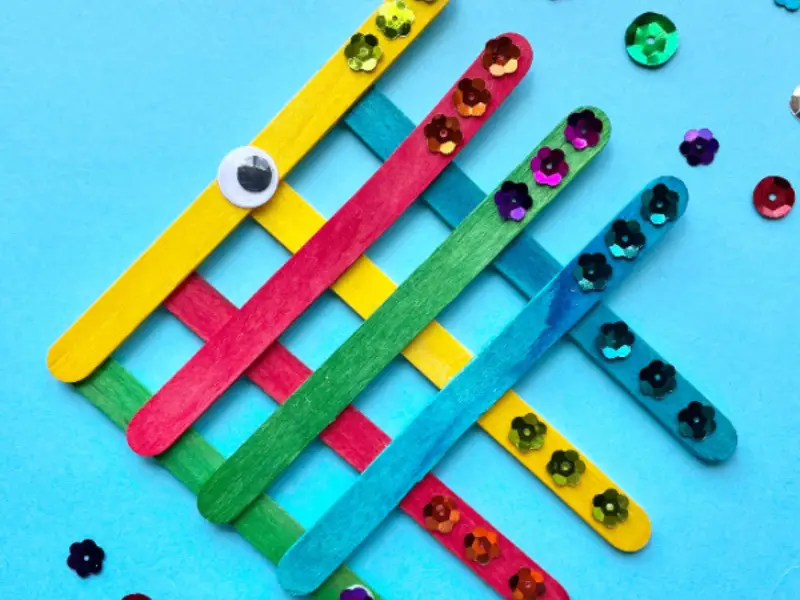 If you're looking to decorate your kids' rooms with some cute but cheap ornaments, then these popsicle stick fishies are just the thing.
This is such a fun popsicle stick craft, and your kids will love picking out the colors and putting on the final touches. Once they're done, simply get a piece of thread and hang it in their rooms.
Learn to make this cute angelfish popsicle stick craft on Meaningful Mama.
Popsicle Stick Airplanes
Want a fun craft project for your kid? Then, you should definitely try to make this cool popsicle stick airplane. The little guys will totally love coming up with their own designs for the plane's wings and tail.
Honestly, this is such a simple craft, and all you need is some glue, ice cream sticks, and clothespins.
Make this awesome popsicle stick airplane by following the instructions on Simple Play Ideas.
Popsicle Stick Coasters
Not only can popsicle stick crafts be fun, but they can also be functional, and what better way to demonstrate this than these popsicle stick coasters?
According to the design you pick, these coasters can be chic, edgy, or whimsical. You can also match them with your house's interior design and have them keep your tables safe at all times.
Get instructions for these popsicle stick coasters on Single Girls DIY.
Popsicle Stick Catapult
If you want some fun popsicle stick crafts for your child, then this catapult made of craft sticks will be perfect.
You and your kid will have so much fun playing with this contraption, and thankfully, you only need basic craft supplies to make it.
Learn to make this awesome catapult from craft sticks on Kid Activities.
Beaded Rainbow Wind Chime Craft for Kids
This is my favorite popsicle stick craft ever. Yes, it takes a bit more effort than simply gluing the craft sticks together. However, the final result more than makes up for any extra time spent on this great craft.
Get the tutorial for this beautiful beaded rainbow wind chime on How to Do This and That.
Chain Reaction Using Popsicle/Craft Sticks
Looking for a kids' craft project that's more dynamic? Try replicating this exploding chain reaction using the craft sticks you have lying around your house.
Both kids and parents will enjoy watching the popsicle sticks flying around, and best of all, you can repeat the project as many times as you want.
Go on Frugal Fun for Boys and Girls to discover how to make this awesome chain reaction.
Popsicle Stick Unicorn Craft
When you think of cute popsicle stick crafts, this unicorn craft is probably the cutest one you'll ever see. It has just the right amount of adorable and magical, and it's such a fun way for your kids to express their love for unicorns.
Fortunately, this is an incredibly easy craft to make that even toddlers and preschoolers can take part in the project.
Get the tutorial for this cute unicorn craft made with popsicle sticks on Artsy Craftsy Mom.
Craft Stick Harmonica
Now, I know what you're thinking. There's no way this works, right? Well, get ready to have your mind blown cause this little DIY harmonica can, in fact, produce sounds.
Yes, it doesn't sound as good as a real harmonica, but who cares? Not only is this such an easy popsicle stick craft, but it will also keep your kid entertained for long stretches of time.
Find out how to create a craft stick harmonica on My Baba.
Tiny Bow and Arrow Craft for Kids
Another fun idea to consider if you're looking for some stick crafts for kids is this fantastic bow and arrow creation.
Kids of all ages will love shooting their small arrows all over the horse, and as a parent, you don't need to worry about safety at all with this fun craft.
Learn how to make this tiny bow and arrow assembly on The Brooding Hen.
Craft Stick Wax Paper Lantern
Want to make a mesmerizing decoration out of popsicle sticks? Then this wax paper lantern will be the perfect craft for you. Just some wax paper and popsicle sticks, and you've got yourself a beautiful new lamp.
To top it off, this charming paper lantern will get your kids excited to go to bed as they'll love to fall asleep while staring at their new magical night light.
Go on Artsy Fartsy Mama to see how a craft stick wax paper lantern is made.
Popsicle Stick Earring Holder
This earring holder is among one of the cutest popsicle stick crafts I've ever seen. By the end of this project, your dresser will be free of clutter, and you'll be able to easily find all your earrings without any hassle.
To tell the truth, both kids and adults will greatly benefit from this simple and easy craft.
So, find out how to create this popsicle stick earring holder on Factory Direct Craft.
Popsicle Stick House Kids' Craft Project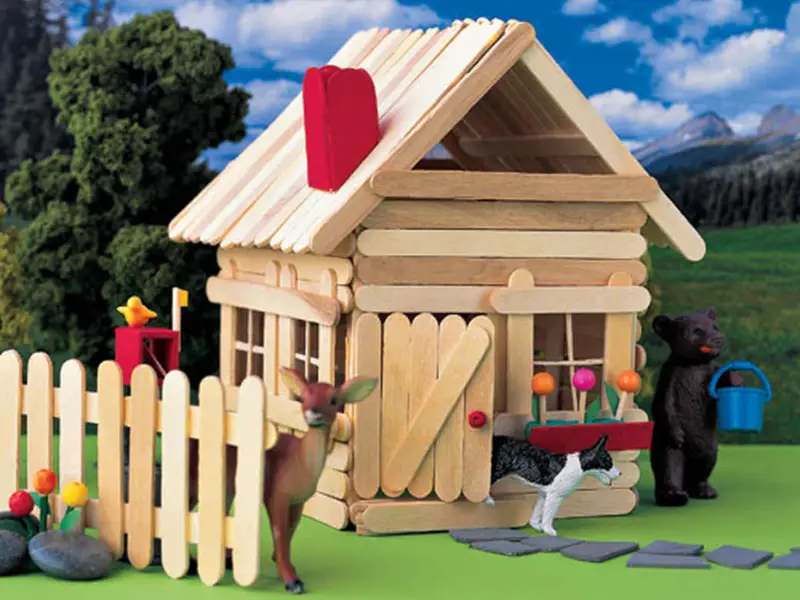 This craft stick wooden house with a red chimney is absolutely charming, and thankfully, it's one of the easier craft ideas out there. All you need is your basic craft supplies and, of course, some plain or colorful popsicle sticks, and you'll have yourself a 3D house that's so darn cute.
Learn to make this adorable wooden house on Martha Stewart.
Popsicle Stick Barn
This craft stick barn is one of the most wonderful popsicle stick crafts for kids I've ever come across. From how easy it is to make to how awesome it looks once it's done, this barn is truly extraordinary.
Once it's done, be sure to fill it with various farm animals and even flowers to really bring it to life. You can even place a tractor in front of it. That way, your kids will have so much fun playing with their new farm replica.
Get the tutorial for this amazing popsicle stick barn on Crayon Box Chronicles.
Craft Stick Crocodile Craft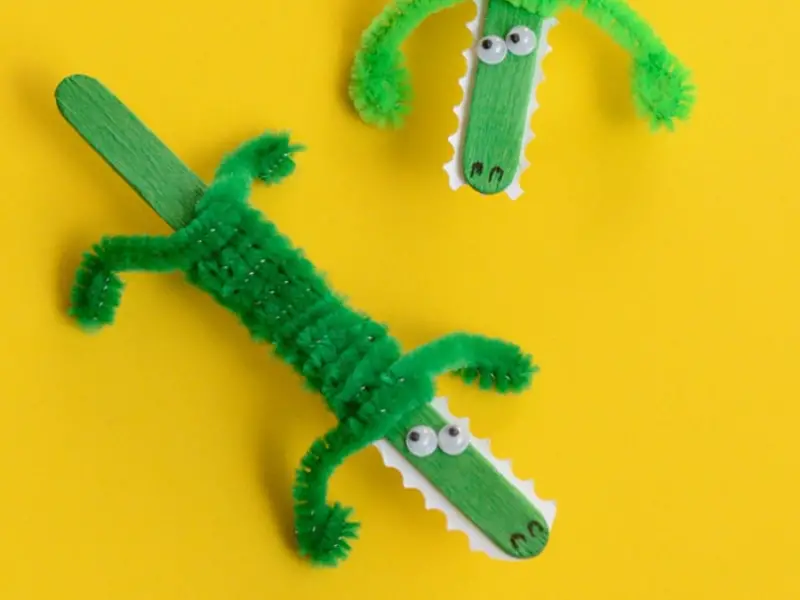 Kids love animals of all kinds, especially cool ones like crocodiles and lions. That's why we highly recommend this craft stick crocodile craft for your family.
This is a great project to tackle over the weekend, and all you'll really need is some pipe cleaners, googly eyes, and craft sticks.
Visit Easy Peasy and Fun to find out how to create this popsicle stick crocodile.
Newton's Cradle Kids' Craft
Want to teach your kids some physics? Then, make this simple yet brilliant Newton's cradle.
Using some marbles and craft sticks, kids can have so much fun learning about momentum. And luckily, this is one of the easy popsicle stick crafts that you can do with your hand tied behind your back.
Learn how to create a simple Newton's cradle on Babble Dabble Do.
Craft Stick Wind Mobile
Looking for some more fun ideas to entertain your kids? This popsicle stick wind mobile will fit the bill perfectly.
Simply paint your craft popsicles in the different colors of the rainbow, then thread them together. Finally, hang your creation near a window and watch it dance and move in the wind.
Find out how to make a craft stick wind mobile on Stories and Children.
Craft Stick Yarn Dolls
Got some yarn and popsicle sticks lying around? Then, start making your own homemade dolls.
This is such a cute idea to fill your kid's time. Moreover, they can always gift their friends, teachers, or grandparents with these adorable dolls.
Get the full instructions on how to create craft stick yarn dolls on Happy Hooligans.
Popsicle Stick Snowflake Wreath
Is it starting to get cold? Then, have fun creating this snowflake wreath from popsicle sticks and match the chilly winter vibes.
Just decide on a snowflake pattern, and start laying your craft sticks accordingly. Then use your hot glue gun to cement them in place, paint them blue, silver, or white, and voila – one perfect snowflake, ready to decorate your front door.
Discover how to make your own snowflake wreath on Tatertots and Jello.
Gingerbread House Ornaments
Has Christmas come a-knocking? Then, your kids will absolutely love creating these little gingerbread houses.
Simply attach some craft sticks together and add some pom-poms or cotton balls to complete the look. And of course, you can also use washi tape, beads, glitter, and twine to really elevate your gingerbread houses.
See the tutorial for these gingerbread house ornaments on Studio DIY.
Popsicle Stick Nutcracker Puppets
Don't worry; the Christmas crafts are far from over. These nutcracker puppets are absolutely delightful to make and hang on any Christmas tree or fireplace.
The entire family can get involved in this craft stick project, and every member can come up with their own puppet design.
Get some inspiration for your own nutcracker puppets on Steamsational.
Pom-Pom Popsicle Stick Stars Ornaments
If the holidays are almost upon you, these star ornaments made out of popsicle sticks will be absolutely wonderful.
Your kids will have a great time piecing them together and, later on, hanging them on the Christmas tree. They can even thread them together to make a beautiful star garland.
Learn how to create these star ornaments from popsicle sticks in Kids Craft Room.
Now that we've reached the end of suggestions for crafts with popsicle sticks, did you manage to find something you like? If so, then we hope you have a wonderful time completing your project of choice and happy crafting!!!
Comments
0 comments