If your child is a big Pokemon fan, there are some fantastic Lucario coloring pages out there for them to have fun with. Lucario is a great Pokemon to color, coming from Generation 4. It has distinctive and defined colors, but if your child wants to invent their own version, that's fine too!We've looked for the top coloring pages to offer a good selection for Pokemon fans of any age.
1. Simple Lucario

Source: https://www.getcoloringpages.com/coloring/246836Most Pokemon do use fairly simple shapes, but this Simple Lucario has been drawn specifically to make things easy for a younger colorer. Despite that, there is still plenty for them to work on, with the fur edges and separate irises and pupils.The pose is great on this particular coloring page; it looks dramatic and gives your child a good opportunity to think about perspective. An older child attempting this could have fun playing around with the shading and possibly even draw a shadow beneath the Pokemon.
2. Fierce Lucario
Source: https://coloring4free.com/lucario-coloring-pages-lucario-3-printable-2021-3954-coloring4free/This more dramatic coloring page depicts a Fierce Lucario against a spiral of spikes, which kids will love coloring. They will have to pay attention to make sure that the background doesn't run over any of the lines of Lucario in the foreground, which is a good skill to practice.Again, most of the shapes are simple and easy to color in, and kids could easily add their name or a background in the space surrounding the Pokemon. With the spiral filled in a contrasting color, this will look very dramatic and exciting to any fan.
3. Kneeling Lucario

Source: https://www.101worksheets.com/lucario-coloring-page-free/A fighting Pokemon needs a fighting stance, and this Kneeling Lucario perfectly captures that atmosphere, while employing the same simple lines and shapes to make this straightforward to color.Quite a few of the guidelines have been made fainter on this coloring page, leaving a strong outline, but helping kids to think about how interior lines should look, and where to color. The end result will be a more naturally colored Pokemon, rather than one with hard edges around every color change.
4. Join The Dots Lucario
Source: https://coloringonly.com/pages/lucario-dot-to-dot-coloring-page/If your child loves join-the-dots and coloring, this Join The Dots Lucario is the perfect choice for them. It has a lot of Pokemon filled in to make it an easier task, but your child will have to think about how to join up the rest, creating their own part of the picture before they can color it.This is great for any child practicing numbers or drawing straight lines and will give them a picture that they feel truly proud of. Once the outline is complete, they can set to work filling in the colors and create a picture that they love.
5. Dramatic Lucario

Source: https://www.cool2bkids.com/pokemon-coloring-pages/With that striking background, this Dramatic Lucario will really make a splash once it is fully colored. It's also an opportunity for your child to think hard about what colors to use; they will want to make sure that the Pokemon stands out sufficiently against the lines behind it.Coloring in a straight line is a skill that will get plenty of practice with this Lucario, and it's a valuable one for children to hone.
6. Lucario Fight
Source: http://clipart-library.com/clipart/19-9cRaaL9Ki.htmWhat about Lucario vs Mega Lucario found in this Lucario Fight coloring page? This is a really fun one for kids who want a slightly more extended challenge, and who like both the Pokemon and its evolved form. They might decide to use different colors for one or the other Pokemon to make the picture more interesting, and there's plenty of scope for a background to be drawn. One of the big advantages of this coloring page is it will encourage them to look closely at the differences between the two, paying attention to detail.
7. Leaping Lucario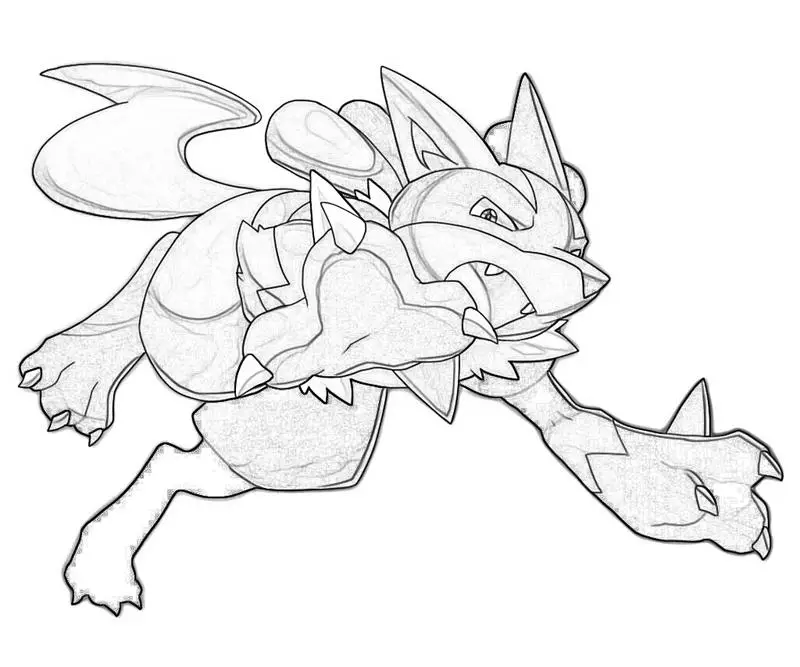 Source: https://temtodasas.blogspot.com/2012/12/lucario-fight.htmlThis Leaping Lucario is a little more sophisticated and may appeal to older Pokemon fans. It is more challenging in terms of its shapes. Young children might find it hard to work out which part to color in which hue (especially some of the lines around the torso), but older children will like the more complicated aesthetic.This has already been shaded, which means it should be reasonably simple for young teens and older teens to get a satisfyingly professional picture, and they could add their name or the Pokemon's name in the space underneath.
8. Mega Lucario

Source: http://www.supercoloring.com/coloring-pages/mega-lucarioMega Lucario isn't quite Lucario, but for older Pokemon fans, it represents more sophisticated shapes and opportunities to color. This Mega Lucario coloring page is challenging and fun and would look fantastic in full color. It doesn't have a background, but it doesn't need one; it looks great as it is!
9. Stylized Mega Lucario

Source: https://clipartmag.com/mega-lucario-drawingAgain an option for older teens, Stylized Mega Lucario is highly artistic and looks fantastic. There is still plenty to do with colors, despite the blocky lines, and most teens would love coloring something like this to display on their bedroom walls.
Conclusion
Lucario or Mega Lucario, there are some great coloring options out there for Pokemon fans both young and old, and all the designs will challenge their coloring ability and possibly even their drawing skills. Most have space to add a background or more detail to them, which is a great way to encourage your child's artistic talents.
Comments
0 comments