Painting with watercolors can produce some truly remarkable pieces of art. That's why you'll find both beginner and advanced painters around the world using watercolors in their artwork.
However, beginners can find it hard to master watercolor painting techniques. Still, that doesn't mean that they are doomed to produce horrible paintings. As long as they start easy and practice watercolor painting as much as possible, they'll eventually become proficient at using watercolors.
As such, we've compiled some easy watercolor painting ideas that will be a good starting point for all inspiring watercolor artists, and you'll also find some great watercolor projects that you can do with your kids or students.
Decorate a Paper Plate Butterfly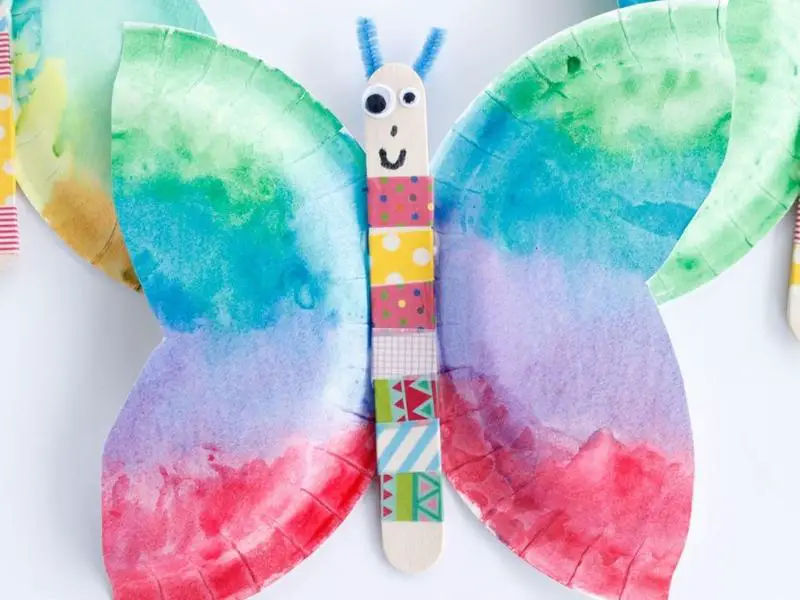 If you're looking for a few easy watercolor painting ideas for your kid, then you'll find nothing more straightforward than painting a butterfly. Sure, you may be thinking that a butterfly isn't that easy to draw, but that's only if you're trying to paint a realistic one.
Instead, you should opt for a simple butterfly that needs an imaginative mind, not a steady hand.
Practice decorating a simple paper plate butterfly after checking out the tutorial on fun365.com.
Throw Salt into the Mix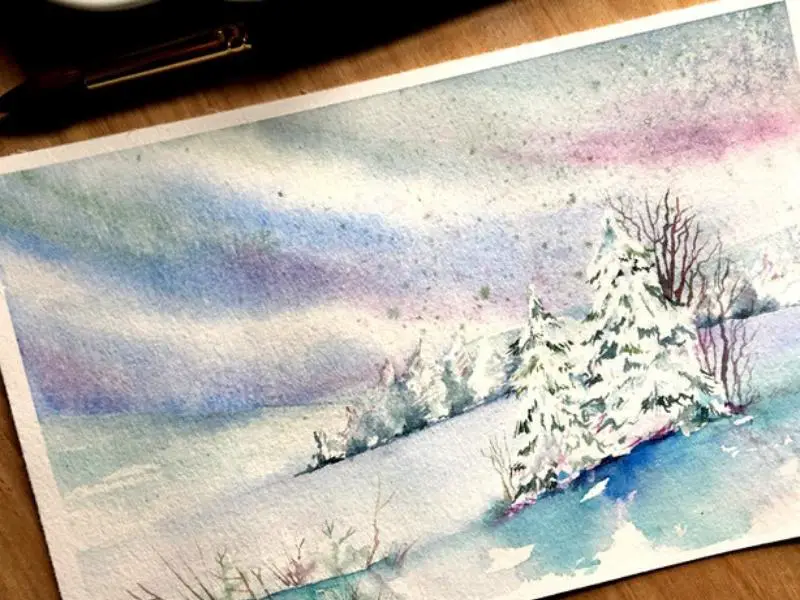 Did you know that you can use salt to give your watercolor painting a brand new feel?
Believe it or not, when you place salt on wet watercolor paints, it ends up absorbing the water and some of the pigment in the areas it touches, giving you an unusual mottled effect.
Interestingly enough, this watercolor technique can give different outcomes depending on things like the fineness of salt or the timing of its placement.
So, make sure to experiment with salt to see which effect would best suit your painting, and most importantly, have fun.
Get more information about painting with salt on scratchmadejournal.com.
Get Out Your Arts and Crafts Glue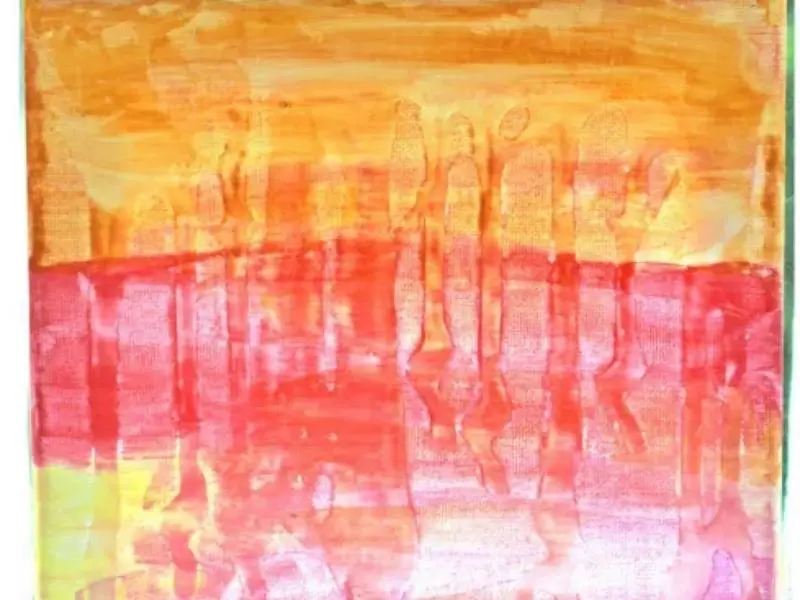 If you're an avid fan of arts and crafts, then you've probably got some sort of glue lying around in your home. If so, then grab it and get ready to take your watercolor projects to the next level.
Not only will the glue add an interesting texture and depth to your canvas, but it's also effortless to apply, and any kid can do it. Just try to keep an eye on them to prevent any glue-related accidents.
Take some inspiration from the glue drip watercolor paintings found on thepinterestedparent.com.
Blow Some Bubbles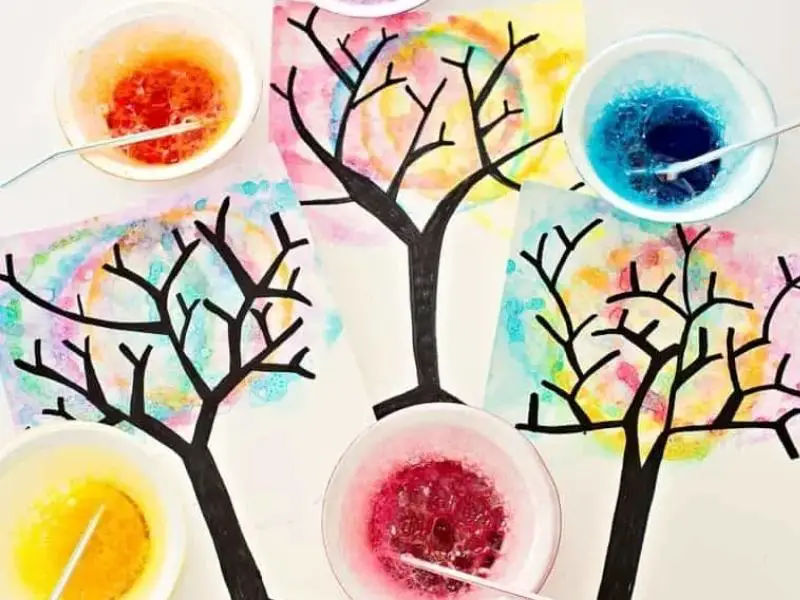 Easy watercolor painting ideas suitable for kids are few and far between. That's why we had to include this ingenious idea the moment we saw it.
Simply get your watercolors and a few straws, and you'll produce some amazing watercolor paintings along with your kid.
Honestly, this watercolor technique will be extremely fun to perform due to all the colorful bubbles.
Moreover, the end results are almost always great, no matter who blows the bubbles, and that's not something we can say with other watercolor painting techniques.
Find out how to do this fantastic watercolor bubble art tree on hellowonderful.co.
Color in a Photograph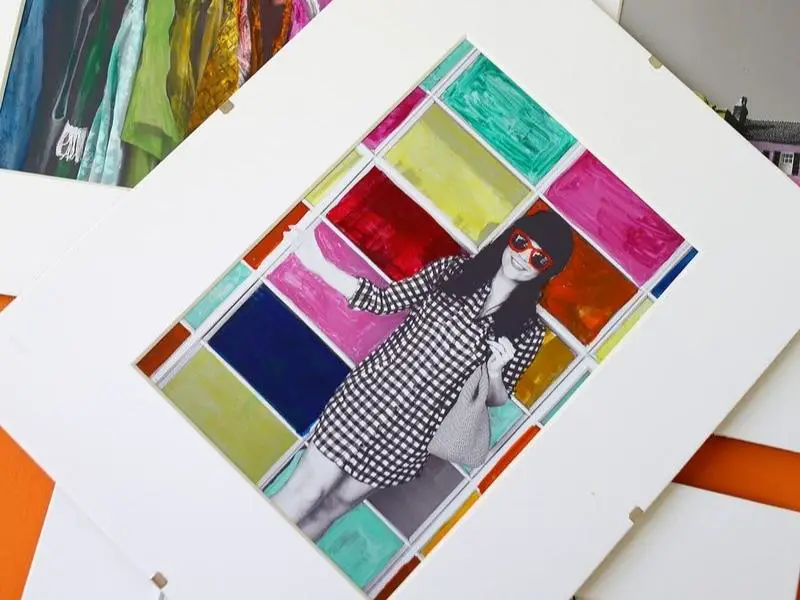 If you're not in the mood of drawing an entire painting from scratch, then why not use an existing black and white photo and simply color it in?
This idea is also great for beginners who don't have the skills to draw and outline a painting just by using watercolors.
If any of the previous two cases apply to you, then print out a photograph you like in black and white, and use your watercolors to add the color back in.
Of course, you can follow the colors found in the original photo, or you can go wild and choose the colors you like.
Be sure to check out these hand-colored photographs on abeautifulmess.com.
Make Use of Negative Space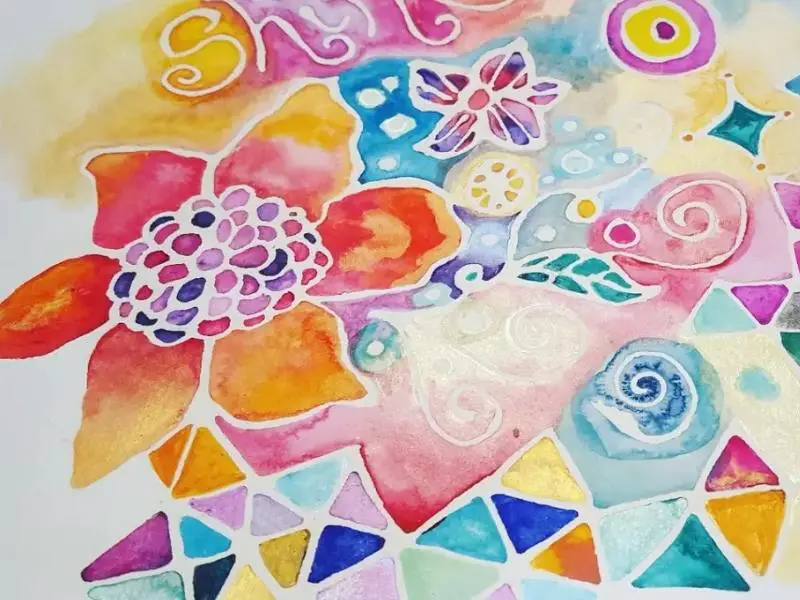 When it comes to painting, certain steps are usually followed. Draw a design, color it in, and outline it in black to make it pop.
However, did you know that you can use negative space to the exact same effect?
By using a watercolor resist pen or washi tape, you can simply paint around your design with watercolors.
Then, once you peel off the separating media, the design will come forth, all in white or whatever color your canvas was initially painted.
Truly, this technique is so easy and fun to do, and the peeling part is always satisfying to watch.
Get an idea on how to use negative space in watercolor painting on artisbasic.com.
Practice Your Color Mixing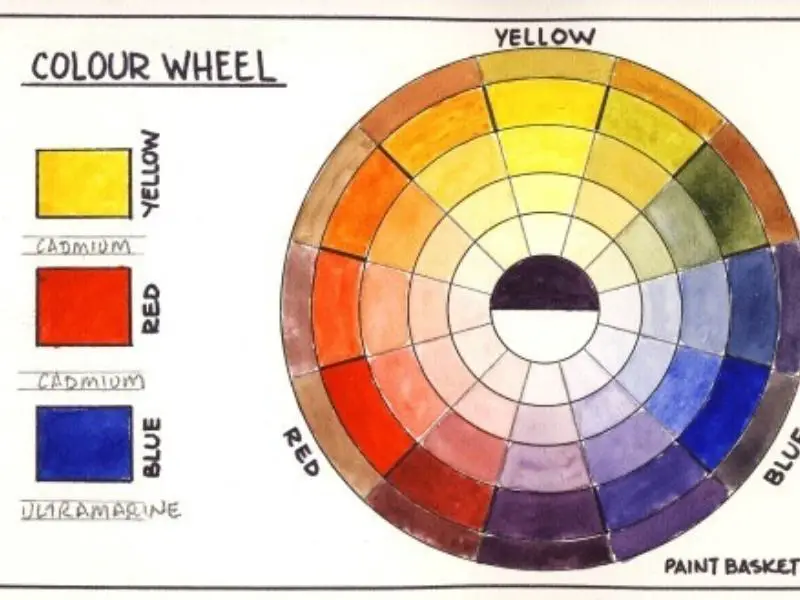 Learning how to mix watercolors can be challenging in the beginning.
That's why we recommend painting a color wheel in watercolors. You'll learn how much water to use to get the correct shade.
Moreover, you'll learn how to blend your colors as well as when to paint on a dry or wet canvas. So, get your brush, draw a circle, and get mixing.
Get started with this color wheel tutorial on onlineartlessons.com.
Monogram Your Paper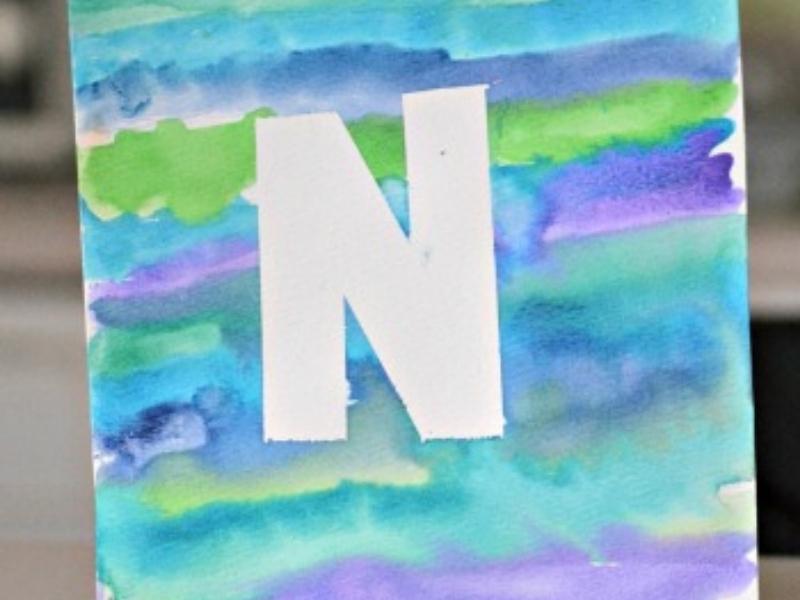 One more excellent watercolor project for kids is monogrammed art. Honestly, once kids learn how to write their names, they become obsessed with writing their names and initials on every single thing they own.
So, why not give them a chance to bring out their inner artist in the process by using watercolors? The kids will have a blast while they paint, and they'll love the final result as well.
Check out this brilliant watercolor monogrammed art idea on longwaitforisabella.com.
Let Loose and Go Abstract
There's nothing more liberating for artists than to paint an abstract painting. And best of all, both beginners and professionals can do it.
So, get yourself a piece of paper and play around with your watercolors.
Also, experiment with using more than just one brush and utilize other painting media like an ink pen or a marker.
Finally, cross your fingers and hope other people will appreciate your artwork as much as you do.
Be sure to look at this beautiful abstract watercolor painting on thecreativityexchange.com.
Paint Landscapes with Minimal Details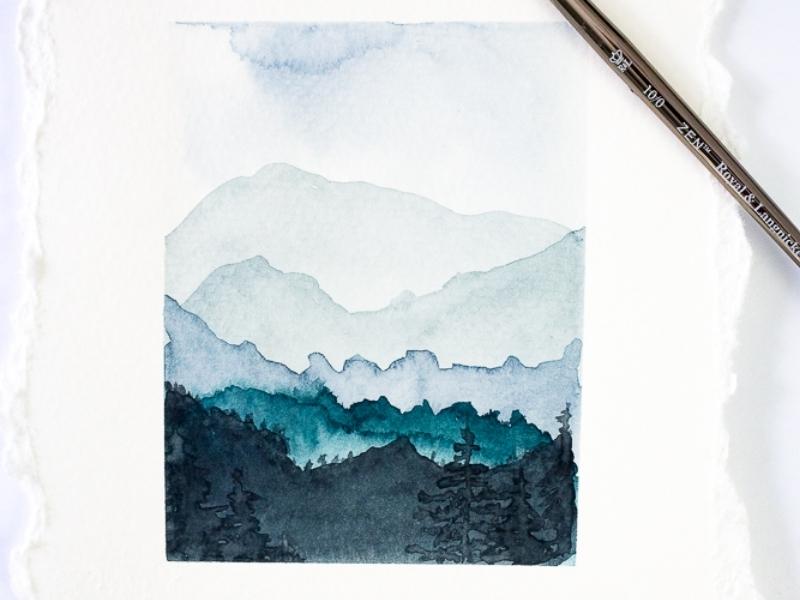 If you're a beginner at painting with watercolors, then it's best you start painting something simple like a bare landscape with minimal details.
For instance, a colorful sunset or a couple of mountains that don't require any fine details will be just the thing to make you get used to using watercolors.
It'll teach you how to dilute and mix your colors.
Moreover, you'll end up learning how to deal with wet paint as well as how to layer watercolor paints on a piece of paper to get the effect you're looking for.
Get started with this mountain range tutorial on craftberrybush.com.
Experiment with Painting Food
Painting fruit, or food in general, is a great way to play around with watercolors, and the cherry on the top is that you'll always end up with a praise-worthy painting.
You can go easy and paint just one type of food at a time, or you can take it up a notch and paint yourself a whole bowl of fruits.
The choice will depend on your technique level and how much of a challenge you want.
Either way, we know that you'll end up with a great painting that you'll be proud to hang anywhere in your house.
Learn how to paint a bunch of lemons at eliseenghstudios.com.
Take a Shot at Painting Galaxies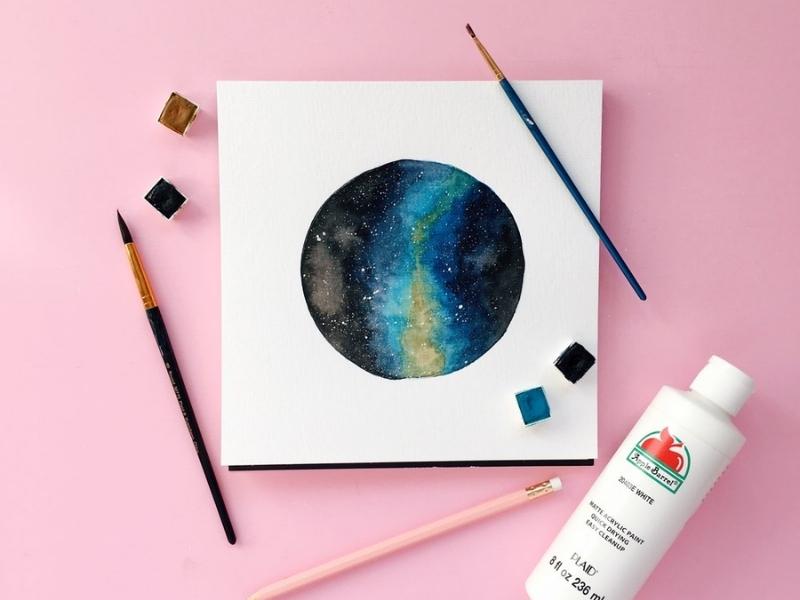 Galaxies are always mesmerizing to look at, and thankfully, they're not that hard to do.
Though beginners may think that they're way too complicated and above their skill level, that's actually far from the truth.
All you have to do to paint a galaxy is choose and layer your watercolors well. Other than that, you don't have to worry about anything.
Check out this watercolor galaxy tutorial on kileyinkentucky.com.
Focus on Flowers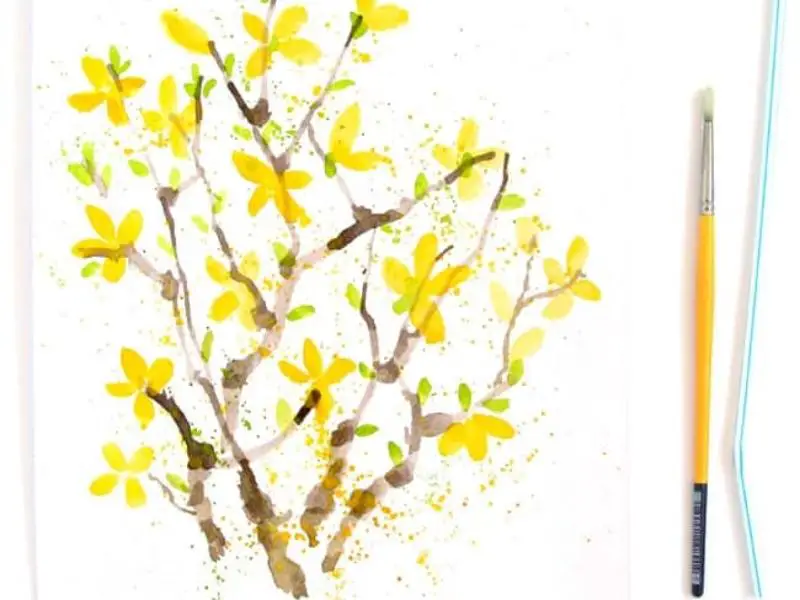 There's a reason flowers are always portrayed in watercolor paintings.
Not only are they beautiful to look at, but they also require the artists to have a great deal of control and an excellent artistic sense.
As such, you'll find that practicing painting flowers with watercolors will definitely up your watercolor game.
Better yet, you can always customize your flowers and choose the shapes and colors you want according to your taste and skill level.
All in all, painting a flower or two is sure to be a positive stepping stone in your watercolor painting journey.
Get started with this simple yet outstanding watercolor flower tutorial on apieceofrainbow.com.
Capture the Beauty of Nature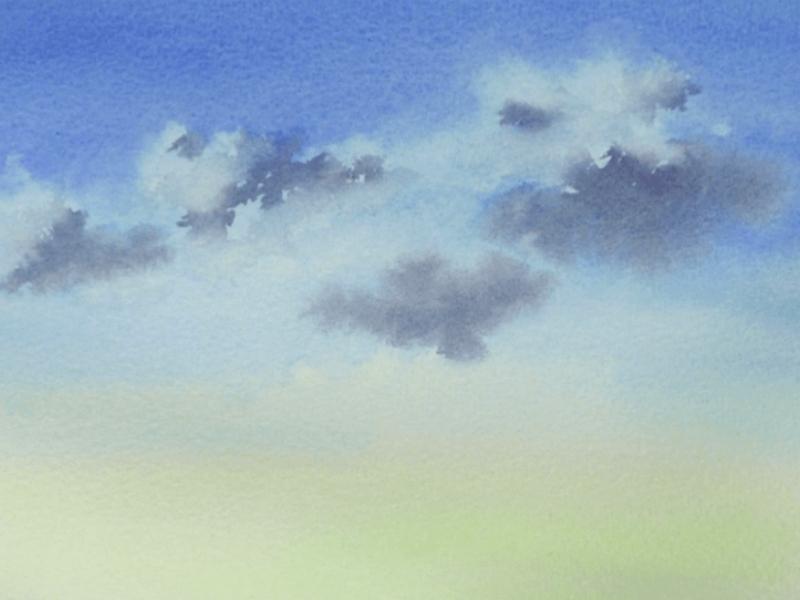 When it comes to watercolor painting, there's nothing better than drawing inspiration from nature.
Whether it's an apple tree under the summer sun or a night sky filled with stars, shadows, and magic, you're bound to find something in nature that will inspire you and set your artistic wheels in motion.
Accordingly, you should always make an effort to explore your surroundings and recreate any beautiful scene you find to the best of your abilities using watercolors.
Have a look at this cloudy sky tutorial on arttutor.com.
Get Inspired by Animals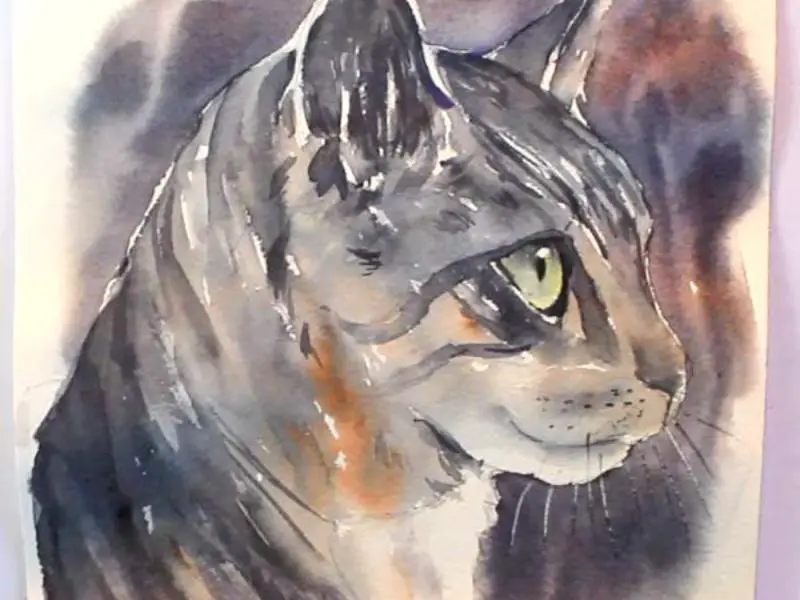 Among the various watercolor painting ideas out there, you'll always find animals mentioned.
That's because animals present a significant step for all artists in the world.
You can seriously develop your watercolor painting skills by painting animals, as each animal requires different techniques, shades, and layers to recreate.
So, be it a black horse or a flock of birds, and you'll find yourself improving by leaps and bounds as you go on painting.
Learn how to paint a lovely cat on solvingwatercolor.com.
Practice Your Calligraphy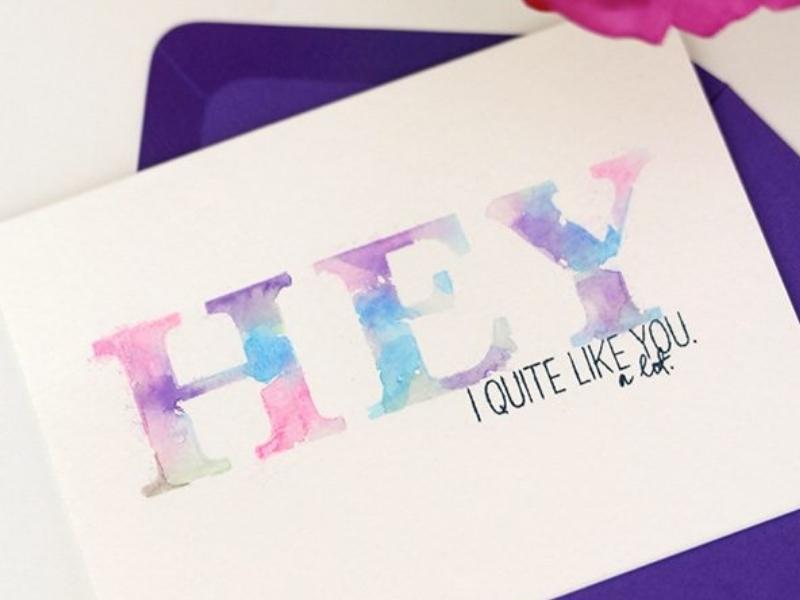 Now, most watercolor painting ideas for beginners may not seem that much fun, especially if you're an adult.
However, using watercolors to write out a few simple words can be extremely comforting.
Simply write out a word you like on a piece of paper, and then paint it in vivid colors.
If you want an even more amusing application, you can paint your words on greeting cards or even do some fun wall art.
And if you're willing to go the extra mile, you can use washi tape and stencils to make sure your final artwork is impeccable.
Get started on your calligraphy watercolor painting on damasklove.com.
Paint Cartoon Characters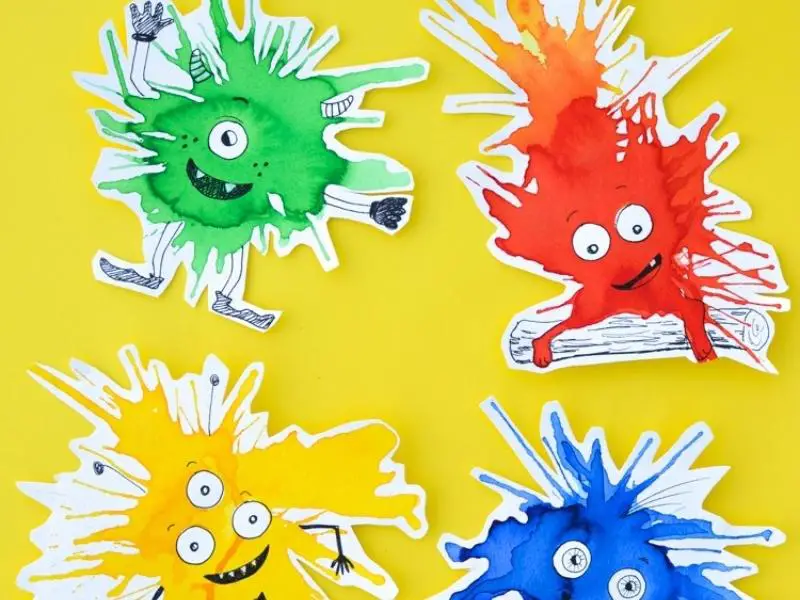 If you want something that'll really improve your basic techniques, not just as a watercolor painter but as an artist, then you should definitely practice painting animations and cartoon characters.
You'll learn how to express emotions all by using different shades and shapes.
Just make sure to start out easy by painting simple characters, and then advance to the more lifelike characters.
Check out this blow art monster painting tutorial on adventure-in-a-box.com.
Try Your Hand at a Portrait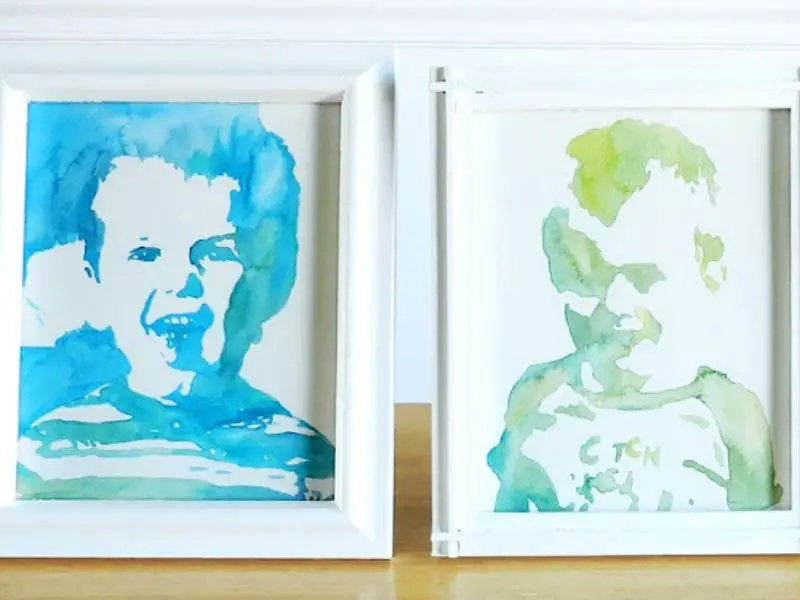 Once you've painted enough 2D characters, then you should progress to painting real-life people. Paint celebrities, as well as your friends and family.
Try to match their tones and bring out their skin texture and facial features. And don't worry, they'll love their portrait no matter how bad you think it is.
Get more information on how to paint a simple portrait on eliseenghstudios.com.
Split Your Canvas
A half-and-half art piece is an excellent way to demonstrate the contrasts present in our life, such as day and night, summer and winter, old and young, and so forth.
Moreover, you can really showcase your skills with this type of painting as each side will use different colors and designs.
We just know that you'll find half-and-half watercolor painting to be so enjoyable, so pick your subject and start right away.
Learn how to do a half-and-half tree landscape on instructables.com.
Easy Watercolor Painting Ideas
Watercolor painting is one skill that seems a lot more complex than it is. Perhaps you have the painting or drawing skills but lack the ideas or vice versa.
Either way, we're here with easy watercolor painting ideas for beginners. These ideas employ a simple technique and create jaw-dropping results.
Easy Watercolor Art Rubber Cement Resist
For the floral pattern, you only paint the background of the art, creating shapes in the negative space. But because watercolor paints will probably bleed and ruin your flower painting, this tutorial uses rubber cement to stop that, rendering this artwork a safe choice for beginners.
Check out Easy Watercolor Art Rubber Cement Resist on persialou.com
Hand Colored Photograph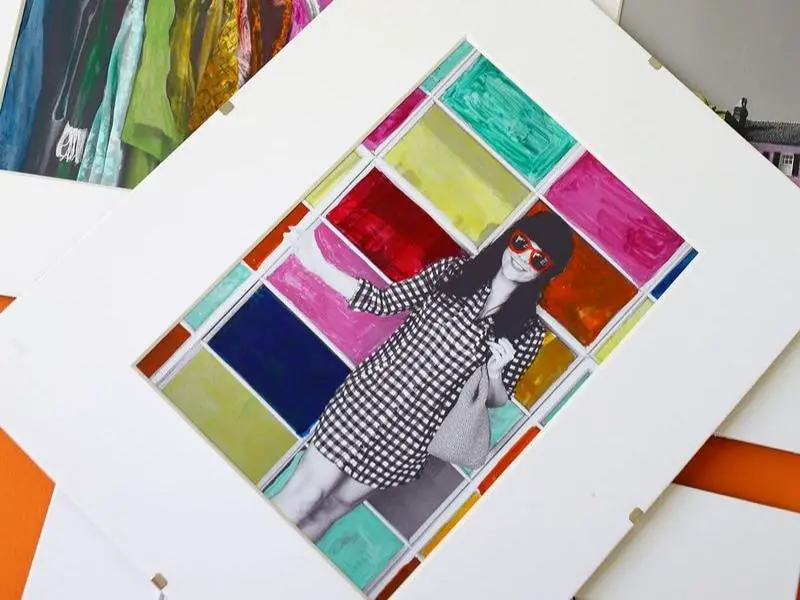 This is one of the most simple watercolor painting ideas, and it's perfect for beginners who are intimidated by watercolor painting. After all, you don't need to draw or create shades because you essentially use the photograph as your coloring page and paint over it.
Get the details for Hand Colored Photograph from abeautifulmess.com
Watercolor Galaxy
This painting is one of our simple watercolor painting ideas for beginners because it makes room for mistakes. And the tutorial for this painting makes for a great starting point.
So, you can blend the bright colors of the galaxy and wait for the wet paint to dry. Then, you can splatter paint with the brush, which is super easy.
Learn more about Watercolor Galaxy on Kileyinkentucky.com
DIY Abstract Watercolor Art for Framing
This DIY abstract watercolor art technique is easy and still looks professional. The technique used involves creating semi-circles or curved brush strokes that are nowhere near perfect.
This project also enables you to practice making strokes with your brushes, enhancing your dexterity.
Learn more about DIY Abstract Watercolor Art for Framing on thecreativityexchange.com
Easy Watercolor Zodiac Constellation Tutorial
Who doesn't love art inspired by their zodiac sign? In this watercolor painting, you can use the described technique to layer the space and use silver or gold acrylic ink to draw your constellations. The painted result is adorable and aesthetically pleasing.
Read more about Easy Watercolor Zodiac Constellation Tutorial on bydawnnicole.com
Paint Watercolor Flowers – Forsythias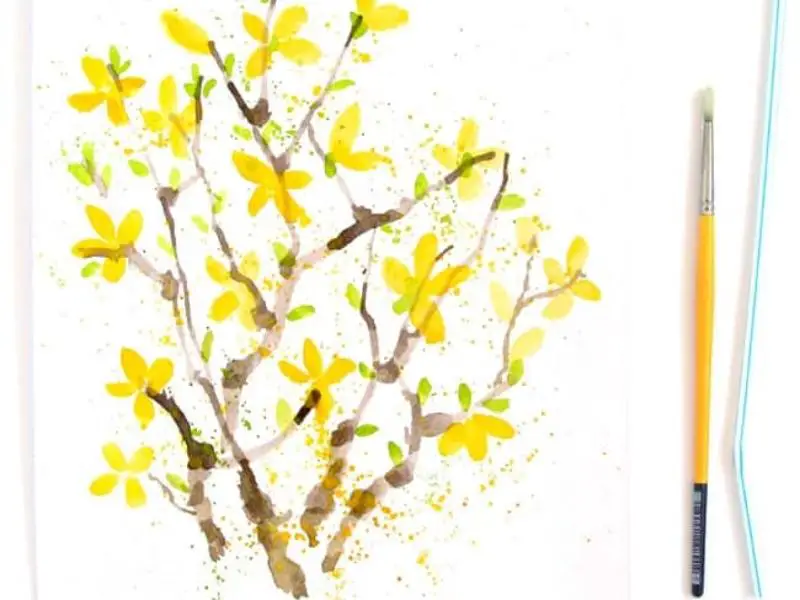 Forsythias bring with them the signs of early spring. This watercolor painting for beginners turns watercolor paper into a gorgeous painting with flowers using a straw! And you'll love how low-stakes it is because you can use beginner watercolor techniques to practice painting flowers.
Check the details for Paint Watercolor Flowers on apieceofrainbow.com
Simple Watercolor Sentiments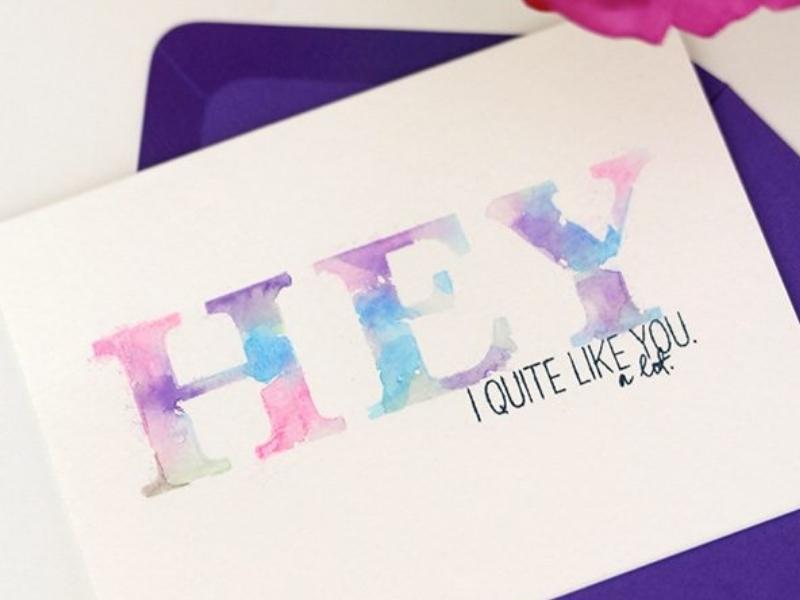 We love how this watercolor project allows you to be messy without ruining it. Using Post-It Craft Paper and stencils is perfect for beginners and relieves you of the struggle of having to paint between the lines.
You can use hand lettering to create wall art, greeting cards, crafts, bullet journals, or any craft requiring calligraphy.
Read more about Simple Watercolor Sentiments on damasklove.com
Easy Watercolor Painting Ideas for Beginners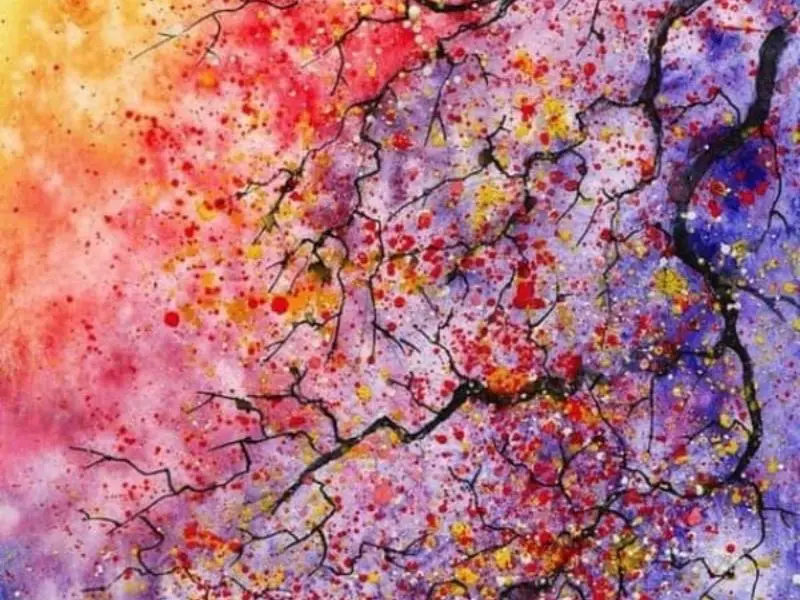 Cacti are beyond cute and trendy. They're some of the most simple watercolor painting ideas ever. And the watercolor paint options you need for a cactus are just green, black, and pink, making this painting beginner-friendly.
Check out Easy Watercolor Painting Ideas for Beginners on Fashionhombre.com
Mountain Watercolor Tutorial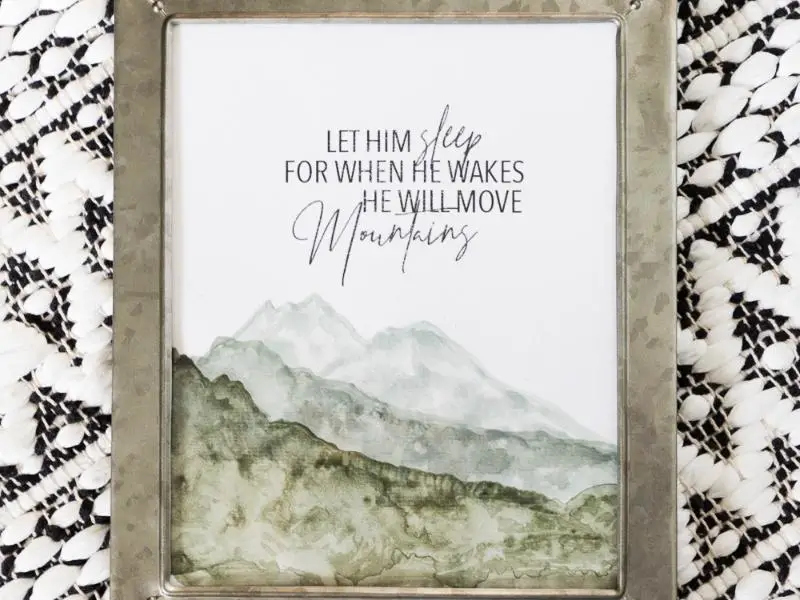 This project is one of our simple watercolor painting ideas for beginners because it's part painting and part printable. So, you can print off a quote and add the details.
This allows you to customize your watercolor paintings and paint landscapes and mountains. Also, you can use watercolor acrylic paint, which is very flexible and easy to use.
Learn more about the Mountain Watercolor Tutorial on cherishedbliss.com
Draw With Me: Watercolor Flowers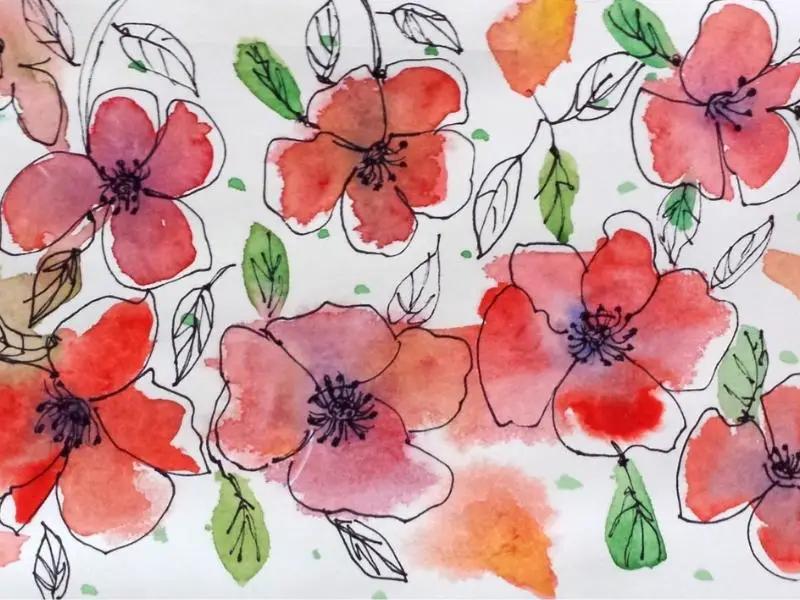 We've mentioned quite a few simple watercolor painting ideas for flowers, but this painting is a chance for beginners to try out wet on wet watercolor painting.
Moreover, the flowers don't look too intentional, so precision isn't needed. And the optional use of black fineliners can create an outline, giving you more control over the final product.
Get the details for Draw With Me: Watercolor Flowers on ms-hey.de.com
Whimsical Watercolor Birds
Nothing says painting ideas for beginners more than bird blobs. This watercolor painting works with one color or mixing paints and wet on wet technique or dry on wet technique.
With so much freedom, you can dive in and start painting your blobs. Afterward, a black fineliner can work its magic, turning them into the cutest bird or birds.
Read more about Whimsical Watercolor Birds on suzerspace.com
Fall Leaves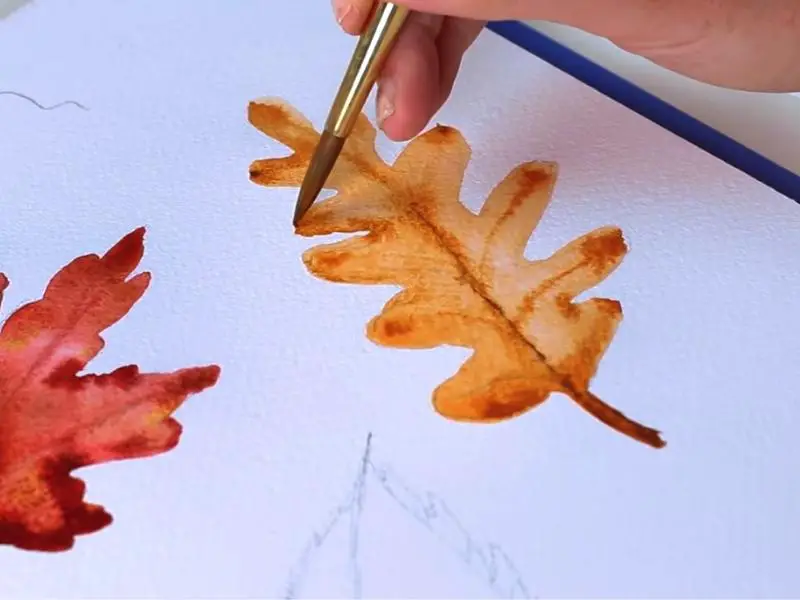 If you want to learn how to paint fall leaves, this artwork tutorial is for you. It helps you paint maple, birch, and oak leaves. So, if you love the beauty of nature and life and the warm tones of fall, you'll enjoy this drawing thoroughly.
Learn more about Fall Leaves from jennarainey.com
5 Minute Holiday Watercolor Cards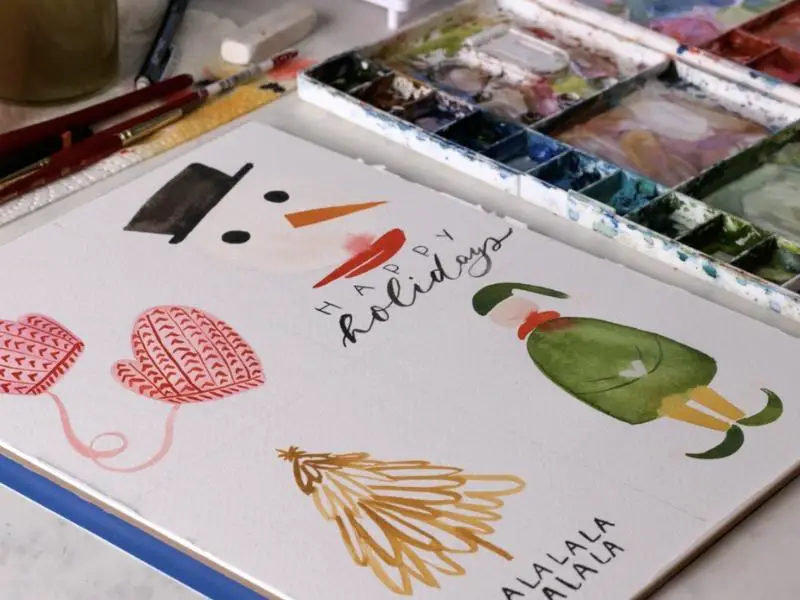 Why not get a little creative and turn your watercolor painting into a holiday card? You'll love how simplistic these holiday card illustrations are, and they'll probably take you less than 5 minutes.
Yes, that's how easy they are! Whether your card features a snowman, gold Christmas tree, little elf, or mittens, it'll surely warm up your friends' or family's hearts.
Get the instructions for 5 Minute Holiday Watercolor Cards from jennarainey.com
How to Paint Lemons in Watercolor
You'll find it easy to keep up with this tutorial for painting lemons. And the close-up shots will enable you to see the painting process clearly. Not to mention, only three paint colors are needed to create this painting. Accordingly, beginners and amateur artists can learn how to shade different lemons, thanks to this tutorial.
Read about How to Paint Lemons in Watercolor on eliseenghstudios.com
Easy DIY Taped Watercolor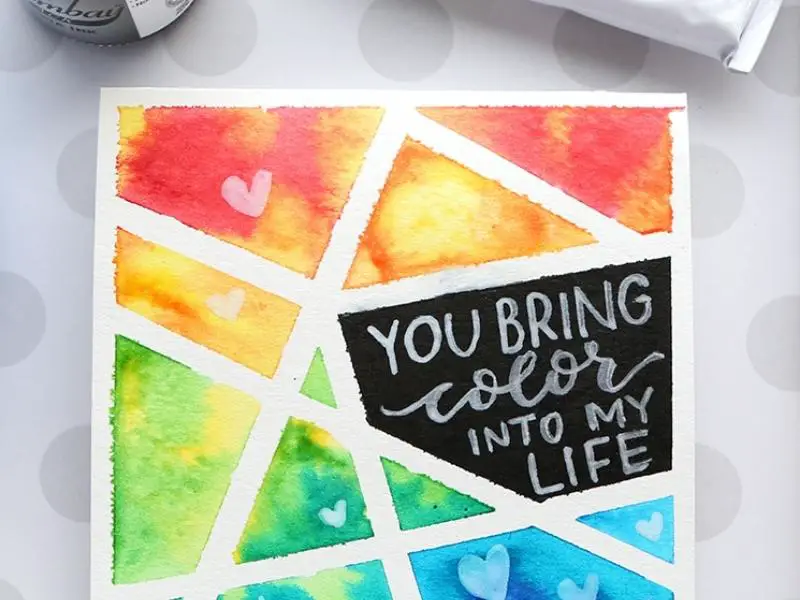 Are you a beginner starting out with watercolor paints? Such painting ideas require minimal supplies. By using painters' tape, you can color over the rest of the watercolor paper and remove it. Artists will find the result both effortless and gorgeous.
Get the instructions for Easy DIY Taped Watercolor on kwernerdesign.com
Two Ways to Paint Watercolor Cactus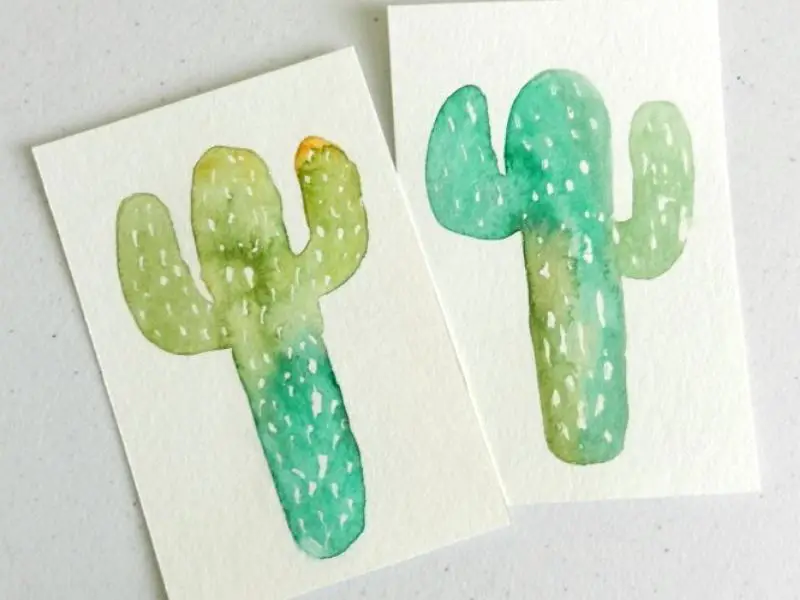 What makes a cactus a good painting subject for beginners is that it's such an easy succulent to paint without much detail. And if you want more methodological and simple watercolor painting ideas, we've got these two ideas using wet paint.
Masking fluid or rubber cement adds such texture and makes for a creative project. This painting looks beautiful, especially if you have a lot of pigment on your brush. And if you don't get it the first time, a bit of practice will do you wonders.
Check out Two Ways to Paint Watercolor Cactus from eliseenghstudios.com
Winter Watercolor Landscape Tutorial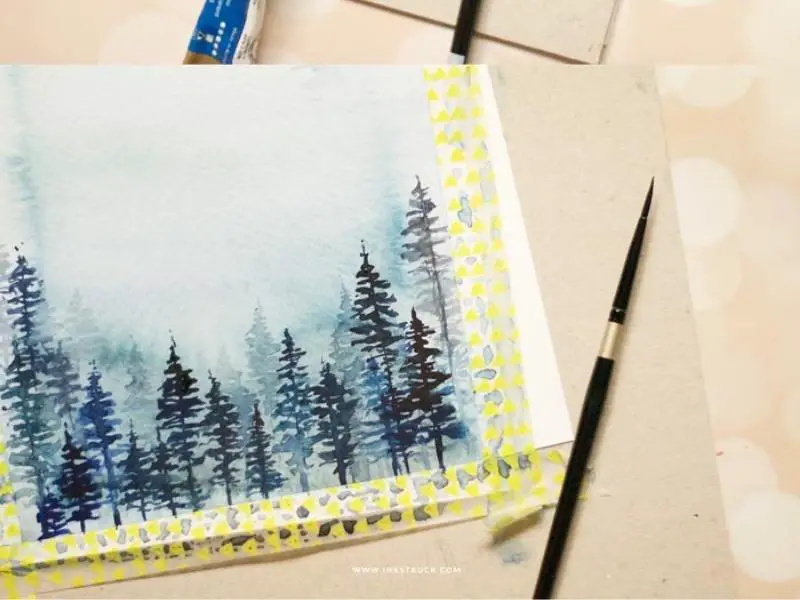 Landscapes are some of the best simple watercolor painting ideas for beginners.
They're also beneficial to new artists in understanding value in watercolors so that they can manipulate the amount of water and pigment to show light, medium, and dark shadows.
The result is a landscape with trees, a clear sky, and depth that an artist will appreciate.
Check out the details for Winter Watercolor Landscape Tutorial on inkstruck.com
Easy Watercolor Cityscape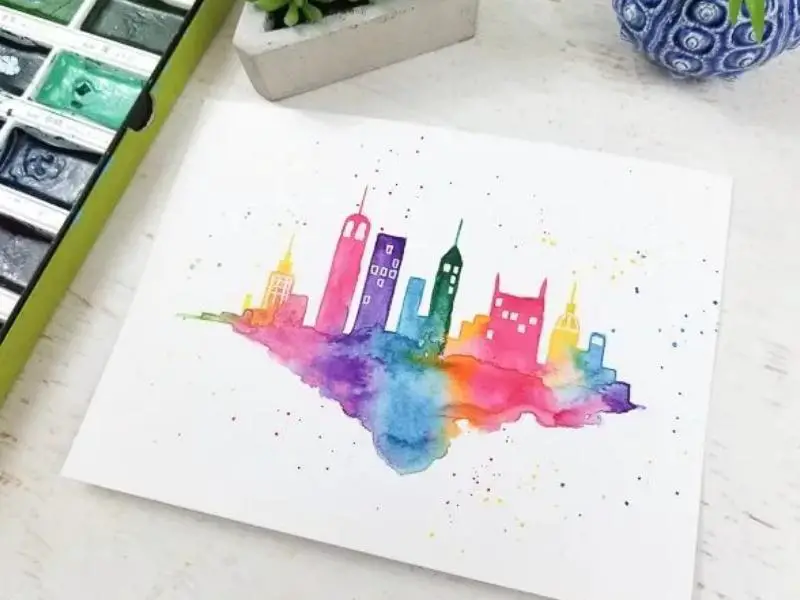 This painting idea makes for infinite possibilities and can bring about different outcomes.
That's because you adjust the shades and skyline. Also, your city's skyline can be such a source of inspiration. In short, this is a 30-minutes project that can create the most incredible color explosions.
Read more Easy Watercolor Cityscape from bydawnnic.com
Easy Autumn Tree Watercolor Painting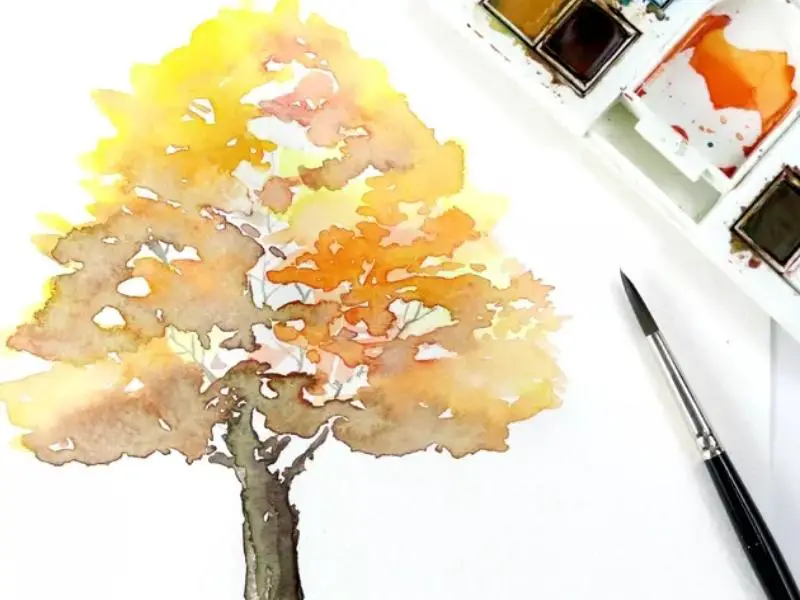 Trees are breathtakingly beautiful in fall, so why not preserve that? You can use these simple watercolor painting ideas for beginners to create a fall tree of multiple shapes, sizes, and watercolors. Not to mention, all it takes is a different color palette to create a summer or spring-themed tree painting.
Read to learn about Easy Autumn Tree Watercolor Painting on ehow.com
How to Paint a Sunset With Watercolors
This is yet another of our simple watercolor painting ideas for beginners due to its lack of details. So, you can create an interesting painting using a wash technique.
This way, you can showcase the irregular and rich colors of the sky and ocean as the sun sets, such as yellow, red, blue, black, and more.
Learn more about How to Paint a Sunset With Watercolors from ehow.com
Easy Watercolor Pineapple Painting Tutorial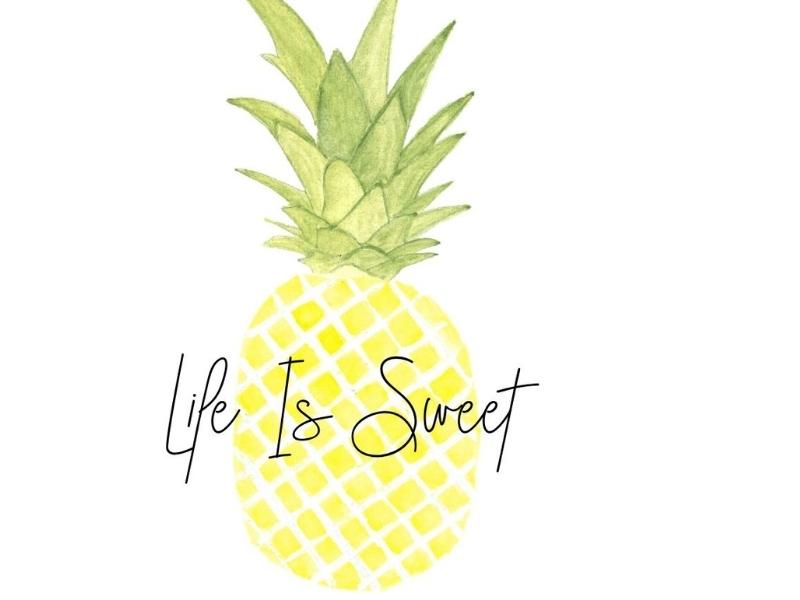 A fruit can make for such fun watercolor painting ideas for beginners, and it doesn't have to be perfect at all.
For this fruit watercolor painting, you can depict a pineapple watercolor painting. By adding more water, the painting gets softer, and by adding less water, it gets more bold.
If you get overwhelmed by different techniques, this guide gives you the chance to wing it with a template to follow.
Get the instructions for Easy Watercolor Pineapple Painting Tutorial on simplenaturedecorblog.com
Stenciled Watercolors Tutorial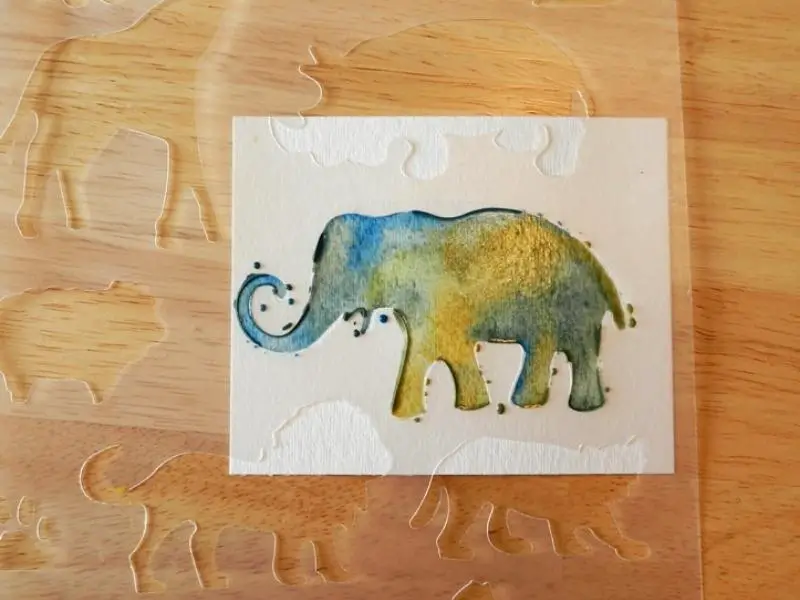 Plastic stencils are some of the most simple watercolor painting ideas for beginners, and for this one, you can use an animal stencil.
We think elephants are super cute and fun, but you can certainly pick other animals and ideas as well.
What renders this one of the more simple watercolor painting ideas is that you only need to dap your brush with different colors while holding the stencil with your other hand.
The result looks so neat and professional.
Read more about this Stenciled Watercolors Tutorial on eliseenghstudios.com
Easy Watercolor Techniques
This guide teaches you two different watercolor techniques, and one makes use of excess paint.
Furthermore, most artists will find it easy to use stamps; they certainly make the process more accessible to beginners.
As for the best part, you'll likely get a different result each time you try these simple watercolor painting ideas.
Get the details for Easy Watercolor Techniques on melissascraftingtreehouse.com
Easy Abstract Watercolor Florals Tutorial
In this fun tutorial, you can create a stunning watercolor background. With quick brush strokes, you get that abstract look, and you can certainly use a dropper.
Also, drawing flowers with a white posca pen can be such a lovely finishing touch.
Learn more about Easy Abstract Watercolor Florals Tutorial from bydawnnicole.com
As you can see, there are numerous watercolor painting ideas for beginners that they can follow to progress and advance their skills.
From painting flowers and butterflies to using glue and salt, you're sure to find watercolors an extremely gratifying medium to use.
So, get out your watercolor kit and happy painting. Also, remember to take it slow and enjoy the learning process.
Comments
0 comments