Huskies are very beautiful dogs, and many people love them. They can also be amazing to color, with stunning coats in various tones, and captivating blue eyes. If you or your child would like to find some gorgeous husky coloring pages, we've gathered up the best to share with you.There are pages suitable for adults and pages just for kids "" so whether you're looking for an involved coloring project or something super simple, you'll find it here.
1. Patterned Husky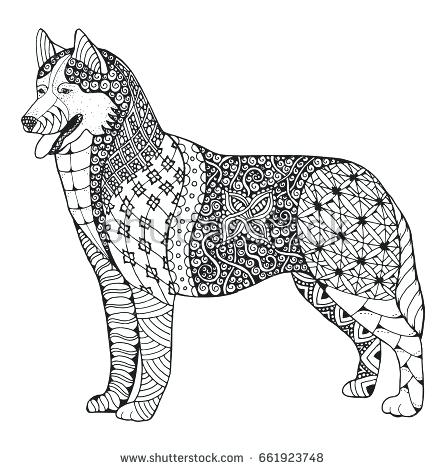 Source: http://getdrawings.com/coloring-pages-of-husky-puppies
Do you love fiddly shapes and dots and patterns? Do you want to make your husky a rainbow of colors? This Patterned Husky is perfect if so, with an array of different patterns to color in. From toes to ears, it has a whole host of different shapes and lines.
Little spirals make up the majority of its body, while each leg offers a different challenge, and the tail, ears, and face vary too. The artist has managed to still keep the husky clear and not lose its distinctive features in this amazing adult coloring page.
2. Husky Puppy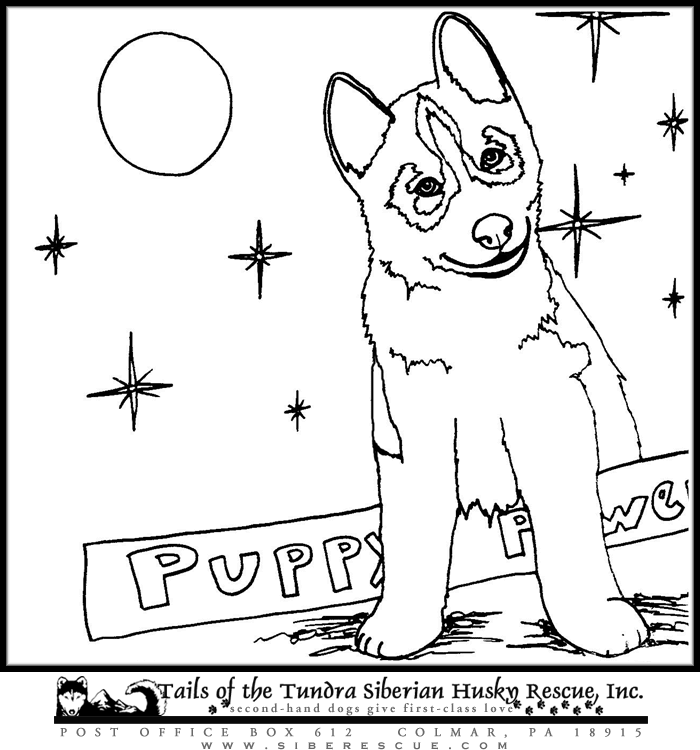 Source: https://www.getcoloringpages.com/coloring/16788
If you've recently adopted or are thinking about adopting a husky pup "" or you just love them "" this Husky Puppy coloring page is the one for you. It captures that adorable little head tilt that they do so well, and nicely shows the proportions of a puppy.
The background is clean and simple, so you can focus on making the puppy look its best, but it will still have a scene to fit into. Older kids will love this coloring page too, though youngsters may find it a bit of a challenge.
3. Simple Cartoon Husky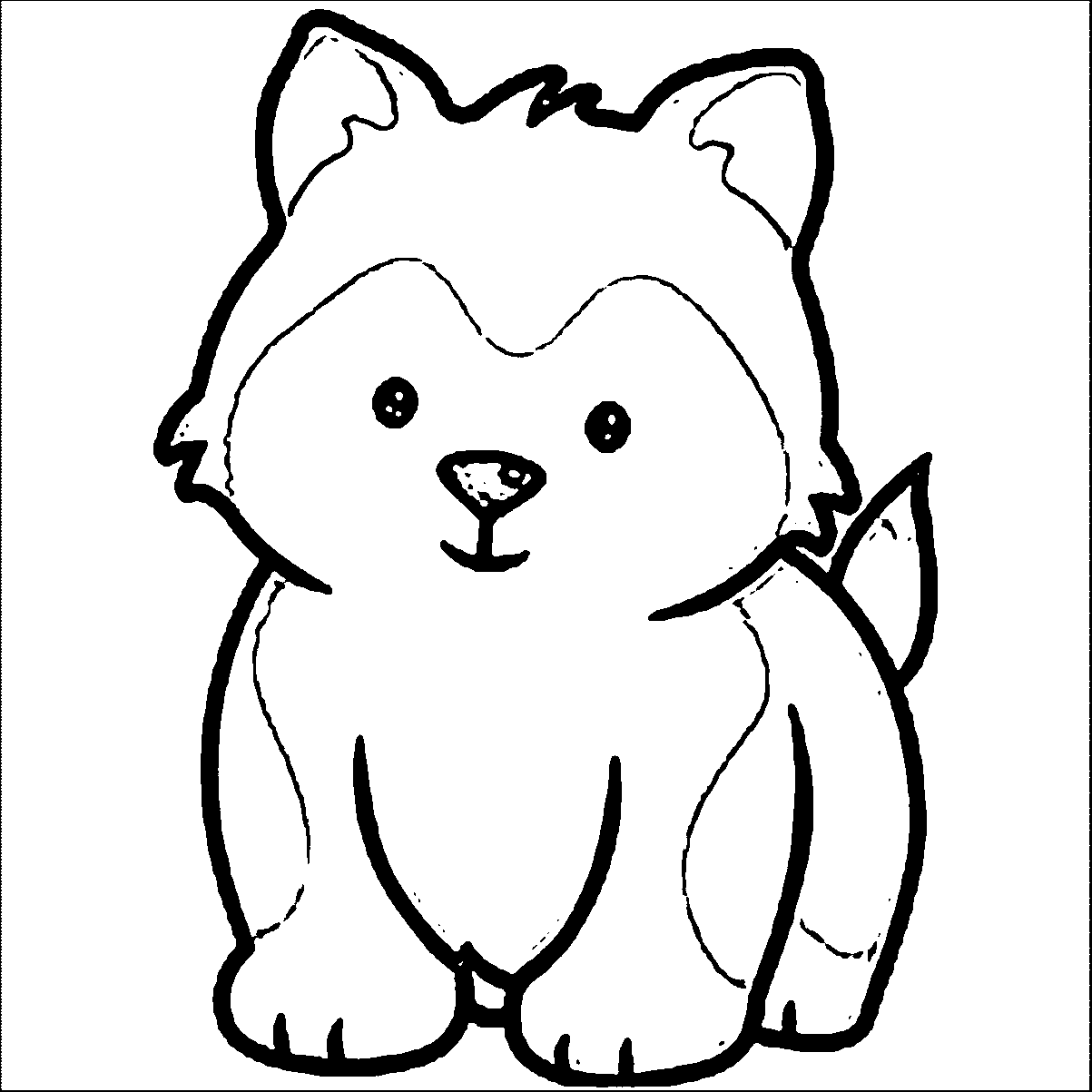 Source: https://coloringhome.com/coloring-page/1848674
For younger children, the Simple Cartoon Husky would be a better option. It still looks like a husky but has been massively simplified to provide a few bold, easy curves. The eyes are already filled in, so the most challenging part will be the nose "" and even fairly young children should manage this.
The great thing about this husky is they can color the whole dog in one or two colors if they like, or spend more time detailing the fur. It will fit in with whatever the child's ability is.
4. Cartoon Husky
Source: http://www.supercoloring.com/coloring-pages/husky-1
A little more complicated, but still child-friendly, this Cartoon Husky is set in a fun background and has a highly engaging expression. That big, fluffy tail is great for kids to color in, inviting them to try out a jagged edge to represent fur.
This picture is slightly more challenging, as certain things like the husky's eyebrows are quite small and fiddly, but most of the shapes are simple and the child certainly won't ruin the picture if they don't get the eyebrows perfect!
5. Stylized Husky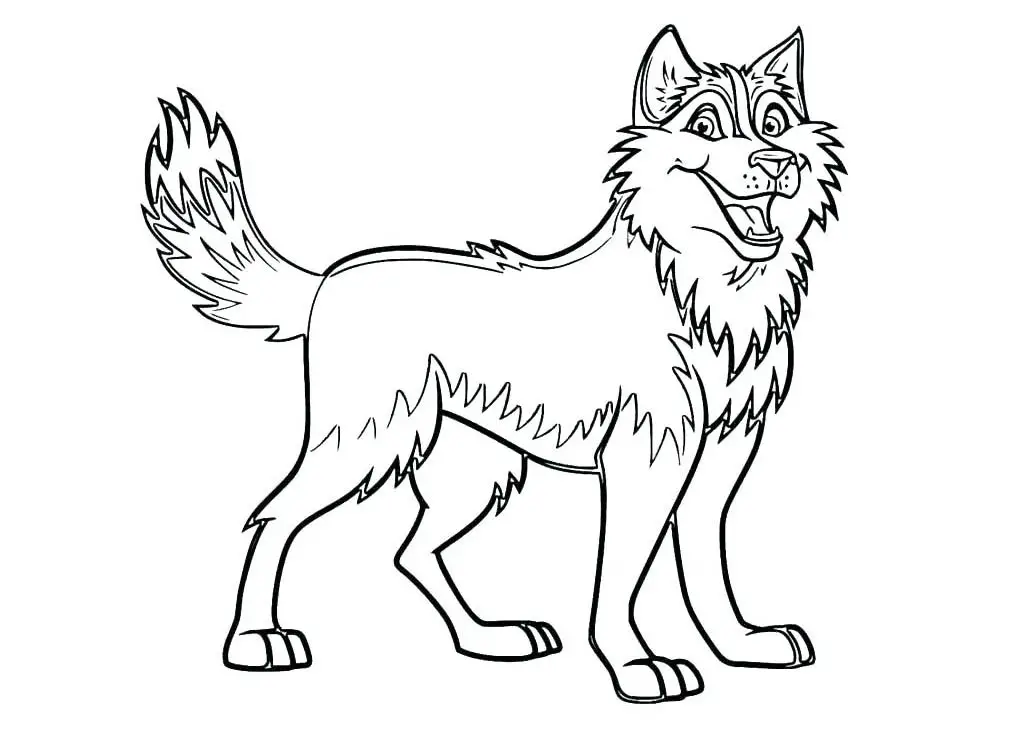 Source: https://www.justcolor.net/kids/coloring-pages-of-animals/dogs/
This very zigzag-focused Stylized Husky is a step up from the last one, with some quite complicated shapes to color, such as the inner ears and the details in the fur, but it's still got a fairly large area that can be colored quickly by a child.
This furry friend has an engaging expression and looks ready to play and have fun. He'd look great in some really wild colors, or in a husky's traditional hues.
6. Elegant Husky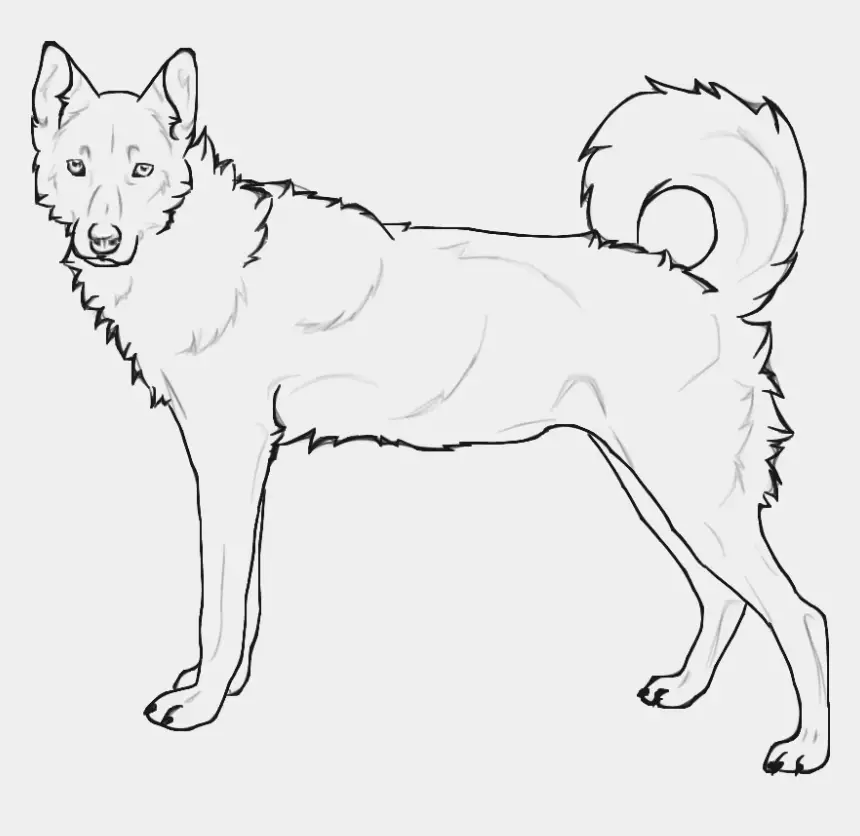 Source: https://www.jing.fm/iclip/TxTwhw_siberian-husky-coloring-pages-showy-siberian-husky-huskies
If you'd like to focus more on the lean, smooth shapes of a husky, this Elegant Husky page is perfect. It has very sleek lines and hints at the fur patterns to help you color around muscles and sinews, making sure the finished piece will look realistic.
This is certainly aimed more at adults than children, with a serious expression and a plain background, but older children may enjoy its sophisticated feel.
7. Realistic Husky Puppy
Source: https://coloringhome.com/coloring-page/1890629
For a gorgeously cute and very real-looking option, this Realistic Husky Puppy is a perfect choice. It has a slightly coy expression, and the eyes are already filled in, making it irresistible.
The drawing beautifully reflects a husky's amazingly soft and fluffy coat, and if you want to practice shaggy lines, this would be the perfect opportunity to do so. Gentle grays with only touches of black would probably be the most appropriate color choices for this canine.
8. Antarctic Husky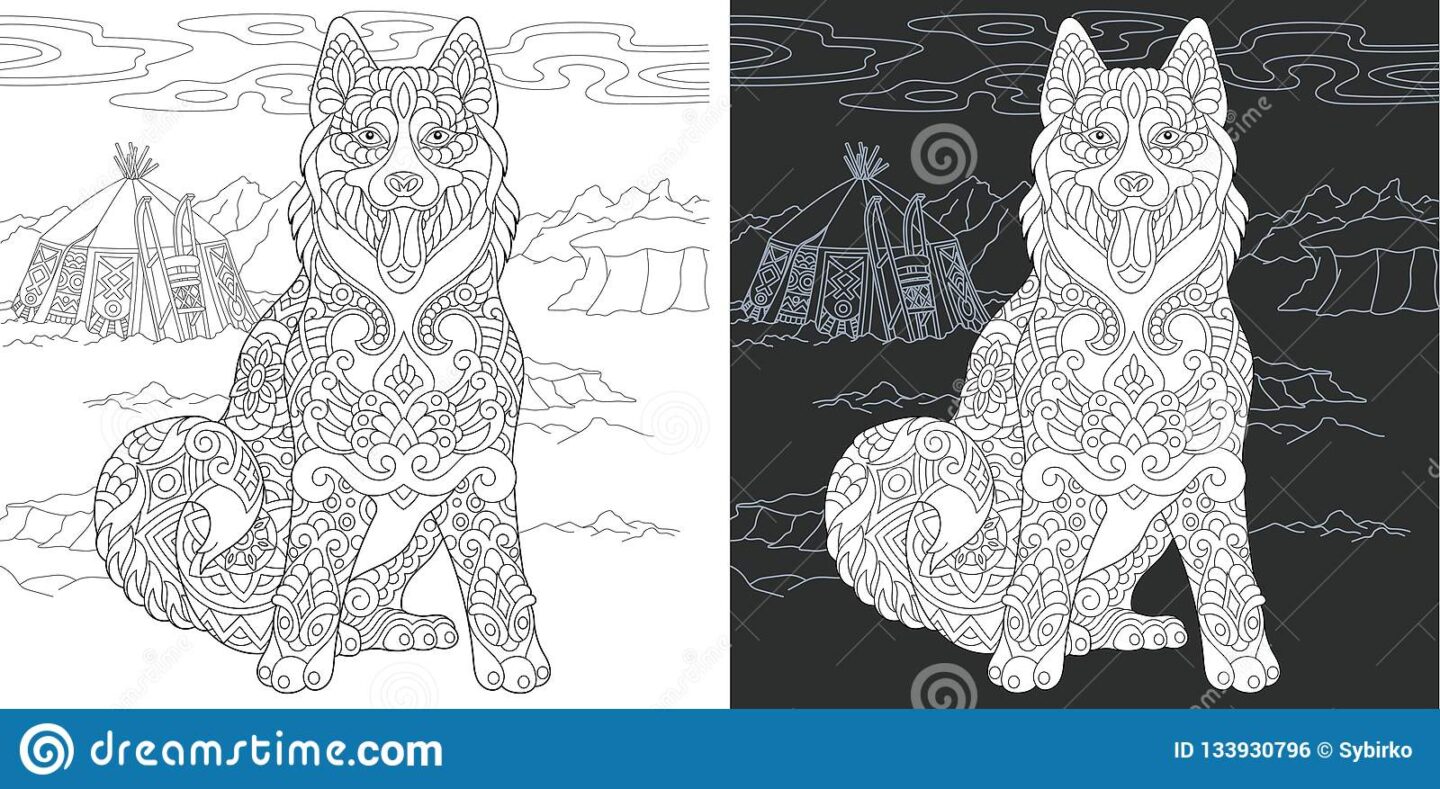 Source: https://www.dreamstime.com/coloring-page-husky-dog-coloring-page-coloring-book-colouring-picture-husky-dog-drawn-zentangle-style-antistress-image133930796
This amazing Antarctic Husky coloring page represents a decent amount of time investment and is certainly geared toward more dedicated colorers. With complicated shapes, it is a great way to lose yourself in the world of color and to forget everything else for a while.
The husky has been very beautifully designed, with a gorgeous crest of fur, some stunning patterns, and highly appealing symmetry. Even more, the background of the picture continues the style, with swirling clouds and a detailed tent, the husky's sled waiting outside to be pulled.
If you want an incredible scene to color in full and then display proudly on a wall, this might well be it!
9. Flowery Husky
Source: https://www.istockphoto.com/illustrations/adult-coloring
For anyone who hasn't had enough of the complex and beautiful husky designs, this Flowery Husky is breathtaking. It could not be more detailed and elegant, and anyone who enjoys putting hours into perfecting fine details will love those slim lines and intricate swirls.
The husky's shape is not lost at all, despite all the patterning, and the background manages to be both unobtrusive and interesting at the same time. A perfect picture to while away some evenings relaxing, and try out a new color set!
Conclusion
Husky coloring pages have some amazing options for both children and for adults who are interested in coloring.
If you find it soothing to sit down with pens and turn a plain picture into a vibrant world of different hues, you'll love some of these huskies "" and if you just want a quick project, there are a range of simple husky coloring pages too.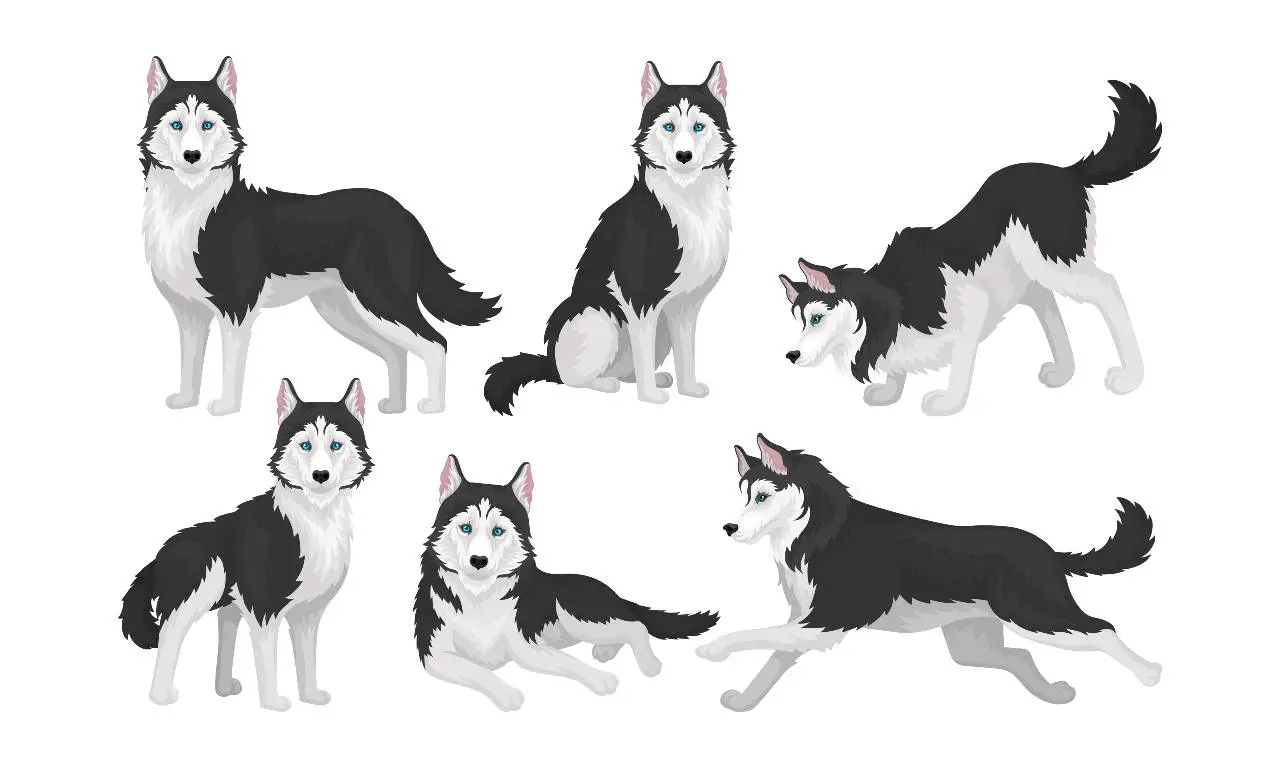 Comments
0 comments