When it comes to abstract acrylic painting, drawing butterflies seems like a simple process.
You might think that some acrylic paint and a few strokes of your flat brush will be enough for you to create your masterpiece, right?
That's not true at all, though, especially for beginners, and any multi-step butterfly painting tutorial will tell you the same thing.
To save you the trouble of the search, I'll give you a couple of suggestions here, so by the end of this article, you'll find butterfly drawing as easy as pie!
So buckle up and grab onto your art supplies because whether you're a child, teenager, or adult, you might make a habit out of butterfly painting with these super-easy butterfly painting ideas!
1. Lots of Butterflies
Is there a better way to learn how to paint a butterfly than painting dozens of them?
This painting tutorial involves painting as many butterflies as you want with different paint colors and surfaces like a rock, paper plate, or simply paper.
So, pick your favorite painting surface and get your paint pens to create gorgeous butterflies.
Also, if you feel like it, you might want to blend a flower into the wings and create some interesting shapes.
With how easy it is to follow instructions on this one, this is definitely the best gateway to paint for beginners.
Butterflies for Beginners from ROCKPAINTING101
2. The Cheerful Monarch
How can a painting butterflies' guide work without including a mesmerizing acrylic painting of a monarch butterfly?
The pop of orange against black across the butterfly wings is simply a sight for sore eyes.
Painting all the lines of the butterfly body and wings is super easy and can be fun, too, once you've painted enough of these butterflies.
Just make sure that you have titanium white, orange, yellow, teal blue, and mars black paint, and double-check that they're all acrylic paints.
You might also need graphite paper and extra brushes as you won't be using the same brush as you work on your monarch butterfly.
How to Paint a Butterfly from Step By Step PAINTING With Tracie Kiernan
3. Blue Butterfly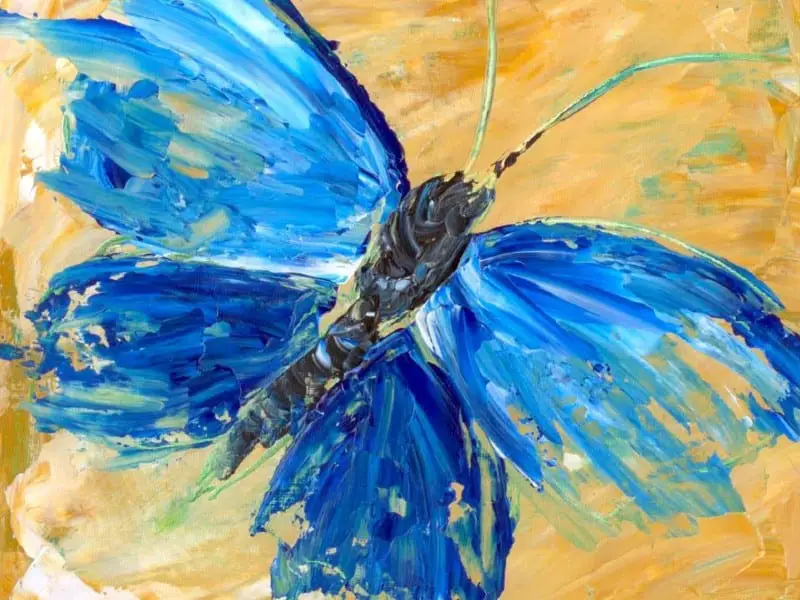 This is yet another acrylic painting, but you'll use more blue shades rather than the orange and bright yellows of the monarch butterfly.
As simple as it might seem, the blue butterfly can be a bit difficult to create with all the patterns and paint involved in the tutorial, but it's easier than you might think!
Plus, to paint this butterfly, you can use the grid provided in the tutorial to get more accurate results.
If you're a fan of flowers, you'll be happy to know that you can throw in a flower with the same paint you used to make it prettier and livelier.
Blue Butterfly Acrylic Tutorial from THE ART SHERPA
4. Butterfly Wall Art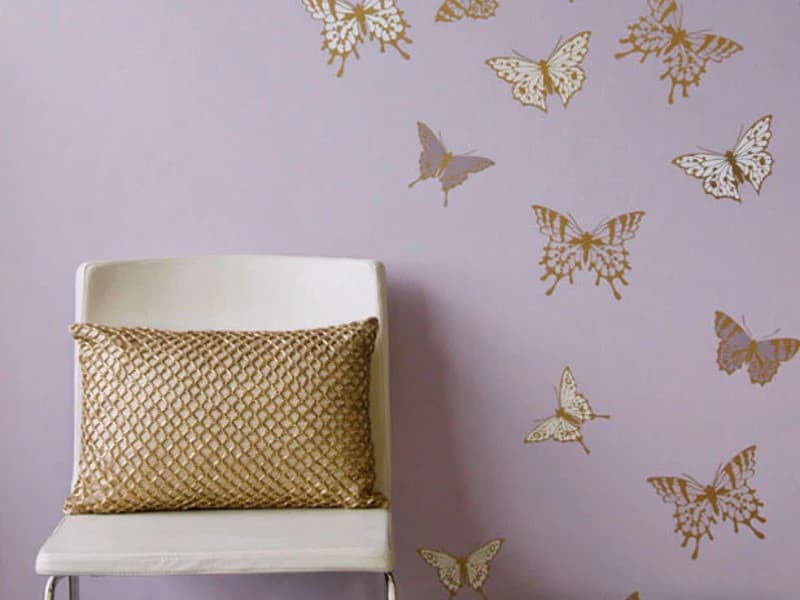 Nothing speaks art more than golden butterflies stenciled into your walls!
If the little ones like to make a canvas out of the walls, maybe this idea will help them channel their creative energies into interesting designs rather than just adding random paint strokes onto the walls.
While this is one of the easiest ways to paint a butterfly, you might still want to walk your kiddos through it if they're really into this idea, especially since the background might get damaged pretty easily with any soft-color pencil.
Soar Into Style: How to Stencil Butterfly Wall Art from Royal Design Studio Stencils
5. Butterflies Custom Shoes
Are you sick and tired of the boring-looking white canvas that is your sneakers?
You might as well draw some butterflies to spice them up!
This might be a little bit on the tricky side (since you'll be drawing and lining the wings on your shoes), but it's still easy to create, especially if you're good with your pencil.
Of course, you can always cut to the chase and use a stencil.
There are no bounds for creativity here; you can use whatever colors you like and paint the butterflies on your sneakers with them!
Angelus Tutorial: Butterfly Custom Shoes from ANGELUS DIRECT
6. Butterfly Jeans
When your jeans become old and outdated, it's not time to get rid of them just yet; you can still revive them if you paint a butterfly or two on the sides.
It'll make your jeans brand new and add some charm with the pattern and paint colors you draw on the material.
Plus, both adults and kids will love it. Just pick the wing pattern you like most and start painting!
Butterfly Jeans from favecrafts
7. Paper Bag Butterfly Kids Craft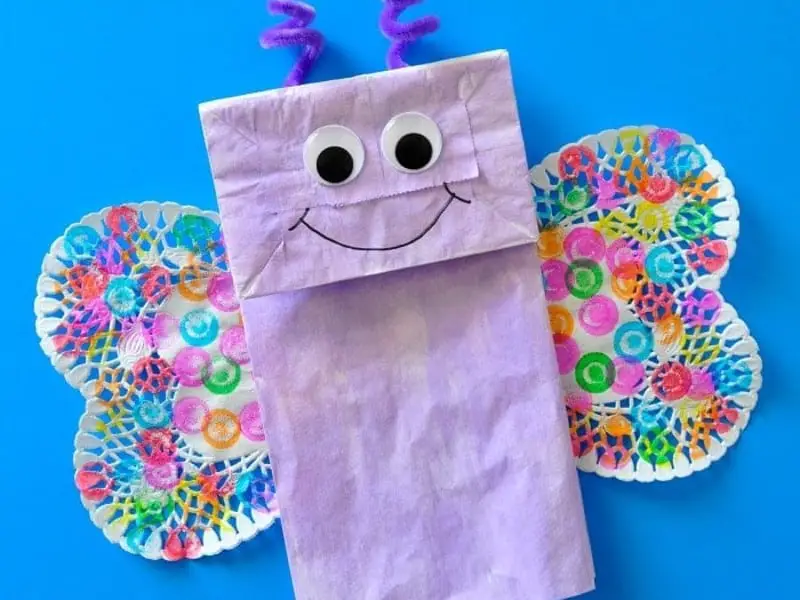 Let's get into the craftier side of things.
Painting a butterfly sure is a fun experience, but nothing beats creating and painting a butterfly paper bag for your children!
With some pipe cleaners, acrylic paint, and doilies, you can make any lunch bag into the perfect butterfly paper bag in a few minutes.
If you like to color a butterfly more than paint one, this craft is certainly for you!
Plus, your kids will feel special holding this bag, and it makes for a great activity that your kids will love to participate in.
Paper Bag Butterfly Kids Craft from iHeartCraftyThings
8. Tropical Butterfly Face Paint
Butterfly face paint is definitely one of the best butterfly-related projects out there.
If you pair it with a butterfly dress, it can make for a great Halloween costume or a pretty outfit for any local event.
What's great about the tropical butterfly is you don't have to have a knack for painting to get it right, you can even paint half a butterfly, and it'll still look absolutely stunning.
Get ready for the special day you'll paint a butterfly on your daughter's lovely face because you'll surely want to take dozens of pictures!
Tropical Butterfly from Face Paint
9. Foam Cup Butterfly Craft
If you're hosting a party for your children pretty soon, you might want to lay off your brush and canvas and start thinking about foam cups!
This creative butterfly idea is really easy to make; the shape of the cups will be highly appealing to any child, and the painted colors on both the wings of the foam cup will look cute as it moves gently in the breeze. Pretty crafty, right?
Not to mention, your little darlings might set down their soda and drink whichever healthy beverage you pour in these cute little cups.
Foam Cup Butterfly Craft from iHeartCraftyThings
10. Faux Stained Glass Butterfly
If you simply want a butterfly-related activity that your little darlings can take part in any time of the year, then these faux stained glass butterflies are certainly for them.
Not only is this technique new, unique, and fun to implement, but the colorful palette on these butterflies is definitely appealing.
While it mainly depends on the background you'll stick the edges of this butterfly to, this yellow, orange, and green butterfly would fit into almost any background.
What's more, you won't have to paint butterflies yourself, as you can easily get a free printable template to do this one.
Faux Stained Glass Butterfly from Buggy and Buddy
11. DIY Butterfly Garden Ornament
Who doesn't want to add a little charm to their garden? You can fill your space with these acrylic-colored butterflies and with a bunch of flowers and colorful rocks. They might be great decorative items for a secret garden, right?
Once you're done with your new acrylic painting, you'll be surprised by how bright and enchanting it is under the sunlight.
You don't necessarily have to add them to your garden.
If a space lacks some decorations, you can fill it with these butterflies in the middle, for example, and you'll see the instant change.
DIY Butterfly Garden Ornament from crafting cheerfully
12. Christmas Butterfly Ornament

While this isn't some fancy DIY acrylic painting, you'll still use items like titanium white, green, or red spray paint to make this butterfly.
And as Christmas approaches, it wouldn't hurt to get into the festive spirit with an ornamental butterfly in the background with some complementing flowers, am I correct?
While this is a great idea for beginners, you'll still need some help to make these ornaments, so be sure to have someone ready to help nearby.
How to Make a Vintage DIY Christmas Butterfly Ornament from Picture Box Blue
13. Butterfly Painted Vases
You must've covered half the surfaces in your house with butterflies by now, but wouldn't it be great to see an acrylic painting of a butterfly at the center of the vase of your favorite flower? If you can imagine that picture, then you're in the right place.
With some ribbons and paint, you can make the perfect crossover between a beautiful acrylic painting and a mother's day gift, so you won't be cutting corners with this one.
DIY Butterfly Painted Vases for Mother's Day from Crafty Mama in Me
Final Words
Don't be nervous if some of the paints or supplies here are new to you because, guaranteed, they're easy to implement.
Comments
0 comments