Welcome, Pinterest people! I've had so many questions regarding my Chihuly cup project. I made these with cups I bought at our local grocery store, and since then have had trouble finding. Boo. I used the cups with the little #6 on the bottom inside the recycle symbol. I can't seem to find them at grocery stores or Target, but have found some at dollar stores.
I've also not tried this project using cups with any other numbers on the bottom. If you try it with different cups, will you let me know your results? I'm curious, and I'm sure other people would be, too…
Now, onto the Chihuly melted cups project:
When I was studying ceramics in college, I would sometimes wander upstairs a level and visit the glass department. I had a couple of friends who majored in glass and I would watch, fascinated, while they pulled globs of hot glass, on long pipes, out of the furnace (the glory hole) and turned them around while blowing through the pipes, to let gravity and breath help form their vessels.
I didn't realize until years later that Dale Chihuly had set up the glass program at RISD and taught there for over a decade. Even if you can't place his name, I'm sure you've seen photos of some of his most famous pieces- colorful, undulating vessels that look like beautiful sea creatures.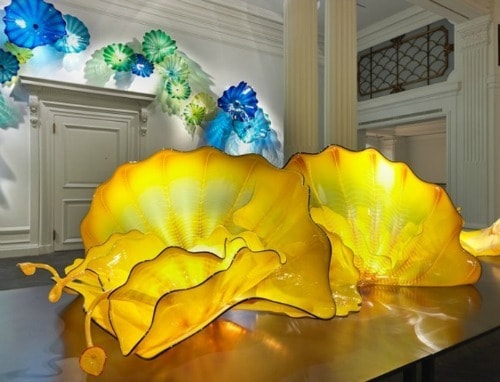 photos: Design Rulz
Most projects based on famous artists are great in that they give kids a little insight into an artist's style. This project is not only fun to make, the results are uncanny in their ability to emulate blown glass vessels. Heat and gravity work on plastic cups much like they are used in glasswork.
Materials:
Clear plastic Solo cups, tall and/or short – I used cups with the recycle number 6 on the bottom. I haven't tested other cups!

Sharpies –

fine point 

 (not the thin, ultra fine points!)
Directions:
Color stripes of varying thicknesses around the outsides of the cups. We had fun picking out our color combinations. For a couple of the tall cups, we ended up coloring the inside bottoms of the cups, because they are so visible after melting.
Preheat oven to 350 degrees. Place cups, right side up, on foil-lined baking pan in the oven and watch them. They will slump in about 1-2 minutes and then they just stop on their own. Remove them from the oven and let them cool completely.
We tried out the shorter cups as well, and they ended up melting down nearly-but-not-quite flat. Still really cool, but you can't use them as mini bowls like you can the larger cups.
It's uncanny how much these things look like glass, and it's really hard to stop making them- there's something about the unpredictability of how they slump and the instant gratification when you watch them transform. We'll definitely be making these again.
Edited: Here's the email I got back from Solo re: the safety of melting cups:
Thank you for your interest in SOLO Cup Company products.  Our clear plastic cups are not  designed and intended for use at a 350 degree temperature. Therefore, we have not tested the product at that temperature and would not have data available.
So… not much info. here, but as with any project, use your best judgment and skip it if you are worried about its safety!
Like this project? Check out my Easy Zentangle drawing project, Crayon Transfer Technique, and bubble printing geometry project.
These are the Sharpies we buy. Look at all those colors, drool.

Comments
0 comments