If your kids are obsessed with Wonder Woman and superheroes, they're not alone. Besides watching the fantastic movies, give your kids these fun Wonder Woman crafts to have fun with and create memories. They won't be disappointed!
DIY Wonder Woman Costume
Source: By Artsy Mamma, "Imaginative Play with Kids: DIY Wonder Woman Tiara and Bracelets" (https://artsymomma.com/diy-wonder-woman-tiara-bracelets.html)It's time to create your own mini Wonder Woman. Your kids will love the DIY tiara and bracelets, and you can watch their superpowers come to life.
Materials needed:
1 toilet paper tubes or paper towel tube

1 empty cereal box

Red and yellow paint, either regular or metallic

1 printable outline of a tiara

Scissors

Glue

Tape

Paintbrush
Directions:
Find a printable tiara template online that resembles Wonder Woman's tiara. In order for the tiara to be the proper size, you should also have additional strips that are the same width as the smallest part of the tiara, so they can adequately surround your child's head. Cut out the tiara shape and two additional strips.

Put your cutouts onto the cereal box. To make it easier, you can break down the cereal box and open it up, so it's flat. Trace the cutout onto the cardboard and cut it out. You can use the front or the back of the box, and it doesn't matter as you'll be painting it.

Using your regular or metallic yellow paint, you can paint the cutout cereal box. If you want to go all out, you can use metallic gold paint as well. You may need a couple of coats, so ensure you're letting the paint dry completely in between.

Using your regular or metallic red paint, you can paint a red star in the center of the tiara. You can also use a red star cut out of construction paper, and you can glue it to the center.

Use the additional strips to create the backing of the tiara, so it stays on. Attach one side to either part of the tiara with tape, and then place it around your child's head to find the proper size. Tape it in place once it fits properly.

For Wonder Woman's bracelets, take your toilet paper tube or paper towel tube and paint it with the regular or metallic yellow. You'll need a couple of coats for this, and once they're dry, cut the tube. If you're using toilet paper tubes, you can cut them in half. If you're using a paper towel tube, you can cut it even smaller.

Cut the tube lengthwise so your child can put them on and take them off.

If your kiddo has any Wonder Woman clothes, they can put them on and be fully ready for all the action. You can also use a jump rope or other rope for Wonder Woman's Lasso of Truth.
Wonder Woman Toilet Paper Tube Figurine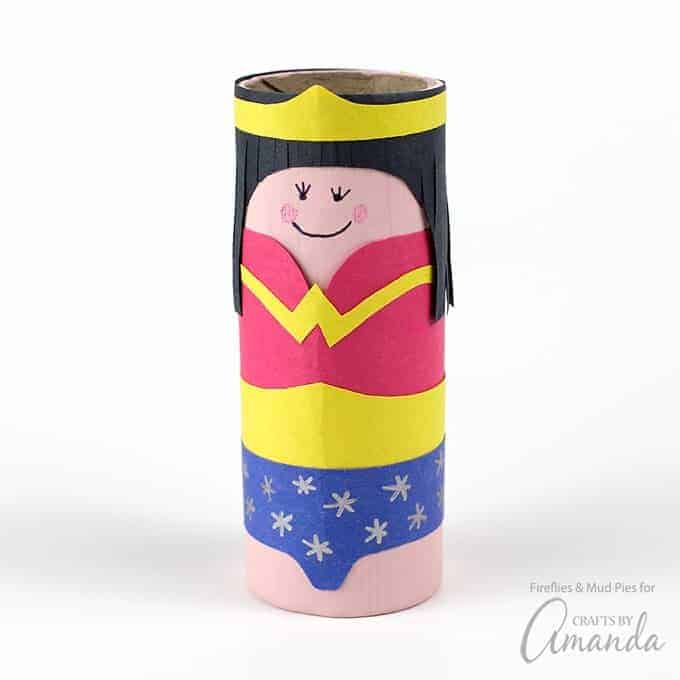 Source: By Amanda @ Crafts by Amanda, "Cardboard Tube Wonder Woman" (https://craftsbyamanda.com/cardboard-tube-wonder-woman/)For those kids who love to play with dolls or action figures, this cardboard tube Wonder Woman is the next best thing, and they'll have a blast making it themselves.
Materials needed:
1 cardboard tube

Paintbrush

Skin tone-colored paint

Red, blue, yellow, and black construction paper

Silver metallic Sharpie

Black fine-tip Sharpie

Red pencil

Scissors

Glue or tape

Ruler
Directions:
Take your cardboard tube and paint it your desired skin color. You may need to do a couple of coats, so let the paint dry completely in between.

Using the red construction paper, cut a 2″ by 4″ strip. Gently fold it in half so it doesn't crease and round the top and the bottom corners, which will be the top of the costume.

Cut two 1″ by 4″ strips, one yellow and one blue. The yellow one will be her belt, so fold it in half and cut it into that shape. The blue stripe will be the bottom of her costume, so cut accordingly and cover it in star shapes with the silver Sharpie.

In proper order, wrap the three pieces around the cardboard tube and tape them together. Use the yellow construction paper to cut out a small W to put on the red part of the costume.

Use the black construction paper to make her hair. Create her tiara from a yellow piece of construction paper and put a red star in the middle of it.

Once everything is all put together, use the fine-tip Sharpie to make her face.
Wonder Woman Paper Bag Puppet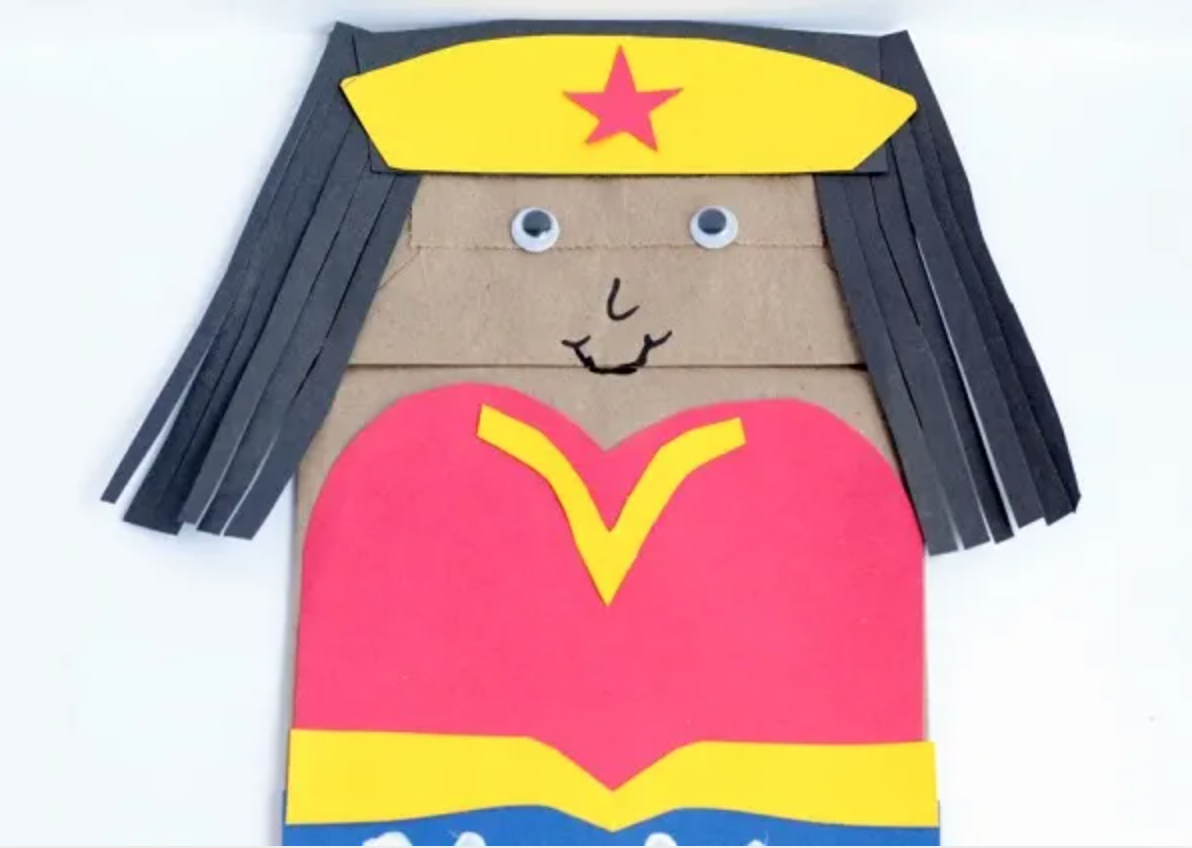 Source: By Darcy Zalewski @ Darcy and Brian, "Wonder Woman Paper Bag Puppet Craft for Kids" (https://www.darcyandbrian.com/wonder-woman-paper-bag-puppet-craft-for-kids/)For a quick and easy craft made with items you likely have in your home, try this paper bag puppet. Your kids who love Wonder Woman will love this craft!
Materials needed:
1 paper bag any color

Red, yellow, blue, and black construction paper

White paint

Paintbrush

Cotton swab

Scissors

Black marker

Glue

Googly eyes
Directions:
Using the width of the bag as a guide, you can determine the size you'll need to cut your construction paper.

Cut out her red bodice, yellow belt, blue skirt, a yellow W and tiara, and a red star.

Start with the black paper and create her hair. Taking two rectangles, fringe the ends to make her hair.

Starting with her blue skirt or pants, you can use the cotton swab and white paint to give her the stars on her costume or use a small paintbrush to create star shapes if your child is older. Let the paint dry down completely.

Glue or tape down all of her clothing in the proper order, including the tiara to her hair. Draw her face onto the bag with the marker, ensuring that her mouth is on both the flap and the large part of the bag. Doing this will make it look like she's talking or her mouth is opening when they put the puppet on their hands.

Use the googly eyes to give her eyes, and she's ready to play with them. If you don't want to use googly eyes or you don't have them, you can just draw on her eyes.

If you don't have construction paper, you can let your kids use markers and colored pencils to draw their own version of Wonder Woman. If you have white paper bags, they'll show up much more vibrant, but this is an option. You could also use yarn instead of construction paper to create her hair.
Comments
0 comments