Nothing says love like sending out handmade cards to your friends and family. No matter what the occasion is, they'll appreciate the gesture and the effort. However, finding good ideas and trying them out might feel overwhelming. But we're here to help!
We've created a list of many watercolor card ideas you can attempt in your free time this week, and most of them are kid-friendly. So dust off your brushes and dive in!
Happy Birthday Cards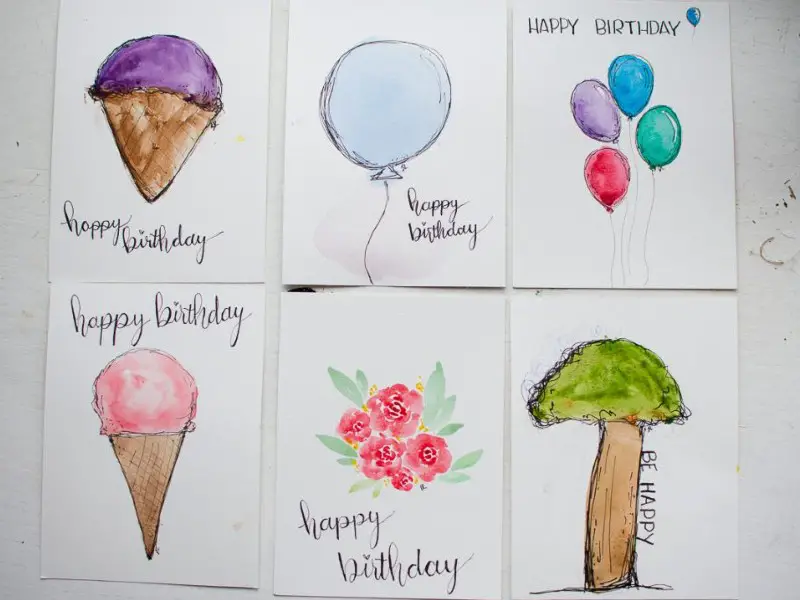 If someone's birthday is coming up, it's a perfect time to try those beautiful yet easy happy birthday cards. You'll only need watercolor paper, a pencil, an eraser, a few ink pens, and watercolor paint. There are many drawings you can try out. For example, you can paint a birthday cake, flowers, balloons, or cupcakes.
Get the tutorial for Happy Birthday Cards on seaofblush.com.
Floral Watercolor Painting Cards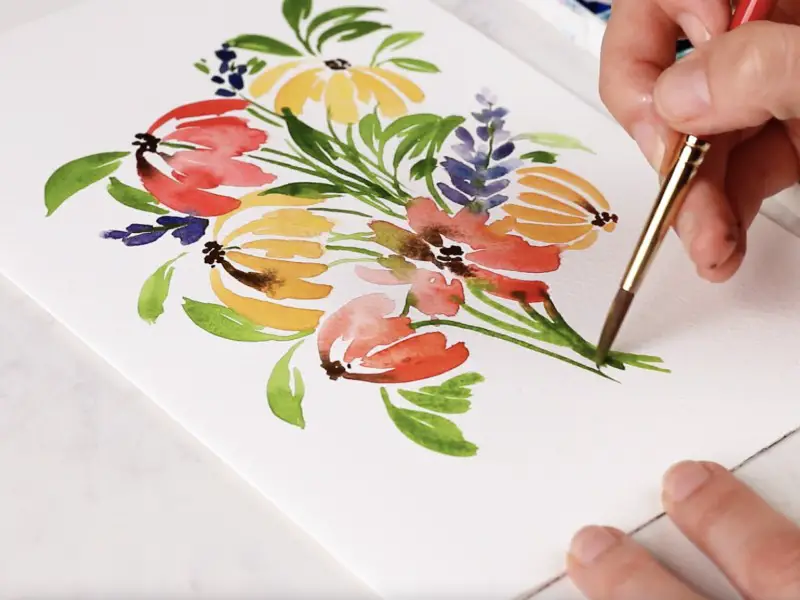 You can use those floral cards for someone's birthday, mother's day, Valentine's day, etc. They're a bit challenging if you don't often paint with watercolors, but nothing that time and focus can't fix.
Check the instructions for Floral Watercolor Painting Cards on jennarainey.com.
Congrats Graduate Card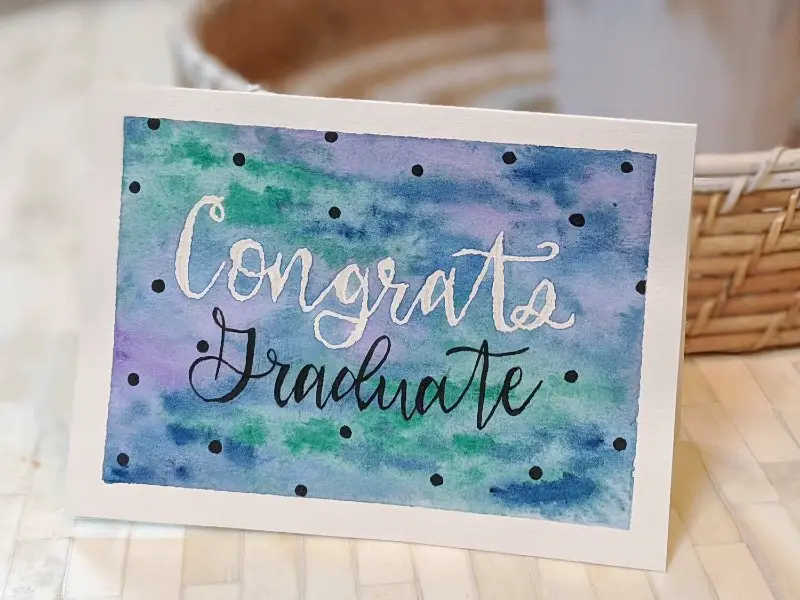 This congratulations card is a perfect gift for any graduate in your family or friends. You'll write the words in an elegant, cursive font, so your hand should be steady. Although it'll seem challenging at first, you won't face much trouble if you focus and take it slow.
Get the instructions for Congrats Graduate Card on knitpaintsew.com.
Easy DIY Watercolor Cards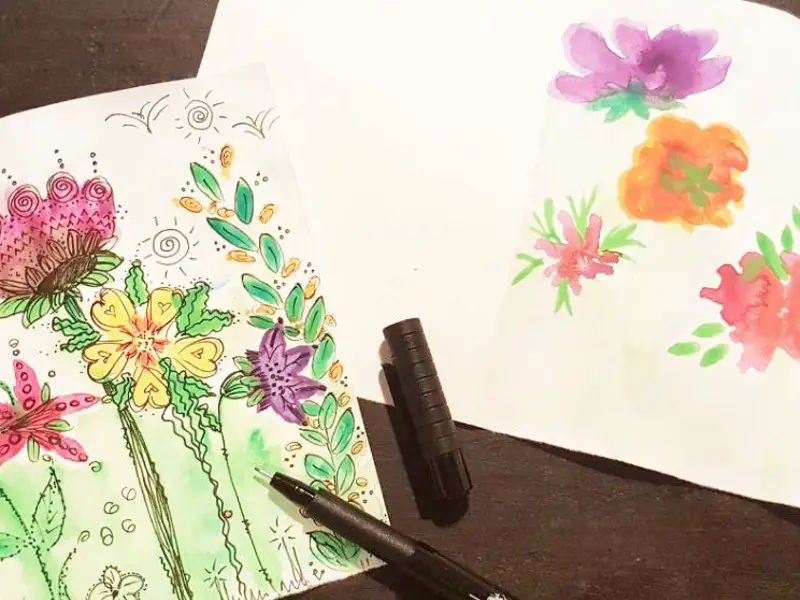 For this idea, you'll need proper watercolor paper so that it doesn't curl, watercolor paint, and a painting brush. Painting watercolor flowers might be a bit difficult, but you can sketch them with a pencil first so that you'll have lines to paint within. This will give you the chance to erase any mistakes you make along the way.
Only ignore the sketching step if you're a professional painter or like to get messy.
Read more about Easy DIY Watercolor Cards on craftifmylove.com.
Galaxy Card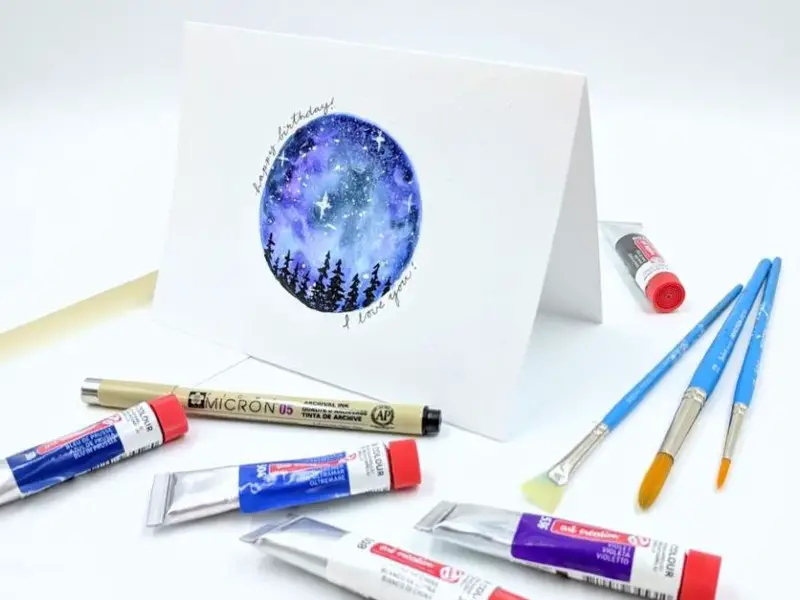 Galaxies have mesmerizing colors that look beautiful on watercolor paper. First, you can choose the shape you'd like to draw, then draw it with a pencil. Next, you can use different shades of blue and purple to paint the galaxy. For the stars, you can either use white paint or sprinkle some glitter over your card.
Get the tutorial for Galaxy Card on strathmoreartist.com.
Watercolor Greeting Cards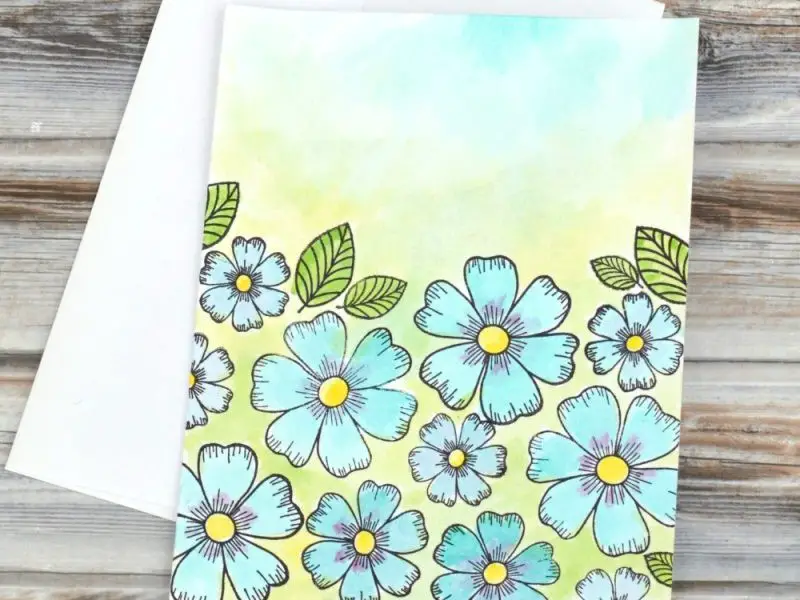 You can either use watercolor paint or water-based inks for this idea. The exciting part is that you can get creative with your shades and use whatever color you like. And since this idea is pretty easy, you can let your kid join in on the fun for a special family activity. But give them a small paintbrush to avoid too much mess.
Find out more about Watercolor Greeting Cards on happyhourprojects.com.
Christmas Tree Card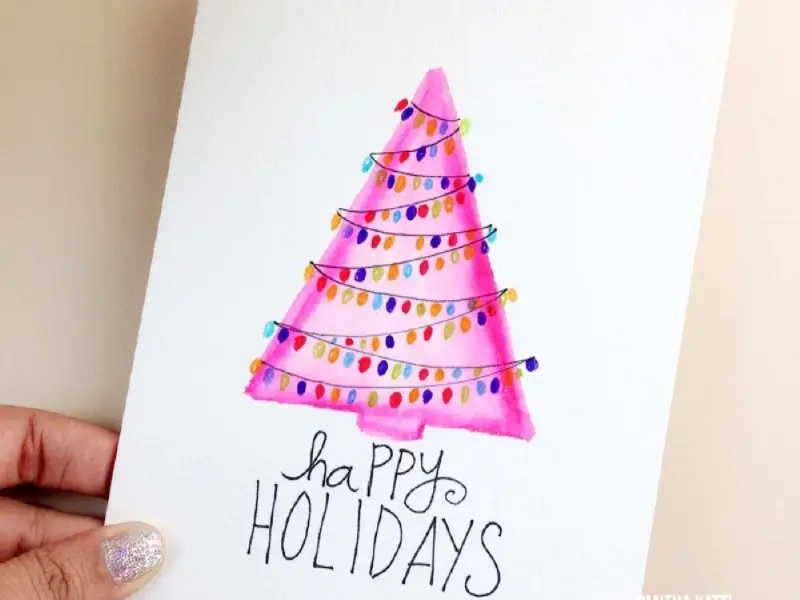 The jolly season is a perfect chance to put your watercolor skills to use. You can make many Christmas cards and send them to the people around you. In this idea, you'll get to try hand lettering. If you feel overwhelmed and want the cards to look professional, you can use a pencil to trace the words before painting them with a brush.
Keep an eraser nearby so that you can fix your mistakes if you make any.
Check the instructions for Christmas Tree Card on blog.tombowusa.com.
Snowflake Card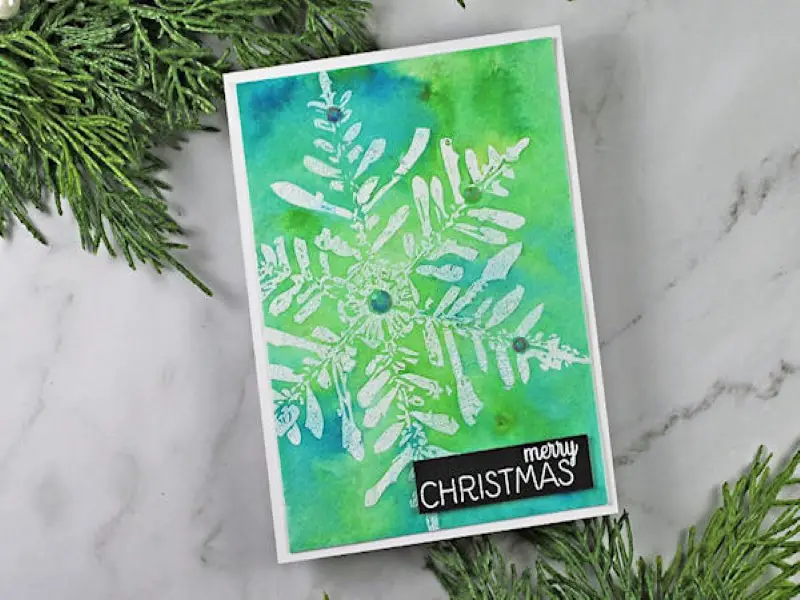 Snowflakes embody uniqueness and beauty; that's why this is one of our favorite watercolor ideas. Since snowflakes don't have a specific shape, you can get creative with your design and challenge your skills. That said, this drawing has quite a few meticulous details, so you need to use your brushes carefully.
Get the tutorial for Snowflake Card on splitcoaststampers.com.
Mother's Day Card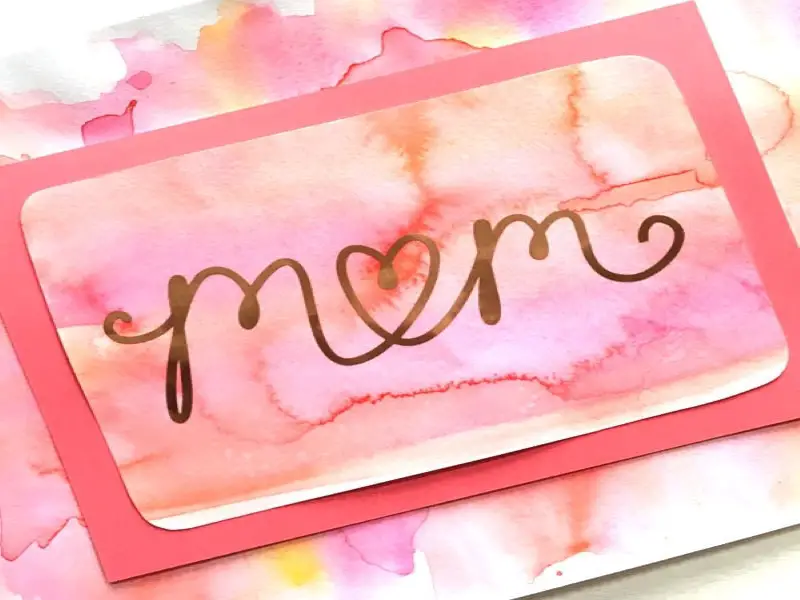 Mothers deserve all the appreciation in the world, and you can show yours with this cute watercolor painting. Since this idea is relatively easy, you can let your kids join you. Although you'll deal with some mess afterward, it'll be an enjoyable family activity.
Read more about Mother's Day Card on 100directions.com.
Holiday Foliage Card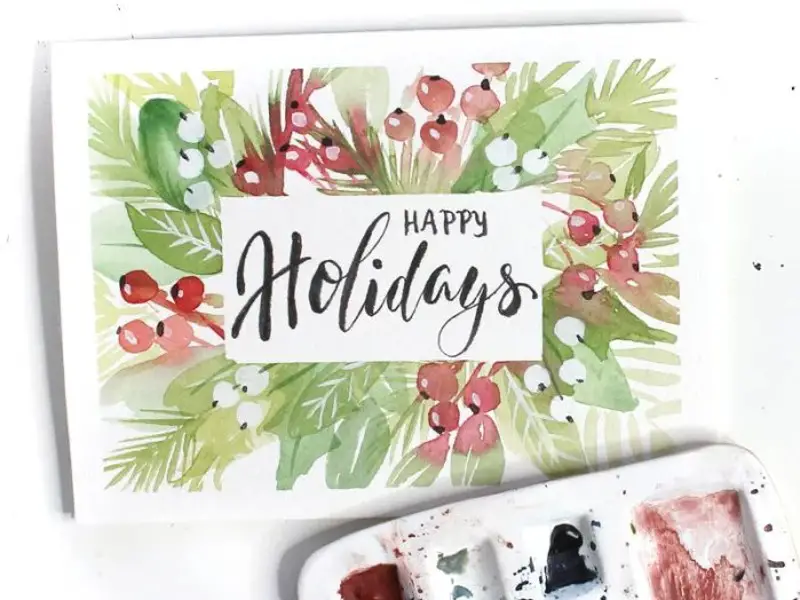 If you plan on sending out painted Christmas cards this year, you can attempt this decorated foliage. It contains some intricate details that might be challenging at first to get with a brush, but the final result will be worth the effort. Also, feel free to use whatever color palette you like. You don't have to stick to specific shades.
Get the instructions for Holiday Foliage Card on thewonderforest.com.
Easy Christmas Watercolor Cards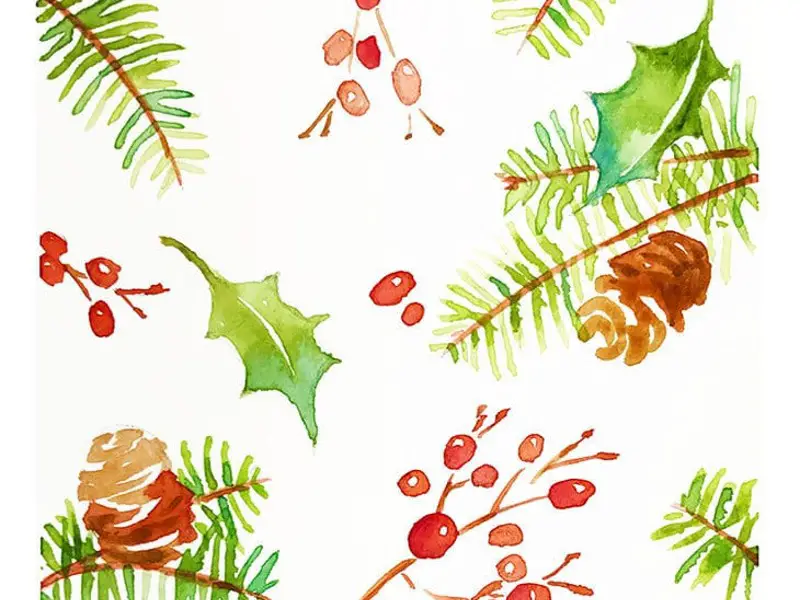 If you want to paint cards with your kids and make it a family activity, you can attempt those easy Christmas watercolor cards. You don't need many materials or advanced painting skills. So other than the mess, you won't face much of a challenge creating them. There are also many ideas that you can try out.
Find out more about Easy Christmas Watercolor Cards on watercoloraffair.com.
Tape Design Card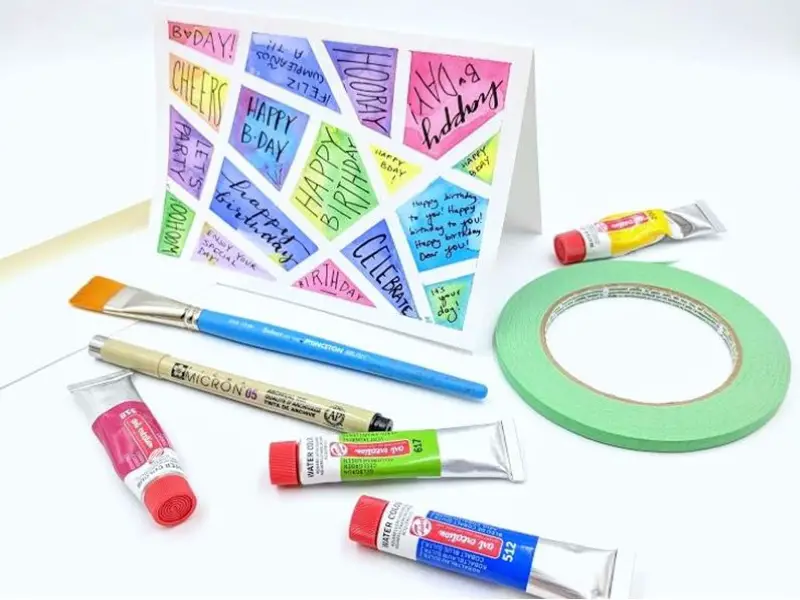 This card is among the easy watercolor ideas on our list. You'll use tape to create geometric shapes, then paint inside them using your colors. Next, you can peel off the tape and admire the painted figures. As for the color palette, you can get creative and test with different shades. No matter what you do, the result will be beautiful.
Get the tutorial for Tape Design Card on strathmoreartist.com.
Splash Card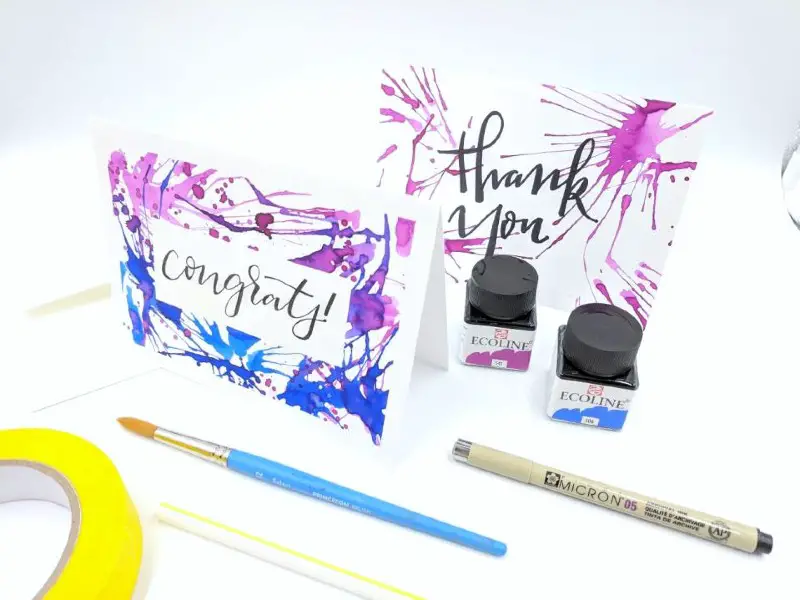 This idea is fun, creative, and suitable for beginners. It doesn't require watercolor painting skills, as you'll merely splash different colors on your paper. You can also leave a space in the middle for hand lettering. For example, you can write "thank you" or "congratulations."
Get the instructions for Splash Card on strathmoreartist.com.
Mistletoe Watercolor Christmas Card
We can't get enough of Christmas ideas because they're too beautiful to miss. In this one, you'll get quite crafty and draw a glorious mistletoe on your card.
You'll only need green and red watercolors for the painting part, so it's perfect if you have a limited budget this year and don't want to purchase new materials.
Find out more about Mistletoe Watercolor Christmas Card on thewonderforest.com.
Ombre Watercolor Thanks Card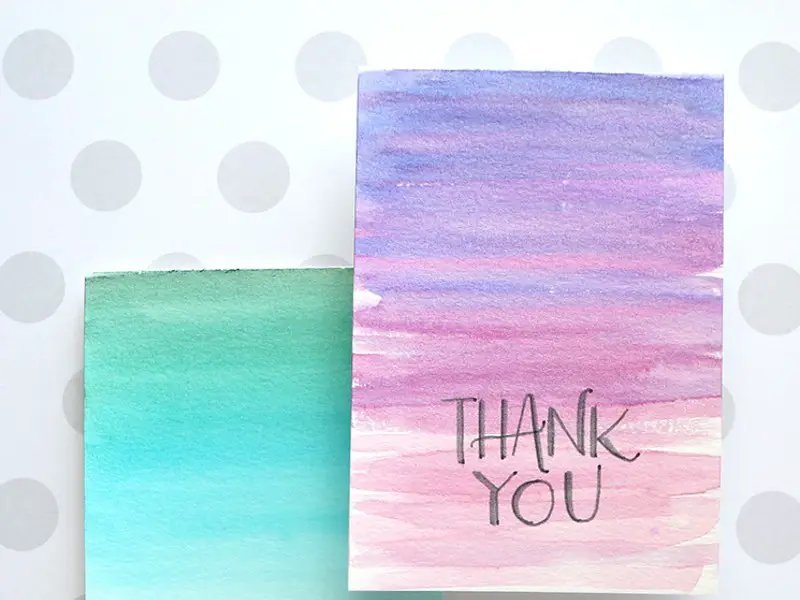 This idea is perfect if you don't have enough time to paint a detailed card. The smooth blended background will give your card a high-quality finish, although it's effortless to make. And your loved ones will appreciate the gesture of giving them a card you created yourself.
Get the video tutorial for Ombre Watercolor Thanks Card on kwernerdesign.com.
Heart Watercolor Card
You can attempt this sweet idea for the upcoming Valentine's day. It'll be heartwarming and cute if given along with your present. Luckily, you won't need many supplies to do it. Instead, you'll only need paper, paintbrushes, a black pen, and watercolor paint.
Get the instructions for Heart Watercolor Card on kwernerdesign.com.
Easy Floral Watercolor Card
This lovely idea will look beautiful and won't need many supplies. You'll merely need watercolor paints, a black marker, a white pen, and paper. Since those cards are relatively easy to paint, you can attempt them with your kids. This way, they'll give their artistic skills a try in a fun project.
Read more about Easy Floral Watercolor Card on kwernerdesign.com.
Salt Textured Watercolor Card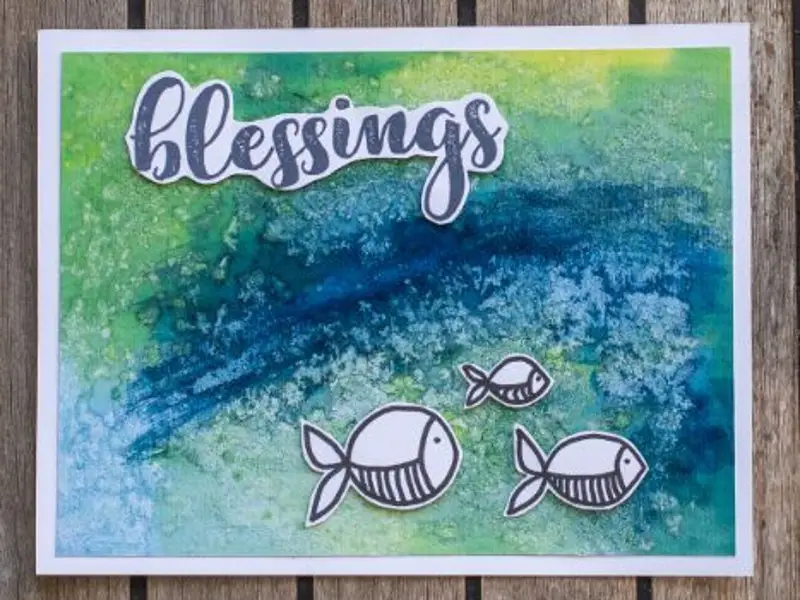 You can use many techniques to create watercolor cards, and this is one of the most fun. First, you'll dab your watercolor paint onto the paper carefully. Then, sprinkle the salt while the paint is still wet so that it can stick to the surface. Finally, all you have to do is wait for your card to dry and admire the result.
Get the tutorial for Salt Textured Watercolor Card on cardmakingcollective.com.
Galaxy Background Card
This easy watercolor card idea will be magically beautiful by the time you're done with it. You'll need some blue, pink, black, and purple watercolors to get it right.
You can sprinkle some glitter using your brushes before the colors go dry for an iridescent effect. But make sure not to touch the card while it's wet so that you don't get your hands all glittery.
Get the tutorial for Galaxy Background Card on cardmakingcollective.com.
Easy Watercolor Cards
You can start with this great, easy idea if you haven't tried watercolor painting before. Luckily, there are four different techniques you can try here. So whatever materials you have, they'll do.
Find out more about Easy Watercolor Cards on lyssycreates.com.
If you've been waiting for a sign to start creating some fun watercolor cards, here's it! You can choose whatever idea you like the most and showcase your skills.
Comments
0 comments