Turkeys have graced the Thanksgiving table for as long as we've celebrated the holiday, so it's only appropriate that they provide great ideas for turkey crafts!
We've put together a collection of fun craft ideas you and your child can work on together. They're great as decorations around the Thanksgiving dinner table, invitations, and so much more. Also, many of them are safe and age-appropriate for younger kids – best of all, some help with expressing gratitude during this most solemn of occasions.
Without further ado, let's get crafting!
1. Paper Bag Turkeys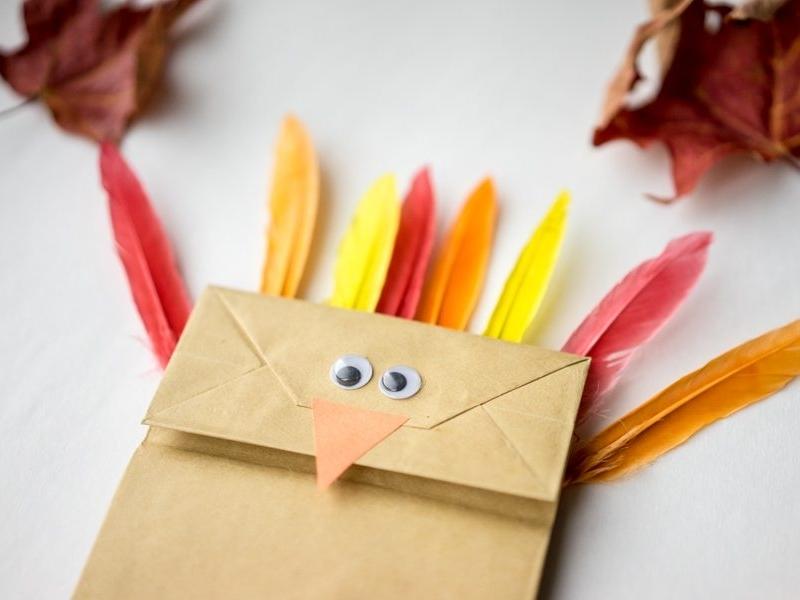 Using some construction paper, multi-colored feathers, and a pair of google eyes, you can turn an ordinary paper bag into an adorable turkey. This cute craft doubles as a puppet, so your kids can have fun sticking their hands into the bag to animate the turkey once they're done creating it.
Visit Best Ideas for Kids to learn how to make Paper Bag Turkeys. For more ideas involving paper bag turkeys, visit Craftwhack.
2. Kids Thanksgiving Craft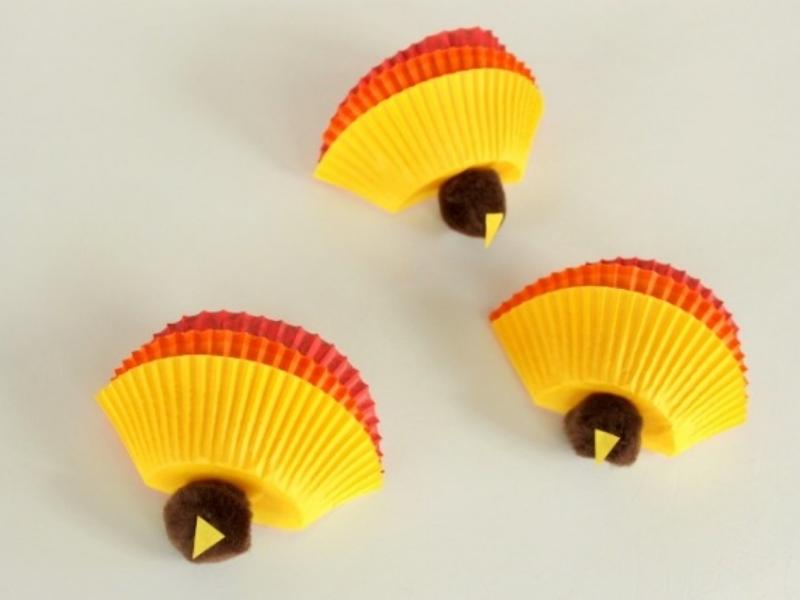 Head over to your neighborhood dollar store for some cupcake liners and brown pom-poms "" you'll need them to make these easy turkey crafts. They're a minimalistic way to spread the spirit of Thanksgiving while getting your kids involved in some simple crafting.
Check out Oh My Creative for the tutorial for Kids Thanksgiving Craft.
3. Thanksgiving Turkey Balloon
Inflate some helium balloons and decorate them into a turkey using a combination of construction paper for the beak, google eyes, and feathers. Once completed, anchor the balloons around the living room and let these flightless birds float.
You'll find the Thanksgiving Turkey Balloon tutorial at Design Improvised.
4. Gobbly Fun Turkey Finger Puppets`
Make some turkey finger puppets, and let your kids have a blast playing with them. If you have any Thanksgiving stories involving turkeys, you can encourage your kids to participate by enacting the scenes with the puppets.
Learn how to create Gobbly Fun Turkey Finger Puppets at I Heart Crafty Things.
5. Cardboard Turkey Craft for Preschoolers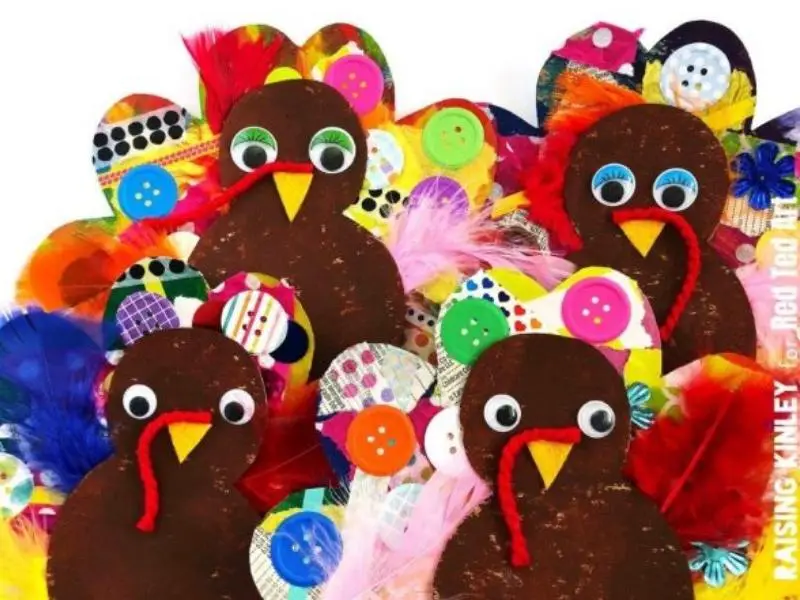 Get out your unused crafts materials like cardboard, ribbons, and yarn "" it's time to have a crafting session with your kids. You can put these different materials together to make a turkey collage. At the very least, preschoolers will enjoy playing with the cardboard.
To learn how to make Cardboard Turkey Craft for Preschoolers, visit Red Ted Art.
6. Pumpkin Turkey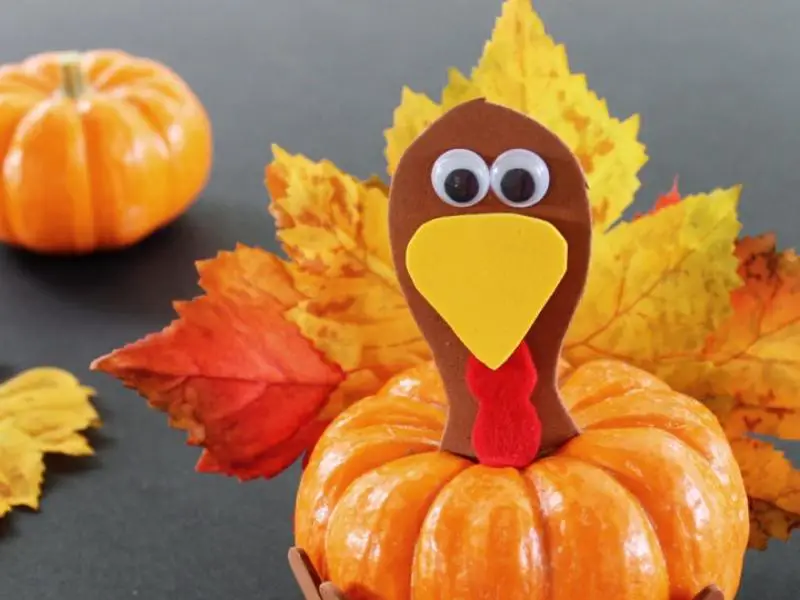 While sweeping the yard during the fall season, save some leaves for this craft. You'll be dressing a mini pumpkin with the leaves, making them stand in for the turkey's feathers. This is one of the most fun seasonal crafts!
Visit Growing Up Bilingual for the Pumpkin Turkey tutorial.
7. Thanksgiving Turkey Snack Bags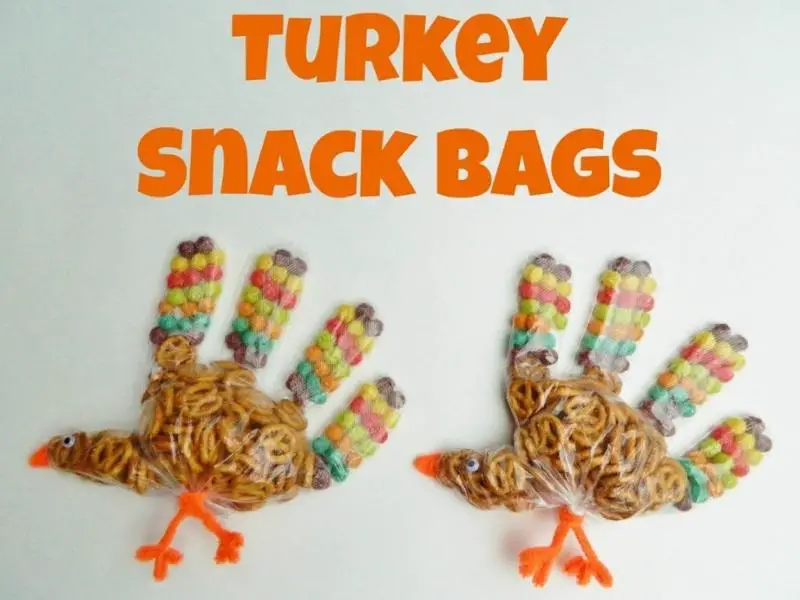 Little kids will love these adorable snack bags shaped like turkeys. To start making these cute turkey crafts for kids, you'll need pretzels, plastic gloves, a colorful snack to represent the turkey's feathers, and pipe cleaners for its feet.
Visit Kitchen Fun With My 3 Sons to learn how to make Thanksgiving Turkey Snack Bags.
8. DIY Confetti Stuffed Turkey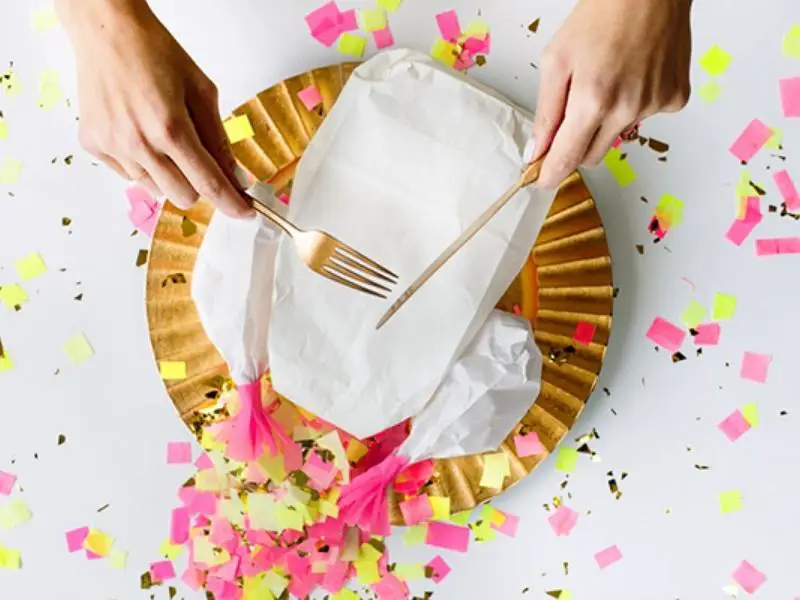 If you're looking for a turkey craft idea that'll inspire conversation at Thanksgiving dinner, this turkey craft is the perfect project for your needs. And you can let your older kids join in on the fun to make some very eye-catching Thanksgiving decorations. Thanksgiving crafts like this one are a creative way to bring holiday cheer through turkey crafts.
Learn how to make a DIY Confetti Stuffed Turkey at Studio DIY.
9. DIY Turkey Bookmark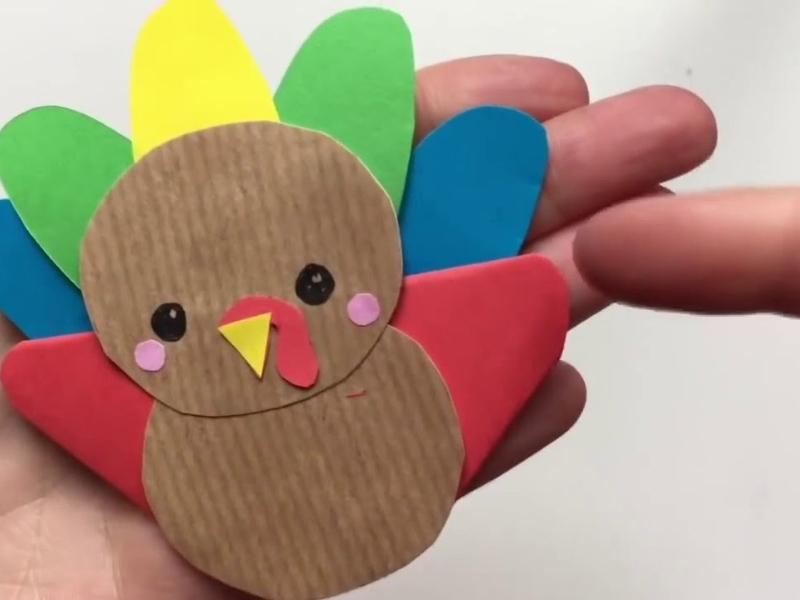 If you have a bookworm among your little ones, you can encourage their reading development by creating this DIY turkey bookmark. Craft ideas like this make great gifts your kids can give to their friends.
Get the tutorial for this DIY Turkey Bookmark at Red Ted Art.
10. Thanksgiving Place Cards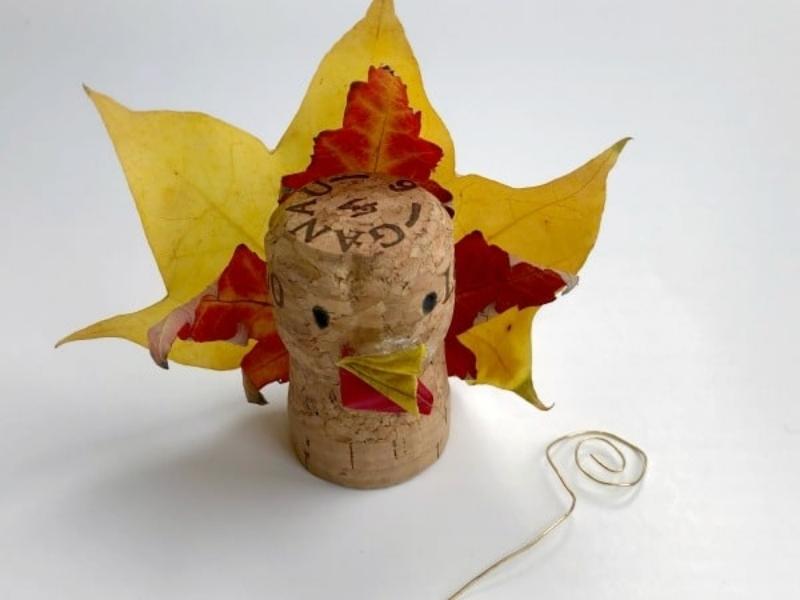 Liven up your Thanksgiving table with these adorable place cards made from wine corks and leaves. The autumn leaves represent the turkey's colorful feathers and are very evocative of the holiday season weather.
Also, this craft is a great example of the fun things younger kids can do with recyclables.
Red Ted Art shows you how to make these Thanksgiving Place Cards.
11. Pattern Block Turkeys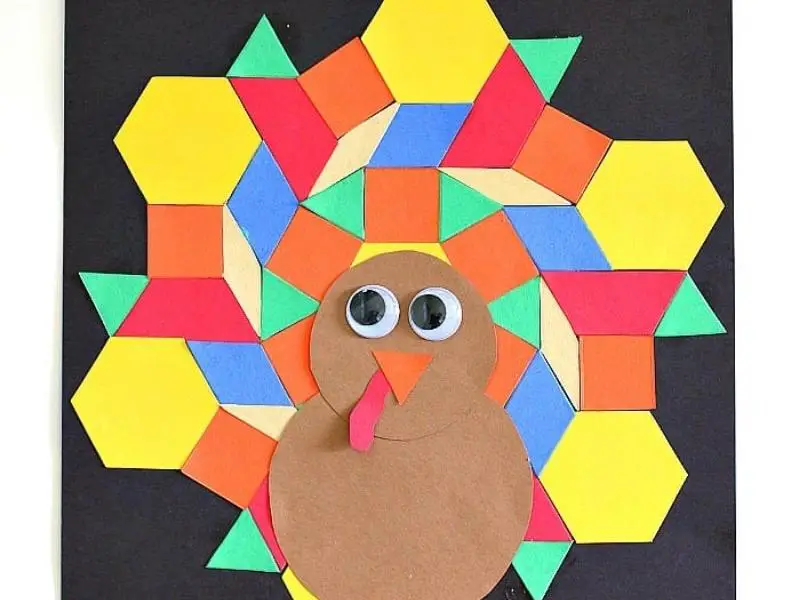 With this turkey project idea, you can kill two birds with one stone by teaching your kid about shapes and symmetry while having fun turning construction paper into a turkey made from geometric shapes.
Learn how to make Pattern Block Turkeys at Buggy and Buddy.
12. Thankful Turkey Box
Make this thankful turkey box using an old box of tissues. The Thanksgiving holiday is all about showing gratitude, so encourage your family members to write what they're grateful for on a piece of paper and put it in the box.
Get the Thankful Turkey Box tutorial at I Heart Crafty Things.
13. Wine Cork Turkey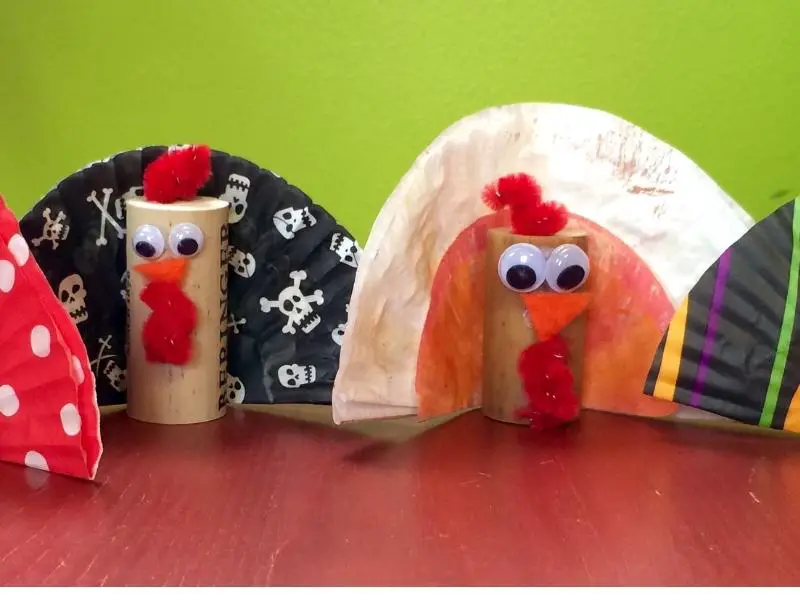 Here's another turkey craft idea that puts wine corks to good use. When creating this preschool project, use cupcake liners to represent the turkey's tail feathers. This is a fun Thanksgiving craft the whole family will appreciate.
You'll find the instructions for making a Wine Cork Turkey over at Pickle Planet.
14. Mason Jar Turkey Gift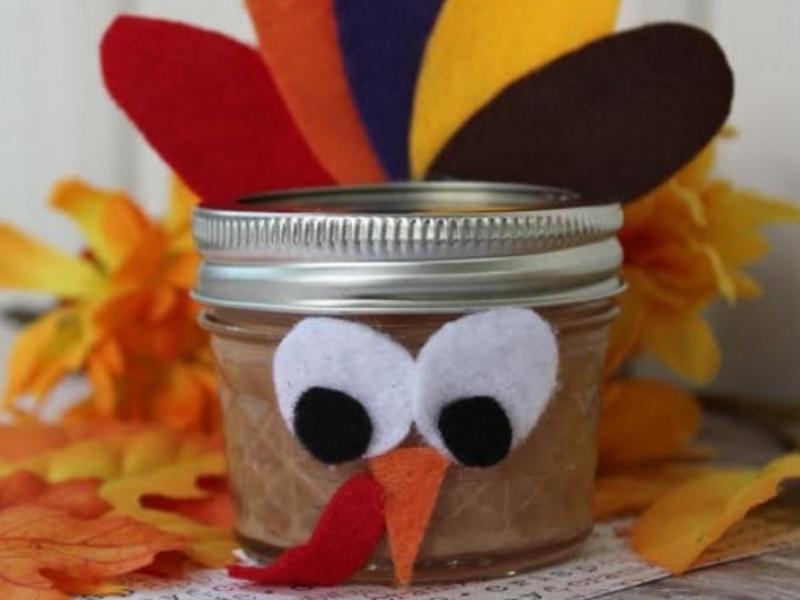 Here's one of the most fun and creative turkey crafts for kids that your little ones will love creating. First, you'll need some small mason jars, construction paper (or felt), and a glue gun to hold your creation together. Then, use the construction paper to create the face, body, and feathers for the turkey, and voila – your Thanksgiving gift is done!
You can put together a Mason Jar Turkey Gift by visiting Premeditated Leftovers.
15. Handprint and Footprint Turkey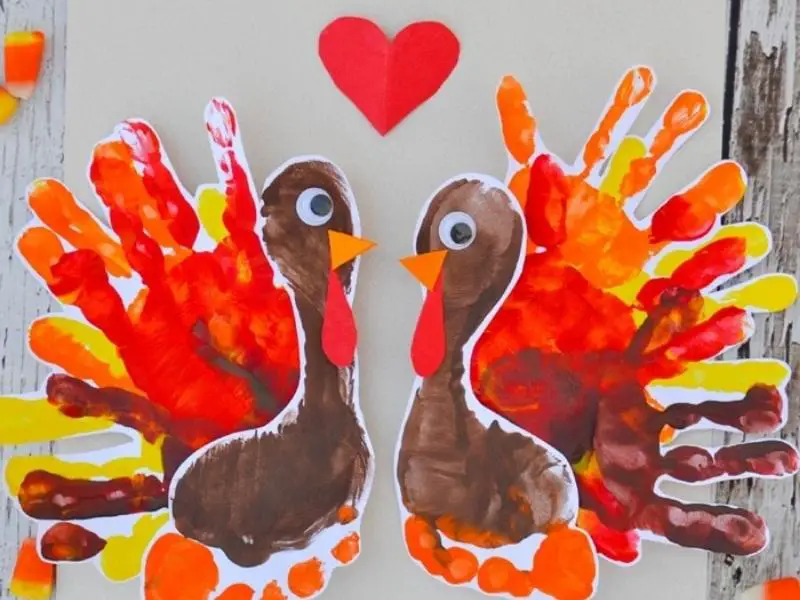 Let your kids get hands-on when making a handprint and footprint turkey. This turkey craft involves paint, so you'll need to assist younger kids to reduce the mess. However, you can leave older kids and kids at kindergarten on their own.
Visit A Little Pinch of Perfect to learn how to create a Handprint and Footprint Turkey.
16. Turkey Napkin Rings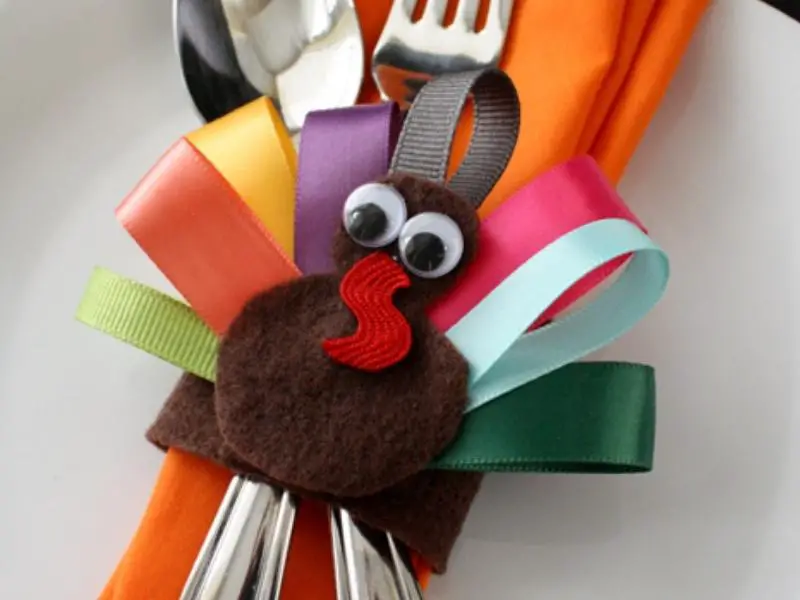 With some brown felt and multi-colored ribbons, you can create these easy and inexpensive turkey crafts. Kids will love creating these cute turkeys as they're not just suitable for the holidays; they can double as hair clips long after the Thanksgiving holiday is over.
Visit Rae Gun Ramblings to learn how to create Turkey Napkin Rings.
17. Turkey Treat Buckets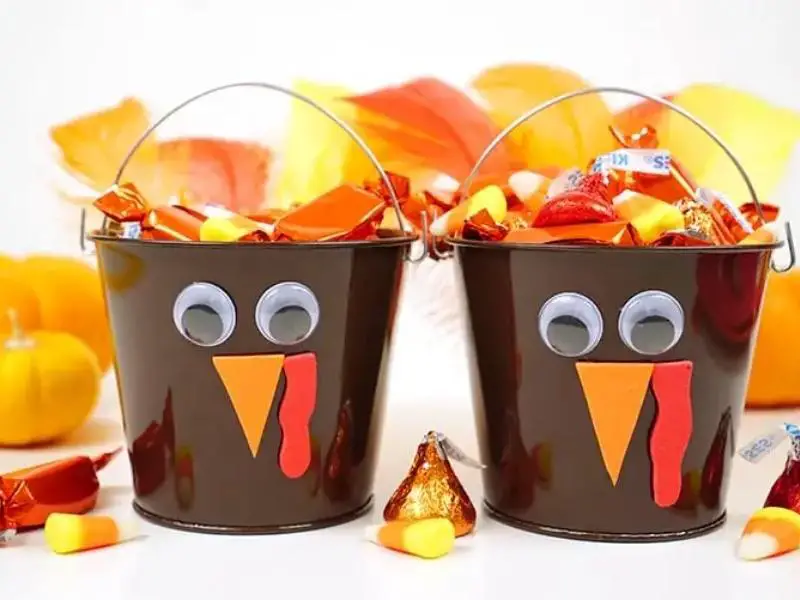 Get a small metal pail and glue on some foam, feathers, and googly eyes to decorate it in the form of a turkey. Then, fill the pail with treats that your kids can snack on after lunch. That's the simple idea behind the treat buckets.
Learn how to make Turkey Treat Buckets by visiting Happiness is Homemade.
18. Thanksgiving Cookie Turkey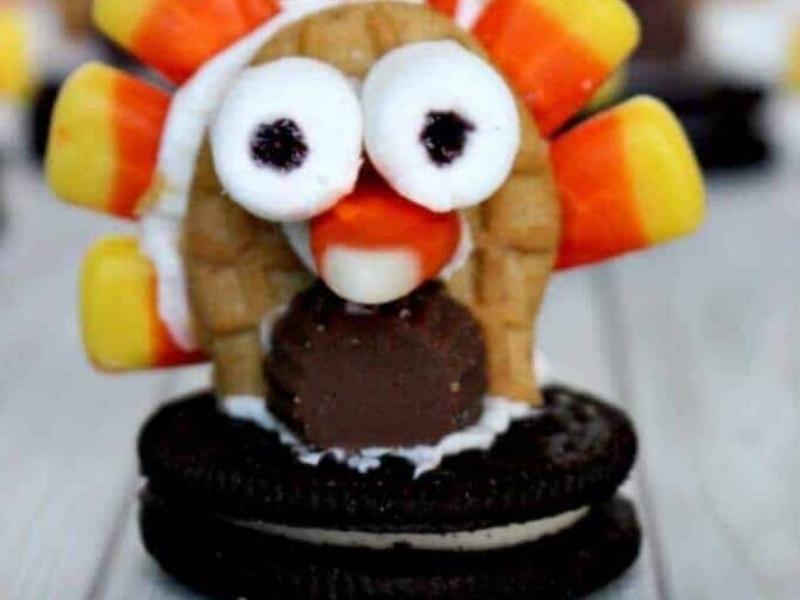 For a sweet Thanksgiving treat, make a turkey using a combination of marshmallows, Oreo cookies, candy corn, and other tasty treats. This delicious turkey craft idea is high in sugar, so give it to children in moderation.
Get the tutorial for this Thanksgiving Cookie Turkey at Princess Pinky Girl.
19. Thanksgiving Turkey Cootie Catcher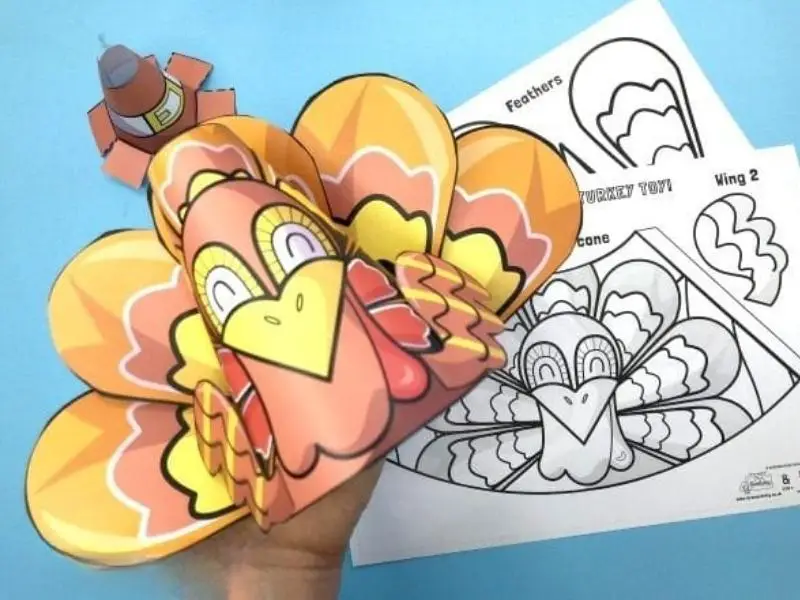 If you want your kids to learn while making turkey crafts for the Thanksgiving celebration, this cootie catcher is the perfect turkey craft. Fun crafts like this one have a learning component while also providing lots of fun.
Visit Red Ted Art for the guide on creating a Thanksgiving Turkey Cootie Catcher.
20. Roast Turkey Pinata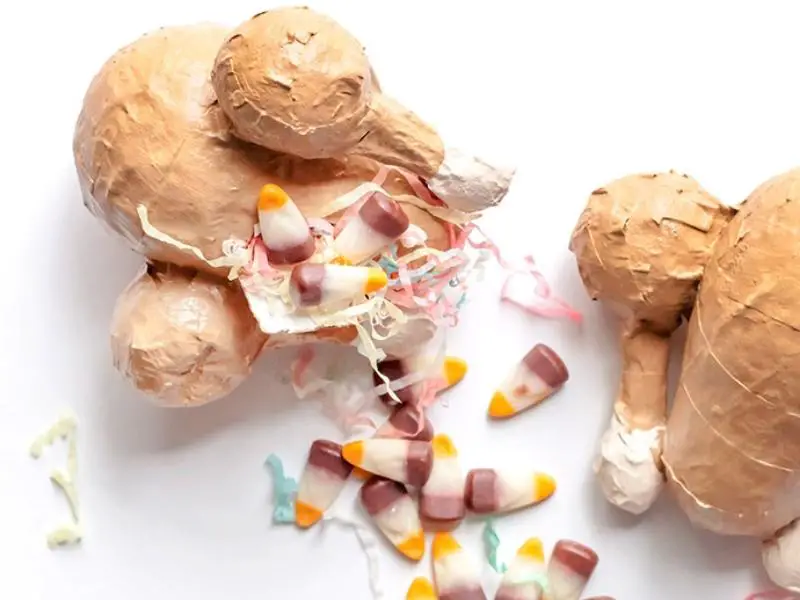 Get some balloons and fill them with small toys or sweet treats before blowing them up. Next, using some old newspaper strips, paper mache the balloons, turning them into a piñata your kids can play with after their meal to unleash the treats inside.
Visit Handmade Charlotte for the Roast Turkey Pinata tutorial.
21. Turkey Door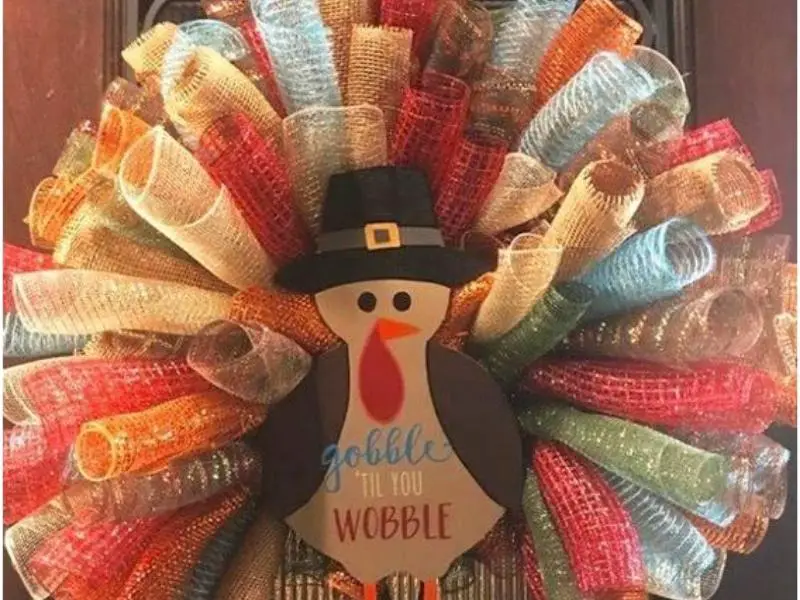 Turn your front door into a tasty turkey with this decor idea. You'll need a brown front door to make this work, though brown paper makes a good stand-in. Use construction paper and paper plates for the eyes.
Learn how to make a Turkey Door at Founterior.
22. Crayon Turkeys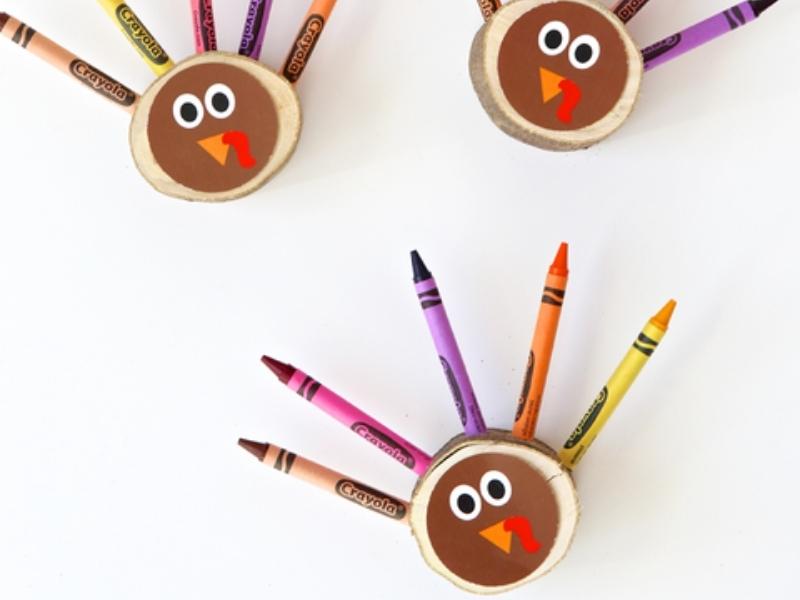 Consider using some branch slices for this turkey craft if you're thinking about giving your yard tree a much-needed pruning. Then, use a free printable for the turkey's face and let your kids decorate the turkey's feathers using crayons.
Visit Paging Supermom to learn how to get started making Crayon Turkeys.
23. Pom-Pom and Foam Turkey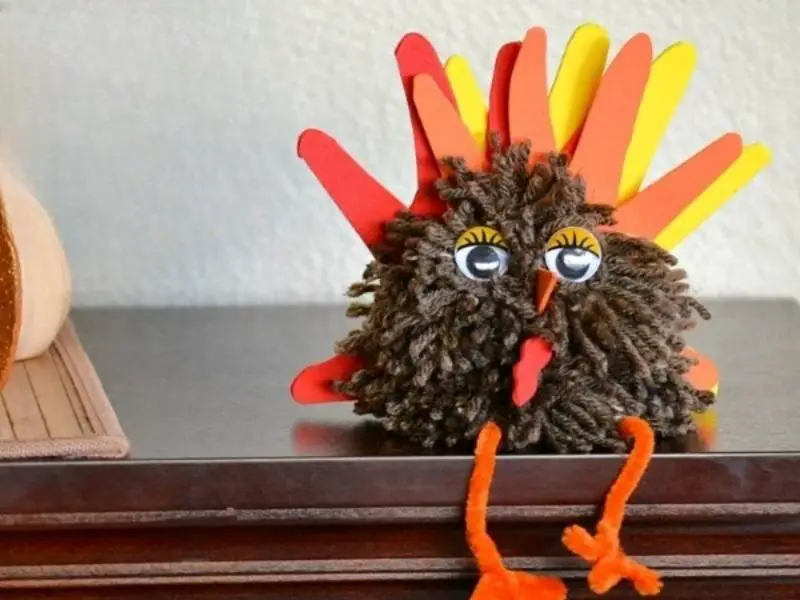 Make a turkey out of pom-poms and colored foam to bring some Thanksgiving cheer to the dinner table. This cute craft will be a hit with your small child, particularly children ages four and above.
Visit Mom on Timeout to learn how to make a Pom-Pom and Foam Turkey.
24. Pinecone Turkey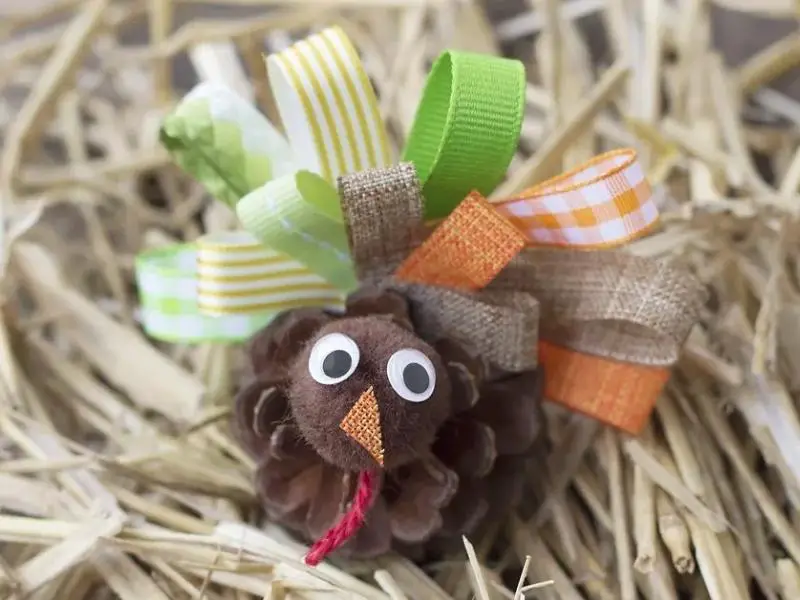 Make a cute turkey out of pinecones and scrap ribbons to get some use out of spare materials left over from your other crafting projects. Gather the pinecones with your kids to spend some time outdoors before getting started.
Visit Fireflies and Mud Pies to learn how to make a Pinecone Turkey.
25. Quilled Thanksgiving Cards for Kids
Try your hands at some paper quilling this Thanksgiving season by making a turkey. It's easier than it looks, and the final result is an impressive gobbler that'll delight your kids.
Check out Red Ted Art for the Quilled Thanksgiving Cards for Kids tutorial.
26. Coffee Filter Turkey Craft for Kids
If you're looking for turkey crafts that you can do using things you already have in your kitchen, you could try making a turkey out of some blank coffee filters. Then, use watercolor paints to add color to the filter for the turkey's feathers, and you're done.
Visit Buggy and Buddy for the Coffee Filter Turkey Craft for Kids tutorial.
27. Marbled Paper Turkeys
Get dad's shaving cream out and some paint to create the beautiful marbled patterns on the paper representing the turkey's feathers. This idea is pretty low on budget and easy to make.
You'll find the Marbled Paper Turkeys tutorial at Typically Simple.
28. Turkey Place Card Holders
Combine clothespins with fall leaves to make this easy turkey craft that can also use as a Thanksgiving place card. As usual, the leaves will stand in for the turkey's feathers, and fake ones will do in place of real ones.
Find the tutorial for Turkey Place Card Holders at Hey, Let's Make Stuff.
29. Bottle Cap Turkey Puppet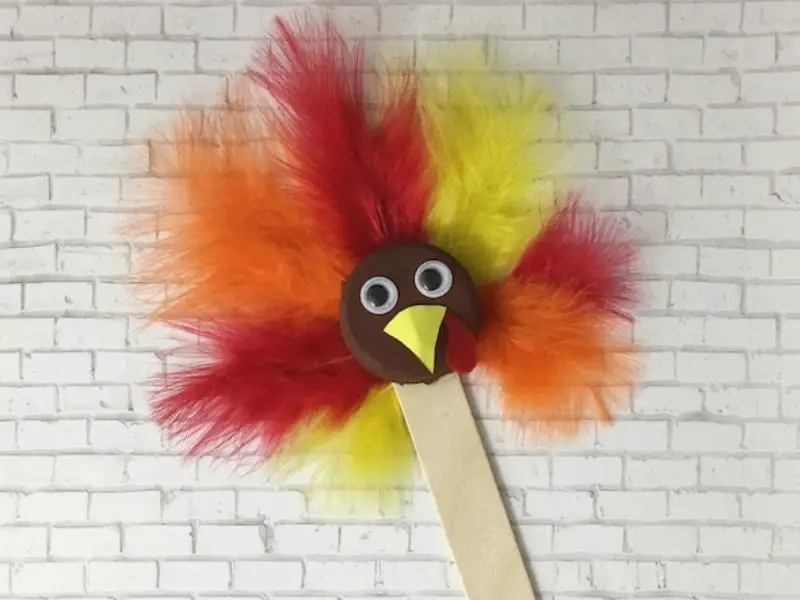 Get some upcycling done while making a turkey craft that'll set your kid's imagination alight. You'll need a bottle cap, a craft stick, google eyes, and some feathers.
Check out The Joy of Sharing to learn how to make a Bottle Cap Turkey Puppet.
30. Turkey Leaf Lantern
Recycle some old jars by turning them into makeshift lanterns that sport a turkey design on the front. Then, place a candle inside and hang them in a safe place on your front porch to light up the night in style.
Visit Rhythms of Play for the Turkey Leaf Lantern tutorial.
31. Glove Turkeys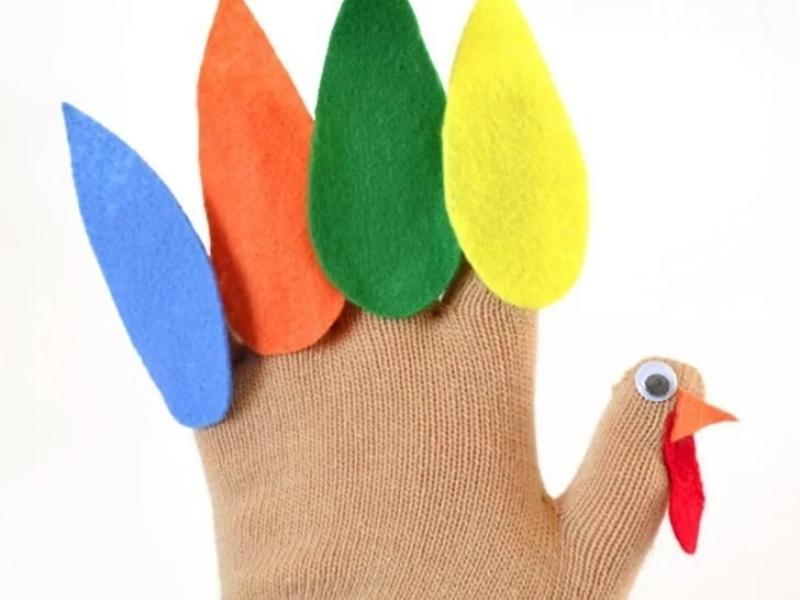 Make a turkey out of some old winter gloves and feathers. You'll only need one glove per turkey, so this project is a terrific way to upcycle single gloves that are missing their other half.
You'll find the tutorial for Glove Turkeys at Dream a Little Bigger.
32. Pom-Pom Turkey Wreath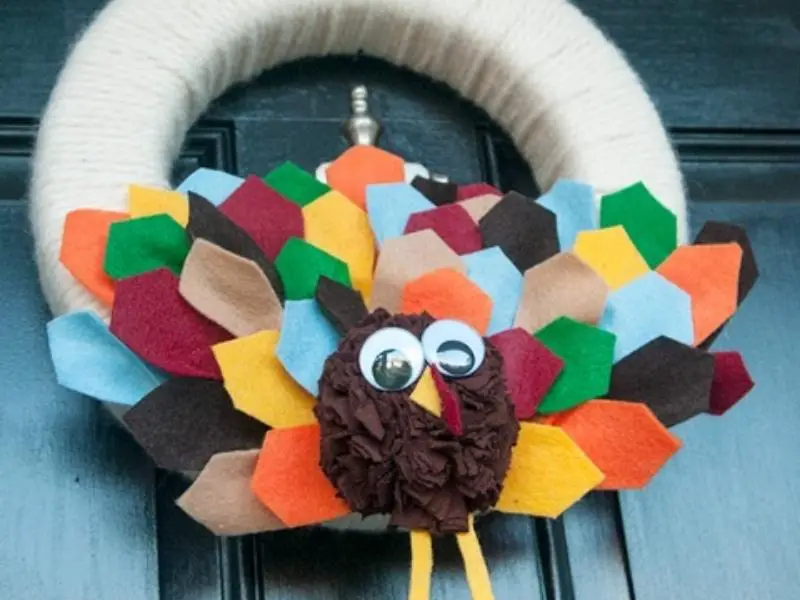 With this pom-pom turkey wreath, you can welcome visitors into your home while spreading the Thanksgiving spirit and cheer. It's a fun way to set the mood for a Thanksgiving get-together with family and friends.
Visit Craftaholics Anonymous for the Pom-Pom Turkey Wreath tutorial.
33. Toilet Paper Roll Turkey Craft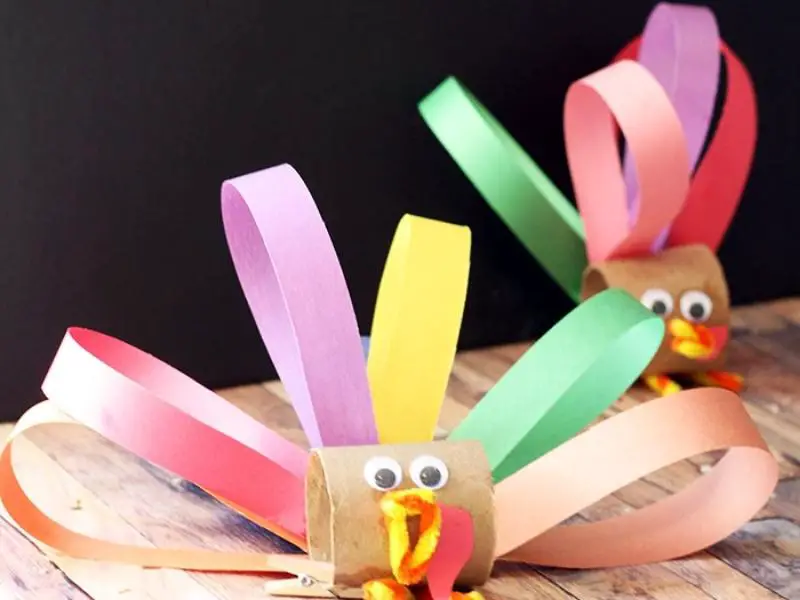 Recycle toilet paper rolls to make these turkey crafts. Add some yellow paper for a beak, googly eyes, and leaves for the turkey's tail feathers, and you're done. Not only will you have a cute turkey craft once finished with this project, but you'll also be doing the environment a favor.
Visit Easy Peasy and Fun to get this Toilet Paper Roll Turkey Craft tutorial.
There are a ton of fun turkey crafts you can encourage your kids to make in celebration of Thanksgiving. We hope the fun ideas we've compiled in this article provide all the inspiration you need for a happy Thanksgiving!
Comments
0 comments