Plate painting is a timeless hobby that people have been enjoying for centuries. It's relaxing, enjoyable, and rewarding since it breeds beautiful results.
With a brush, painting colors, and a lot of focus on your side, you can transform a mediocre, plain piece of pottery into a museum-worthy art piece.
If you want to liven up your dinnerware with a pop of color, here's the inspiration you need. We've rounded up 20 plate painting ideas. So whether you adore complex shapes, floral drawings, or captivating colors, you'll find your perfect match.
1. Blue and White Plates
Do you have a plain wall in your house that you want to spice up with some decorations? If so, it's time to test your pottery painting skills with this project. You can make an entire collection of plates adorned with blue and white patterns. They'll add to the aesthetic appeal of your house, and you'll have immense fun painting them.
Get the tutorial for blue and white plates on Francois Et Moi.
2. Painted Polka Dots Ceramic Plate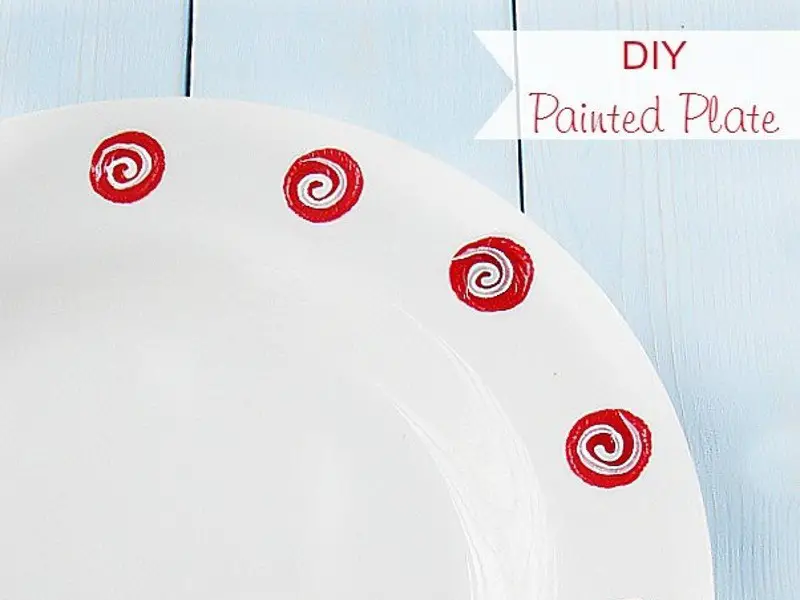 When it comes to painting pottery, you don't have to go out of your way and paint complex shapes. Instead, you can settle for elegant, simple patterns till you get used to holding the brush. Take this fun project, for example. You'll paint red polka dots in a swirly fashion on a ceramic plate. It doesn't get any easier than this!
Head over to SewLicious Home Decor for a complete guide on making a painted polka dots ceramic plate.
3. Mismatched Painted Plates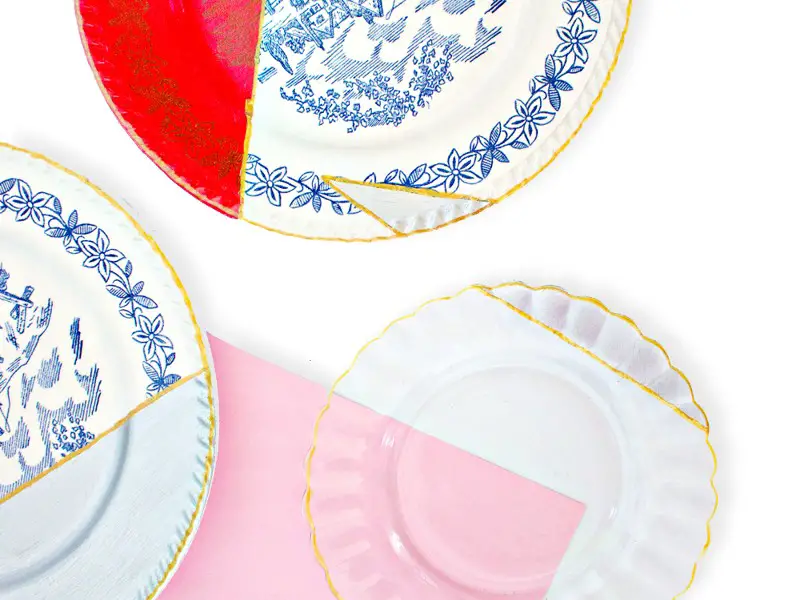 Mismatched painting gives pottery a unique appearance graced by the spontaneity of choosing designs and colors. If you appreciate the freedom of following your imagination and not sticking to a specific pattern, this project is the one for you.
Learn more about mismatched painted plates on Lana Red Studio.
4. Handpainted Ceramics
For a beginner-friendly project that you can easily paint without challenging your skills too far, here's one that includes using a marker, not a brush. This way, you'll have better control over your painting and will end up with beautiful pottery to showcase in your house.
If you're in an artistic mood, you can check more ceramic bowl painting ideas on craftwhack.com.
Find out more about handpainted ceramics on Made Up Style.
5. DIY Watercolor Plate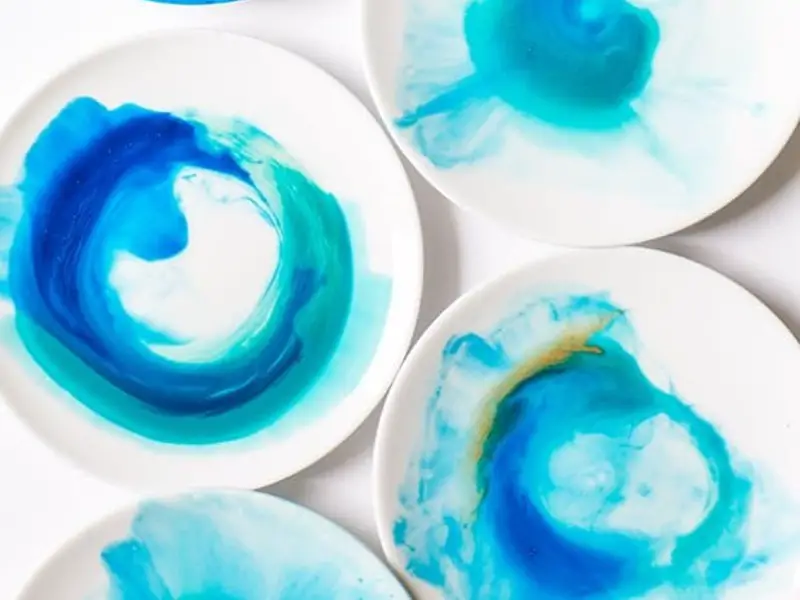 Watercolors produce fascinating patterns on plates that almost look like water waves. If you have free time on your hands, you can revamp your decorative pottery with some vibrant colors.
Read more about a DIY watercolor plate on Sugar and Charm.
6. Abstract Painted Tableware
Abstract art expresses drawings in an out-of-this-world kind of way, which means it depends solely on your creativity. If you're willing to roam the depths of your mind and come up with an abstract artwork that you can paint on your tableware, this project is for you.
Check the instructions for abstract painted tableware on Burkatron.
7. Color-Edged Plate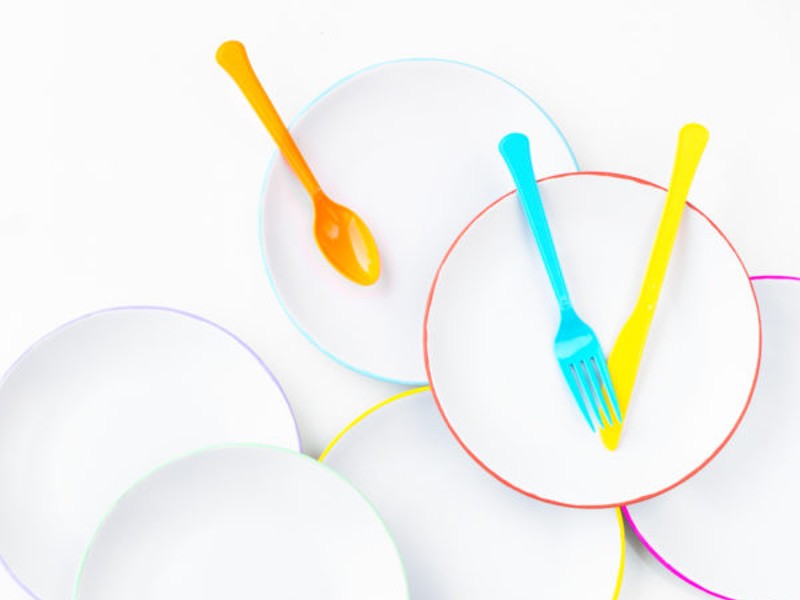 If you're fascinated by minimalism, you can try this simple idea that'll give you on-trend dinnerware with minimum effort. You'll merely choose your favorite color and paint the edge of the plate carefully using a cotton swab.
Since the project won't take much of your time, you can make an entire collection, including bowls, pots, and mugs.
Learn how to paint a color-edged plate on Studio DIY.
8. DIY Christmas Plate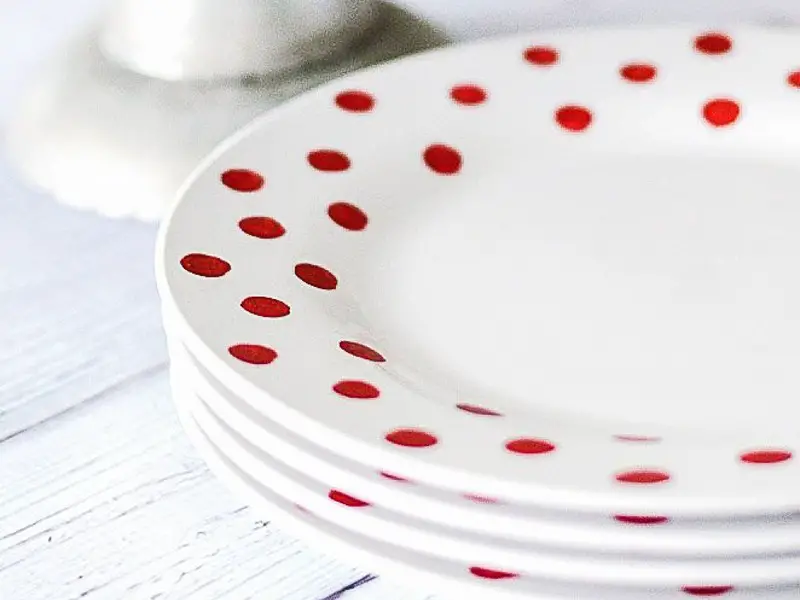 The holiday season is an amazing chance for crafting with your kids. This way, you'll strengthen your bond and get more excited for Christmas.
This plate is suitable for kids because it's pretty easy to paint. And after they finish, you'll have a homemade dish to fill with cookies and set up for Santa Claus's arrival!
Read more about the DIY Christmas plate on Old Salt Farm.
9. Decorative Fall Plate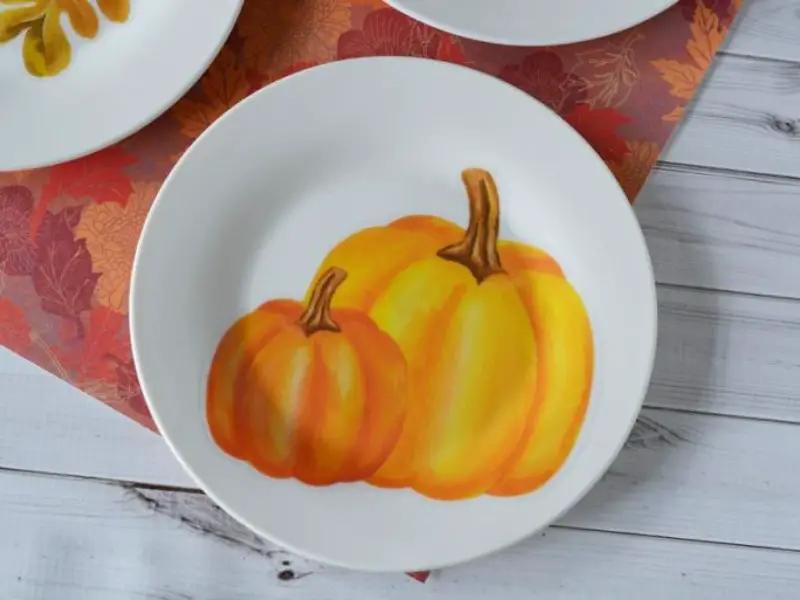 Painting fall-themed plates is a great idea to add charm to your Thanksgiving dinner table. More so, it's one of the easiest plate painting ideas on our list and won't take much of your time to finish.
Get the tutorial for the decorative fall plate on Premeditated Leftovers.
10. Halloween Silhouette Plate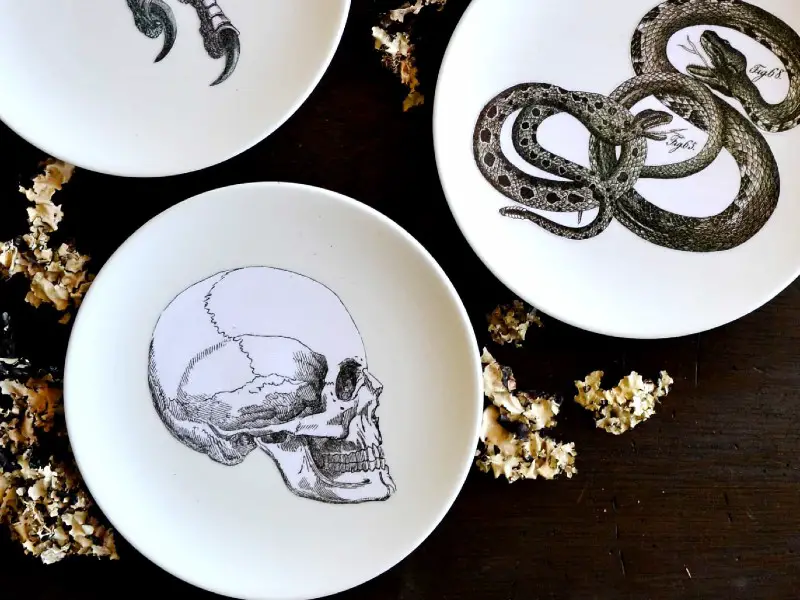 Who doesn't love Halloween? We get treats, watch good movies, and get to act all scary for a day. However, you can make it even more enjoyable with some pottery painting ideas.
For instance, you can draw spooky shapes on your pottery. Then, you can either use them to serve treats or hang them as decorations.
Find out more about the Halloween silhouette plate on Boxwood Avenue.
11. Citrus Plate
For a colorful plate that you can hang on your wall during the summer, you can try this fruit-style one. It'll resemble a zesty citrus fruit by the time you're done with it. And for the best part, you won't face a single challenge trying to create this masterpiece.
Learn more about the citrus plate on Crafting in the Rain.
12. Cherry Blossom Ceramic Plate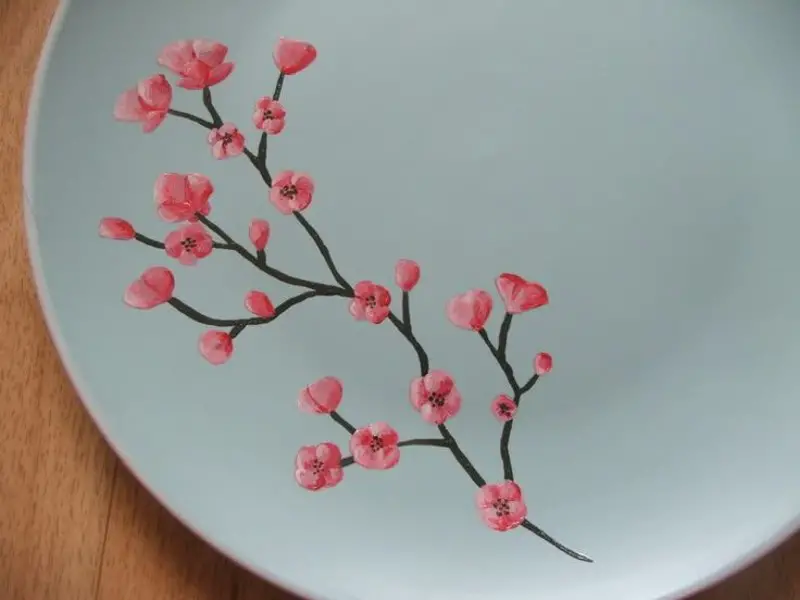 Cherry blossoms are delicate flowers that represent the inevitable fleeting of life. They grace our world with magnificent blooms for a short while, then disappear till the following season.
You can celebrate their beauty with a few pottery paintings and hang them on your walls. They'll give your house amazing garden vibes.
Get the tutorial for cherry blossom ceramic plate on My Crafts.
13. Fancy Handpainted Dish Set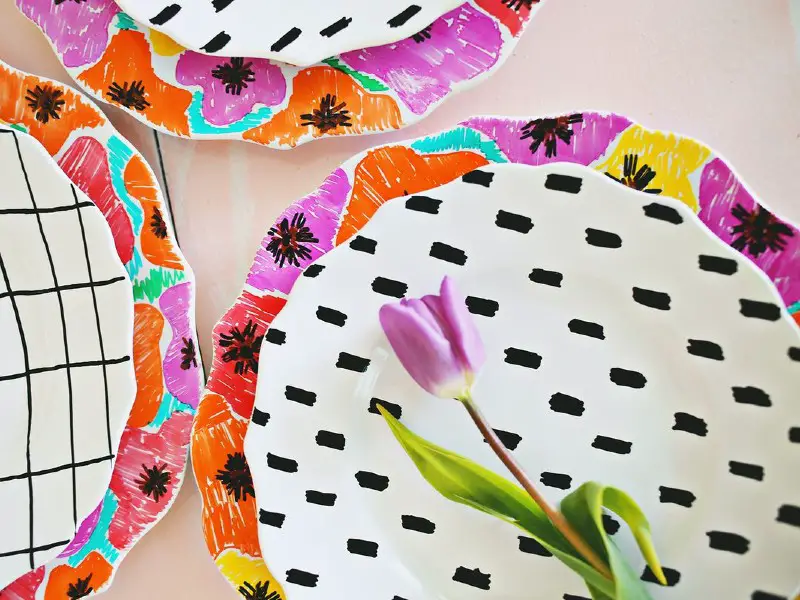 The best part about painting pottery is that it can transform white dishes into fancy, expensive-looking art pieces. For this project, you'll only need food-safe markers, an oven, and your live imagination.
Then, you can get creative and create many fun paintings. And luckily, the dish set will be safe for serving food, and you can make a matching spoon for added glamour.
Check the instructions for the fancy handpainted dish set on A Beautiful Mess.
14. Doily Stenciled Painted Plate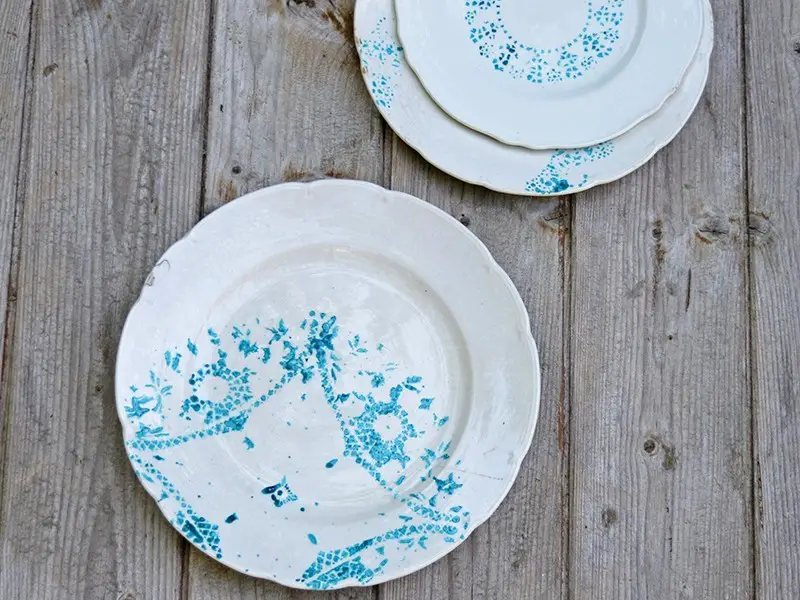 Using a stencil to paint your plate will make your life much easier and give you satisfactory results. Not to mention, it's one of the most elegant pottery ideas on our list.
You can create many beautiful drawings on your plate. Then, you can either use it as a decorative piece on your wall or for serving food.
Find out more about the doily stenciled painted plate on Pillar Box Blue.
15. Speckled Tableware
Trends come and go, but the black and white aesthetic remains a staple in the fashion world. So, if you appreciate classics, you can go for this simple yet creative project. By the time you're finished, it'll look like an expert artist painted it.
Read more about speckled tableware on Burkatron.
16. Indigo Painted Plates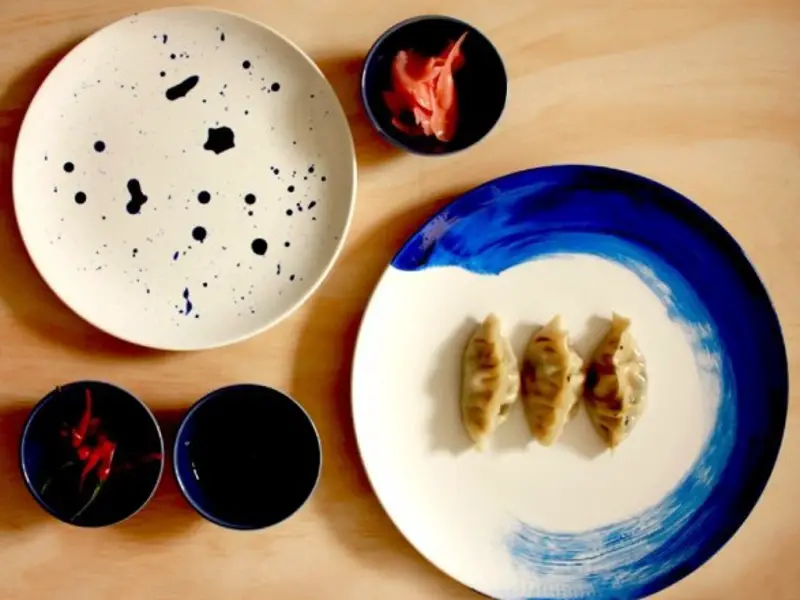 Out of the many plate painting ideas on our list, this project is one of the easiest. It includes painting on your plates using the ever-attractive indigo color. And for the best part, you can paint in many different ways and make an entire set for yourself.
Learn more about indigo-painted plates on Shelterness.
17. Colorful Brushstroke Plate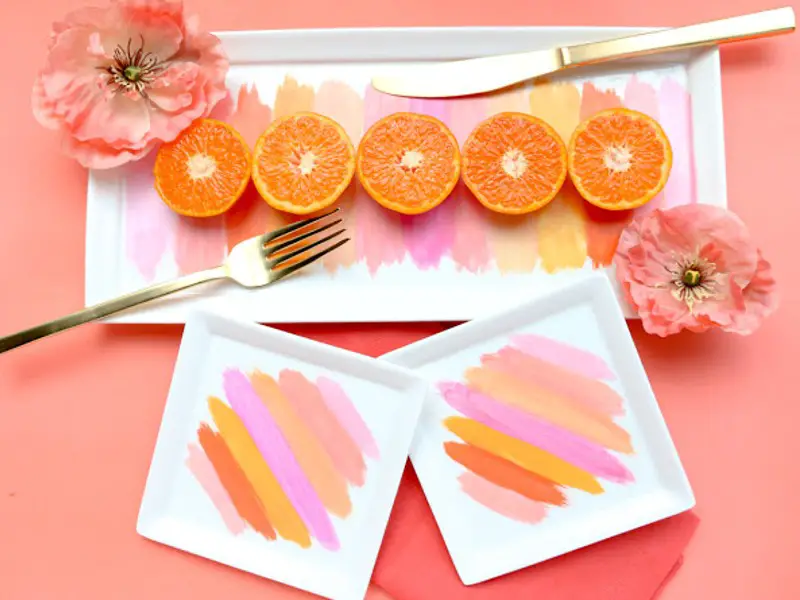 Pottery painting is an amazing chance to get creative with colors and painting techniques. Take this project, for example. You'll decorate a plate using the brush stroking technique. You can use various color shades for added glamour and a colorful theme.
Head over to A Kailo Chic Life to learn about this colorful brushstroke plate.
18. Spring Cookie Dish
With spring coming up, it's almost time to scroll through plate painting ideas and choose what pottery art will grace your dinner table this year.
Since spring is all about colors, you'll use red, green, and orange to paint this plate. But beware that you'll need washi tape to ensure your painting looks neat.
Get the tutorial for the spring cookie dish on Delineate Your Dwelling.
19. Painted Paisley Plate Wall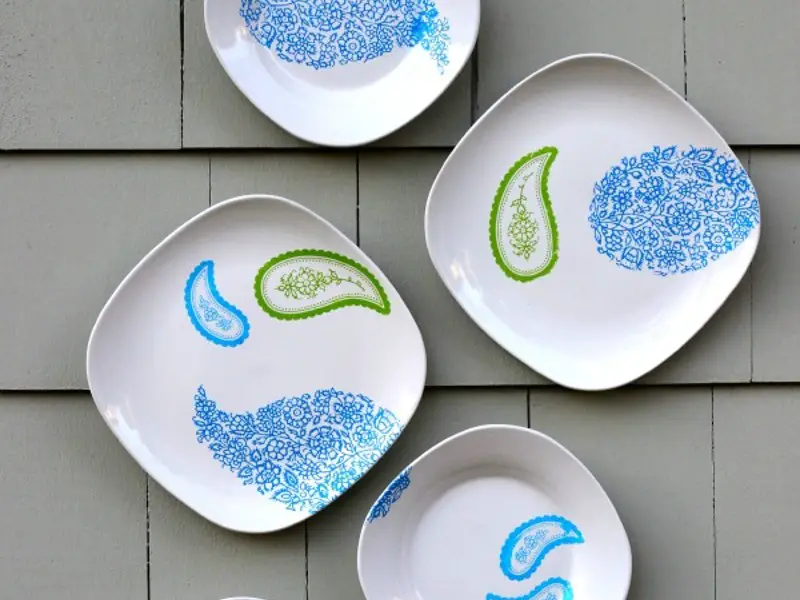 Do you want to showcase your handmade art on your house's walls? If so, it's time to paint some paisley plates. The paisley drawings will add a unique charm to your white plates. And you can choose colors that complement the rest of your interior decor.
Learn more about the painted paisley plate wall on Kelly Elko.
20. Abstract Watercolor Plate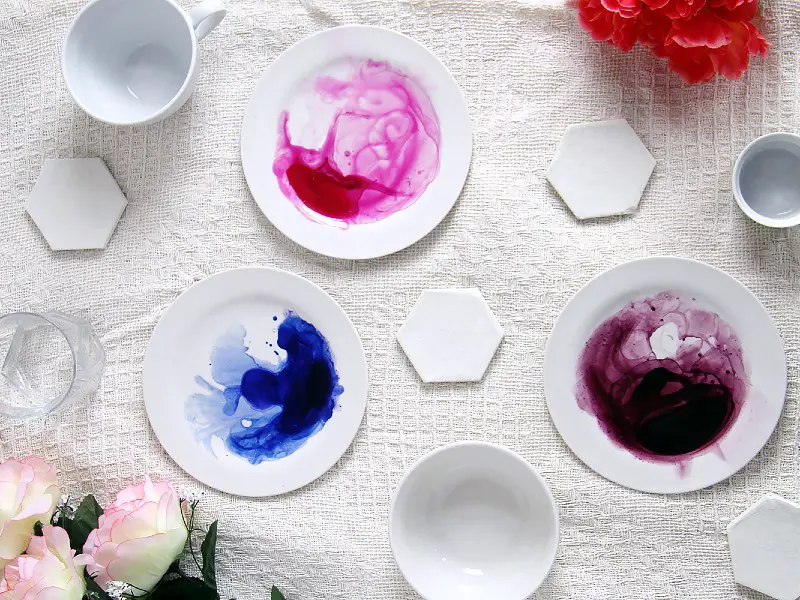 Decorating your dinnerware with watercolor splashes should be at the top of your to-do list this week. It'll add to the uniqueness of your kitchen utensils, and you'll enjoy painting the art pieces.
Not to mention, pottery painting is one of the most relaxing forms of art. So you're in for a therapeutic session with your brush and plate.
Find out more about the abstract watercolor plate at Fall for DIY.
Taking up new hobbies can inspire you and broaden your mind, and pottery painting is a beautiful example of that. So, if you want to try it, choose your favorite project from our plate painting ideas and start working!
Comments
0 comments