The winter season arrives, and all that magic and illusion come with it. Also, there comes a short vacation period for the children at home. They can use these days to rest and do family activities that help strengthen family bonds and create new memories.
An excellent activity that you can do with your family is winter arts and crafts. For this reason, we'll share with you some wonderful winter crafts to do with your children at home during the winter holidays.
1. Winter Hat Craft for Kids
With this fun winter art project on the wall or in the window frame, you immediately bring the winter atmosphere into the home or classroom. You can make this craft by drawing winter hats on paper.
Then, your child can decorate them with a pencil, wax, marker or paint, and cotton wool. String it up, and your winter craft is ready!
Find out more about the Winter Hat Craft for Kids at Easy Peasy and Fun.
2. Snowman Snowball Shooters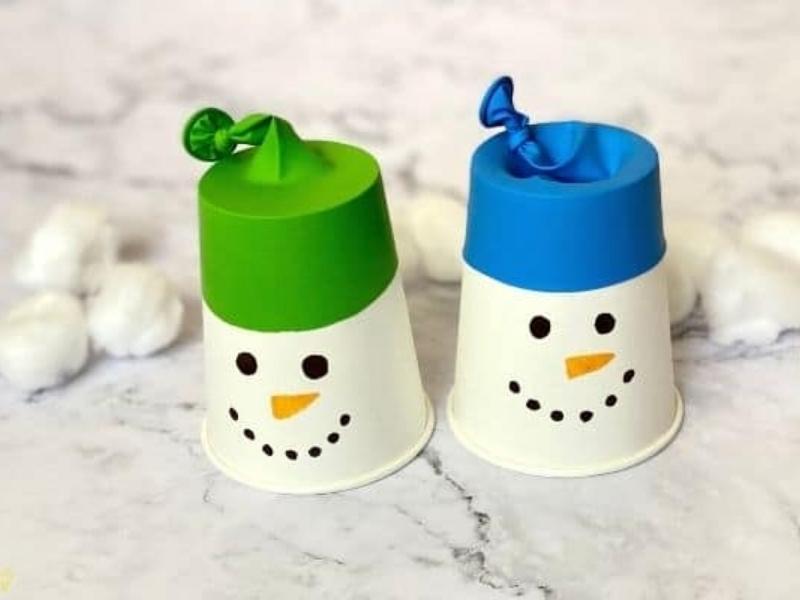 Would you like to have a snowball fight with your kids despite a lack of snow? If so, make these snowball shooters. With this project, you can do snowball fights all year round, whether there's snow or not.
It's super simple, and fun is guaranteed! In addition, the materials you need to make these shooters are pretty easy to get at home. They include marshmallows, cotton balls, balloons, and more!
Learn how to make these Snowman Snowball Shooters on Mombrite.
3. Dimensional Skier Craft
Those fond of winter sports will surely enjoy crafting these super skiers. In this project, you'll build the base of the figure from mini craft sticks. Then, you can make the dress of the skiers with construction paper or cardstock and make scarves and hats from felt or a piece of fabric.
The ski poles are toothpicks on which you stick small circles. Finally, glue the ski poles to the hands and finish your skier.
Learn the step-by-step process of making the Dimensional Skier Craft at Cindy deRosier.
4. Paper Snowman Crafts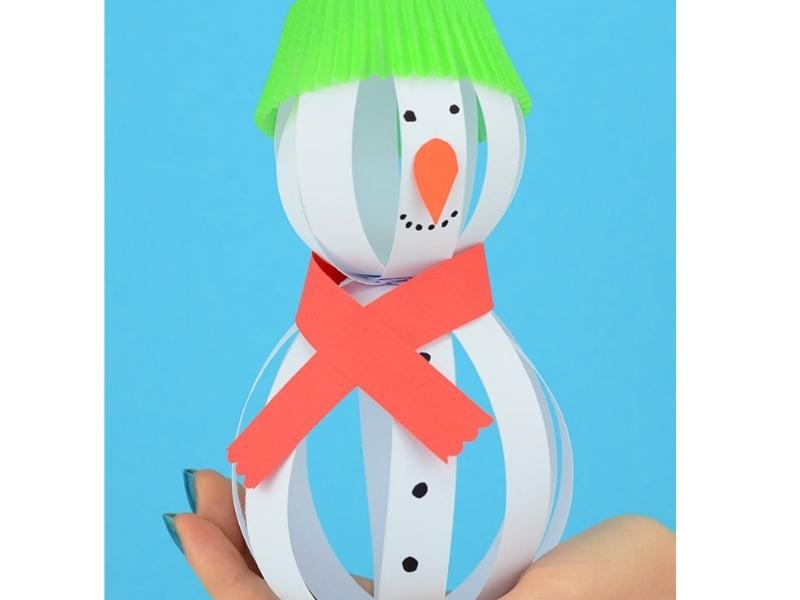 You make this paper snowman by stringing together strips of white paper. When you find the snowman long enough, stick a circle of black paper on top and stick a black strip in a circle and glue that to the black circle.
Then, you draw a face and a few buttons on the snowman, thread a string through the top circle, and hang the snowman.
Find out the entire procedure for the Paper Snowman Craft on Easy Peasy and Fun.
5. Winter Coloring Pages
Kids who love coloring will enjoy tinkering with winter coloring pages – from snowmen to birds in the snow, skating flamingos, and winter sports.
You can download the templates of several Winter Coloring Pages at Best Coloring Pages for Kids.
6. DIY Fake Snow for Sensory Play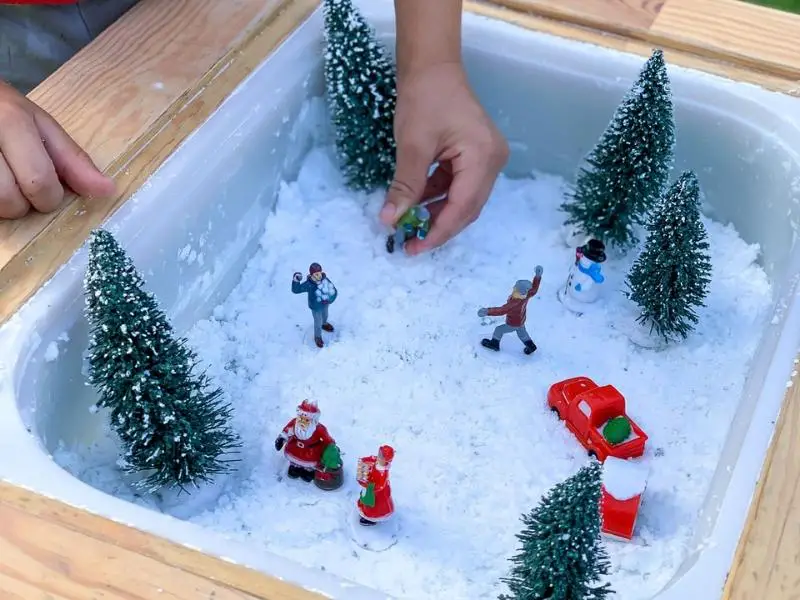 Unfortunately, we're not often treated to a nice thick fresh snowpack. But luckily, you can make snow yourself. In fact, this recipe has a lot of advantages over real snow. You can play with this fake snow indoors since it doesn't melt, and if you want to store your creations, you can let them harden by baking them in the oven. This project will provide you with endless fun!
Learn more about this DIY Fake Snow for Sensory Play at 7 Days of Play.
7. Melting Snowman Paper Craft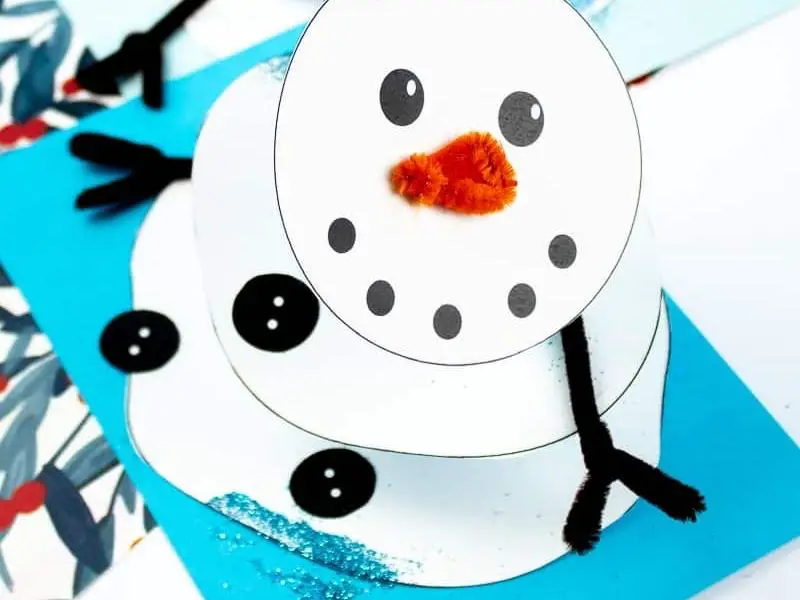 Snow or no snow, with these three circles of paper, you can always craft a melting snowman in the winter. You make it by drawing three circles on white paper and cutting them out.
Then, stick them on top of each other so that the circles float just a little above each other. Also, you decorate the snowman with buttons, two arms, a nose, eyes, and a mouth. And voila, your winter craft is ready!
Get full details for making the Melting Snowman Paper Craft on Arty Crafty Kids.
8. Snowdrop Flowers
January and February are the blooming months for the snowdrops. The small white flowers appear above the ground everywhere.
You make these fun winter crafts for kids by cutting flowers from white paper. Also, you can make the stems of the flowers by coloring white paper with green.
Watch the tutorial for making these Snowdrop Flowers on Krokotak.
9. DIY Melted Snowman Using Salt Dough
You and your kids can make this melted snowman from salt dough. First, you flatten a piece of salt dough and place a ball of salt dough on top. Then stick a few sticks in it as arms and make a carrot nose out of salt dough. You can give the snowman a face with permanent markers or paint when your creation is hard.
Find out more about this DIY Melted Snowman Using Salt Dough at Kid Friendly Things to Do.
10. DIY Pinecone Skiing Snowman
This pinecone doll is a fun variation of the Dimensional Skier Craft above. You make it by sticking pinecones on two popsicle sticks. On top of that, you glue a face and a decorated cap.
Then, you give the skier arms by twisting a piece of white paper around the pinecone. In the end, you bend it over with toothpicks in between. You can also turn it into a ski pole by threading a paper circle or felt on it.
Find out how to make the DIY Pinecone Skiing Snowman at DIYs.
11. Stunning Sparkly Icicle Craft
Icicles are always fascinating to watch – just like unicorns! "" but also a lot of fun to imitate. You do this by placing a string on aluminum foil, and with that, you form an icicle.
Also, this winter craft is quite suitable for toddlers because they love aluminum foil. You can decorate the icicles by painting them or putting glue over them and sprinkling glitter.
Learn the step-by-step process of making this Stunning Sparkly Icicle Craft at Kids Craft Room.
12. Making Fat Balls for Birds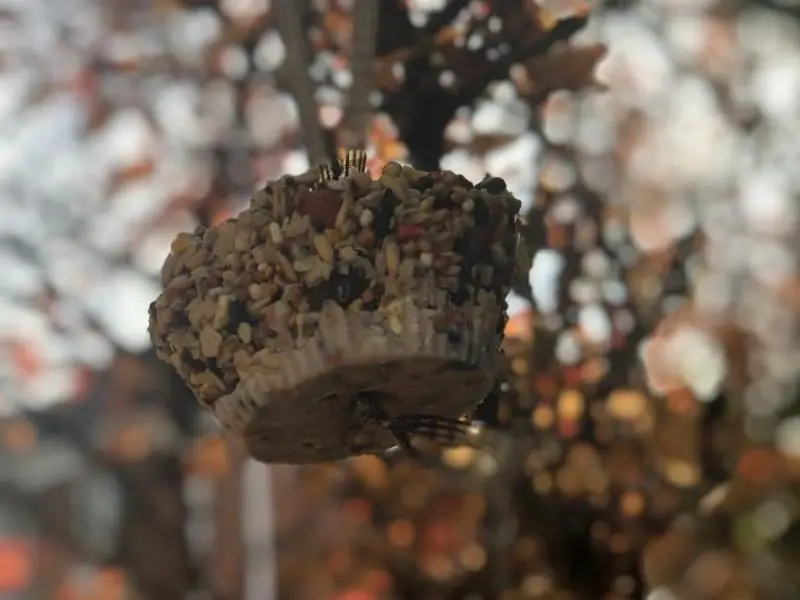 Birds like to spend the winter in gardens where they can find food to gain extra energy. In shops, you can buy everything, such as peanuts, raisins, fat balls, and other bird foods.
However, it's more fun to make them yourself, and it's not that difficult. So, you and your kids can make this fun winter craft to help sustain nature during the winter season.
Find the full recipe for Making Fat Balls for Birds on Daisies and Pie.
13. Toilet Paper Roll Flower Posy
This toilet paper roll flower posy is another beautiful winter craft for kids. You'll start by making the white flowers using the points from an egg carton. Then, you'll cut them into shapes and paint them white.
When the paint is dry, stick them to a green straw by wrapping a strip of paper around them. Next, glue a green leaf on the straw. Finally, cover a toilet roll with green paper and stick the snowdrops around it.
Learn more about the process of making the Toilet Paper Roll Flower Posy at Patch Work Parent.
14. Paper Snow Globes Craft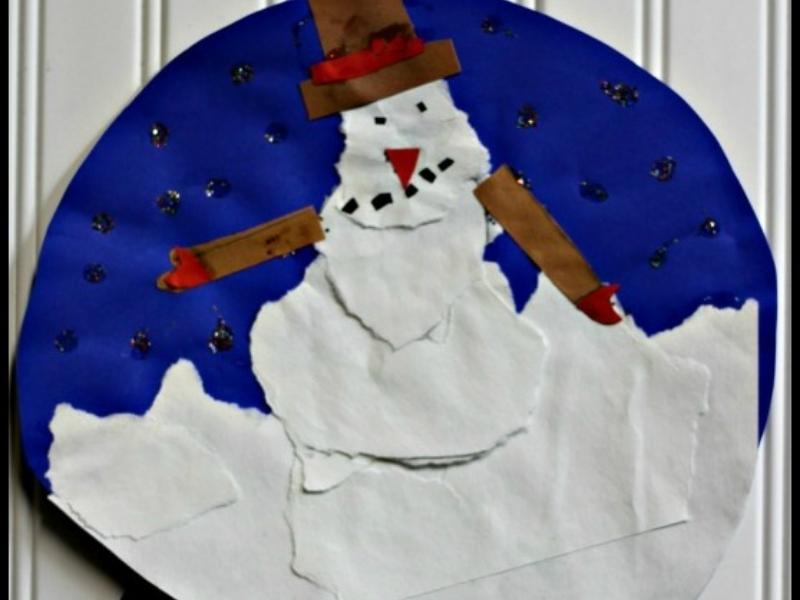 This is one of our favorite winter art projects. You cut a circle out of relatively strong paper and decorate it. You could paint the snowman or have the kids stamp it with cotton swabs.
And the bottom part is made from a toilet paper roll. You cut it at the top and slide your paper in there when it's dry!
Get the full details of making this Paper Snow Globe Craft on Busy Kids Happy Mom.
15. Snowman Paper Plate Craft for Kids
This easy winter art project doesn't melt in the sun but likes to catch the sun's rays. You make it from a large and a small paper plate. First, cut out the inner piece and stick baking paper behind it.
Then, you can decorate your snowman with a face, scarf, and hat. Next, you stick this winter craft on the window so that the sun can shine through. It's quite simple and fun!
Get more details about the Snowman Paper Plate Craft for Kids on Simple Everyday Mom.
16. Acorn Snowmen
If you still have a few acorns left or can find them outside, you can craft these cuties in the winter. First, you stick two acorns together with a cocktail stick. Then, you paint them white; chances are you'll need two coats to get the paint opaque. When the paint is dry, draw a face on the snowman with a marker. And finally, tie a felt or chenille scarf around its neck.
Learn how to make these Acorn Snowmen on The Pinterested Parent.
17. Make a Styrofoam Snowman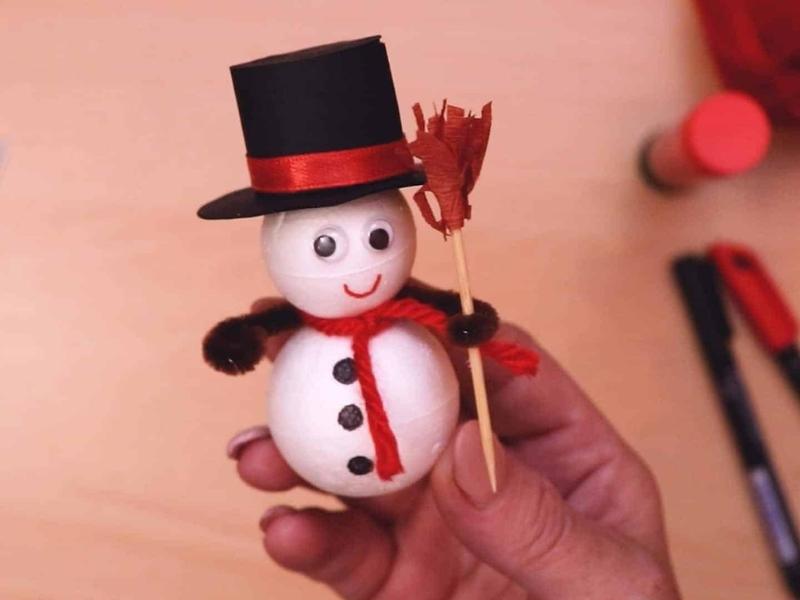 You can also build a snowman from Styrofoam. You can shop the styrofoam balls and stick three of them together. Then, use a pipe cleaner to make the arms and a nose, draw the mouth with a marker, and give the snowman a pair of googly eyes.
You can glue or draw a few more buttons to further decorate your snowman and give it a felt or paper scarf, toothpick staff, and a nice paper hat.
Find out every other thing you need to Make a Styrofoam Snowman on DIYs.
18. Paper Snowflake
Cut snowflakes out of paper, and you can make it snow in such a fun way whenever you want. This fun winter craft is lovely to stick on the window or hang in the window frame.
All you need for this easy, fun craft are paper (preferably thin or lightweight paper), a pair of scissors, and a protractor (optional).
Get full details of making the Paper Snowflake on First Palette.
19. Salt Dough Holiday Penguin
You can also make a waddling penguin family using the same salt dough recipe for the snowman above. Once these arctic animals are dry, you can paint them!
The process is pretty easy to grasp, and you require only three colors to get your penguins done. Also, this wonderful winter art project allows room for more creativity as you can paint any pattern on the penguins' bodies.
Find out more about the Salt Dough Holiday Penguin at We Know Stuff.
20. Egg Carton Penguins
With an empty egg carton, you can also craft cute penguins with the kids. First, you paint these arctic animals black and when the paint is dry, give the penguin its white belly, a beak, and two wiggle eyes.
The materials you need for this craft are pretty easy to find. They include egg cartons, black paint, white and orange paper, googly eyes, and glue. And if you want more egg carton craft ideas, check craftwhack.com.
Get the full tutorial for making these Egg Carton Penguins at One Little Project.
21. Snowman Wine Cork Ornaments
Snowmen ornaments made of wine corks can be used as a decoration or a Christmas tree pendant.
First, the cork is painted entirely white. After the paint has dried, the buttons, mouth, and eyes are drawn on with the black pen. Then, you can use a red pen to draw a nose on the face of the wine cork snowmen.
See the full tutorial for making these Snowman Wine Cork Ornaments at Crayons and Cravings.
22. A Beaded Snowflake Craft for Kids
It's possible to make beautiful snowflakes with the children without gluing or cutting. Instead, you can make a kind of threading game yourself and make decorative snowflakes simultaneously. Hence, this craft idea is a wonderful exercise for children's fine motor skills.
Check the tutorial on making a Beaded Snowflake Craft for Kids on Early Learning Ideas.
23. Decorate a Window Snowman Activity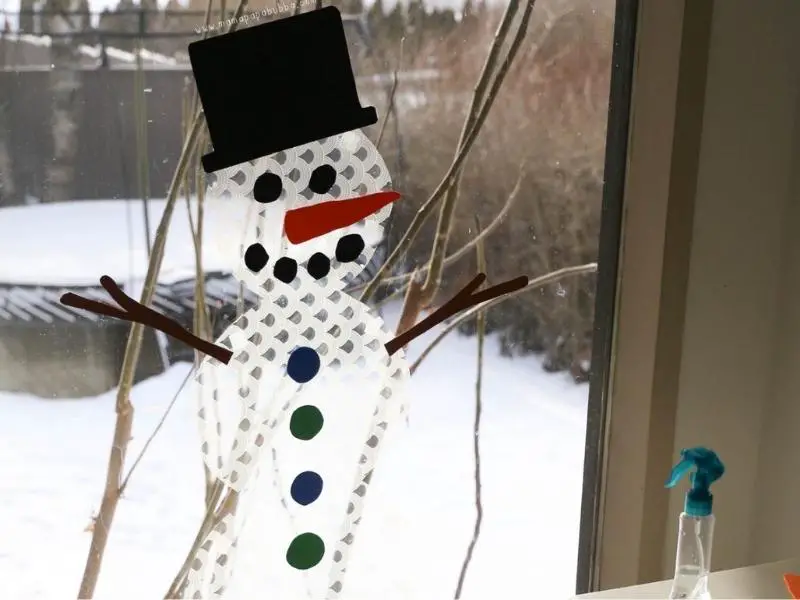 This is one of our most fun winter craft ideas on the list. You'll create some beautiful window pictures with contact paper and cut-out pieces of paper. And the best part is that your kids can join in on the fun.
You'll start by cutting two rings out of cardboard and gluing them to clear contact paper. Then, let the child stick black and blue strips of paper on the inside. Finally, apply glue to the eyes, nose, and other elements of their choice, and that's it!
Learn how to Decorate a Window Snowman at Mama.Papa.Bubba.
So, did you find any of these winter art projects interesting? Let us know in the comment section below. And don't forget to enjoy crafting!
Comments
0 comments