While COVID-19 has affected our lives in so many negative ways, forcing most of us to stay confined within four walls, at the same time, it has provided us an opportunity to be creative at home. One of these activities includes crafting, and in this article, we shall focus on how you can decorate your home or any other space with beautiful Papel Picados you can make with just a few materials lying around your house. Stick around and let us take you on a journey towards this beautiful yet festive, timeless craft.
What Is a Papel Picado?
Papel Picado is a traditional craft practiced in Mexico. It is essentially a mat or coaster-like, intricate tissue paper or plastic cutout that contains festive, detailed patterns according to the aesthetic the particular occasion requires.They are hung across the streets of Mexico in the form of banners, but they are also displayed at a variety of other places such as homes, commercial areas, churches, buildings, etc. They are used as ornaments for a variety of festivals and occasions such as Easter, Christmas, the Day of the Dead, anniversaries, birthdays, weddings, baptisms, baby showers, and even funerals.
A Brief History of Papel Picados
Papel picados originated in Pre-Hispanic Mexico when the Aztecs would use a paper called "amatl", coming from the bark of mulberry trees, to create various ornaments. During the Spanish rule on Mexico, a variety of different materials were brought into Mexico including tissue paper, which eventually became one of the mainstream materials used to create papel picados.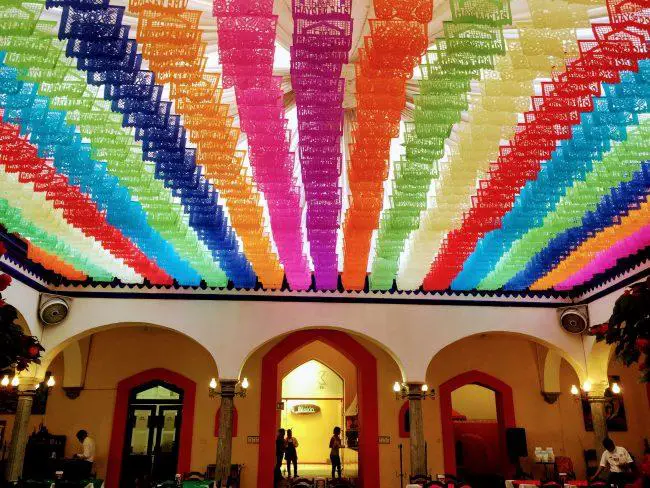 Source: https://www.artmexico.co.uk/pages/papel-picado-guide
Comparing Papel Picados with Other Crafts
There is some similarity of the papel picado with crafts of other cultures, such as the Chinese "jianzhi" and the Japanese "kirigami". All three of these crafts essentially involve paper cutting, but they are used for different purposes, and the patterns cut out of the base paper vary in each craft. Jianzhi often focuses more on patterns pertaining to the twelve Chinese zodiac animals and traditionally involved scissors or knives, while papel picados traditionally involved mallets for the cutouts and also aren't restricted in terms of the patterns. There may be patterns revolving around Christian symbols, legendary artists such as Frida Kahlo, and contemporary important figures as well. Kirigami also involves paper-cutting, but it uses only a single sheet of paper and does not involve the use of glue. Moreover, Kirigami commonly involves thicker papers such as construction paper instead of tissues, unlike papel picados.
Source: https://en.wikipedia.org/wiki/Papel_picado
How to Make Papel Picado at Home?
With all the historical background covered to provide an insight on this beautiful craft, let us finally get to the fun part and share with you a comprehensive, easy-to-follow tutorial to actually start making papel picados with simple household materials.
Things You Will Need:
Scissors and craft knives

: to cut out the patterns.

Pencil or a ballpoint pen

:

to draw the pattern that will help you in the cutting process.

Tissue papers

:

preferably 6 to 9 per design. Don't use too many, or it will be difficult cutting them all out. Size may vary, but make sure they're not larger than the construction sheet you use.

Construction paper

:

1 per design.

Scotch Tape/Masking Tape

Punching Machines

Yarn Threads

:

to display your final art piece
Instructions:
Step 1:Fold your construction paper in half. This construction sheet is basically meant to provide a strong base for the tissue paper cutting you'll be doing in the next steps since tissue paper itself is quite delicate and it's easy to make mistakes while cutting it without anything providing it a base.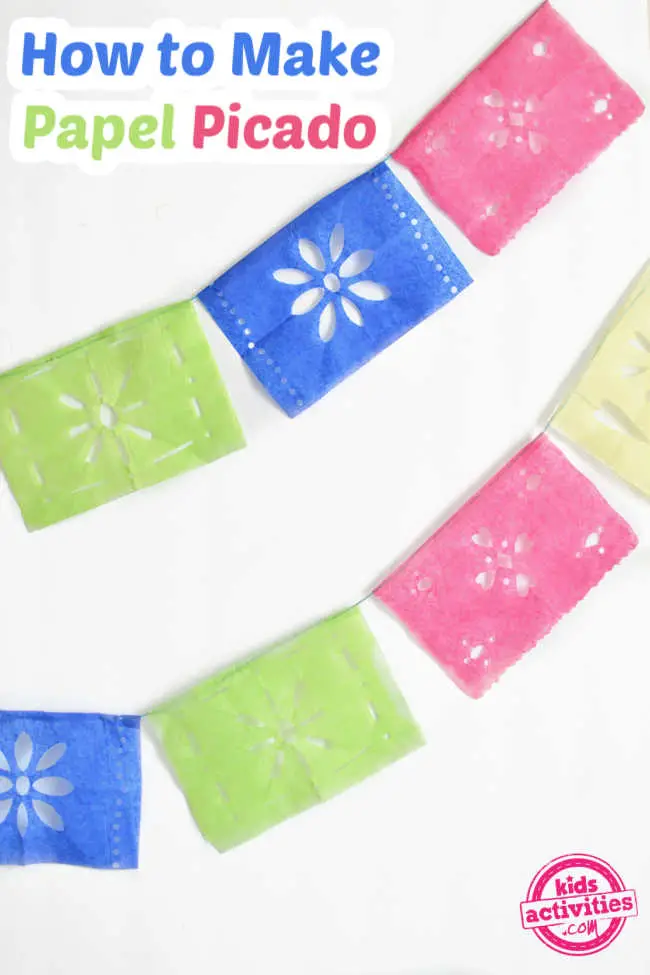 Source: https://kidsactivitiesblog.com/148881/how-to-make-papel-picado-for-the-day-of-the-dead/Step 2:Take your colored tissue papers or crepe papers, and fold them twice or thrice, depending on the design you're visualizing. Folding your tissue papers twice will allow you to make symmetrical cuts that will repeat twice as you unfold them while folding them thrice will allow you to create a particular negative space four times.Stack all the tissue papers together and place them inside your construction paper file, ensuring that the edges are perfectly lined up.Source: https://happythought.co.uk/how-to-make-papel-picado/Step 3:To keep the tissue papers in place even better, take two pieces of scotch tape and paste the tissue papers to the surface of the construction paper, while their edges are lined up in the correct position. Alternatively, you can use paper clips.Source: https://www.themakersupplyco.co.uk/blog/diy-make-your-own-papel-picadoStep 4:Now comes your imagination. With a pencil or ballpoint, draw the pattern you're visualizing over your construction sheet. Keep in mind that if you want an element symmetrical across the center of your tissue papers, draw one-half of it on the folded edge of the construction sheet. If you want elements symmetrical across the four quarters of the tissue papers as you unfold them, draw them on areas besides the folded edge of the construction sheet.You can draw anything you want, but if you're a beginner crafter, we recommend you stick to easy, basic shapes such as hearts, circles, triangles, rectangles, and so on.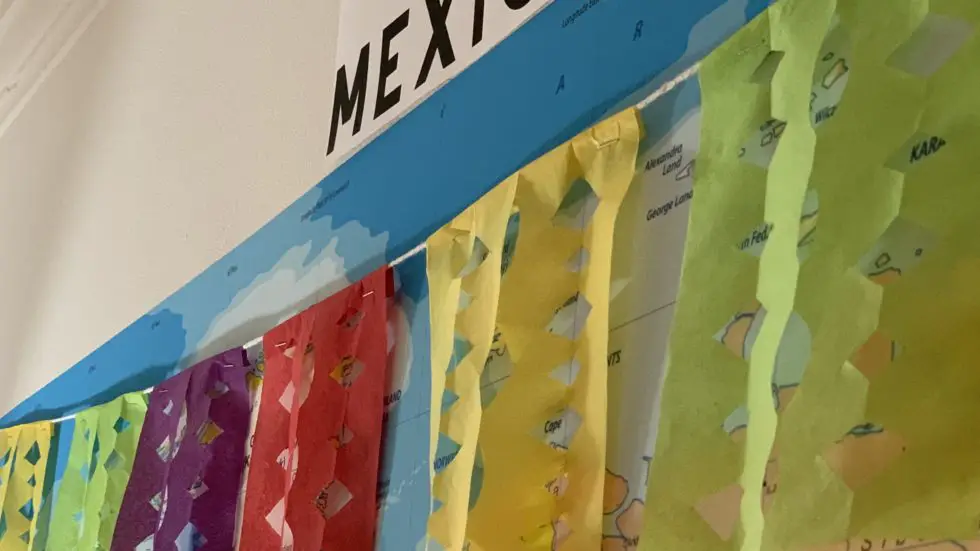 Source: https://www.ourcraftyworld.com/papel-picado-two-ways/Step 5:Once you're happy with what you've drawn, carefully start cutting out the designs. For elements aligned with the edge of the construction paper, you can simply use scissors, while for those on other areas, you may want to use a craft knife. OR, to make things easier, you can fold your "file" of papers in half. Do so in the areas wherever there are elements, and using your scissors, cut out one-half of them.For this process, you can also mix and match using punching machines to create patterns apart from the elements you've already drawn. Be creative!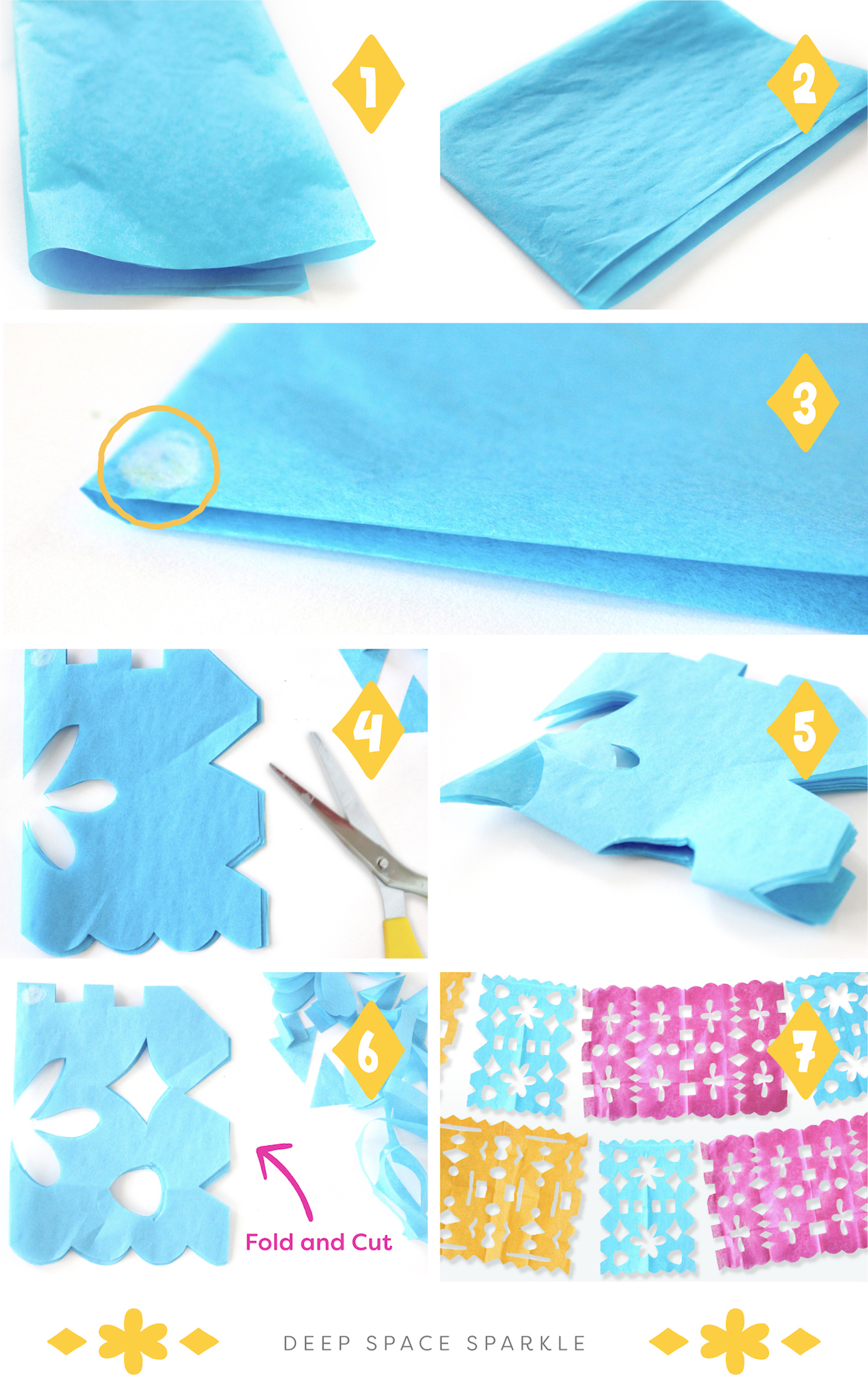 Source: https://www.deepspacesparkle.com/how-to-make-a-papel-picado/Step 6:Now finally, open your file, remove the scotch tape off the tissue papers, and begin unfolding your masterpieces. Be gentle while unfolding your tissue papers, as they're delicate.Step 7:There are really boundless ways to display your papel picados. In case you want to go with the traditional way, that is, hanging your picados to decorate your space, simply attach a piece of yarn or twine to the tissue papers and you're all set to start hanging them around.Alternatively, you can also display your papel picados by using them as simple ornamental table doilies or taping them to your cupboards or walls.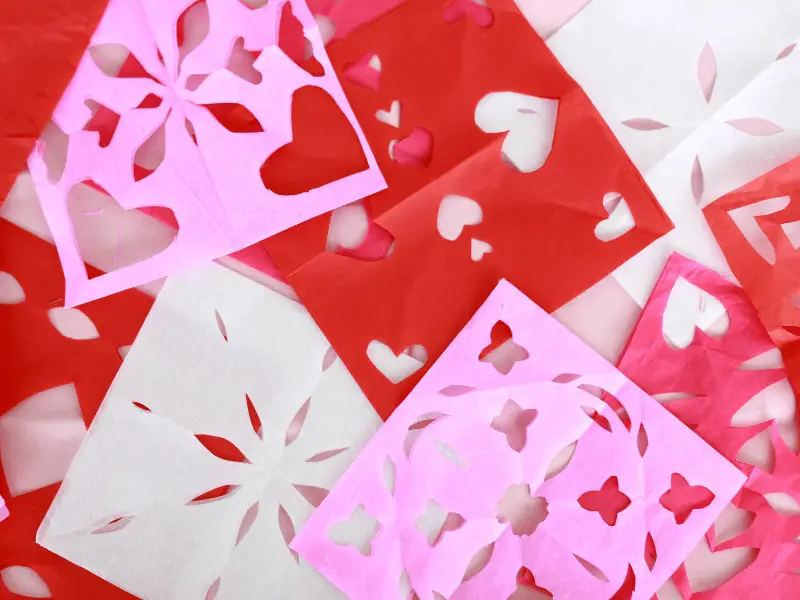 Source: https://artfulparent.com/more-papel-picado-and-more-hearts/
Bonus Tips:
1) Tissue papers are essentially fragile materials, but you can treat them in interesting ways after cutting out the patterns you drew, with various tools. A light coating of spray paint will texturize them in an interesting way and also provide them a bit of rigidity. This is especially helpful in case you want to use your papel picados as coasters or doilies.2) Don't be afraid to be experimental in terms of material usage. Apart from punching machines, you can also use decorative, patterned scissors to add some character to the cuts you make. However, it is typically harder to cut a lot of material using patterned scissors as the blades are in a certain direction, so use lesser tissue papers in your file in this case. 3) You might want to consider adding some interesting cuts along the edges of the tissue papers so that they don't have a very boxy, rectangular shape at the end. It isn't necessary of course, but it's just something you can do to come up with an interesting shape.
Source: https://frogprincepaperie.com/papel-picado-banners-for-the-cinco-de-mayo-party-hop-day-2/ 4) You don't really HAVE to stack a lot of tissue papers in a folded piece of construction paper in case you don't want to make a lot of papel picados of the same design. You can simply choose to add one or two, if that's what you prefer. 5) Apart from the spray paint idea, you can also add some shine to your papel picados by spraying them with a paper varnish. It just gives a nice sheen to your finished piece while also helping it last longer.6) There's nothing stopping you from using construction paper alone instead of tissue paper for your paper picados, but the beauty of using tissue papers lies in their transparency. You can create transparent tissue paper papel picados in a variety of colors and display them in a layered fashion, making the colors interact together in a beautiful way. 7) Try playing with size and scale while drawing the patterns. Make some elements big and others small. Simple hole-cutting punch machines can be used to add some really tiny dots at certain areas that will visually contrast really well with the larger negative spaces.
How are Papel Picados Made Traditionally?
We've discussed how you can make simple, yet beautiful papel picados at home, but let's take a look at how professional craftsmen carry on the tradition. They basically use a plastic template, on which they create the designs they're visualizing. A large number of sheets, of materials such as plastic, paper, etc. are placed beneath the template. A chisel and a hammer are then used to carefully cut out all the negative spaces intricately and carefully.What mainly sets papel picados apart from other paper-cutting crafts is the traditional use of a chisel and hammer.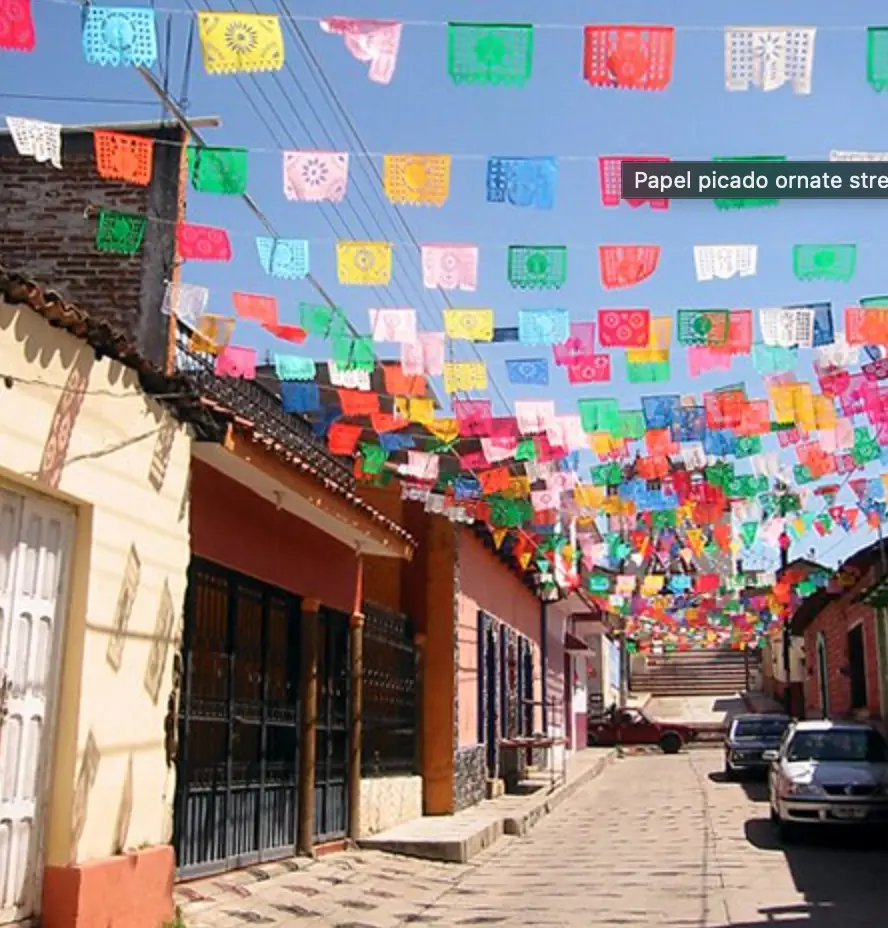 Source: https://www.mexican-folk-art-guide.com/papel-picado.html#.YNBymWgzbDf
Conclusion:
Even though we're all bound by the lockdown, there are still so many enjoyable and creative activities we can do to make the most of our time, like making papel picados! Creating something by your own hands is a great joy, and surely something all of us should consider adding to our hobbies so we're able to connect with our inner artists.
Comments
0 comments