How many Pumpkin Spice Lattes have you scarfed down so far? I'm not a big pumpkin fan, but I'll admit to a couple of Mochas over the past month.
Since Halloween is behind us, I suppose it's time to jump right into thinking about gifts for everyone, and this here project will make a terrific gift for any hot beverage drinker on your child's list. We're going to make Felt Embroidered Coffee Cup Cozies!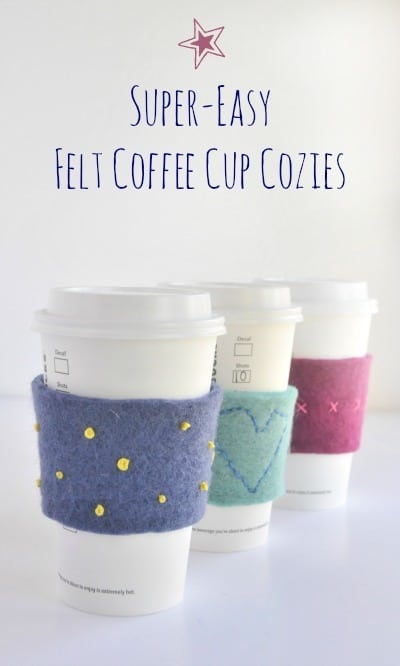 Materials
Felt (any sheets of felt will do, but for the richest colors use wool felt) (yes, I'm a materials snob)
Grande decaf mocha with whipped cream and cardboard sleeve
Directions
Trace your hot sleeve on a piece of felt and cut the felt out. We just used pen and used that side as the inside of the sleeve.
Choose your embroidery thread color(s) and embroider away. Make sure you keep in mind where your embroidery will show up once the cozy is sewn together and slipped over the coffee cup.
You can either free-hand your embroidery designs or draw them on the felt first.
Cup #1 is full of French Knots, #2 is backstitched hearts, and #3 is stitched x's. These were very simple to do, and if you want to check out some embroidery techniques, I recommend this site.
The insides won't be very pretty….
We used yummy thick felt sheets I bought from Hobby Lobby. You can also find wonderful felt sheets on Etsy, like in Sweet Emma Jean's shop.
If you want to try to felt down your own sweaters, here is what to look for: animal fiber sweaters (wool, cashmere, Alpaca).
I just throw a sweater in the washer with jeans and/or towels on hot wash/cold rinse, regular amount of detergent. Then dry in the dryer with the same towels/jeans. This usually does the trick, but if it's not felted enough when you take it out, you can put it through another cycle.
See my Knitting For Beginners post for another cool felted project.
After your awesome designs are stitched onto the cozy, you can carry the embroidery thread to the edge and stitch the edges together with a whip stitch.
Wouldn't these make great gifts your kids can give to virtually everyone?!