I can't think of a child who doesn't love farm animals. Pigs, chicks, cows; they are all so cute.Children love to play with them and pretend to be them! The wild noises children make pretending to be cows or goats will put a smile on anyone's face.I also can't think of a child who doesn't love doing crafts. So what could be better than farm animals crafts? If you work with preschoolers or homeschool, you will love these adorable farm animal crafts.They can even be good for senior citizens who need help with their manual dexterity or occupational therapy. Let's take a look at these fun crafts for children and adults to enjoy.
Cow Craft Using Paper Plates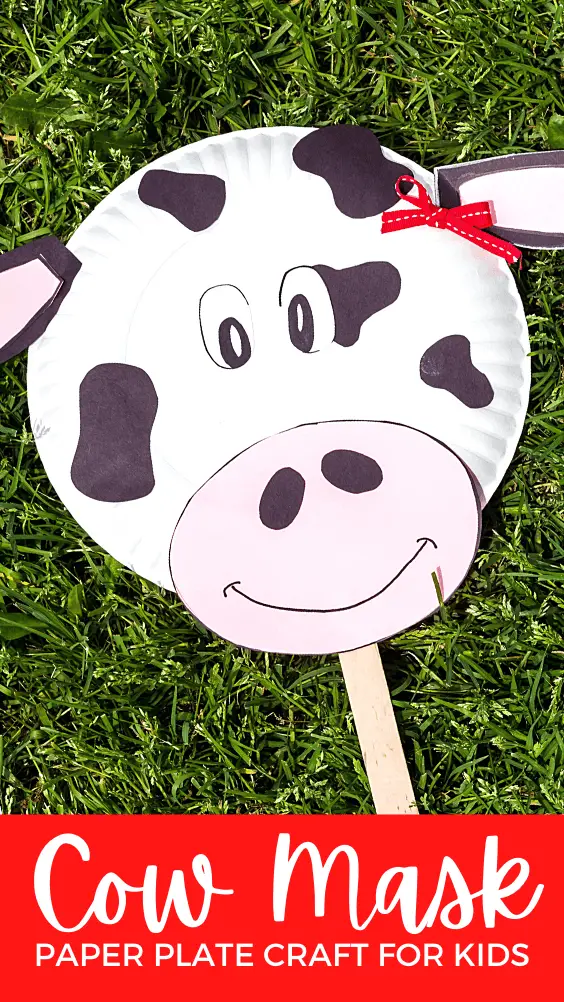 Source: By Homeschool Preschool, "Paper Plate Cow Craft" (https://homeschoolpreschool.net/paper-plate-cow-craft/)These cute cows are not only adorable but super easy as well! They are also great to use towards teaching the letter Cc. With a few supplies you probably already have on hand, your child can do this cow craft in no time!
What You'll Need
Cardstock or construction paper

Paper plate

Craft stick

Ribbon

Glue stick

Scissors
Directions
Draw simple designs for the cow's ears, spots, and nostrils. Using white crayon on black paper works really well. Next, draw shapes for the inner ears and the nose on pink paper. Then cut all of the shapes out.Take your shape for the pink inner ear and glue it to the black outer ear. Next, glue the nostrils onto the upper portion of the pink nose.Glue the cow's ears to the back of the upper part of the plate. Glue the cow's nose to the front bottom portion of the plate.The best part comes now! Ask your child to glue the cow's spots randomly onto the plate. Remind them that cows, like people, are unique and that no cow has the exact same spots.Once your cow has all its spots, you can add the eyes. You can cut the eyes out of paper, or if you have them, use googly eyes for a silly-looking cow!If your cow is a girl, use your ribbon to make a small bow. Then glue the bow to the front of one ear near your cow's head.Your child's cow is now finished!
Spring Lamb Craft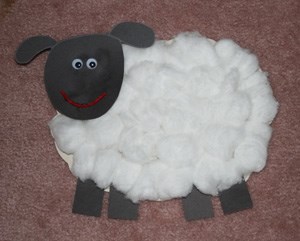 Source: By All Kids Network, "Cotton Ball Sheep Craft" (https://www.allkidsnetwork.com/crafts/animals/farm/sheep-craft.asp)This cute little lamb craft is perfect for spring or Easter or a cute farm theme birthday party.
What You'll Need
White card stock or construction paper

Black card stock or construction paper

2 3″ twigs or popsicle sticks

2 googly eyes

Scissors

Glue
Directions
Draw the shape of your lamb's body on the white paper and cut it out. Draw the shape of your lamb's head on black paper and cut it out.Rip a few of the cotton balls into smaller pieces and have your child glue about 4 pieces to the top of your lamb's head. Next, add the googly eyes to his face and set them aside to let dry.Now, have your child spread glue over your lamb's body and then glue the rest of the cotton balls to the body. Very small children can do this in sections.After your lamb has dried, turn it over and glue two of the twigs or popsicle sticks to the part you want the bottom to be, so it looks like she now has legs. Set aside to let dry.Once your lamb's body has dried, turn back over and glue the face to the body. Don't be afraid to use plenty of glue, so it sticks.Your child can easily make a background for their lamb on another piece of construction paper which she can be glued to once dried.
Cardboard Tube Goat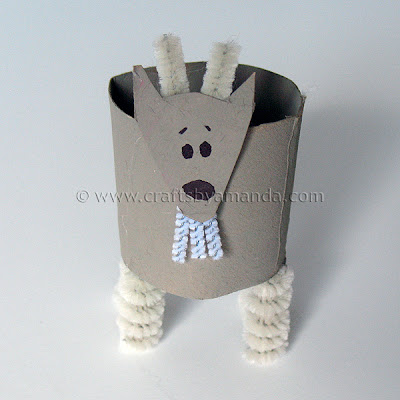 Source: By Amanda @ Crafts by Amanda, "Cardboard Tube Goat: The Farm Series" (https://craftsbyamanda.com/cardboard-tube-goat-farm-series/)Billy goats are a favorite on the farm. They are friendly and eat right out of your hand. Your child will love making this adorable cardboard tube goat.
What You'll Need
1 empty toilet paper roll

Scissors

1 thin, white chenille stem

2 gray chenille stems

Black Sharpie

Hot glue gun
Directions
Cut your toilet paper roller to about 3″. From the remaining piece of cardboard, cut an additional piece for your goat's head, roughly about 2″.Paint your cardboard and tube the color you want your goat to be. I like grey, but any color will work. Cut a 1″ piece from each gray chenille stem and set it aside. These will be for the horns.Then cut the two long pieces of gray chenille in half, giving you four equal pieces. Now coil each of the four stems around the skinny end of a paintbrush or pen. These will be your legs.Cut the white chenille into three one-inch pieces. Using your 2″ square cardboard that you painted, cut out the head of your goat. A basic shape is a triangle with ears.Take your Sharpie and draw in the eyes, nose, and eyebrows. Now glue the horns at the back and in between the ears. Use the white chenille pieces as a goatee and glue them.Glue your goat's head to the front of the painted tube and glue the legs inside the bottom of the tube. You now have an adorable farm goat craft!
Spring Chick Handprint Craft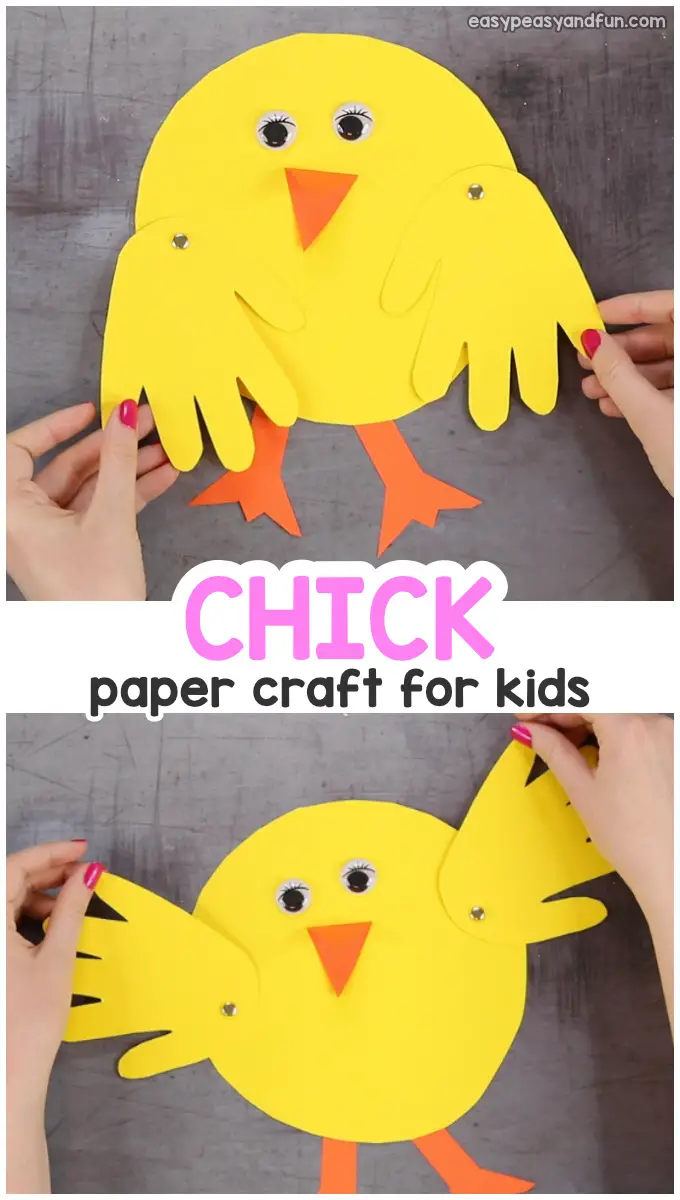 Source: By Easy Peasy and Fun, "Handprint Chick Craft" (https://www.easypeasyandfun.com/handprint-chick-craft/)This spring chick handprint craft is just too cute! It's super easy and can also make a sweet gift for relatives.
What You'll Need
Orange construction paper or cardstock

2 pieces of yellow construction paper or cardstock

2 large googly eyes

Scissors

Glue stick
Directions
From the orange construction paper or cardstock, cut a pair of legs and a triangle for your chick's beak. Now cut a large oval out of the yellow paper.Using another piece of yellow paper, trace both of your child's hands. These will be the feathers. Fold the orange triangle in half to make your bird's beak.Now glue all the pieces onto your child's handprint to form a cute little chick. When you are attaching the beak, glue only the bottom side down. This way, the top part can lift up to look like a beak.
Footprint Horse Head Craft
Source: By All Kids Netword, "Footprint Horse Craft" (https://www.allkidsnetwork.com/crafts/animals/farm/footprint-horse.asp)Almost every household or school has a horse fan. If you have one, they will enjoy this funny little footprint horse craft. It can be made for fun or just to hang up on the wall.
What You'll Need
Construction paper or cardstock in the color you want your horse. Brown is always fun! But any color will do.

Non-toxic kid's paint

Black Sharpie

Scissors
Directions
Trace your child's foot on a piece of paper of your color choice. At the top of the footprint, near the toes, paint in some ears and your horse's mane. Using streaks of black paint will really make it pop!You can use white paint to give your horse a blaze down his nose if you wish. Once the paint has dried, use your Sharpie to draw in the details of the horse's nostrils and mouth.If your child wants to get really creative, she can even draw in the horse's reins. You can then cut out your horse's head and mane and glue it to another piece of cardstock to make it more sturdy. A bright orange or red works great!
Comments
0 comments