Any Easter egg rock painting is so easy to get and will probably turn out great if you hash out an idea on your own, up until the point when you find that everyone in the class has Easter egg designs almost identical to yours.
Wondering how to avoid that situation and create a collection of awesome Easter egg rocks that outshines the rest? Don't worry about that – we've got you covered with all the art tips you'll need.
If you're on an Easter egg hunt, read on for ideas suitable for all beginner and skilled artists out there!
1. Basic Easter Egg Rocks
Let's start with the basics first; these Easter egg rocks are super simple, so you'll find many people painting these Easter painted rocks. But here's the thing, it's all about personalization!
Although most of these rocks have conventional Easter egg designs, it depends on how you decorate them as well as the rock size, rock shape, and paint colors. Thanks to these factors, you can create something new and uniquely yours, so this is a pretty good chance to unleash your creativity!
Basic Easter Egg Rocks from Creative Husky
2. Chick Easter Rock Painting Idea
Who wouldn't love an Easter egg with an adorable little chick painted on the surface? They're super cute, easy to paint, and the colors used for this little project are about 2-3 shades only.
Make sure to watch the video tutorial to nail all the details. You'll find that these Easter painted rocks are pretty straightforward, so there's little room for error here.
How to Make Easy Chick Painted Rocks from Rock Painting 101
3. Easter Bunny Face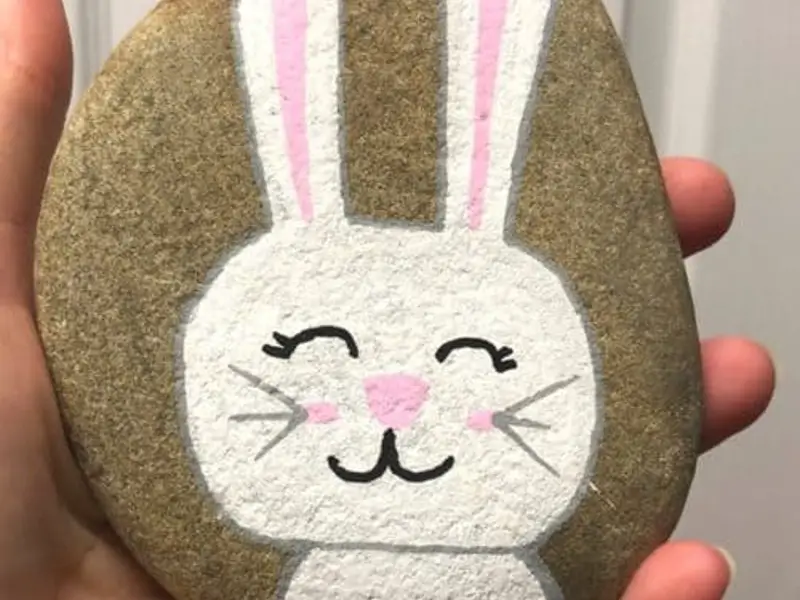 If you're looking for inspiration for bunny-themed Easter egg rocks, this idea is certainly for you! Kids won't struggle with these Easter eggs. Even better, they'll have tons of fun creating them.
We highly recommend your kids paint the Easter bunny face along with the Easter chick if they'd like to have an animal collection of Easter eggs. As for what you'll need, get some paint pens, egg-shaped rocks, and a wide imagination!
Easter Bunny Rock from Rock Painting 101
4. Peter Rabbit
If you're still looking for another Rabbit-themed Easter rock painting idea, then here's another one. You'll absolutely want to create these Easter rocks if your kids are fans of the movies. While you're at it, you can create a game out of your Easter egg rocks!
A tic-tac-toe game is always an awesome game to join in, especially with family, and the special Easter egg rocks in this tutorial make it all the more worth it!
Paint This Easter Tic Tac Toe on Rocks from Life of Color
5. Striped Easter Egg Rocks
If striped-up designs appeal to you, you'll love this idea. The Easter egg rocks are mainly made of stripes with whichever color scheme you prefer, and that's it! Simple right? To get this beautiful idea right, you'll need to find the right supplies, though.
Paint pens won't cut it, as you'll need paints, painters' tape, foam brushes, and rocks with the right egg shape, of course. Be careful to let the eggs completely dry before displaying them, too.
Tip: it might be some time since you'll use the tape then remove it, but you can use a hairdryer if you're in a hurry.
How to Make Easy Easter Rocks for Kids from Twitchetts
6. Funky Zigzags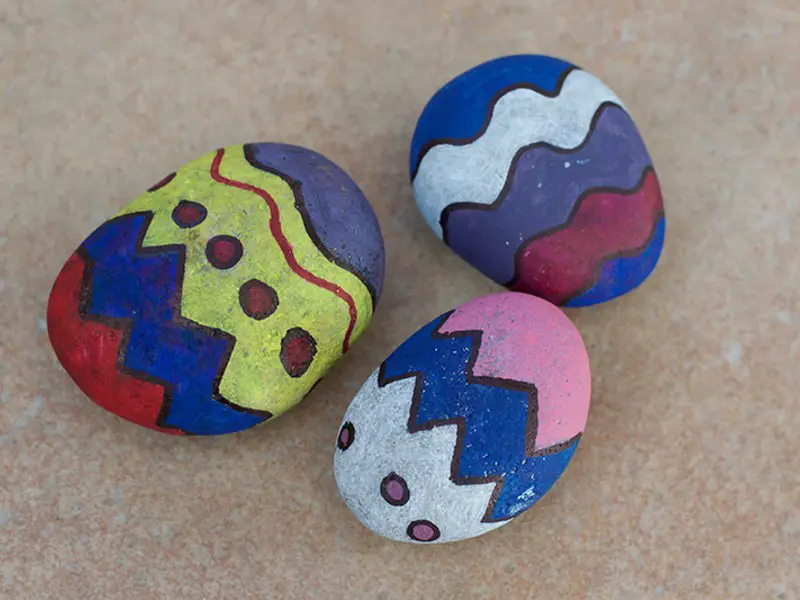 Quirky alternatives to good old Easter egg rocks are always welcome, which is why we're recommending this one. If your kids have painted every chick and bunny idea in the book, then it's time to try something new and fun! This is what the funky zigzagged Easter egg rocks will offer.
These rocks require a lot of practice and patience because you'll be creating several layers on top of each other, and you'll outline your design as accurately as possible. So, be sure you have the right paint supplies in-store, and don't worry, this rock painting idea is as fun as previous ideas!
Funky Easter Egg Painted Rock Craft from Little Fish
7. Golden Easter Cross
Looking for Easter rocks that can be repurposed? This one can double as a house decoration. Additionally, it'll show how religious you are if that's what you're angling for. This is also a very simple and fun rock design to create.
This Easter egg also allows much room for creativity, depending on what Easter decorations you want to add to the background of the golden cross. Make sure you have a vast selection of colors to create the perfect decorations. With that, you'll be ready for Easter with brand new and unique Easter egg rocks!
Easter Cross Rock from Rock Painting 101
8. Little Lamb Rock
Here's another rock painting idea that you can incorporate into your animal Easter rock collection! The little lamb is really cute, can be incredibly fun to create with kids, and is overall an adorable addition to any collection of Easter painted rocks. This cute rock design doesn't require that you paint shades, dots, or special zig-zaggy lines, too.
All you need is to do is pay attention to the tutorial, purchase the right supplies, and you'll have your lamb-themed Easter rock in no time! This is also a perfect Easter rock painting project for beginners because the steps in the tutorial are simple and easy to follow.
Little Lamb Painted Rock from Rock Painting 101
9. Paperweights
If you want to create Easter painted rocks, this means that you can use them more than one time, not just for some fun spring event or for your kids to have fun with. You can still repurpose them!
For the paperweight painted rocks, you'll have to choose one of your favorite quotes, and it's preferable to pick an Easter-themed quote so you can use it both for Easter and later as a paperweight. Although this is yet another fun project, it's not for beginners due to the multiple steps involved, and it's not suitable for kids.
Painted Rock Paperweights from Plaid
10. Hatching Chicks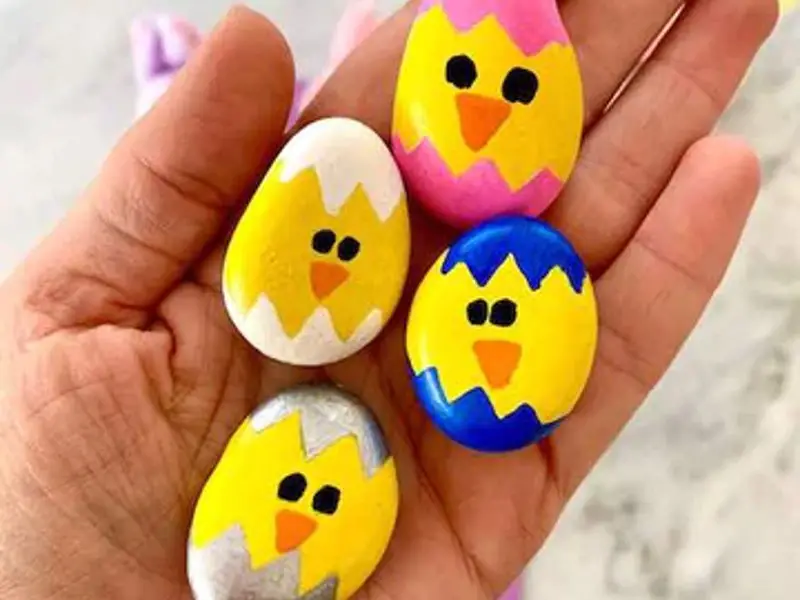 If you're aiming to have a collection of chick-themed painted rocks, consider adding this one to your collected artwork. Drawing zig-zag designs is a very easy step, and once kids learn how to make them, they'll absolutely love these Easter rocks!
Admittedly, you'll need to learn how to paint perfect zig-zag lines (for the hatched eggs) before you paint the chicks, which means that you'll need Easter rocks that have a perfect, smooth surface. This'll save you (and the kids) a lot of trouble as you paint.
Hatching Chicks from Creative Husky
11. Easter Story Stones
Not a lot of people are into story rock painting, but this idea is just perfect for Easter! Plus, it can be a good learning experience to share with kids who don't know the actual story behind the Easter chick and bunny.
For the story ideas, you'll need several rocks to outline all of the information and be sure to check out the tips and tricks in the tutorial to get the most out of this art project.
Mostly, kids will love the story-telling part rather than the painting part, but why not let them share all the fun of painting with you?
Easter Story Stones from Rainy Day Mum
12. Easter Egg Stacking Rocks
This is yet another rock painting idea that depends on the art of presentation rather than the artwork itself. The rocks can also double as decorative items, so there's no need to search for something to fill in these small gaps in your home. To top it all, stacked Easter rocks are so adorable!
You can hide these Easter rocks in your gardens and let the kids go on a fun Easter egg hunt! This is a great Easter rock idea since it can be used either inside or outside the house.
Plus, these Easter rocks are larger than normal Easter rocks, and kids can play with them anytime they want.
Easter Egg Stacking Rocks from Little Pine Learners
13. Textured Easter Rocks
Are you a fan of textures and rainbow colors? These rock painting ideas are definitely for you! Not only are they fun to paint, but they also leave some space for your imagination to create geometric textures, flowers, dots, and more.
Make sure to get perfectly-shaped egg rocks for this project since it's all about symmetry. Additionally, painting on these rocks will reduce the margin of error by miles.
Painted Rock Easter Eggs from A Piece of Rainbow
14. Flowery Rocks
Flowery rocks are just the perfect rock painting idea for Easter and Spring season; they're pretty versatile and, if you create them with the right shades, they'll add charm to the space you add them to.
For this art project, you'll need to amp up your skills and use some extra materials, such as Krylon, to seal in the flower designs, as you'll be using watercolor paint, which doesn't easily stick to rocks in general.
Spring & Easter Painted Rocks from Lauren Spindle
15. Angry Bird Painted Rocks
Tired of painting the mediocre Easter bunny and chick over and over? Well, an angry bird should be right up your alley if you're looking for creative rock painting ideas!
So sharpen up your sketching, outlining, and coloring skills because this is one of the toughest painting ideas to execute, but the adorable result certainly is worth the trouble.
How to Make Angry Birds Painted Rocks from Twitchetts
Bottom Line
With these 15 step-by-step adorable Easter rock painting ideas, we hope that some of them are suitable for next Easter. Tell us which one you liked best!