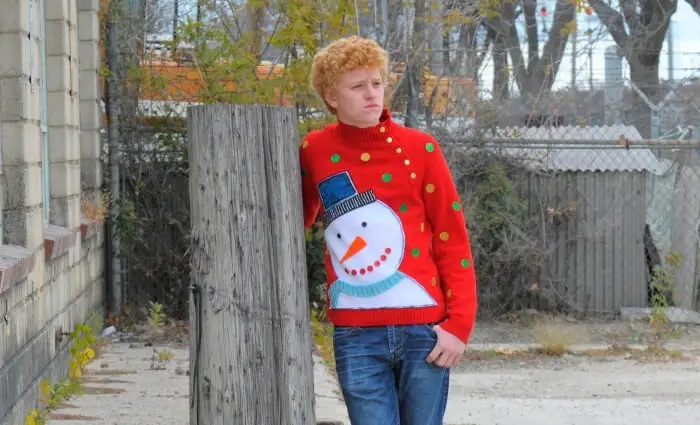 Oh, the ugly Christmas sweater. I didn't really know it was so popular until my step daughter started sporting some last year. She's got a knack for finding some really good ones. Since then, I've seen ugly Christmas sweaters everywhere, everywhere, everywhere.
I felt the overwhelming need to flex my crafty muscles and make my own, so here's what happened:
Do you own an ugly Christmas sweater? Would you care to make one? It's truly one of those most fun crafts I've made in a while.
Here's what I used:
Directions:
First I cut out my main snowman shape from white fleece; I used a dinner plate for his head and free-handed the half-circle for his body. I glued these down, as well as his felt hat, with Aleene's tacky glue. (love that stuff, and you're practically required to use tacky glue when you're making an ugly Christmas sweater.)
Next, I glued down the buttons and the nose.
I drew a scarf on some tracing paper, so I could make up a neck area for the neck-less snowman, and cut that out of fleece.
I decorated the scarf and hat and around the snowman with the Tulip glitter dimensional fabric paint. If you haven't used this before, test a little out on some scrap to get a feel for how it flows out of the tube. It's fun if you test some on your husband's favorite hoodie.
Then I stepped back and took a gaze at my sweater and determined that it didn't have NEARLY enough sparkle. I used the small tube of Tulip fashion glitter bond on the buttons and sprinkled glitter on them. I watered down some Aleene's a bit and sponge-brushed it onto the hat and sprinkled blue glitter all over that.
Here is my glitter-in-the-sunlight shot, before I dumped off the extra blue glitter. Is it not glorious?
I decided ahead of time that I HAD to use this next product they sent to me: it's this uber-glittery iron on fabricky stuff, and it's so cool. You can cut it or use a punch on it, and then just iron it on to most fabrics (don't bother trying it on fleece, nothing works on fleece.)
I used my hole punch and ironed green and gold fabulousness onto my sweater to give it that final je ne sais quoi.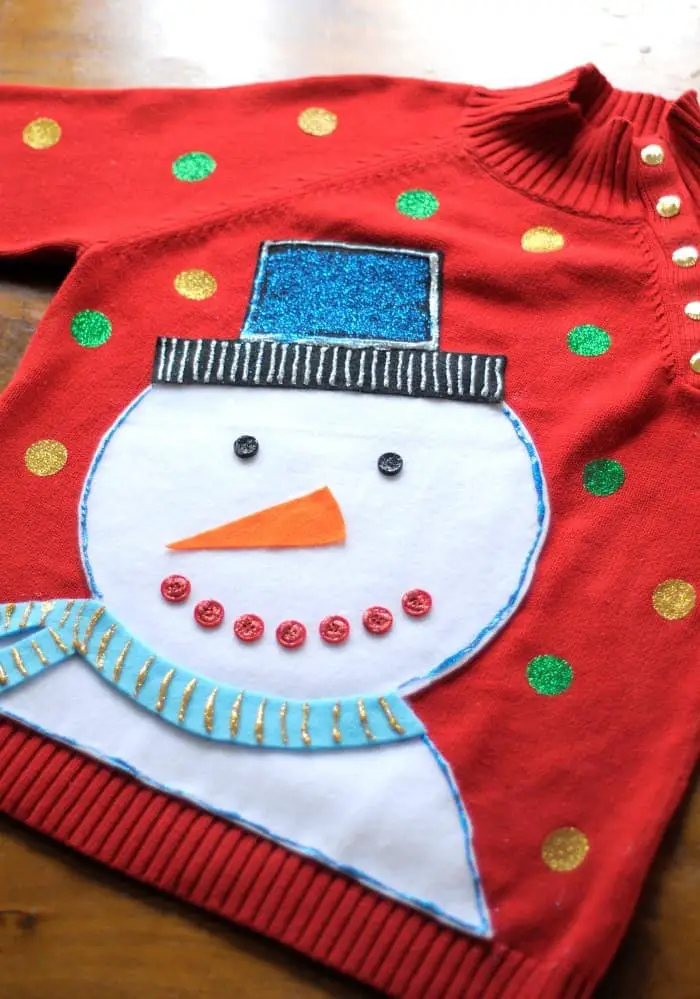 And then came the fashion show. I'm lucky my step son has a good sense of humor, because he rocked that sweater. He's even keeping it to wear to school for the week before Christmas. And don't you think the ladies will be all over him?  You bet they will.