Indians celebrate Diwali every year in the fall, surrounded by dazzling lights and festive vibes. If you've ever been lucky to witness such celebrations, you know how monumental the festival of lights is for them.
Whether you have Indian relatives or you're a cultural enthusiast, you can participate in this year's celebrations by crafting handmade Diwali decorations. And we'll help you!
We've created a list of 30 DIY Diwali decoration ideas you can try out in your free time, some of which are kid-friendly. So manifest your crafting power, prepare your tools, and hop in!
1. Fairy Light Wall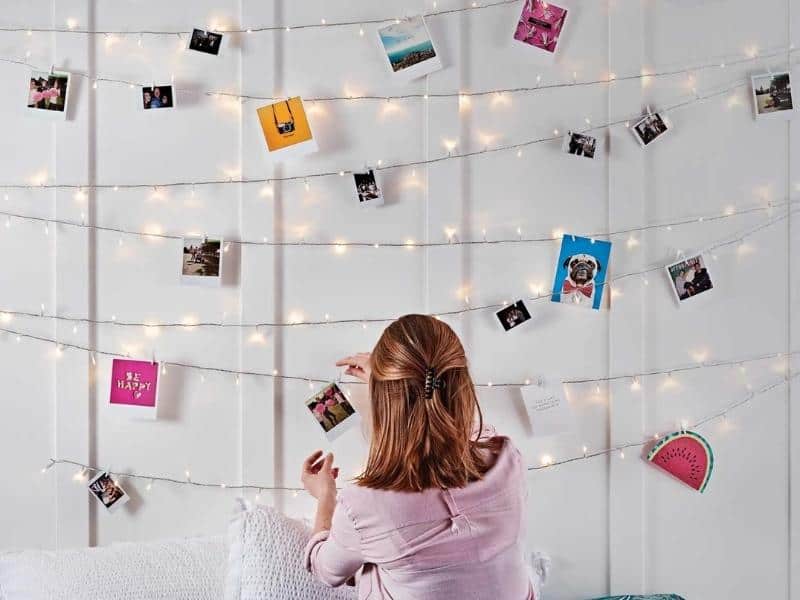 Twinkling lights are the main theme of Diwali celebrations, and you can use them to add heartwarming vibes to your house. You'll need fairy lights, nails, a hammer, and some memorable photos with your loved ones. Using these tools, you'll make a wall decoration.
The tiny lamps will shine light over your cherished memories, and you'll have taken part in the festive season.
Get the instructions for the fairy light wall on Lights 4 Fun.
2. Paper Marigold Flowers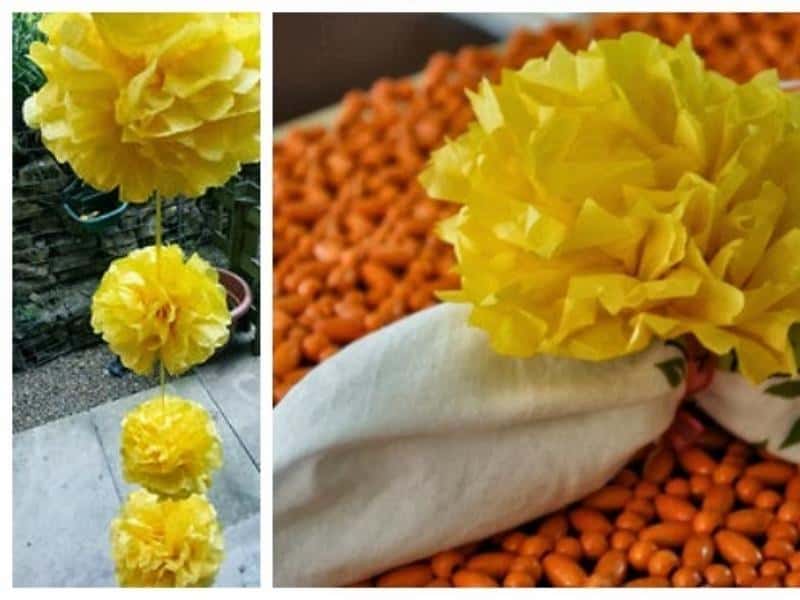 Marigold flowers have long served as religious symbols in India and are an irreplaceable part of Diwali celebrations. With the help of your little ones, you can craft paper Marigold flowers. They'll look like fresh flowers just plucked from the garden, and you can use them as a centerpiece on your table.
Check the tutorial for these beautiful Marigold flowers on Artsy Craftsy Mom.
3. Clay Flower Lanterns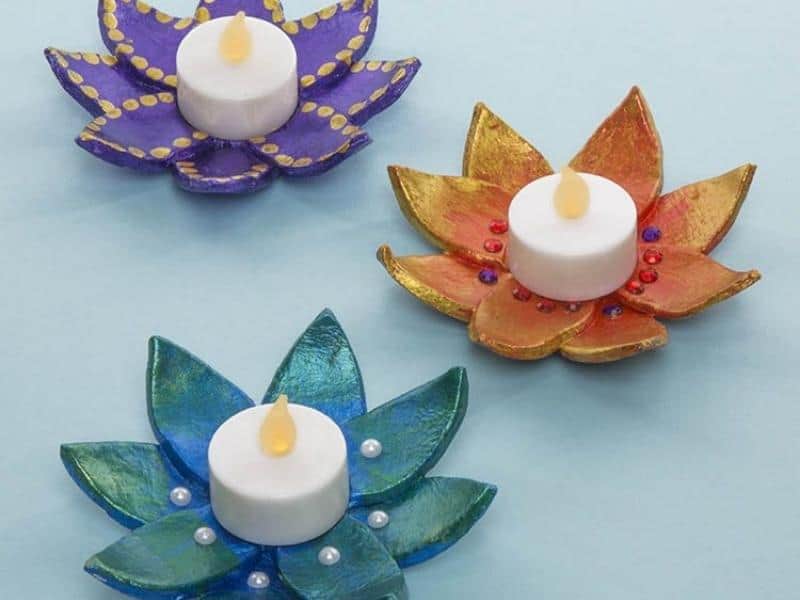 When it comes to DIY Diwali decor ideas, clay lanterns should be number one on your to-do list. They're easy to craft, look elegant, and can take fake or real candles. You can also get creative and use different colors and embellishments to decorate the lanterns.
Learn how to make clay flower lanterns on Baker Ross.
4. Papercut Lamp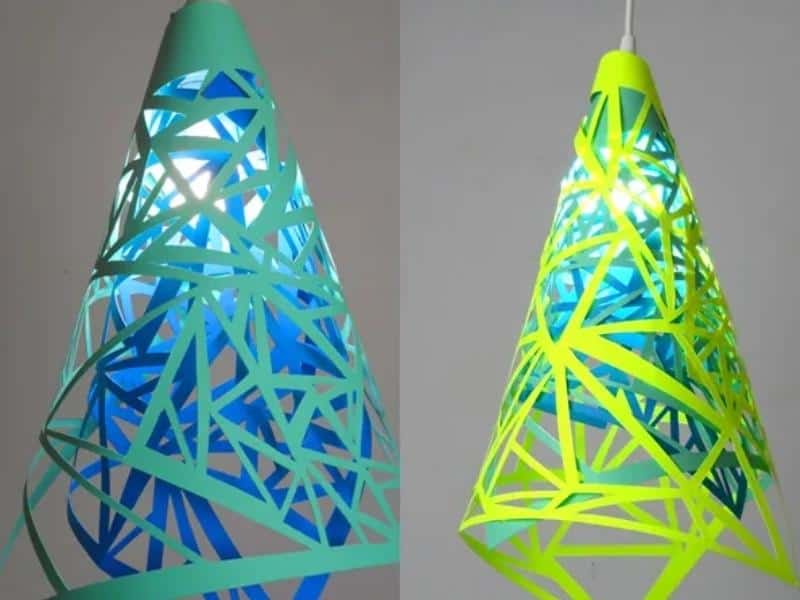 Here's an idea you can craft with the help of your kids. First, you'll make a festive papercut lamp using colorful paper, scissors, and a dash of creativity. Then, you can hang it in your kids' room as Diwali decor.
Head to Make Zine to get the tutorial video for the papercut lamp.
5. Macrame-Covered Candle Holder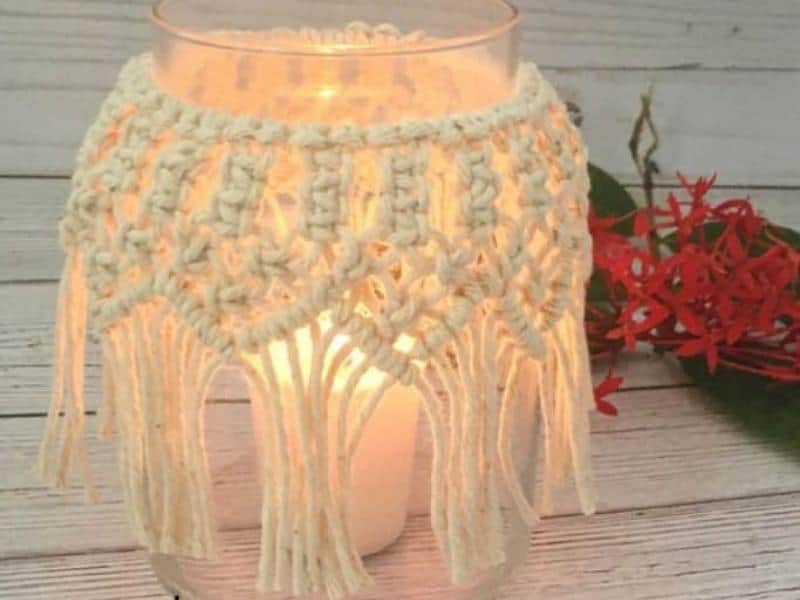 Macrame decor pieces have a unique charm that adds to the aesthetic of any room. This charm, combined with a light source, will give you an enchanting Diwali decoration piece. We won't deny that working with Macrame strings is time-consuming, but we guarantee you the result will be worth every second.
Find out more about the Macrame-covered candle holder on Crafting on the Fly.
6. Stained Glass Jars and Vases
You can make stained glass jars or vases in your house in a few simple steps. You'll only need mason jars, glass vases, and glass paint. After you finish, you can put real candles inside them for a lovely picture and shimmering effect. You can get more stained glass ideas on craftwhack.com.
Learn more about stained jars and vases on Color Made Happy.
7. Colorful Paper Fans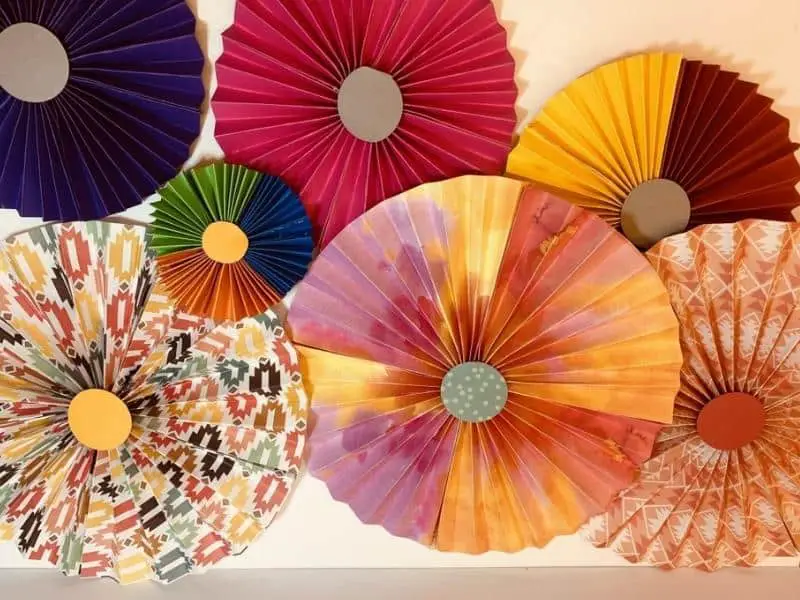 Paper fans are extremely easy to make, but the trick here isn't in crafting them. Instead, it's in choosing complementing and glimmering colors that'll make them look like Diwali decor pieces. So, if you don't have enough time for a challenging project, try this one. When you're done, you can use the fans to make a Diwali backdrop.
Take a look at the colorful paper fans on Bright Kid Fun.
8. Glitter Lanterns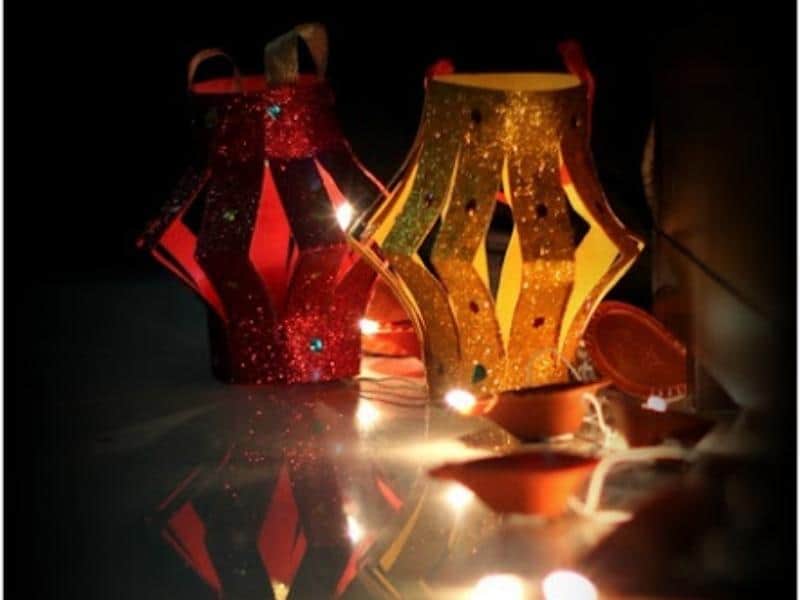 Introduce your kids to the festivities of Diwali with this easy project. They'll make shimmering lanterns out of glitter paper and shiny embellishments. However, let us warn you that you shouldn't use real candles with them. Instead, use LED lights.
Get the tutorial for glitter lanterns on Artsy Craftsy Mom.
9. DIY Diwali Elephants
Elephants are only another cultural icon of India, and you can use them as inspiration for your upcoming Diwali decoration project. This idea includes making elephant shapes using modeling clay and decorating them with glitter and shimmery sequins.
Check the instructions for DIY Diwali elephants on Baker Ross.
10. Yarn Tea Light Holder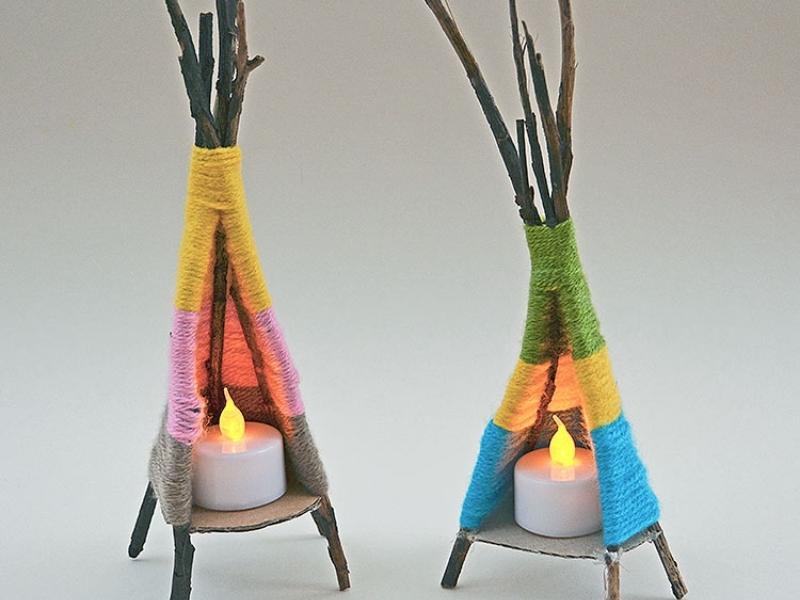 Using yarn and twigs, you can craft beautiful tea light holders that look like teepees. They'll add festive vibes to your place and won't take much time to make.
Learn how to make a yarn tea light holder on Blue Bear Wood.
11. Glass Bangles Candle Holder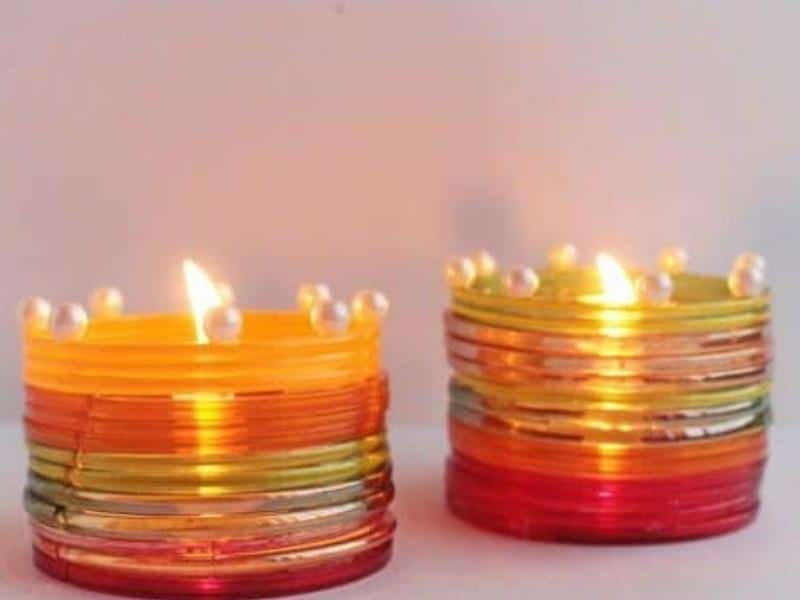 We've all been through those teenage years when glass bangles were the go-to trend, and melty beads were the real deal. If you still have glass bangles from your childhood, you can use them to craft elegant candle holders. All you'll have to do is stack the bangles and glue them together. Then, place a candle inside and enjoy the glimmering lights.
Head to Red Ted Art to learn more about the glass bangles candle holder.
12. DIY Diwali Flower Rangoli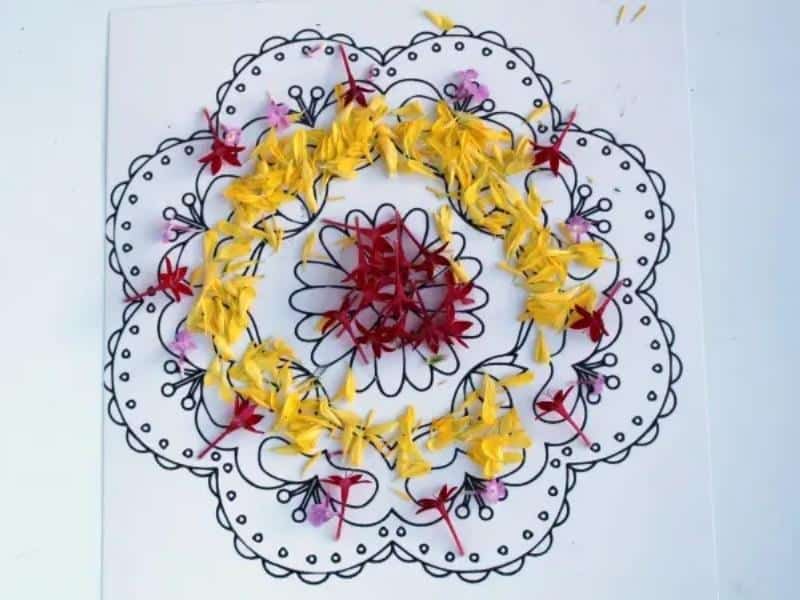 Are you looking for easy Diwali decoration ideas that'll cost you nothing? Pluck some fresh flowers from your garden and make this beautiful Rangoli. You can let your children join in the fun, and you'll end up with a beautiful, colorful Diwali decor.
Check the DIY Diwali flower Rangoli on The Educator's Spin on It.
13. DIY Diwali Door Hanging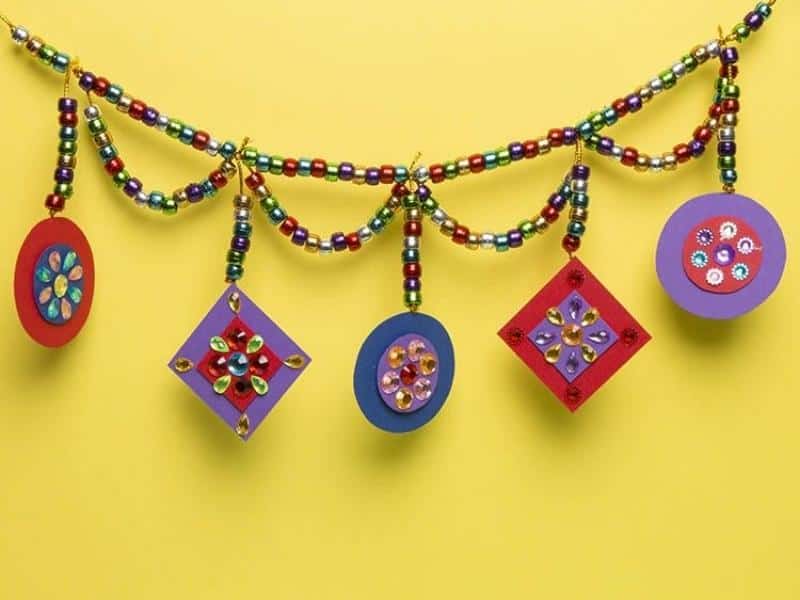 Let people know you're celebrating the festival of lights with this glamorous door hanging. You can use a gold cord, beads, and decorative gems. When you're done, you can hang your creation on your door as a Diwali decor piece. You can also add some fairy lights for more festive vibes.
Get the tutorial for the DIY Diwali door hanging on Baker Ross.
14. Funky Polymer Clay Candle Holder
Putting decorative polymer clay candle holders around your house will make you feel like you're attending the festive season in India. You can customize your own designs or look for online ones. No matter what your choice is, you'll have new Diwali decor pieces to showcase.
Take a look at the funky polymer clay candle holder on Crafts Beautiful.
15. Butterfly Lantern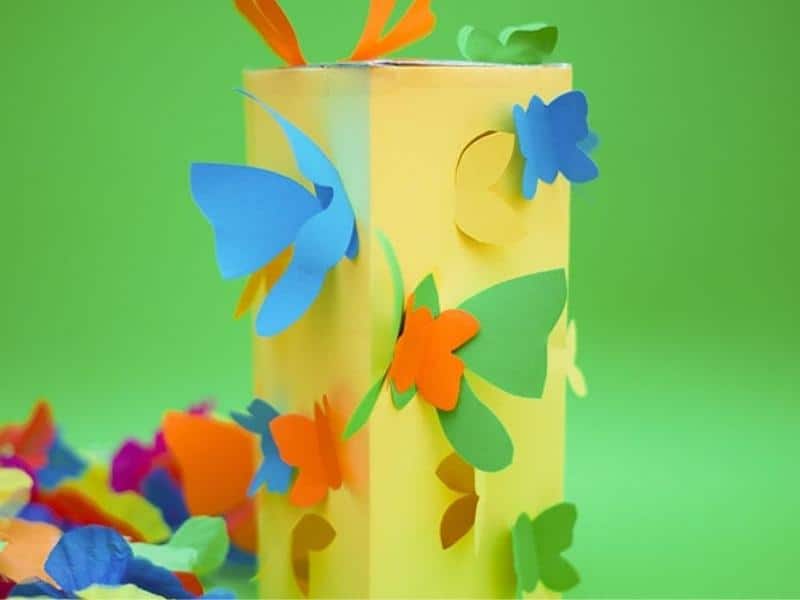 These butterfly lanterns are one of the most elegant Diwali decoration ideas on our list. They're also pretty easy to make out of craft paper. First, you'll make a rectangular lantern and add a fake candle inside.
Then, you'll cut the craft paper in the shape of butterflies and glue them on the lantern. By the end of the project, you'll have a beautiful home decor piece.
Learn how to make a butterfly lantern on My Poppet.
16. Accordion Fold Diwali Paper Diya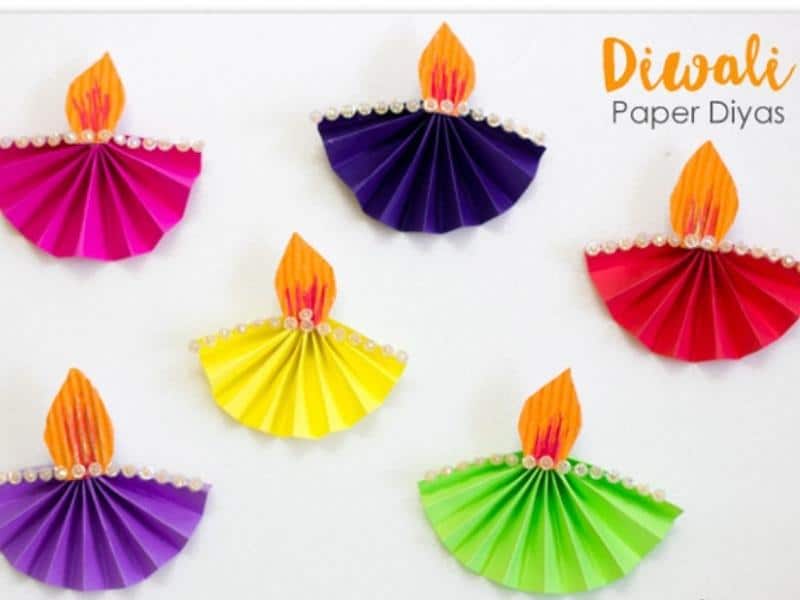 Using colored paper and some sequins, you can craft many Diwali paper diyas. First, you'll fold the paper like an accordion. Then, you'll decorate it with sequins. In the end, you can hang them on your wall. For this project, you can use crepe paper, craft paper, or cardboard paper.
Get the tutorial for the accordion fold Diwali paper diya on Artsy Craftsy Mom.
17. DIY Diwali Wreath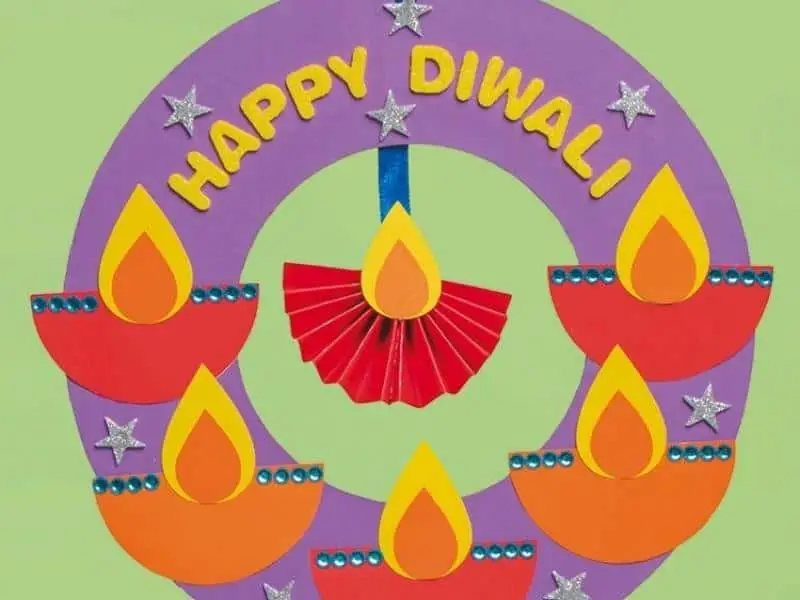 If you're looking for unconventional and simple DIY Diwali decor ideas, here's one you'll love. You'll make a wreath decorated with small diyas and decorative gems. It'll look magnificent hung up on your door, and it'll show people that you're celebrating the Indian festive season.
Not to mention, it's a unique home decor piece that you can keep around for the rest of the year.
Check the instructions for the DIY Diwali wreath on Baker Ross.
18. Lotus Wall Art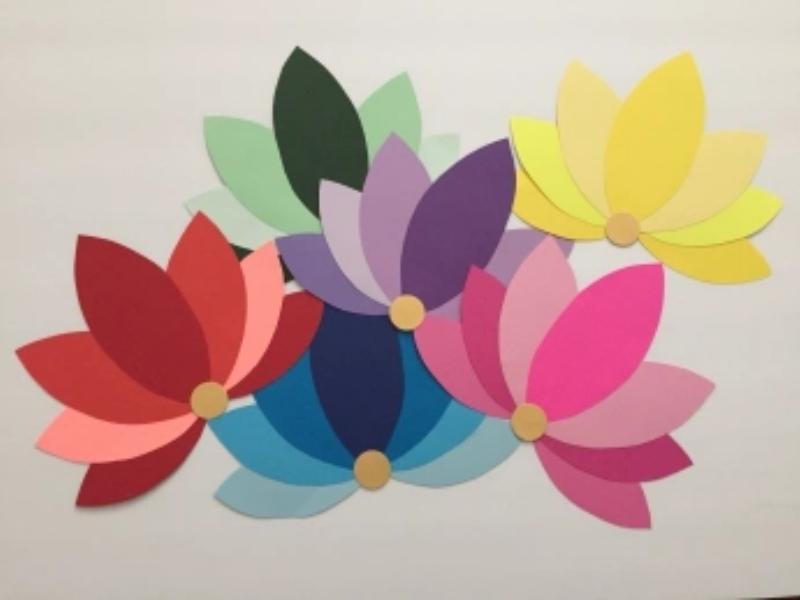 Take part in the Indian festive season merriments and grace your house walls with beautiful Lotus flowers. You can craft them using cardstock paper and scissors, but choose colors that go with your interior decor.
Find out more about the Lotus wall art on Nimasonti.
19. Paper Diya Ornament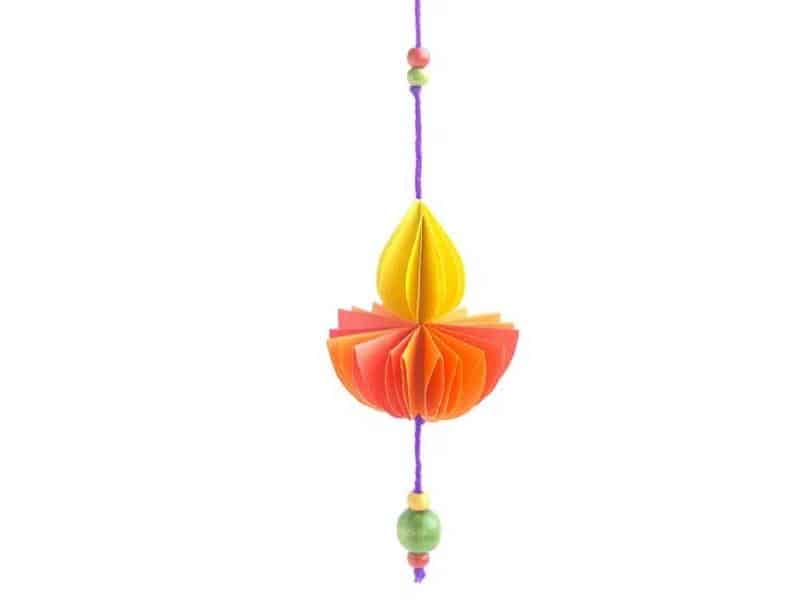 Fill your house with hanging ornaments with this easy and enjoyable project. It's one of the easiest DIY Diwali decor ideas and doesn't require many materials. You'll only need craft or crepe paper, a string, and some sequins. Also, considering its simplicity, you can let your kids join you in making them.
Learn how to make a paper diya ornament on Red Ted Art.
20. DIY Salt Dough Diva Lamps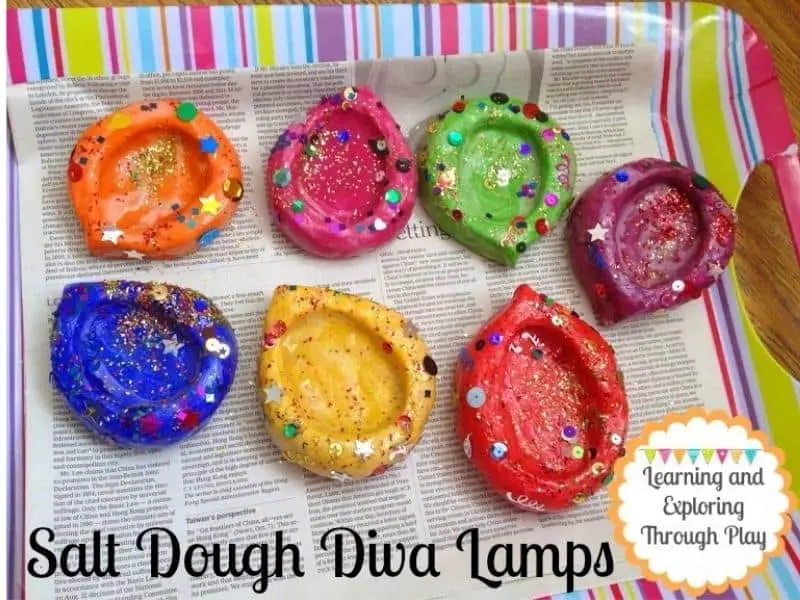 Kids love playing around with versatile materials, like salt dough. You can use this point to teach them about Diwali. First, make the dough using salt, flour, and water. Then, encourage them to shape the dough like Diva lamps. After the dough dries, give them colors and let them use their creativity to spice up the Diwali decoration pieces.
Get the DIY salt dough Diva lamps tutorial on Learning and Exploring Through Play.
21. Paper Diya Diwali Garland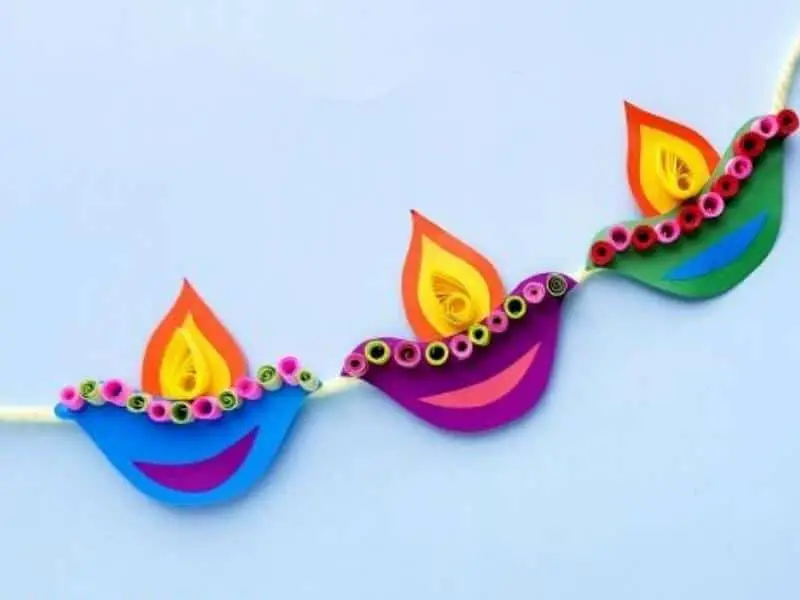 Are you looking for kid-friendly DIY Diwali decor ideas? Here's an ideal one that your little ones can craft under your supervision. They'll make many paper diyas, then join them with a thread to make a garland. You can either hang this garland on a wall in your house or on the door.
Find out more about the paper diya Diwali garland on Red Ted Art.
22. Rangoli Craft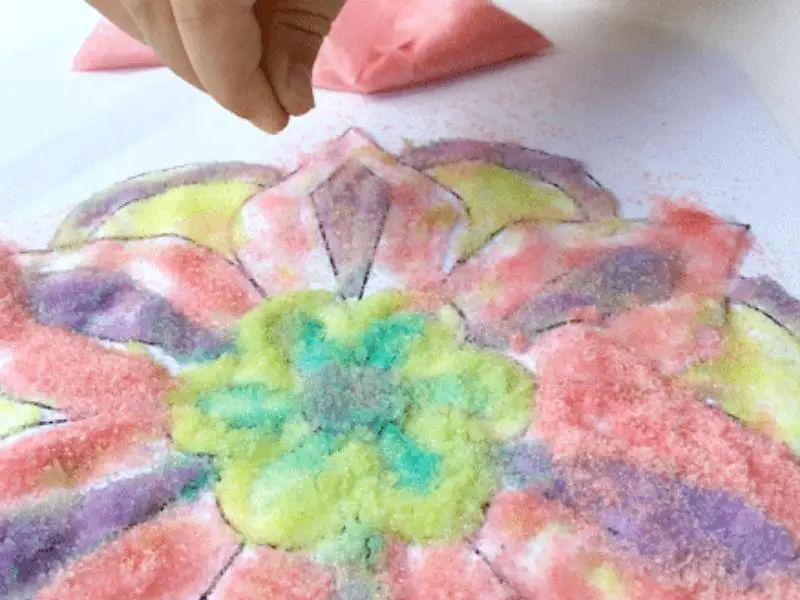 Indians often decorate their house entrances with Rangoli crafts made from sugar or rice flour. You can follow in their steps and make this beautiful craft. It's easy enough for your kids to join, and you can add floral patterns, dots, or decorative gems to finish the masterpiece.
Check the instructions for the Rangoli craft on The Educators Spin on It.
23. Diwali Popsicle Stick Lanterns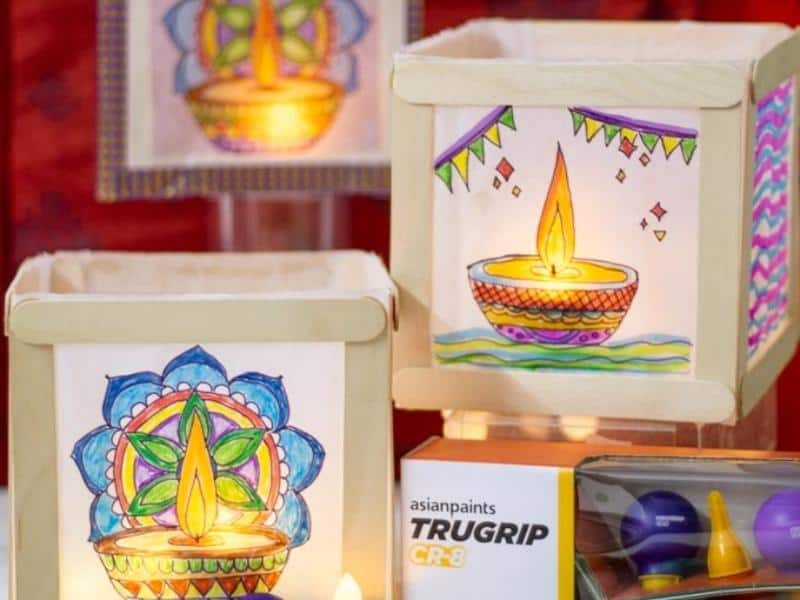 If you collect popsicle sticks as many people do, it's time to get them out and put them to good use. In this project, you'll make festival lanterns using popsicle sticks and tracing paper. After you finish, you can put them around your house to celebrate the Indian festive season.
Learn how to make Diwali popsicle stick lanterns on Artsy Craftsy Mom.
24. Hanging Mason Jars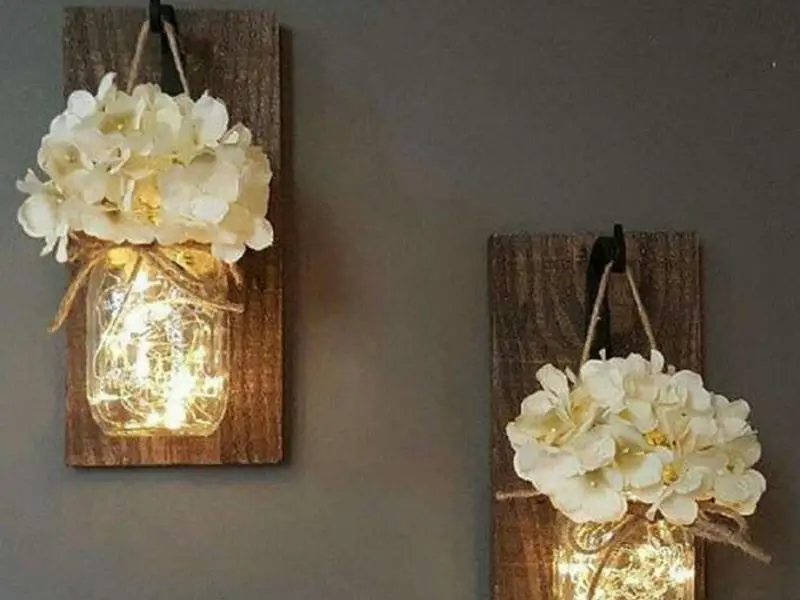 Diwali decoration ideas aren't limited to house interiors; you can also spice up your garden or backyard with a few glimmering crafts. This project includes hanging mason jars and putting fake candles inside them to light up the garden. As a creative twist, you can surround them with fairy lights.
Get the tutorial for hanging mason jars on A Piece of Rainbow.
25. Decorative Candle Holders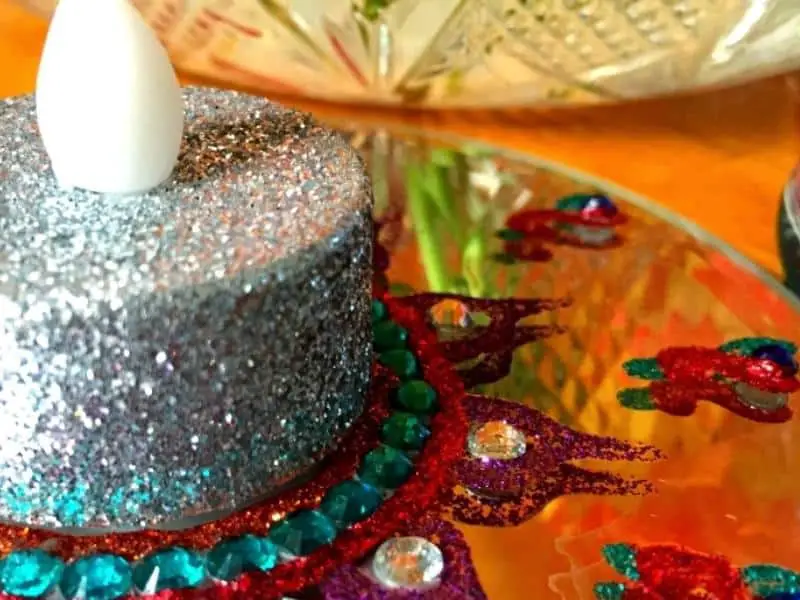 Add shimmering vibes to your house with these decorative candle holders. You can make them using glue glitter bottles in different colors. In the end, they'll look spectacular on your dinner table.
Check the instructions for decorative candle holders on Anujajain.
26. DIY Washi Tape Candle Holders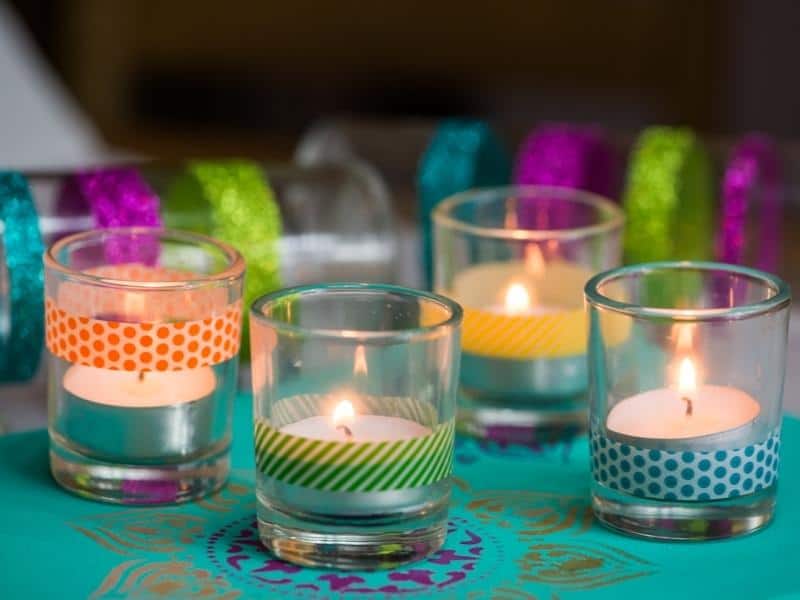 If you don't have enough time for complicated crafts but still want to decorate your place, here's an easy project. You'll only need glass candle holders and washi tape to make these art pieces. And as a bonus point, they won't take you more than an hour to finish.
Learn how to make DIY Washi tape candle holders on Pink Chai Living.
27. Painted Paper Festival Lanterns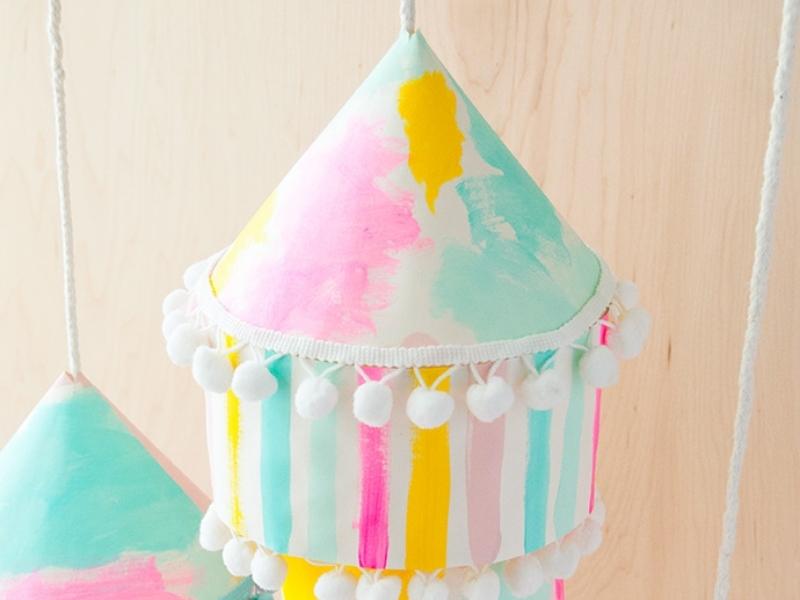 Do you want to celebrate the festival of lights by crafting homemade decorations with your friends and family? Here's an easy idea that doesn't require many materials and will take no time. You'll create painted paper lanterns and hang them around your place. This way, you'll add festive vibes with minimum effort.
Read more about painted paper festival lanterns on Handmade Charlotte.
28. Paper Lotus Tea Light Holder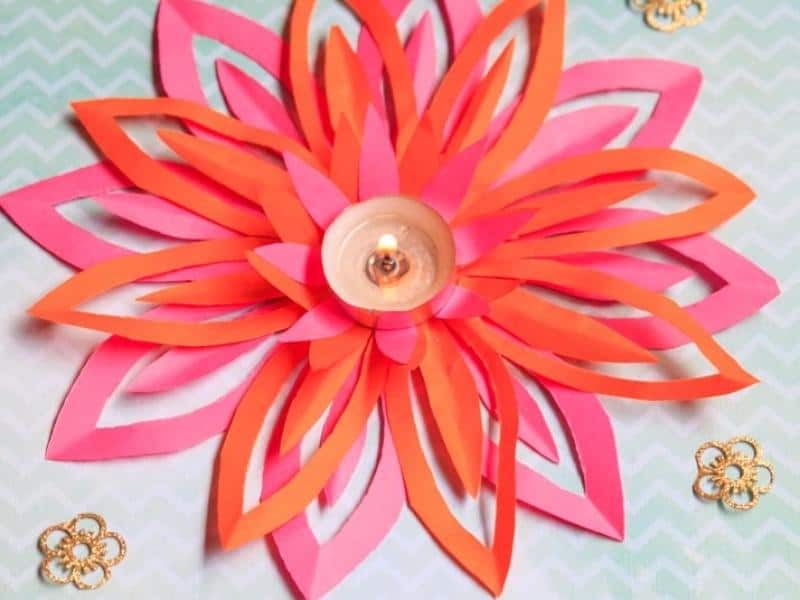 If you're skilled in cutting paper, you can put your skills to good use and make some Diwali-themed tea light holders. They'll look gorgeous on your table, and you can put a real candle in the middle of each one for extra glam.
Check the instructions for the Lotus tea light holder on Artsy Craftsy Mom.
29. Flower Wall Hanging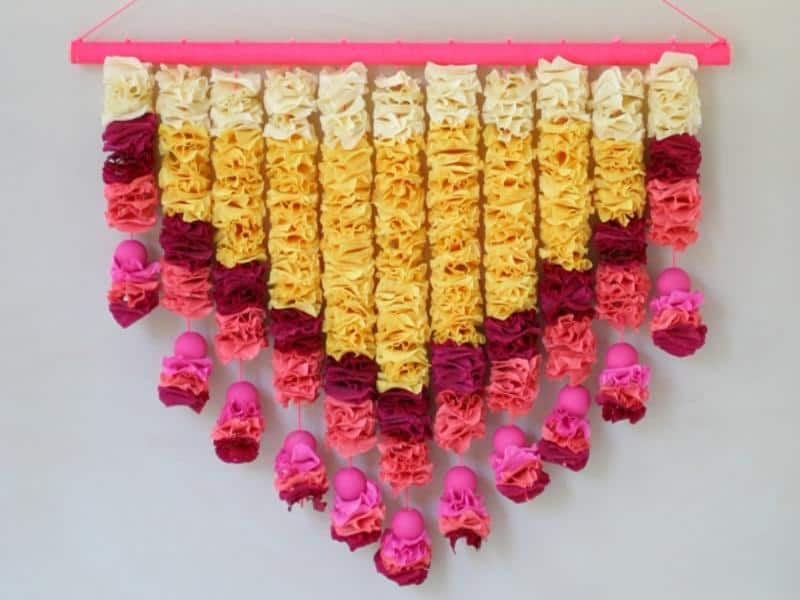 Do you want to spice up your wall with some Diwali decoration ideas? If so, it's time to work on this lovely craft. You'll make a wall hanging out of colorful fake flowers. Although it might take some time to finish, we hope you'll have a blast crafting it!
Learn how to make a flower wall hanging on Oh Happy Days.
30. Diwali Diya Crafts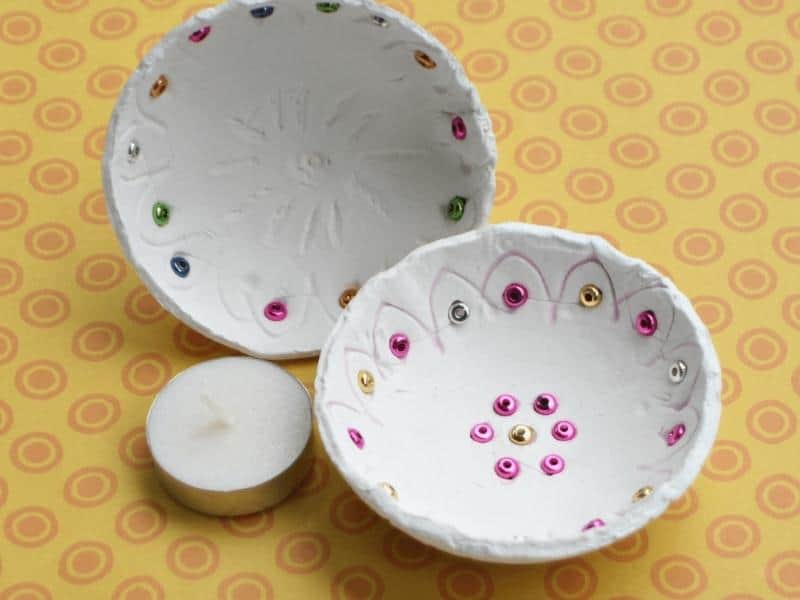 The final idea on our list consists of crafting diya shapes out of air-dry clay or playdough and decorating them with sequins and gems. It's a straightforward idea that you can try out with your kids. You can also put real candles inside the diyas without worrying about fire hazards.
Find out more about Diwali diya crafts on Little Passports.
Now that you have many DIY Diwali decor ideas to try out, we hope you'll have an unforgettable Indian celebration!
Comments
0 comments