If you're an avid fan of Halloween, then you know about el Día de los Muertos or the Day of the Dead. This is a celebration held in Mexico between October 31st and November 2nd. Much like Halloween, this holiday honors those who died.The Day of the Dead offers many interesting and beautiful craft ideas for this time-honored seasonal celebration. There are many activities you can find online to print that include decorating your home or adorning your face.
What the Day of the Dead Means
During el Día de los Muertos, families visit gravesites or set up altars to honor relatives and loved ones. They offer marigolds (called cempasuchil) and other brightly colored flowers along with sugar skulls (called Cavalera) along with trinkets and foods important to the person who passed away.The first night remembers family, the second night honors all the children who turned into angels, and the last night gives accolades to all dead spirits. The holiday carries the same reverence as Christmas, to honor life with peace and goodwill to all.
Coloring Pages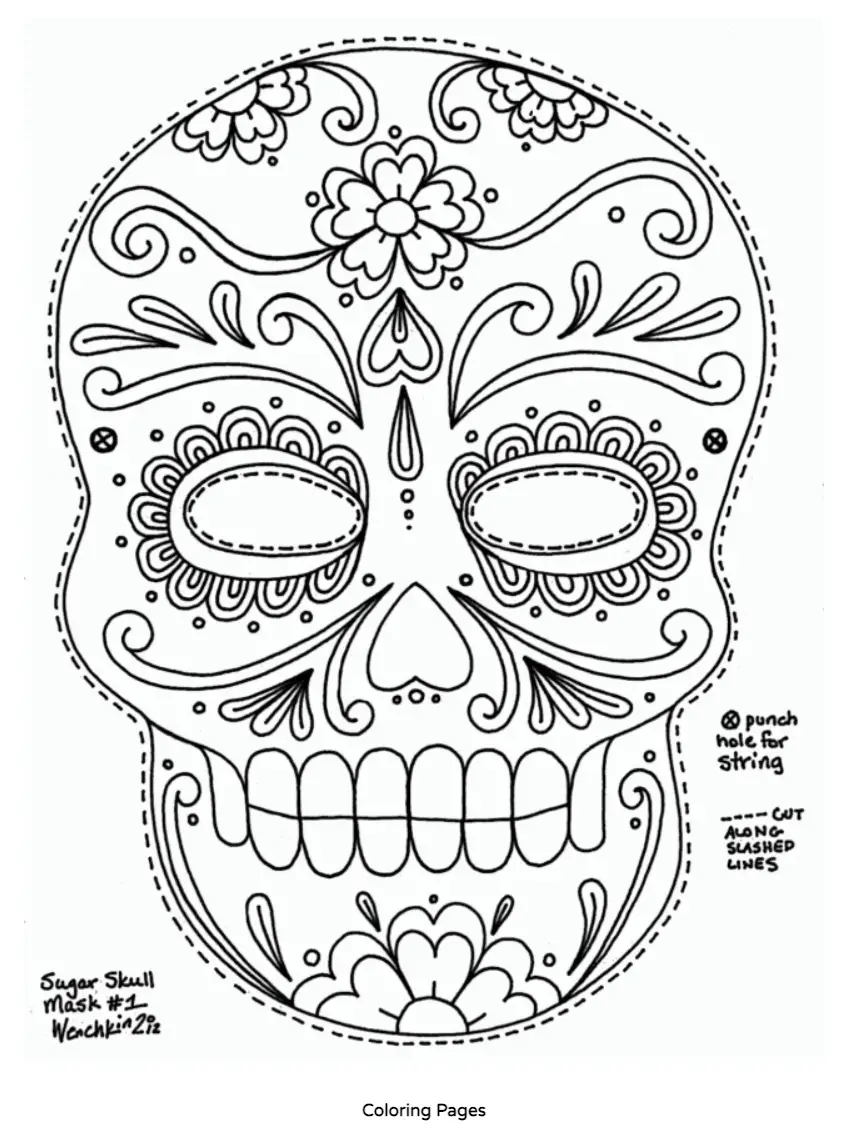 By Color Home, "Day Of The Dead Skull Coloring Pages Printable" (https://coloringhome.com/day-of-the-dead-skull-coloring-pages-printable)You can't go wrong with el Día de los Muertos coloring pages. There is a myriad of printable pages online for children and adults. You can find skulls, skeletons, zombies, graveyard scenes, and other such images. There are even things like garlands, flags, and banners you can string together after coloring.Any kind of coloring medium is acceptable so long as the colors are bright and pop off the page. Colored pencils, crayons, markers, chalks, oil pastels, paints, watercolor, or colored gel pens provide an endless array of textures and effects. Use thicker paper or cardstock when applying more wet mediums like paint, marker, or watercolor.
Suggestions
You definitely want to include the use of colors like red, orange, and yellow with hints of green, blue and purple. White and black are also integral colors. When you're finished with your masterpieces, hang them on the refrigerator, walls, and windows. Consider creating a scrapbook of all your Day of the Dead creations, crafts, and activities.
Festival Masks & Wreaths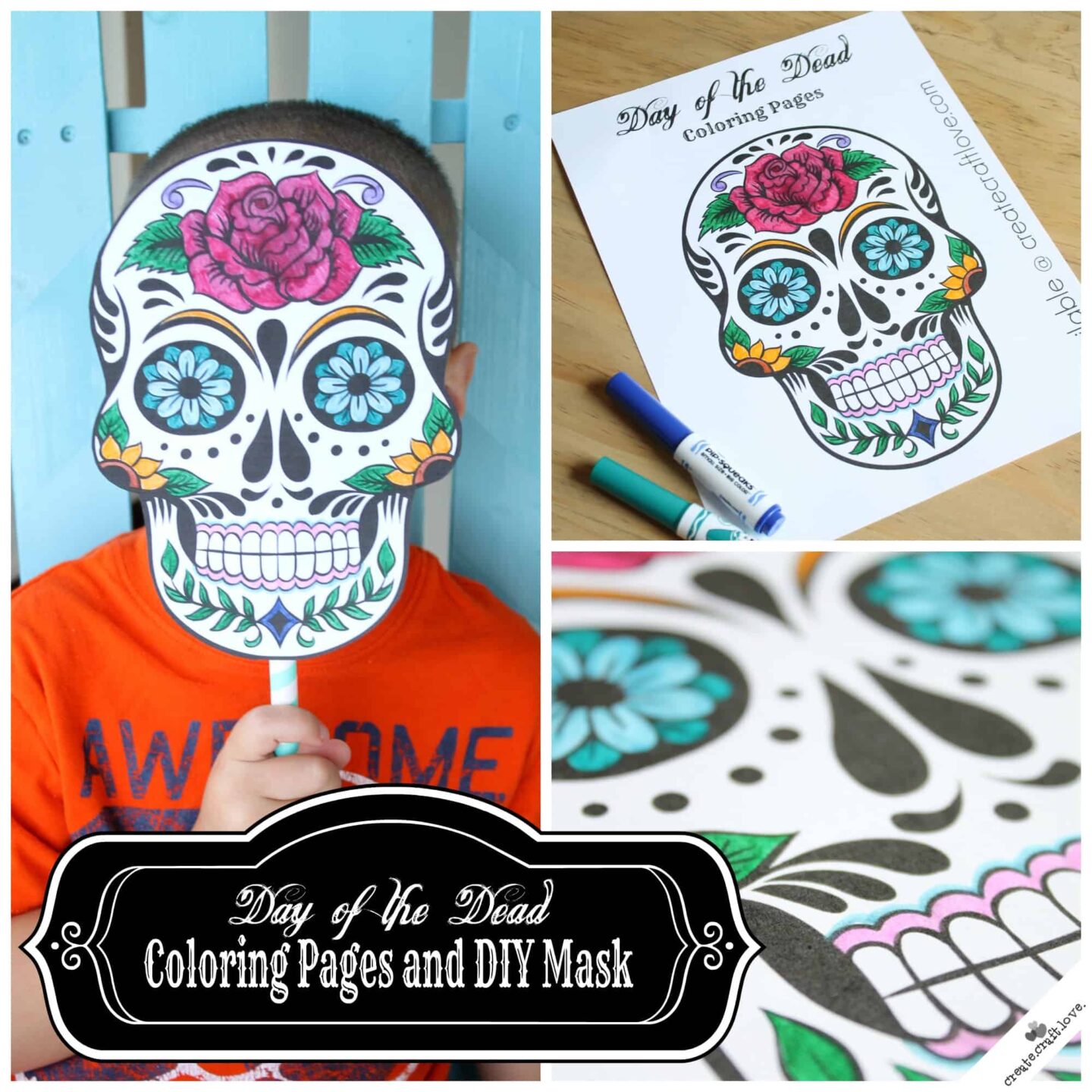 There are a variety of printable masks that the whole family can wear. Print out the ones you want, color them and use a string or some bobby pins to affix it over the head and face. You can find kitty cats, skulls, wolves, the grim reaper, or an eclectic flower arrangement that gives a skull-like appearance.There are also wreaths of flowers, skulls, bones, and other Day of the Dead paraphernalia. These can make a great accompaniment for children who don't like their faces covered. The masks or wreaths can become a fantastic addition to a cape or an old dress for a costume. If the mask survives, you can hang it on the wall or refrigerator to serve as a reminder all year. You could even make a Day of the Dead scrapbook to preserve everything you craft and create.
Dancing Skeleton Ornaments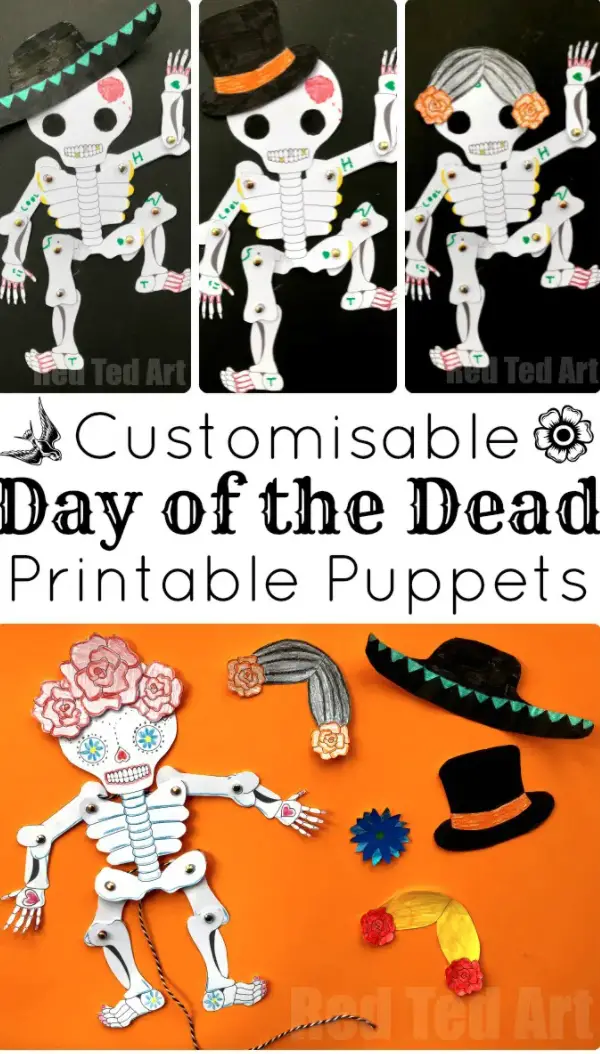 By Maggie Woodley @ Red Ted Art, "Day of the Dead Paper Puppet Template" (https://www.redtedart.com/day-of-the-dead-paper-puppet-template/)A major part of el Día de los Muertos is about focusing on the precious gift of life. So, it's not uncommon to see scenes and artwork that feature skeletons dancing in a joyous and ecstatic way. You can find a host of skeletons online to print out for this purpose. There are many ways you can approach and present these figures that reflect a respectful notion and healthy attitude toward death. Find all the printable skeletons you like, ensuring that you can assemble the bones and joints.
Some Ideas
Then, if you wish, color them with any of the mediums suggested in the Coloring Pages above. Then cut them out. You can attach the bones together with tape and position your skeletons in poses that indicate dance. But, consider getting some metal brands and a paper punch to make the arms and legs movable. This way you can change the poses of the skeletons. You can put this in a 3D display with something like a diorama out of an old shoebox or create a pop-up book. Of course, these will be dazzling on a wall, window, or fridge too. Read our related article: Gold on Black Skull Drawing for Halloween
Puzzles & Mazes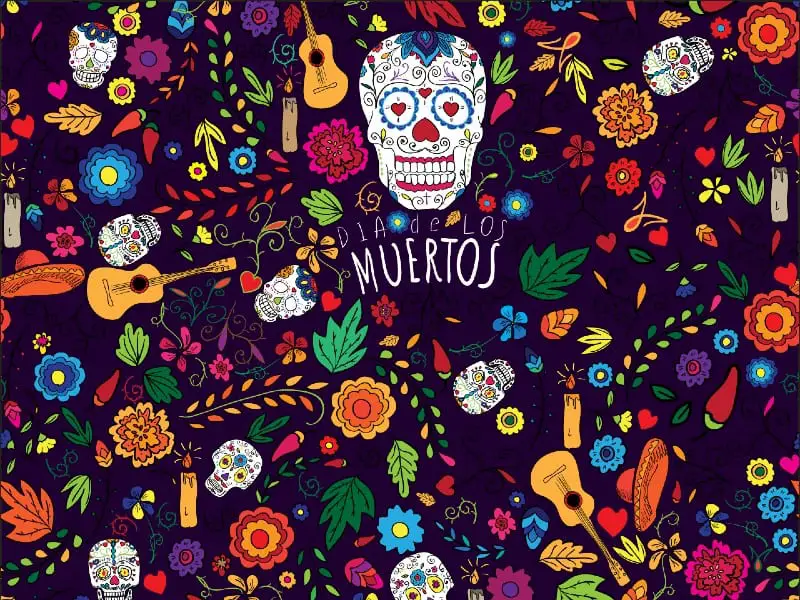 There is an unexpected plethora of printable puzzles, labyrinths, and mazes that can provide hours of fun and entertainment. These come in cavaleras, bouquets of cempasuchil, skeletons, the grim reaper and so much more.
Creating the Puzzle
Print out the puzzles that seem most appealing. You'll notice how there are lines over the image. These are guides for cutting out the puzzle. Color the image and allow whatever medium you use to set so the color doesn't come off. Of course, you could take one of your coloring pages and draw puzzle lines over it before cutting. Then paste the image onto cardboard or other stiff paper. Make sure you use good glue but something that will maintain flexibility. So, don't use something like a strong epoxy or super glue that will become extremely hard upon drying.Wait for the glue to totally dry and ensure the image is well set. With an artist's blade or precision scissors, cut the lines as indicated on the printout. Jumble the pieces and put the puzzle together.
Labyrinths & Mazes
In regards to mazes and labyrinths, find ones appropriate to the ages of the children involved. Try to find some that also have figures to color. There are some pages that offer a variety of additional activities like word searches, crossword puzzles, and anagrams. The children can use a pencil, pen, or crayon to trace their way from the start of the labyrinth to its completion on the page. Another related article: Halloween Printmaking Craft For Kids
Activity Printouts for el Día de los Muertos
The Day of the Dead is not a solemn holiday, but rather one that's filled with food, dancing, music, and colorful decorations. Day of the Dead printables teaches children about the value of life and how to remember those we've lost in a positive light.
Comments
0 comments