I love the idea of packing up a sweet little watercolor kit, a thermos of tea, some snacks, and heading out for a day of plein air painting alone in the beautiful countryside.
I'd drive somewhere rural and full of prairie, strap my folding chair to my back, and hike out to a remote location where birds, butterflies, and the occasional bunny would frolic about, as I listened to soothing music in my earbuds.
The best part is, I don't paint landscapes or nature, so I'd be hiding in a field somewhere painting little triangles, and still happy as a clam.
***
Anyway, let's talk travel watercolor kits. I'm sure you've seen them on Pinterest and Instagram, right? Some are pre-made, and some are fabulous little treasure boxes artists have cobbled together to carry their most essential paints and accessories.
For this post, I'm focusing on the pre-made kits that you can buy. They include small pans of watercolors, one small brush, and an area or more to use as a palette.
They are small enough to stash in a bag (or even a pocket), and fold closed to contain all the items. They're perfect if you travel or have a long commute and want to do something besides:
Stare at your phone
Stare at other people
Read a book
Draw
Watercolor Travel Kits to Buy
Want to bypass the DIY thing and just buy a lovely little watercolor travel kit to take with you? Apparently some of these small kits are okay to take on airplanes. Be prepared for people to gawk at your art-makin'.
Sakura Koi Watercolor Travel Kit
We'll start with what is undoubtedly the most popular travel kit, the Sakura Koi. No doubt if you're into travel watercolor kits, you've heard of or seen this one all over social media.
Sakura is an overall fantastic brand, and this little kit is perfect for painting on the go for most people.
Features
half-pan watercolor paints
Refillable water brush
2 sponges (set into the case)
Removable mixing tray
Very lightweight
The lid doubles as an easel
You can stash a few sheets of paper in the box
What I love about it:
I love how the tray has little feet that fit perfectly over the paints when you close the kit, but then you can remove it and place it in the lid or on the edge of the box by snapping two legs into two of the holes. If you place it in the lid, the feet elevate it for easier access. This is one of those small design features that you end up appreciating so much!
It comes in different sizes and numbers of paint colors. I have the 18 color set, which is fine for if you really want to save space, but not enough colors for my liking. I'd go with the 24 or 30 color sets if you want more color choices.
Who is it For:
This set is perfect for teens up through adults who aren't necessarily looking for professional-quality paints, but still want a well-designed travel set with lots of colors to choose from.
Tips:
You'll want more water brushes, either to have different brush shapes, just as backups, or to help keep your colors separate. You can sort of clean the brush tips on the sponges, but if you're fussy about keeping your colors pure, be safe and buy more brushes.
You can see paint swatches for all of the colors here.
Here is a pic of the sizes for the different sets:

Sakura Koi Field 30 Assorted Watercolors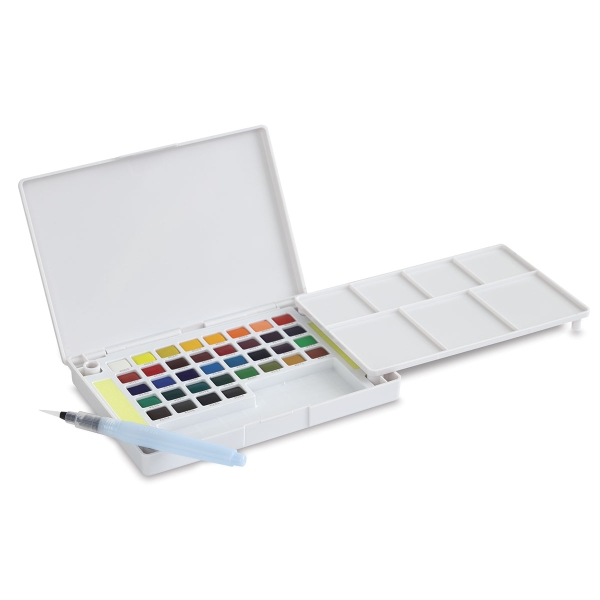 Sakura Koi Watercolors Pocket Field Sketch Box SetsBuy From Blick
---
Winsor & Newton
You can always count on Winsor & Newton for quality art supplies, and their watercolor kits are no exception. I'm including 2 here, because you absolutely need to feast your eyes on the gorgeous professional travel kit.
Winsor & Newton Cotman Pocket Box
This is similar in quality to the Sakura Koi. You get good quality paint, just this side of the lush professional paints. This little box is a no-frills travel set that comes with 12 half-pan paints and a teeny tiny brush.
Features
Just 5″ long when closed makes it nice and small!
12 half-pans of basic mixing colors
Lid is segmented for 3 mixing areas
What I love about it:
The larger watercolor pans mean you can use larger paint brushes (and they last longer, of course).
You get the bare necessities: paints and a mixing surface and a brush.
The price is great, so this is an amazing introduction set for beginners.
Who is it For:
This kit is for someone who wants to take up the least amount of space in their bag or suitcase, while still getting quality paints. You won't get a ton of colors, so make sure you're comfortable mixing paints, or practicing as you go. This is an excellent starter set for anyone who prefers a very pared-down paint set.
Tips:
Buy your own brushes, either regular or the pen style brushes
Use double-sided tape or sticky tack to keep the pans in place – this is a common complaint with this kit, but easily fixable
Switch out the colors you find you don't use for colors you prefer – some reviewers mentioned adding a green and purple. It's hard to find refill pans for these so your options are:
Paint up a color chart to bring with you before you travel- look at this amazing example from one reviewer: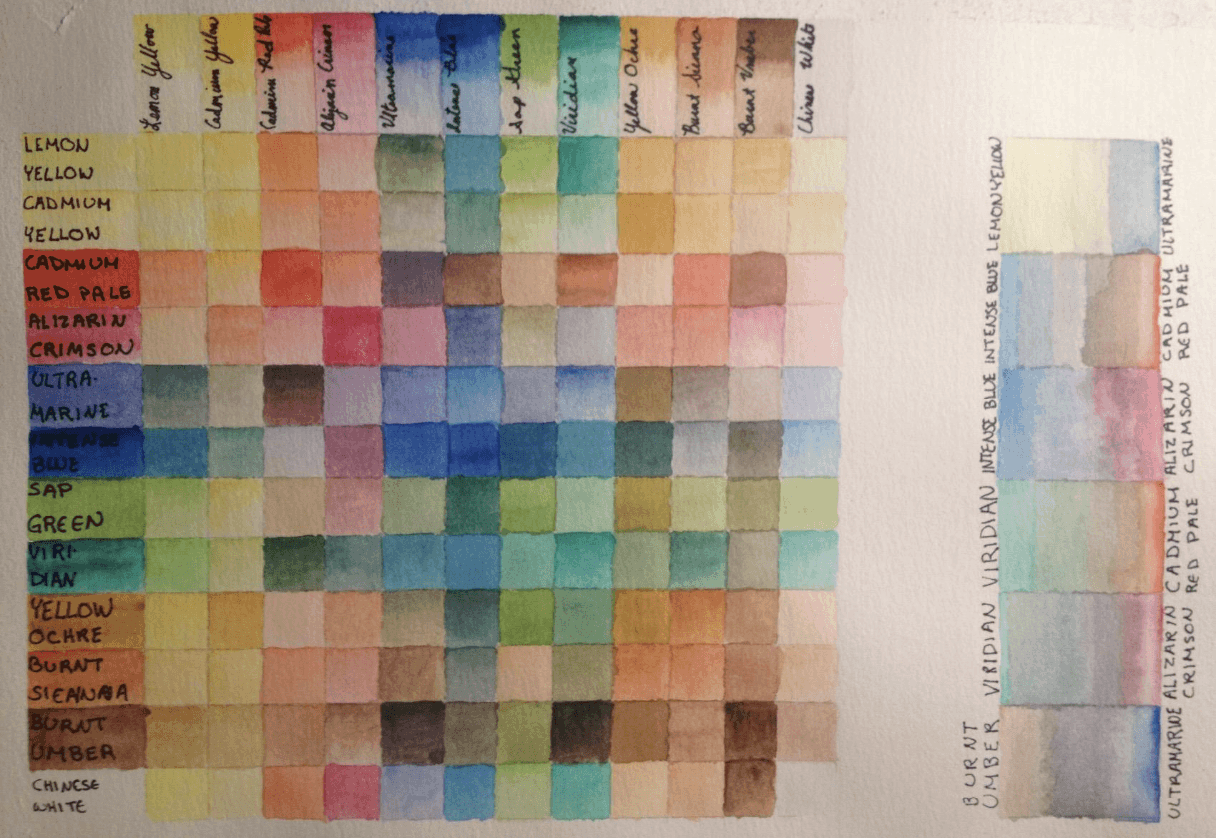 Winsor & Newton Professional Water Colour Field Box, 12 Half Pans
Yes. When you are ready to graduate to professional watercolor paints, this is your travel kit. 12 half pans give you more paint, and are nestled in a 5.2″ long case that opens up into a mini portable artist's studio.
Features:
Compact size still holds a lot of paint
Larger sponge than most travel kits
Folding travel brush
2 palette surfaces fold out and stay connected to the case
Large water cup attached to the end
Here's a list of the colors that come in this set:
French ultramarine, Winsor blue (green shade), permanent sap green, Winsor green (blue shade), Winsor lemon, Winsor yellow, scarlet lake, Winsor red, permanent alizarin crimson, permanent rose, yellow core, burnt sienna, raw umber and titanium white.
What I love about it:
Rich, vivd colors don't fade and don't have that granulated texture that watercolor paints can sometimes develop.
Good sized sponge for cleaning brushes and using to add texture to your painting
Included water flask built into the lid
Generous half pan colors that, since they are professional quality, you can mix up lots more colors
Plenty of palette surfaces
Who is it For:
A splurge for people who want to use professional-quality paints on their fabulous trip through Italy, working artists, or anyone who is obsessed with using the highest-quality art supplies. So worth it.
Tips:
Yep, more brushes! Bring along a few different sizes, as the brush included is small.
Buy your refill (or other color) half pan paints at Blick; the refills are usually cheaper there than Amazon.
Use distilled water in the included water bottle if you tend to leave the water in there for more than a few days, so it doesn't get gross.
Professional paint needs professional paper. Use 100% cotton!
Winsor & Newton Cotman Water Colour Paint Sketchers' Pocket Box, Half Pans, 14-Pieces

Winsor & Newton Professional Water Colour Field Box, 12 Half Pans

---
Travel Watercolor Kit For Kids
If you give a kid a semi-decent quality art kit, they will 10 times out of 10 feel like a professional artist, love you forever, and probably go to town using it immediately. Little travel watercolor kits are PERFECT for kids to bring on vacations, to doctor's appointments, to dinner, and basically anywhere you would normally let them play on a screen.
In all honesty, I have not tried this kit, but most of the reviews look legit (you can always tell fake reviews), and I LOVE how compact and cool this little set is.
Features:
42 colors of paint
Small divided side palette for mixing colors
Colors are labelled on the edges for quick locating
Non-toxic paints
What I love about it:
It fans out to reveal 42 colors, and comes with a small sponge and watercolor pen brush. You can just toss this thing in your bag or their backpack with a small sketchbook, and you don't have to chase markers or crayons all over the place.
It comes in a really cute box, so remember this next time you need a kid gift. You can give them the paint set and a sketchbook for under $25! (see images below)
Watercolor pen brushes are amazing inventions for kids, because, hey, no tipped over jars of water!
Who is it For:
I would stick to kids and beginners for this kit. I may be an art supply snob, but as cute as this is, there are a bunch of other brands selling the exact same design. There's a reason reputable art supply companies have been around for a long time and earn our trust.
Travel Sketchbooks/Loose Paper
Don't forget the paper! Think about whether you want a travel sketchbook or loose paper – or even a pack of watercolor postcard paper – these are all fairly small, but are good quality to take the abuse of water and pigment.
Global Art Materials Travelogue Watercolor Book, Square, 8-1/4-Inch by 8-1/4-Inch

Strathmore Softcover Watercolor Art Journal

Field Artist Masters Series 5 in. x 5 in. Square Watercolor Journal, Hardbound with 48 pags. 300 GSM Cold Press Paper

Strathmore Ready Cut

Paul Rubens Watercolor Paper Block, Premium Leather Cover Artist Quality Hot Pressed Paper

Winsor & Newton Professional Watercolor Paper Journal, Cold Pressed 140lb 5×7 White

---
I couldn't resist this gift idea for the travel watercolor enthusiast: It's a drool-worthy box
containing a Winsor & Newton 100% cotton watercolor sketchbook, 12 half pan paint colors in a tin box, and a size 3 of their series 7 (kolinsky sable) paint brush, plus a blank color chart! Swoon.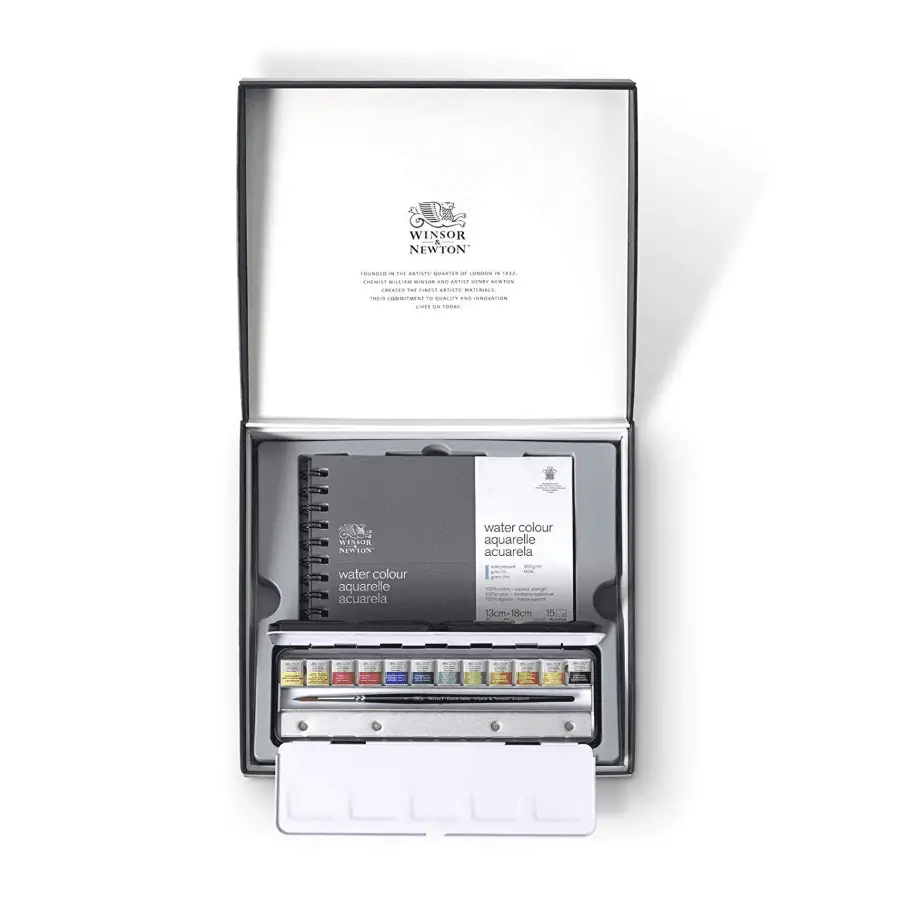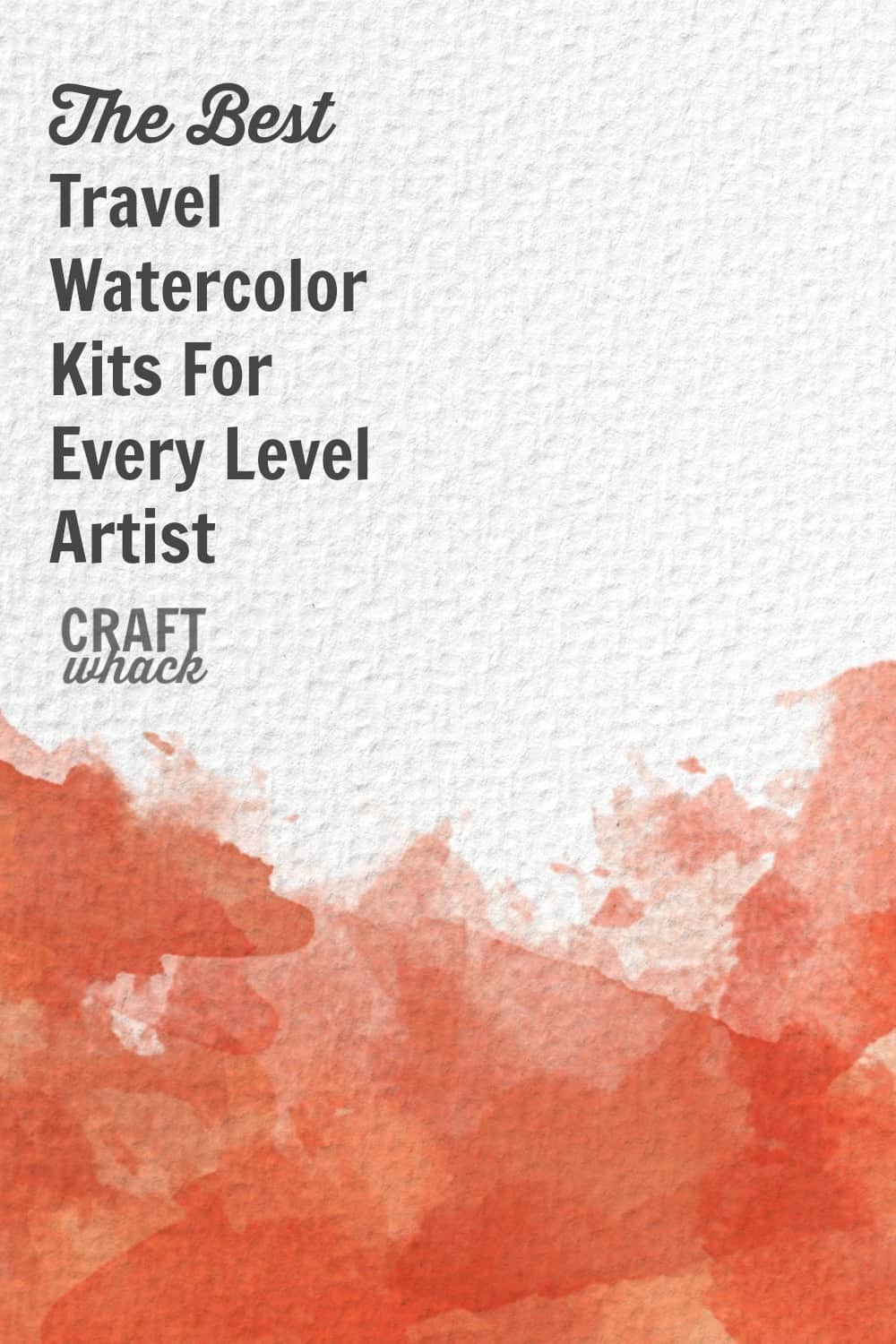 Comments
0 comments