Puffy paint is regular-looking paint that puffs up and expands as it dries. It's become increasingly popular in arts and crafts, especially with children; the 3D look and feel adds character to the art piece and opens up a world of possibilities.
You can create artwork on paper, glass, shoes, fabric, wood, and other surfaces with puffy paint. Depending on its formula, the paint sticks to the surface and can be used for artsy as well as functional purposes.
We've brought together 23 puffy paint craft ideas to get your creative juices flowing. So let's jump straight in.
Melted Snowman
This project is genius because you can never go wrong. With only a couple of items, you can create your very own snow puff paint. Add some googly eyes, twigs, and scraps to achieve a realistic look.
Check out this puffy paint melted snowman idea from messylittlemonster.com.
Pumpkin-Scented Puffy Paint
For fall, you can use this puffy paint recipe to stimulate kids' senses while making their 3D pumpkin paintings.
Add pumpkin purée and some pumpkin spice to your shaving cream and glue mixture to make pumpkin-scented puffy paint.
Get more information about pumpkin puffy paint from thechaosandtheclutter.com.
Peeps Edible Puffy Paint
You can use this homemade puffy paint recipe if you have little kids and are worried about the paint getting in their mouths.
Make some edible puffy paint by microwaving Peeps marshmallow candy and stirring it up.
This recipe's perfect for Easter paintings but can be used all year round.
Get the scoop on how to make Peeps edible puffy paint from messylittlemonster.com.
Puffy Paint Solar System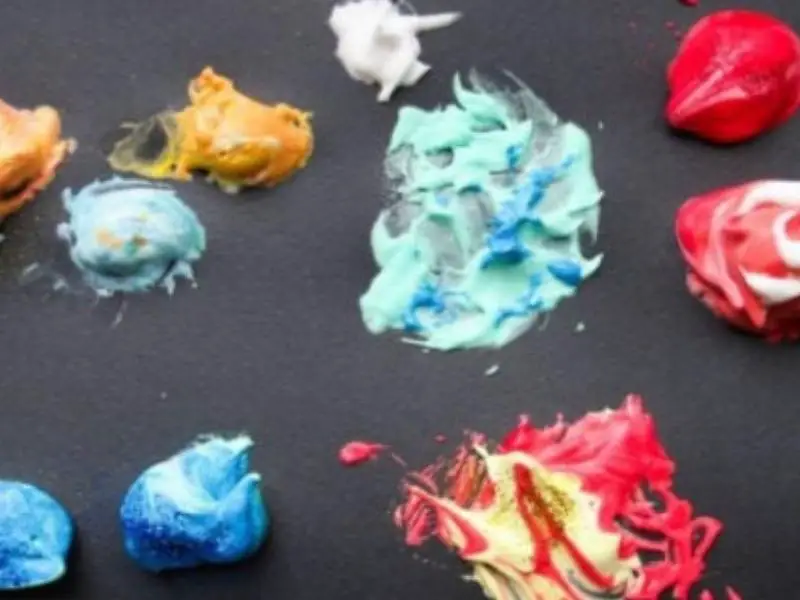 With some inspiration, you can paint your puffy paint solar system on black cardboard, let it dry, and watch your kids enjoy its beauty and texture.
Get some inspiration from this solar system spacecraft from thimbleandtwig.com.
Glow-in-the-Dark Moon Phases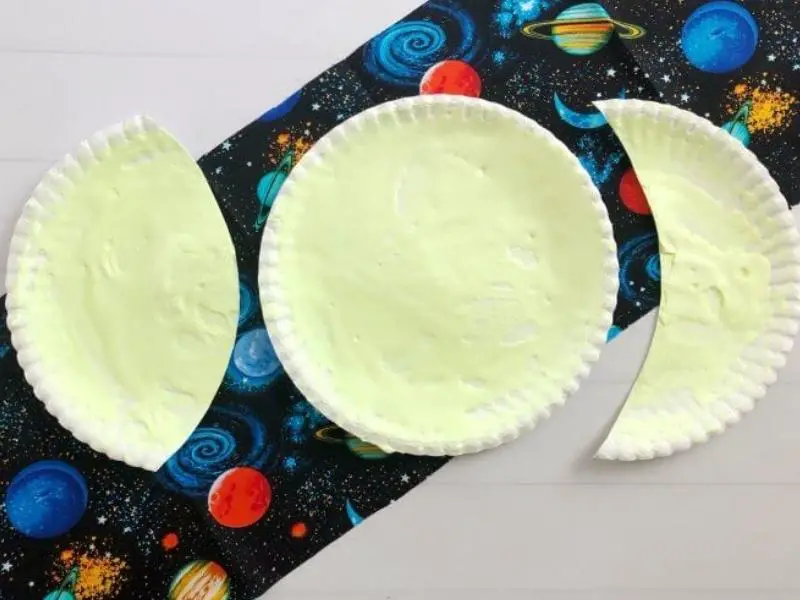 Anything glow in the dark is an instant win. Easily mimic the phases of the moon with a bunch of carton plates and glow-in-the-dark puff paint.
This idea's a great way to introduce children to the moon and its phases.
Find out how to do this fantastic glow-in-the-dark puffy paint moon from littlebinsforlittlehands.com.
Glow-in-the-Dark Puffy Paint Recipe
This one's a bit of a hassle, but it's totally worth it. First, you'll need to make the glowy paint itself. Once that's ready, put the paint in squeeze bottles, find a dark, empty spot, turn all the lights off, pop the black light on, and start painting.
Get the tutorial for glowing puffy paint from funlittles.com.
Valentine's Day Heart Garland
WIth some puffy paint, these lovely 3D hearts can be either used as Valentine's day cards or stacked up in a string to make beautiful garlands.
Try your hand at this heart garland from redtedart.com.
Puffy Paint Ocean
On a sheet of paper, paint on an ocean with blue and green puff paint and watch the painted water shimmer!
Get started with your kid on this puffy paint ocean from artsymomma.com.
DIY Puffy Paint
Another easy recipe here. This one uses ingredients that you probably already have in your pantry.
By mixing up the ingredients for the paints, you'll be ready to start creating your puffy paint art.
Be sure to check out this easy DIY puffy paint recipe from cookeatgo.com.
Ice Cream Puffy Paint
Who doesn't love ice cream?
In this project, you'll be able to make your own puffy paint ice cream cones in all shapes and sizes. Your kids will just love the idea!
Get started on this puffy paint ice cream from artsymomma.com.
Watermelon Craft
This refreshing summer fruit is always a great idea.
Watermelons are very simple and vibrant to paint, and that's why they make a great project for kids. Once your red and green colors are ready, start painting your watermelon.
Get the instructions for this puffy paint watermelon craft from craftymorning.com.
Puffy Paint Polar Bear
This one's intended for a younger audience. One a pre-printed polar bear outline, have your child experiment with foaming paint, and watch them have fun!
Check out this puffy paint polar bear from artsymomma.com.
Puffy Paint Pac-Man
This one's fairly simple to make and will leave you with the cutest Pac-Man characters ever. All you need to do is cut plates into the shapes of Pac-Man and the ghosts, paint the plates, and add googly eyes to top it all off.
Get the step-by-step instructions for this paper plate Pac-Man from artsymomma.com.
3D Hatching Chicks
The best art tells a story. Mix white glue, yellow food coloring, and shaving cream to whip up the yellow foam, and use patterned paper for the shells.
Add the googly eyes, and you're all set; your cute little hatching chicks are ready to go.
Get started on this puffy paint hatching chicks from craftymorning.com.
Window Clings
Take a break from DIYing your colors and get your hands on some fabric puffy colors for this one. These window clings are so much fun to make and will look very cute on your windows.
To make these, trace your designs on wax paper and peel them off; the side facing you will readily stick to the glass. For this to work, make sure the colors are neither thin nor disconnected.
Make these lovely puffy paint window clings from thinkcrafts.com.
Foamy Leprechaun Craft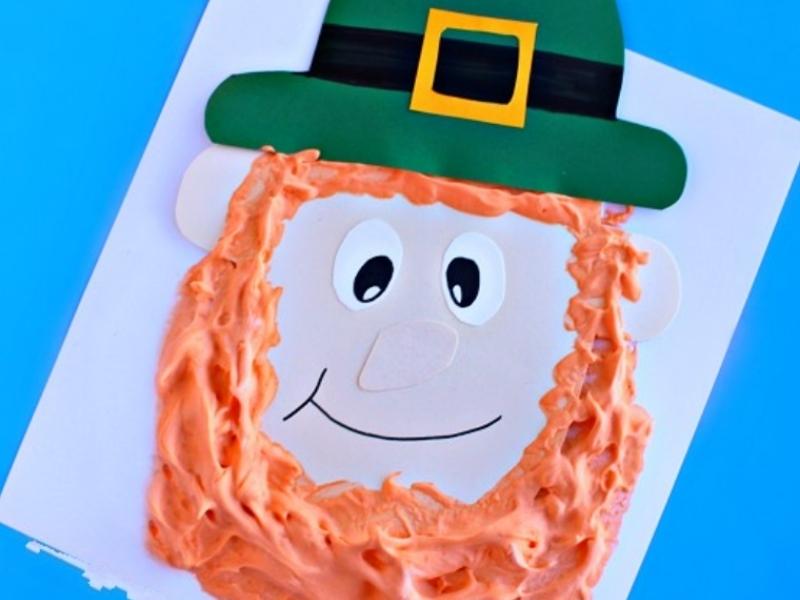 For this project, you're going to puff up a leprechaun's famous orange beard. Mix the vibrant orange food coloring, glue, and shaving cream, paintbrush your color over the leprechaun's chin, and let it dry.
Kids love experimenting with texture.
Check out this puffy paint leprechaun from craftymorning.com.
Sock Donut Puffy Paint Craft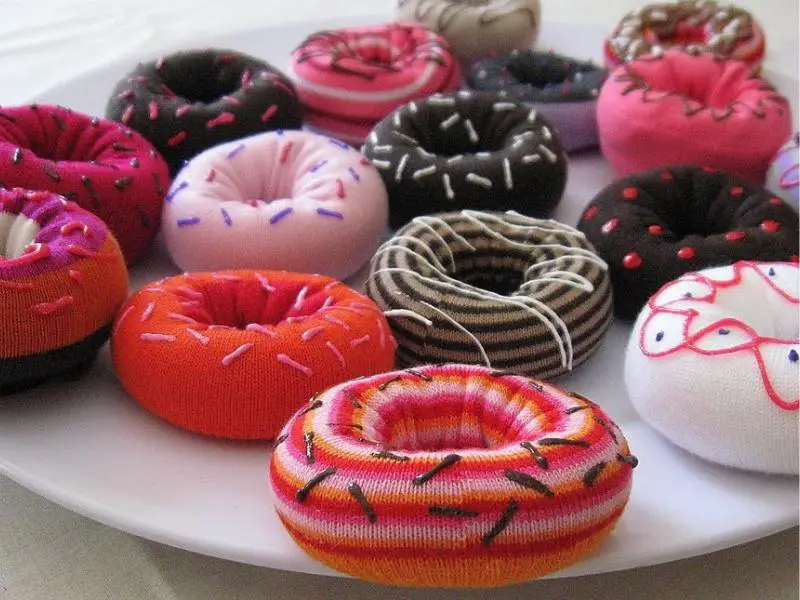 Who knew you could make fun of donuts using socks and puffy paints? Roll two clean socks out to form the donut, sew the donut to secure it, and use 3D colors for the sprinkles and glaze.
These donuts can be used as pretend play food for the kids or as pin cushions for the adults.
Get the instructions for this sock donut from thetinyfunnel.com.
Puffy Paint Pencils
This awesome puffy paint craft is both cute and practical; the colors add a pop of character to the pencils while simultaneously providing a secure grip.
To make your pencil masterpieces, stick the pencils to a foam board and apply the 3D colors. Once the pencils are dry, they're ready to go.
Start creating these puffy paint pencils from craftychica.com.
Puff Paint Onesies
Fabric puffy paint can handle machine washing, which opens a whole world of possibilities with this crafts staple. While most commonly used with t-shirts, fabric 3D colors can be used on onesies.
Add a unique mom touch to your kids' outfits with this craft project.
Check out these puff paint onesies from alisaburke.blogspot.com.
Puffy Painted Rocks
This is just one of those lovely ideas because your kids can now keep their pretty rocks forever. Once your rocks are cleaned up, make cool patterns with your puffy paints and leave them to dry completely.
The finished product will have a fun, rubbery texture.
Get your kids started on these easy puffy painted rocks from babbledabbledo.com.
Frankenstein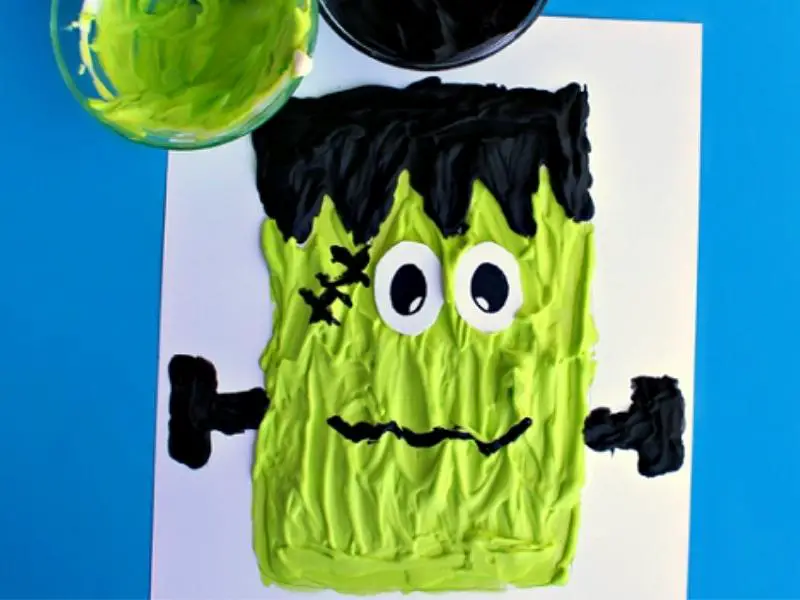 You'll need to make green and black foamy puffs for this one. Draw in the Frankenstein outline using a pencil and paint Frankenstein on with your paintbrushes. The interesting texture of the painting is always intriguing for the little ones.
Get the instructions for this puffy paint Frankenstein from craftymorning.com.
Puffy Paint Sun Catcher
You can upcycle your plastic lids to make the most amazing sun catchers. Squeeze fabric paint out of the bottle and onto the lids to make some awesome patterns. Once the colors have dried, poke holes for the strings, and your window masterpieces are ready for display.
See this plastic lid sun catcher from thechocolatemuffintree.blogspot.com.
Cotton Candy Craft
Not only is this painting gorgeous, but it's also super fun to make. So prepare your blue and red foams, and let's get into it.
Outline a cloud of cotton candy to make some borders and swirl in the colors. The red and blue come together so beautifully, and the swirls form a unique pattern.
Be sure to check out this puffy paint cotton candy craft from craftymorning.com.
To sum up, puffy paint is super fun to work with and can be used to make all sorts of art crafts. We've provided you with 23 suggestions to inspire your next project, so get creating.
Comments
0 comments