I just finished checking out Cathy James' (from Nurture Store) brand new playdough book, and it is fantastic! I'm floored by the amount of info. in there. She has it set up so you get a new idea for each week, giving you a years' worth of playdough ideas. The projects are grouped loosely by season, and she includes 8 dough recipes, including a gluten-free version and a bread dough recipe. Playdough after all is the perfect transition to baking with your kids.
You really don't need any other playdough resource- unless you're a playdough fanatic and want to try every single recipe you can squeeze out of the internet…
The Homemade Playdough Recipe Book
For some reason, I've only ever made the cooked version of playdough, so I was pretty stoked to dig in and whip up some of this new-fangled non-cooked business. We made it yellow and added red glitter, because that is exceedingly fancy. It went over well.
Here's what happened:
Giant colorful blocks flew from the sky and made all sorts of fantastic shapes throughout the dough mound.
A magical flower garden sprouted up from the mound and was enjoyed immensely for a few minutes. But what was happening in the background? Oh no. Trouble was brewing.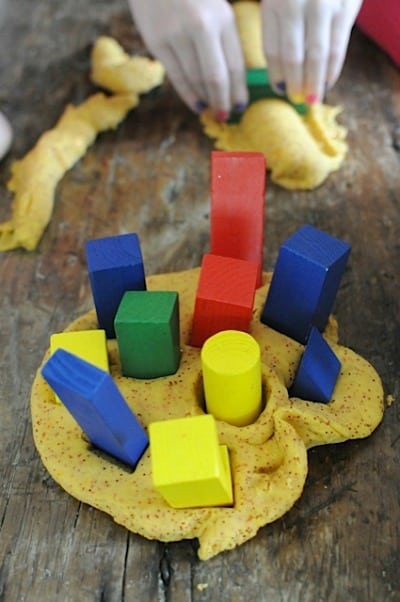 An enormous caterpillar appeared, seemingly from nowhere and obliterated the garden. But it was okay! The giant caterpillar was friendly and just needed some delicious food….
….so it could turn into….
… a robot! Such adventures.
Anyway, this ebook is only $8.99, and I can't recommend it enough. We'll have fun with it for way past the next year.