We were sent some new permanent markers to play with! You know how we love our permanent marker projects, and I think most of you do, too, right?
So, you know The Board Dudes? You probably have their bulletin boards or dry erase boards hanging in your house somewhere. They now make permanent markers, and they barely have a smell (awesome bonus), and they come in great colors.
So. We put them to the test to see if they performed to our extremely high standards, and I must say I'm impressed with them. We made 2 projects for this post, since we can never stop at just one:
1. Shrinky recycled plastic earrings – Fen doesn't have pierced ears, but her older sister does, so we made some of these to send her at the camp where she is a counselor this summer. I saved the lids to a few takeout containers (mmmmmm, burgers.) and we punched holes out of them with our trusty hole punches. Punch some smaller holes in them and marker them up. If you don't have a habit of collecting takeout lids, Amazon sells shrinky plastic sheets.
Bake them in a 350 degree oven for about 2 minutes. Watch as they curl up and shrink and flatten out again. Weird little tip: the circles turn into ovals, and you can't control if it ends up being a horizontal or vertical oval.
Have you ever made earrings? Easy-peasy. Grab some small needle nose pliers, some jump rings and earring hooks. All you do is loop the jump rings around the hook and the plastic, and then close it up with your pliers. Here, watch my video:
2. Faux tie-dyed dotty socks- These knee socks are from the Target women's sock section, because I couldn't find any good tall socks in the girls' section. They did have some ankle socks there, so feel free to substitute. I found some similar socks here.
Roll about 4 paper towels around your hand into a tube and stuff it inside of each sock. Let your kid draw on the socks with the markers. (We just dotted ours all over.)
Keep the paper towels inside so the marker doesn't bleed through, hang them up, and spray or drip rubbing alcohol (from an eyedropper or small drop bottle) onto the markered areas. Start off with a little alcohol, and see how much you need to achieve your desired level of ink-runniness.
When the socks are dry, remove the paper towels and pop them into the dryer on high for 15 minutes to set the colors.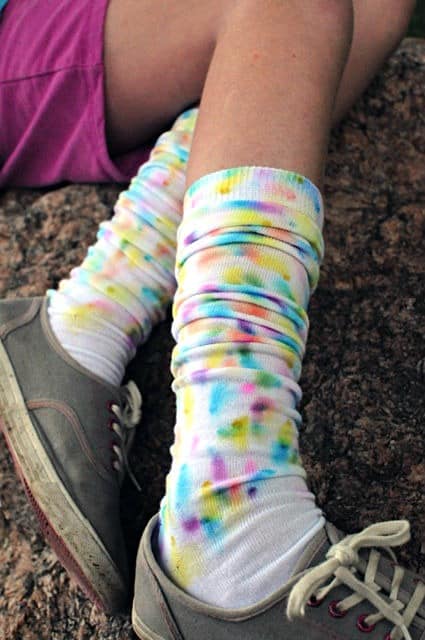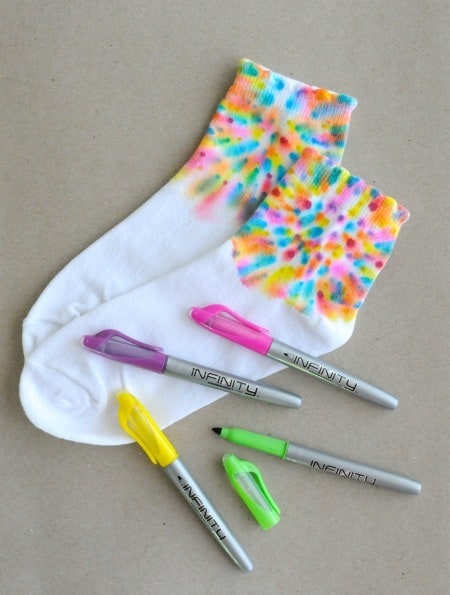 Do not be alarmed when your 3 year old wants to make his own socks and wear them as superhero socks for 3 days straight.