Grandparents' day is a holiday that doesn't get the appreciation it deserves. However, it's not because people don't love their grandparents; it's because it's such a relatively new holiday compared to others like Mothers' Day.
In fact, how Grandparents' Day came to be is quite an adorable story. The idea originated in 1969 by nine-year-old Russel Capper, who felt grandma and grandpa didn't get enough recognition. So he wrote to President Nixon asking for a dedicated day to celebrate grandparents.
And after several other citizens supported the idea, President Carter signed the proclamation for National Grandparents' Day in 1979.
So we think we should all be a little like Russel Capper and show our love to our grandparents this year by giving them unique, handmade gifts on Grandparents' Day. So read on to see our list of cute Grandparents' Day craft ideas.
Glass Magnets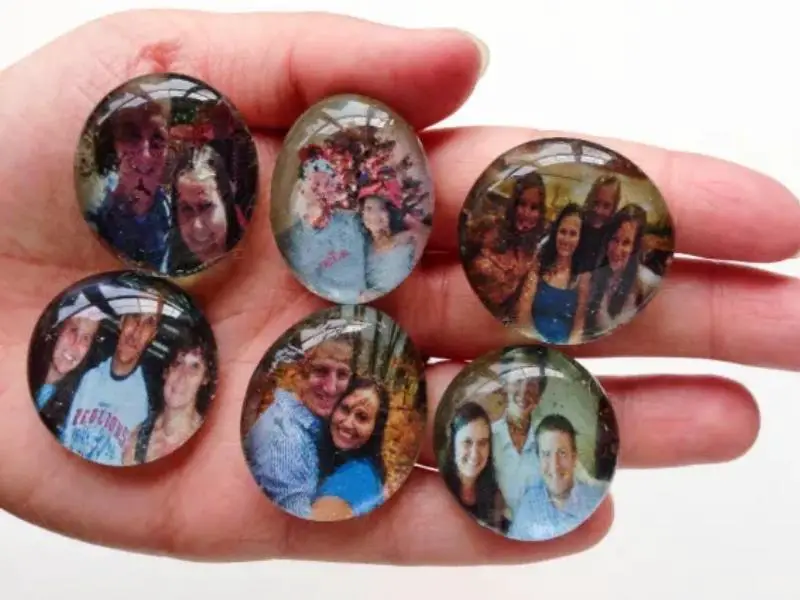 What makes glass magnets such a perfect Grandparents' Day gift is how customizable it is. You have complete freedom to choose the photos that make the magnets.
For example, you could choose a photo of you and your grandparent together. Also, the craft is easy enough for kids to help make them.
So if this is something you want to try, here's a tutorial on photo glass magnets by Destination Decoration.
Photo Coasters
If there's anything grandparents love, it's getting cute photos of their grandkids. And when it comes to easy Grandparents' Day crafts, it doesn't get more straightforward than custom coasters.
And the great thing about this craft is its functionality. So you'll also be getting grandma and grandpa a gift they'll be able to use and not just store away.
For more information, here's how to make photo coasters by Click it Up a Notch.
DIY Oven Mitt
If your grandma is as passionate about baking as most grandmothers are, you already know a custom oven mitt will be a gift she'll cherish forever. Of course, it's also an advantage that you can choose the pattern and colors of the mitt.
If you want to learn more, follow this guide on custom oven mitts by The Spruce Crafts.
Photo Album
No matter how old you are, you love to see photos of you and your family having fun.
So why don't you gift that to your grandparents? Make an album of all the special moments you spent together and surprise them with it.
If you've chosen this idea for your next grandparents' day craft, follow this guide on photo albums by Making Lemonade.
Handprint Flower Pot
If your grandparents like to do a little gardening in their free time, what more adorable gift to give them than a flower pot with your kids' tiny handprints on them?
This doubles as a fun activity for your kids as well. Finger painting is messy, colorful, and pretty. That's basically every little kid's dream.
For inspiration, here's an implementation on a handprint flower pot by All Things Mamma.
Custom Bookmarks
If you weren't prepared for national Grandparents' Day and want a functional yet easy craft to gift your grandparents, custom bookmarks are for you.
You can get it done in just a few minutes, and you can customize it in a way your grandparents will love.
For this easy grandparents' day craft, follow this tutorial on custom bookmarks by Koyuko Camlin.
DIY Keychain With Photos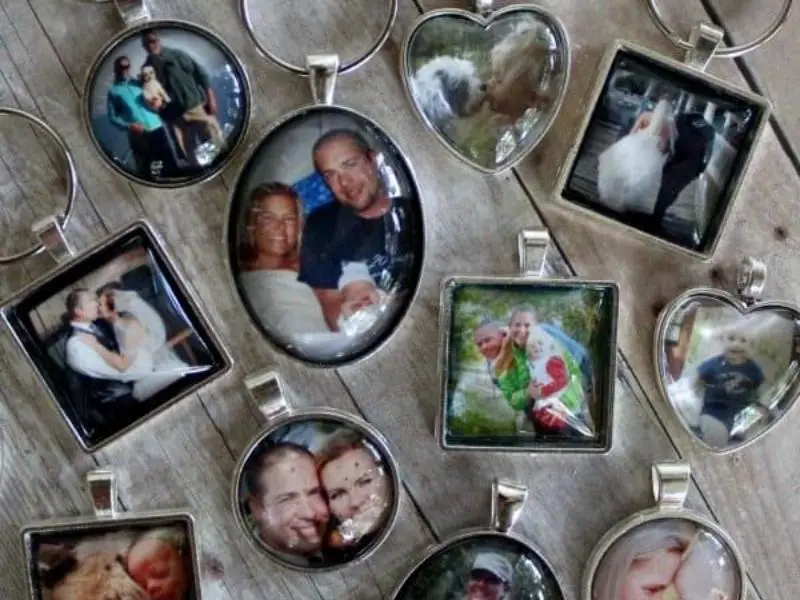 Swap your grandparent's old keychain with one full of amazing pictures of your family.
An added benefit of this gift is that it's a great conversation starter. So you can just imagine how amazing it's going to be when your grandparent shows your gift off to all their friends.
For further instructions, follow this guide on DIY keychains with photos by Rhythms of Play.
DIY Sample Cards
Get some old paint sample cards you have lying around, poke a hole through them, and make a sample slideshow. Then give it to your kids and tell them to write why they love grandma and grandpa. You can't imagine how cute the grandparents will find this gift.
To learn more, check out this tutorial on DIY Sample Cards by Serving Pink Lemonade.
Grandparents' Day Poem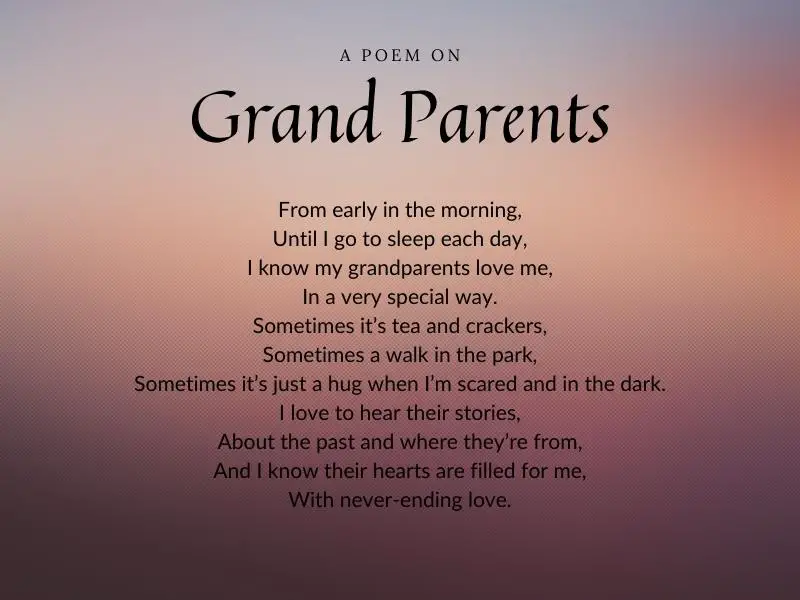 This is one of our most adorable Grandparents' Day crafts. It's also an excellent way for your kids to express their love to their grandparents.
And aside from the sweet poem itself, your kids can also craft a cute paper envelope for the poem.
If this idea appeals to you, look at some examples of grandparent's day poems on Romper.
Family Tree Craft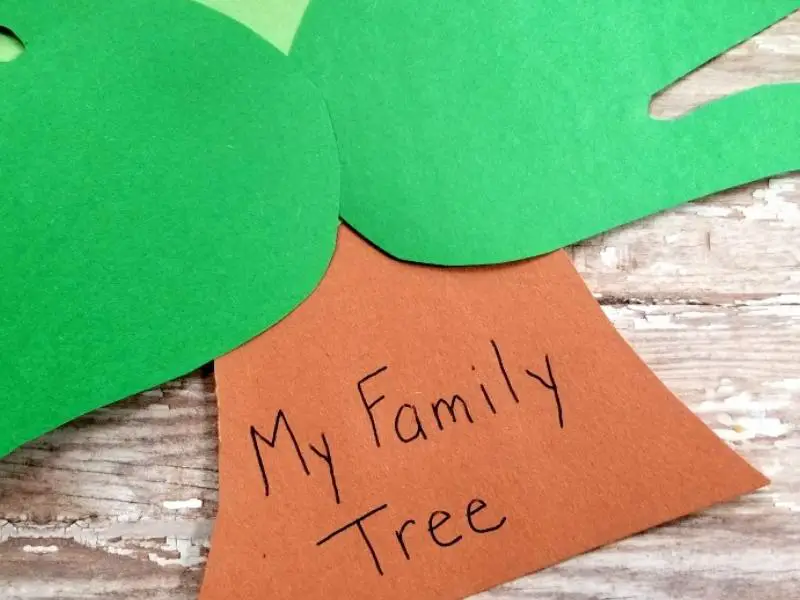 There are a few ways of doing this. You can use stick and glue to make the tree and write names on the branches. Instead, you can make handprint cutouts, color them green, and use them as leaves.
Or, you can just draw a tree from scratch. No matter the method, it's still a fun activity.
For reference, here's an example of a family tree craft by Powerful Mothering.
Handprint Apron
If your grandma cooks a lot or goes to cooking classes, it's a chance for her to show off her gift with her grandkids' adorable handprints.
If this sounds like a fun idea to you, check out this tutorial on how to make a handprint apron by Old Salt Farm.
Custom Photos Clock
If you want your gift to be used every day and not just stored away as a keepsake, gift grandma and grandpa a custom clock!
There are two ways of doing this. You can either put one big family photo on the clock's background or replace the numbers with 12 smaller individual photos.
For step-by-step instructions, follow this tutorial on a custom photos clock by It's Always Autumn.
Ceramic Flower Dishes
Ceramic dishes are a great way to decorate a home. And for this particular craft, it's appropriate for kids and adults to give them as gifts.
You can either go to work and make a nice-looking ceramic flower dish or let your kids attempt to create one, which won't look as clean, but still look adorable.
To learn more, check out this guide on ceramic flower dishes by Deep Space Sparkle.
Best Grandparent Award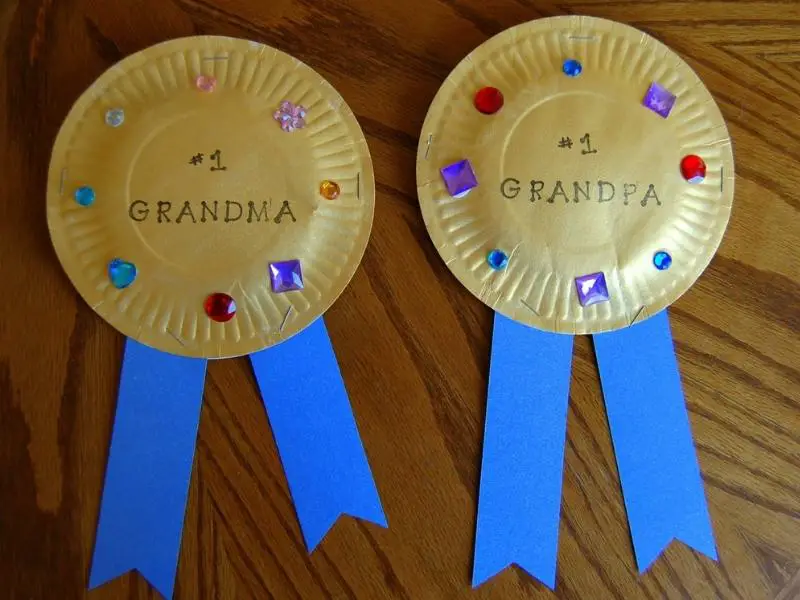 There are two main steps to this project. The first is making the medal itself. Second, drawing or writing something on it.
The medal is essentially a paper plate painted gold and two blue ribbons glued to the bottom. Then you can either write something sweet, draw something, or glue a photo to the medal, whichever you prefer.
For a more detailed guide on grandparent awards, visit I Heart Crafty Things.
Clay Photo Frame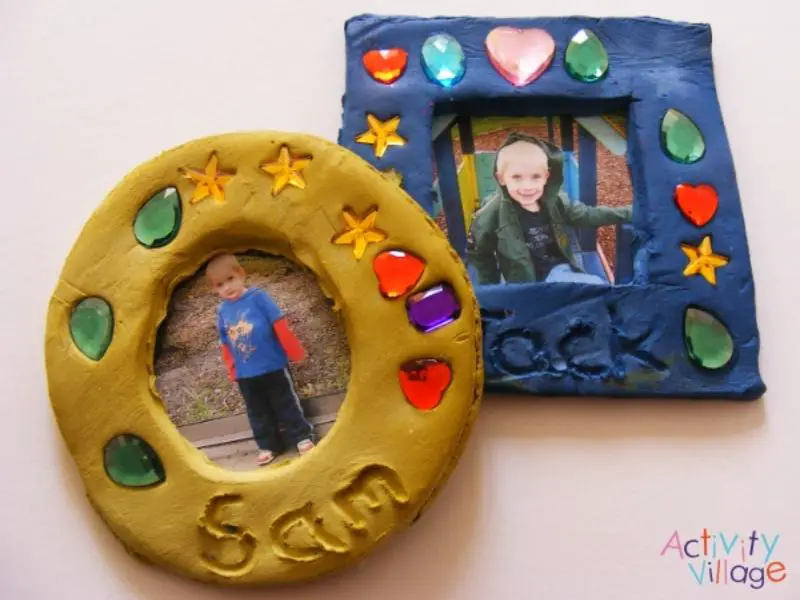 If you want your kids to get a new crafting experience, this one is for you. They get to feel the texture of wet clay, learn how it works, and shape it into the frame they want.
Other than that, they can carve their name into it, decorate it with whatever they like, and choose a nice photo to put inside the frame.
To make this easy craft, follow the tutorial for clay photo frames made by Activity Village.
Footprint Fridge Magnet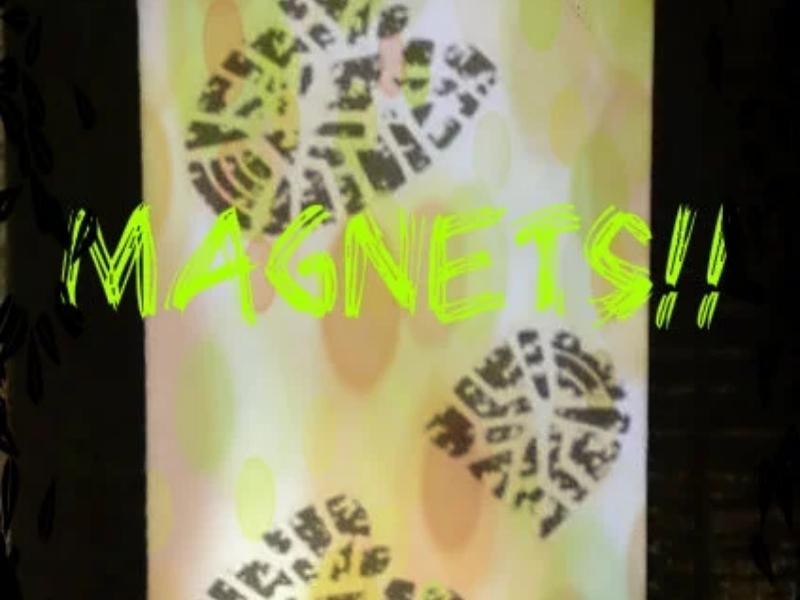 This is a great project for your small child. Not only will they have so much fun dipping their little feet in paint and making colorful footprints on paper, but they'll also get a sense of achievement for creating the gift instead of buying it.
Then you cut it out, stick a magnet to it, and it's ready.
To learn more, follow this tutorial on footprint fridge magnets by Instructables.
Custom Golf Balls
If grandpa likes to hit the golf course now and then, he'll definitely love this gift. You can give your kids a box of golf balls and tell them to go crazy on them with sharpies.
They can draw things like faces, flowers, and animals. They can also write small words on them.
For inspiration on how to make custom golf balls, visit Productive Pete.
Custom Coffee Mugs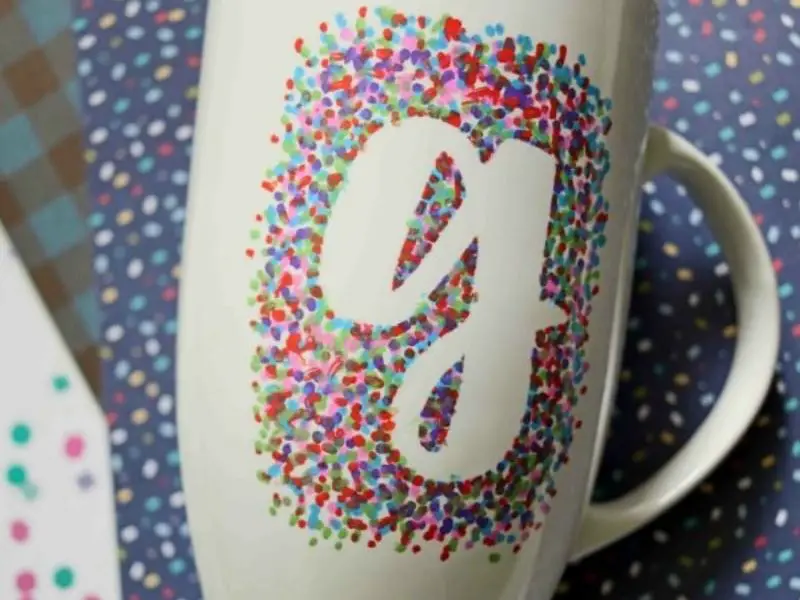 Not all paint sticks to mugs. For example, if you try to draw on the mug with a sharpie, it'll get wiped off.
Instead, use acrylic paint pens. It's great for drawing on mugs since you can easily erase it if you make a mistake. And when you're happy with the result, put the mug in the oven, and the paint will be dishwasher safe.
To make this Grandparents' Day craft, follow this tutorial on custom coffee mugs by Glued to My Crafts.
Photo Pendant Necklace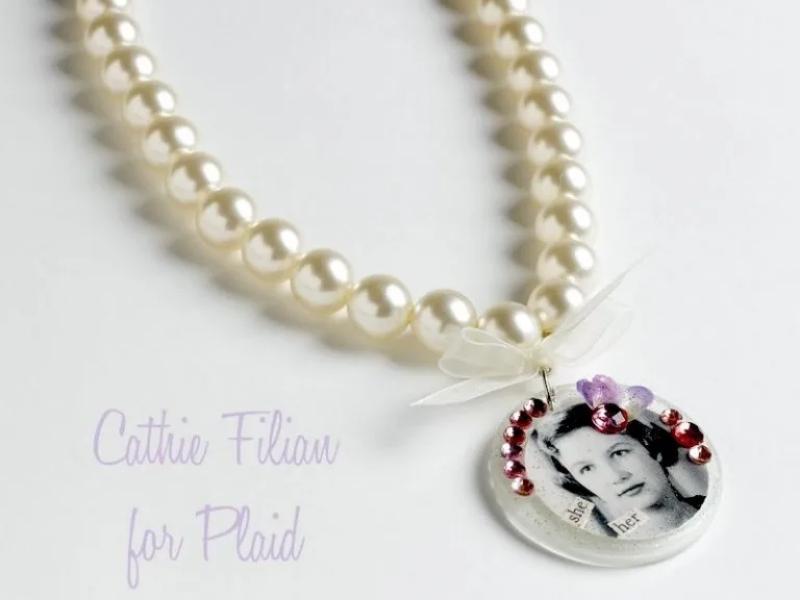 This is a guaranteed success when it comes to Grandparents' Day presents. First, however, you'll need a laserjet printer to make the pendant.
As for the necklace itself, you can either buy a lovely necklace from a shop or if you want your kids to participate in making it, they can make a necklace themselves using colorful beads.
For further instructions, look at this guide for a photo pendant necklace by Mod Podge Rocks.
Our list features Grandparents' Day crafts for both children and adults. For example, a few adult crafts include custom coffee mugs, ceramic flower dishes, and glass magnets.
On the other hand, if you want your kids to participate, they can make things like a footprint fridge magnet, DIY sample cards, and an adorable best grandparent award.
Comments
0 comments