In the animal kingdom, there are few more beautiful animals than the peacock.
Designed by Mother Nature herself to be extravagant and attractive, these birds are visually remarkable – but did you know it's only the male peacocks that are so beautifully decorated? The female peahen has shorter tail feathers and more muted, drab colors.
Adorned with luxurious feathers in shimmering vibrant colors of emerald, sapphire, and amethyst, it's no wonder that they were chosen as India's national bird.
Their beauty makes peacocks a great inspiration for a whole host of crafting projects! Check out our list of peacock craft ideas that you can make with your little ones at home.
21 Peacock Crafts for Kids
We've scoured the best sites on the internet to deliver you the best range of peacock crafts. Some of them are easy peasy for little fingers, and others are better for older kids. But they are all fun to make. Check out our top picks!
Paper Plate Peacock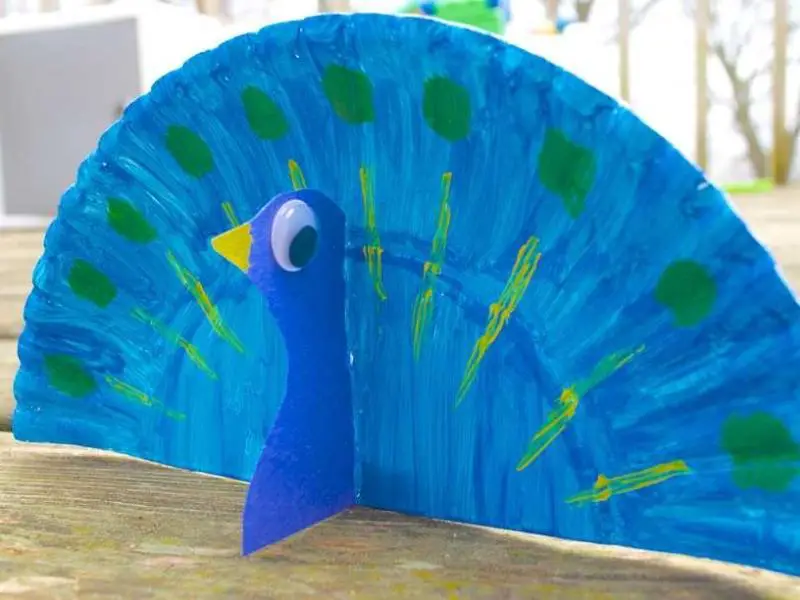 Kids will love decorating their own paper plates to make pretty peacocks. This is a great project to use up the odds, ends, and crafty things in your collage box.
They can be super creative sticking sequins, buttons, ribbons, and even real peacock feathers onto your plate.
Find out how to make this craft at survivingateacherssalary.com
Plastic Spoon Peacock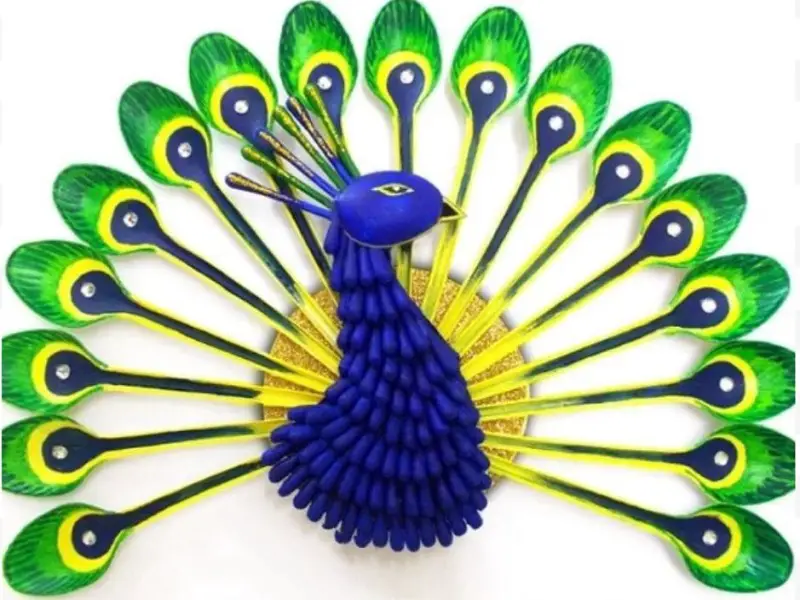 If you ever want to reuse plastic spoons, instead of letting them go to the landfill, this clever craft is for you. By painting the spoons, you can create an absolutely stunning peacock.
This craft is great for making a freestanding decoration that would look cute as a centerpiece for a festive occasion!
Watch the tutorial video on instructables.com
Cardboard Tube Peacock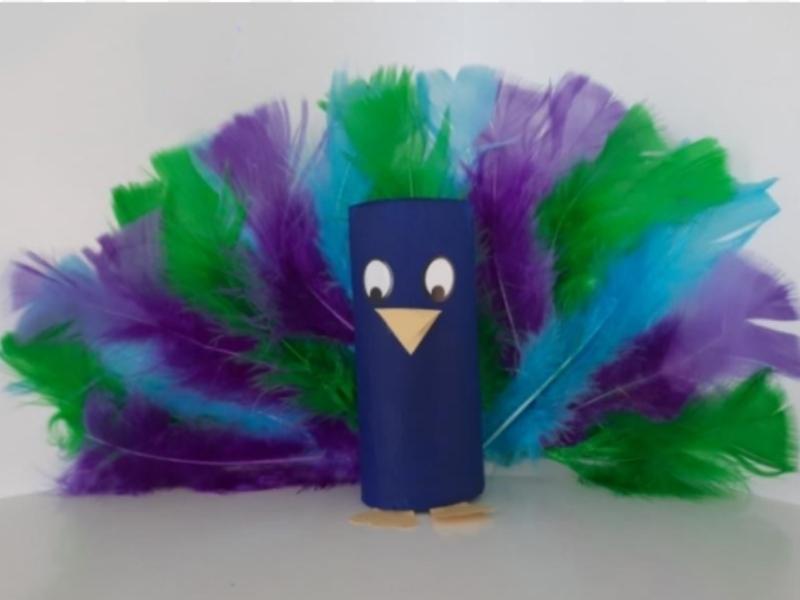 Get recycling your old toilet paper tubes for this cool craft. Simple enough for little hands to make, your budding artists will love sticking bright feathers in rainbow patterns to make these cute peacocks.
Plus they will stand up afterward so are easy for your little one to proudly display!
Get more information at themadhousemummy.com
Heart Peacock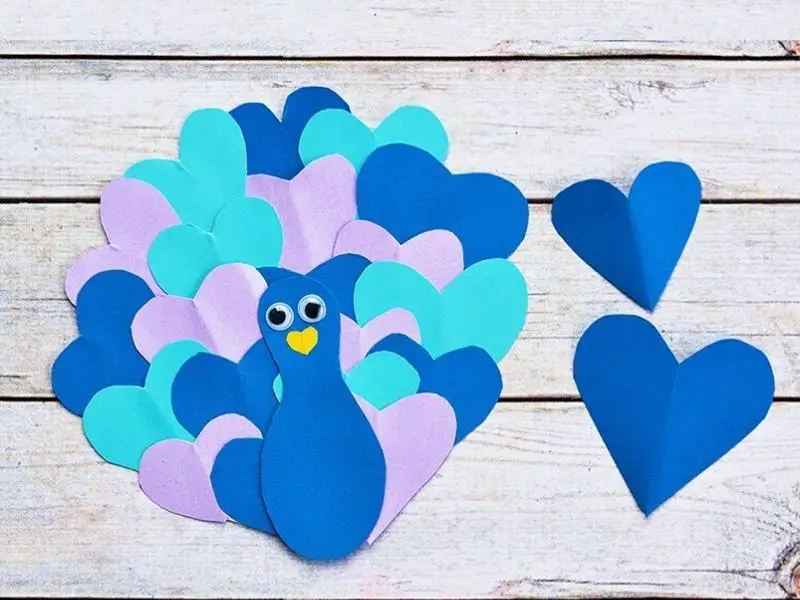 We heart arts! And this adorable idea uses construction paper hearts as a unique alternative to make the tail feathers. This would make a great project for animal lovers on Valentine's Day, or as a Mother's Day craft.
Find out how it's made at funfamilycrafts.com
Straw Blown Painted Peacock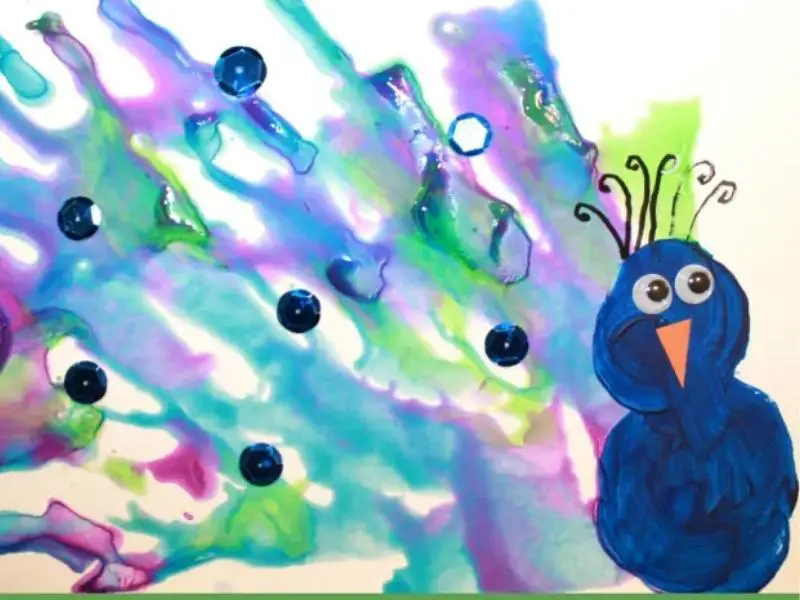 A lot of the peacock crafts on our list use collage and sticking to make them, but this one utilizes another favorite – paint!
Kids will love puffing and blowing through watered-down paint straws to make a beautiful peacock-inspired pattern.
Visit thepinterestedparent.com for the tutorial.
Paper Doily Peacock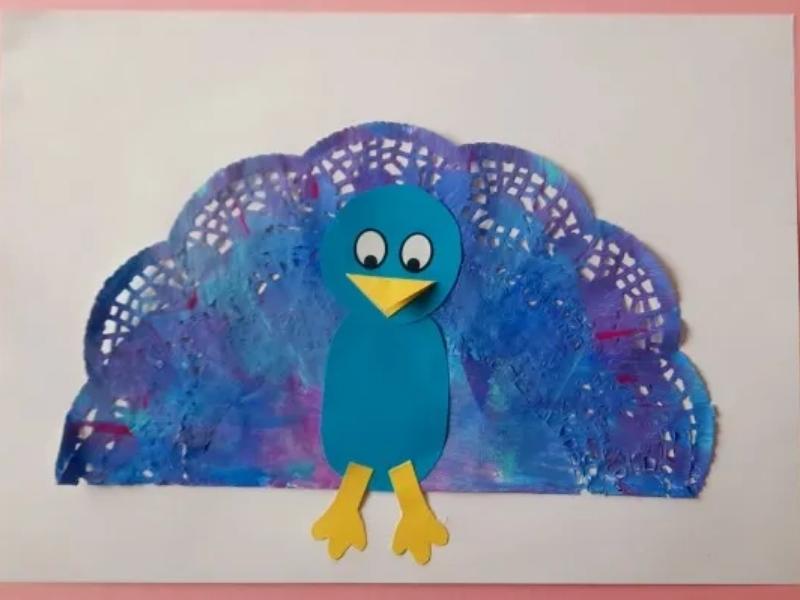 Although doilies haven't really been seen much since the 90s, this craft utilizes them in such a clever way it makes them worthy of a comeback! This craft uses a dabbing painting technique to combine the colors of the tail feathers. We think it makes a great effect.
Get all of the details at themadhousemummy.com
Pasta Peacock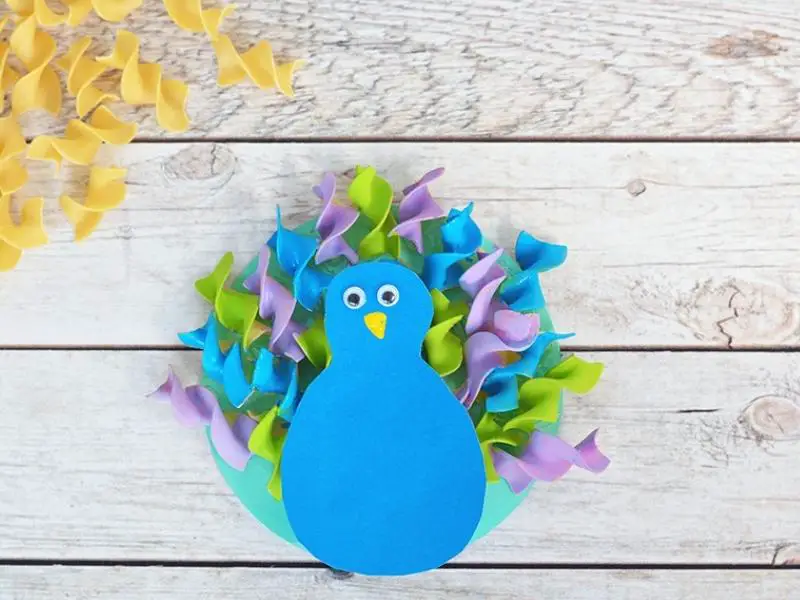 The best peacock crafts for kids are those that use up things you already have in the cupboards at home. This pasta peacock combines a range of fun materials – an old CD, paint, and pasta! (What a strange combination!) And transforms them into something wonderful.
Try it for yourself at iheartartsncrafts.com
CD Peacock Craft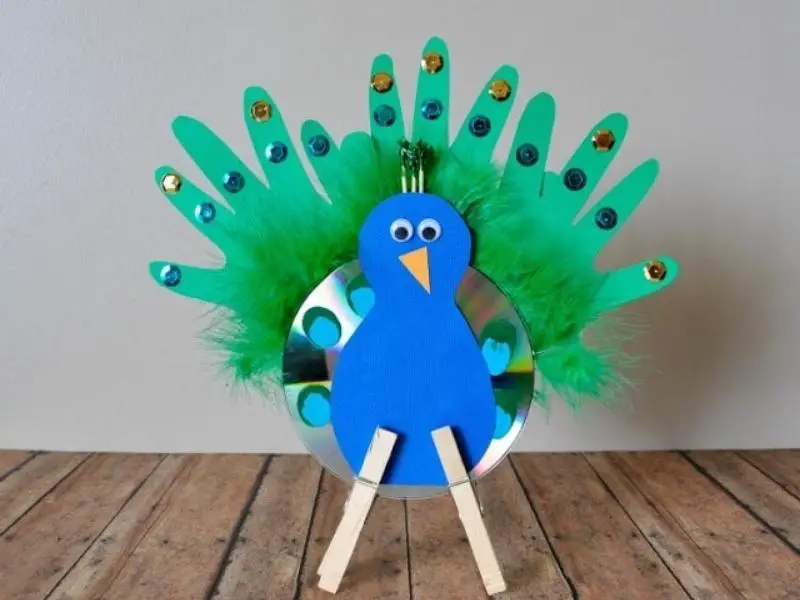 This peacock craft from I Heart Crafty Things also uses up an old CD. It combines a lot of steps, that will keep little ones entertained, from finger painting to cutting, coloring, and sticking.
Check out the instructions at iheartcraftythings.com
Pinecone Peacock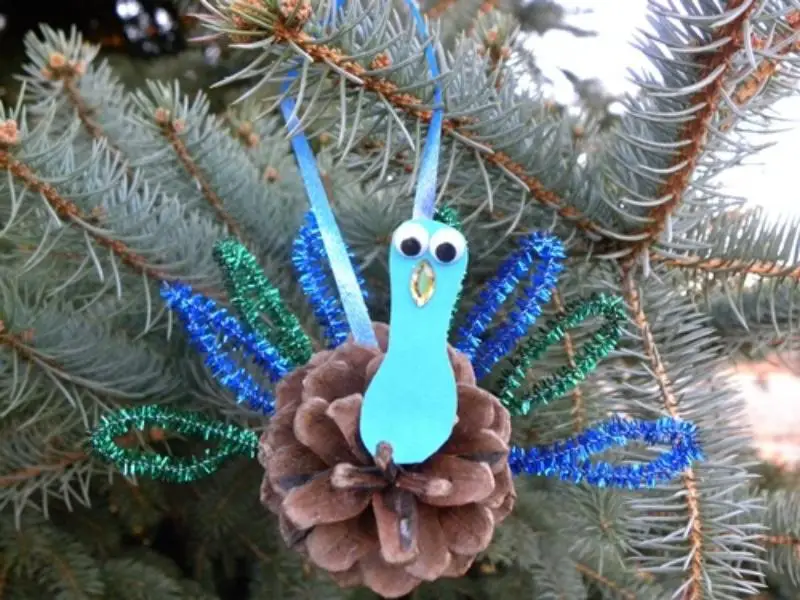 Upcycle from nature, turn a pinecone from your woodland walk into a cute decoration with this fun idea. Kids will love making this craft, using up glittery pipe cleaners to make the magnificent plumage.
The fall is the perfect time to make this peacock due to the abundance of pinecones available.
Watch the tutorial video on funfamilycrafts.com
Cupcake Liner Peacock Stick Puppet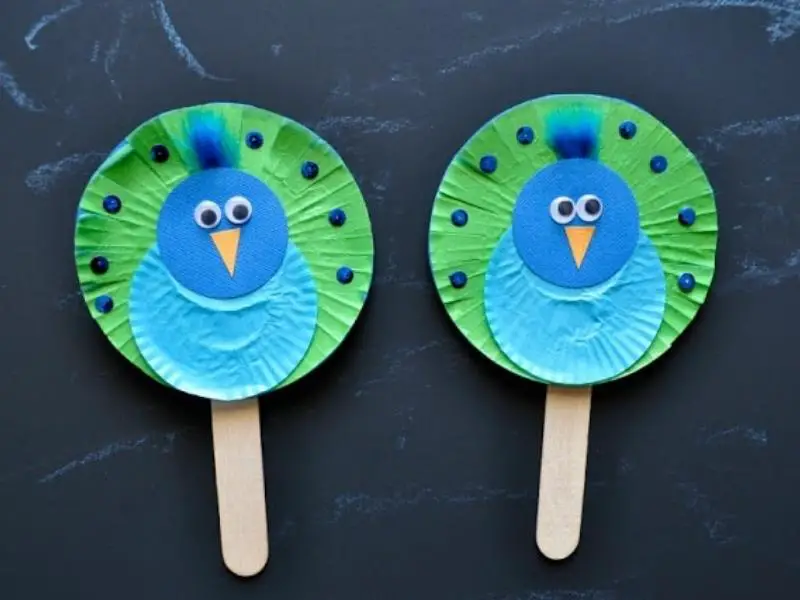 This easy peasy art project from I Heart Crafty Things is great for an afternoon activity at home. After it's made you kids can continue the imaginative fun by using it as a puppet.
It uses up a popsicle stick and cupcake liners in a creative way to make an adorably cute peacock.
Read how to make this peacock at iheartcraftythings.com
Coffee Filter Peacock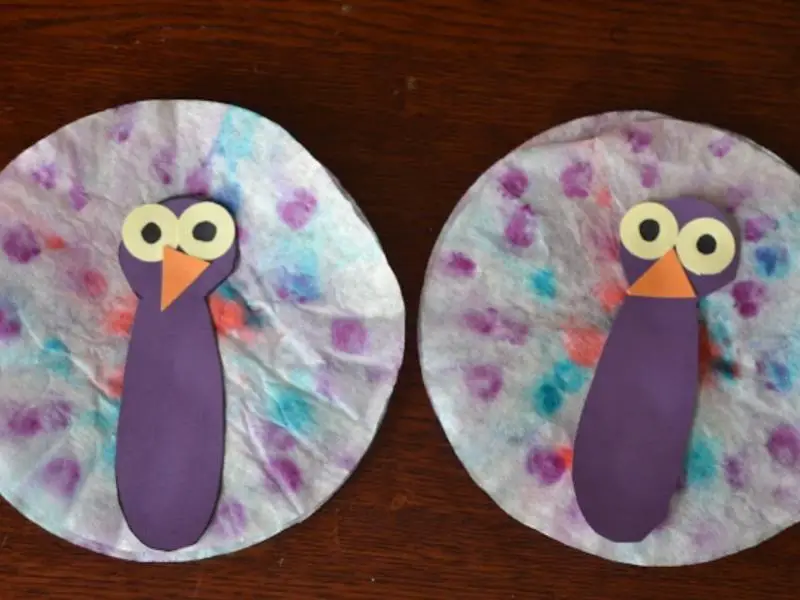 This clever craft combines science with art to create a beautiful end result. Your kids can explore chromatography by using peacock-colored marker pens in greens, blues, and purples on coffee filters.
Once they are sprayed with clean tap water they produce a tie-dye effect that is worthy of the magnificent tail of a peacock.
Find out more on this craft at gluedtomycraftsblog.com
Origami Paper Peacock Craft
Older kids can try their hand at the ancient art of paper folding to create this origami peacock. The instructions are a little complex, but it can be a good challenge for those wanting to expand on their crafting skills.
For a sparkly look, you could also try making these folded peacocks using glitter paper too!
Read about this craft at kidadl.com
Pipecleaner Feather Peacock Craft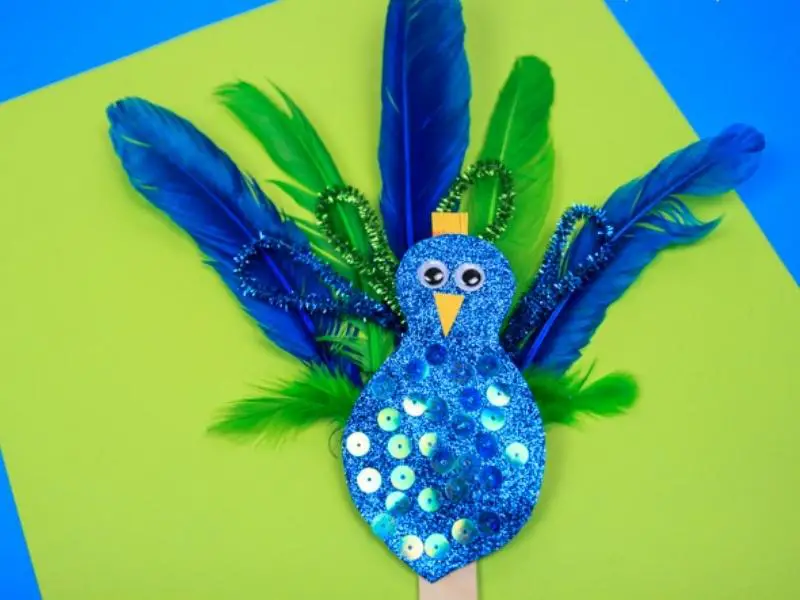 The team over at artsy craftsy mom have created this shining peacock that's oh-so sparkly! Combining the fine motor skills of bending and sticking, little hands will have hours of fun making these attractive birds.
Find the instructions to DIY at artsycraftsymom.com
Peacock Pop Up Card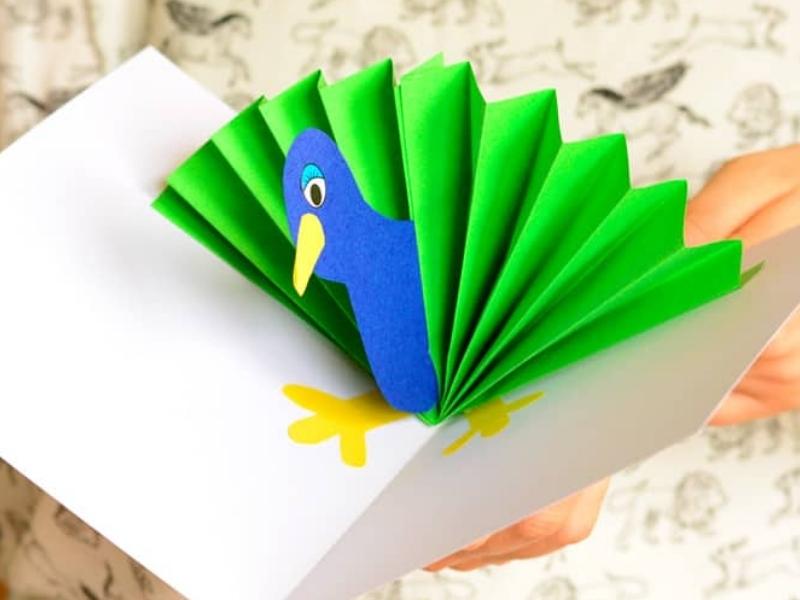 If you're looking for a fun way to celebrate a birthday or event, why not share this pop-up card. Homemade cards are always received with love, and when this one has a whole peacock inside ready to jump out, your recipient will be even more delighted.
This craft is a simple introduction to origami that even smaller children can enjoy making.
Find out how to make it at easypeasyandfun.com
Seashell Peacock
I don't know about you, but crafts always seem so much cooler when they utilize a more obscure object. This idea uses a scallop shell! How creative!
It's the perfect shape to turn into a peacock's tail, and when it is painted in the greens and blues of the bird, it looks magnificent. The body uses play dough which is fun to mold and will hold the shell tightly.
You could also make miniature versions using shells found on a nature walk at your local beach.
Find out all of the details at craftymorning.com
Handprint Peacocks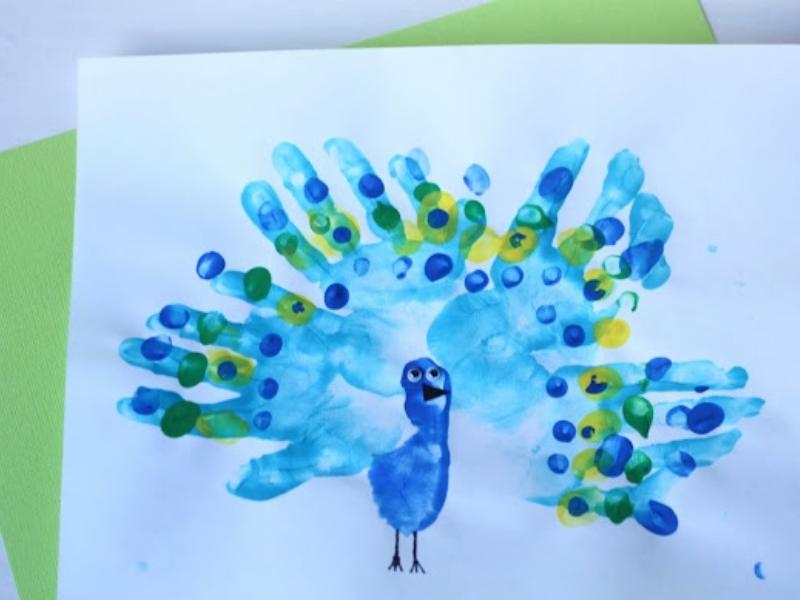 Handprint art not only is great fun for your kids to make but also serves as a wonderful keepsake to look back on when they're all grown up!
This painting project has your kids use handprints to make the peacock's tail feathers, and the side of their thumb to print on the body shape! How clever!
Get the information on how to make this painted piece at sweetandlovelycrafts.blogspot.com
Peacock Feathers Crown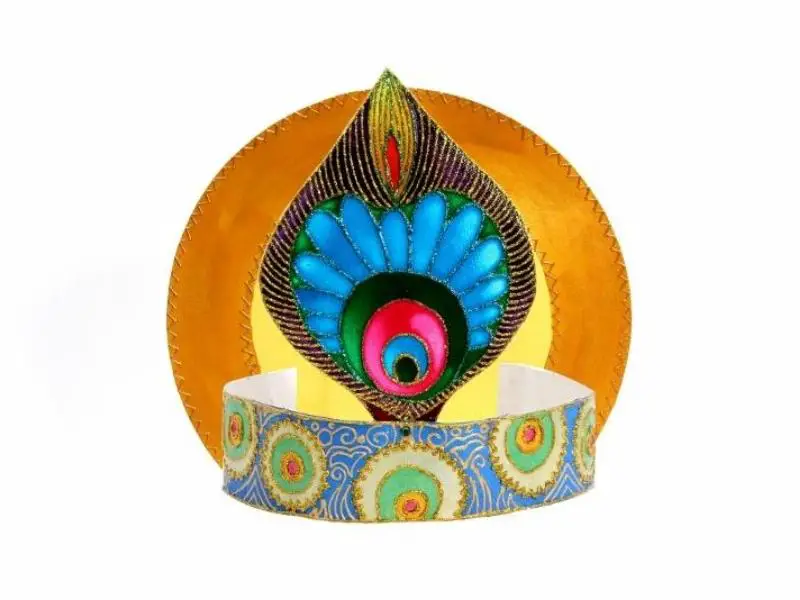 As we mentioned earlier, peacocks are India's national bird, and this headdress is a beautiful tribute to make in honor of it. The Artsy Crafty Mom team shows you how to make this impressive crown, along with sharing the traditions of the Hindu festival of Krishna Janmashtami, which uses a peacock as a symbol.
It's a great way to combine learning about other cultures with an incredible art project.
Find out the details and more on the festival at artsycraftsymom.com
Handprint Salt Dough Peacock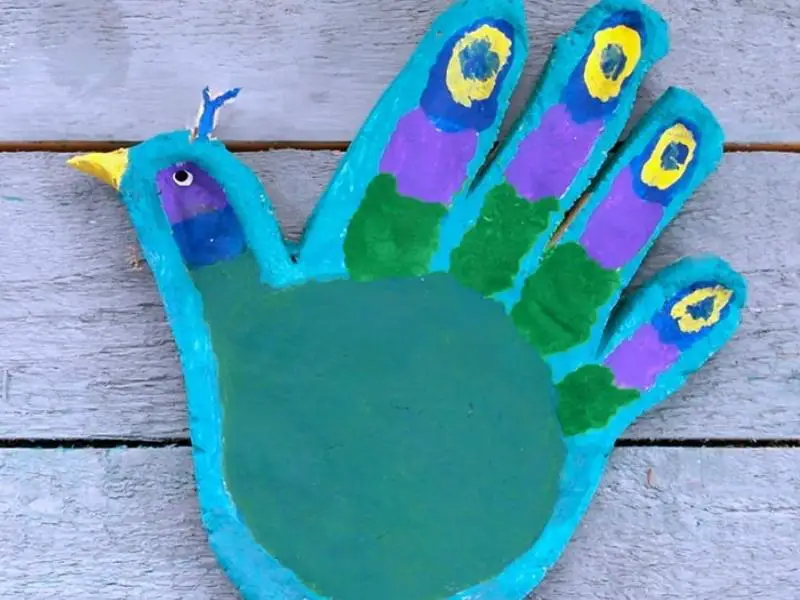 When your little ones have tine hands and toes, it's easy to forget that they won't stay so small forever! The team at Easy Peasy and Fun have come up with these handprint salt dough peacocks that will give you a tactile and beautiful reminder of how small they once were in years to come.
It's made with a super simple salt dough with is essentially a blend of flour, salt, and water. Once you leave it to dry it will harden up enough to paint and keep as a treasure for years to come.
Make this awesome craft with the info from easypeasyandfun.com
Dish Brush Painted Peacock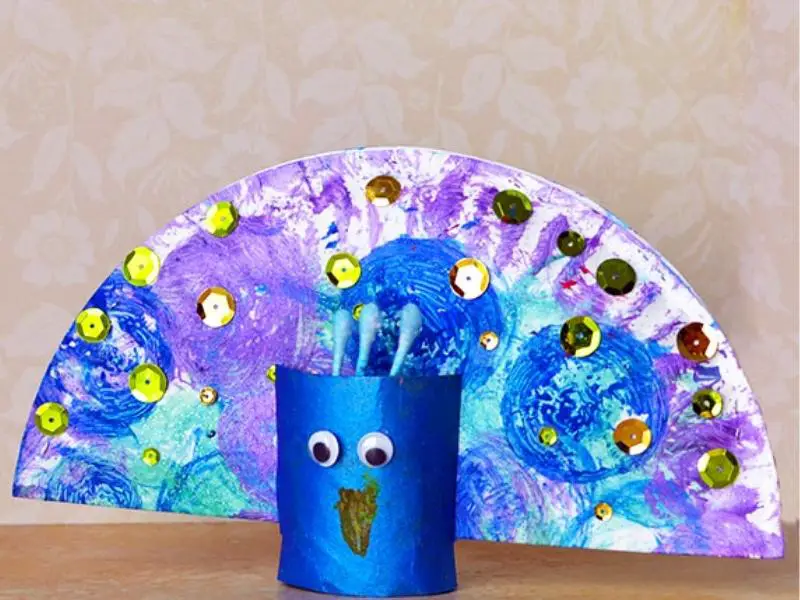 Sure painting with a normal paintbrush is fun, but when given a choice to be adventurous, your little artists will love painting their peacocks using a dish brush! The wider bristles and spikey points will give their artwork cool textures and lines.
You can be creative too and twist and roll your dish brush for other funky effects. Just be sure to give it a good scrub before you wash the dishes with it!
Get the instructions on this craft project at artsymomma.com
Chalk Art Peacock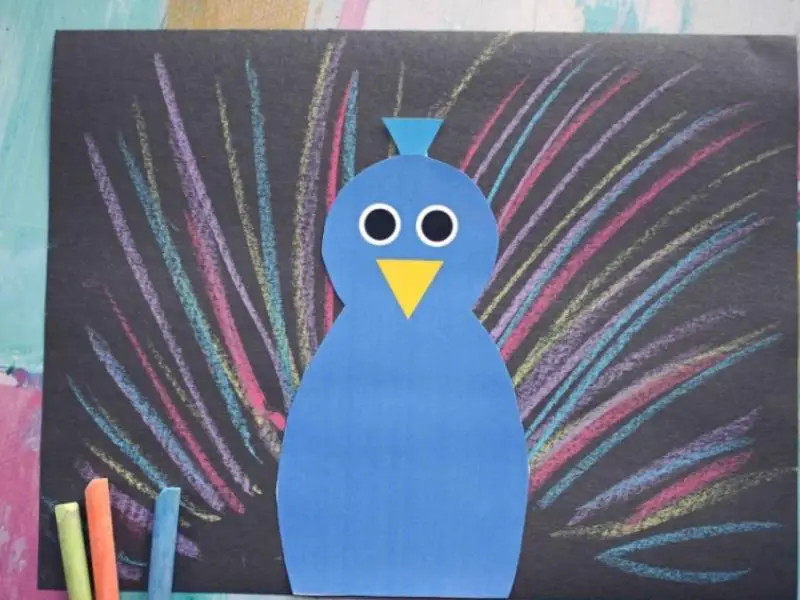 On a sunny day, there's nothing more fun than getting outside and enjoying making art with sidewalk chalk. This craft project takes those chalks inside to create a beautiful peacock artwork, but we think you could easily make a giant outdoor version of this peacock on your driveway to cheer up your neighborhood!
Find out more on this piece from gluedtomycraftsblog.com
Peacock Wreath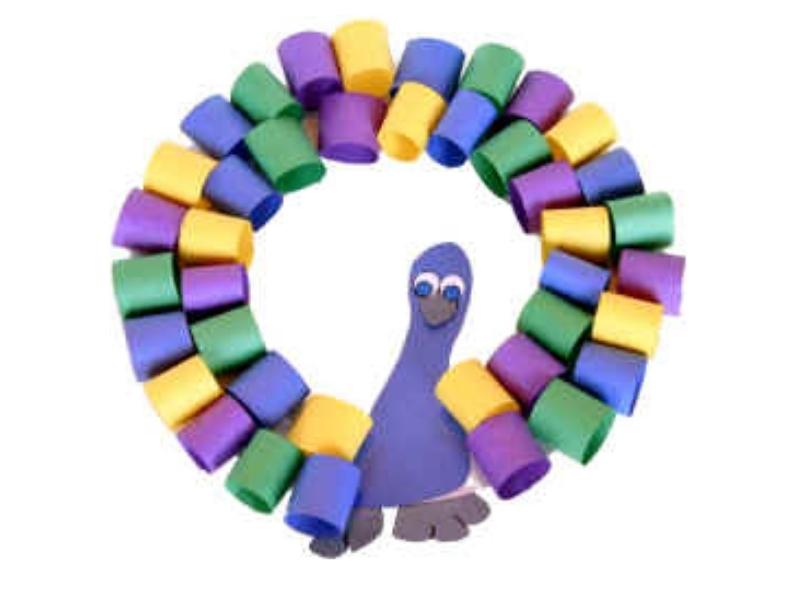 Brighten up your door for the holidays (or any time of the year!) with this colorful peacock wreath!
All it takes is some old cardboard – cereal boxes work perfectly – and some brightly colored construction paper.
Get all of the details for the wreath at dltk-kids.com
Top Peacock Crafts for Kids
We hope you enjoy our list of great peacock crafts that your children can enjoy making at home!
Although in essence, we feel that if you stick along the theme of those peacock-inspired colors and feathers, you're always going to be able to make something stunning!
Check out the rest of our site for more animal-inspired projects.
Comments
0 comments