If painting is fun – Painting by Numbers is pure bliss! From babyhood onwards, colorful pots of paint seem to draw and fascinate us, humans. We love to create with our hands and convert our beautiful mind pictures onto a tangible medium. While some gifted artists can slap a few paint strokes onto a canvas and have their work hung in prominent galleries, the average Joe among us can't seem to be able to draw a straight line without the help of a ruler (and after multiple attempts, I might add!) Some wannabe creators simply give up, stuffing their supplies in a drawer to be forever forgotten. Any artist (or aspiring artist) out there will be quick to talk your ear off, if you give them half a chance when asked why they spend hours of their time behind an easel, block of marble, or sketch pad. "It's amazing seeing my own creation come to life," "It's relaxing," or simply, "Uhm, because I wanna, dude!"
Health Benefits of Painting
Painting, and Painting by Numbers, should not only be viewed as an artistic endeavor, as there are numerous health benefits associated with the hobby. The act of painting has extraordinarily valuable calming and therapeutic benefits, which assist in increasing the artist's physical and mental health. There are, in fact, plenty of reasons to pick up a paintbrush, grab a pot of paint, and try this hobby out.
Painting improves concentration

It hones one's fine motor skills

It's an excellent relaxation method

It teaches perseverance

Great for improving one's self-confidence

Creates a positive mindset
Yes, But Why Painting by Numbers?
In a nutshell? To curb frustration and annoyance when your own creative skills leave you eating dust and cursing the universe for failing to give you one little bitty ounce of artistic talent.When embarking on using the Painting by Numbers method, all the initial leg work has already been done for you, and you simply need to follow the codes printed on the canvas. The picture you've chosen will have been divided into cells or shapes and marked out with a number, which in turn will match up to a specific color paint – which is conveniently included in all Painting by Number kits.All that's left for you to do is follow the pattern on your canvas and be amazed as your painting emerges from the soup of chaos into a beautiful and colorful masterpiece – which YOU created.The most exciting part of this method of painting is that you'll, at first, be presented with a scant and drab canvas, but as you work systematically at filling each cell, your picture starts taking form. Once complete, your art project has transformed from a blank cloth into a stunning artwork.
The Famed One Has Done It Before You
For those of you who might still not be wholly convinced that Painting by Numbers is a real art, take solace in this: the world-renowned Italian renaissance man, Leonardo da Vinci actually developed his own method of this hobby. He pre-sketched a piece of work, divided it into sections, numbered them, and instructed his subordinates to paint these selected areas. Should we then not consider the Mona Lisa or the Last Supper art?
You'll Evolve Into A Better Artist
Adding to the pure fun and relaxation of the activity is that Painting by Numbers is a terrific means to enhance your craft skills, which is especially true for all the beginners out there. This technique helps novice painters to grow as an artist and to expand on their arty traits. A huge bonus is that it teaches artists to understand the idea that a whole painting is made up of numerous shapes and shades of color, and also to recognize that separate objects on a canvas are nothing on their own, but collectively become a stunning image. Completing a Paint by Numbers allows you to examine a subject and then differentiate areas of color while concentrating on tiny sections and what colors they should be – instead of trying to think ahead and become frustrated by focusing on the completed project. Brush techniques are something of immense value you'll learn while completing Painting by Numbers. It teaches you how to control and move your hand and brush, which will assist you if you'd like to move onto freehand projects.
Not Just For Kids
While you may remember this art form from your childhood, you shouldn't be fooled into thinking that only kids should be given Paint by Number kits. As with everything else in the world, this art form has evolved to become an intricate and complex craft.There are hundreds of images available that have been specifically designed with adults in mind, and which range in difficulty from easy to challenging. Choosing a design is entirely up to you and on how much effort and time you wish to put into your design. Moving on from the easier canvases to the more demanding ones will help you to continue to improve and update your painting skills and learn what it really takes to become a master of the art.
Hacks for Beginners:
Choose a Kit with a Frame
Selecting a Paint by Numbers set with a DIY frame is advisable for beginners because it is much easier to work with. If the kit you have placed your heart on doesn't have a frame, then you don't need to worry because frames can be purchased separately.
Keep Brushes Clean!
This may seem like quite an obvious one, but you'd be surprised how many beginners forget this vital step. Clean your brushes every time you switch colors. You can make this easier by keeping two pots of water, one for rinsing off the bulk of the color, and one for cleaning off any that remains. Dab off the excess water on a paper towel to prevent diluting the next paint you select. You should also never leave your brushes soaking in water for longer than a couple of minutes. Soaking in water damages the bristles and can cause them to become loose and shed onto your work when you paint, potentially ruining the smooth and even coverage you have laid down. It also means you'll go through brushes more quickly, so to save yourself frustration and money, avoid soaking your brushes!
Keep Paint Lids Closed
Paint by Numbers kits tend to use acrylic paint for full coverage, easy layering, and quick drying time. While short drying times are great for reducing wait times between layers, it does mean that it is imperative to keep paint pot lids tightly closed to prevent drying out. If you're painting a large area, it might be better to decant a small amount of paint onto a palette instead of painting directly from the pot. You should also never leave paint-covered brushes out for an extended period, as dried paint on brushes is almost impossible to clean!
Filling in the Wrong Color
If you fill in the wrong color, don't panic, you haven't ruined things! Acrylic paint is brilliant because of how it layers over other colors, meaning the mistake can be quickly resolved. There are two ways around this. If you've painted dark color in the space where a light color should be, let the paint dry, paint a layer of white on top of it, let that dry, then paint the correct color. This will prevent any of the dark colors from showing through. If the color you painted mistakenly is similar to the color you intended, then simply wait for it to dry and paint a layer or two of the correct color on top, and hey presto! Crisis averted!
Take Breaks!
Remember Paint by Numbers is fun and relaxing, and kits don't need to be completed in one go. They aren't going anywhere! Painting when you're in the artistic mood will mean the end result is likely to look much better, and you'll feel prouder and more satisfied. You'll also get more value for money as the kit will keep you entertained for several days or even weeks, instead of a few frantic hours. Lastly, taking your time with your kit will help prevent pain from RSI or eye strain.
Dark Spots or Background First
A blank paint by numbers kit can be a bit overwhelming so beginners should ideally start with the easier parts, such as the background or the parts which are darkest. This is will not only motivate you, as filling in large spots will make it seem like progress has been made, but it also gives you a chance to warm up your painting skills in an easier area. Painting one color at a time is also a great choice, as it means you won't need to wash your brush as much and are unlikely to get colors mixed up.
Clean and Dry Workspace
Dedicate a space to your Paint by Numbers kit, and keep this space clean and tidy. Being cramped when trying to paint will increase accidents and spills, such as water on your canvas and paint on your carpet! If you're worried about getting the surface of your desk messy, we recommend using newspaper or even wallpaper cut-offs you have lying around.
Work Strategically
All professional painters work with a strategy in mind, and Paint by Numbers is no different. Work methodically from top to bottom; if you're right-handed, work from left to right, and if you're left-handed, work from right to left. This will prevent you from smudging any wet layers of paint that you've lain down and also safeguard your sleeves from stains.
Thin, Even Coats
It is better to work in multiple thin layers when working with Paint by Numbers. Not only will this give your artwork a neater and more professional finish, but it will also reduce drying times. The canvas you work on naturally absorbs paint, however too much paint applied too fast will inhibit this, leading to accidental smudges and slow drying times.
Thin Out Dry Colors
As mentioned, acrylic paint likes to dry pretty quickly and will naturally thicken inside the container over time, making achieving an even coat difficult. To prevent this, you can thin out overly thick paint by mixing in a small amount of water to return it to its smooth, even consistency.
Read Related Article: History, Elitism, and Popularity of Paint By Numbers
It is a Creative Road Map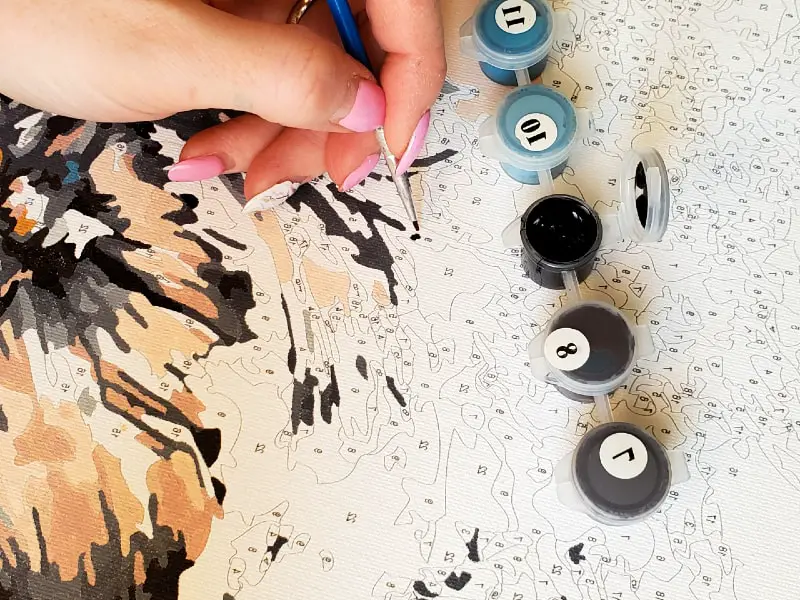 We're all born with a blank canvas – a space granted us with which we can fill with the colors of our life. The road of life can get messy – like all arts and crafts projects can; however, what if there was a canvas that could prepare us for the art of our life? An artistic road map so-to-speak. Some could argue that is what Paint By Numbers represents. A personal road map into creation and imagination. Paint By Numbers is a canvas that provides a series of shapes all grouped together, forming one large image. Inside the shapes are numbers that indicate what color that specific shape should be painted based on a corresponding color legend. While some people might consider this type of art "cheating," I feel it is more of a guided artistic experience. The average person, especially someone new to the creative realm of painting, may find a completely blank canvas intimidating and struggle with where to lay down that first all-important brush stroke. Having a Paint By Numbers guide eliminates this fear and allows the artist to dive right into the creation process. With the fear being eliminated, the person is able to focus on their technique and experience the feeling of being an artist. The sense of accomplishment, especially in art creation, feeds into the artistic soul and allows for expansion in expression. This means that a person who sees a piece of art come together in front of their eyes and at the tips of their own guided paintbrush will feel motivated and confident to search inside their own artistic talents, which helps form an individualized pathway for the possibility of creation. A technique in any trade, profession, or hobby is a skill that needs to be learned. Learning a new skill can be extremely difficult in an area where your creative juices need to be flowing. Painting contains many different techniques, that when perfected, can be game-changers in the artistic world. Some of those techniques include the basics, such as holding a paintbrush, mixing colors, and how much paint should be loaded on a paintbrush. A Paint By Numbers kit can act as a teacher for the exploration of these techniques without worrying about how the piece will turn out or what it will portray in the end result. Specifically, with Paint By Numbers, the different sizes of the pre-drawn shapes that need to be filled in, will test accuracy and detail with paintbrush and paint. By having lines to follow with your paintbrush, you will spend more time on technique rather than creation. While some might say this takes away from the true meaning of art, I would disagree and tell them to reference some of the world's most renowned paintings. These world-renowned paintings are unarguably creative, but they are considered masterpieces due to the techniques used to bring the creation to life. I understand that techniques can be learned in many different ways; however, Paint By Numbers is undoubtedly one of those areas of innovative learning.

Common Questions: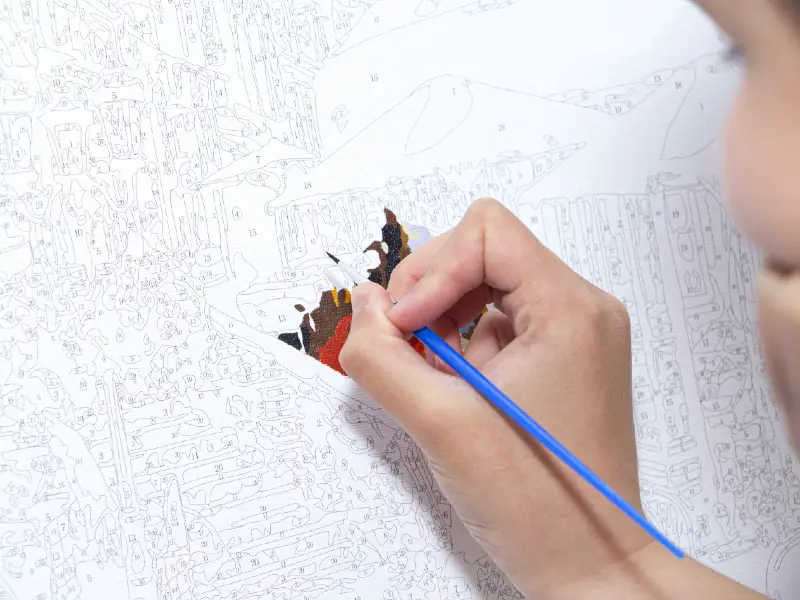 What Type Of Paint Is Supplied?Paint by Numbers include a full set of water-based acrylic paints. This is good news as you won't need any harsh chemicals or detergents to wash your brushes – a simple rinse under running water will do nicely. You will receive enough paint to complete your canvas. Don't fret over the size of the teeny paint pots – they definitely contain enough medium to completely finish your entire canvas. If you do run out of paint though, you might want to contact the customer support division of the company you ordered from – some are kind enough to send you replacement paints.Are Canvases Framed?Framing is an additional preference you need to choose when purchasing your canvas. This usually occurs on the check-out page in the form of a drop-down menu, where you'll select a framed or unframed version.Please take note that a "˜frame' in this sense means that your canvas will be stretched on a wooden stretcher frame and WILL NOT arrive in a decorative frame. Decorative framing is done after the canvas has been painted and through a supplier of your choice.Will I Need To Blend Colors?Nope. These artworks are designed with every value of color included in the kit. There will be no mixing or blending required – unless you want to, of course. Remember, this is YOUR artwork, and you're welcome to personalize it just as you would a freehand painting. Are Multiple Layers Of Paint Necessary To Achieve Complete Coverage?Some lighter colors might require two coats to gain complete coverage, but this is not always the case.How Long Does It Take To Complete?This is completely dependent on various factors:
How large your canvas is.

How many hours you devote to your project.

How intricate the design is.

This relaxing art form was designed to be enjoyed, so you're welcome to work on it for days, or even months if you want to take it slow.
How Long Does The Paint Take To Dry?Water-based acrylic paints have a rapid drying rate – and will be dry to the touch within 10-15 minutes of application. This does depend on the thickness of the application, however.
See Related Topic: Salt Painting Fireworks
I've Completed My Painting. Now What?
While not considered necessary, you may want to seal your canvas with a matte, satin, or gloss clear acrylic sealer to avoid any damage from dust or dirt.
Now, hang your artwork on your wall, my friend, where it can be admired by all who visit!
Comments
0 comments