You'll be hard pushed to find kids that don't love Disney! That's why Disney birthday parties are such a fun idea.
Whether you take your favorite Disney movie and run with it as a theme, mix and match from all of your kid's top Disney choices, or just stick with the classic Mickey Mouse, there's a whole range of creative ideas out there to make your party a hit!
We've collected the best tips from the internet to inspire you to host the ultimate Disney-themed party.
Disney Birthday Parties
Disney Birthday Invitations
Before you go shopping for your Disney party, you need to know if your guests are interested in coming!
Check out these fun invitations you can send to your guests.
Mickey Home Crafted Invitations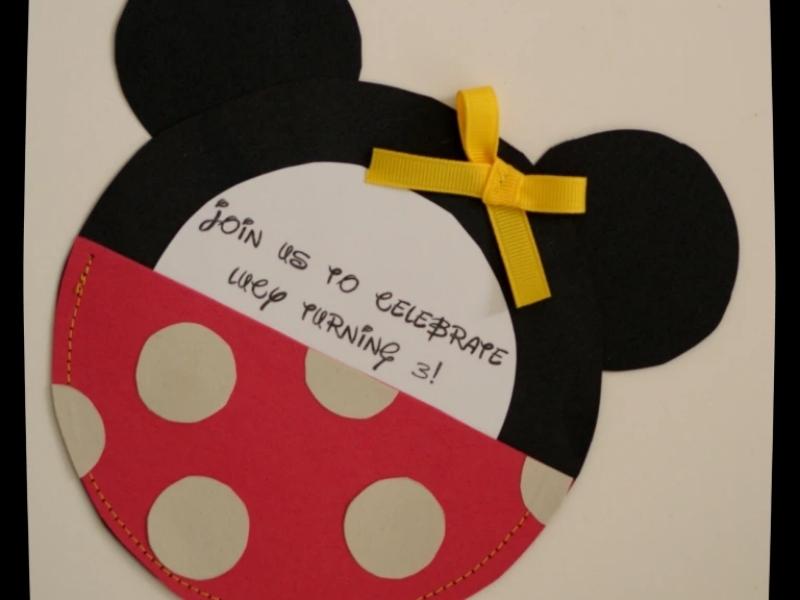 Nothing screams Disney more than the classic Mickey Mouse and this cute pocket invitation made out of circles of black and red construction paper.
Add your party details to a circle in the pocket and you're all set!
Find out how they are made at heybethbaker.wordpress.com
Minnie Invitations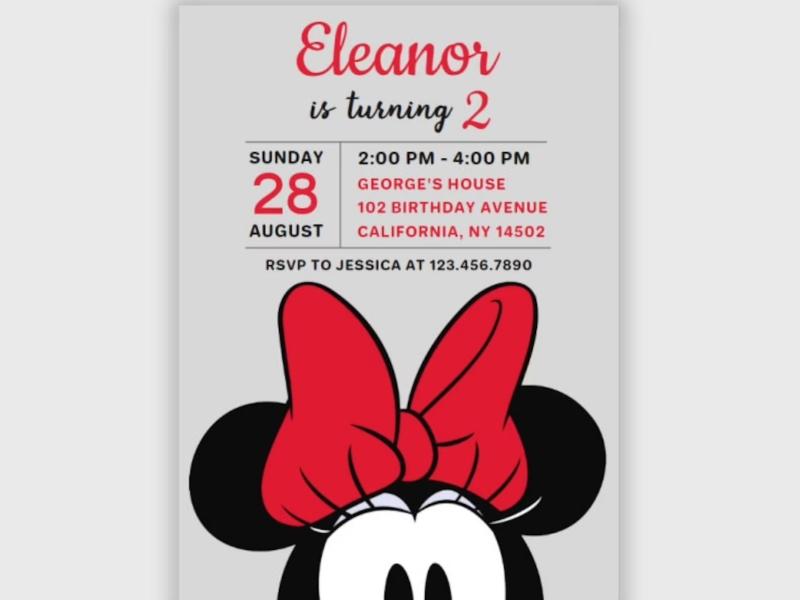 Invitations don't need to be fancy, and with this Minnie Mouse printable, you can make as many as you need to.
If you're being extra eco-friendly you can also email them directly to your guests' inbox and have them confirm their attendance from their browser.
Download the template at etsy.com
Be Our Guest Tags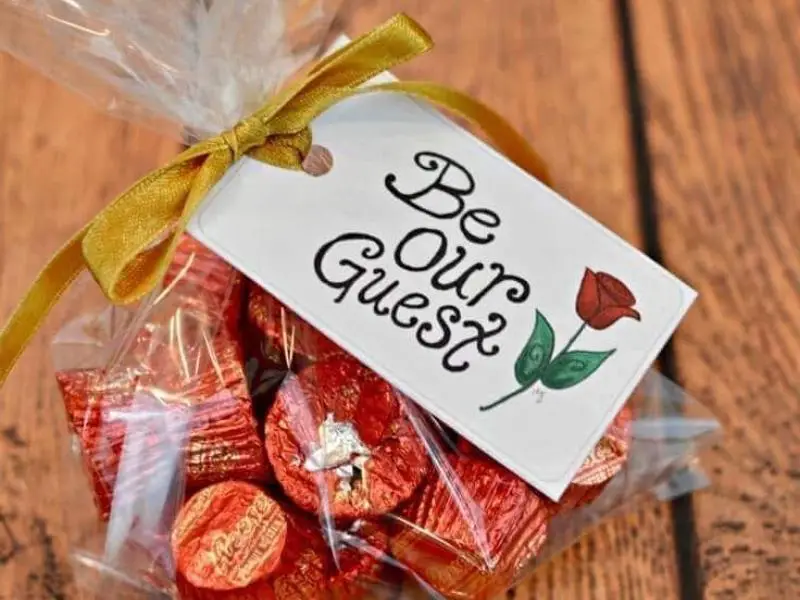 If you're having an informal affair, how cute are these printable tags, which literally tell you to 'Be Our Guest!'
One of these labels tagged onto a cute candy treat will make for a memorable invite.
Get the free printable from kenarry.com
Disney Birthday Cake
There are a ton of birthday cakes with a Disney theme for your big birthday celebration. We could have created an entire post just on cake ideas!
Here are just some of the best options you can create at home.
Minnie Birthday Cake
Luckily, making a Mickey or Minnie Mouse cake isn't actually as hard as it may seem.
If you can bake a circular cake, you're almost there.
This option combines three circles and covers them in chocolate frosting to make a DIY Disney cake that is fit for any Disney fan.
Get the instructions at thesoccermomblog.com
Moana Birthday Cake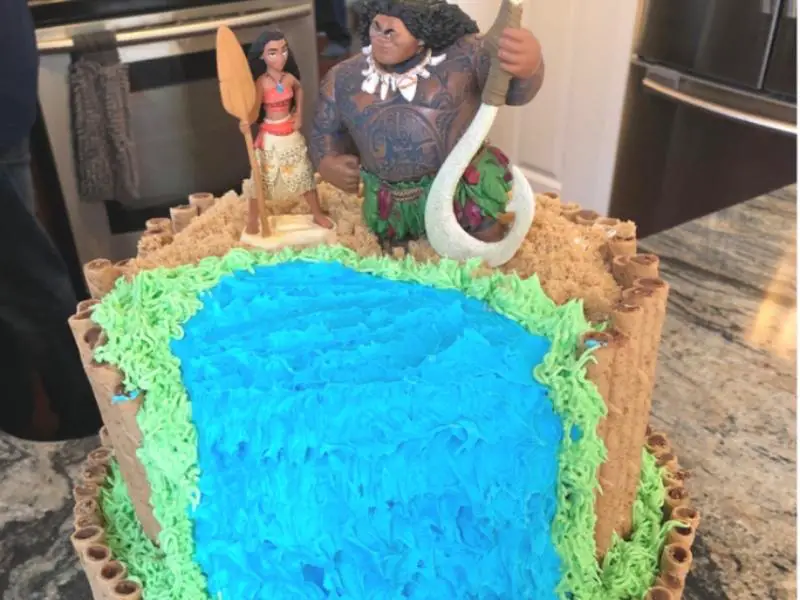 In recent years, princesses have taken a back seat to brave women who dare to go beyond the sea.
Moana is a firm modern favorite of Disney fans already, and this simple cake shows that you can craft something beautiful at home pretty simply.
Just choose your movie and ice your cake with the colors that match it, and use figurines or toys from the movie to decorate it!
Find out how to make this cake at entirelykristen.com
Surprise Inside Mickey Mouse Cake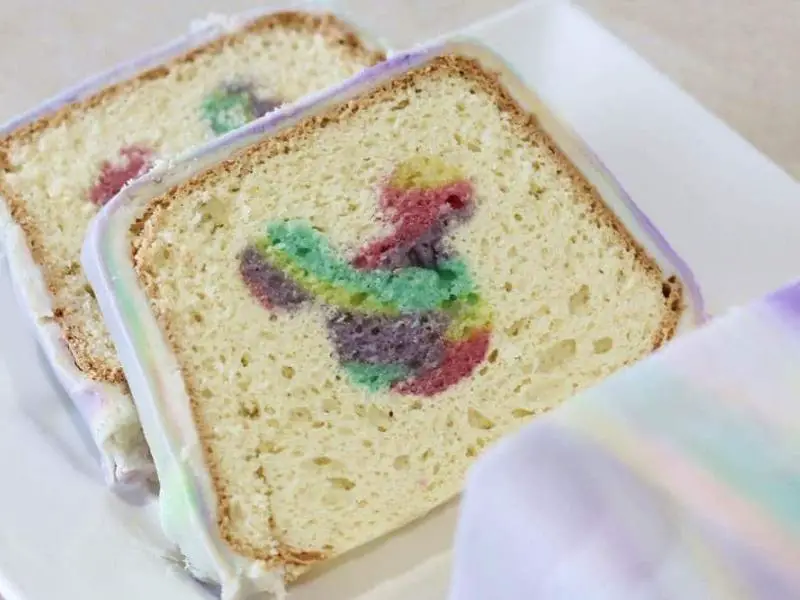 From the outside, this cake might not look too special, but when you slice into it you'll reveal a Mickey surprise!
We love the marbled look for the cake. This idea would also be great for a gender reveal party too!
Check out how to make this cool cake at merakimother.com
Rainbow Mickey Mouse Cupcakes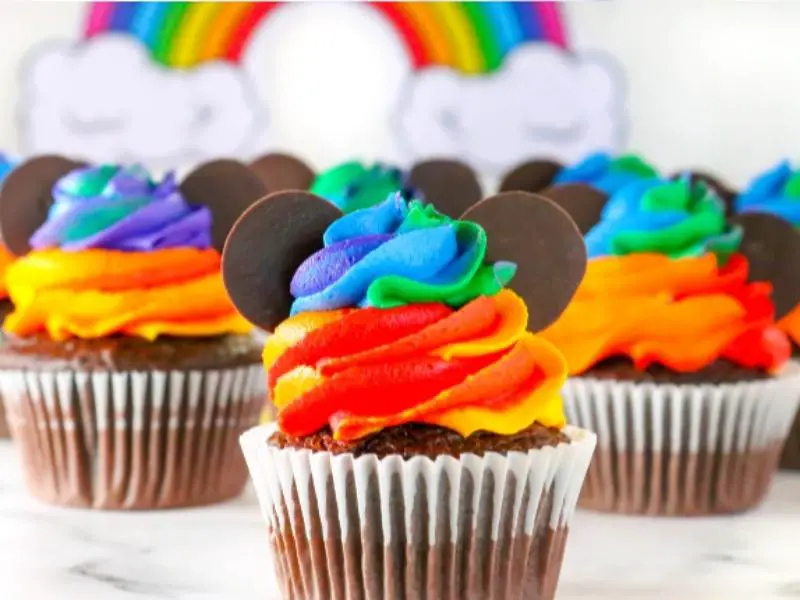 Breaking news – you can combine rainbows and Disney for a show-stopping birthday party combination!
These adorable cupcakes are so simple to make, just add on some chocolate buttons for Mickey's ears to your buttercream frosting.
Get the details at bigbearswife.com
Baymax Cupcakes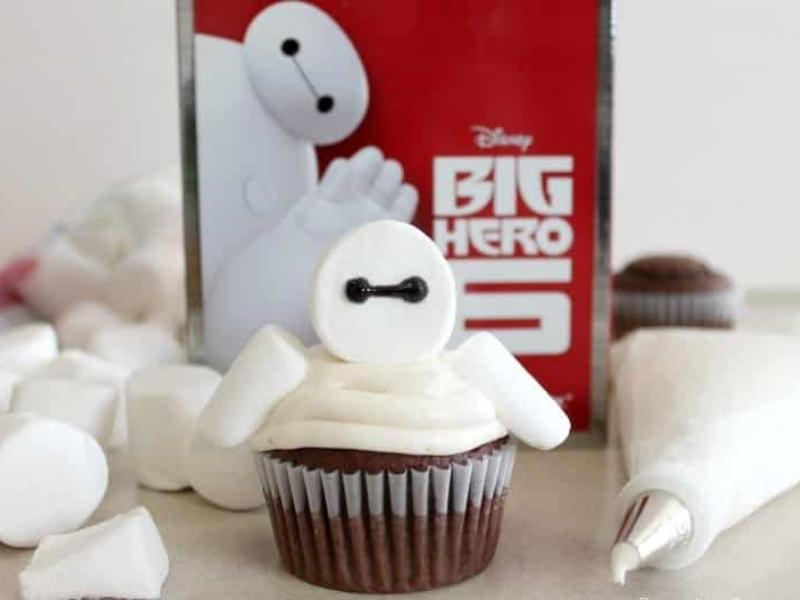 If your family is a fan of the Disney movie, Big Hero 6, then why not try these cool cupcakes.
They squish marshmallows onto the frosting to make the inflatable character!
Check out this idea, published on dessertnowdinnerlater.com
Disney Birthday Food
There are many ways you can incorporate your snacks into your Disney theme.
From having a little sign next to each dish with a fun name, or cutting your sandwiches with a Mickey-shaped cookie cutter. Check out these food ideas.
Minnie Mouse Punch & Juice Boxes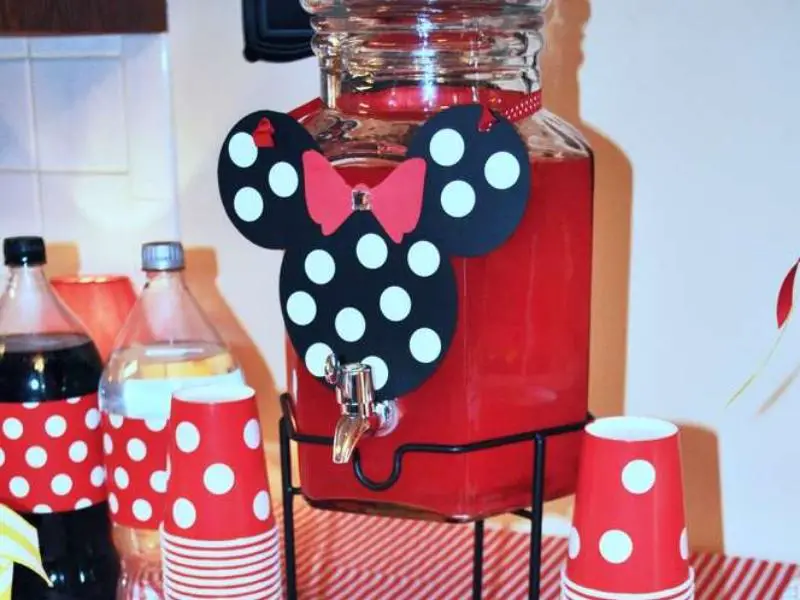 Fizzy sodas aren't always the best for all tastebuds at a kid's party, but you can still give them a 'special' juice they'll adore.
Stock up on your usual favorite juice boxes and turn them into Disney drinks, just like this mom did in her party blog.
Find out more at catchmyparty.com
Mickey Mouse Popcorn
For a delightful treat that combines the best of salty and sweet, check out this Mickey Mouse Popcorn.
The color combo of yellow and red give that great theme, and the flavor is fit for any party plan!
Make this yummy treat at modernmomlife.com
Mickey Mouse Pretzels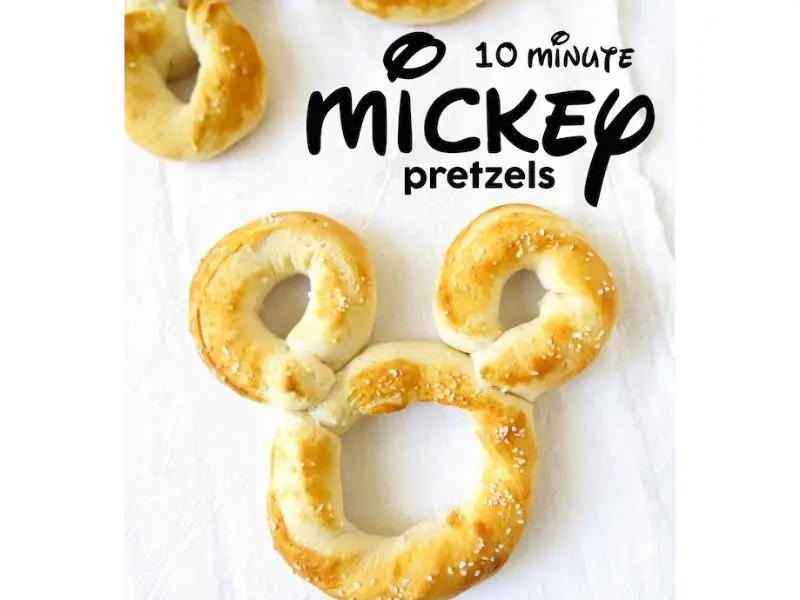 Food just tastes better when it's shaped like a mouse, and these pretzels are so simple to make – nobody would ever know they were baked in your house, rather than from Main Street in Disneyland!
Enter smartschoolhouse.com for all of the info.
Finding Nemo Jello Bowls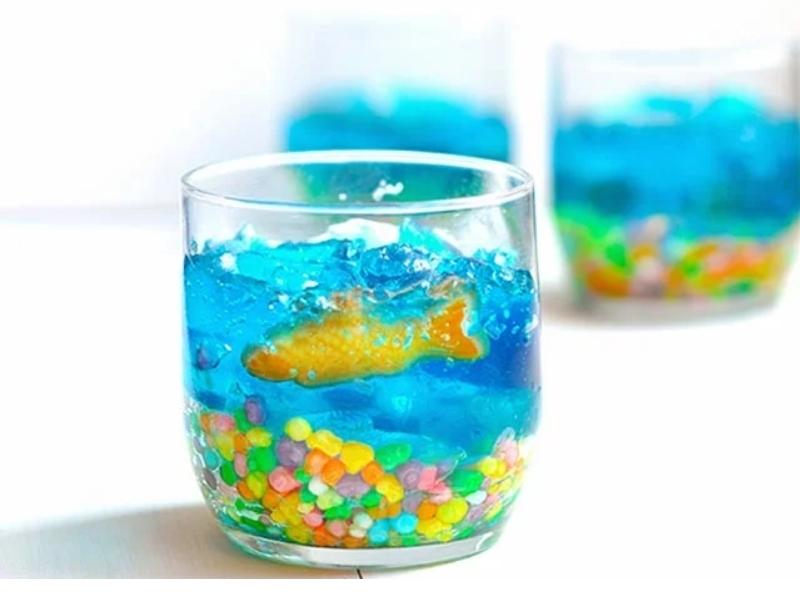 If your party theme is more Nemo and Ariel than princesses and castles, this jello bowl could be the perfect sort of treat to include on your birthday buffet.
Click here, mightymrs.com, for the recipe.
Mickey Mouse Cookies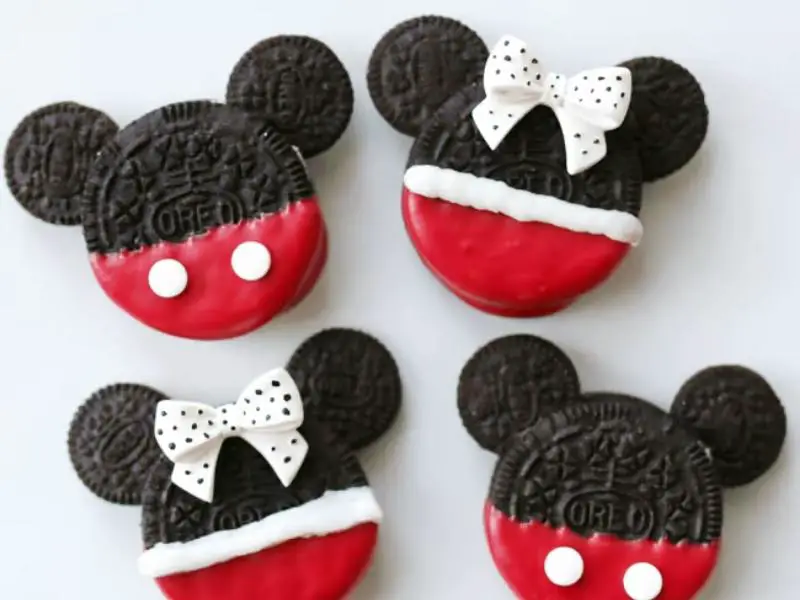 Turn a pack of ordinary Oreos into sweet treats. These no-bake cookies are easy to make and will leave your friends and family in awe!
Get the details from livinglocurto.com
Mickey Rice Krispy Treats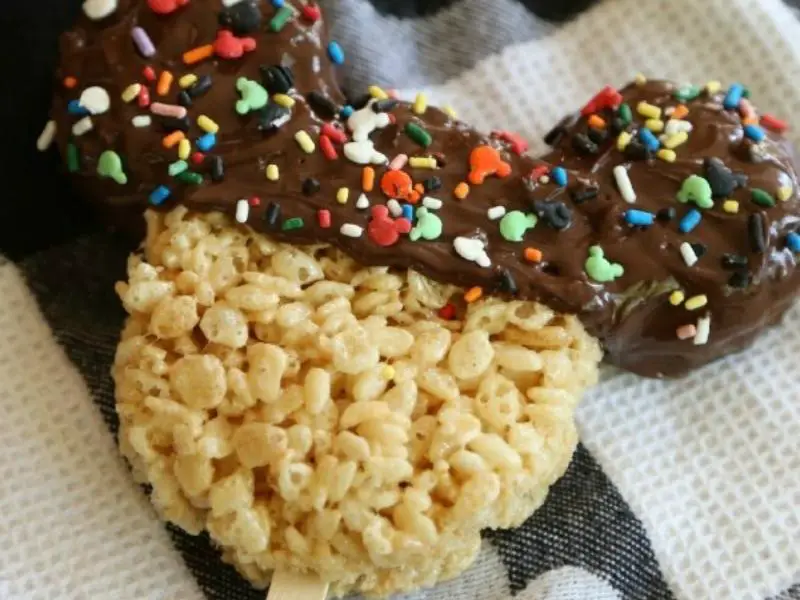 You can't miss this recipe, which is a total copycat of something you'd find in a Disney park.
Sticky krispy snacks, topped with melted chocolate and sprinkles are what we live for! I'm sure your family will love them too!
Click here for more info momendeavors.com
Mickey Sandwiches
If you have smaller guests, it's sometimes easier to give them packed lunchbox-style party lunch, rather than let them loose at a buffet table. (Where we know they'll only be interested in the sugary snacks!)
This cute lunchbox hits the Disney theme perfectly, while still providing a balanced meal.
Save this link for the details thisolemom.com
Monsters Inc Cookies
Mike Wazowski is the man of the hour with these fun cookies. As his look is so simple, you can easily draw on his eye onto a frosted green cookie.
Even non-bakers can try out this idea from lollyjane.com
'Grey Stuff' from Beauty and the Beast
Try the 'grey stuff' it's delicious… but what actually is it?
This recipe shows you how to make a delicious dollop of whatever it was that the dishes raved about in the classic movie!
Grab the recipe at lilluna.com
Disney Princess Hot Dogs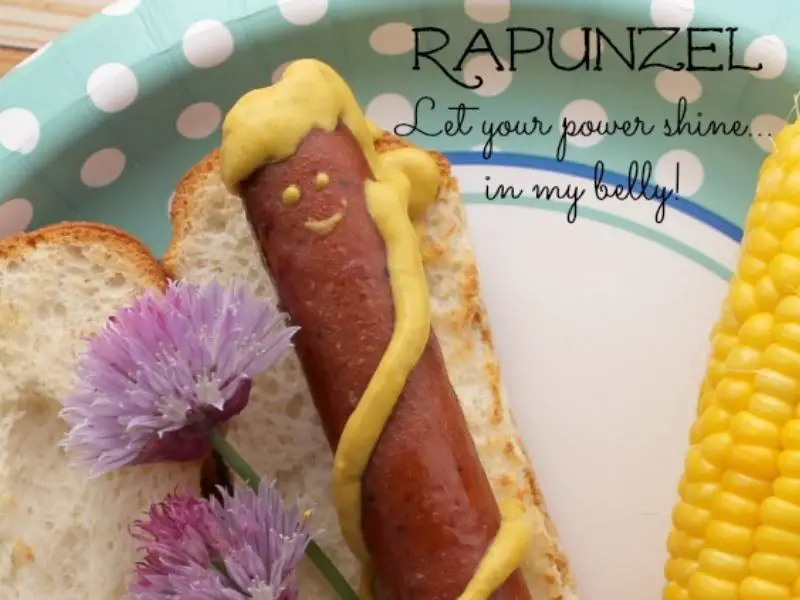 Who knew mustard could look so good!?
Make these delicious hot dogs extra special with a touch of your favorite condiment to transform them into your favorite princesses.
Find out how they're made at bitingthehandthatfeedsyou.net
Mickey Mouse Pizza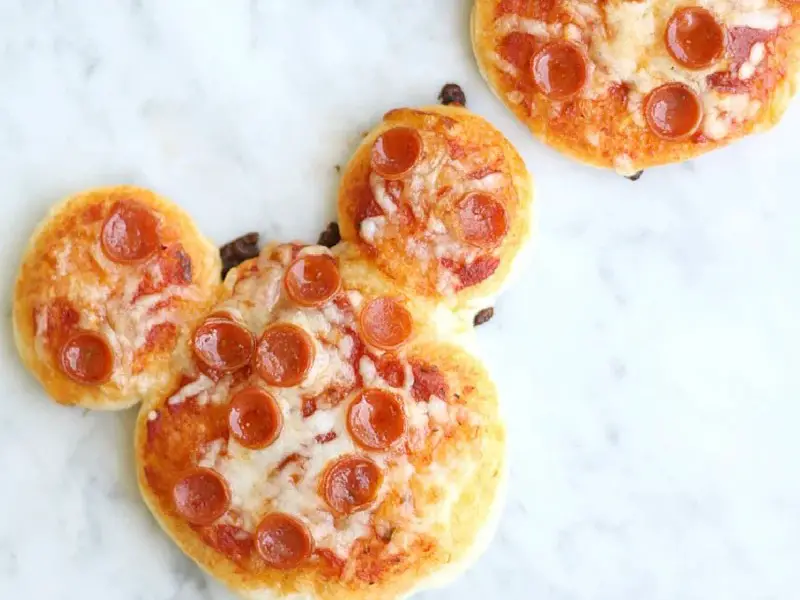 Pizza, of course, is a firm favorite when throwing a birthday party. It's incredibly simple to Disney them up – Mickey style.
This recipe uses a Mickey head-shaped cutter to make the pizza base, but you could also roll out three balls into circles and attach them too.
Search this and other Disney treats at lizoncall.com
Cinderella's 'Pumpkins'
Getting kids to eat healthily at a party can sometimes feel like a battle!
With the plethora of sweet treats and junk food on offer, fruit can be an afterthought for some kids.
This cute idea turns tasty tangerines into pumpkins a-la Cinderella for a healthy alternative to the usual party snacks.
See these (and some other great Disney snack ideas!) at dailyrebecca.com
Elsa's Hot Chocolate
Any drink that is blue is bound to make heads spin!
This yummy blue hot chocolate will be sure to fill tummies and put a smile on little faces too.
Finish off with some spray cream and a couple of marshmallows for the perfect warm-up treat.
Get the recipe from delish.com
Disney Party Favors
At the end of your party, it's nice to send your guests home with a little something to prolong the fun.
Some favors can be costly, and especially if you have a large number of kids to cater for, the money soon stacks up.
Don't drain your bank account, select one of these homemade favors as a great alternative to store-bought ones.
Frozen Crystal Candy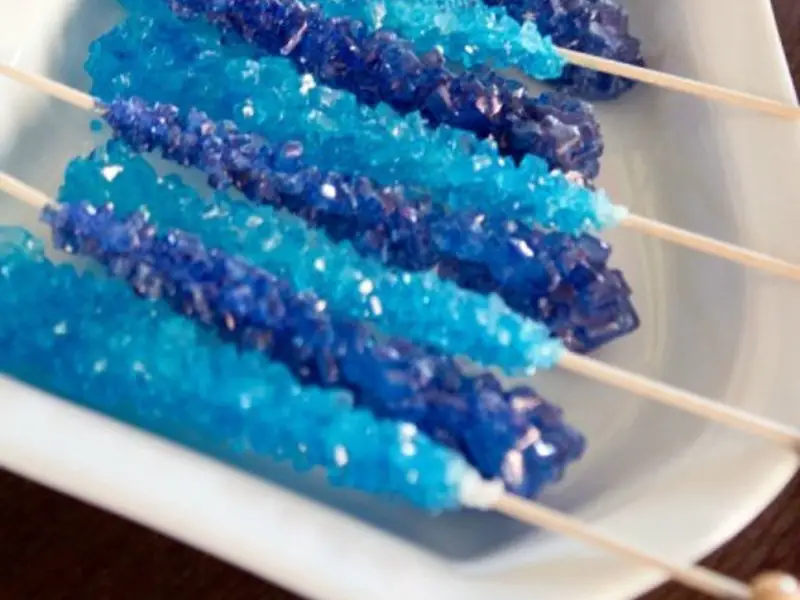 Don't miss this clever idea – you can create your own crystal candy that looks like it came straight from Elsa's frozen fingers.
Colour it in blue and purple for the perfect Elsa look.
Check out how they are made at anightowlblog.com
The Incredibles Slime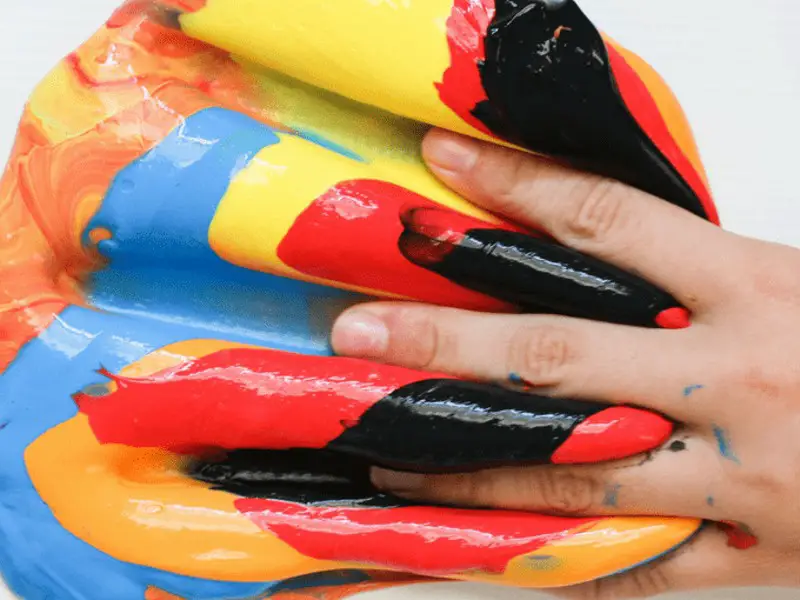 All kids love slime! And it's 'incredibly' easy to make to send each guest home with their own pot of the sticky stuff.
Get the slime recipe at karacarrero.com
Olaf Snowman Kit
Do you wanna build a snowman?
I know I do! And so will your guests after your Frozen-themed party.
This favor is simple, cheap, and easy to put together and will be the perfect gift as they leave.
Read more at iwatchthemgrow.com
Disney Themed Decorations
You want to set the scene for your party, and decorations are everything – as well as the traditional balloons and bunting, why not try some of these ideas too.
Construction Paper Mickey Ears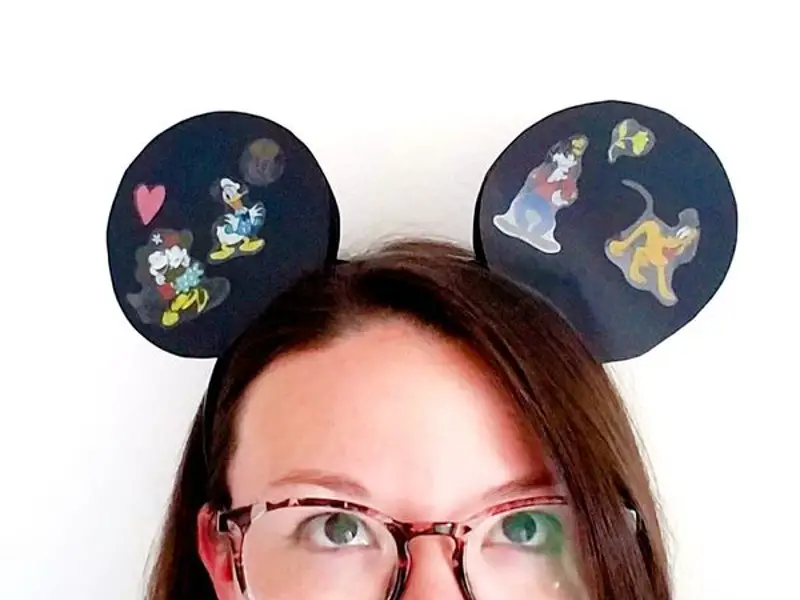 Of all the accessories in the Disney universe, there are none quite as iconic as Mickey's ears.
Buying a bunch of them for each of your guests to have a set could get pretty pricey, so we love this tutorial which shows you how to make your own at home for a fraction of the cost.
Get the guide at awaltzthroughdisney.com
Frozen Salt Dough Ornaments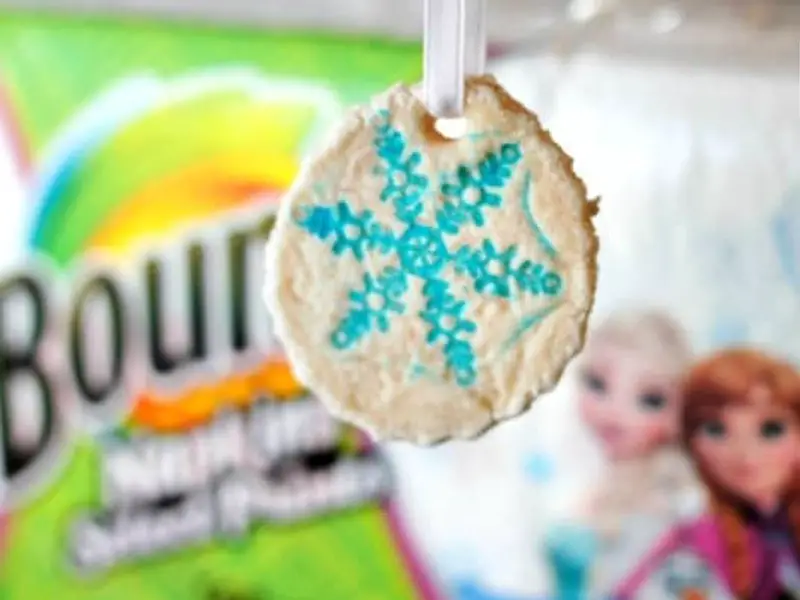 Make your own 'Frozen fractals' al-a Elsa with these cute salt dough ornaments.
This activity could be fun for your guests to make at the party and take home with them, or it could be cute for your birthday child to make before the party as decorations for the event itself.
Find out how they are made at yourmodernfamily.com
Minnie & Mickey Paper Plate Craft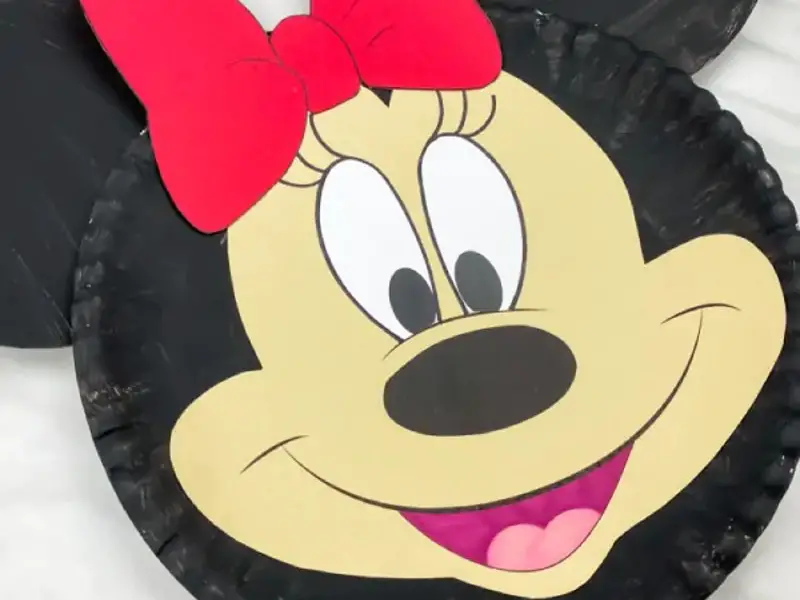 Crafts don't have to be too tricky, and this paper plate activity is an easy way to make Mickey and Minnie faces on a budget.
These characters would look great hanging up on your walls to show your guests exactly what party they're at!
Get the free printable at simpleeverydaymom.com
Mickey Mouse Paper Ornaments
So it may not need to be Christmas to make these cute Mickey Mouse baubles. They're made from colored paper and are super easy to create.
For a springtime party, try using pastel shades of paper for a fresh look.
Find out more at redtedart.com
'Up' Balloon Bundle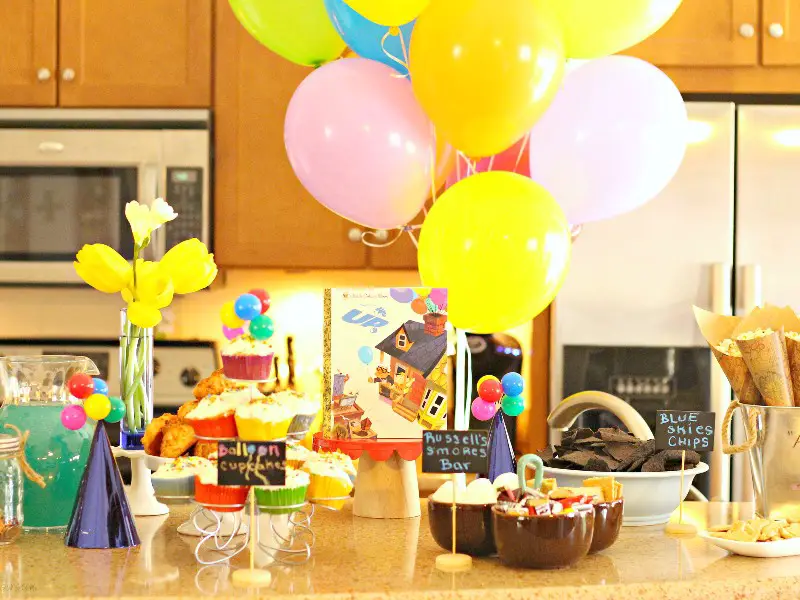 You don't want to make your house fly away, but having a huge balloon bundle is always fun! Combine a rainbow of colors to make these balloons just like in the movie Up.
Check out this and other cute Up themed ideas at raisingwhasians.com
Mickey Canvas Painting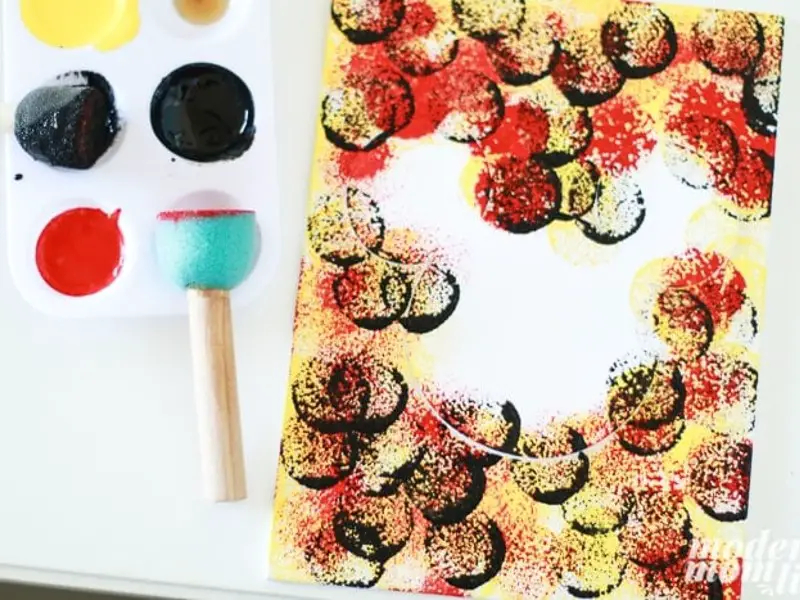 I love this canvas, and I can just imagine adding the party details on to it inside Mickey's head as a great way to greet your guests.
A totally unique prop, that is easy enough for your little helpers to help you to make.
Get the information on this craft at modernmomlife.com
Disney Fun Crafts and Games
You can't have a party without some games and activities! Here we round up all things Disney for you to keep your party guests entertained throughout your birthday bash.
Disney Dress Up
Kids (and adults!) love getting dressed up for a party and there are probably a bunch of your invitees that already own some element of Disney-themed clothing in their wardrobe!
Asking your friends and family to come dressed to impress puts them in a fun party spirit before they have even arrived.
And even those who don't particularly like to dress up can give a small nod to Mickey himself with some mouse ears or other accessories.
Forky Headband Craft
Fans of Toy Story 4 will instantly recognize this little fella as Forky. This simple headband craft will be easy for your little guests to make and will give them a fun memento to remember their day!
Find out how to make it at simpleeverydaymom.com
Mickey and Minnie Cookie Decorating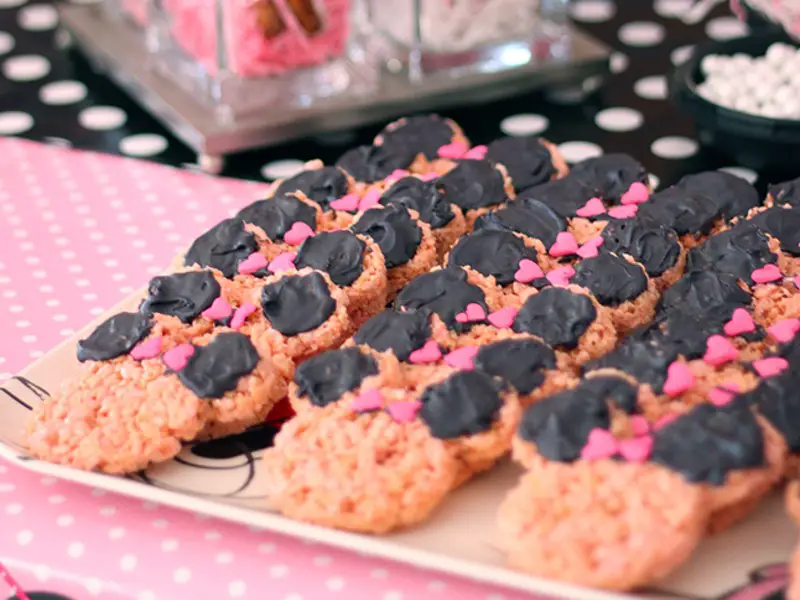 Children love sweet things! Even more so when they've made them themselves.
Although baking is going to be impossible while trying to host a party, decorating pre-baked cookies is an easy activity to plan and prepare.
See more on this at blog.chickabug.com
Disney Photo Booth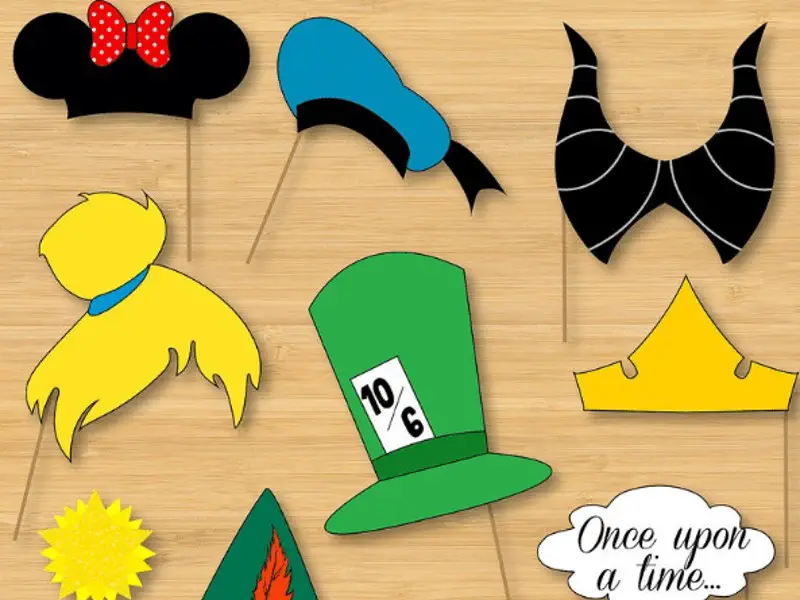 Remember your special day with a Disney-themed photo booth. Print out props from your favorite movies and stick them on sticks for your guests to click pictures with!
Find this great idea and other Disney party content at pixiedustandpassports.com
Cars Popsicle Stick Craft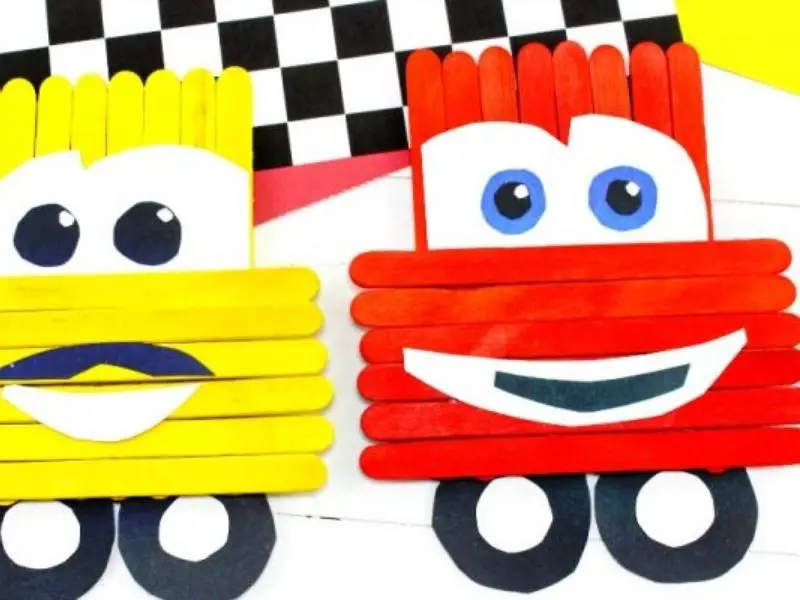 Fans of Cars will love to make their very own Lightning McQueen. It's often a good idea to have a craft activity on standby for a long party day as well as the boisterous party games.
This Car will keep little fingers busy until it's time for cake!
Get the directions for this activity at naturalbeachliving.com
Superhero and Princess Bracelets
Both boys and girls will love to make their own bracelets inspired by their favorite characters.
With a whole range of beads that you can get, with different colored strings, you can craft unique designs that your little guests will love to take home with them.
This great blog also gives you some examples for each princess and hero if you need a little inspiration too.
Be inspired at activity-mom.com
Blindfolded Mickey Drawing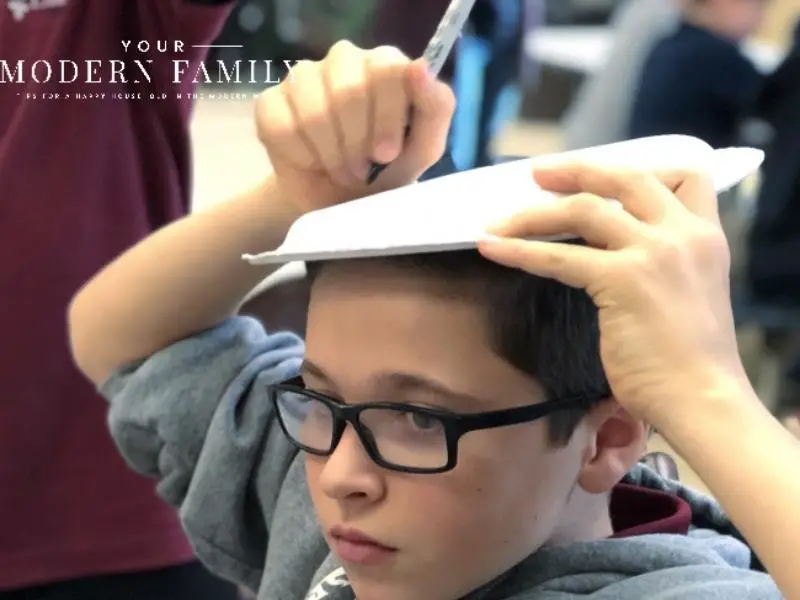 If you want a giggle then this party activity will be bound to make everyone laugh.
Have your guests attempt to draw Mickey whilst blindfolded (or with their eyes closed).
You can score them on how good or silly they each look.
Read more about this and other party games at yourmodernfamily.com
Disney Song Game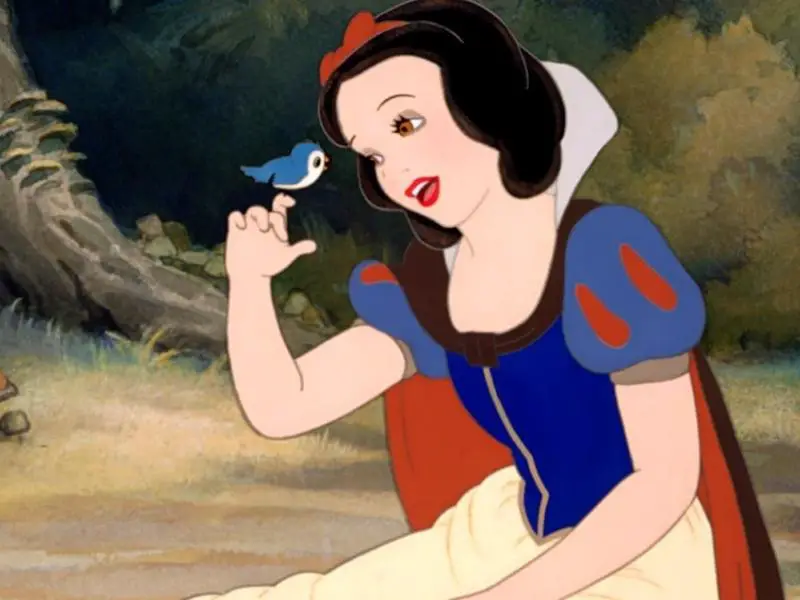 Older kids will love to play charades, sing, or even act out a scene from their favorite movies.
For this activity, select some well-known songs from Disney classics and have them sing along to their team in a race to name the movie it comes from!
If this is a bit tricky, you could also play a Disney playlist and see if they can spot the intro and name the movie that way instead.
Read about how to play, plus a whole heap of other Disney games at insidethemagic.net
Princess Party Games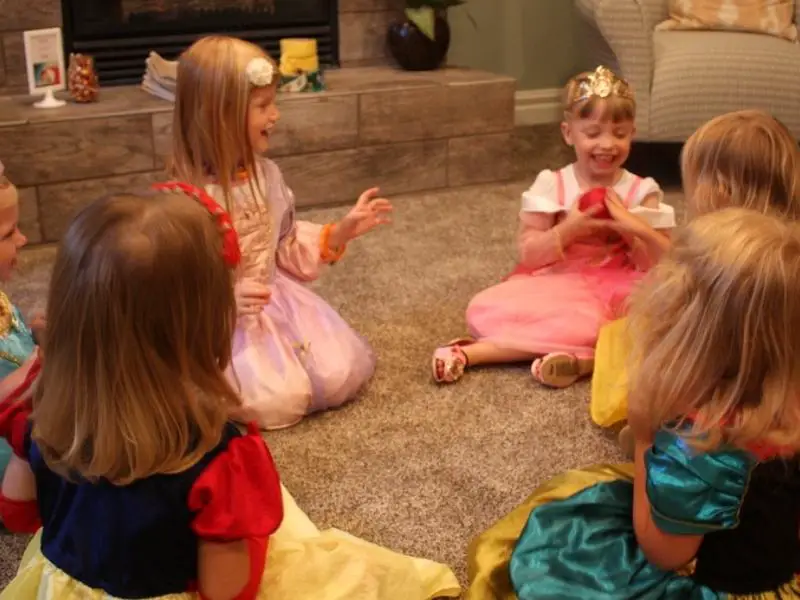 If you have a party full of little girls, then a princess-themed day is in order. This blog shares a whole host of easy to organize princess games that your kids will love to participate in.
Each taken from a famous movie, you can kiss the frog – like Tiana; you can go on a magic carpet ride like Jasmine; Take a bite from a poisoned apple, only to be revived with a (Hershey's) kiss, and search for treasures like Ariel.
Each of these games is super simple to prepare and will provide your guests with so much fun.
Read more about this and other princess-themed games at eventstocelebrate.net
Disney Birthday Party Ideas
We hope you've been inspired by our awesome selection of party planning ideas for the ultimate Disney birthday bash.
Choose your favorite snacks, decorate the room and plan for some fun games and your Disney birthday party will be a super success.
Remember to check out our other party planning pages for other birthday themes.
Comments
0 comments