When crafting, one of the most versatile materials to use is polymer clay (also known as oven-bake clay, or by the brand name, Sculpey clay).
It's fun to use and can be enjoyed utilized for project ideas by both kids and adults alike.
It's easy to craft with, as it's malleable and remains workable until you have baked it.
And unlike traditional clays, you don't need a special kiln to cure it, it simply goes into your kitchen oven.
While children may tend to make models and figures, polymer clay is also great for other more mature crafting creations, such as jewelry, home decor, and personal handmade gifts.
Why choose Polymer Clay over Air Dry Clay?
Polymer clay uses heat to set and doesn't shrink during the drying process as air dry does.
Also, polymer clay won't harden and become unusable if left out to 'dry'. It's only heat that solidifies it as part of the firing process.
Polymer clay comes in a variety of colors and can be easier to create intricate details with, compared with air-dry, where paint is needed to add color.
When finished, polymer clay creations don't need sealing in the same way air-dry clay crafts do to protect from water and heat.
Although, sealing will give your polymer clay project a nice shiny finish.
23 Oven Bake Clay Inspiration Projects
We've checked out the best of the web to bring you the best inspiration and tutorials for your next polymer clay projects.
From items to have at home, or for creating perfect gifts with a personal touch for the holidays, there's bound to be something to inspire you to get crafting!
DIY Clay Coaster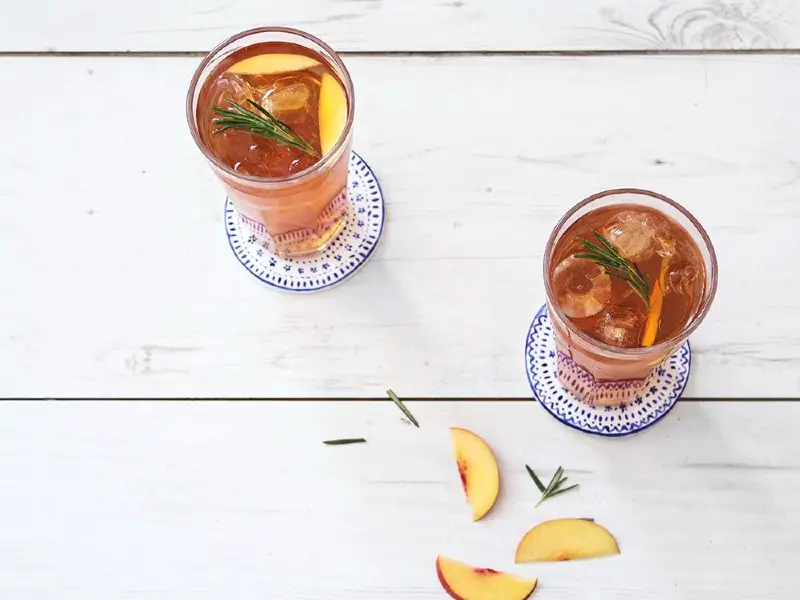 Making a cute coaster using oven-bake clay is an easy craft if you're new to working with the material.
You just need to roll it flat and keep it a uniform thickness (you don't want your drink to be wobbly!)
There are a ton of ideas you can go for, but I love the cute and intricate pattern of these blue and white coasters.
Read more on this craft at thelovelydrawer.com
Marbled Ring Dish
For funky handmade projects, Pop Shop America has a stylish range of oven-bake clay crafts.
We are obsessed with the marbled effect of this ring dish. It will not only keep your rings safe, but it also looks amazing too.
Made by blending 'snakes' of colored Sculpey clay together and rolling out into shapes, this technique would also look magical as a coaster, or a jewelry pendant.
Check out the instructions at popshopamerica.com
Rose Incense Holder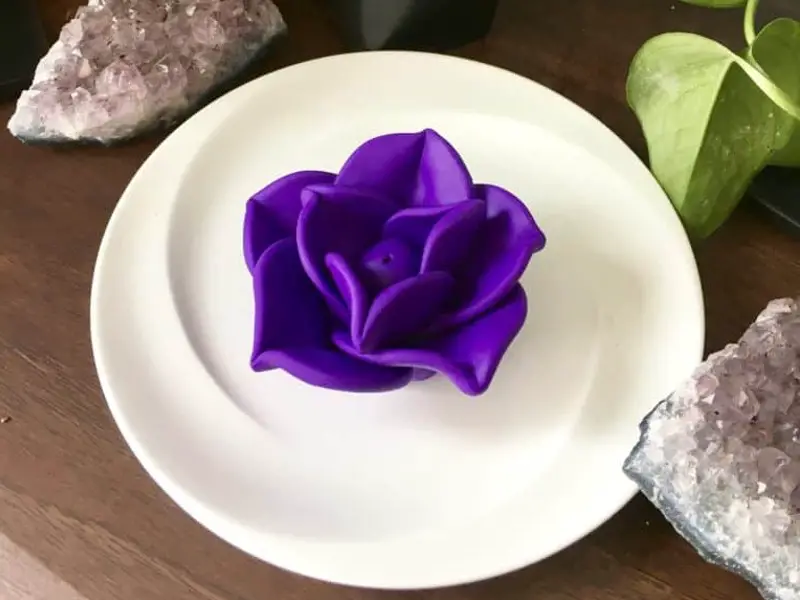 Cleansing the energy of your home with a stick of incense is a calming delight for many of us, but it can be annoying when the ashes leave a mess.
An incense holder keeps your home tidy of pesky ashes, and this one has a beautiful rose petal effect which is stunning!
Search the tutorial at craftylittlegnome.com
Geometric Earrings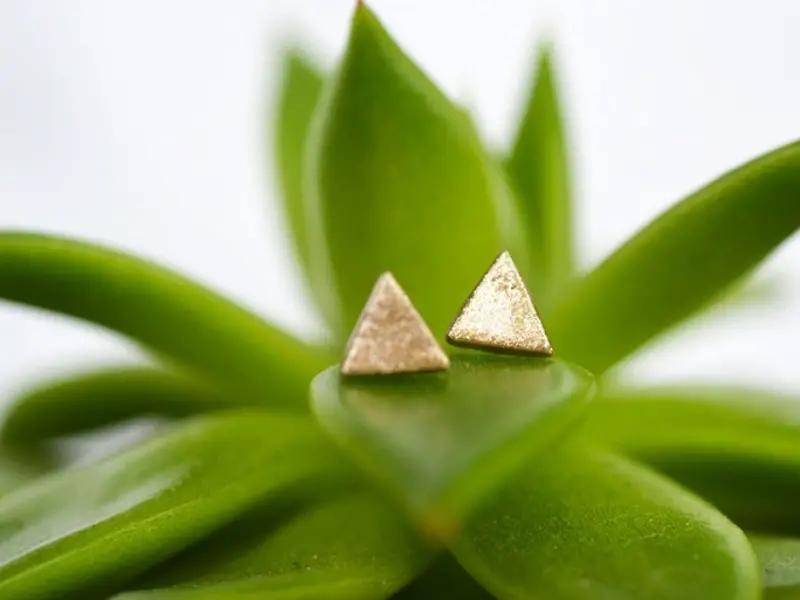 Those clever people over at Pop Shop America have done it again, and have also given us this tutorial to make these stylish earrings.
And not just one style, but this craft tutorial shows you 5 different styles of earrings you can make with polymer clay and just a slick of nail polish.
Check out the possibilities at popshopamerica.com
Fridge Magnets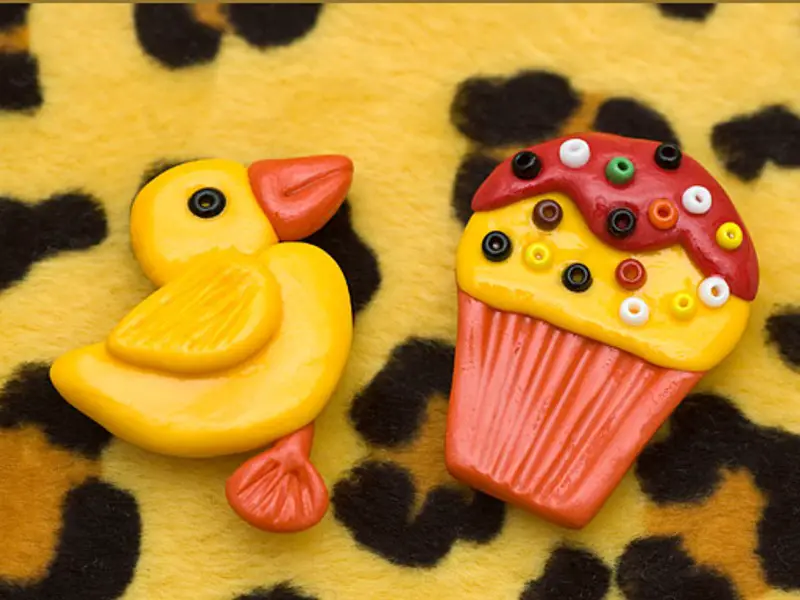 Another fun Sculpey project is to make your own personalized magnets.
Essentially you can make any design you like and attach magnets to the back of them to display proudly on your fridge!
This post from Coffee and Vanilla makes an adorable cupcake and duck – but you can be creative and make anything you choose.
Find out more at coffeeandvanilla.com
DIY Clay Wall Hanging
Make your home beautiful with a unique and stylish wall hanging.
This craft uses cookie cutters to make perfect shapes that are linked together with chains and sites for a stunning effect.
Read more on this post from aliceandlois.com
Woodland Friends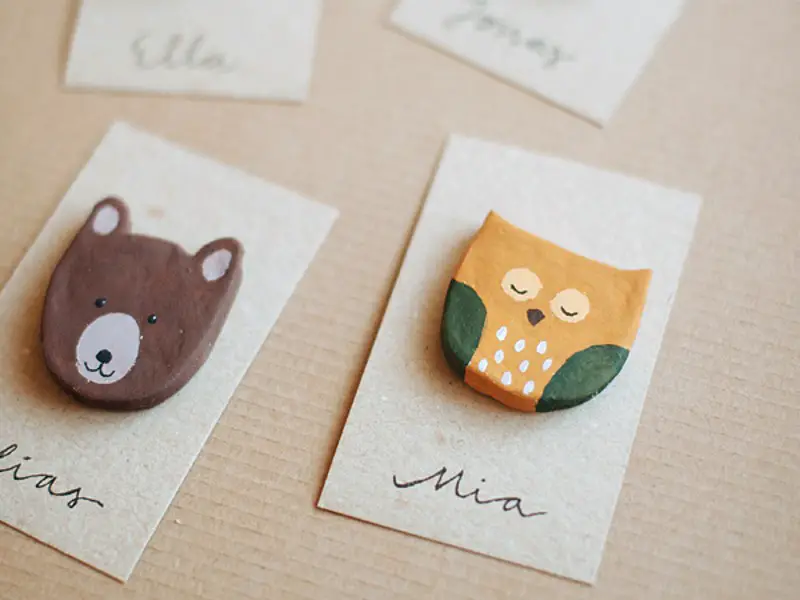 This sweet crafting project actually uses air-dry modeling clay, which is then painted, but it was too adorable NOT to include in this list of polymer projects.
How cute would these guys look at a themed wedding or as party favors for your guests!
Get the information from ohhappyday.com
DIY Agate Coaster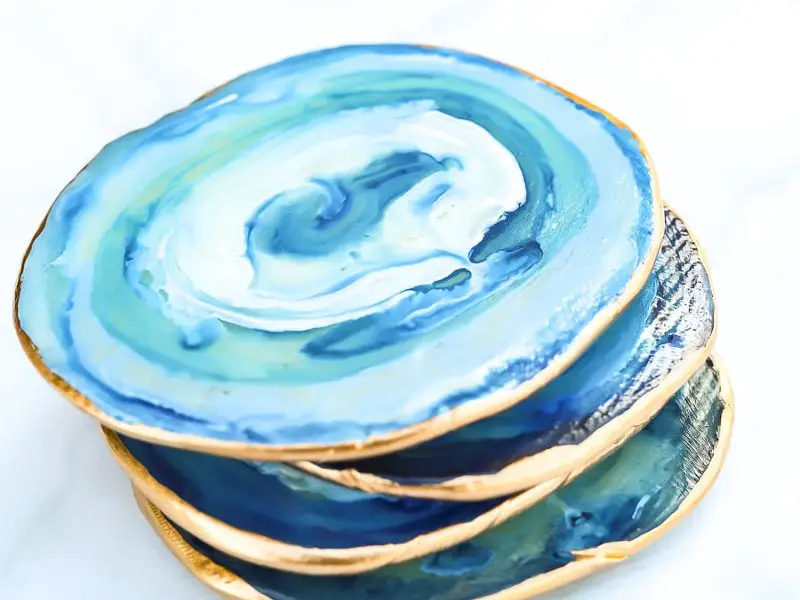 I know we've already included drinks coasters on this list, but I couldn't NOT include these agate-inspired ones.
They're so beautiful all of your friends and family will be wanting you to make them a set too.
Read about how they're made at jenwoodhouse.com
Photo Holder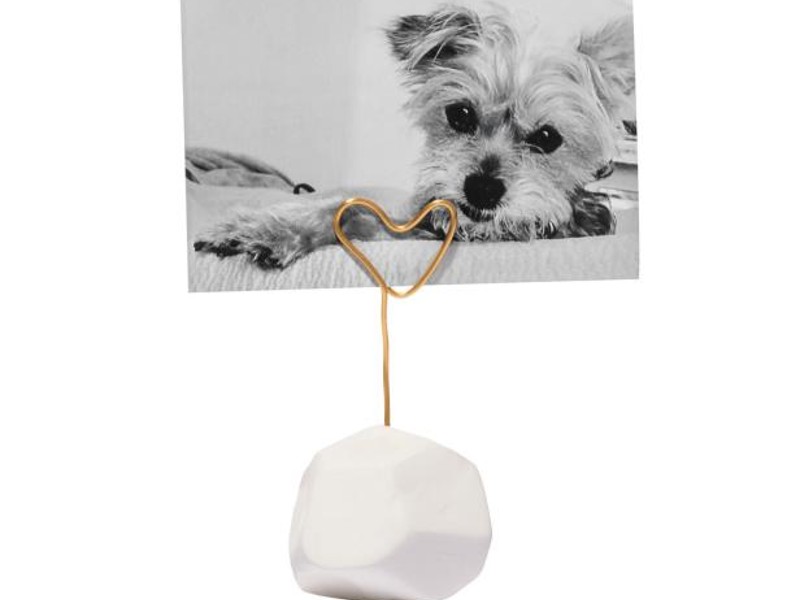 This simple and easy photo holder looks cute on your desk at work, or can make a nice gift for a friend if you add a picture to it! It's easy enough to make, just using a lump of polymer and some wire.
The tricky part with this project will be timing the oven baking part, as it is a thicker lump of clay.
Make this simple design with the instructions from hgtv.com
Braided Planters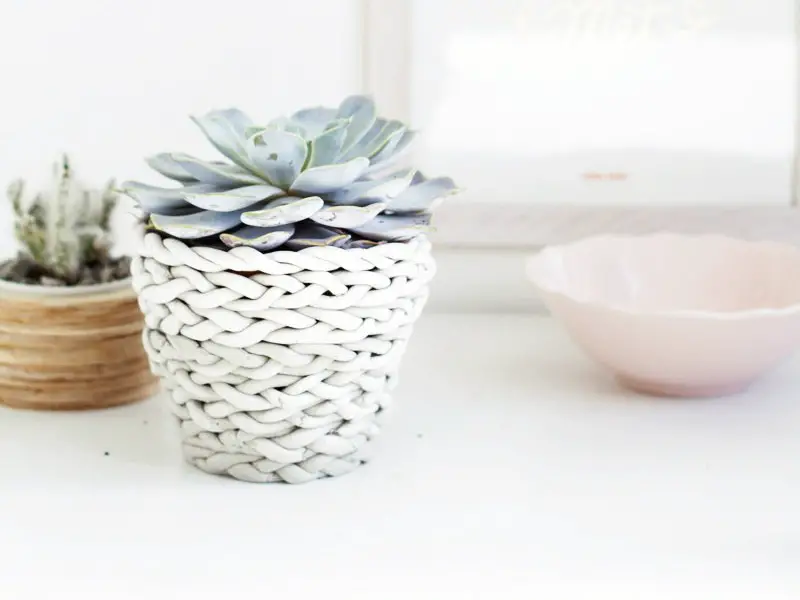 If you're a fan of small succulents or mini plants, then this DIY braided planter could be just what you need to make them look even more luxurious in your home.
It's a little bit fiddly, but if you can plait string, hair, or friendship bracelets, then you should be able to roll out and plait oven-bake clay too!
What I love about this project is that the braiding looks like an intricate basket weave when it is woven around the plant pot.
It would make an inexpensive but chic birthday gift for a friend.
Find out more on this craft at fallfordiy.com
Moon Phase Wall Hanging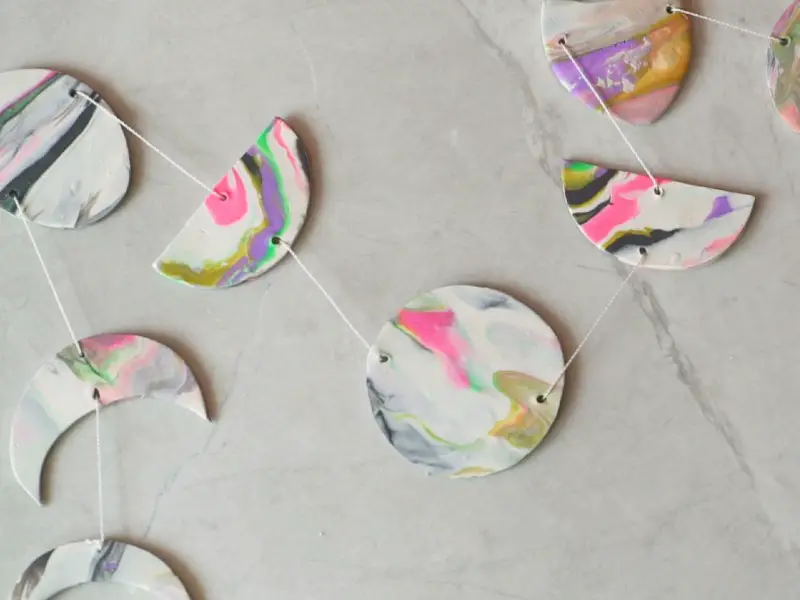 If like me, you're obsessed by the phases of the moon, then this stunning wall hanging is a MUST make DIY clay project. It blends Sculpey in a gorgeous marbled effect.
Grab your clay in your favorite colors, you can match it to your decor if you wish!
Get the tutorial from popshopamerica.com
Cactus Ring Holder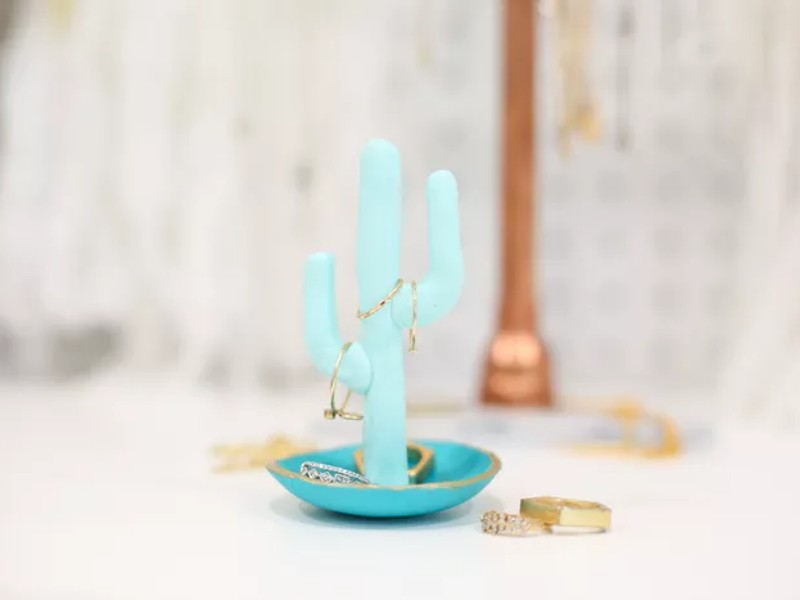 A lot of the tutorials are useful things that also look stylish in your home. How fun would this jewelry holder look on your dressing table?!
As it's taller than some of the other jewelry dishes, it would also be great for dangling necklaces and bracelets on too, as well as rings.
Find out more on these jewelry holders at thesprucecrafts.com
Clay Beads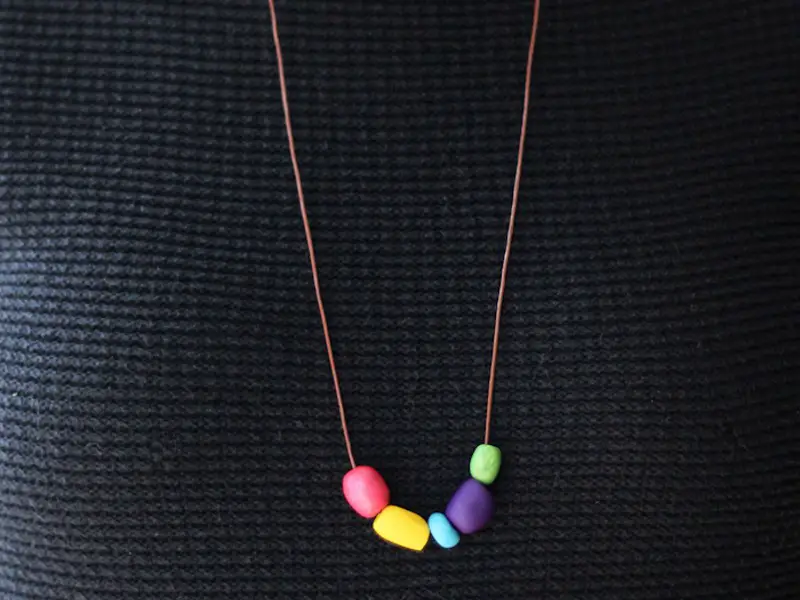 If you're into fun jewelry, making your own colorful beads to thread onto bracelets or necklaces is a great way of getting a unique look.
This guide shows you how you can make your own little beads that can then be used for a whole range of projects.
Find out how they're made at thecraftedlife.com
Christmas Ornaments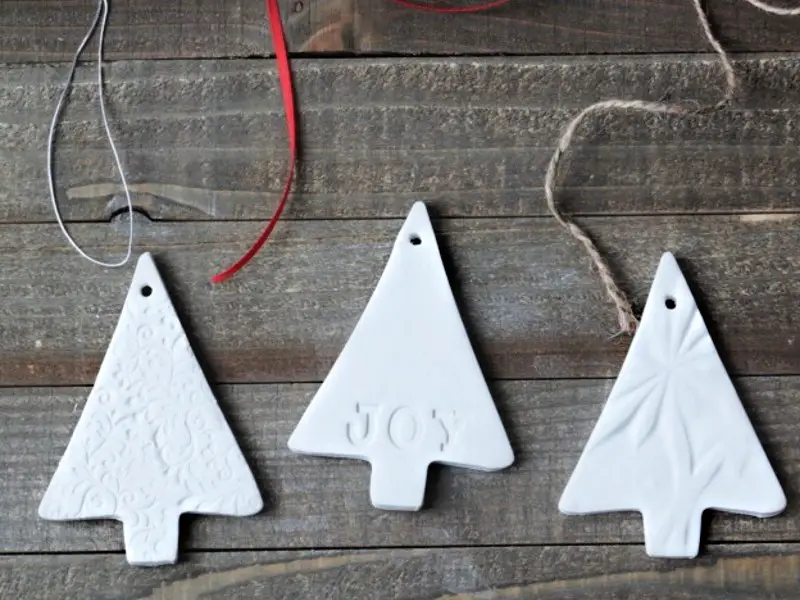 Christmas is always a special time of the year, and what better way to make the turn of another year than with a homemade DIY decoration for your tree.
These modern tree designs have an embossed look to them, which makes them look very high-end and luxe.
Finish them by hanging them from a ribbon or piece of twine to finish them off.
Check out the blog momalwaysfindsout.com for more details.
Clay Covered Pens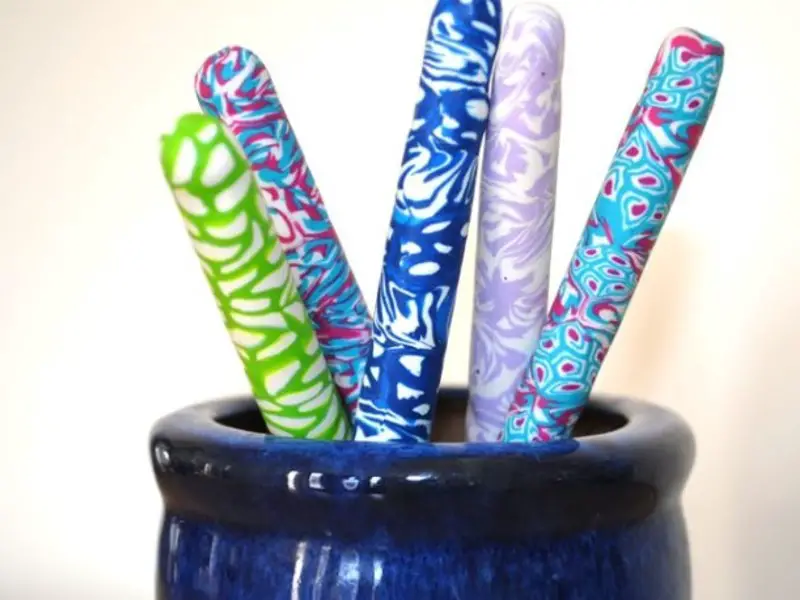 This guide helps you turn a boring pen into a work of art that you'll be inspired to write with!
Cover your pens with polymer in stylish ways with the information from Creative in Chicago.
Just ensure you only do it to pens where the ink is removable, or else you'll have a mess when you come to bake them!
This guide also shows great techniques for blending polymer in creative ways.
Read more on this craft at creativeinchicago.com
Rustic Garden Markers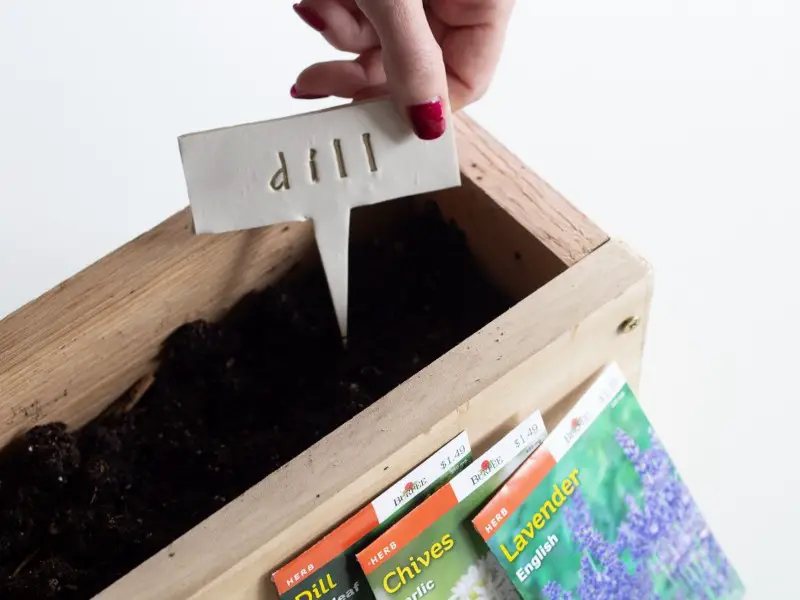 If you love gardening then you'll adore these little sign markers that you can make to label the herbs and plants in your garden.
This amazing idea combines alphabet stamps and a splash of gold paint to add imprinted wording to each sign.
Find the tutorial over at popshopamerica.com
Polymer Clay Vase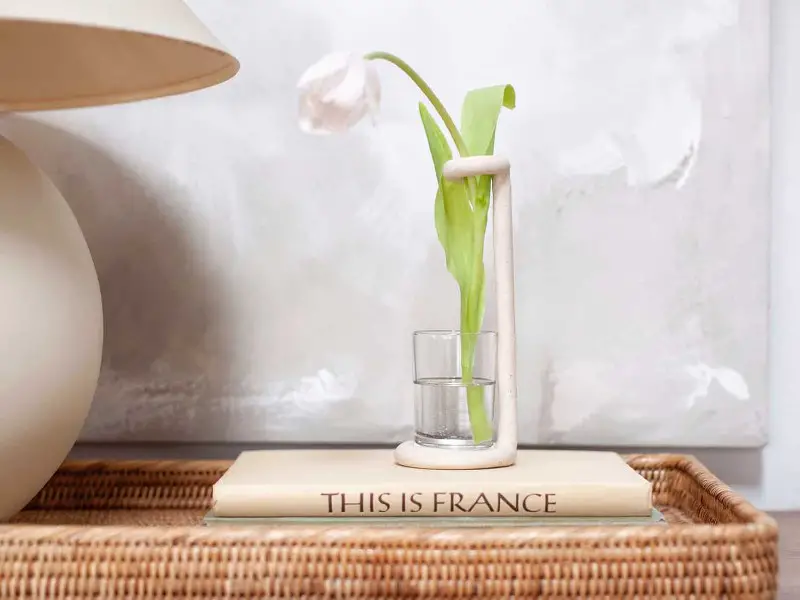 This simplistic idea is a beautiful way to display a simple single flower.
Tulips and some other flowers can become droopy, and this modern vase project holds up the bloom in a stunning way.
It uses wire for stability and sand to give it a more textured and natural look.
Find out more on this DIY clay project at abeautifulmess.com
DIY Polymer Keychains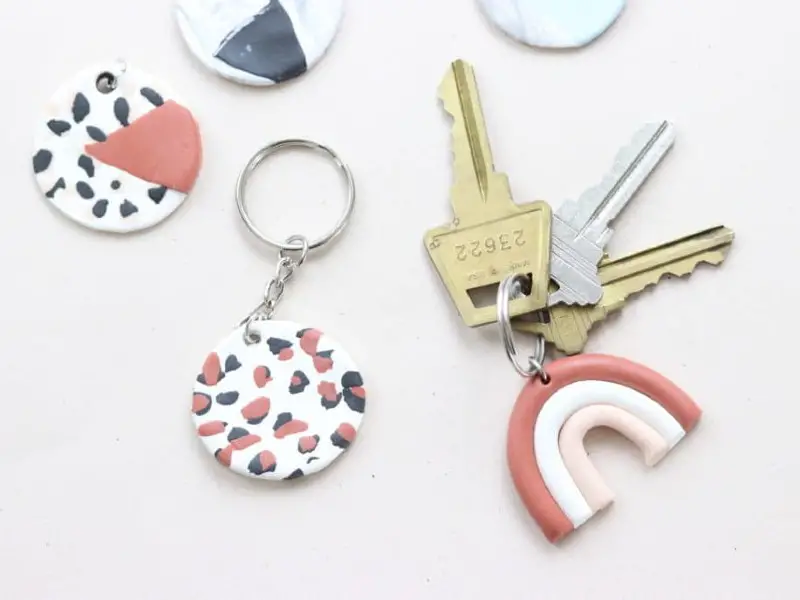 Everyone has keys for something or another, and having a fun keychain will help to stop you from losing them!
You can make any design and add a keychain to it, but this tutorial page shares a delightful animal print technique, so no need to paint it once it's baked.
Find out more on this project at raisingnobles.com
Tabletop Tic Tac Toe Set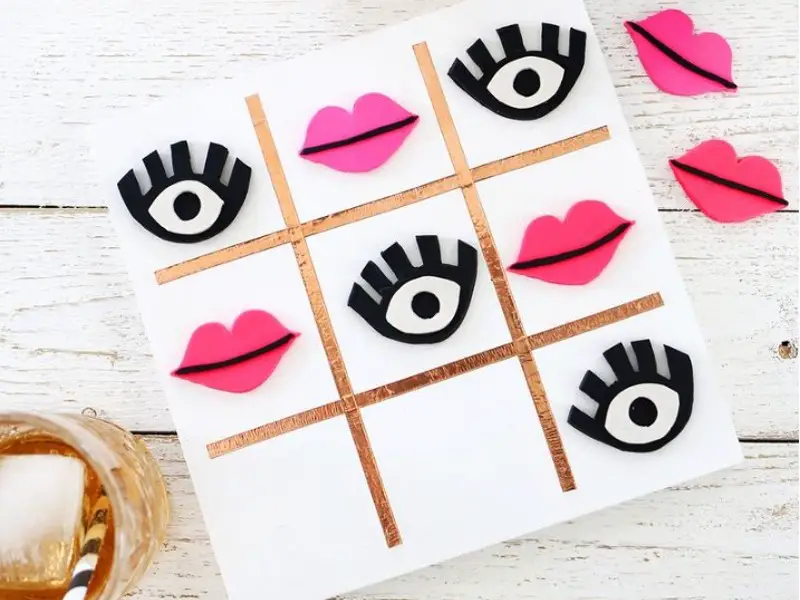 This project creates a coffee table game that will be a talking piece for your home.
It's an interesting clay idea as it uses lips and eyes instead of the traditional Xs and Os.
If this pop-art of body parts isn't quite your style, you could tweak the idea to include whatever is to your own personal taste. You could use dogs and cats, circles and triangles, or anything that you desire.
Search the instructions at abeautifulmess.com
DIY Bouquet Charms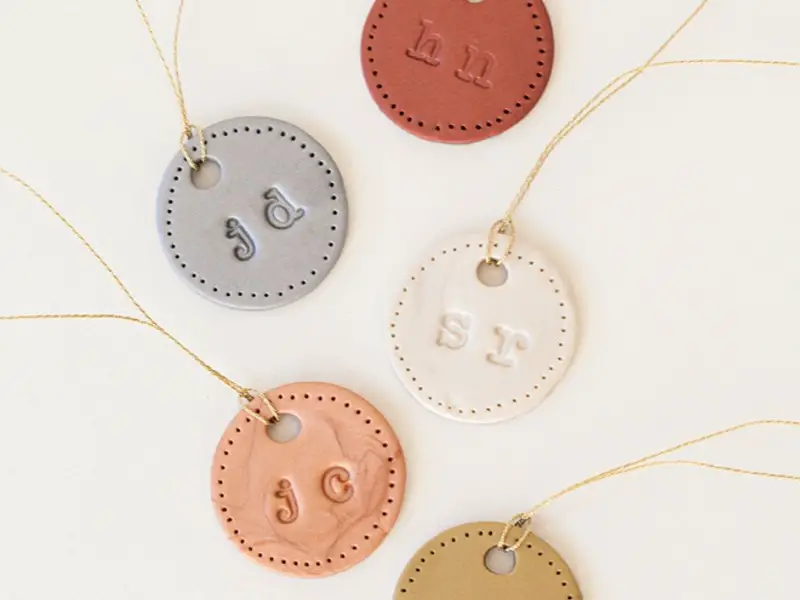 This tutorial gives you a guide to making charms for the bouquets for a wedding so that each bridesmaid knows which bouquet belongs to who.
It's a gorgeous keepsake that will remain, long after the flowers have died.
But these cute ideas could also be used as a place setting for a wedding too, for each guest to have as a memento of their day.
Find out more on the blog somethingturquoise.com
Petal Planters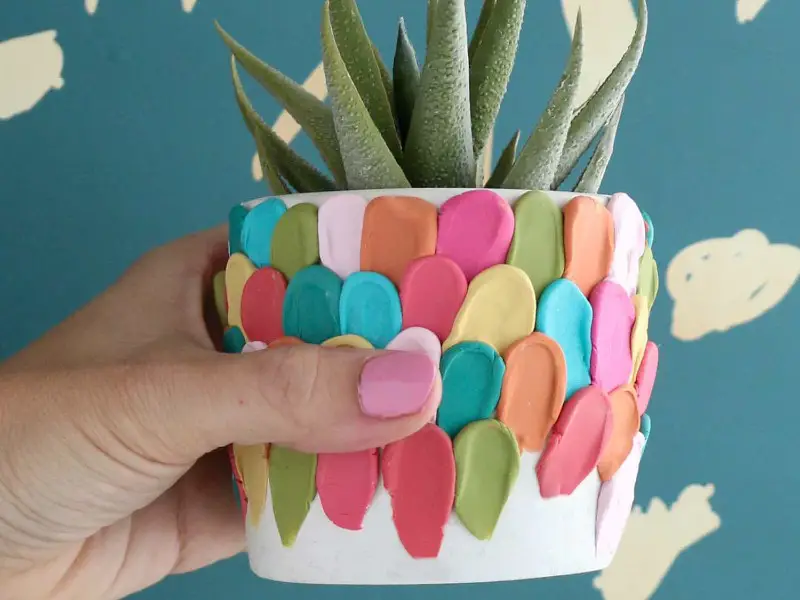 For a colorful DIY way to update your planters, why not use Sculpey to add pretty petals.
This technique builds on an existing plant pot and easily smooshes the petals to make an end result that is both bright and gorgeous!
Choose to use all of the colors of the rainbow, or stick with a strict palette of two or three shades for a different look.
Search the instructions at abeautifulmess.com
DIY Terrazzo Cheese Knives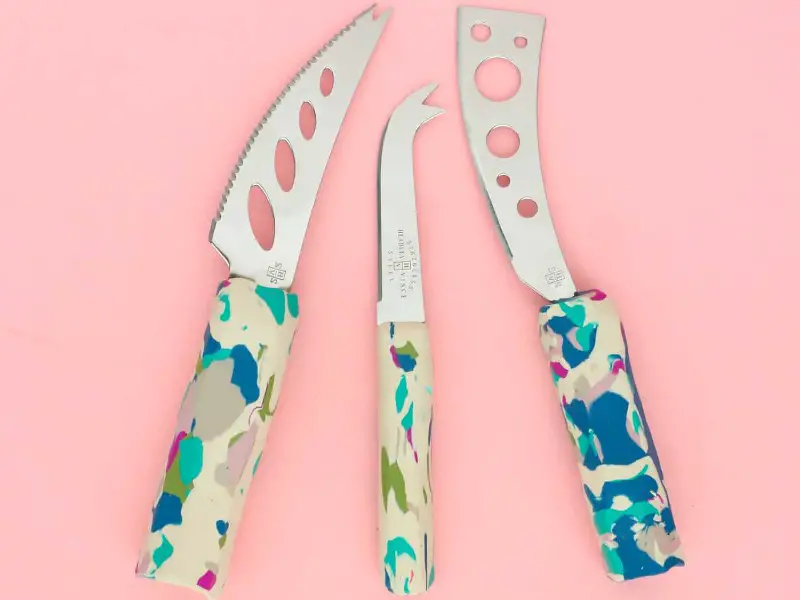 Cheese is a guilty pleasure of many of us, and the inspiration for this next idea.
You can use your oven-bake clay to create handles for your cheese knives. What looks more stylish than special knives that match your dishes.
To be able to be around food and liquid, Sculpey needs to be sealed with a food-safe sealant, and these knives won't be dishwasher safe.
Read more on the page abeautifulmess.com
DIY Cake Topper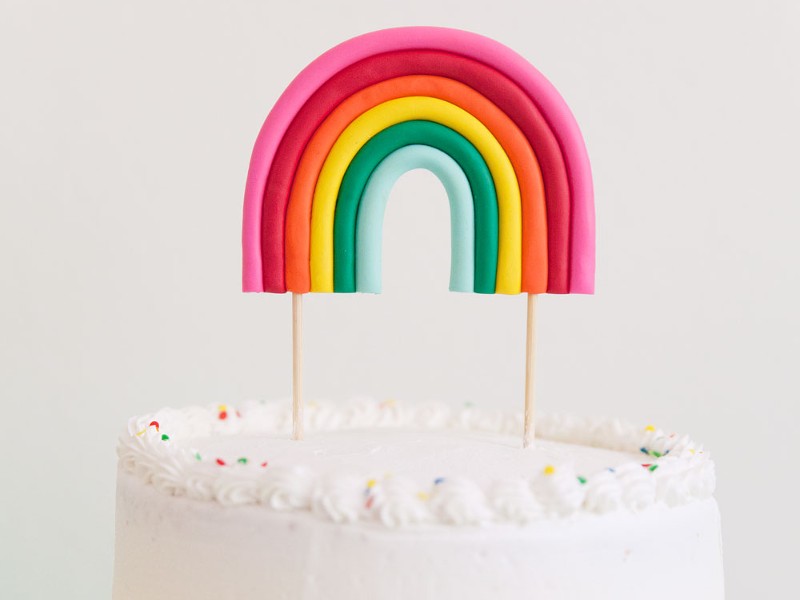 Baking is ever so popular, but if you aren't the best with the buttercream and fondant, having a show-stopping cake topper can turn even the simplest of cakes from drab to fab!
This rainbow topper is easy to make and will last you for every birthday for the rest of your years!
Find out how it's made at tellloveandparty.com
Upcycled Picture Frames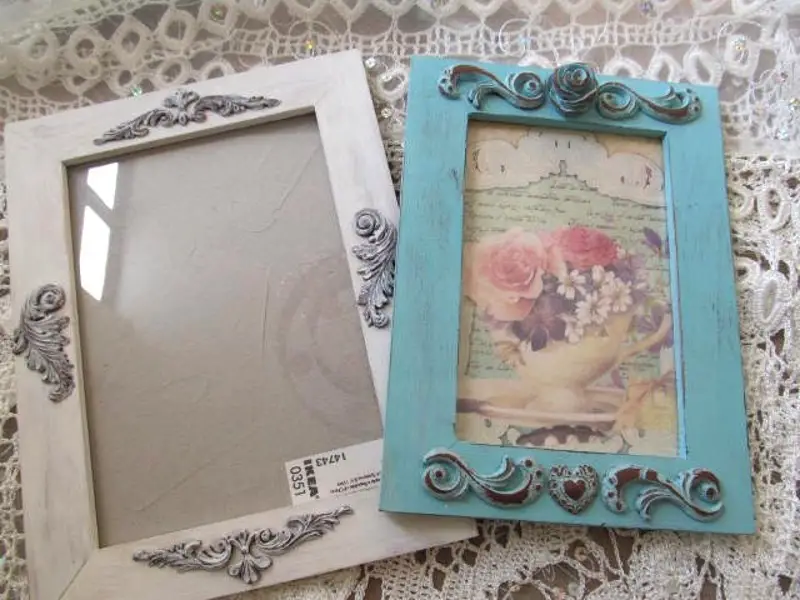 When you change your home decor, you don't always want to shop for new accessories to match your theme.
Upcycling is a great way to turn your existing things into new and updated designs.
This video shows you how you can use polymer clay to give a plain picture frame a new lease of life!
Check out the video tutorial at polymerclaydaily.com
Oven Bake Clay Crafts for Adults
We hope you have been as inspired by our list as we were when we were compiling it for you!
There are an endless number of Sculpey projects that you can create, and these ideas are simply the tip of the polymer clay iceberg!
As it is more durable once it has been baked, polymer is a great modeling material for a whole range of crafts, and glazing it with varnish (or even clear nail polish for smaller objects) will help prolong your artwork's life and give it a beautiful shiny appearance.
As well as making things for yourself, with practice, you'll soon be able to craft stylish and personal gifts for friends and family too.
Check out the rest of our blog for more inspiration and other DIY clay ideas.
Comments
0 comments