Space, it's the final frontier, and incredibly beautiful.
Swirling galaxies, glittering stars, and unchartered planets.
It makes a great inspiration point to create art that's seriously out of this world!
We've gathered some of the most unique and fun paint projects from the web so that your kids can begin painting the starry sky and other planets at home.
Check out these awesome planet painting projects your children can do at home!
Amazing Painted Solar System and Planets Projects
With a range of projects for both older kids and other ones that are toddler approved, you can find a whole host of planet art and crafts that are out-of-this-world on our list!
Black Glue Galaxy Craft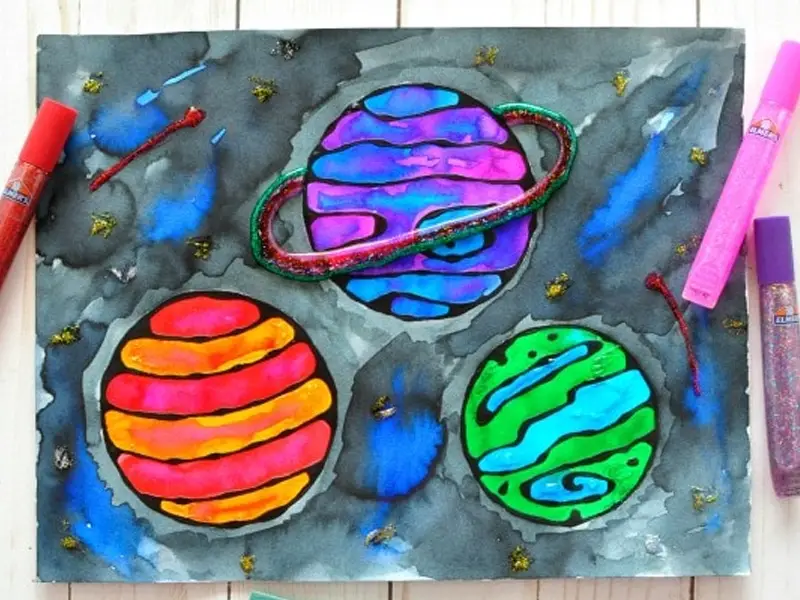 This painting project uses glue to add texture and help to segment the planets for a cool effect.
By adding black acrylic paint to your glue you make a black mix that you can squeeze onto the page in lines to contain the watercolor paints. Finish off your masterpiece with some glitter for a striking and bold end result.
Check out the step by step tutorial at iheartcraftythings.com
Sponge Painting Solar System
Be inspired by the universe and create sponge-painted planets.
In this tutorial, kids can learn how to create and use a template to mask off part of their picture and create a perfect circle.
You can go one further with this idea and create the entire solar system using the real colors of space.
Jupiter is a swirling mixture of orange, yellows, and whites. Neptune is a dazzling blue. And don't forget to include the rings of Saturn.
For combining science with this art project, you could also have older kids attempt to recreate these planets to scale, as some are a lot bigger than others.
Get the free downloadable planet cards and more information on this project at thecrafttrain.com
Watercolor Planets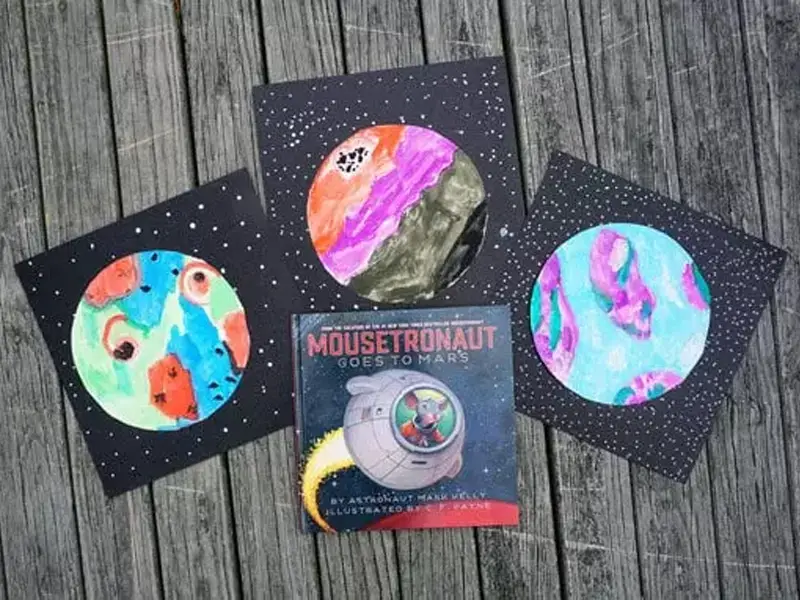 Watercolor paintings are very therapeutic and feel more 'grown-up' than splashing around poster paints for older children.
The way the colors can combine and create misty shades look gorgeous and are a little bit more realistic, compared to the cloudy surface appearance of the gas planets of Venus and Jupiter.
This craft makes planets on paper, which are cut in a perfect circle and a separate dark galaxy background, so your budding artists can practice two different art skills.
Get the details on this painting project at rainydaymum.co.uk
Plate Smoosh Planet Painting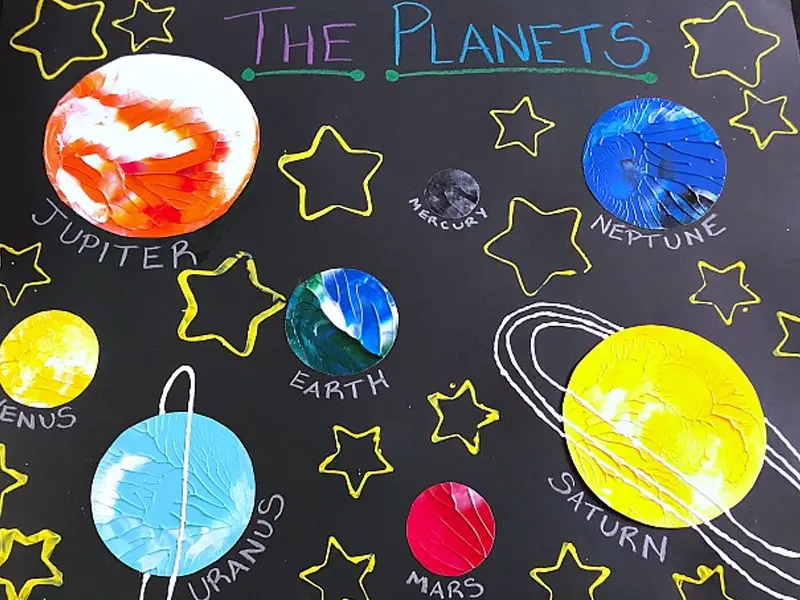 Why not have a go at painting, without any paintbrushes?
This cool idea was created by an ingenious mum who decided to use paper plates as her canvas instead of traditional paper.
She took inspiration for her planets from the colors in her space book to create art that is realistic in the shades of the universe.
Yellow and white for Venus, green and blue for Earth, blue and white for Neptune. The way the acrylic colors smoosh together look very effective!
Find out more at capturingparenthood.com
Paint a Galaxy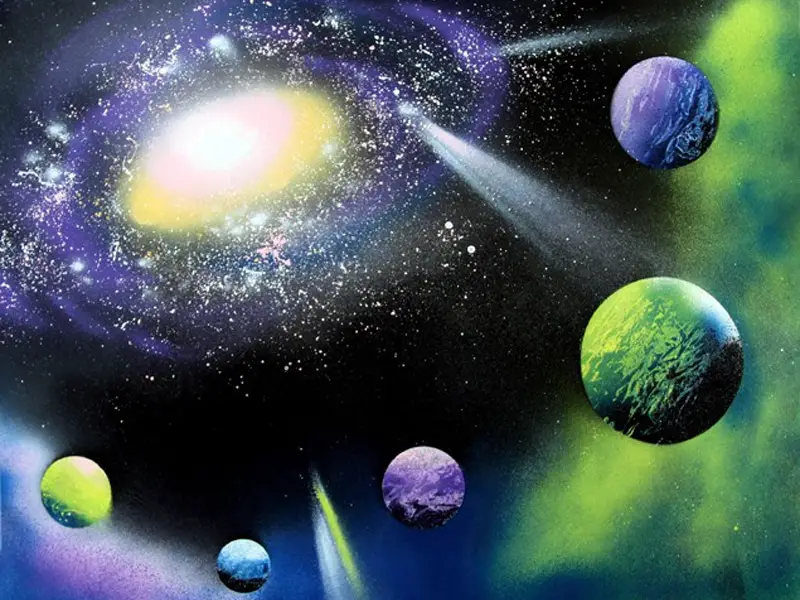 You may have seen street artists use spray paints to create awesome planet and outer space pictures.
This blog shares the different ideas that you can use to make different creative effects using spray paint, using masked off areas, stencils and spraying the can in different ways.
(This obviously is a more advanced craft that is not suitable for smaller kids, but for older people, and requires care and attention of parents when using aerosol paint.)
Get the instructions on this craft at apieceofrainbow.com
Marbled Planets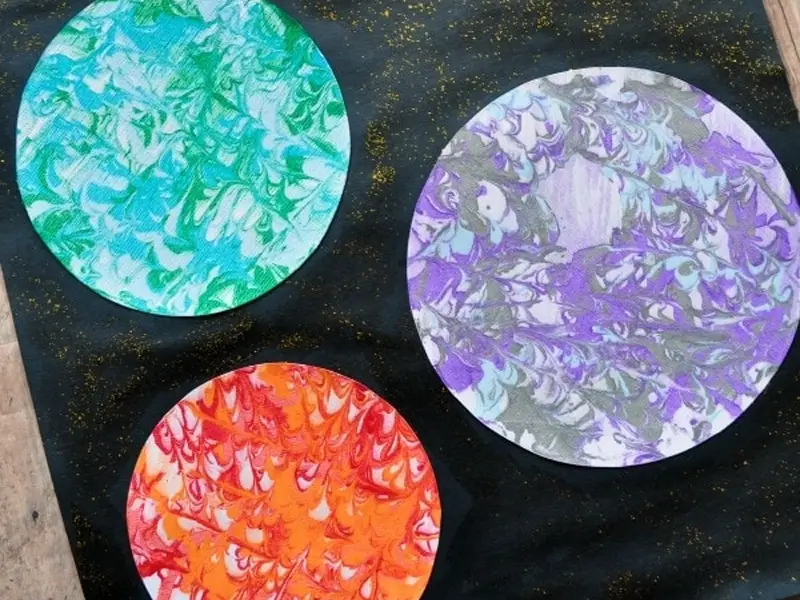 This craft is seriously toddler-approved! You can create the swirly planet look using paint, and whoever would have guessed it, shaving foam!
Throw away the book of rules for this one, and watch the planets come to life through this 'wow' technique. Your little artist will have so much fun creating their first planet.
Get the instructions on this fun art technique at iheartcraftythings.com
Multi-Layered Moon
This blog shares interesting ways to create planets using different painting techniques.
They even make the clever suggestion to let the artwork dry and then add another style over the top to create the craters and textures of the surface of the moon.
I feel these ideas would also work really well for the surface of Mars too, just exchange the white paint for more red shades.
Find out more information at make-it-your-own.com
Galaxy Art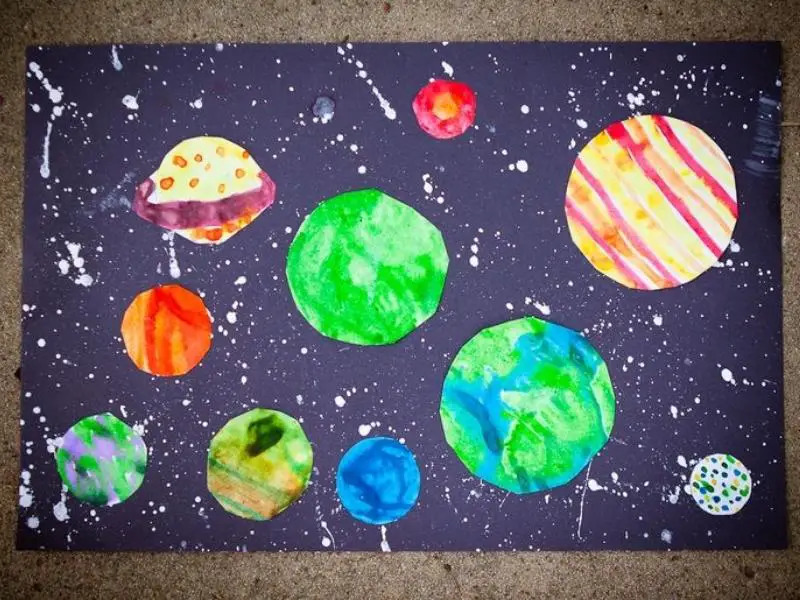 Instead of just focusing on an individual planet, make the entire galaxy! Kids will explore different techniques in this art and crafts project, combining painting and spatters!
Make it a challenge for older kids to try to produce their solar system to scale, where Earth and Venus are a similar size, but obviously, Jupiter and Saturn with its many rings will be much bigger.
Find out how to create art like this from megduerksen.typepad.com
Crayon Resist Space Art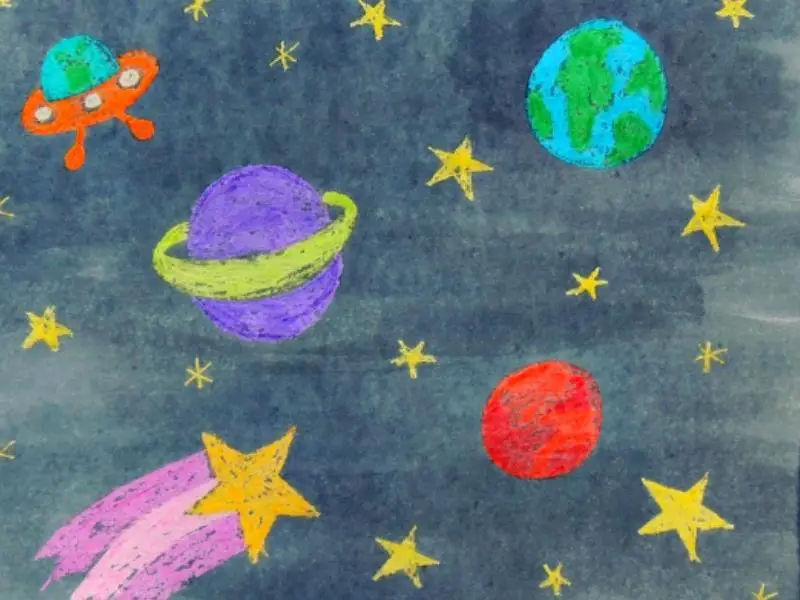 So, technically half of this art project is drawing, and the other half painting, but the cool visual effect when you do a color wash over bright colored crayons is perfect for creating an outer space art theme.
Simply draw on your planets and color with bold and thick crayons, and color wash over with a diluted dark blue and black paint.
Follow the easy step by step guide at thecraftingchicks.com
Rock Solar System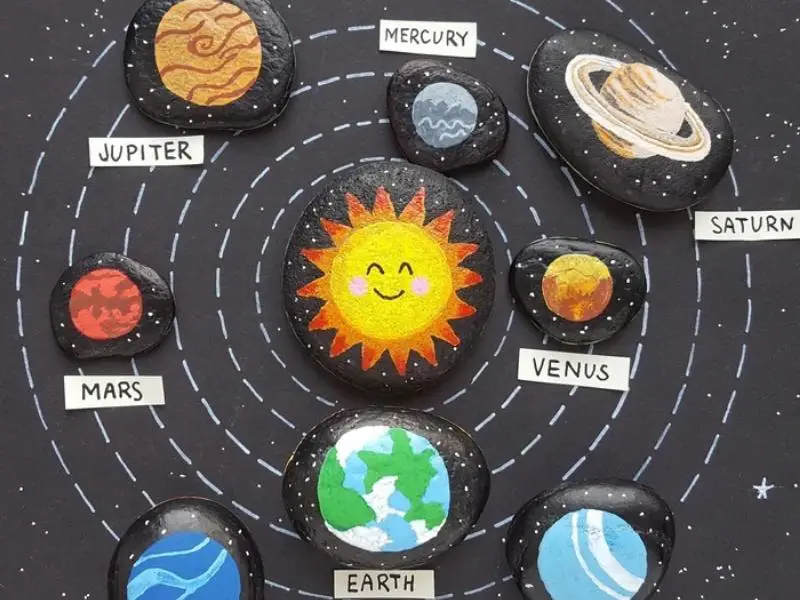 Who decided paper or a canvas was the only way to display art? This amazing idea breaks the rules and makes each planet on a different rock!
Your kids can paint planets on each rock individually to create a cool solar system. What's even better about this is you can then use these rocks in a science project to look at how the planets orbit the sun too!
Get the materials and details on this creative idea at artistro.com
Puffy Paint Planets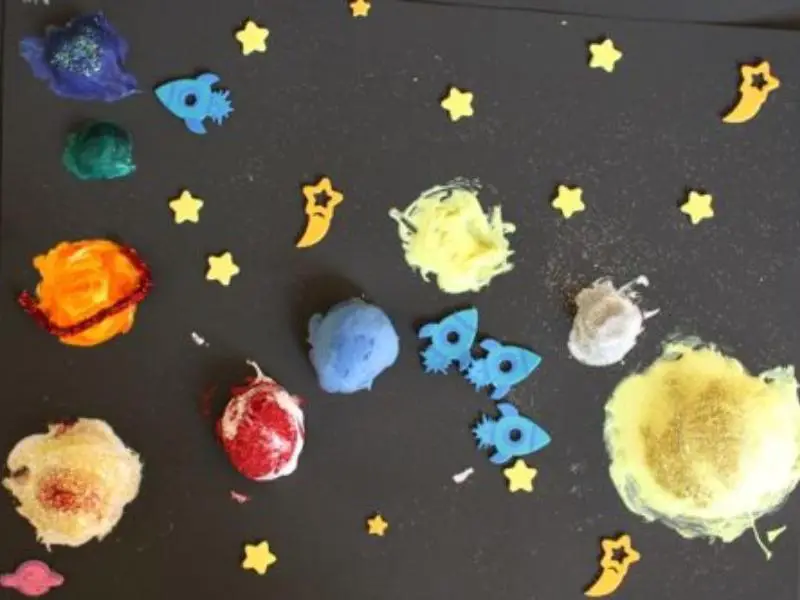 Paint your planets with added texture! Make your galaxy pop, with a 3D puffy paint that dries coming off the page.
Kids (and parents!) will both enjoy this amazing paint technique. Even more so as they can enjoy feeling the texture once it is dry too.
Find out how to make puffy paint on this post at icanteachmychild.com
Space Stained Glass Sun Catchers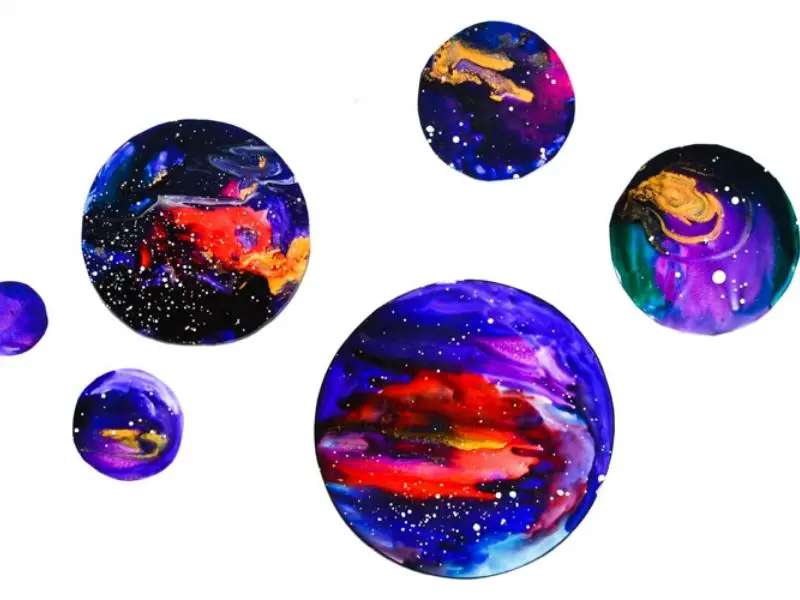 These beautiful suncatchers are so creative and produce an amazing end result.
It cleverly uses transparent paper plates as the 'glass', which will let the light shine through the finished artwork, and also has the benefit of keeping mess to a minimum, as the edge of the plate should keep the paint a little more under control!
Your kids will be so proud to hang their planet sun catchers on their windows.
Find this and other great ideas at adventure-in-a-box.com
Salt Painting Planets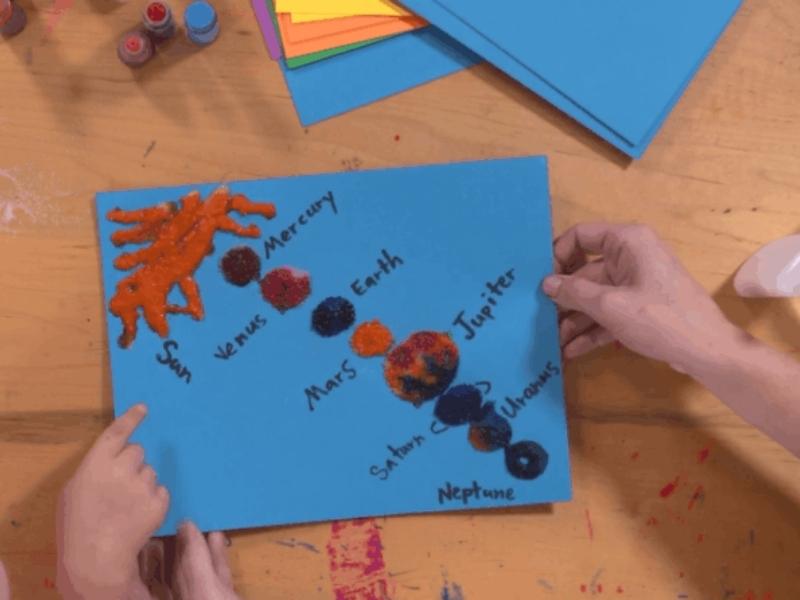 This art project uses salt to make planets that have an incredible texture and appearance. Kids will enjoy the effects made when the salt and paints mix together to produce their own solar system.
They can then use a marker to add the rings of Saturn, and voila!
Find more information on this craft at pbs.org
Painting the Galaxy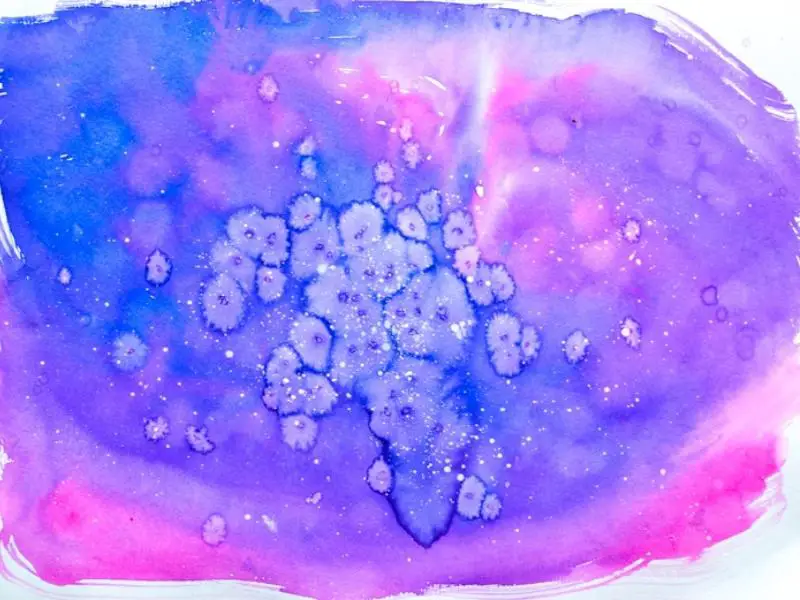 So this project doesn't paint the planets, but it could be combined with some of the other techniques on the page to help you make your galaxy art even more beautiful.
Outer space is so abstract and diverse it makes a great starting point for learning how to use watercolors well.
This project will help children discover every shade of blue, black, and violet to create a dreamy picture of the heavens above.
Get all of the details at adventure-in-a-box.com
3D Painted Solar System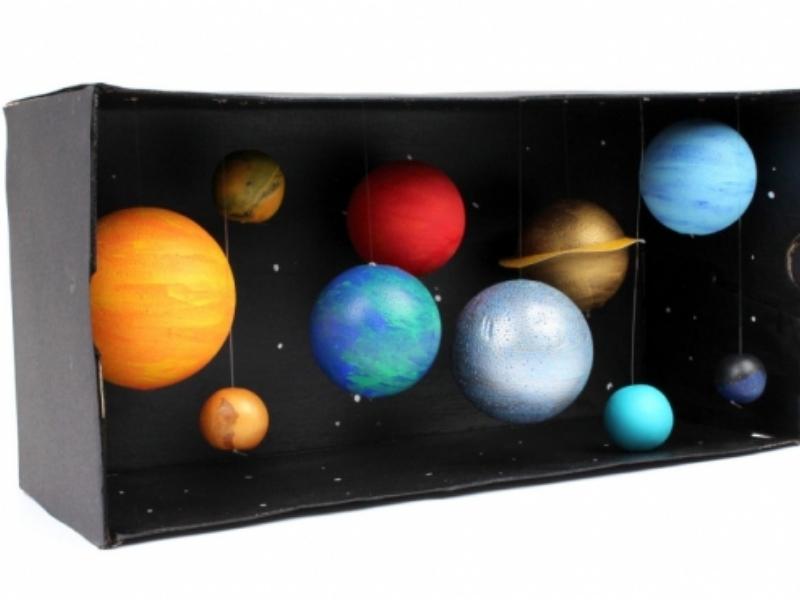 So, most of the projects in this list are 2D, but who limits outer space to a flat canvas!
This amazing idea uses polystyrene balls that are painted as the planets for a finished piece that is not only a great art project but would also rock at a school science fair!
Acrylic paints work best for coverage on the surface of the balls, and won't flake off or require multiple coats.
Get the instructions on how to make this project at kokuyocamlin.com
Paper Plate Spin Art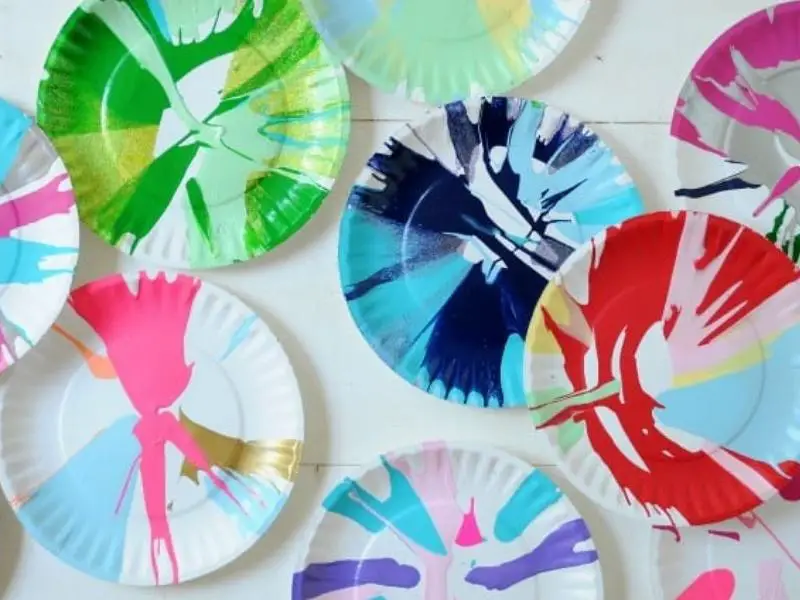 This art project again uses no paintbrush and is similar to the smooshing technique that we listed above. But this one twists and spins the paper plates onto a piece of paper to create the world as you've never seen it before.
Even little hands can join in with the messy fun of this project, and the plates give you easy circles to cut out for your solar system.
Find out how to make these planets on this post from craftulate.com
Coffee Filter Planets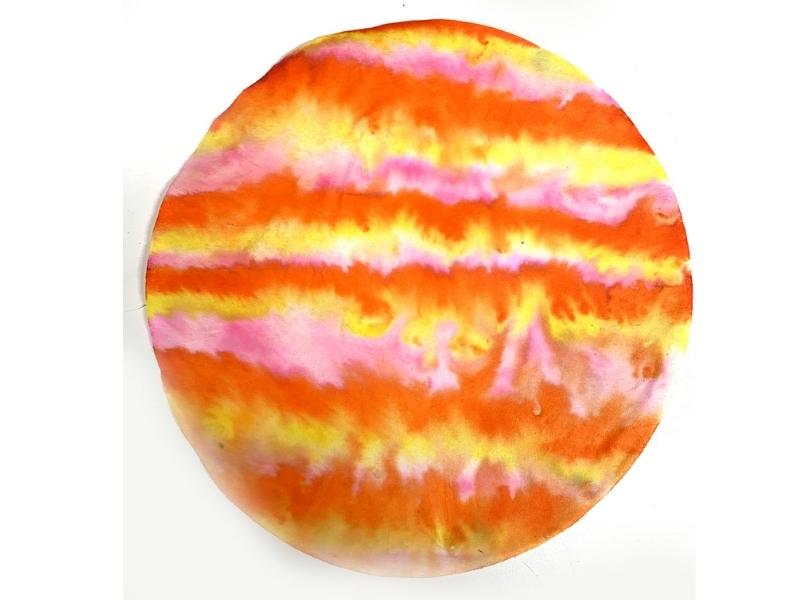 So technically, this planet project doesn't use paints, but instead, marker pens and a spray bottle to create a watercolor effect.
All things you can find at home anyway!
Your kids will love seeing how their pen strokes transform under the influence of the water mist.
Find this, and other planet art projects at artprojectmemphis.com
Create Art from Outer Space!
Outer space art is fun for everyone, and it's a topic that ignites the natural curiosity of both boys and girls.
You can link these arts and crafts to other STEM-based activities too, especially with older children, where they can be challenged to produce planets that are more realistic in colors and patterns.
The blue and green of Earth, covered in white swirling clouds would be pretty bizarre if it was on Saturn or Mars.
They can also be challenged to look at the sizes of the planets too, comparing our small world, with the enormity of the sun or a planet like Jupiter.
We hope you enjoyed this post on how to paint the planets of outer space. Have fun following these ideas and check out our other posts for other great kid's crafts.
Comments
0 comments