Any fan of One Piece who also loves coloring is in luck because there are loads of One Piece coloring pages out there. No matter which character you love, you will find a One Piece coloring page to suit your tastes and coloring skills.Some are very complicated, while others are easy; we've tried to choose a good blend from the multitude of options to ensure there is something for everyone on the list.
1. Roronoa Zoro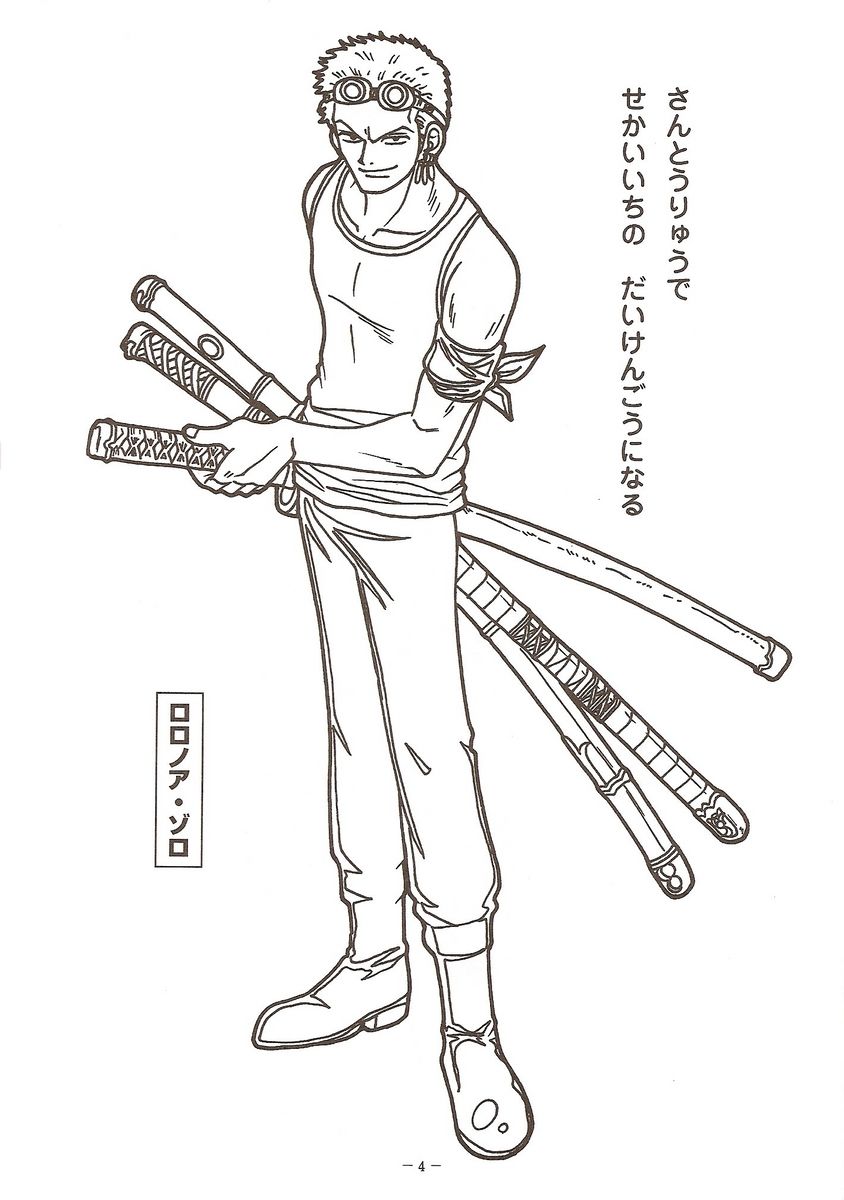 Source: https://www.pinterest.com/pin/673428950511665597/If you're looking for a clean, sophisticated, simple coloring page, Roronoa Zoro may be perfect for you. With his three swords, those goggles, and very detailed clothing, Roronoa Zoro is a great option for One Piece fans who want a challenge but don't want to spend the whole day coloring.He doesn't have a background, but you could easily rectify that if you wanted to add a scene for him to stand in. The double lines around his boots and pants make this a really nice image that will look fantastic when colored in. You could use the colors appropriate for the manga, or choose your own.
2. Character Group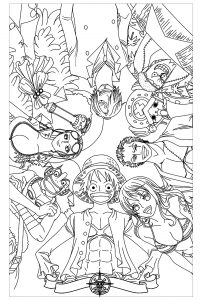 Source: https://www.justcolor.net/kids/anime-and-mangas/one-piece/You might feel you don't want to just color one character, so if you're prepared for a more challenging and extensive coloring exercise, try this Character Group page. You can use a range of colors and techniques to make this look amazing.This would be suitable for adults and older teens, as it contains many complex shapes and also requires you to keep rotating the paper as you color. The way the characters form a border around the edge of the page gives it a really unique look, perfect for any fan to enjoy.
3. Luffy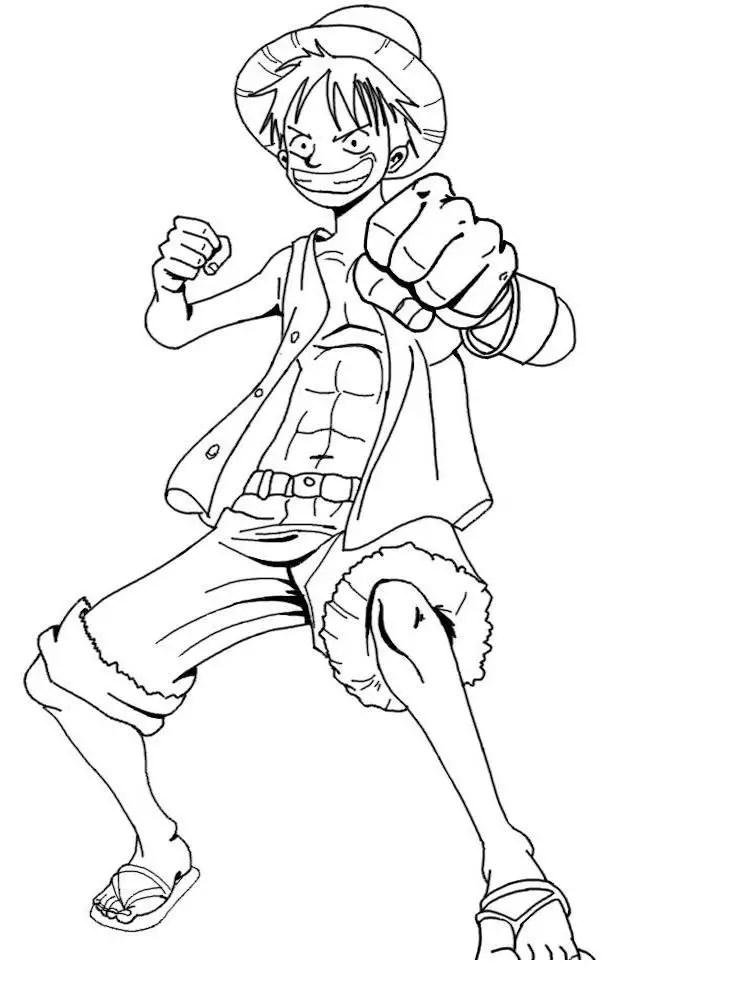 Source: https://animecoloringpages.com/wp-content/uploads/2020/01/luffy-exciting-coloring-page.jpgAny Luffy-lovers will find this Luffy coloring page perfect. It captures that iconic, crazy grin and his outfit, and it plays with perspective beautifully in terms of his outstretched fist. His clothes are simple but very nicely defined, with creases drawn in to make the coloring job easier. If you want to shade him, these creases will help you work out where to darken the fabric.In terms of difficulty, Luffy isn't too bad; he's nicely detailed, but not ridiculously so, meaning you could color him quickly and still get a great result that doesn't feel remotely rushed.
4. Character Group 2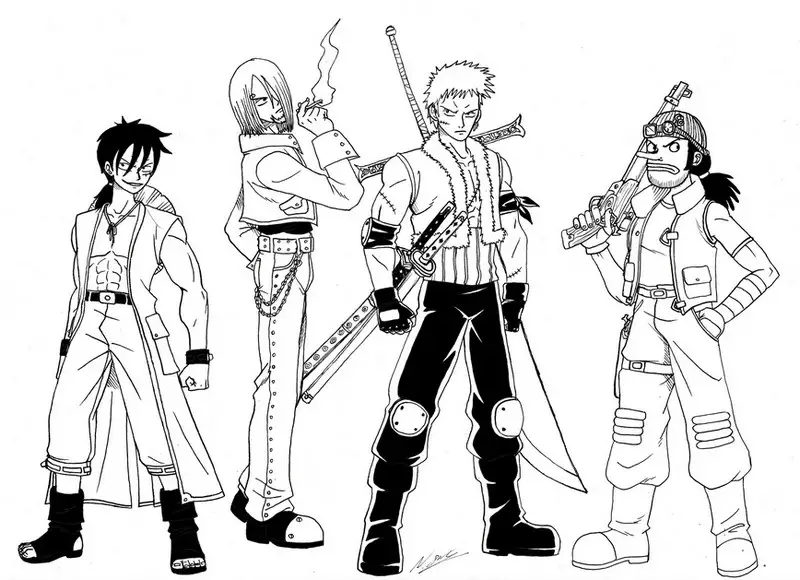 Source: https://raskrasil.com/en/one-piece-coloring-pages/Again, if you'd like multiple characters, this Character Group is a little less overwhelming than the last one, but might be more fun than just coloring a single character. The clothes are very detailed, so you can have a lot of fun spending time on them, especially the furry jacket. There are quite a few little challenges within the picture, such as the cigarette, the intricate sword handles, the hats, etc.Because some of the darker colors have been done for you, this shouldn't take too long even with the intricate clothes and faces.
5. Tony Tony Chopper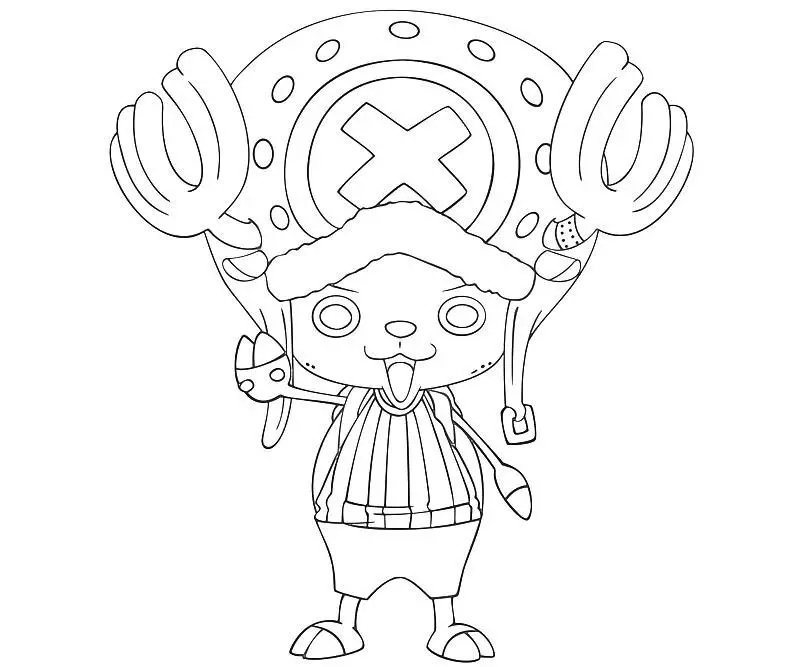 Source: http://videotubedownloads.blogspot.com/2012/11/one-piece-tony-tony-chopper-look.htmlIf you're looking for a somewhat simpler option, this Tony Tony Chopper coloring page is great. It uses smooth, straight lines and doesn't go crazy on the details, creating a look that is clean and simple.He's also fun, bright colors, so you can make an interesting picture that will use blue, red, brown, yellow, and possibly more depending on your choices. That makes him particularly good for younger fans, who may want slightly more diverse color ranges to work with.
6. One Piece Logo
Source: https://users-coloring-pages.coloringcrew.com/one-piece-logo.html
Anyone who is a fan of fancy lettering will love this One Piece Logo coloring page. It's a pretty simple page, but the skull and rope can be done in detail. You can stick to the proper colors, or invent your own to make the logo a little more individual "" it'll still be very clear what series it belongs to.
Fun but not complicated, this is a great addition to any bedroom decor, and you could even print it onto a piece of wood or stiff card to serve as a sign if you're a particularly big fan.
7. Nico Robin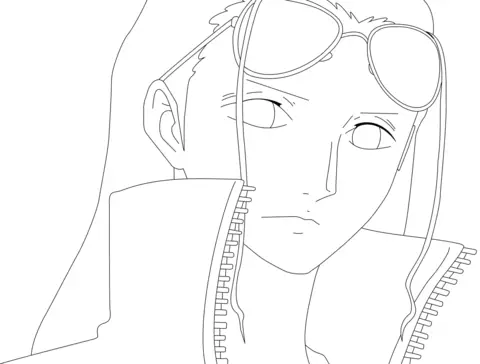 Source: http://www.supercoloring.com/coloring-pages/nico-robinIf Nico Robin is a top favorite, this extremely simple Nico Robin coloring page may appeal. It leaves pretty much everything to the colorer, giving only the basic shapes with faint, unobtrusive lines.In spite of that, it's highly iconic with the glasses, and nobody who knows the show will be in any doubt about who this is. You can spend time on the shading and add details, or just keep this simple.
8. Trafalgar Law

Source: https://videotubedownloads.blogspot.com/2012/11/one-piece-trafalgar-law-style.htmlFor a piece with most of the shading already done, this Trafalgar Law coloring page is perfect. You can color without having to think about or focus on where the shadows fall. If you want to practice shading, you may find that having it already there helps you too; it will show you where to press harder with your pen/pencil.The piece says "cool" all over it, and any fan will have fun adding detail to what is already an incredible drawing.
9. Character Group 3

Source: https://prints.trulyhandpicked.com/2016/1207/printable-page-of-one-piece-by-madelyn/If you'd like to see the One Piece characters in more of a finished scene, this Character Group coloring page is perfect. It's one of the few that incorporates a background, and it has basically everything you could want.Detailed clothing, stylized lettering, the scenery behind, and the familiar characters clustered together "" what could make this a better coloring choice for any fan?
10. Full Scene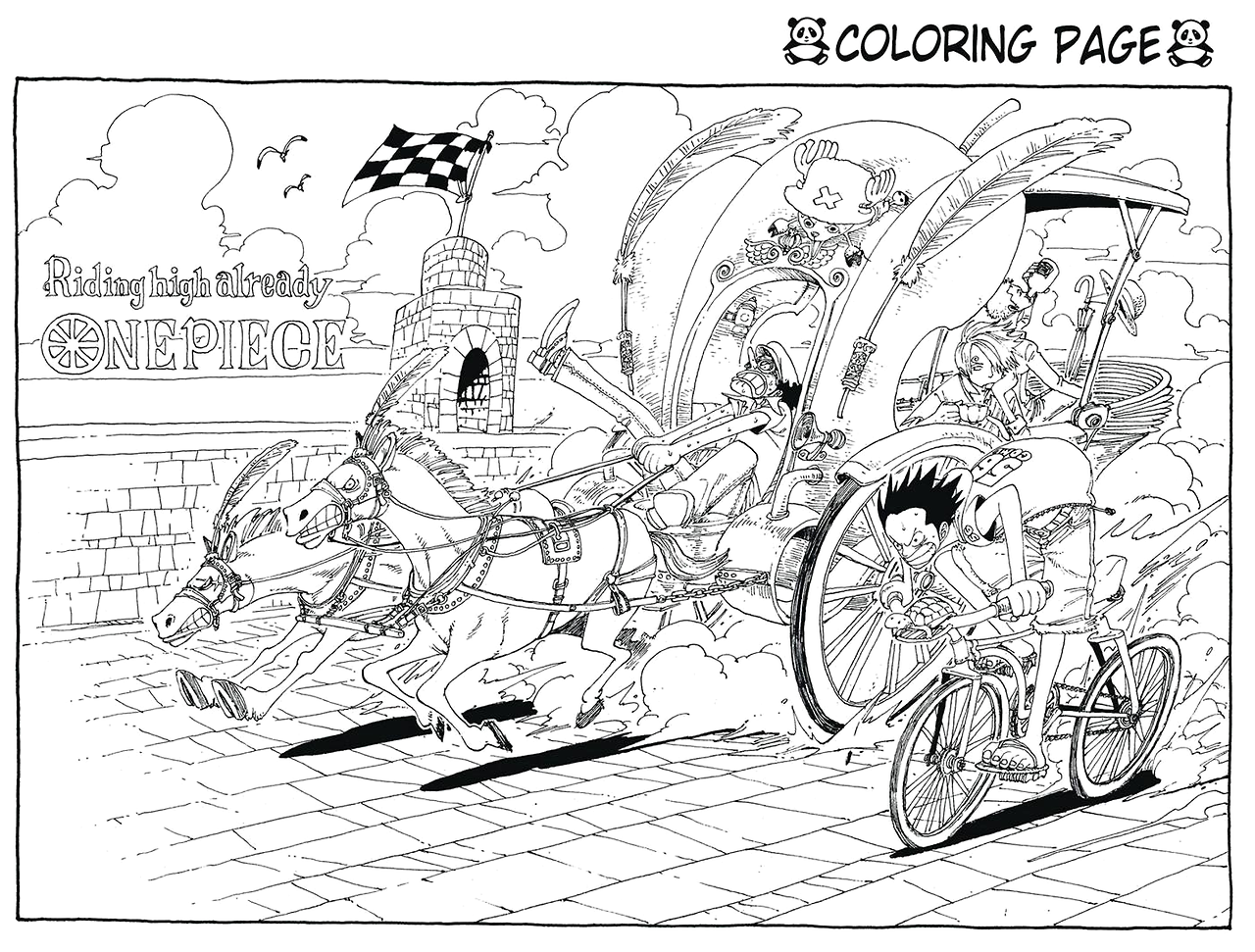 Source: https://rereadingonepiece.tumblr.com/post/169024527493/one-piece-coloring-pageLast but not least, for anyone who wants a real challenge, this Full Scene has so much detail it's hard to know where to begin. It's a brilliant piece of art that would look great hanging on a bedroom wall, especially with some careful coloring to make the most of those fabulously intricate details.If you can't pick which character you want to color, choose this coloring page instead "" there's so much to look at, let alone color in!
Conclusion
One Piece coloring pages are detailed, imaginative, and very fun for all fans of the series. The weird and wonderful characters are iconic, recognizable, and great fun to color in.
Comments
0 comments