I am in love with mosaics. From the time I majored in Ceramics in college, I have been inspired by all of those tiny little bits of material that can be arranged to create a finished piece, full of movement and texture, that seemingly takes on a life of its own.
Recently I was virtually introduced to mosaic artist Ariel Finelt Shoemaker, by Mia from Pragmatic Mom. Mia had the opportunity to visit Ariel's studio and have a chat with her, and I found out that she had taught a 10-day class to kids on mosaics, with phenomenal results.
I wanted to learn a bit more about this, because I feel like kids aren't usually given the opportunity to focus on 1 project for an extended period of time, and it's a great exercise in FOCUS. Kids are so used to whipping out art projects in a few hurried school periods that they don't really follow through on taking ownership of a big project from planning to hours of work, to a large finished product.
From Ariel:
In those 10 days, I taught a curriculum that I wrote called Mosaics Through the Lens of Chuck Close.  The children ultimately completed a 9 sq foot self portrait using mosaic glass that I provided and taught the kids how to use.  Amazing results.  The kids used the "art works" as table tops, wall hangings, back drops in the pool area at their homes, etc.  Very cool project.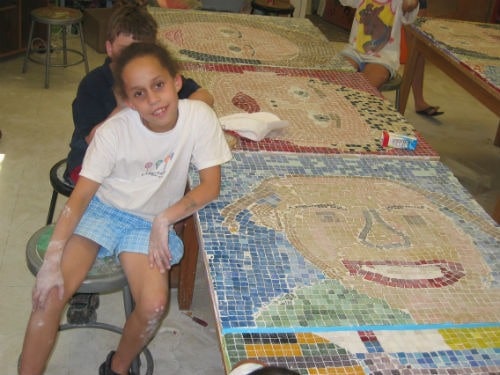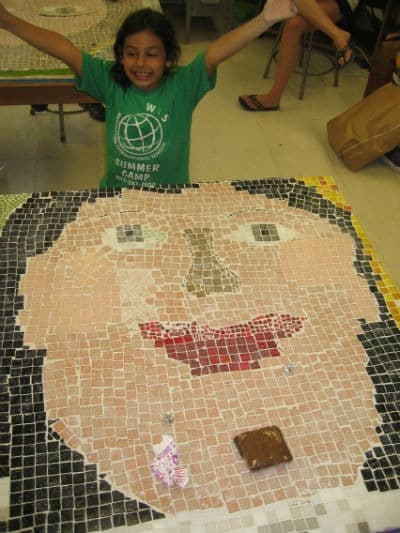 Ariel is a MA-based mosaic artist, and she focuses on custom home and corporate pieces now. Please visit her site and take a look through her portfolio page to get an idea of her other pieces – she can ship her gorgeous work worldwide.
Mia did a great write-up on Ariel on her local Newton, MA blog, I Love Newton. Click on over to see more mosaic pieces and learn a little more about Ariel.
*****
This Melissa and Doug mosaic-by-number kit would be great for kids a little older. Ages 6-14