We did a robot project! One of the best projects ever, because it is both glam and sort of tough.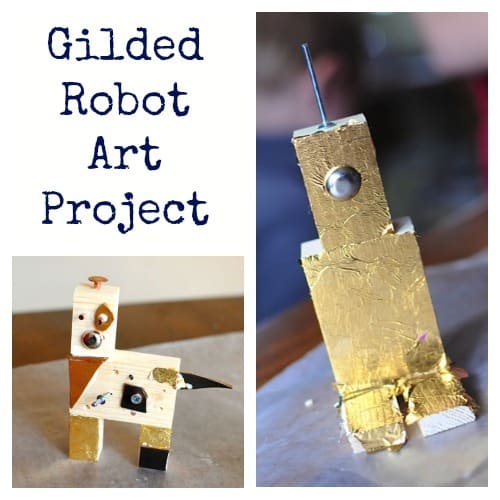 Okay, here's what you will need:
1. Goldleaf – Metal Leaf imitation gold
2. Little nails and screws and metal items that your husband digs out of his tool chest
3. Wood blocks in different sizes
4. Leather (or paper or ribbon or beads or whatever bits you find stuffed in your art supply drawers.)
5. Glue – wood glue or regular squeeze glue to attach the wooden blocks together, and stick glue for the gold leaf.
Now that you have everything compiled, have your kids play around with the wood blocks to see what sort of robot they want to make.
When they're ready, they can glue the blocks together and let them dry.
They can now add their embellishments. Help them add screws and nails, or let them go at it if they're old enough. (Kids might find it easier to nail and add their extra pieces on to the wood blocks before they glue the piece together, plus they can dig in right away instead of waiting for the piece to dry.)
For the gold leaf, we skipped the traditional adhesive 'size' that is used for many projects. For our purposes, stick glue worked beautifully. You rub it right onto the wood and carefully lay a piece of metal leaf over the glued area. Press down gently on top of the leaf and break away any that is hanging over the edges. Make sure your fingers are nice and clean and dry when handling the leaf. (You may want to apply the glue and let your child lay on the leaf if they are young.)
For some of the weird non-nail metal fastener things, we pre-drilled a hole and filled it with glue, so the metal thing would stay put.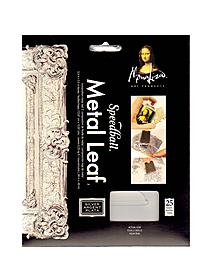 Mister Art carries metal leaf: Metal Leaf imitation gold
, (They also offer copper and silver if you prefer.)

Are you as crazy about robots as we are? Here's some more good robot stuff to peruse:
Robot Dreams is a graphic novel about a dog and robot who learn about the power of friendship. What could be better? Ages 8 and up.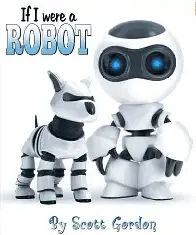 If I Were a Robot for Kindle is a really cute book and only $2.99.
Robot flash drive is a pretty cool small gift. Do you think he's trying to cover his ears?
Matryoshka nesting dolls look like a great toy to keep kids busy for a little while when you want to converse with your spouse. (About the gilded robot project your kids just made.)
Bicycle robots print from Jimbot on Etsy.
Robot stencil kit from Uncommon Goods. This is just plain absolute greatness.