Sometimes kids aren't that into making art. Sometimes all they want to do is sit around torturing their sister's Bratz dolls or setting fires in the back yard. Sometimes kids get a little older and think they're FAR too cool to make art because art is for pansies. And sometimes? Sometimes kids, even if they adored art as kids, grow up and stop making things with their hands and what the hell is wrong with you? Them.
Okay, I stopped making stuff for a number of years after I popped out some kids. I let the excuse of 'not having enough time' derail my need to create. I feel like all people need to mess around with things with their hands: creativity can be easy and readily available and it can come in a box, and you should buy it for people.
Let's all agree to coax the creativity out of everyone we know this holiday season.
Number one on my list is Keri Smith. While you may not be able to give her to your creativity-challenged recipient, you can definitely gift one of her books. This is one of those books all people should experience. Wreck This Journal is the original,
 but she's come out with a bunch more variations on this theme after this one proved to be so wildly successful. This books forces you to interact with it and it demands playfulness and rule-breaking of you, which are 2 pretty good steps on the way to unbridled creativity.
This is an absolute wonderful option for families who don't have floor space to dedicate for an easel. This roll of paper is basically hanging there at all times, just beckoning your child to come paint or draw on it. I'm a big proponent of leaving art supplies out at all times, and this is a way to do it without having junk spread out al over the place.
As a kid I remember the sense of absolute bliss that would come over me the few times I received big art kits
 like this one. I think it would be impossible to not feel the urge to play around with these materials if you unwrapped one of these.
Simple, but effective. If you give a kid something like this Doodle Pencil Case, there's no pressure to make a gorgeous piece of art. Just doodle away and lavish in creativity.
Wrap up the winning combination of fresh Sharpies
and pure white Vans sneakers
, and all other gifts will be forgotten. Go take a peek at the Sharpie shoes that Fen made!
Again, presenting a kid with a mound of fresh supplies is sure to get them tinkering. This craft supply bucket holds the promise of so many hours of experimentation.
This extra large chalkboard stick-on includes chalk, is repositionable, and will work almost anywhere to provide an instantaneous drawing surface.
A tangle art kit!
 Maybe you or your kids have tried my tangle starter pages and are looking for a whole kit to delve a little deeper into Zentangle ®. Or maybe you haven't even tried it yet. Tangling is a fantastic way to get anyone moving a pen across paper and enjoying the process.
DIY bracelets have been popular for a while, and there's a reason- they are creative and fun, and you have a finished object to gift, trade, or wear. These are the sorts of things that can keep tweens and teens and twenties making stuff even if they don't feel like siting down with a sketchbook.
What's worked for you? Have you found something that you or your kids like to mess around with that gets your creativity flowing?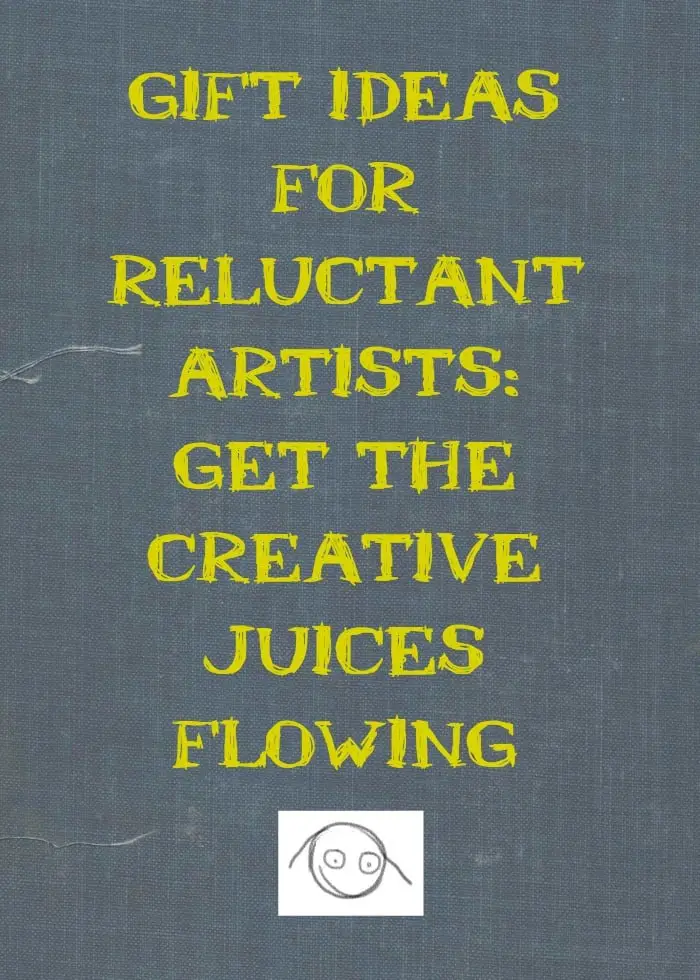 This is day 5 of my 12 Days of Shopping collaboration with Pragmatic Mom. Go see her post here.
See all of the gift guides in our 12 Days of Shopping:
Day 1: DIY or Buy Advent Calendars – see Pragmatic Mom's post on a DIY gratitude Advent calendar.
Day 2: Gifts That Give Back – Mine • Mia's
Day 3: Gender Bending Gifts for Kids – My post on Gender Neutral gifts • Mia's post on Gender bending gifts
Day 4: Gifts for Those Impossible to Shop for – My post • Mia's post
Day 5: Gifts for Reluctant Artists- My post on Gifts for Reluctant Artists • Mia's post on Gifts for Reluctant Artists and Gifts for Reluctant Readers
Day 6: Oops, I Did It Again; Worst Gifts Ever – My tacky gifts post • Mia's post on ugly Christmas sweaters and other terrible gifts
Day 7: Gifts to Steal from Loved Ones – My post • Mia's post
Day 8: Left Brain/Right Brain Gifts- My post • Mia's post
Day 9: Gift Ideas for Clients (mine) •Gifts for Those Easily Forgotten (Mia's post)
Day 10: Gifts for New Year's Resolutions – my post • Mia's post
Day 11: My post: Easy Holiday DIY Gifts • Mia's post: Giving and Receiving Unwanted Gifts
Day 12: The Art of the Thank You Note- My post and Mia's post