Lots of people love dogs and love coloring dogs, and if you're particularly passionate about German Shepherds, you'll be pleased to hear that there are some gorgeous coloring pages out there "" suitable for both adults and for children.We've collected up the best German Shepherd coloring pages for you to browse through "" pick your favorites, grab some colors, and relax.
1. Scrappy Puppy
Source: https://www.samanthasbell.com/free-coloring-pages
What dogs aren't absolutely adorable as puppies? This Scrappy Puppy is so cute and reflects all the clumsy enthusiasm of those early months.
It's got a simple background that you can color in green, and it would be easy to add a sunny day without putting too much time into it.
The fur detailing in the body will mean you don't need to spend ages shading; you can focus on choosing the best colors, and making your four-legged friend look great. This coloring page should be easy for children, though some adults might find it's a bit too plain to be satisfying.
2. Puppy Outline

Source: http://www.hellokids.com/c_21184/coloring-pages/animal-coloring-pages/pet-coloring-pages/dog-coloring-pages/german-shepherd-puppy
If you don't want the fur already filled in for you, that's easy to solve "" this Puppy Outline has some patches to suggest the different colors in its coat, but it only includes the most basic shapes and leaves the rest of the picture up to you.
There's no background, but you should be able to fill something in if you'd like or just work on the puppy. It has some quite fiddly shapes in its claws and paw pads so you may find that it's too complicated for a young child, but older children should thoroughly enjoy it.
3. Cartoon German Shepherd
Source: https://coloringonly.com/pages/happy-german-shepherd-coloring-page
If your child wants to color an adult German Shepherd, this Cartoon German Shepherd should be simple enough for them to have lots of fun with. Its eyes and mouth are a little more challenging, but most of it should be easy for your child to color in, and they may enjoy the more difficult parts.
With a black nose already colored and a great, comic expression, this cartoon German Shepherd offers the best of both worlds "" distinct lines that will make the finished dog look well-defined, but plenty of coloring space too.
4. Garden German Shepherd

Source: http://www.supercoloring.com/coloring-pages/german-shepherd
What about German Shepherds with backgrounds? This Garden German Shepherd ticks that box. The dog is a little plain, but well-proportioned, with faint guidelines to help you get the color in the right places for the dog's distinctive patterning.
The garden offers a nice picket fence, some pretty flowers, and plenty of grass to be colored in. It's also got solid, blocky shapes so if a child is coloring, they should be able to get a good effect, while an adult can add more details. The face may prove a little tricky for children, though.
5. Patterned German Shepherd 2

Source: https://www.justcolor.net/kids/coloring-pages-of-animals/dogs/
If the above option is a bit too complicated for you but you do want patterns and shapes to play with, try this Patterned German Shepherd instead. It is still beautifully intricate, but not quite to the same level as the previous coloring page, and it has a plain background.
6. Realistic German Shepherd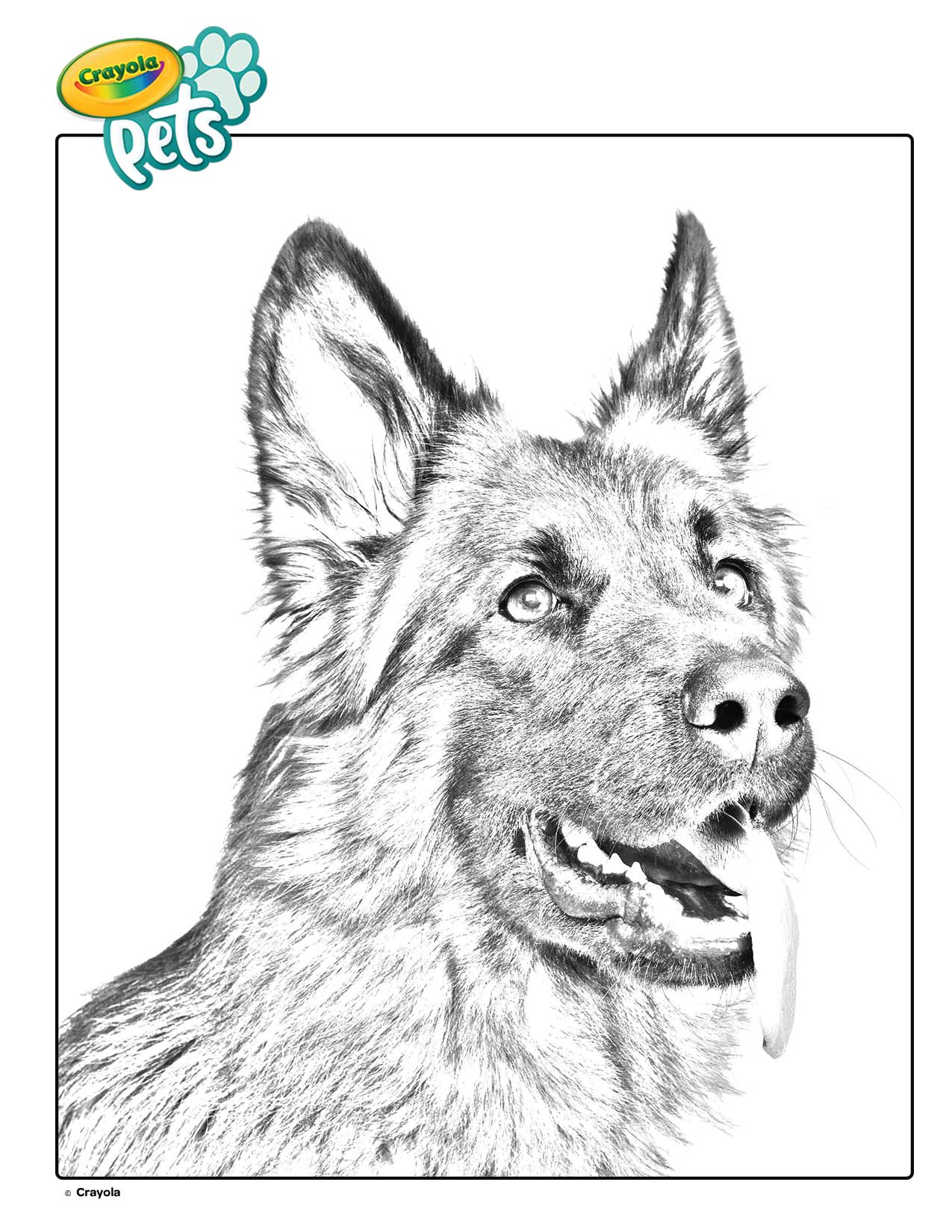 Source: https://www.crayola.com/free-coloring-pages/print/german-shepherd-pet-dog-coloring-page/
Anyone who loves coloring ultra-realistic pictures will enjoy this Realistic German Shepherd. It's so good it could easily be a photograph, and you won't have to work on any of the shading or shapes yourself "" you can literally just focus on coloring it in.
That fluffy fur will look incredible when it's finished, and this would be a wonderful gift for any German Shepherd fan.
7. Shaded German Shepherd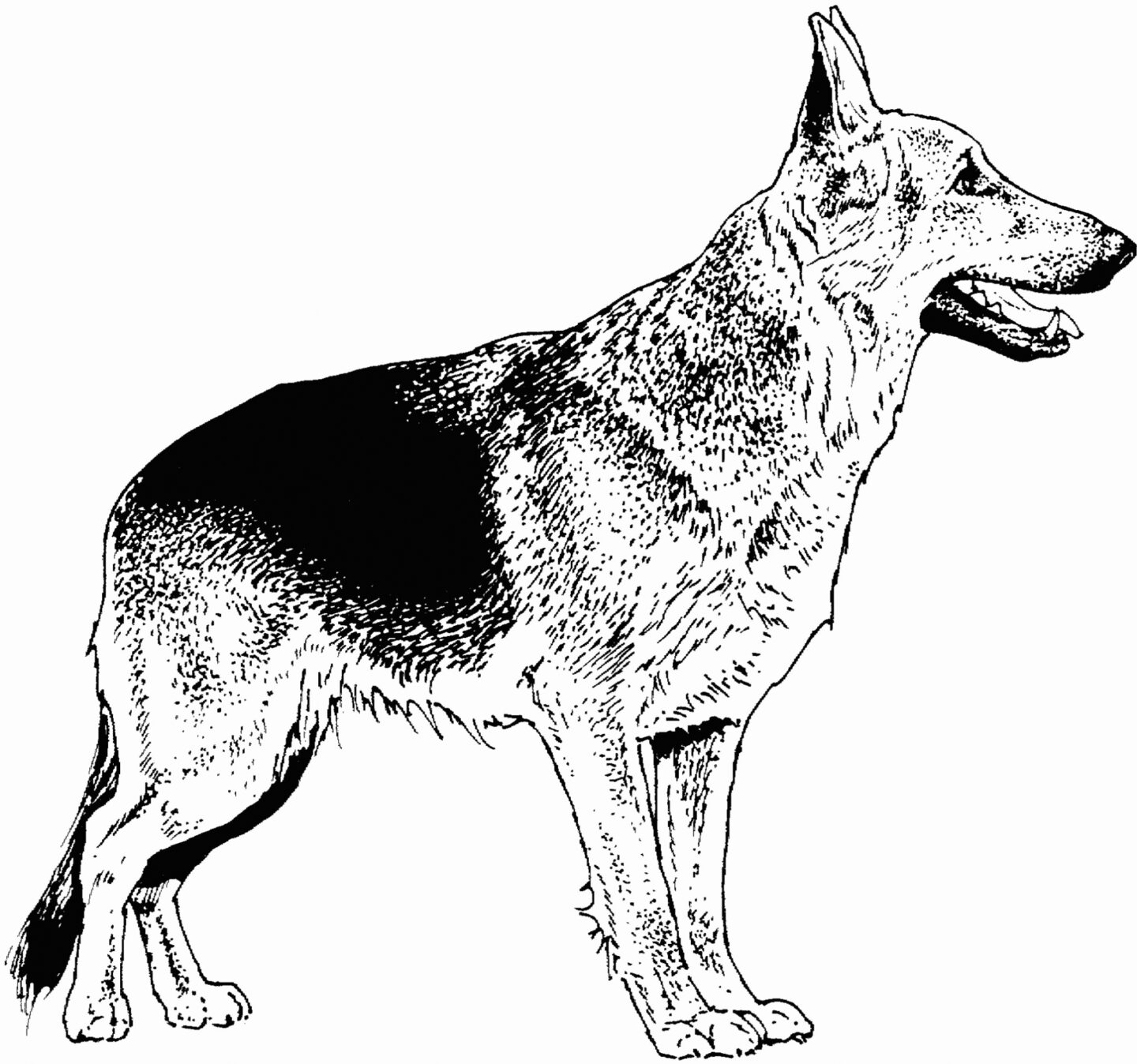 Source: https://www.bestcoloringpagesforkids.com/german-shepherd-coloring-pages.html
Another option if you don't like shading much, this Shaded German Shepherd has the patterns of his coat already filled, so you can again put all your focus on just coloring neatly "" though of course, you can add more shadow and light if you choose to.
8. Leaping German Shepherd

Source: https://www.bestcoloringpagesforkids.com/german-shepherd-coloring-pages.html
If you're the total opposite, this Leaping German Shepherd has not been shaded at all. It's got the basic details filled in but leaves everything else for the colorer to decide on, and even the background is plain, so you can fill it in or leave it as it is.
This is simple, like some of the first pages we looked at, but has a more sophisticated and interesting dog for you to color, making it suited to adults and older children. It's a great opportunity to explore shadow and light patterns, and how to texture fur.
Conclusion
German Shepherds are beautiful, powerful dogs, and coloring them can be good fun for any age range. They have relatively simple colors, so you can spice the pictures up with a background if you like, or just enjoy the dogs as they are.
Comments
0 comments