How would you like to just go to town and paint all over your sidewalks? Comin' in hot with a sidewalk chalk paint recipe that will satisfy your need to deface public property in the most benign of ways.
You can tell your kids you've mixed the paint up for them, but we all know you secretly want to grab a brush or 5 and get to painting. I did. We did. We sidewalk painted as a family, and it was a hoot.
We brushed and splattered and dripped and spilled, and I do believe our creations gave our house 1,000 times more curb appeal. The best part about sidewalk painting? It washes off after a rain or 2.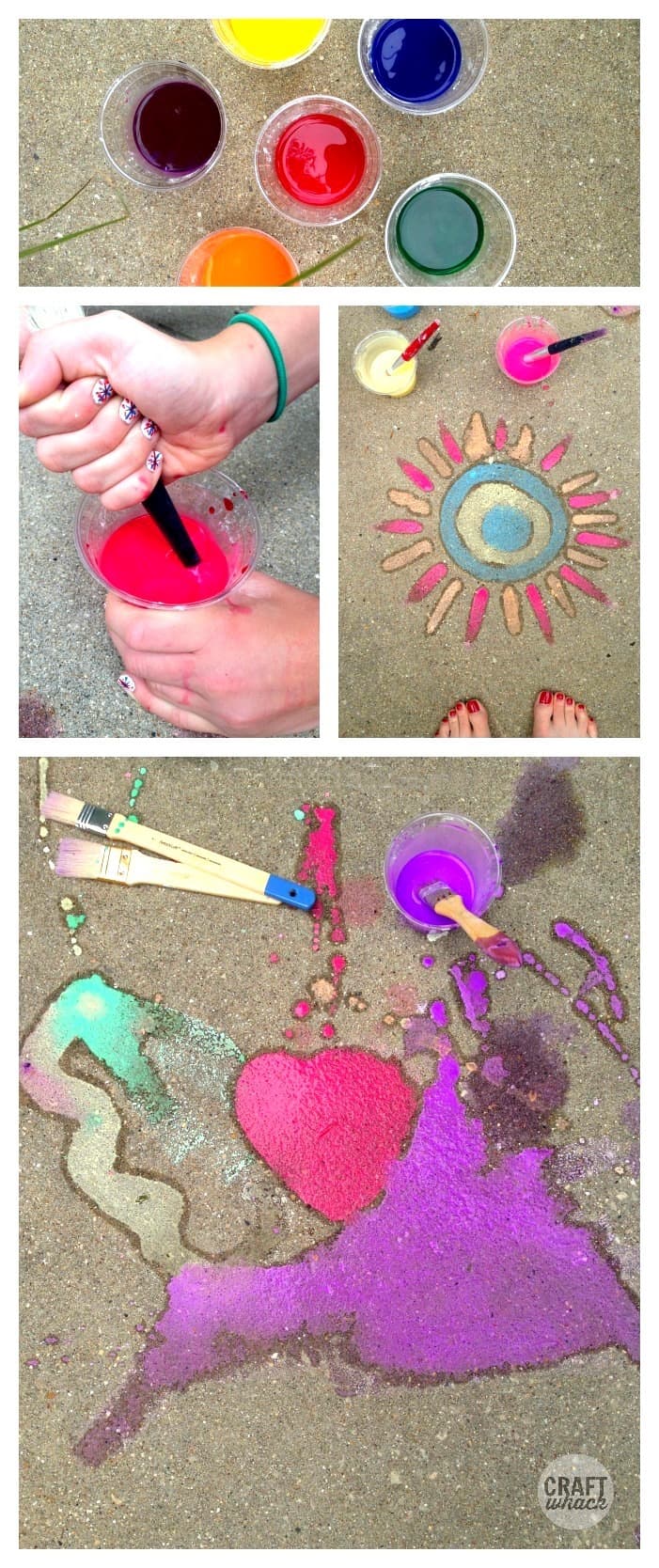 Sidewalk Paint Recipe
1 part water
1 part cornstarch
liquid watercolor or food dye
If you have any of these paint brushes lying around at home, they are great to get a lot of paint down at once. the small paint brushes are okay for little detailed work, but get sort of frustrating when you have a whole driveway to paint all over. 
I mixed up 6 cups, each with 4 Tablespoons cornstarch, 4 Tablespoons water, and about 10 drops of liquid watercolor. You could also mix up a giant batch of cornstarch/water and divvy it up into individual cups and then add the color.
I used liquid watercolor for this because it is so concentrated, the colors are lovely, and you can mix colors if you want. It's the art supply I didn't know I needed until I bought some, and now I don't know how I would live without it. (Does that sound dramatic?)
This is the liquid watercolor I use, and I nabbed it from Amazon. I've heard good things about the liquid watercolor at Discount School Supply as well.
Update: We made this sidewalk chalk paint recipe again using food coloring, and it worked out the same as the first time. I used this food coloring and mixed up 1.5 cups of cornstarch, 1.5 cups of water, and squeezed in a lot of food coloring to each one. It's the more concentrated gel food coloring, so it was pretty saturated. These containers are the perfect size for mixing (and storing if you have any paint left over.)
Painting the sidewalk is a pretty cool alternative to chalking, because you can lay down a lot of color quickly and you don't run the risk of dragging your knuckles across the sidewalk like when you get to that last nub of chalk but you still have a tiny bit to fill in so you keep using it and it doesn't pay off and then you have chalk-filled, roughed-up knuckles and you cry.
So, some tips here
If you've ever done crafty things with cornstarch, you know it's sort of a bear to mix up with water. I actually enjoy the gloppy sensation, but it does take a little time.
Sidewalk paint takes 2-3 rains to wash off.
Liquid watercolor and food dye can and probably will stain your hands for a couple of days, so wear gloves while you're mixing if you want to avoid this.
The paint looks different when it dries. It turns lighter and brighter and looks more like liquid chalk.
Here's what we did with sidewalk paint
Painted
Dripped it down the big ugly rock in our front yard
Splattered it down the sidewalk
Puddled it
Painted a face on the front of the steps as an optical illusion exercise!
This is what we did with the newer batch of sidewalk chalk paint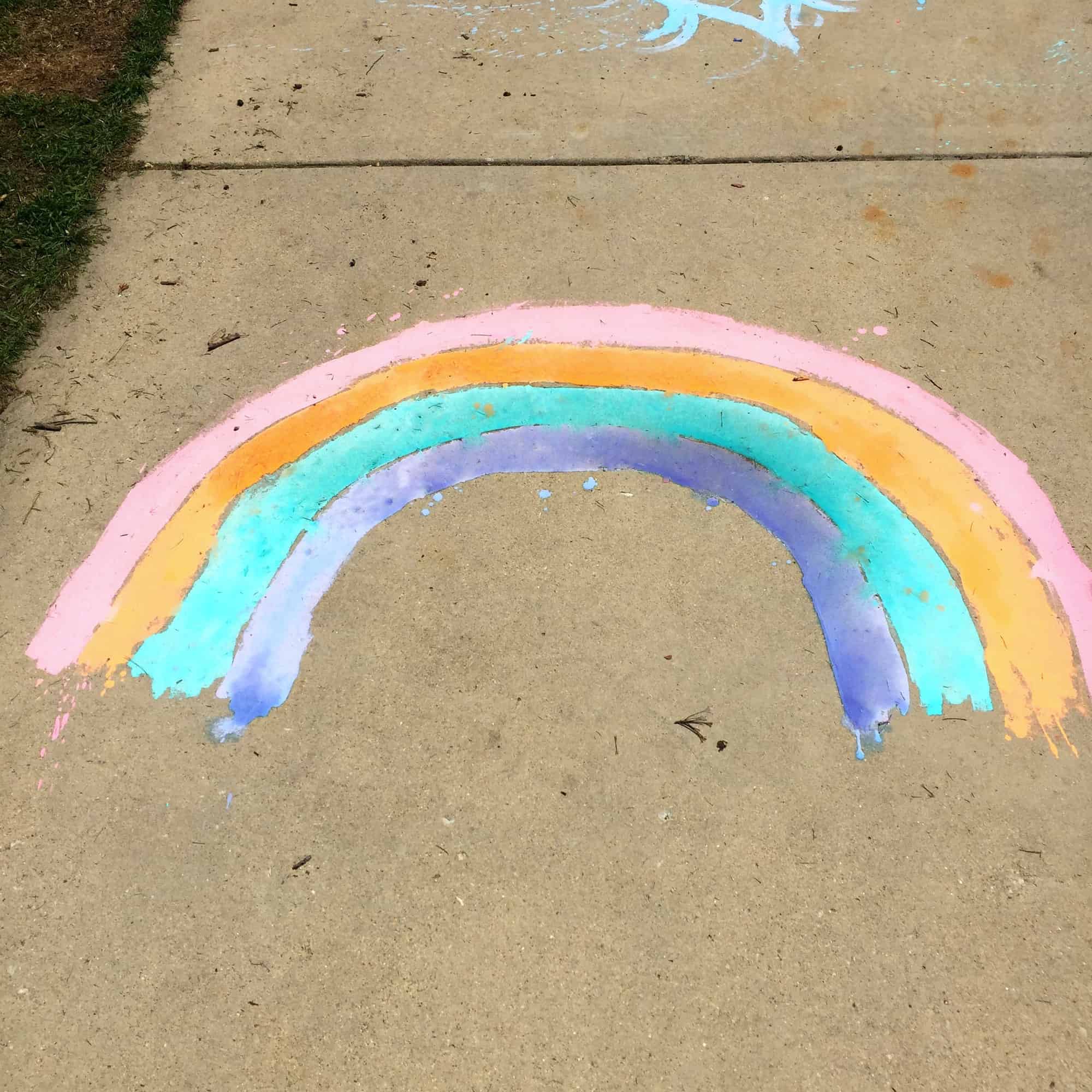 More Ideas For Sidewalk Chalk Paint
Paint a tree trunk
Paint a giant hopscotch board down your entire sidewalk, and fill in some of the squares – ooh, pretty!
Mix up a batch for kids at a block party
Whip it at cars as they drive by (What?!)
Paint his and hers parking spots in your driveway
Comments
0 comments