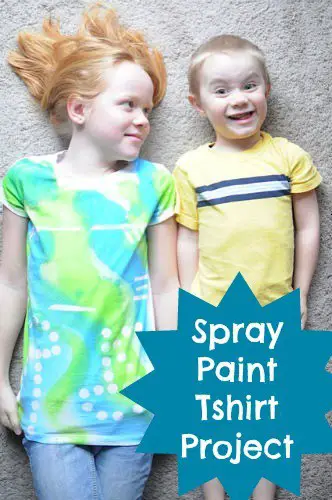 We're big fans of making art on t-shirts, because, hey, wearable art!
This is a fun, non-toxic way for kids to get a spray-paint effect and outfit themselves with a new t-shirt in anticipation of Spring. I was originally going to make this project using spray paint, and was so excited to find a product that acts like spray paint without the fumes.
Materials:
100% cotton t-shirt in white (Hello, Target.)
Fabric spray paint*
Cardboard for inside of shirt
Paper to lay out under the shirt
Circle stickers
Masking tape
Technique:
Place dots and masking tape anywhere you want on the shirt. Make a design, or randomly place them. Fen decided to make a character from Minecraft with the tape, and swirl the dots around at the bottom.
Shake the paint well, and spray from 6-8″ away, keeping the paint moving over the surface. You don't want it to pool in one place. (Practice on a piece of scrap paper beforehand.)
Fen sprayed 2 paint colors in alternating swoopy-stripes.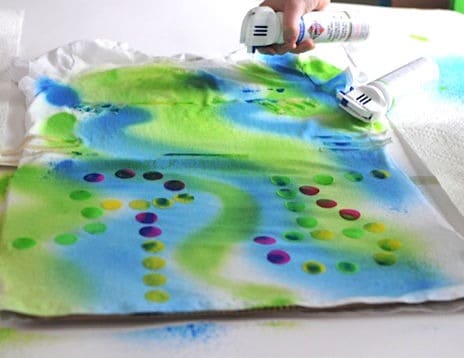 Wait for the paint to dry, (about an hour), and remove your stickers and tape. Leave the shirt alone for 72 hours before washing. (Or if you're like us, wear the shirt to school the next day.) You don't need to heat-set this paint, unlike other fabric dyes.
* This is the paint we used. I bought it by the individual can at Michael's. This is the 6-pack at Amazon, which I'm sort of coveting.
Share This Awesomeness: