If you are like me, coloring is not just something you do in elementary school. There are plenty of adults who enjoy coloring as well.I thought it would be a great idea to have coloring pages from various cities throughout the world. So, I put together several city coloring pages for both children and adults, and each picture has one of the city's most impressive landmarks.
Empire State Building, New York City, United States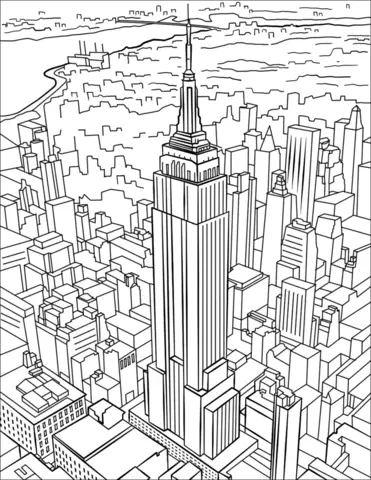 Source: By Lena London (http://www.supercoloring.com/coloring-pages/empire-state-building)Located in Midtown Manhattan is the Empire State Building. This 102 story skyscraper was built in 1930. It stands a total of 1,454 feet tall. As of 2020, the Empire State Building is the 49th tallest building in the world.The building's Art Deco architecture and observation decks have made it an extremely popular attraction. This American cultural icon has been featured in over 250 television shows and movies. It has also been named one of the Seven Wonders of the Modern World.
Tower Bridge, London, England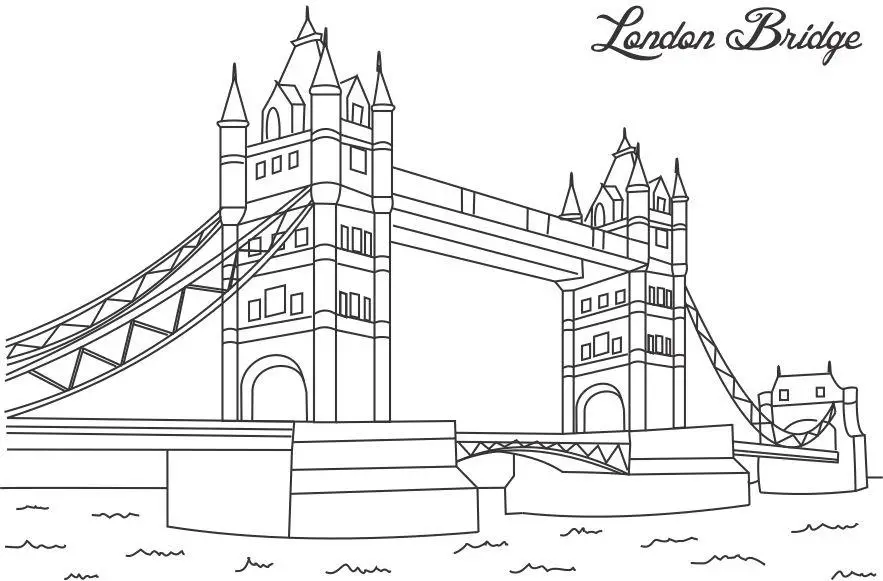 Source: By Nitin Sharma (https://www.studyvillage.com/attachments/8528-london-bridge-coloring-printable-page-for-kids)Built between 1886 and 1894, Tower Bridge is a suspension bridge in London that crosses the River Thames near the Tower of London. The bridge deck is accessible to both people and automobiles. Tower Bridge is a busy crossing area for the River Thames and is used by more than 40,000 people a day.
Eiffel Tower, Paris, France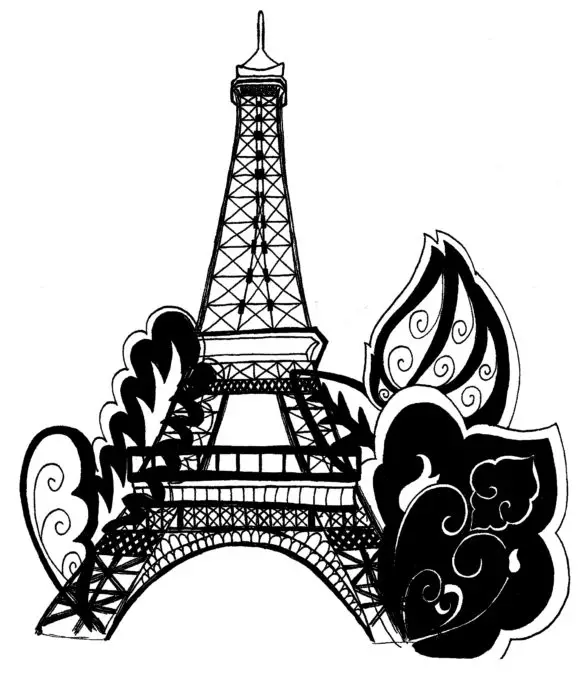 Source: By Denis Magdalena (http://www.101coloringpages.com/eiffel-tower-mandala-coloring/)Locally nicknamed "La dame de fer" or "Iron Lady," the Eiffel Tower is located on the Champ d Mars in Paris. It was built between 1887-1889 and has since become a global icon of France. The Eiffel Tower is the most visited monument globally, estimating about 7 million visitors a year.
Taj Mahal, Agra, India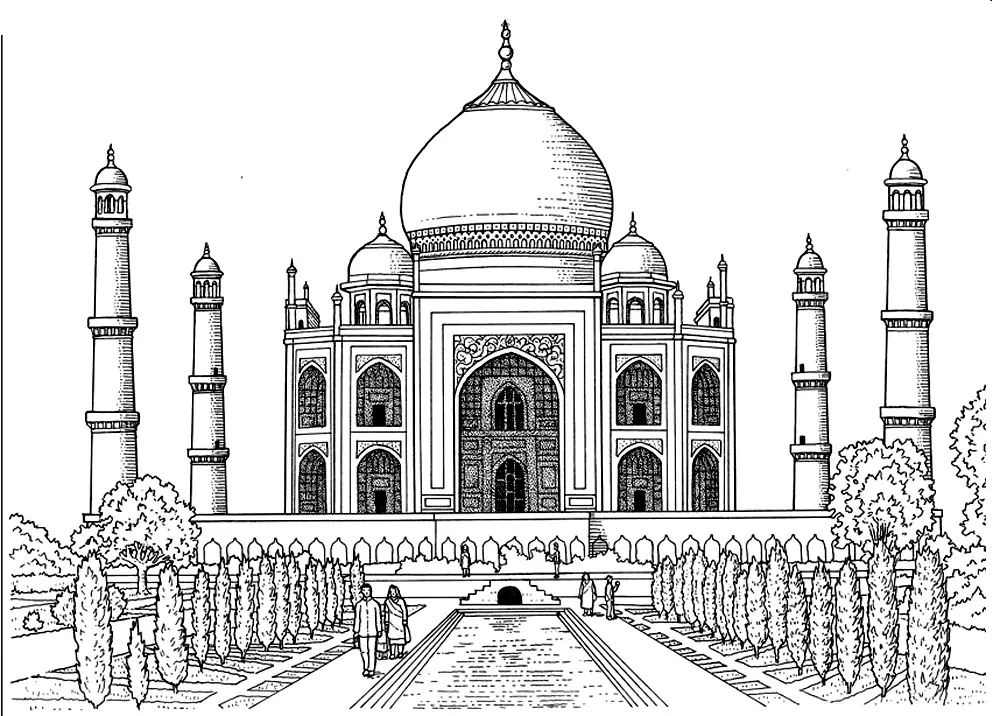 Source: By Unknown Artist (https://www.justcolor.net/travels/coloring-india-bollywood/?image=bollywood__coloring-taj-mahal-difficult__1https://www.justcolor.net)This ivory white mausoleum sits on the southern bank of the Yamuna River in Agra. It was commissioned in 1632, but work was officially completed in 1653. The cost of building the Taj Mahal was around 32 million rupees, which today would be approximately 956 million dollars.This jewel of Muslim art has been declared one of the new 7 Wonders of the World.
Sydney Opera House, Sydney, Australia
Source: By Shermaine Tay @ SilverKris (https://www.silverkris.com/colouring-sydney-opera-house/)This multi-venue performing arts center located at Sydney Harbor is one of the 20th century's most famous buildings. The building formally opened its doors in 1973 and hosts over 1,500 performances a year, including performances by the Sydney Theatre Company and the Sydney Symphony Orchestra.
The Colosseum, Rome, Italy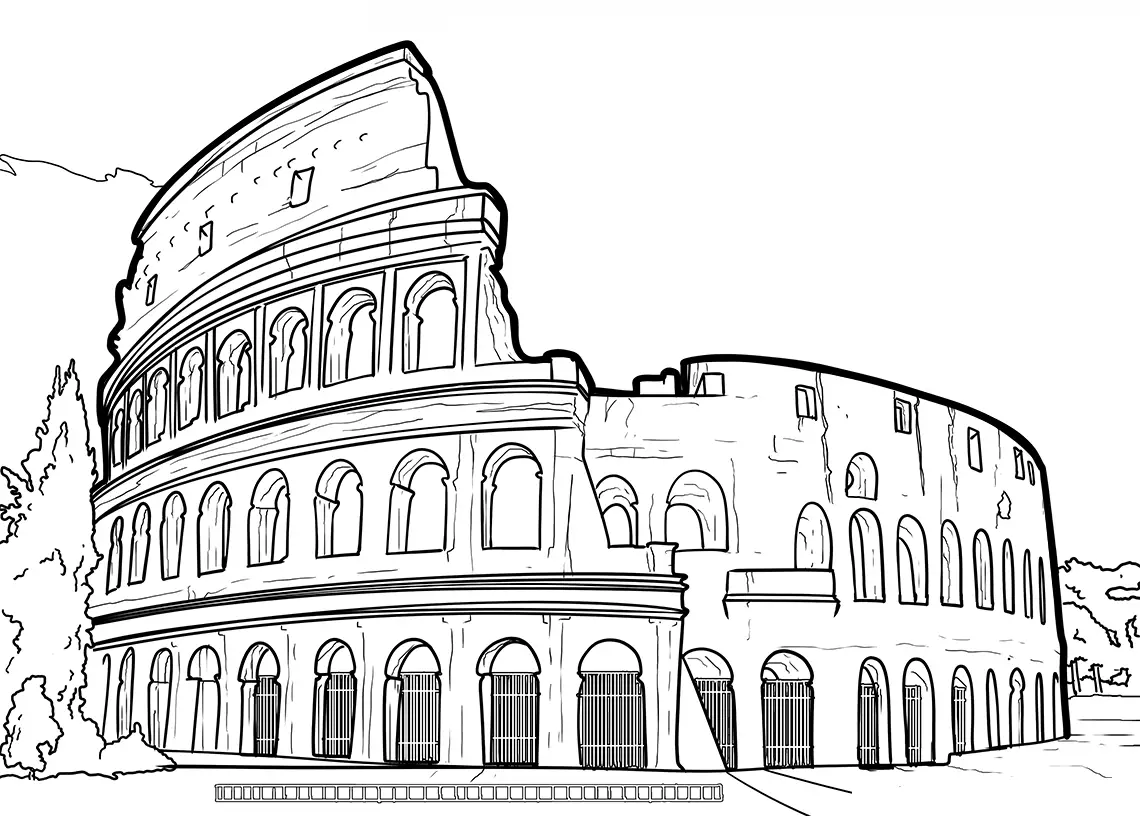 Source: By Unknown Artist (https://coloringonly.com/pages/colosseum-of-rome/)Completed in the year AD 80 under the emperor Titus, The Colosseum remains the largest amphitheater in the world. Used for gladiatorial contests and other public spectacles such as animal hunts or executions, the building drew an average of 65,000 people for each event.The Colosseum is an iconic symbol of Imperial Rome and is listed as one of the 7 New Wonders of the World.
Golden Gate Bridge, San Francisco, United States
Source: By Charles House @ Views of San Francisco (https://www.parksconservancy.org/stories/download-free-coloring-pages-views-san-francisco-book)Located in California, the Golden Gate Bridge is a one-mile-wide structure connecting San Francisco Bay and the Pacific Ocean. The bridge was designed in 1917 and is one of the most internationally recognized symbols of the United States.It has been called the most photographed bridge in the world and has been declared one of the Wonders of the Modern World.
Saint Basil's Cathedral, Moscow, Russia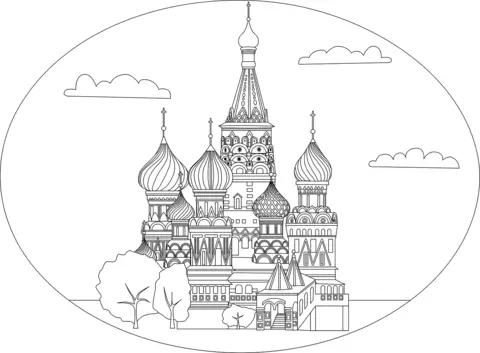 Source: By Unknown Artist (http://www.supercoloring.com/coloring-pages/saint-basils-cathedral)The Orthodox Church of Saint Basil's Cathedral is located in Red Square in the city of Moscow. It was built in 1555 during the reign of Ivan the Terrible. With its nine domes shaped like the flame of a fire, the Cathedral is an iconic symbol of Russian architecture.Today Saint Basil's Cathedral remains a federal property of the Russian Foundation.
Brandenburg Gate, Berlin, Germany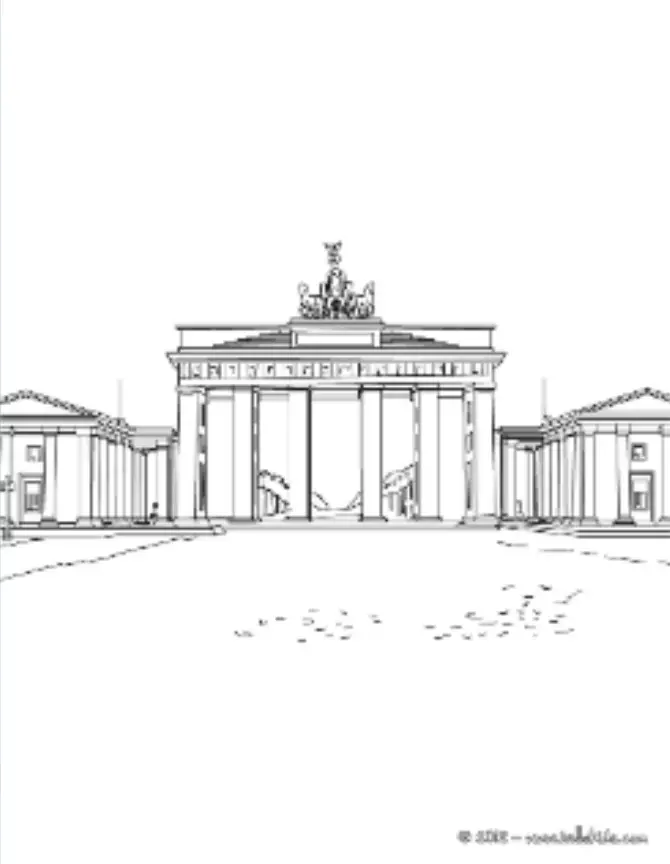 Source: Unknown Artist @ Hello Kids (http://www.hellokids.com/c_27960/coloring-pages/countries-coloring-pages/germany-coloring-pages/famous-places-in-germany-coloring-pages/brandenburg-gate-in-berlin)This 18th-century monument is one of the best-known landmarks in Germany. Located in Berlin, the gate is the entry to the Unter den Linden, a street lined with linden trees that leads to the royal City Palace of the Prussian Monarchs.
Burj Khalifa Tower, Dubai, United Arab Emirates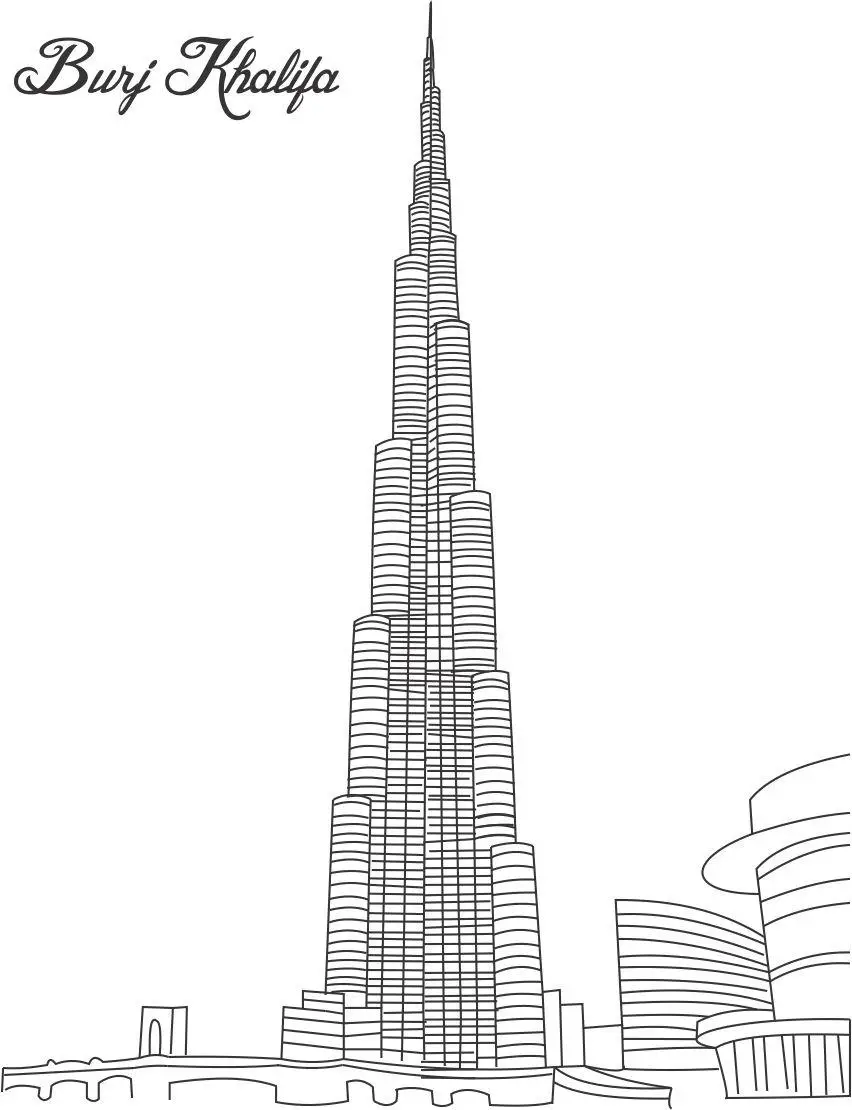 Source: By Nitin Sharma (https://www.studyvillage.com/attachments/8536-29310-burj-khalifajpg)This skyscraper in Dubai is just over half a mile high and has been the tallest structure in the world since 2009. This fairly new building was built between 2004-2009. This building has given Dubai recognition all over the world and contains 57 elevators and eight escalators.
Oriental Pearl Radio Tower, Shanghai, China
Source: By 588ku (https://pngtree.com/freepng/line-drawing-shanghai_5397450.html)Located by the side of the Huangpu River in the Pudong area, the Oriental Pearl Tower is a distinct landmark in the area. It was completed in 1995 and stands at 1,536 feet, making it one of the tallest buildings in China. The brightly lit tower is classified as a scenic area by China's Tourism Administration.
Senso-Ji Temple, Tokyo, Japan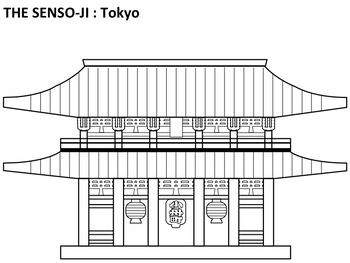 Source: By Unknown Artist (https://www.teacherspayteachers.com/Product/Japanese-Temples-Free-Coloring-Pages-4815299)Senso-Ji is Tokyo's oldest Buddhist temple, constructed in 645 AD. It is the most popular spiritual site in the world and has over 30 million visitors annually. Part of the temple was destroyed in World War II, but it was built and remains a symbol of peace to the people of Japan.
Prague Castle, Prague, Czech Republic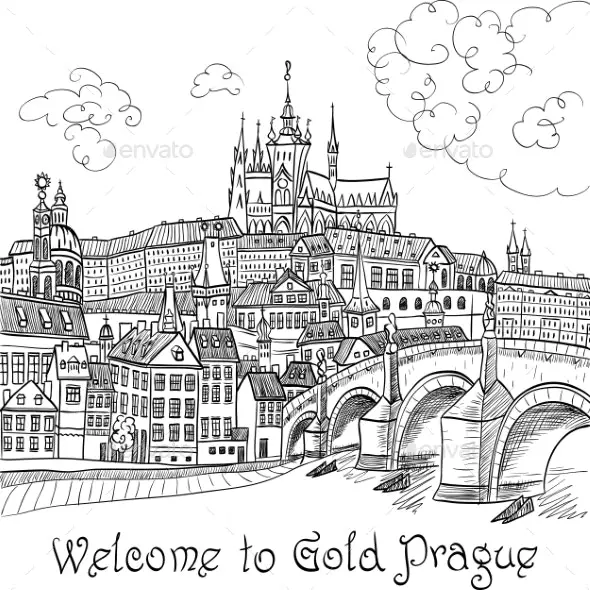 Source: By Kavalenkava (https://graphicriver.net/item/prague-castle-and-charles-bridge/14525053?Built during the 9th century, Prague Castle is the official office of the country's President. It was a seat of power for rulers throughout Czechoslovakia, and the Bohemian Crown Jewels are still kept with it. It is the largest ancient castle in the world and has over 750,000 square feet. It is one of the most beautiful tourist attractions in the city.
Leaning Tower of Pisa, Pisa, Italy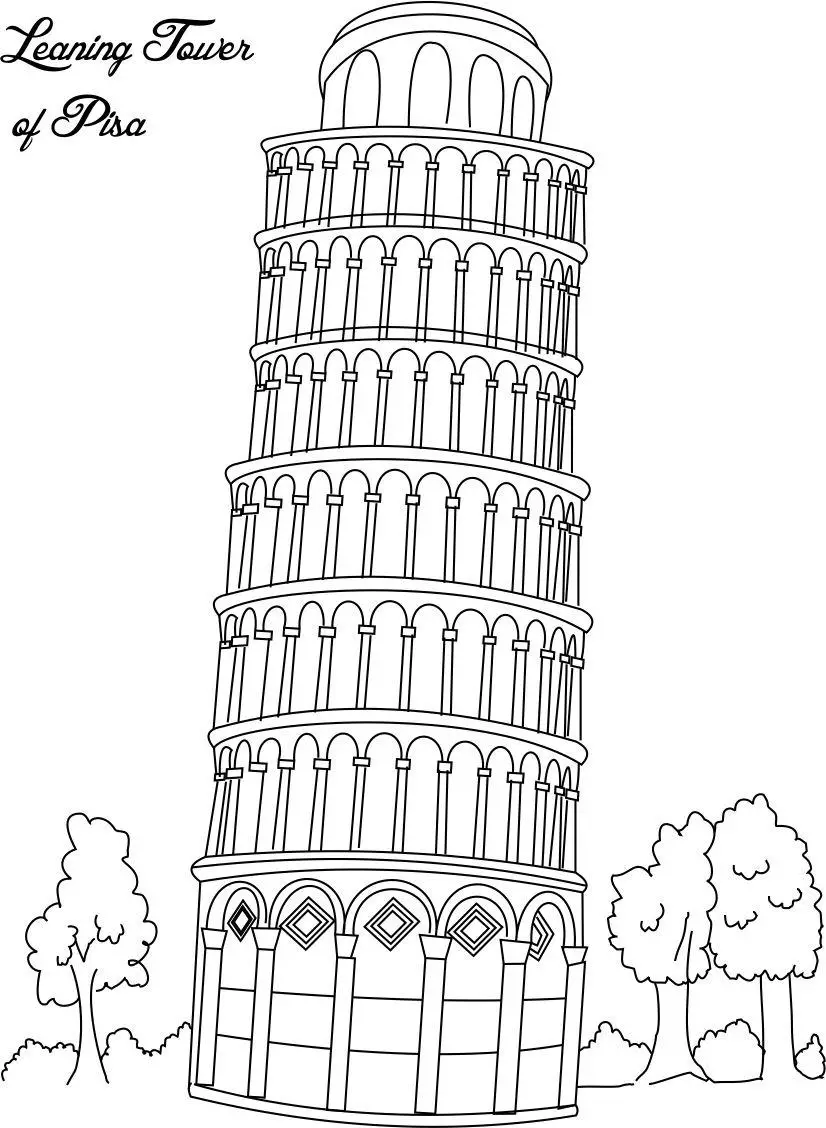 Source: By Nitin Sharma (https://www.studyvillage.com/attachments/8538-leaning-tower-of-pisa-coloring-page-for-kids)Simply known as the Tower of Pisa, this freestanding bell tower sits in the cathedral city of Pisa. It is known throughout the world for its 4 degrees lean, which results from an unstable foundation. The tower stands less than 200 feet from the ground and has only seven floors.The Tower of Pisa was constructed in the 12th century, and due to soft ground, it began its lean soon after.
The White House, Washington DC, United States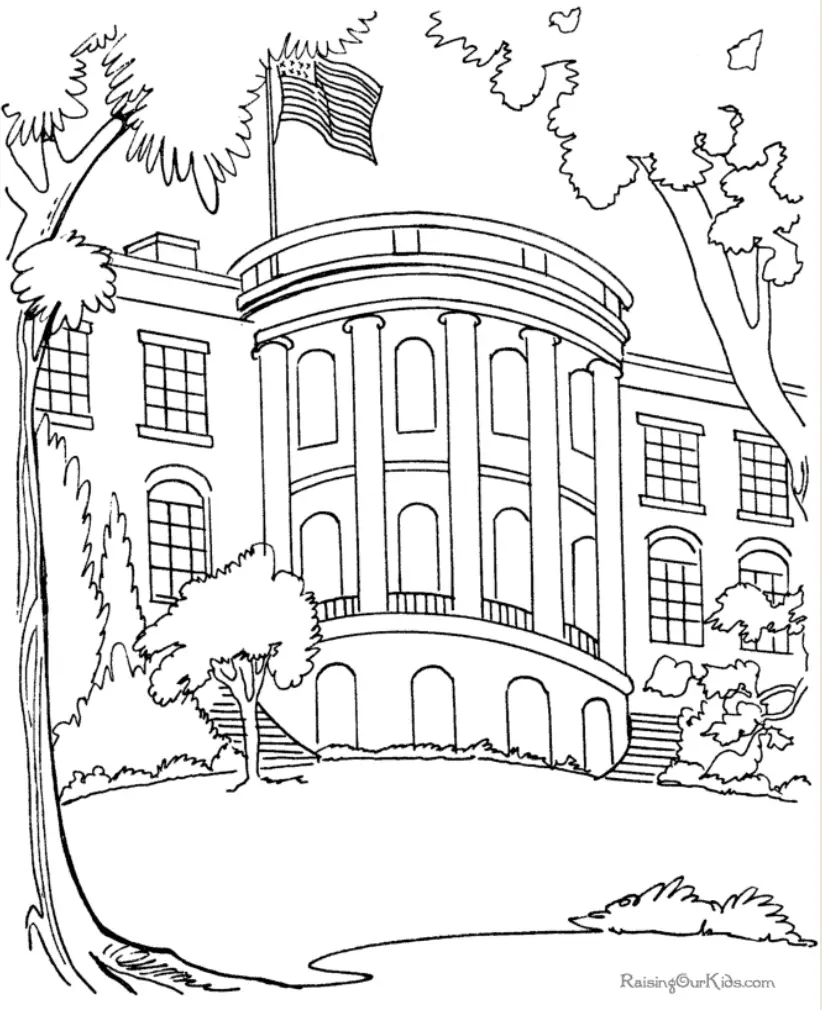 Source: By Raising Our Kids (https://www.patrioticcoloringpages.com/white-house/002-white-house-coloring-page.html)Also known as 1600 Pennsylvania Ave, the White House is the official residence of the President of the United States. It has been the residence of every sitting United States president since John Adams in 1800. It is one of the country's most popular tourist destinations.
Comments
0 comments