Working with clay sounds like a craft that involves a lot of skills and equipment, but it's easier than you could imagine getting started.
Pinch pots are an age-old tradition of making smaller pottery bowls and vessels using simply your fingers and thumbs to 'pinch' the clay into shape. It's a great technique for creating a whole host of possibilities, from a quirky personal mug, plant pots for herbs and mini succulents, a bowl to store jewelry in, and much more.
The best part of this project, you don't even need a wheel, any specialist tools, or a kiln.
Check out the best range of pinch pot ideas we've found for you!
Pinch Pot Crafts
Although called pinch 'pots', it's not just a pot that can be made using this simple technique. You can create bowls (in many different shapes) pots with lids, and even use the technique to make animal figurines. Having the inside hollow allows the model to dry better ad saves on your clay consumption!
Funny Face Pinch Pots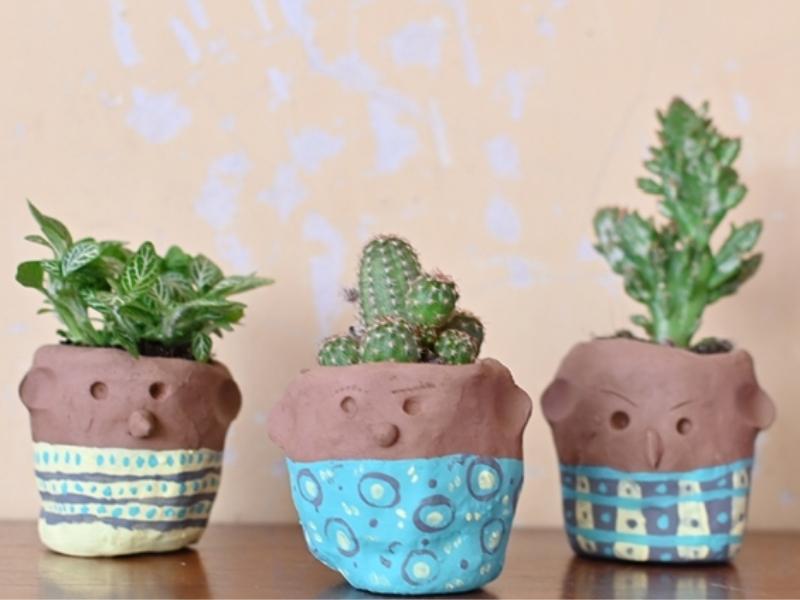 Let's start off with these funny-faced pinch pots, you start by molding the pot using your thumb and fingers and then pinching in the nose and ear details.
Paint on some 'clothes' to finish the look and seal your project using mod podge.
These look great filled with mini plants.
Get the instructions with photographs at hobbycraft.co.uk
DIY Mini Pinch Pot Planters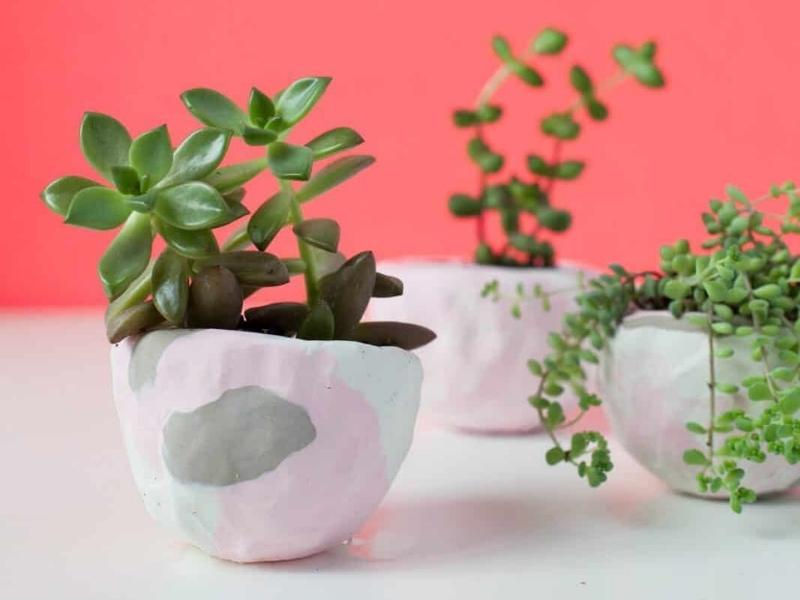 These pinch pots use colored oven bake clay, so no need for painting and decorating when they are done!
The small stoneware-style pots that are made are perfect for planting little succulents inside and will brighten up any window ledge.
Find out more at abeautifulmess.com
Apple Shaped Pinch Pot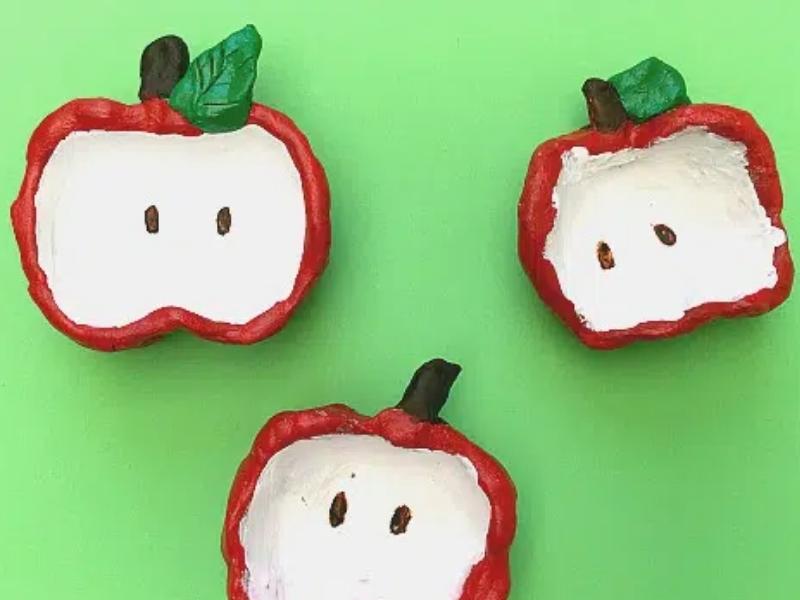 An Apple for the teacher has always been a traditional gift, but how about a useful apple that they can keep forever?
These instructions will show you how to make an apple-shaped pinch pot that will look great on any teacher's desk.
Get the instructions on this craft at redtedart.com
Double Pinch Pot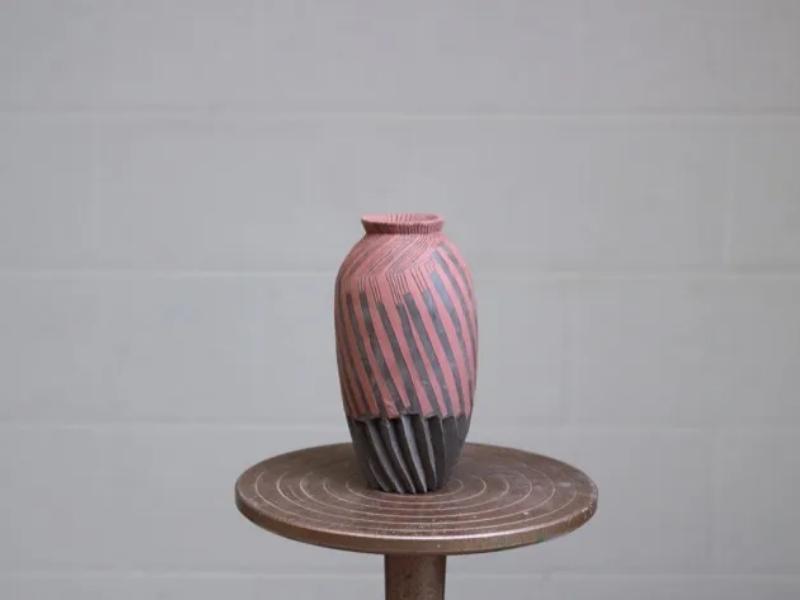 Pinch pots don't have to be small. This neat technique shows you have to put two of them together and join them in the middle to create a double pot.
This informative guide shares helpful tips for how to use your thumb to push the clay to the perfect shape and thickness too.
Get all of the details on how to make this style of pinch pot at craftscouncil.org.uk
Circle Pinch Pot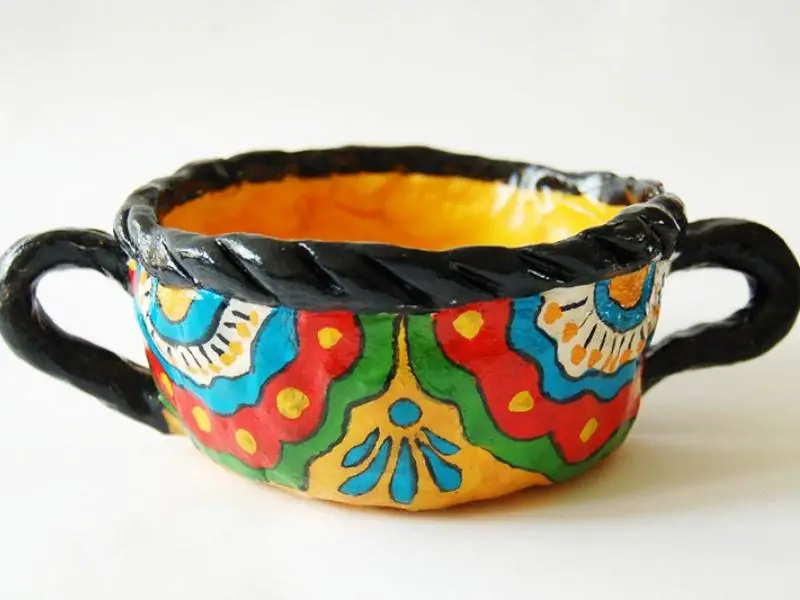 This cute pinch pot idea has you designing your pinched bowl to your desired shape, before using round bottle caps to carve perfect circles to decorate it.
Such an ingenious way to make patterns. Then paint in your favorite colors to complete the look of your pot.
Get more info on this craft at firstpalette.com
Marbled Pinch Pot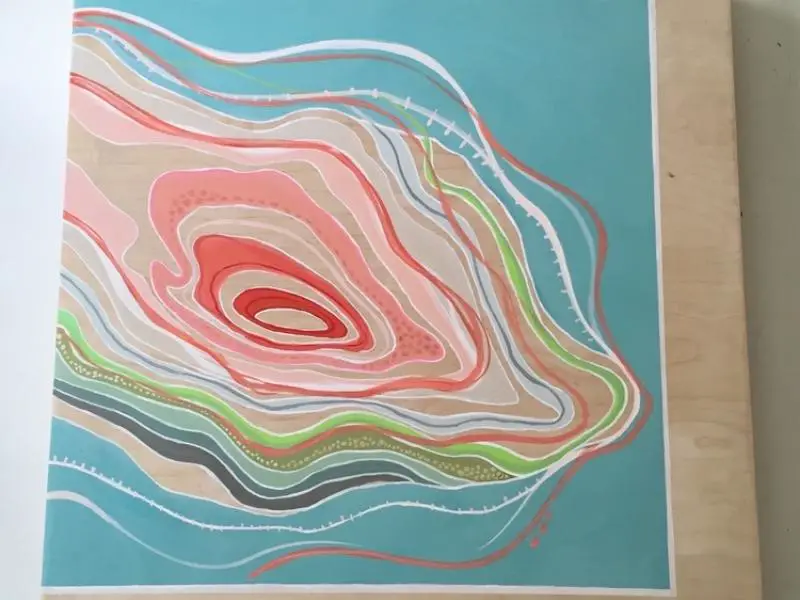 This pinch pot uses pre-colored oven-bake clay to create a marbled effect. Take your choice of complementing colors and roll them into long 'sausages' in order to get the colors to blend in the best way.
The swirly combination of colors finished off with a delicate touch of gold paint makes a sophisticated style.
Find out how to make these pots at crystalmoody.com
Pinch Pot Monsters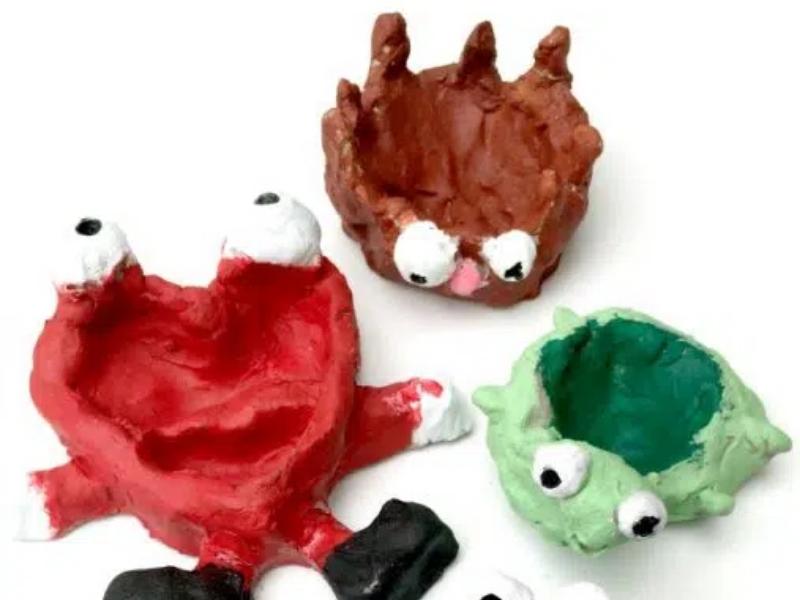 Who says all craft needs to be beautiful? You can also make it monstrous!
Kids will love pinching their clay pots into monster shapes, with crazy eyes and sharp teeth. They can go wild with their creativity, as monsters come in all shapes and sizes!
Get the details at redtedart.com
Natural Pinch Pots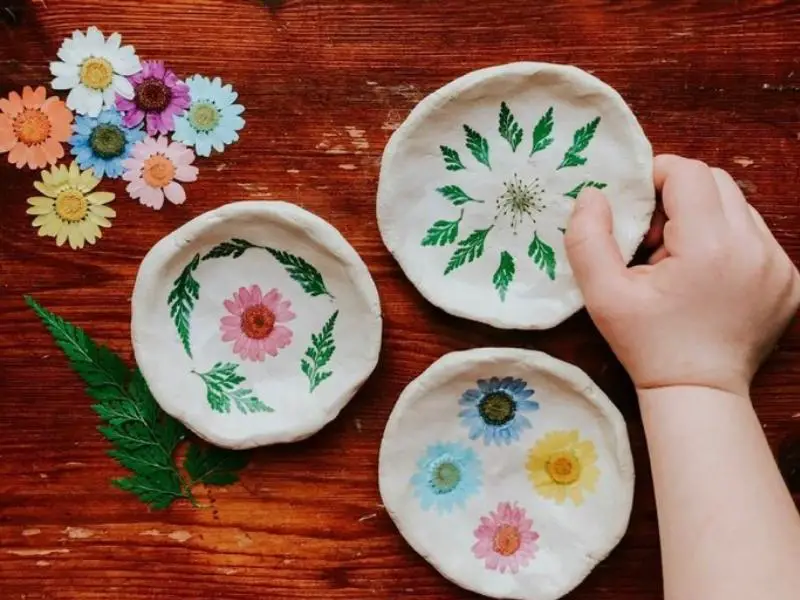 Combine the love of the great outdoors with a beautiful pottery bowl with this project. You can collect and press flowers found in your garden or on a nature walk with this idea from Little Pine Learners.
Simply make your pinch pots as usual and then use mod podge to add your pressed flowers. This craft would make a cute gift for mother's day.
Find out more at littlepinelearners.com
Pinch Pot Turtles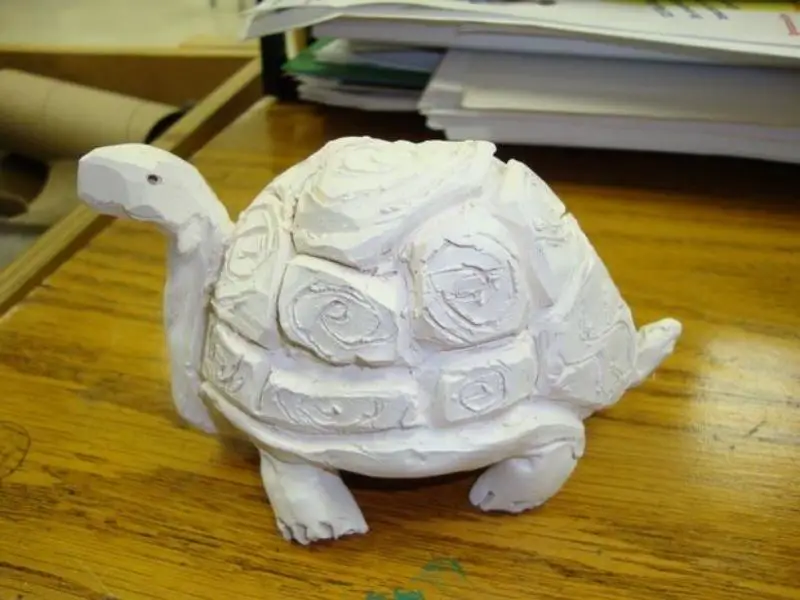 As well as using the pinching technique to make a bowl or cup, you can also explore the skill to make more ambitious projects like these turtles.
You'll need to be careful as you mold the delicate features, and you can use a sharp stick or knife to carve the detail on the shell.
You can get the instructions to make these turtles at instructables.com
Christmas Tree Pinch Pot
It's beginning to look a lot like Christmas… well, maybe not, it could be that you're reading this in July! But even so, this idea is one to save for your December art projects. This Christmas tree is made by pressing the clay in a creative tree shape.
It would make an adorable homemade gift, filled with candies!
Get more info on this example at theimaginationtree.com
Easter Bunny Pinch Pot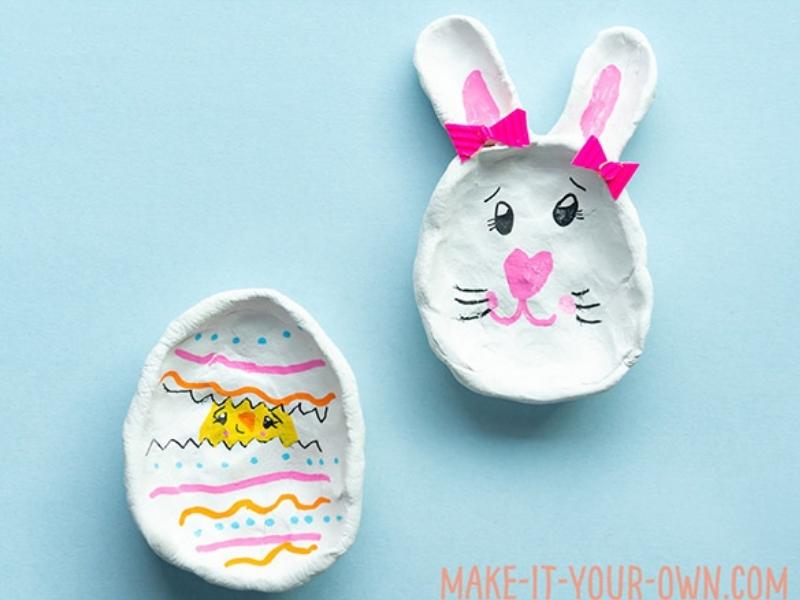 Sticking with a seasonal theme, you can pinch your clay in springtime to create your very own Easter bunny. This very sweet craft will keep your little one from devouring chocolate for a while and will get them being creative on this holiday instead!
You could also fill this pot with some Easter candy as a little gift for friends and family members.
Find out more at make-it-your-own.com
Animals from Two Pinch Pots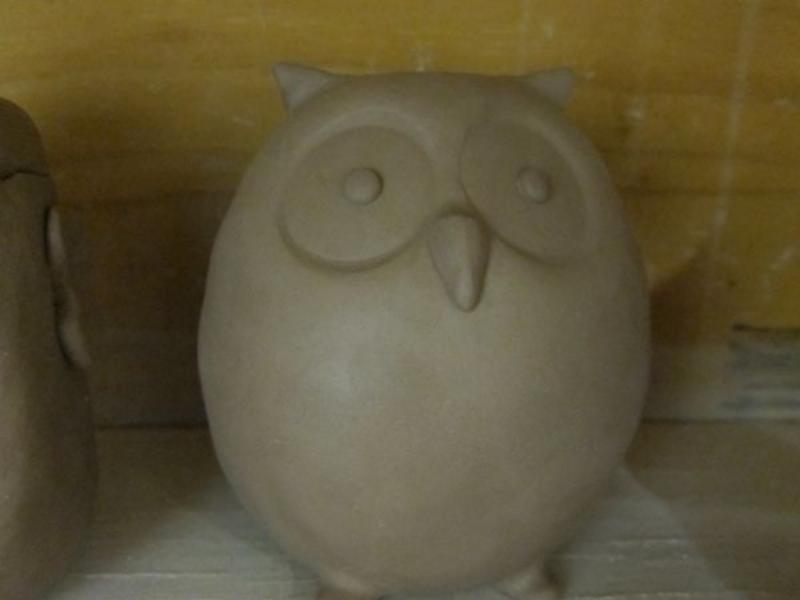 Art educators often give the best tutorials for more technical crafts. This blog from Glynnis Lessing shows you how she taught her students to make animal-inspired pinch pots in their school lesson.
She gives great advice on how to form the clay pottery, how to ensure the clay sticks well, and tips on firing too.
Read more on these animals at glynnislessing.com
Pinch Pot Hedgehog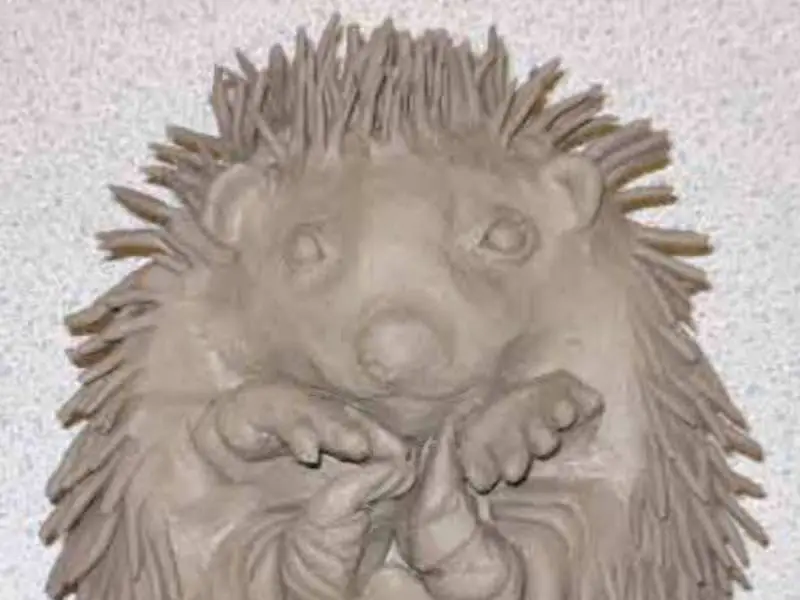 You can't fall in love with this very sweet clay hedgehog! He looks ever so sweet. curled up in a ball, covered in tiny prickles.
This creative project might not be for the amateur clay user – unless you want the prickles to fall off! But could be a great challenge for a more adventurous clay art lover.
Be inspired and get the supplies at lakesidepottery.com
Pinch Pot Christmas Trees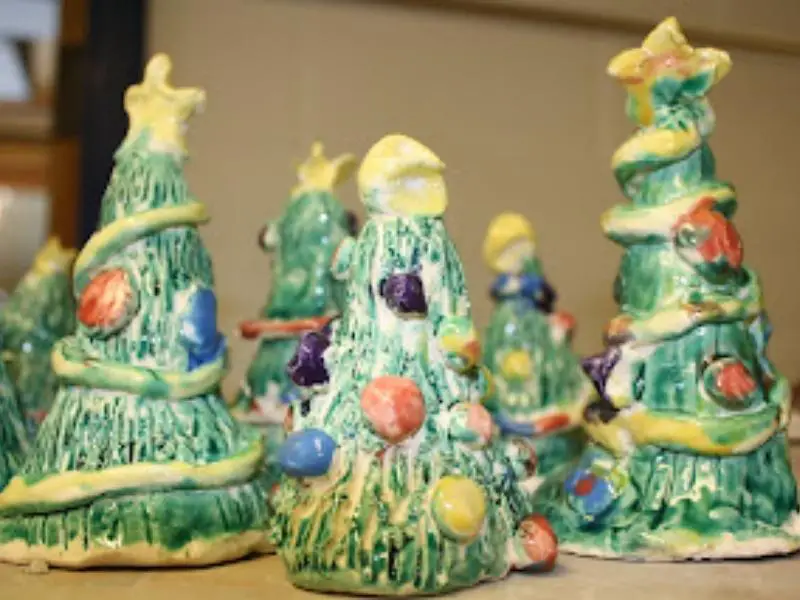 This art teacher shared how her students made Christmas trees using the dame thumb technique. This fun idea has them mold the clay into a pointed cone shape, then paint them with acrylic paint and a final glaze.
Find out more on this project at msbandstrasartroom.blogspot.com
Pinch Pot Animals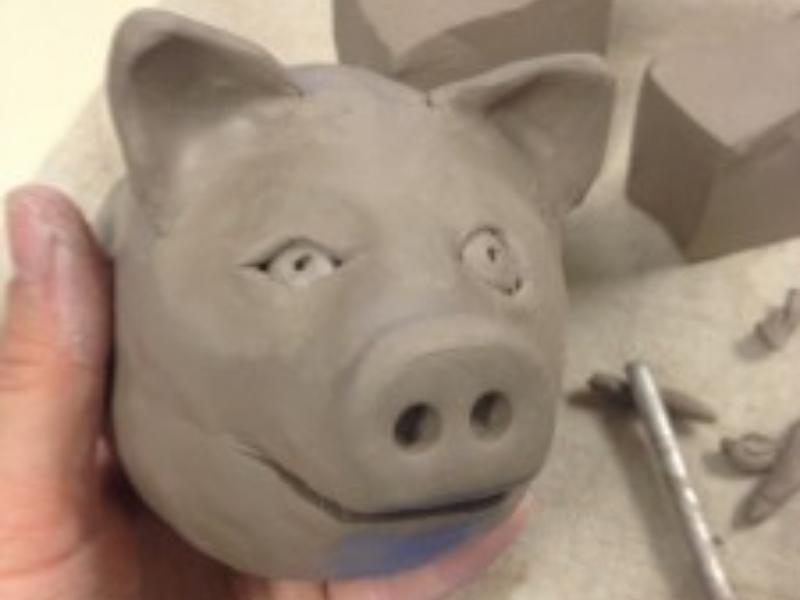 We've already looked at animals formed from pinch pots, but why not turn it into an actual piggy bank?
This pig would look great with a hold cut in his back to insert coins in to save them up!
Get more details at mslongart.edublogs.org
Lotus Flower Pinch Pot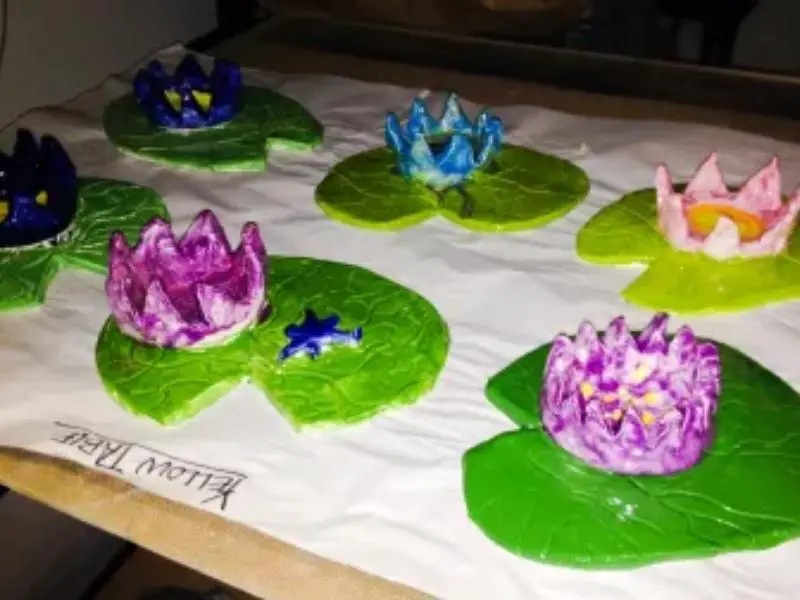 Take nature as the inspiration and design for this pinch pot. As an additional step with this style, the pot is then cut into petal shapes. You can also create a lily pad base for the pot to sit on.
Find the instructions on this art lesson at createartwithme.com
Mosaic Pinch Pots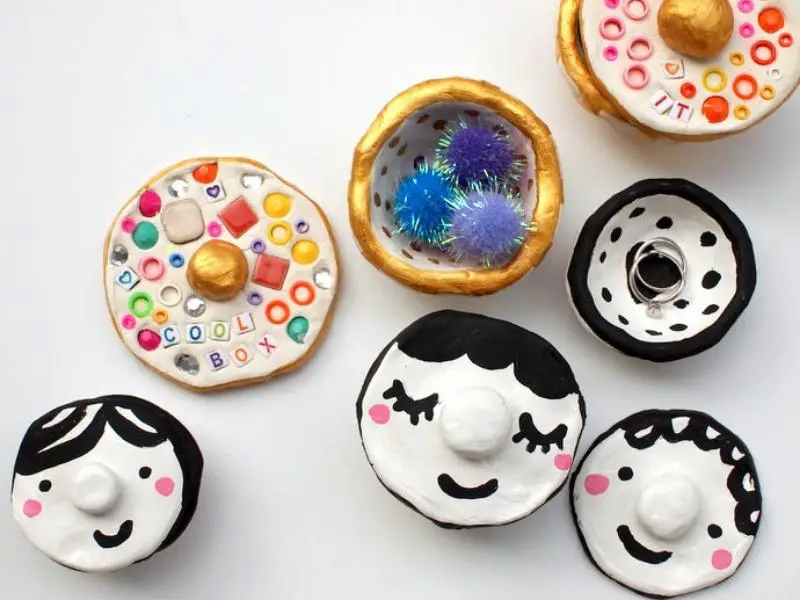 These little pots have a lid with them to store all of your treasures inside. This creative mosaic idea uses beads and sequins to decorate it. Simply push the beads into the still malleable clay.
You could also paint them too – this crafter made faces from hers and they look great!
Get all of the details at handmadecharlotte.com
Funny Face Mug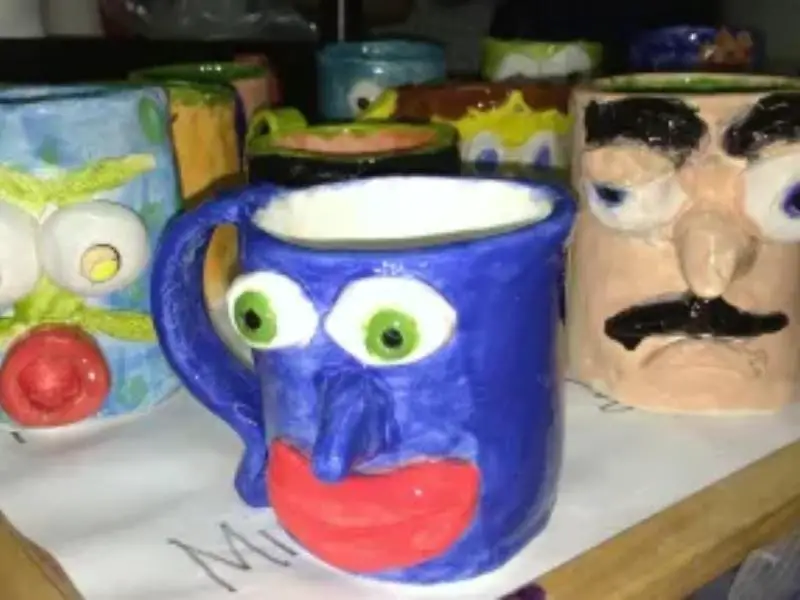 This mug craft will make a quirky exaggerated face. The lesson notes that accompany this idea explain how it's based on an American folk pottery art form from the 1700s.
It's a great way to combine art with history and create something fun and practical.
Get the information on this idea at createartwithme.com
Pinch Pot Heart
Nothing says 'I love you quite like a red heart! This project shows you how to mold your circular pinch pot into a heart shape by poking and squeezing the walls in the right places.
Painting it finishes the final look, with pinks and reds being the traditional favorites. This adorable craft would make a very sweet gift for a valentine.
Find out more on this idea at redtedart.com
Magnetic Pineapple Planters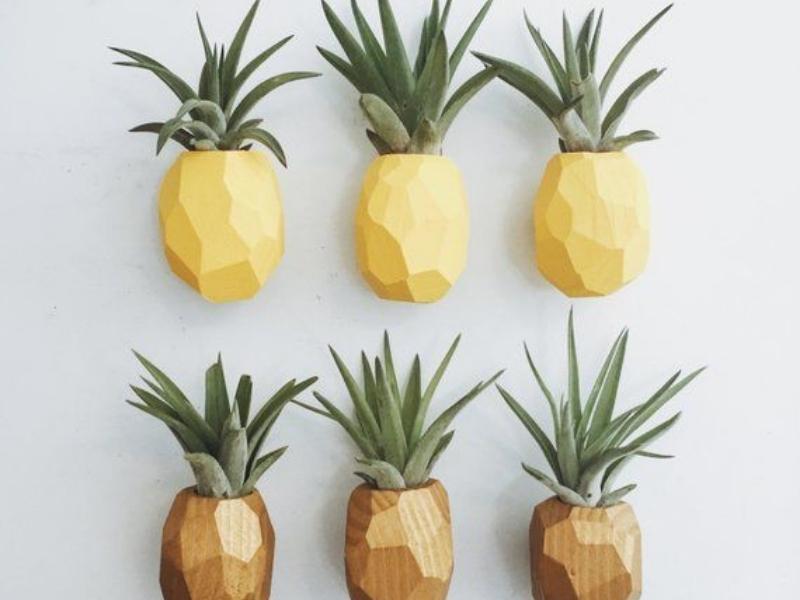 What a fun idea! These fun planters are made with just yellow oven-bake clay – so no paint is needed.
You make your pinch pot using the thumb and finger technique and then flatten the back. By having a nice flat surface you can glue a magnet onto it. Putting a succulent inside gives you the spikey pineapple leaves.
This little pinch pot will be the focal point of your fridge.
Get the instructions at camilleiam.com
Try out our Pinch Pot Crafts
We hope you've found something on our list to inspire your next crafting session. All you need is a ball of clay and your imagination to be able to create something wonderful.
With most of these ideas, the most important thing to remember is to keep a decent thickness of the clay for the walls and base of your pot. Anything too thin will break or form holes when it dries.
Enjoy making your pinch pots. Check out the rest of our blog for other great clay ideas.
Comments
0 comments