We have trillions of art supplies at our house, so I take for granted that we will always have something new for the kids to experiment with. While it's great to have mass quantities of strange items with which to make art, the basics are always important to have on hand.
Here's my list of what I would start with if your house isn't stockpiled. I would make sure you have the basics for younger kids and add the extras in as you go. Materials you may think are redundant can give vastly different results when they are experimented with. For example, Sharpie markers are great to draw with if you want clean lines, but black ink used with pens with different sized nibs can produce looser, sketchier lines. Watercolor paints are translucent, while acrylics are thicker and opaque, but can be watered down considerably to get a translucent effect. Magic!
Very Basics
pencils

Crayola markers
Crayola crayons
Crayola Twistables colored pencils
drawing paper pad
tracing paper
water color paints (Prang brand)
paint brushes- basic, with different sizes
pad of watercolor paper or bristol paper for painting on- drawing paper just won't contain all the wet paints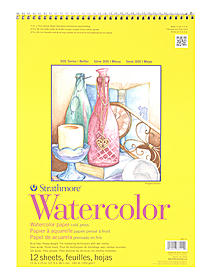 ink pads- (you can find tons of things around your home to make prints with by pressing them onto the ink pads)
Crayola oil pastels
glue sticks
scissors
construction paper
air drying clay
smock/shirt/apron
wax paper or roll of paper for laying out to contain messes
Extra fun stuff for younger kids
dauber/dot markers –
Dots-n-Dashes Painters set of 6
at Mister Art
or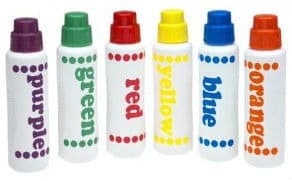 Elmer's Painters Paint Markers
fabric markers
soft pastels
Next Stage of Art Material Buying

ink/ pens with different sized nibs
glue
printing inks
brayer – for spreading inks evenly for printmaking
bone folder- used to press the folds of papers much flatter than you can do by hand
handmade papers for collaging
heavy weight colored papers/ card stock
drawing pencils in different weights (harder to softer makes lighter to darker marks)
tortillons (rolled paper smudge sticks- this is one of those things you think your kid can do without, but buy it. They're small, but mighty.)
kneaded erasers – not only are they fun to play with, they're much more gentle on paper than hard erasers.
better quality oil pastels
chalk pastels
pressed charcoal sticks
watercolor paper
watercolor colored pencils
Prismacolor colored pencils
acrylics
canvases
acrylic gel mediums- I like Golden brand
gesso
black sharpies- thin and thick
better quality markers-
brushes- water color and acrylic- quality really matters with brushes, so buy the best ones you can/want to afford
Extras For Older or More Serious Child Artists
linoleum blocks/cutters for printmaking
art wire/ needle nose pliers
large drawing board/clips/large drawing paper pads for drawing outdoors
gouache paints- similar to watercolors, but opaque
high quality markers- larger sets/ marker paper (Prismacolor)
Black hard cover sketch books (okay, the black covers aren't completely necessary. They're just very cool and if you want to, you can gesso the covers and paint on them.)
spray fixative so finished drawings don't smudge
oil paints/brushes/natural solvent for cleanup/thinning
Obviously this is not a complete list, but I don't want to be (too) overwhelming. Many art supplies can be purchased in student grade, which are cheaper than artist grade, but are an excellent way for kids to get a feel for different materials. That way they can see what materials they are drawn to using (did you catch that art pun?) before you invest in better quality, more expensive materials.
I am going to revisit this list from time to time and tweak it, so please let me know if I've missed something, or if you agree/disagree with my picks. Happy art-making, kids!