Affiliate links may be included in this post. Thank you for supporting Craftwhack!
I've been waiting in anticipation for Beckett to become a Lego fan, and boy alrighty howdy, it's happening. He's making little guys, and they are robots and they are BEAUTIFUL.
In order to facilitate his Lego genius, I am going to get all DIY and make, I mean have Christian make, the coolest DIY Lego table ever. It's fun to design things and make other people put them together for you. In any event, I scraped the internet for some ideas and here are the best ones I found, because research is the first step in designing a new item. The second step is buying hundreds of dollars of Legos. 

Let's take a Lego table tour now. Interestingly, a lot of them out there are Ikea hacks…
1.  This DIY play table has an amazing number of drawers, which are feature #1 to look for in Lego tables. You could slap some Lego plates on the top of this and call it a day. It would look cute with a little chair or kid ottoman.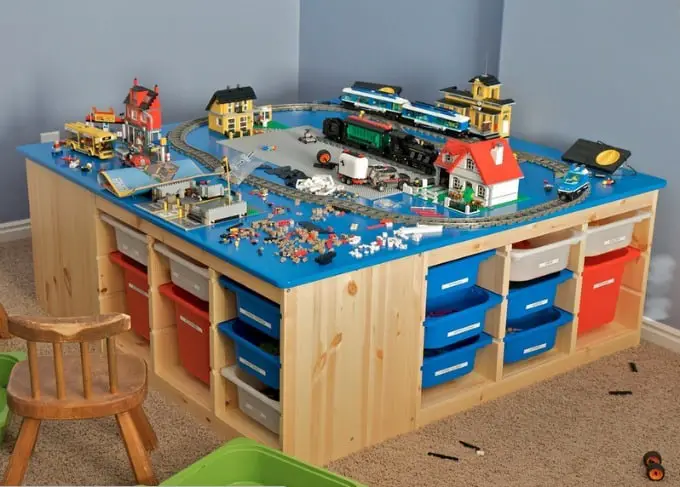 2. I'm sort of all coveting this table, but ultimately I think it may be a bit giant for our needs. Beckett tends to play with his Legos all over the place, so a smaller table area is better for us.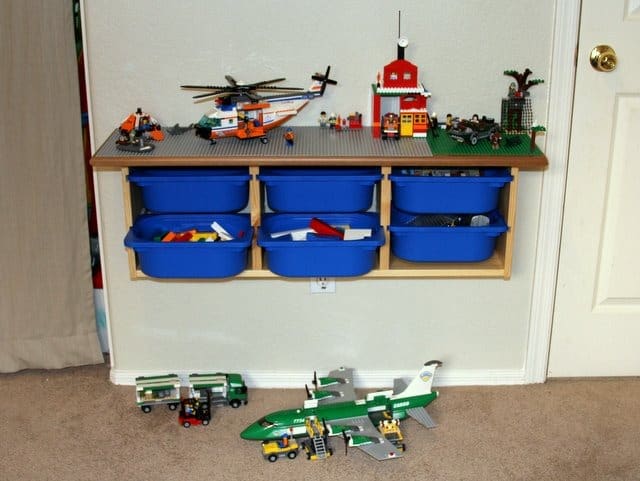 3. If you need to save some space and not have yet another furniture item on your floor, this is a cool idea to tuck onto an extra wall space. I was really happy to see that the Legos are not arranged according to color in these bins, because that is NOT REAL LIFE.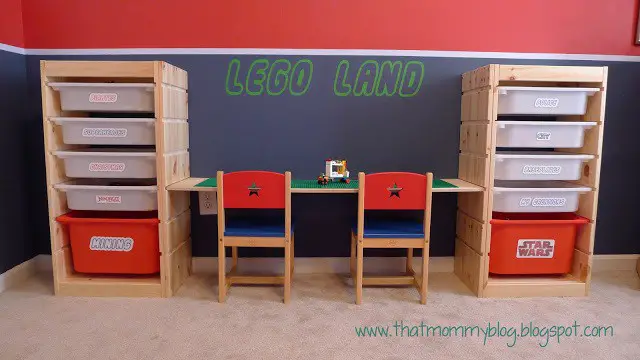 4. Now this one from That mommy Blog is interesting, because you can change the height of the table area, and holy NUTS, look at all that storage.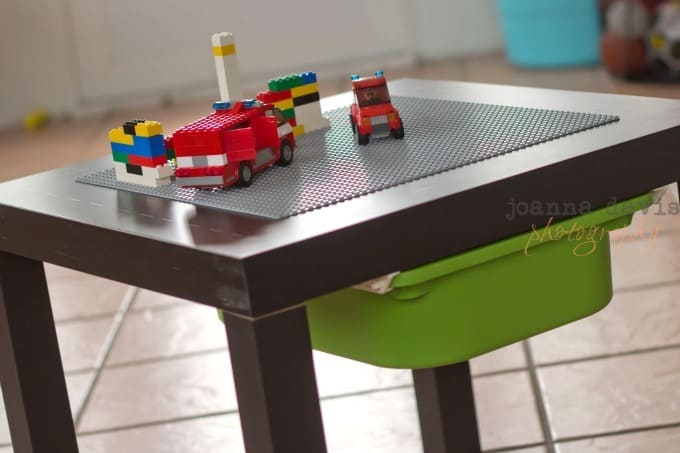 5. This is a great small table and it uses the ubiquitous Ikea Lack side table. This might actually be perfect for us. Hmmmm. I find it hilarious that it's so cheap to make this Lego table, but I won't be able to escape walking out of Ikea without $400 worth of stuff.
5 1/2. Because I'm horrible at math, I've included a bonus Lego idea, which is the DIY Lego tray, that you can stash under your nasty, dog-pee-stained couch.
Now go forth and step on hundreds of tiny ouchy Legos!
Update: Can't get enough of DIY Lego tables? I have another 5 very cool ideas I've rounded up over here. 
Don't forget your baseplates and Legos.