Ha! That's a total lie. Nobody gives up dessert.
But these gorgeous art spaces would make us consider it. Okay, maybe for a day. An hour.
Even if you can't swing using an entire room for your kids to make art in, there are plenty of amazing art space ideas here to inspire you to even carve out a corner or a nook somewhere. Chances are, if your kids have a special area where they can grab art supplies at a moment's notice, they will make more art on a regular basis.
Now onto the drool-worthy kid art spaces.
We'll start off gently, so you're not too overwhelmed by unattainable art-organizing beauty, with something completely doable. This little art area for toddlers is all Ikea, super cheap, and can tuck into just about any corner.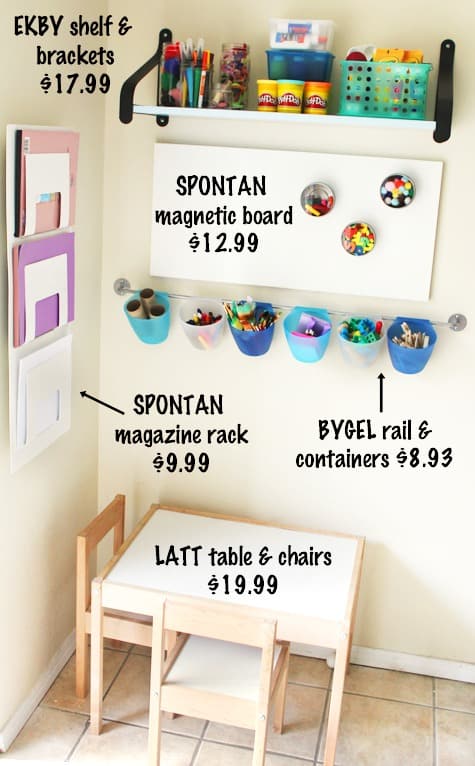 Next up is another space-saving idea. Even if you don't have a wall you can (or want to) turn into a chalkboard, you can make a surprisingly well-stocked art wall for your kids.
Are we warmed up yet? Good. Let's move on to a color explosion with this amazing little art/craft space on the ooly blog, made by Sam of Color Made Happy. (We love ooly art supplies.)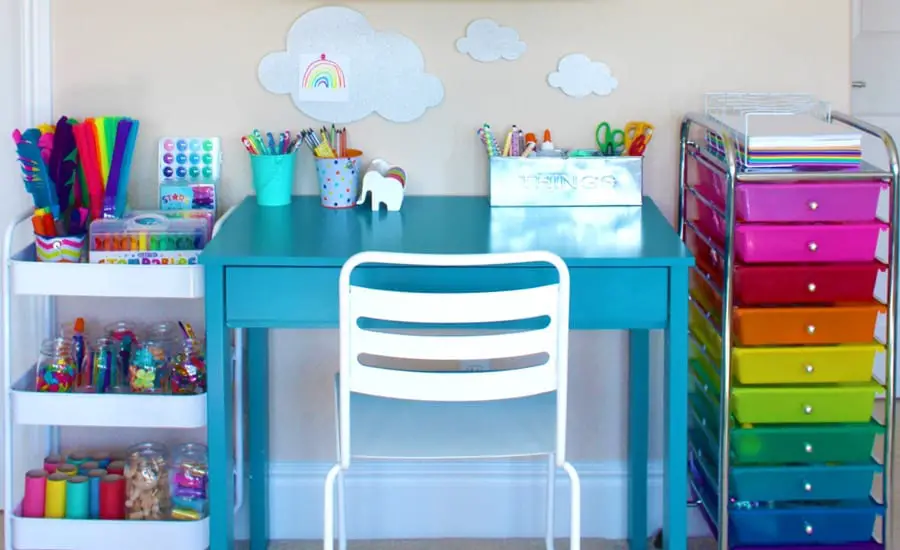 This is one of our all-time favorite art spaces for kids, and is part of a fantastic e-book by Megan of The Art Pantry. She's a professional kid-art-space-designer. You can read my review of her ebook, The New Playroom here, or click here to go right to her site to buy one.
If this isn't one of the sweetest art spaces you've ever seen, I'll be hornswoggled. This is totally the incorrect meaning of this word, but I don't care. I DO care abut how beautiful this art space is that Meri Cherry set up for her kids. (By the way, she teaches all sorts of art classes for kids in L.A. if you live in the area.)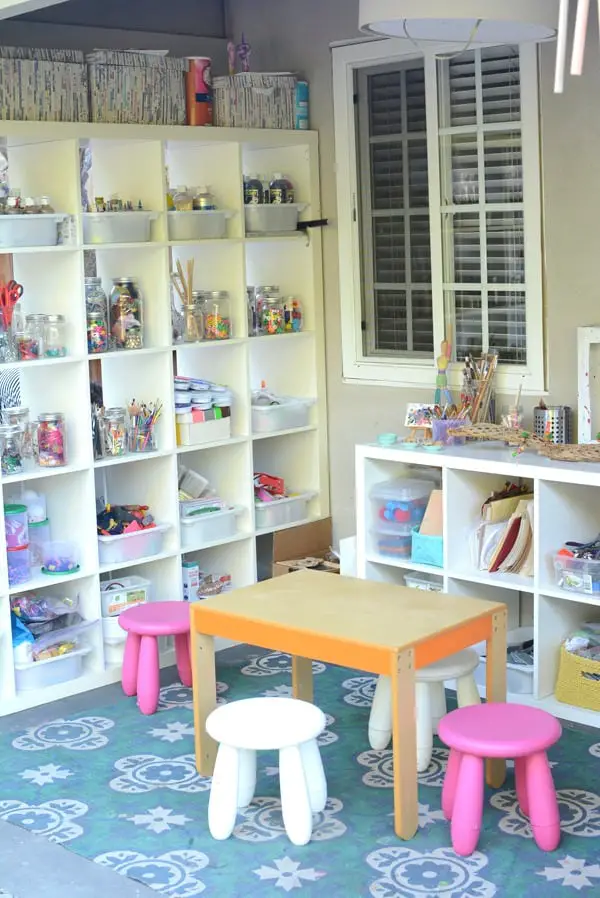 Giant pegboard walls are sort of a no-brainer if your kids have tons of art supplies. Just look at how much storage you've got there, within arm's reach.

This giant painted wall has me itching to drive on down to the hardware store to buy 80 gallons of paint. And is that floor a chalkboard? Oh my goodness.

Who wouldn't go mad for this art space? Your kids could host little art parties every week here. I'll bring the donuts.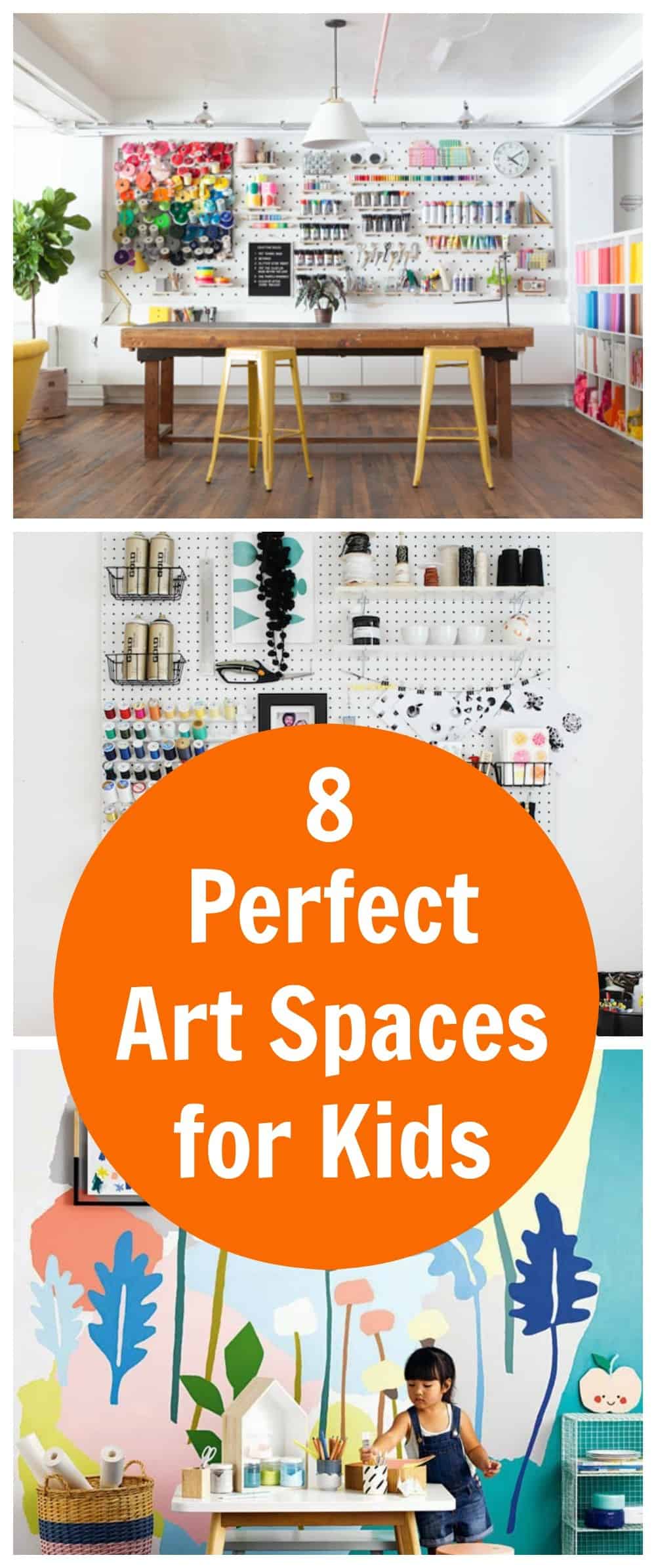 Why Set up an Art Space For Your Kids?
Kids need art. We all need art, but kids are naturally creative, curious little bundles of exploration, and making art for them is akin to us getting therapy, meditating, knitting a hat, planting a garden, thinking through problems, doing crossword puzzles, rearranging our bedroom, and painting our toenails.
Does this make sense? Basically we engage in all of these creative activities ourselves so we can feel better, gain self-esteem from making things with our hands, calm our minds, and basically play.
Setting up a space like this lets kids drop everything and create at a moment's notice. Plus I bet you'll end up hanging out with them, making stuff of your own, chit-chatting, bonding, eating snacks.
And the best part? YOU DON'T HAVE TO CLEAN OFF THE DINING TABLE BECAUSE SUDDENLY IT'S DINNER TIME AND YOU'RE IN THE MIDDLE OF AN ART-MAKING EXTRAVAGANZA.
My Picks For Cool Kid Art Room Goods:
Art Cart
Pegboard
Wall racks
Wall Paper Roll
Art Caddy
Kid Art Frame
Comments
0 comments