"What if we put as much emphasis on art supplies and creative tools as we do on toys?" My favorite quote from Megan Schiller's book, The New Playroom, and an idea I'm totally on board with.
I've pouted and whined a lot about how kids are not getting enough art in schools, but many aren't getting much at home, either. I know it can be intimidating, or even overwhelming, to try to figure out how to encourage a child's art-making if you don't feel creative yourself.
One of my favorite things in the world is getting emails from parents who have used some of my projects or ideas to inspire their kids. I love trying to come up with easy art projects that might appeal to kids or even adults who feel they aren't creative.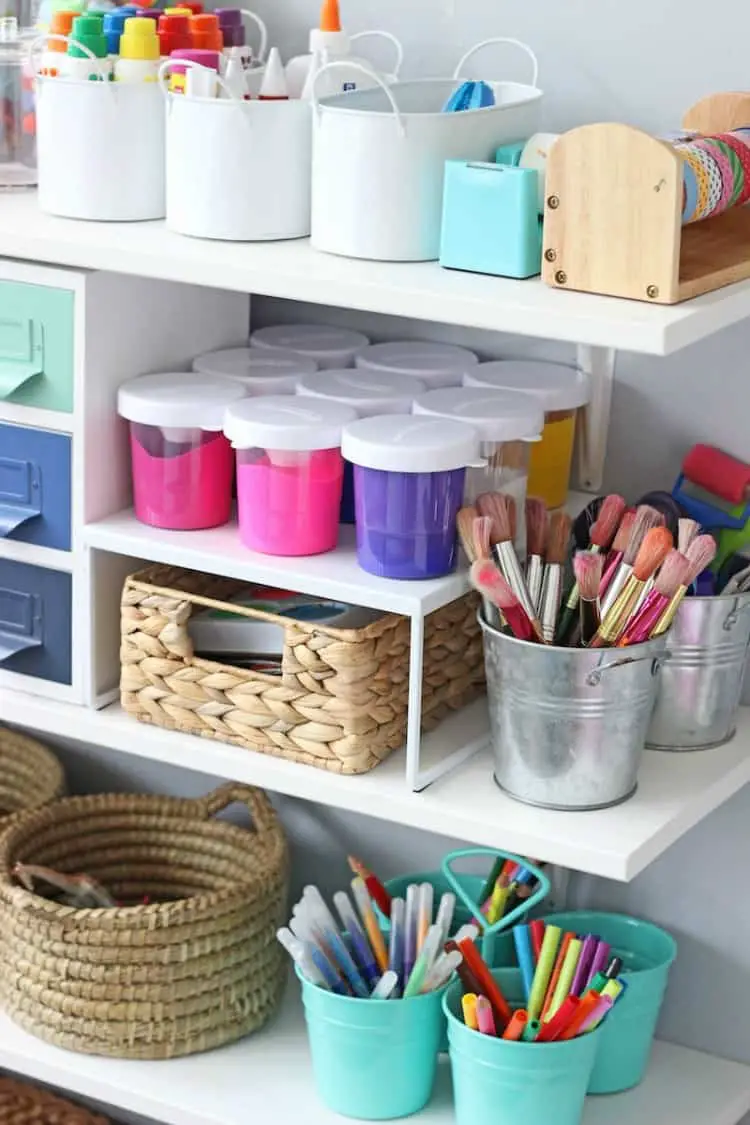 I think one of the perfect starting points for immersing your kids in art is setting up a creative space for them, no matter how small, and provide them with the opportunity to make.
I would shriek with unbridled glee if I could hire Megan to mosey on out here and set up an art space for my kids. While I know what projects to do with them, I stink at setting up organized spaces.
This is Megan's forte. She is gifted at envisioning and creating the perfect art spaces for kids, and this book lays out a ton of her ideas and processes. It also includes fabulous guest pieces from some of the top kid art bloggers around.
She covers EVERYTHING in this book, so you can just take her brilliance as a jumping off point for setting up an amazing space. I was excited to see the amount of detail she went into for everything from thinking about table height to art supply storage to personal style.
The New Playroom (PDF) Includes:
34 pages of step-by-step instructions on how to set up an art space for kids
Tips on measuring, layout, organizing and more!
Inspiring photos and stories
Essential art supply list plus extra goodies
DIY projects
Tips on exploring art supplies with kids and keeping them engaged over time
Additional resources for shopping, design, and art activities
Free bonus guide (PDF) Invitations To Create: 30 days of easy art prompts
Price $24
To buy The New Playroom, click on the image below, and get your free 30 days of easy art prompts. Prepare to be inspired!